Planning a trip to the south of Spain and wondering about things to do in Mijas Pueblo? This small, charming, mountainside Spanish village on the Costa del Sol sits 428 meters above sea level is close to both Malaga and Marbella. So if you are looking for a quiet and relaxed Spanish getaway then Mijas Pueblo should be on your list. Here are some things to do in Mijas.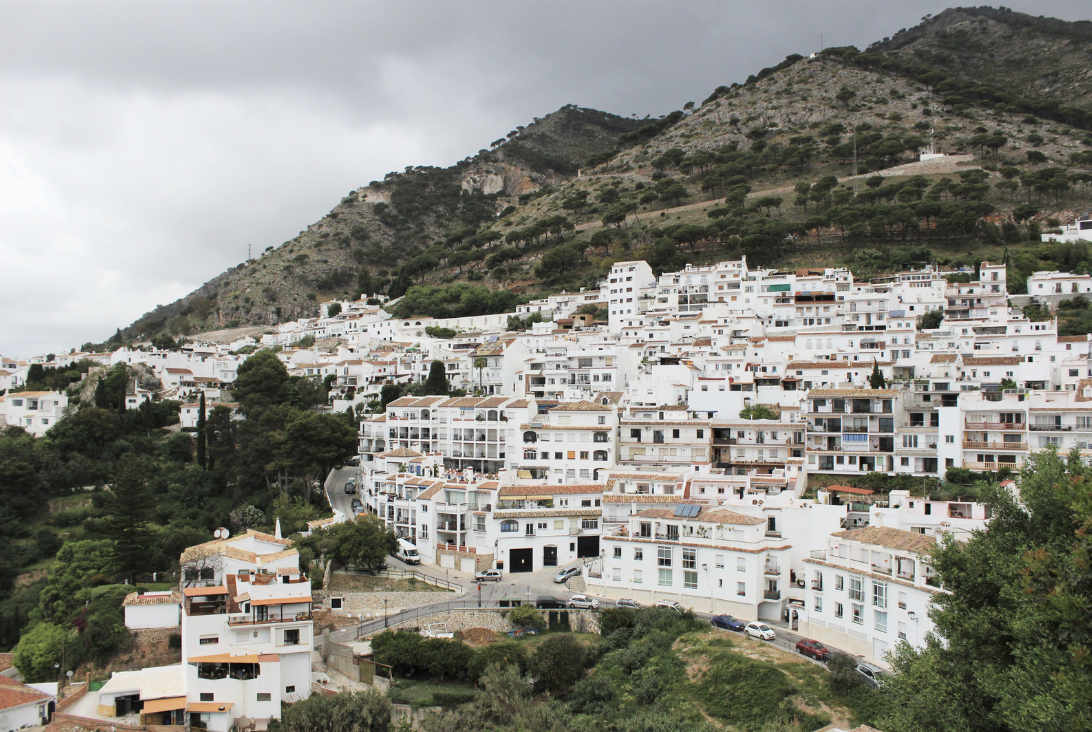 Did You Get Travel Insurance Yet?

The Insurance companies I recommend are Hey Mondo, Safety Wing, and Travel Insurance Master

Hey Mondo is great if you are looking for a great value flexible policy. They offer single-trip cover, annual multi-trip cover, and long-term travel cover. Safety Wing is great value, with monthly coverage starting at $39. It's super easy to use, and it just renews each month. I currently use them as they offer me free cover for my son as part of my policy. I also use Travel Insurance Master for short trips.

Read my full travel insurance post here, where I go into detail about all companies.
Where Is Mijas Pueblo?
Located in the mountains of Andalusia, this quaint little village is a hidden gem located in southern Spain. Specifically, you'll find it in the province of Málaga on the ever-so-gorgeous Costa del Sol. Unlike the beachside towns you might be picturing, Mijas Pueblo is actually perched up in the mountains, about 430 meters above sea level to be exact.
It's only about 30 kilometers southwest of Málaga, making it super accessible for a day trip if you're staying in the city. But, to be honest, I found that it really deserves more than just a quick visit. With its winding cobblestone streets, white-washed buildings adorned with colorful flower pots, and panoramic views over the Mediterranean, it's the kind of place that captures your heart and keeps you coming back for more.
How to get to Mijas Pueblo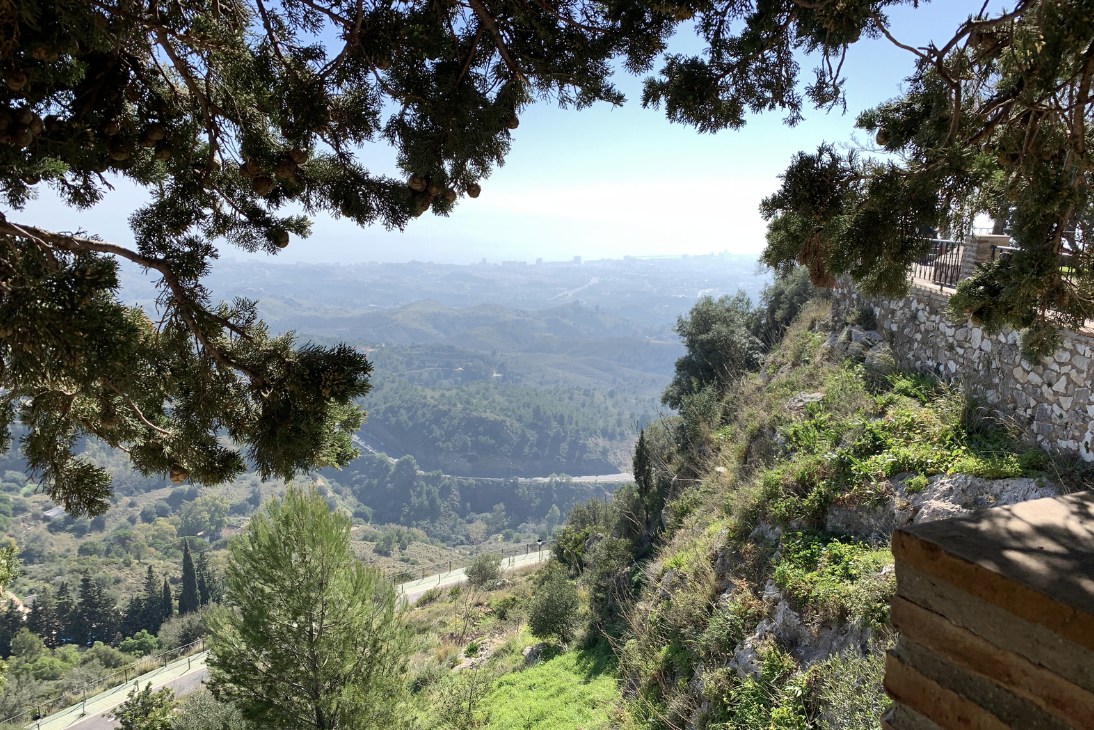 By Bus: There are regular buses from Fuengirola's bus station that take you straight to the heart of Mijas Pueblo in about 15-20 minutes.
By Taxi: A taxi ride would be quicker but a bit more expensive.
Most people travel to Mijas by bus from Fuengirola or they are visiting as part of an Andalucia road trip. Here is how to take the bus from Fuengirola to Mijas.
The bus will pick you up at the bus stop in the center of town. You will see the sign and a queue of people waiting. It's a very popular route. If you aren't;t sure, just ask. You can pay the driver directly and to take the bus from Fuengirola to Mijas, which costs around €3 each way.
The buses are regular, even on a Sunday and it will take about 20 minutes to get there. When you arrive it will drop you off right on the edge of the village.
From Málaga Airport:
By Car: If you're comfortable driving, renting a car is a convenient option. The journey takes about 30 minutes via the A-7 and MA-20 roads.
By Bus: You can take a bus from Málaga Airport to Fuengirola and then switch to a Mijas-bound bus. The total journey will take you about 1.5 to 2 hours, depending on wait times.
By Taxi: Taxis are also available, but they're a pricier option. However, it's the most direct way to get to Mijas Pueblo if you're not keen on public transport.
By Train: Take the train from Málaga to Fuengirola. From Fuengirola, you can catch a bus up to Mijas Pueblo.
By Bus: Direct buses from Málaga to Mijas are also available but they are less frequent.
By Car: Again, if you have a rental car, you can easily drive from Málaga to Mijas Pueblo in about 30-40 minutes via the A-7.
By Car: The drive is around 30-40 minutes via the AP-7 and A-7 roads.
By Bus: Take a bus to Fuengirola and then change for Mijas. It's a bit roundabout but doable.
I've done this journey a couple of times and can attest that getting to Mijas Pueblo is relatively straightforward. However, if you're like me and love the freedom to roam, I'd recommend renting a car. This way, you can also explore the beautiful surroundings at your own pace.
Quick Tip: Book accommodation, tours, and transport ahead of time online to save money and stress.
Best Mijas Pueblo Tours: Click here to check out the top Mijas Pueblo tours
Best Mijas Pueblo Accommodation: Click here to check out the best accommodation in Mijas Pueblo
Best Mijas Pueblo Transport: Click here to book a bus, ferry, or train in Mijas Pueblo
Things To Do In Mijas Pueblo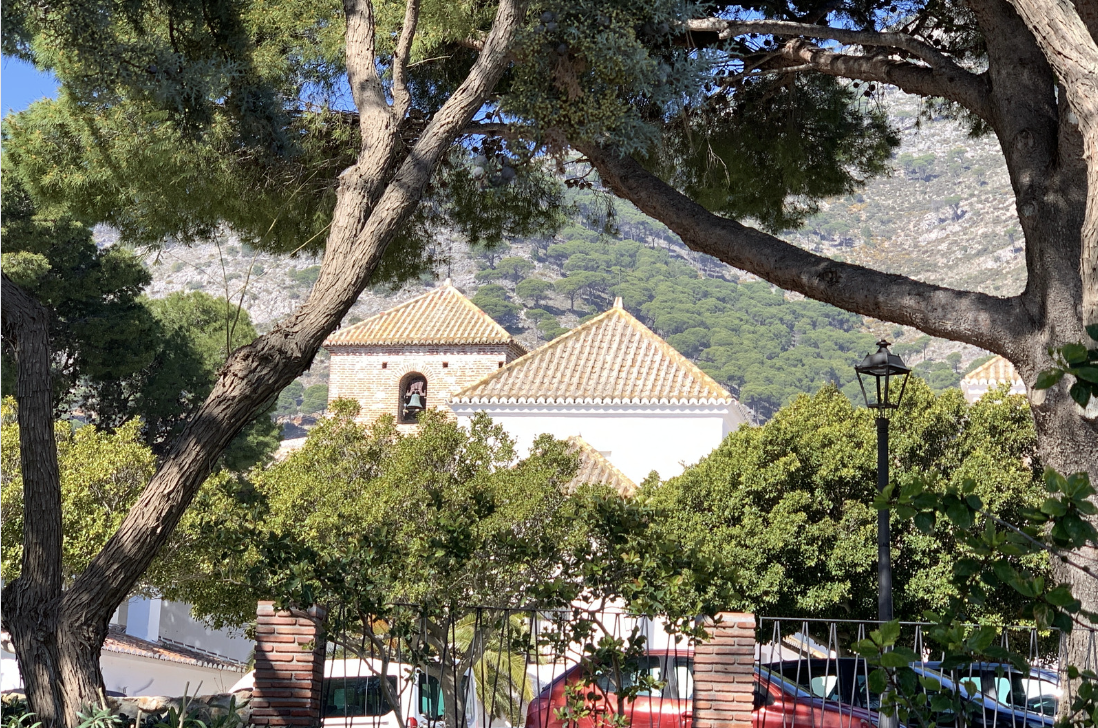 There are so many things to do in Mijas Pueblo. Whether you're into culture, adventure, or simply soaking in the views, Mijas has a little something for everyone.
So here's my handpicked list of Mijas things to do based on my own escapades:
1. Wander the Streets
First and foremost when you are looking for things to do in Mijas Pueblo you have to take a leisurely stroll through the narrow, cobblestone streets. Every corner you turn feels like stepping into a fairytale with white-washed buildings and vibrant flower pots. And hey, it's a great backdrop for those Insta-worthy pics!
2. Visit the Bullring
Built in 1900 this is one of the smallest bullrings in Spain. It's also a bit of a funny shape. The building itself is quirky and it's worth a visit. Because of its size and location, you are likely to get the place to yourself, we did.
I don't condone bullfighting, I think it's cruel, and would not pay to see a bullfight. That said I am respectful of its place in Spanish culture and I did think carefully before paying to look around the bullring here. There was actually a 'no blood' fight on that evening with flamenco dancing. As much as I would have loved to see the dancing, I couldn't pay money to support Bullfighting. I suppose I justified the money to see the museum as supporting the heritage of the building itself. Anyway, it's your personal choice if you see this or not.
3. Explore the Churches
Two churches stand out: the Virgen de la Peña Chapel and the Church of the Immaculate Conception. Both are steeped in history and offer a quiet respite from the bustling town.
4. Take a Flamenco Lesson
If you are looking for unusual Mijas things to do then there is a flamenco school in Mijas if you want to take a class. Or if you visit on a Wednesday at 12 pm there is a free Flamenco performance at the Plaza Virgen de la Pena.
5. Visit the Mijas Auditorium
If you're lucky, you might catch a live performance or a movie night under the stars. Check the schedule and grab a ticket if you can; it's a pretty unique experience.
6. Go Hiking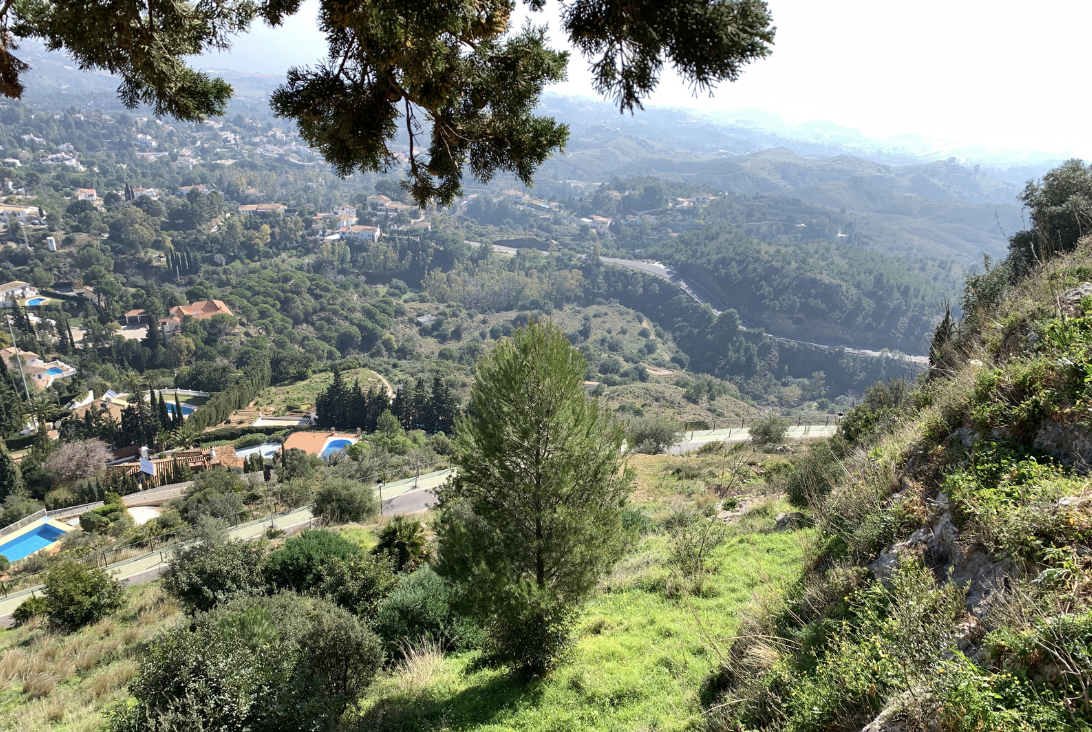 Being set in the mountains, Mijas offers some fantastic hiking opportunities. The trails range from easy to challenging, but all offer stunning views of the surrounding landscape. I absolutely loved the sense of tranquility while hiking here.
7. Savor the Food
From tapas bars to high-end restaurants, the food in Mijas is nothing short of spectacular. Local olives, fresh seafood, and Andalusian wines, what's not to love? Look out for the Mijas restaurants with views so you can soak up that stunning mountain view while you eat.
8. Shop for Souvenirs
If you want to buy some handcrafted gifts to take home then save your money and spend it in Mijas.
The village shops are full of handcrafted unique traditional ceramics, jewelry, and leather goods. There is even a small chocolate factory! I picked up some lovely silver hand-made jewelry and a few ceramic dishes for gifts.
Olive oil and local wines make for excellent gifts!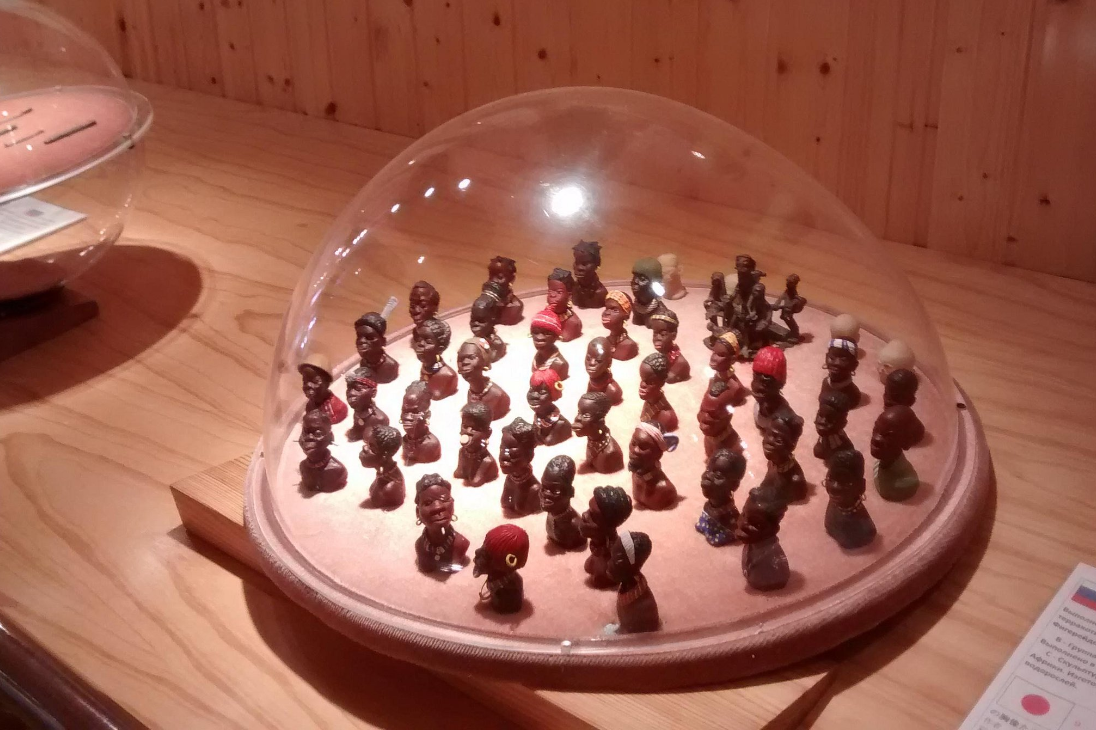 This quirky museum displays a collection of, you guessed it, miniatures! From art painted on grains of rice to mini sculptures, it's an odd but fascinating place.
10. Soak in the Views
Last but not least, find your way to one of the many viewpoints to take in the sweeping vistas of the coastline and Mediterranean Sea. Especially as the sun sets, it's nothing short of magical.
On the Paseo 'El Compas' in Mijas village, there is a shrine to the Virgen de la Peña, the Patron Saint of Mijas which is worth speaking out if you can.
11. Visit Casa Museo
It only costs €1.33 to go in and it gives you a feel for the history of Mijas and how it's evolved over the years.
12. Walk the Fortress Wall
Take a stroll along the fortress walls and through the gardens. The views are spectacular and as it's mostly shaded by the trees, it's a great way to stay out of the midday sun.
Things Not To Do In Mijas Pueblo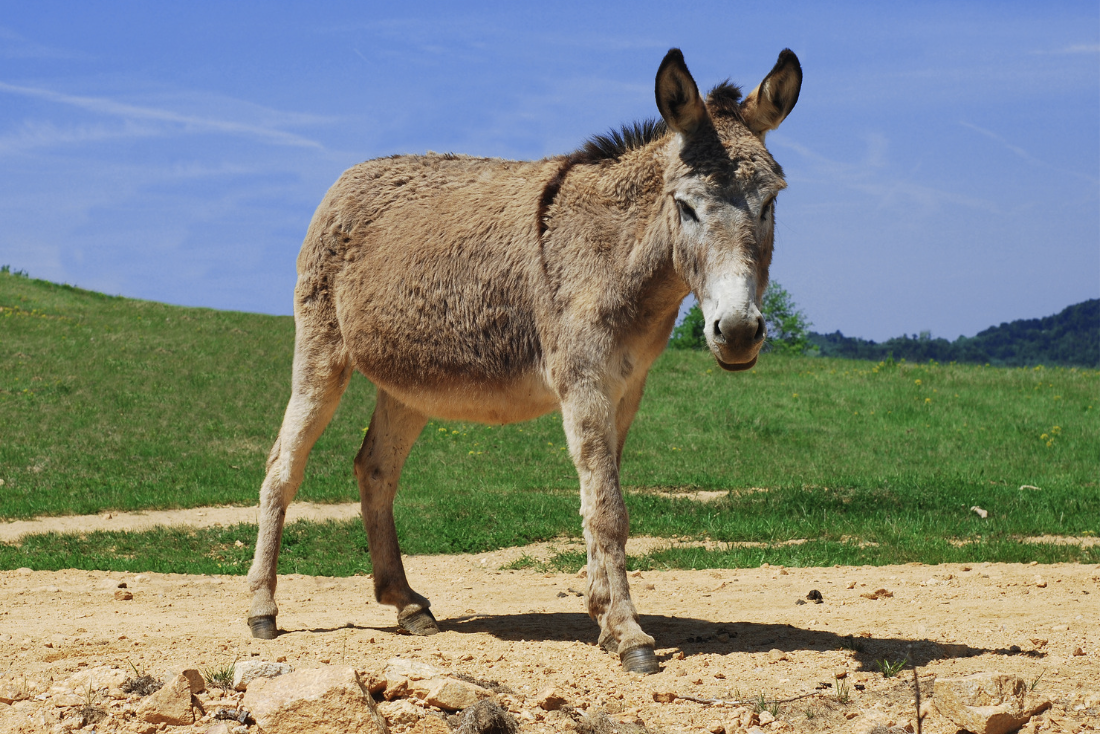 Donkeys – Please don't ride the donkeys. There have been so many reports of abuse so best to stay away from this tourist attraction. Or any tourist attraction that involves animals…
Don't see a Bullfight
Although I did go to the museum, I wouldn't recommend seeing a bullfight for so many reasons. If you want to know more about what actually happens at a Bullfight take a read of this article by Young Adventurers it gives an "on-the-fence" view of it. Or if you want some reasons why you shouldn't go, from an anti-bullfighting stance read this.
Resturants in Mijas Pueblo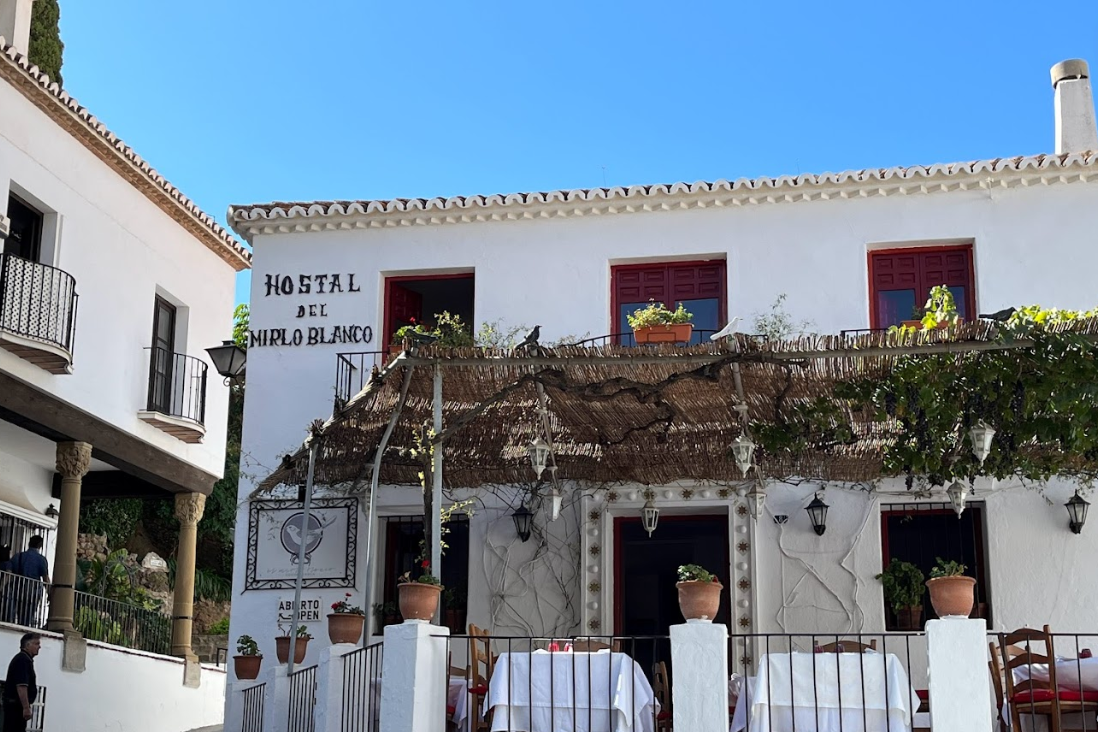 As I mentioned before you won't struggle to find good restaurants in Mijas Pueblo,the village is brimming with eateries that serve everything from traditional Andalusian cuisine to international dishes. The real challenge here isn't finding a restaurant, it's deciding which one to pick!
There is this quirky little place called Oscar's I can't recommend it enough, the food was great and reasonable prices and the staff are lovely. I can't rave enough about this place. The atmosphere is just the right blend of cozy and trendy, the food is superb, and the prices are surprisingly reasonable. I could go back just for the paella!
If you're looking for Mijas restaurants with views then head to La Alcazaba de Mijas. This spot offers a stunning view of the Mediterranean Sea and the menu is a mix of Spanish and Mediterranean flavors. It's a bit on the pricier side, but for a special evening, it's worth every penny.
This spot is for all my meat lovers out there. El Capricho serves some of the best grilled meats in town, and their wine list is pretty stellar too. The décor is rustic, making it feel like an authentic Spanish experience.
The Village Bistro
A little off the beaten path, this charming bistro offers a range of dishes from salads to hearty mains. They also have a good selection of vegetarian and vegan options, so it's perfect for mixed groups.
Recommended Hotels in Mijas Spain
I didn't stay over in one of the hotels in Mijas Pueblo, but these places all look really nice and have come highly recommended.
Los Amigos Beach Club By Diamond Resorts
Spain Travel Guide Planning
🚗 Where can I book bus or private transportation ?
I recommend Bookaway. They have a lot of transport options in all over Europe.
🎫 Where can I buy tickets for museums, attractions, and tours?
I recommend either Viator or GetYour Guide. They have a lot of options!
👩‍⚕️ What is the best insurance to have while traveling?
I recommend using Heymondo for a great value policy. The app also offers you 24/7 Dr Chat. For Digital Nomads check out SafetyWing digital nomad insurance.
I have also written a blog post covering all my recommended travel insurance here
✈️ Any flight recommendations?
WayAWay offers you cheap flights with cashback. You can use this code CLAIRE22 to get 10% off. Otherwise Skyscanner or Expedia are my go-to flight searching platforms.
📱What do you use for internet connection while traveling?
I'm a big fan of personal WiFi devices and they have saved my ass so many times when traveling. I wrote a full review of the top travel WiFi devices you can read here. I personally use GlocalMe as I can either pop in a physical sim card or use their local carrier.
With regards to my phone connection, I use e-sims while traveling, so rather than having to swap out my regular sim card I can download the app and buy a virtual sim card. I recommend using eitherAirhub or Alosim. Both have great coverage of multiple countries and are very easy to use.
🛏️ What is the best platform to use for booking accommodation?
The 3 best platforms that I normally use are Booking.com, Hotels.com, and Expedia They offer great deals and multiple options. I always check all three to be sure of the best deals.
🛅 Do you have any luggage recommendations for traveling?
I do have a complete list of the best packing and luggage products that I recommend, you can check the list here. I'm currently traveling with this suitcase and this backpack.
Final Thoughts
This charming Andalusian village has it all—stunning views, mouthwatering food, and activities that cater to every kind of traveler.
Whether you're up for hiking the scenic trails, indulging in some local cuisine, or simply losing yourself in the winding streets, Mijas Pueblo will not disappoint.
If you're anything like me, you'll leave with your soul refreshed and your camera roll overflowing.
This post was proofread by Grammarly
Pin for later