Do you want to study Spanish in Guatemala? One of the best things I did while traveling in Latin America was to learn Spanish. I can't even tell you how many doors it has opened for me, not to mention how much stress and money I've saved! So if you are thinking of learning Spanish and wondering where to go I can honestly say Guatemala is your cheapest option. Especially if you opt for a homestay. Here is my guide to why you should learn Spanish in Guatemala.
Why study Spanish in Guatemala?
After deciding to study Spanish abroad I did a lot of research into where the best place to study would be. I knew that I wanted to study intensively for several weeks so I could get a grasp of the language and fully immerse myself. I initially considered studying Spanish in Spain but I decided against it for 3 reasons.
It was out of my budget

I would be studying in a class of multiple people

It's harder to get full emersion as there are so many people who speak English in Spain
Choosing to study Spanish in Guatemala
When I began to widen my search to Latin America there where two places that continued to come out on top as the best places to learn Spanish.
The reasons were that both countries are the cheapest places to learn to speak Spanish, plus both have reasonably neutral accents. I ended up deciding on learning Spanish in Guatemala as it ticked a few more of my boxes, and it was also a better starting point for my travels being in Central America and from there I could work my way down through South America, taking further Spanish classes in Colombia.
Choosing The Right Place to Study Spanish in Guatemala
There are a lot of Spanish schools in Guatemala. The two most popular areas are Lake Atitlan (San Pedro) and Spanish Schools in Antiqua. Another popular choice is to study in Xala… But I've not written about that in this post as I chose not to go there (too cold and not enough to do).
When comparing San Pedro with Antiqua there are a few things to consider. Antigua is larger with far more schools and students and as a result, it's possible for it not quite so immersive. Many of the Spanish Schools in Antigua have homestay options, but often they are more like hostels, in fact, some of the schools even have their own hostels! The good thing about this is you will have several students in your accommodation that you can speak English with. The downside is it won't be as immersive as it could be.
That said the school I recommend in Antigua is La Union Spanish School who offer a brilliant full immersion program where you will stay just outside of Antigua with a local family and ride the Chicken bus to school each day. It's a great idea for serious students.
In Lake Atitlan it is much quieter, the accent is very different as Spanish is their second language, and you will find a lot fewer people speaking English.
I've studied Spanish on four separate occasions in Guatemala, once in Lake Atitlan and three times in Antigua. Although I enjoyed my time in Lake Atitlan, I did find studying Spanish in Antigua suited me better.
My first time in Guatemala I decided to study for 3 weeks in San Pedro at the Cooperativa Spanish School. I chose to study for 5 hours a day and stayed with a local Mayan family. I chose this school as I had heard great things about it, and they also do a lot for the local community. Not all schools do this so it's something to watch out for as a responsible traveler.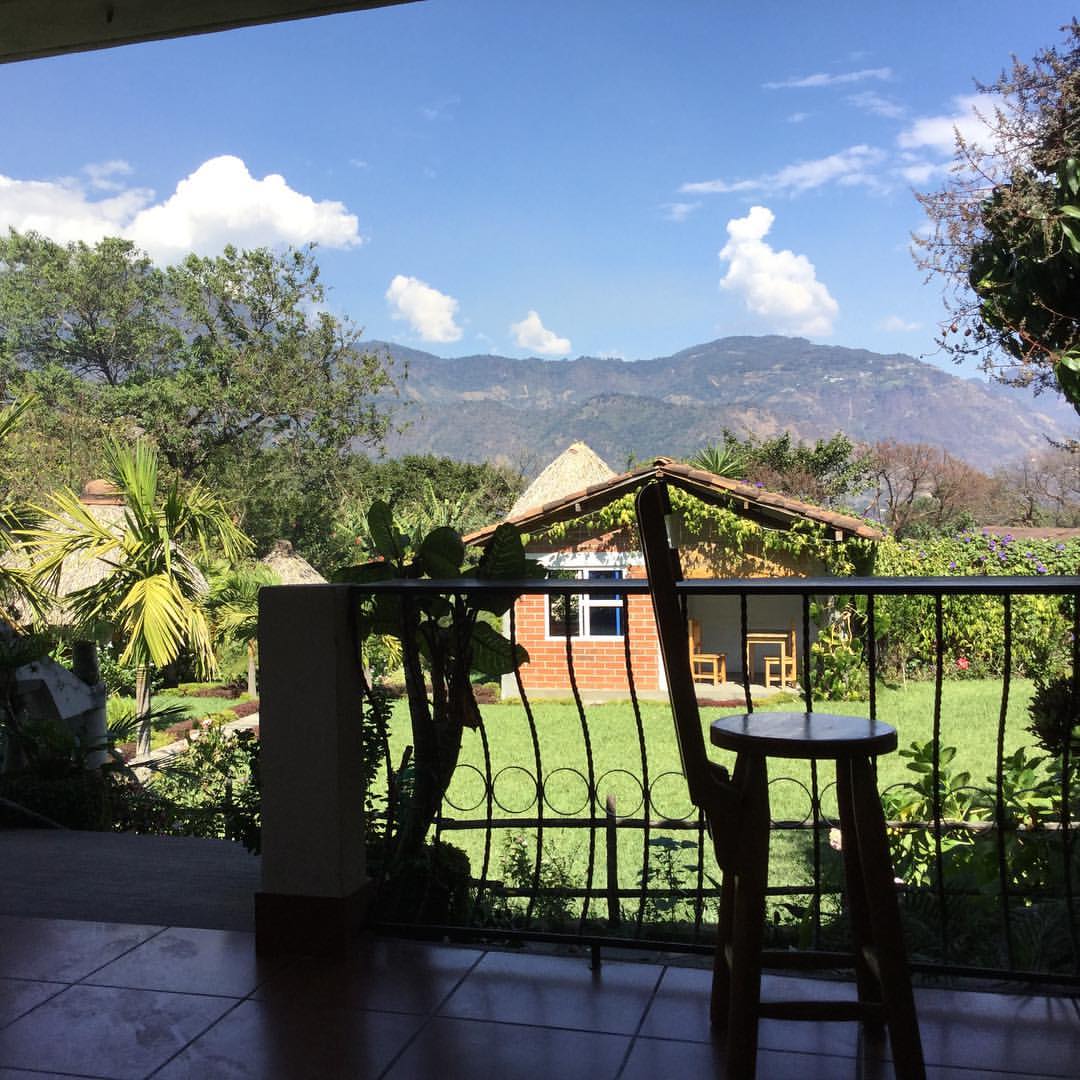 The Spanish Teaching in Guatemala
All teaching in Guatemala is done 121 unless you are traveling with someone, then you can request to have lessons together, but this is discouraged. Because it's 121 it's very responsive to your needs. That said it's also really intense and at times it can be unbelievably frustrating. There is nowhere to hide!
Having dyslexia there were times when I wanted to cry, especially at the beginning. I didn't like my teacher at Cooporativa and he seemed more interested in filling me full of as many verbs as he could rather than actually making sure I was learning anything.
My experience in Antigua was very different, the teachers were much more patient, professional, and really checked in with me and went at a pace that suited me
A big part of the way you are taught in Guatemala is that they get you talking as much as possible. Chatting about your day, life in general, and trying to use less and fewer words in your native tongue and more and more in Spanish. This way of learning really suited me, it was the more formal learning of the verbs and sentence structure that got me.
The Spanish School in Antigua
If you asked my opinion I would always recommend studying Spanish in Antigua over San Pedro. La Union is a far better school, they have great homestay options. The school is in a great location, classes take place in the garden and there is coffee on tap!
They also have plenty of activities from Salsa to cooking classes. My teacher was incredibly professional and patient. I can't say the same for my teacher in San Pedro, which was the main reason I quit school a week early.
I also took private 121 classes in Antigua which is another great option if you just want a few classes a week and don't want to study in a school.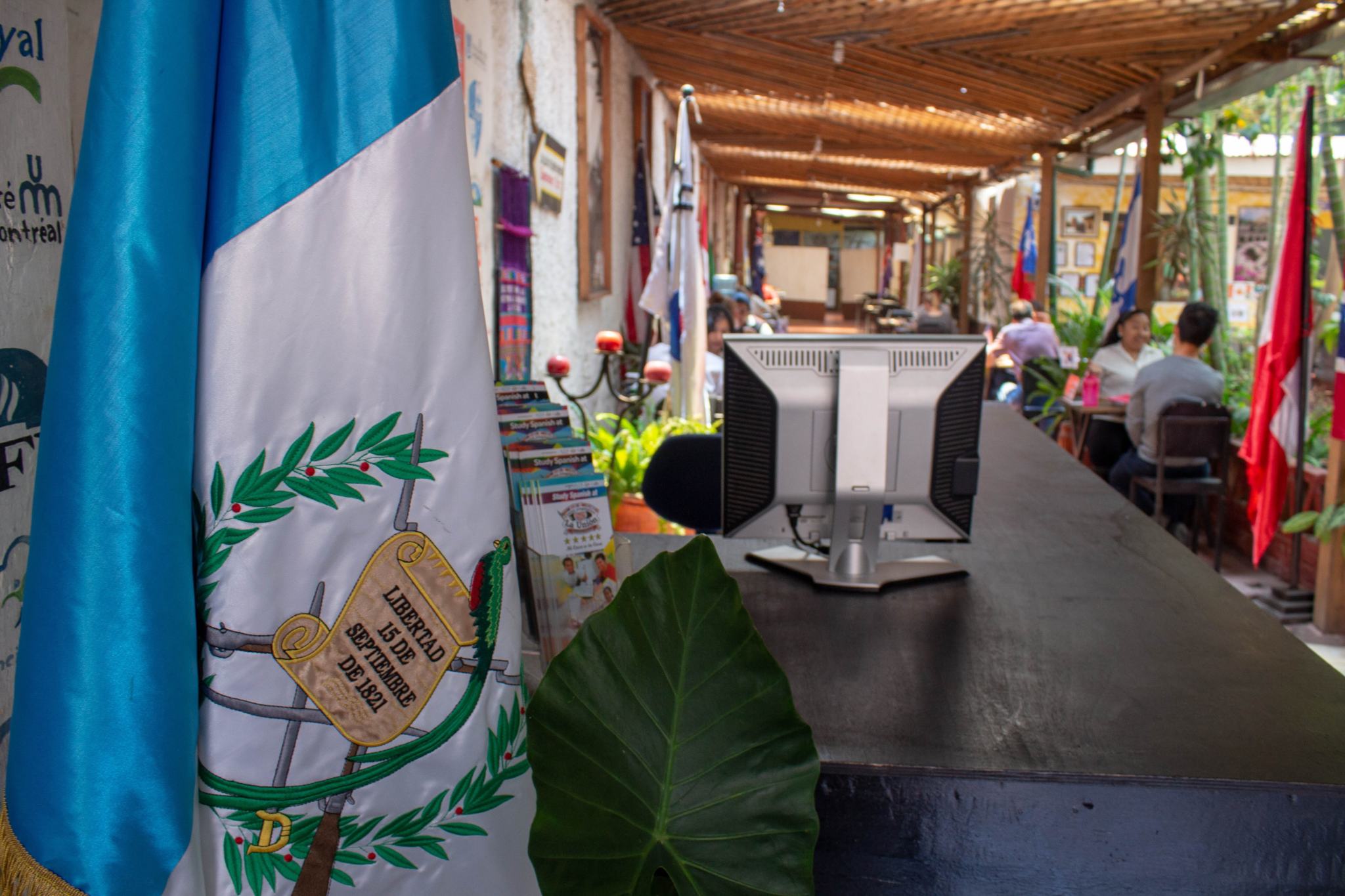 The Spanish School in San Pedro
The school itself was beautiful. Lessons take place in the garden in little teaching cubbies. Each cubby has a table, two chairs, and a whiteboard. Again there is water, tea, and coffee on tap (you will need it) and you can choose how many hours you study a day from 1-6. I choose 5 which I regretted straight away. My advice would be to do between 3-4 depending on how long you feel you can concentrate on.

The Guatemala Home Stay Experience
I loved being in a homestay while learning Spanish. I know it's not for everyone and it can be a bit of a culture shock if you go expecting to be staying in luxury! My room was simple, the shower was almost always cold and mealtimes are fixed. I loved mealtimes with the family and the chance to talk with them and practice my listening and speaking skills. The first week was tough as I knew very little Spanish so I found myself nodding like an idiot saying "si" repetitively.
I didn't stay in a homestay in Antigua as I was living there when I took the classes so didn't need to. But the experience is pretty similar if you are staying outside of the city. Within the city, you will likely be in a hostel or a house with many other students.
How I felt at the end of my first 3 weeks of Spanish school in Guatemala
The first time I took Spanish classes in Guatemala I knew no Spanish at all!. I choose to do three weeks, but I had to stop after two. This was 100% the right thing for me to do. I have written about my reasons for stopping here if you are interested, I won't go into it again in this post!
But by the end of my three week (I stayed in the homestay for the full time, I just stopped having classes) I had so many verbs I felt like my head would explode and I had even learned 3 past tense verbs… Although it took me a while before I used them!
I noticed by the end of the first week I was beginning to understand much more. When I sat at dinner with the family I could follow along with the conversation. If someone asked me a direct question though I still went into panic mode and all of the words I knew left me!
By the end of three weeks, I could read basic Spanish ie menus and signs. I could follow along with most conversations and answer simple questions (or at least understand the question even if I didn't quite know how to respond). I also felt comfortable going into food and drink places and ordering in Spanish…how great my pronunciation was I'm not sure but I was able to get by without any problems.
Conversations, however, were still beyond my grasp.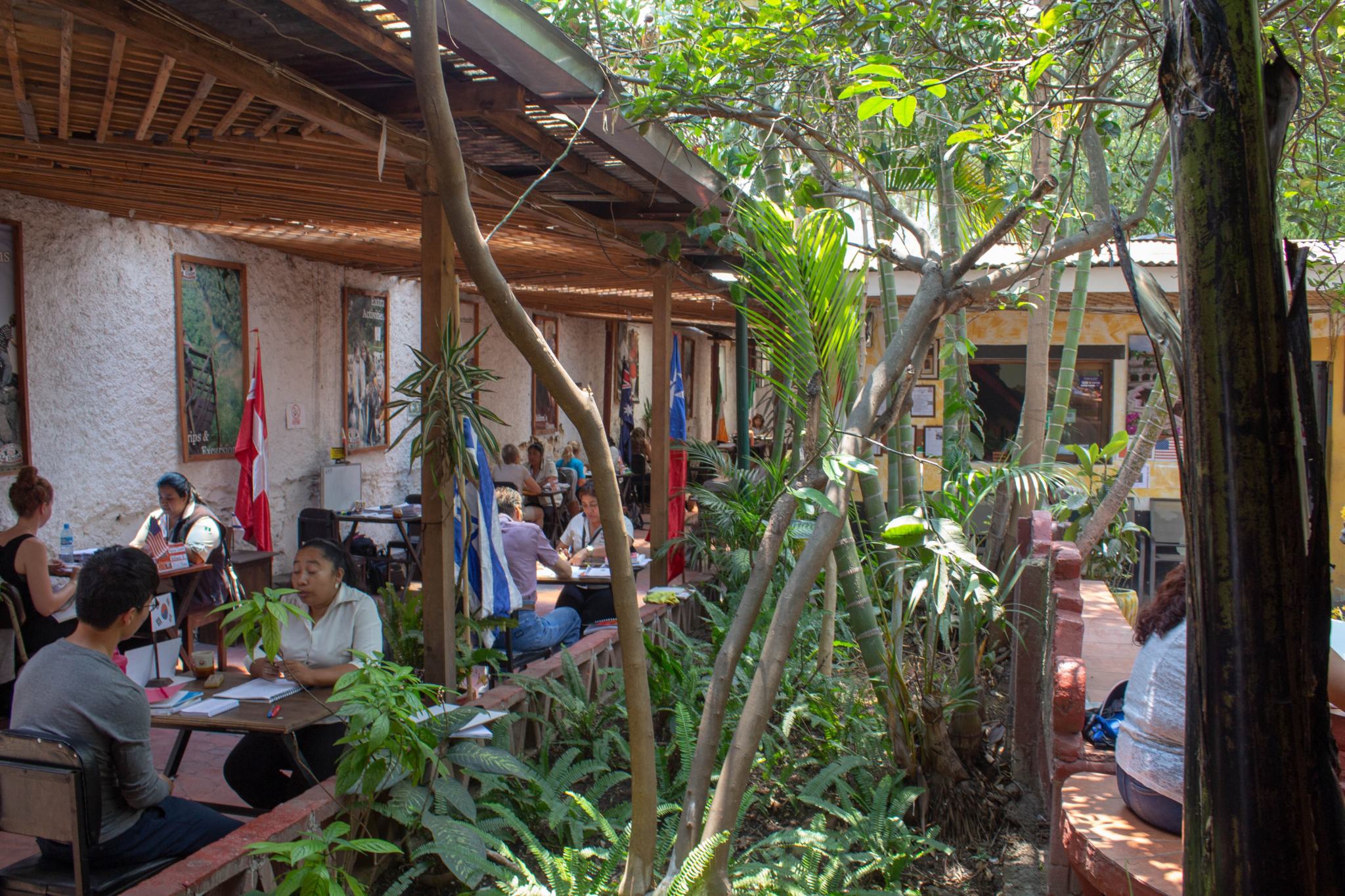 Final Thoughts
If you are thinking of learning Spanish and want to do an intensive course. I would highly recommend Guatemala.
For more information about planning your intensive language course be sure to read my post of things to think about before booking here. If you prefer South America check out this great resource with information about Spanish courses in South America.
You can book your Spanish school classes through GuateGo and choose from Spanish lessons in Antigua, San Pedro, Panajachel, San Marcos or Xela. Their website is great for booking Transport and experiences in Guatemala. They are a Guatemala owned company who have painstakingly brought together all of the transport and tour options in one easy to use website. You can book transport in Guatemala with them here and Guatemalan tours with them here.
Planning a Trip to Guatemala? You might be interested in these articles:
How to get from Guatemala City to Antigua
Is it safe to visit Guatemala? Safety Advice for Solo Female Travelers
The night I thought I was going to die in Guatemala
11 things to know before visiting Guatemala
The Top 5 Tours in Guatemala | The Best Tours in Guatemala in Guatemala
Are you ready to book your trip?  To help you get the best deals and service here are the companies that I personally use to book all of my travel online. I always shop around before booking anything, but these are my tried and tested starting places.