Thinking of doing a surf camp Spain? Spain isn't just about flamenco, tapas, and jaw-dropping architecture. Let me let you in on one of Spain's best-kept secrets: the surfing is absolutely incredible!
Yes, surfing in Spain is a thing, and it's a big one at that. So grab your board and wetsuit as we explore the best surfing in Spain! And, don't forget to pick up your Spain eSIM while you're there too.
Did You Get Travel Insurance Yet?

The Insurance companies I recommend are Hey Mondo, Safety Wing, and Travel Insurance Master

Hey Mondo is great if you are looking for a great value flexible policy. They offer single-trip cover, annual multi-trip cover, and long-term travel cover. Safety Wing is great value, with monthly coverage starting at $39. It's super easy to use, and it just renews each month. I currently use them as they offer me free cover for my son as part of my policy. I also use Travel Insurance Master for short trips.

Read my full travel insurance post here, where I go into detail about all companies.
Spain Surf: Not Just for the Pros
You might think Spain surf is only for the seasoned surfer, but that couldn't be further from the truth. Whether you're a pro or a newbie, Spain surfing has something to offer everyone. And the best part? You're not limited to one location; the waves in Spain can be found in both the north and south, so you have options galore!
Best Surfing in Spain: Where To Go?
Surfing in Spain offers such a wide range of experiences, from the big barrels in the Basque Country to more mellow vibes in the south. But the burning question is, where should you go for the best surfing in Spain? I've got you covered.
Surfing Northern Spain: The Basque Country and Beyond
When people talk about the best surf in Spain, the Basque Country often steals the limelight with spots like Mundaka. But let me tell you, surfing northern Spain has so much more to offer.
The Hidden Gem: Santander
Now, I can't talk about the best surfing in Spain without giving a shoutout to Escuela de Surf La Curva in Santander. I spent a week at their surf camp, and it was a total game-changer. Their instructors are not only pros at surfing but also at teaching. I went from stumbling over my board to riding waves with confidence, all within a week!
Plus, Santander itself is beautiful, so when you're not in the water, there's plenty to see and do.
Andalusia: Surfing Spain's Southern Coast
Don't underestimate the surf down south. Spots like El Palmar and Tarifa can offer some pretty gnarly waves too. While the waves might not be as consistently big as in the north, the warmer weather and water temperatures in Andalusia are definitely a bonus.
Canary Islands: The Eternal Summer Surf Spot
If you're in search of eternal summer, head to the Canary Islands. The surf here is reliable year-round, and it offers a variety of breaks suitable for all levels. Plus, you can't beat surfing with a view of a volcano in the background!
Waves in Spain: What to Expect?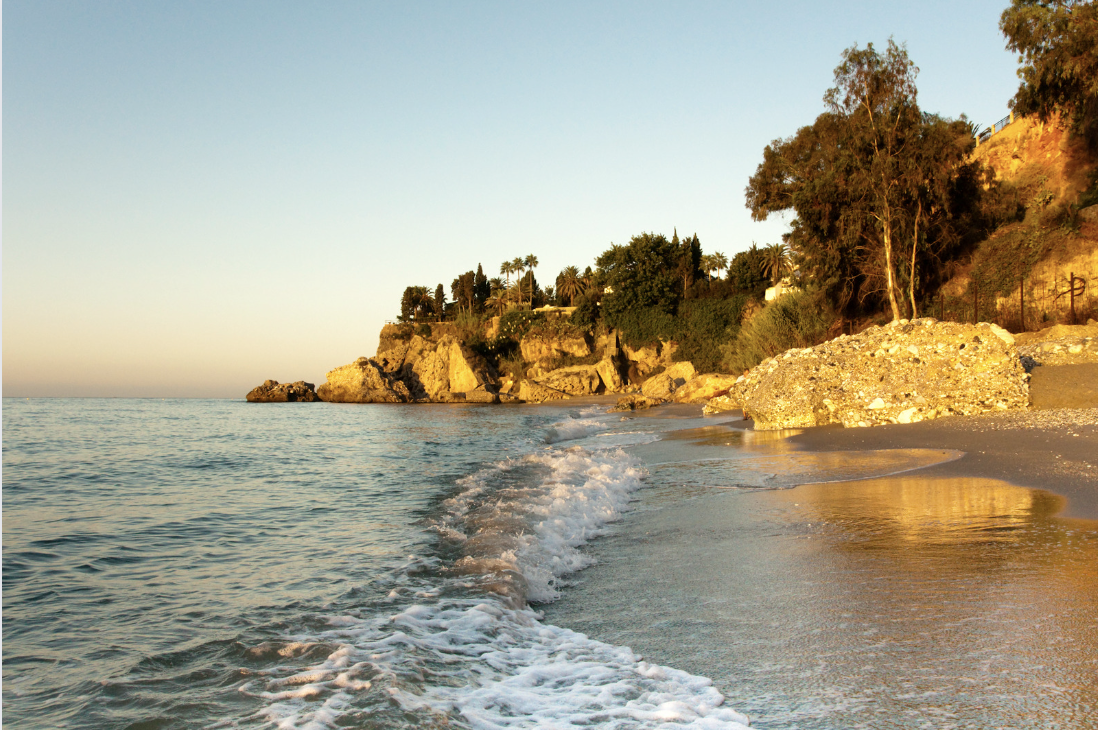 The waves in Spain are as diverse as the country itself, offering something for everyone, from seasoned pros to absolute beginners. So what can you expect from the waves in Spain?
Seasonality and Swell
First off, the time of year you decide to visit plays a big role in what kind of waves you'll encounter. Generally speaking, winter brings the most powerful and consistent waves, especially in the Atlantic coasts up north. In the summer, the Mediterranean offers calmer, more beginner-friendly waves, making it an excellent choice for newbies or families.
Types of Waves
You'll find a variety of wave types in Spain, from mellow, longboard-friendly rollers to intense, barrel-forming breaks. The waves in Spain can accommodate surfers of all levels and styles. If you're into big-wave surfing, spots like Mundaka in the Basque Country are where you'll want to head.
Surfing Northern Spain vs. Southern Spain
When it comes to the best surfing in Spain, the north often takes the cake with spots like Mundaka, Zarautz, and Noja offering powerful waves perfect for experienced surfers.
However, southern Spain shouldn't be ignored. Areas like Tarifa and El Palmar in Andalusia offer not only waves but also a blend of surf culture and traditional Spanish flair.
Because of their location off the coast of Africa, these islands offer a more tropical surf experience. You'll find reef breaks, point breaks, and beach breaks, all set against a backdrop of breathtaking landscapes.
My Experience at a Surfing Camp Spain
When searching for a place to learn to surf I found a website with information about international surf camps and quickly decided on a surfing school Spain. Read on to find out about my experience surfing in Spain at Escuela de Surf La Curva.
After years of trying to surf with my friends in the UK I finally decided I wanted to have some actual surfing lessons. What better way to learn to surf than at a surf camp in Spain?
What to look for in a surf camp in Spain
When looking for a surf course the things I took into consideration were:
I wanted to go early in the year so I could make the most of my newly acquired skills during the UK Summer (if we get one that is).
I didn't want to go too far away as I only have 5 days
my budget was tight so it needed to be cheap
After some research, I came across Book Surf Camps. A website dedicated to promoting Surf Camps around the world. They have so many options including options on levels from beginners to advanced. I decided to book a 5-day camp at Escuela de Surf La Curva in Santander which is one of the best in Spain.
Return flight from London Stanstead with Ryanair for under £50. Thanks, Skyscanner for never letting me down!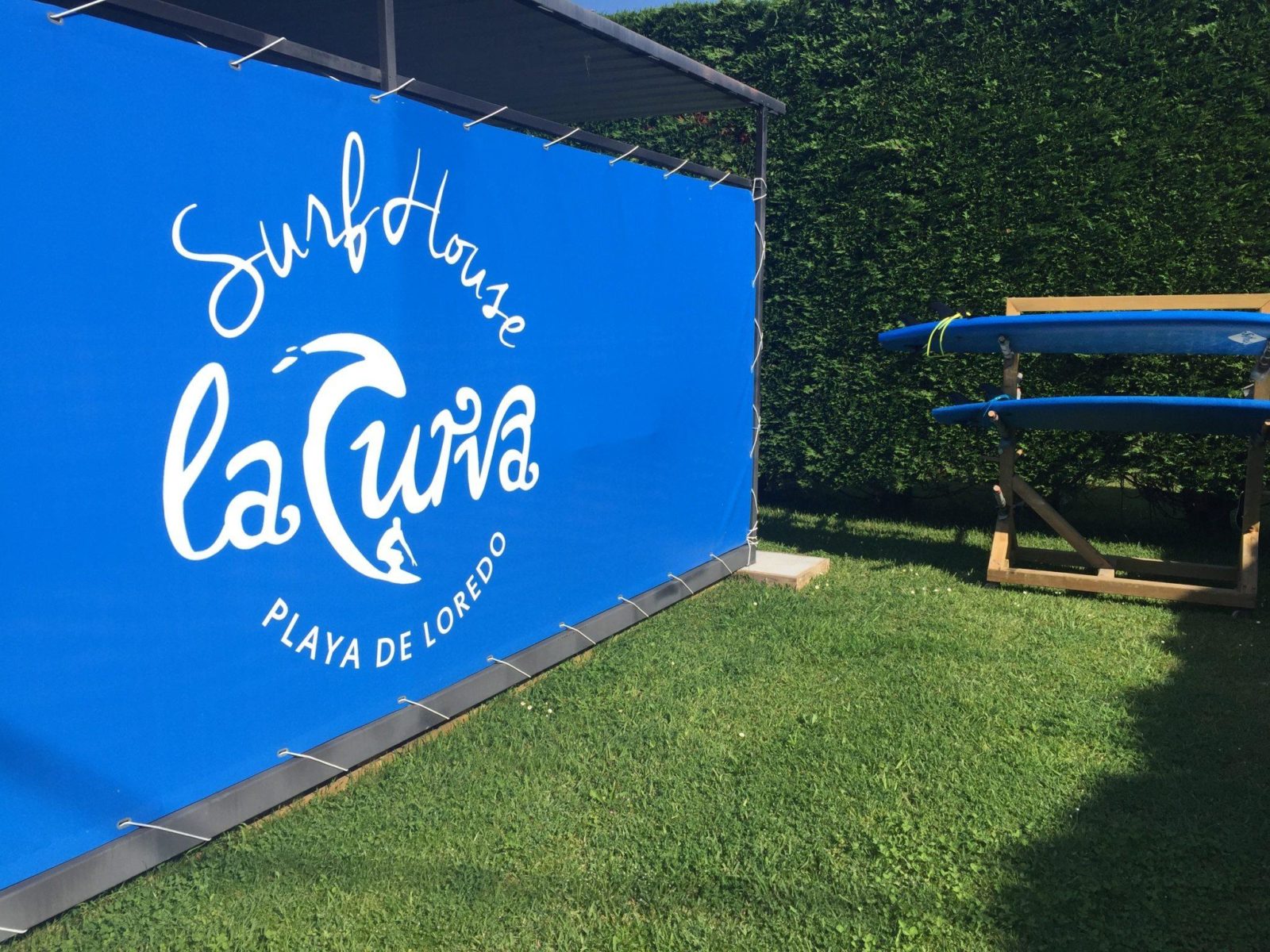 Cost of the surf vacation in Spain
The cost of 5 days was 235 euros (in high season this would be 265 euros). This included bed and breakfast in their wonderful new surf house, two hours of tuition in the morning, and then use
This included:
Bed and breakfast in their wonderful new surf house
Two hours of tuition in the morning
Use of the boards in the afternoon/ evening for a free surf
I thought this was a really good price and for what you get it's excellent! You can stay for less than 5 days but I wouldn't recommend it if you are a beginner. Ideally, I would have stayed for 7 days (360 euros high season – 299 euros low season).
The accommodation is perfect, it's a newly opened 'surf house' rooms are dorm rooms with shared bathrooms. As well as the communal kitchen there are two chill-out areas and a HUGE garden that even has a volleyball net.
The budget for the week surfing
Budget-wise I hardly spent anything while I was here, it's a small village and if you aren't bothered about eating out there is a small supermarket and a fruit shop (my favorite shop). I think I probably spent about 50 euros in total on food and drink (this included a takeaway pizza and some pasta with chorizo I had at a restaurant).
Breakfast is included and there is a communal kitchen you can cook in.
Daily surf school itinerary
The days seemed to go by so fast although I did plan on doing some sight-seeing, in all honesty, I was happy to just chill at the surf house.
The day was normally like this:
8 am – Get up and dresses possibly go for a walk on the beach
9:30 am – Breakfast
10:30-11am – Get in your wetsuit and walk to the school
11am-1pm – Surf lesson
1-2pm – Showered and changed
2 pm – Eat
2:30-5pm – Free time/ Siesta
5-7pm – Evening free surf
8 pm – Shower
9 pm – Dinner
At around 5-7 pm each day a group of the instructors and their friends go for a surf and always invited anyone staying at the house alone, it was hard to say no to them as they were all so friendly and enthusiastic. This was one of the parts I loved the most as it was the perfect chance for you to test out what you had learned in Surf School that morning and just be sociable and feel a part of the surf community.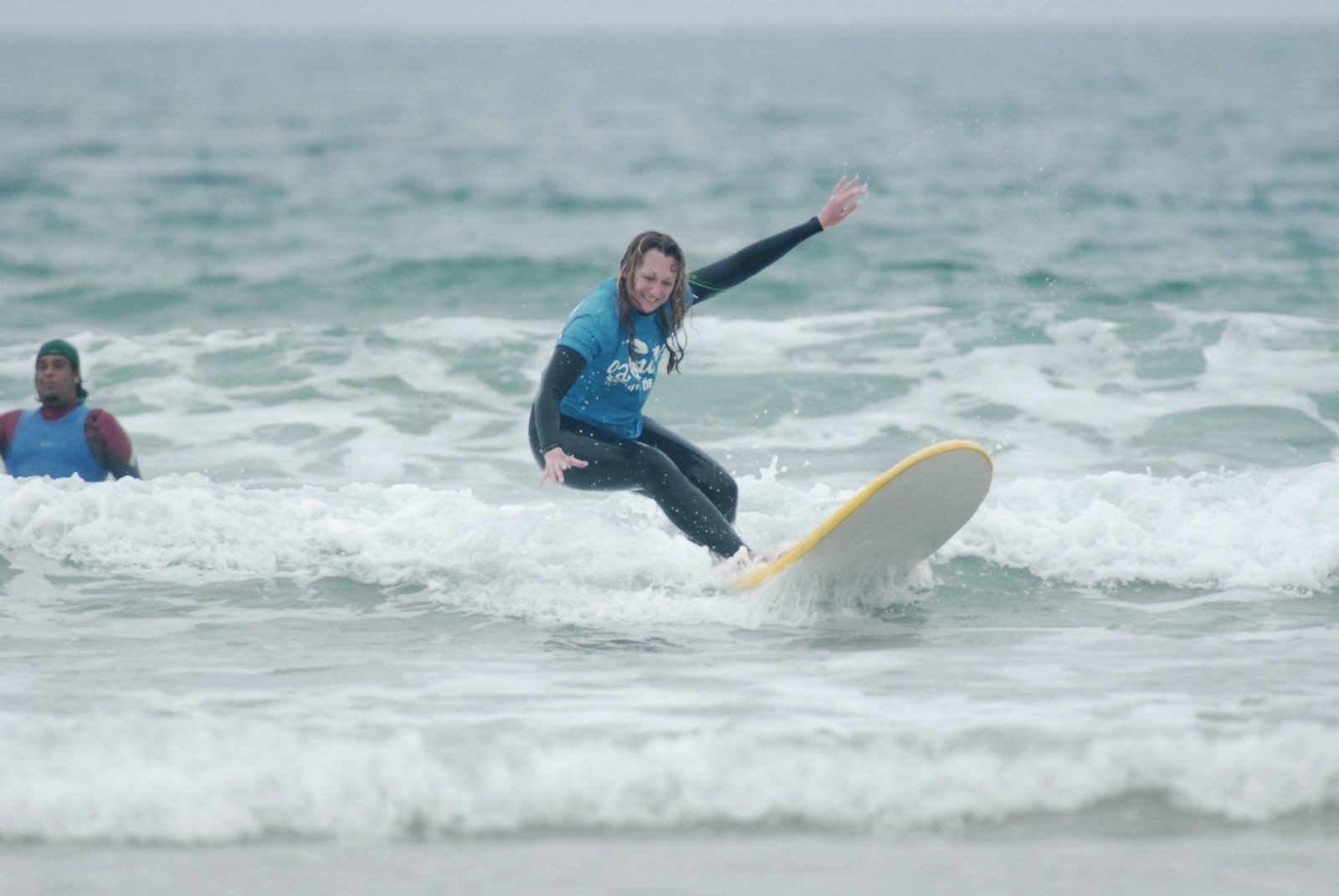 Ultimate Surf Vacation
My body was not used to surfing and on the few days when the wind was strong and the waves were powerful I was exhausted! I also walked to the neighboring beach Playa du Langre on one of the afternoons. By the time I got back I was so tired I lay down for a quick nap and woke up 2 hours later having missed the evening surf! I did find some cows though…
Surf camp Spain style is well worth it. If you fancy getting away for a bit, and learning to surf in the sun, I 100% recommend booking 5 days or more here.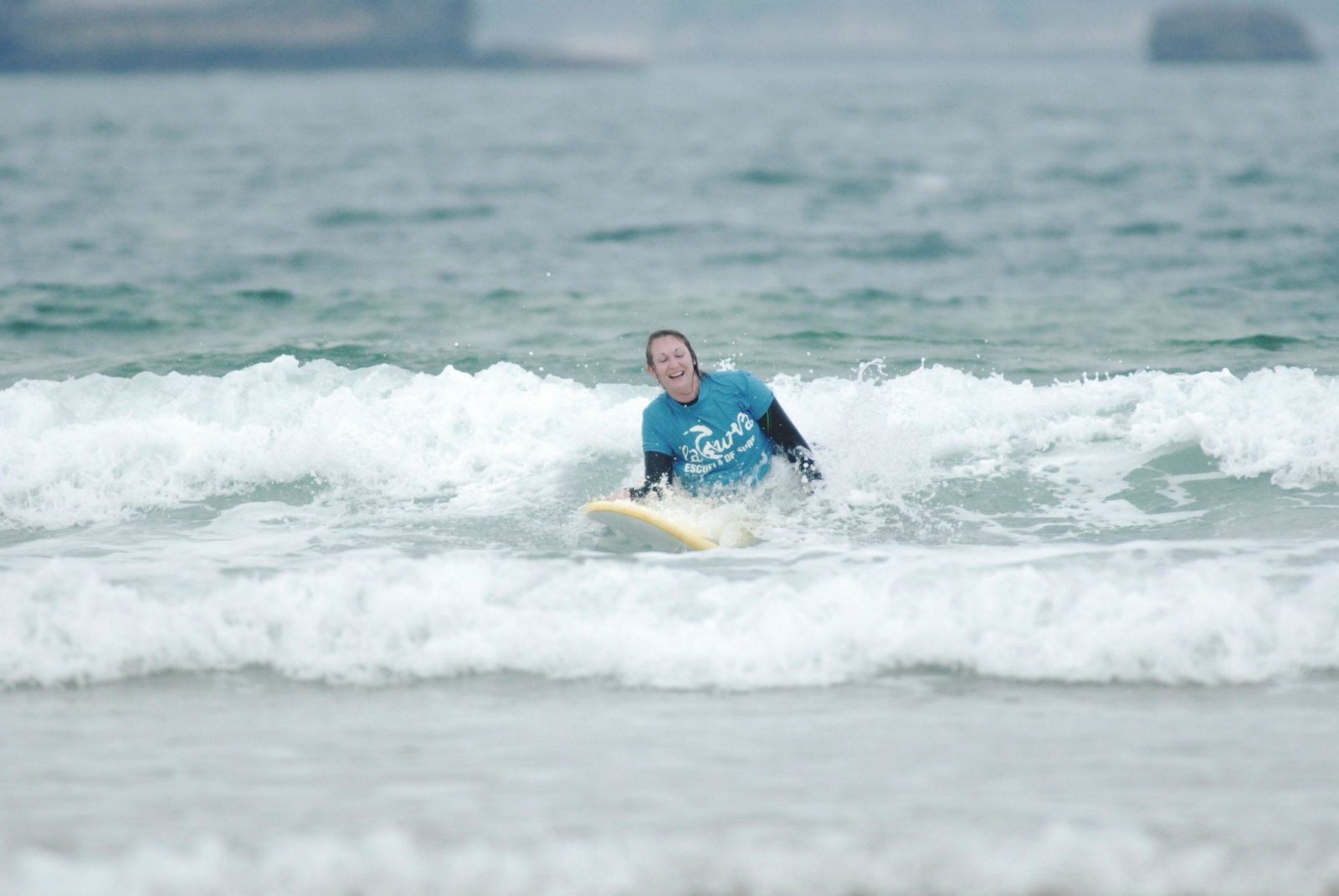 Top 5 Surf Vacations In Spain
8 Day Surf Camp: 2 Surf Sessions Per Day, Beachfront Accommodation, Breakfast in Playa Del Hombre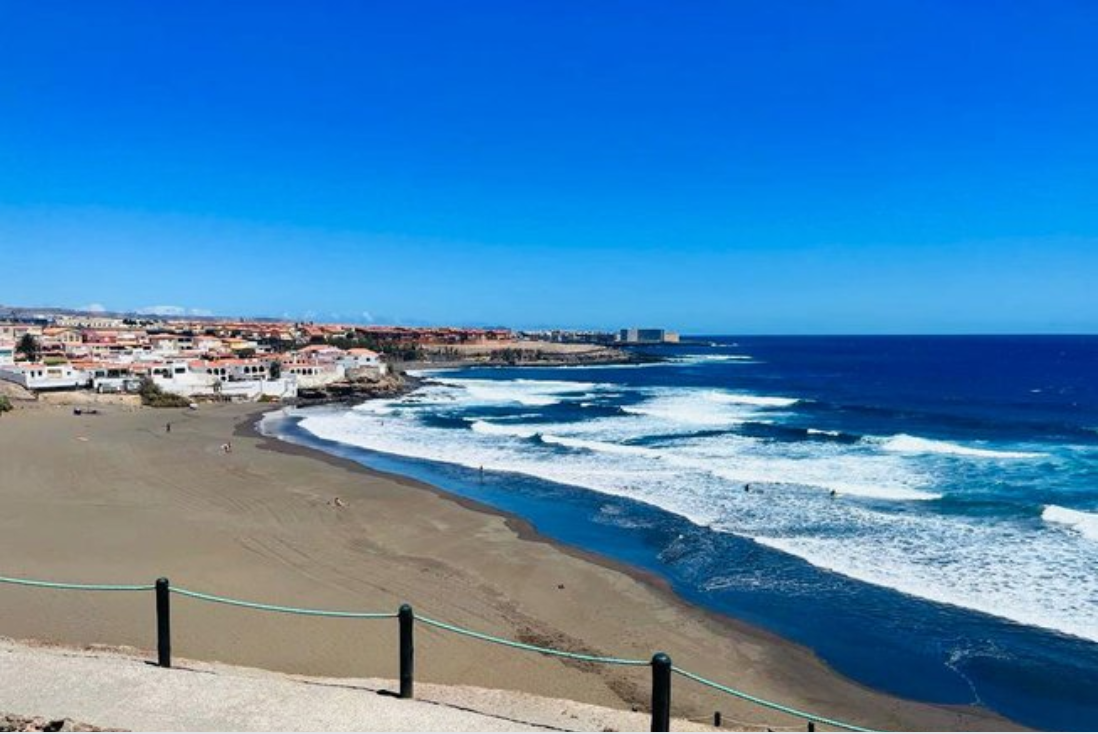 Price from: $537
Number of nights: 7
Styles: Surfing
Location: Canary Islands, Spain
What's Included:
5 days of practice out of 7
2 surf classes per day, including functional balance training session + photo analysis
Teaching by qualified instructors
All surf equipment provided for lessons
7 nights in beachfront accommodation
Airport pick up
Daily buffet self-service breakfast
Surf skate session (organized by a team member as an additional activity if possible)
Beach volleyball (organized by team members as an additional activity if possible)
Immerse yourself in a thrilling surf adventure that promises an unforgettable experience in Playa del Hombre. You'll spend a total of 7 days in this paradise, with 5 days dedicated to surf practice.
No matter your skill level, whether you're a beginner or intermediate surfer, this retreat is perfect for your needs. Instruction is offered in English, and the organizer is fluent in Russian. Plus, you'll enjoy a comfortable transfer from Gran Canaria Airport.
2 Day Dynamic Windsurfing Camp in Costa del Sol, Málaga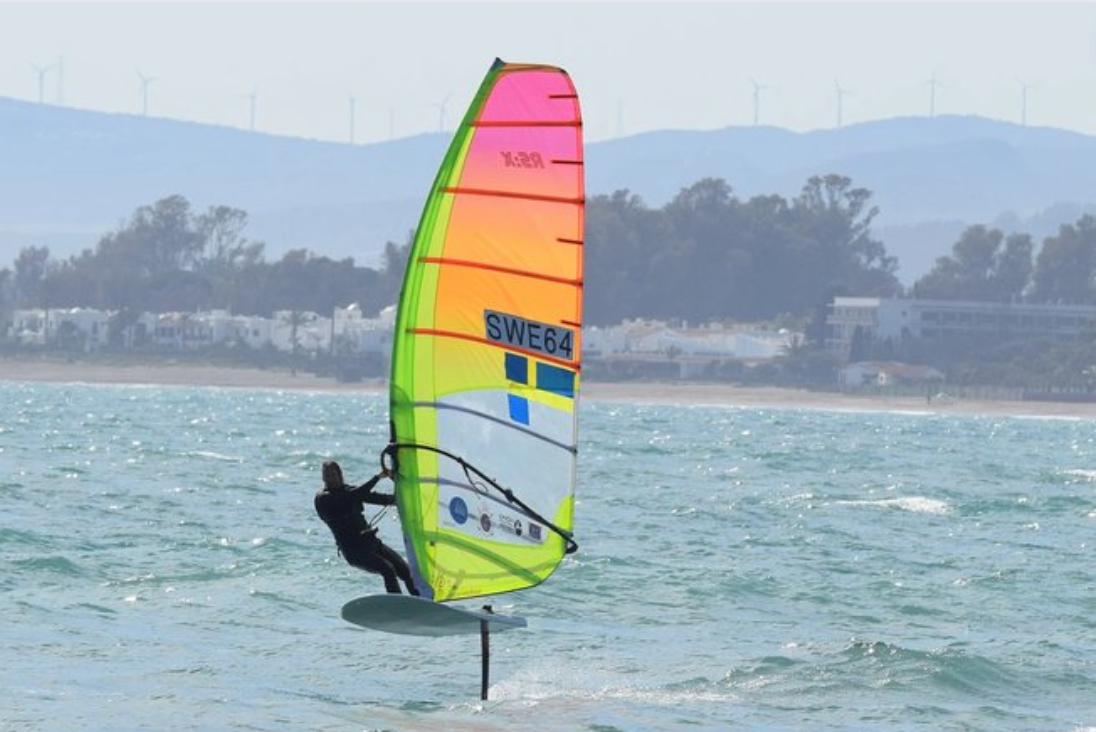 Price from: $282
Number of nights: 1
Styles: Windsurfing
Location: Málaga, Spain
What's Included:
Windsurfing classes
1-night accommodation
All equipment and wetsuit
Life jacket
A personal trainer (private coaching)
Whether you're an individual or part of a private group, and regardless of your previous windsurfing experience, this adventure is for you. If you're new to windsurfing, afraid not – you'll receive comprehensive instruction during this exciting weekend.
And if you're looking to enhance your skills with specific techniques like turns, water starts, harness usage, straps, power jibes, or even jumps, Dynamic Windsurfing is here to help you reach that next level of expertise.
2 Day Private SUP Camp Retreat in Ibiza
Price from: $315
Number of nights: 1
Styles: Stand Up Paddling
Location: Ibiza, Spain
What's included:
2 hours private SUP, SUP yoga, SUP Pilates, SUP fitness lesson, or SUP tour each day
Private 1-to-1 tuition by officially qualified SUP and SUP yoga / Pilates / fitness instructors
Local guides
All high quality SUP and SUP yoga gear rental
1 night accommodation in wooden pods at Camping Es Cana, Ibiza
You'll enjoy 2 hours of private SUP lessons, which can include SUP yoga, SUP Pilates, SUP fitness, or a scenic SUP tour each day. These sessions are led by officially qualified SUP instructors, you will receive personalized attention and expert guidance.
All the high-quality SUP and SUP yoga gear you'll need for your adventure is provided. You'll also have the opportunity to explore and relax during your free time, soaking in the beauty of Ibiza.
6 Day Line Up Fun Surf Camp in Fuerteventura, Canary Islands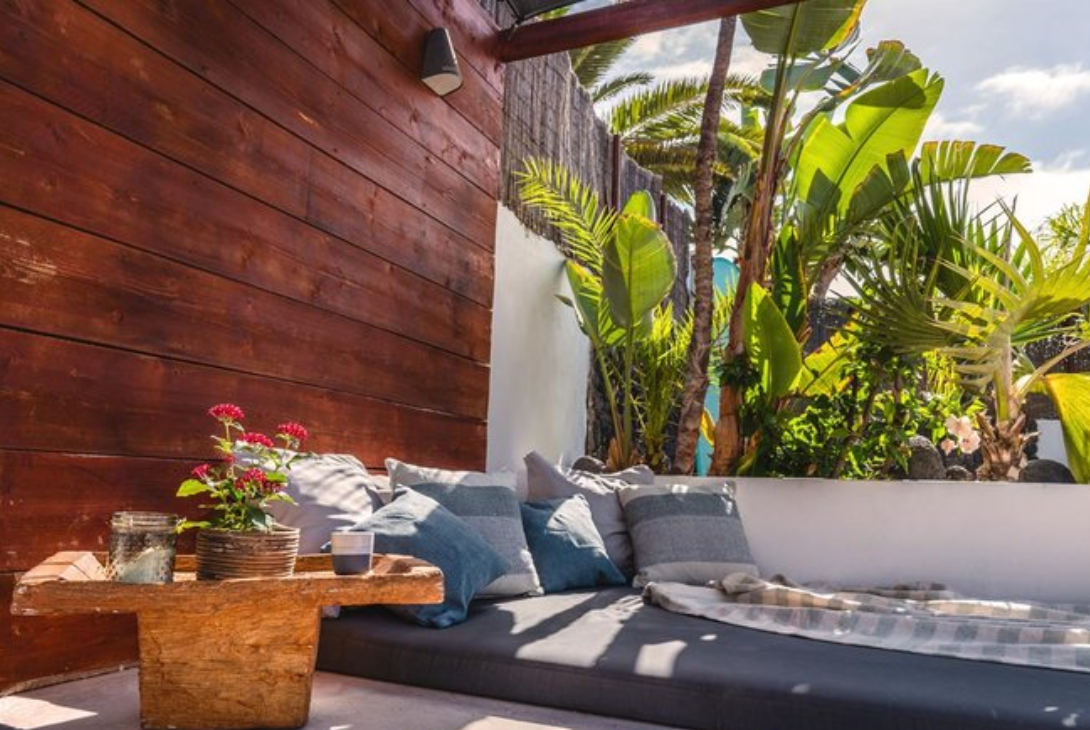 Price from: $232
Number of nights: 5
Styles: Surfing
Location: Canary Islands, Spain
What's included:
5 nights accommodation
3 days personalized surf lessons
Use of high quality surf equipment
Transfer to surf spot
Safety talk on the beach
Warm up exercises
Towel and linen
Smart TV with Neflix subscriptions
Access to surf house communal areas
Accommodation here offers a shared bunkbed room for up to four people, while private suite rooms with en-suite bathrooms are also available for couples or smaller groups. The surf lodge has eight exclusive rooms, two contemporary kitchens, a laundry area, and a spacious sports storage facility.
Line Up Fuerteventura prioritizes teaching smaller groups with a maximum of 6-8 individuals to provide focused attention and high-quality coaching.
4 Day Endless Summer Vibes Exclusive Surf Camp with Sea Excursions in Tenerife, Canary Islands
Price from: $348
Number of nights: 3
Styles: Surfing
Location: Santa Cruz de Tenerife, Spain
What's included:
3 nights accommodation
3 surf lessons
Guided free surf or surf skate
Dive excursion
Snorkel excursion
Beach excursion
Daily transport to the activities and back to the house
Transfer from airport South at check-in
All the necessary materials
Free use of surf materials after lesson hours
Breakfast
They organize everything for you, so you can relax and enjoy. You'll have a dedicated guide who leads all the activities, and they take care of transportation between activities and accommodations. Plus, they'll pick you up from Tenerife South Airport when you arrive.
Whether you're a beginner or intermediate surfer, you'll have a fantastic time. The team speaks English, Croatian, and Dutch. With a maximum group size of 8 participants, you'll enjoy a personalized experience.
What To Pack For A Surfing Holliday
Before you hit the best surf in Spain, make sure you're well-equipped. Trust me, the right gear can make all the difference between an okay surf trip and an unforgettable one. So let's break down what you should pack to make the most of those Spanish waves.
The Essentials
Surfboard: Obviously! If you're an avid surfer, you'll probably want to bring your own board. But if you're just starting or don't want to deal with the hassle of transporting a board, most surf spots in Spain have plenty of rental options.
Wetsuit: The water temperatures in Spain can vary drastically depending on the region and season. In the north, especially in winter, you'll need a good-quality, full-length wetsuit. Down south, a shorty or even board shorts and a rash guard could suffice.
Leash: Don't forget a reliable leash to keep your board close, especially in those bigger waves.
Fins: If you're bringing your own board, don't forget the fins!
Wax: You'll need some good surfboard wax suited to the water temperatures you'll be surfing in. Trust me, you don't want to be that person slipping off their board!
The Extras
Booties & Gloves: If you're surfing in northern Spain in the winter, these can be lifesavers.
Sun Protection: Think sunscreen, a hat, and UV-protective clothing. The sun can be brutal, even in winter.
First Aid Kit: Just a basic one with some plasters, antiseptic wipes, and maybe some seasickness tablets if you're prone.
Tide Chart: Super useful if you're venturing out on your own. Knowing the tides can help you pick the best times and places to surf.
Water & Snacks: Surfing is intense. Stay hydrated and keep some energy-boosting snacks like fruit or granola bars on hand.
Camera/GoPro: You'll want to capture those epic waves, trust me!
Dry Bag: Keep your valuables safe and dry while you're catching those waves.
Optional but Super Handy
Repair Kit: If you're bringing your own gear, a basic repair kit can save you a lot of headaches.
Surf Watch: Great for tracking your rides, speed, and wave count, if you're into that sort of thing.
Local SIM Card: Helpful for checking surf reports, tide times, or getting in touch with your new surf buddies.
Surfing in Spanish?
Everyone there made a huge effort to talk to me and often translated conversations in English but I would have felt much more comfortable being able to speak to people in Spanish. It has given me a real push to start up Spanish lessons again.
My 10 tips for learning to surf abroad
Want to learn to surf abroad? If you are thinking about learning to surf what better way to do it than on a surf vacation? Whether you are a complete novice, or you are looking to brush up your surf skills here are 10 tips to keep in mind if you are learning to surf abroad. I have also included a surf trip packing list to help you out.
Did You Get Travel Insurance Yet?

The Insurance companies I recommend are Hey Mondo, Safety Wing, and Travel Insurance Master

Hey Mondo is great if you are looking for a great value flexible policy. They offer single-trip cover, annual multi-trip cover, and long-term travel cover. Safety Wing is great value, with monthly coverage starting at $39. It's super easy to use, and it just renews each month. I currently use them as they offer me free cover for my son as part of my policy. I also use Travel Insurance Master for short trips.

Read my full travel insurance post here, where I go into detail about all companies.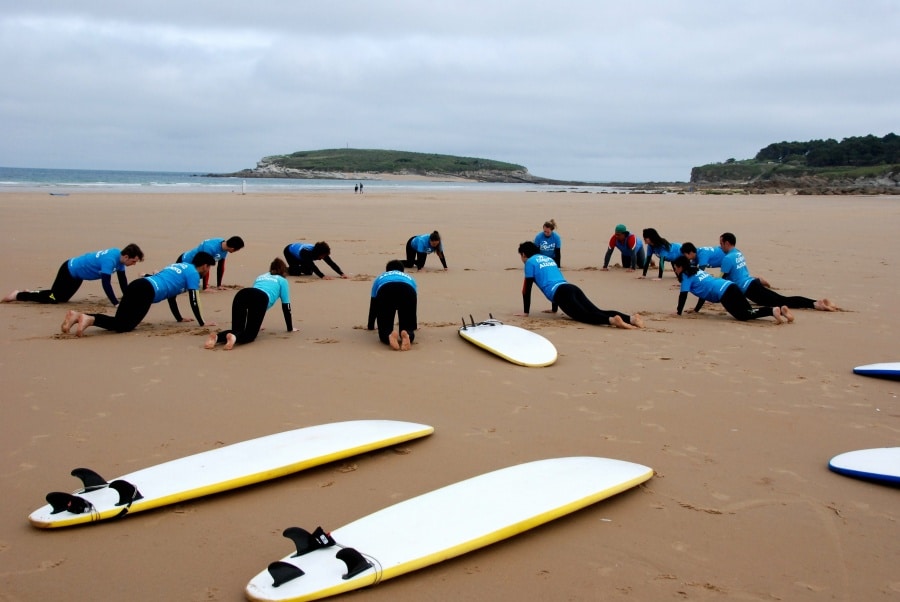 My 10 tips for learning to surf abroad
Save the space in your luggage and leave your wetsuit behind
You really don't need to take it with you. The school will have everything you need. One thing I would take though is surf boots if you have them. I really regretted not having mine as they help me with my grip on the soft boards and stop the leash from rubbing and burning my ankle. But, if you have your equipment (wetsuits and board) and you can't travel without it, here are a few tips for traveling with your boards!
Pack some high SPF Sun cream
You will need factor 50 (at least) for your face, hands, and feet! Don't forget your hands and feet like I did on the first day or you will regret it! Also no matter how much factor 50 you put on your face before you go in the water the lesson will last for 2 hours and the only way for really preventing your nose burning is sunblock. You will notice all the instructors wearing it. If they wear it and they are working every day in these conditions that should tell you everything you need to know!

Click to check prices
Pack some warm clothes
Make sure you bring at least 1 warm jumper even in summer. There is nothing better than coming back from a surf and taking a warm shower and putting on some warm clothes in the evening so make sure you pack at least one hoodie you can snuggle into. At the Surf Lodge I stayed at we each got a blanket on our beds and I spent most evenings wrapped up in it on the couch.
Choose your Swimwear wisely
Choose your bikini wisely. Save the strapless bikini tops for the beach. Nothing worse than pulling your wetsuit down and flashing everyone around you. I love this swimsuit.
Bring a collection of towels
Bring a towel for showering, a turban for your hair (if you have long hair) and either a sarong or a towel for outside. I brought a towel just for getting out of the shower and two sarong's which I used to dry off after I had gotten out of my wetsuit and to wrap around my wet hair. I never travel without them as they are light, pack well as they take up hardly any space and they are super easy to wash out and dry.
Get confident in the sea
Make sure you are confident in the water! If you have never attempted to surf before, or even swam in the sea I really wouldn't recommend booking a weeklong course. The sea and be brutal and when you see a big wave coming towards you, your instincts may tell you to run. But when you are surfing you have to keep pushing towards it to get past where the waves break.
Once you get through where the waves break 'outback' it can be much more pleasant and you can take a break and sit on your board for a bit. It isn't always like that though; sometimes it's a battle!
I had a friend who I made take a lesson with me in the USA once. The water was ferocious, the wind was strong and to get our far enough to catch anything you had to go with your board (and an instructor) under the waves as they were too big to go through or over. It was pretty scary for me and I love the sea, she went in once and spent the rest of the time on the beach watching from a (safe) distance.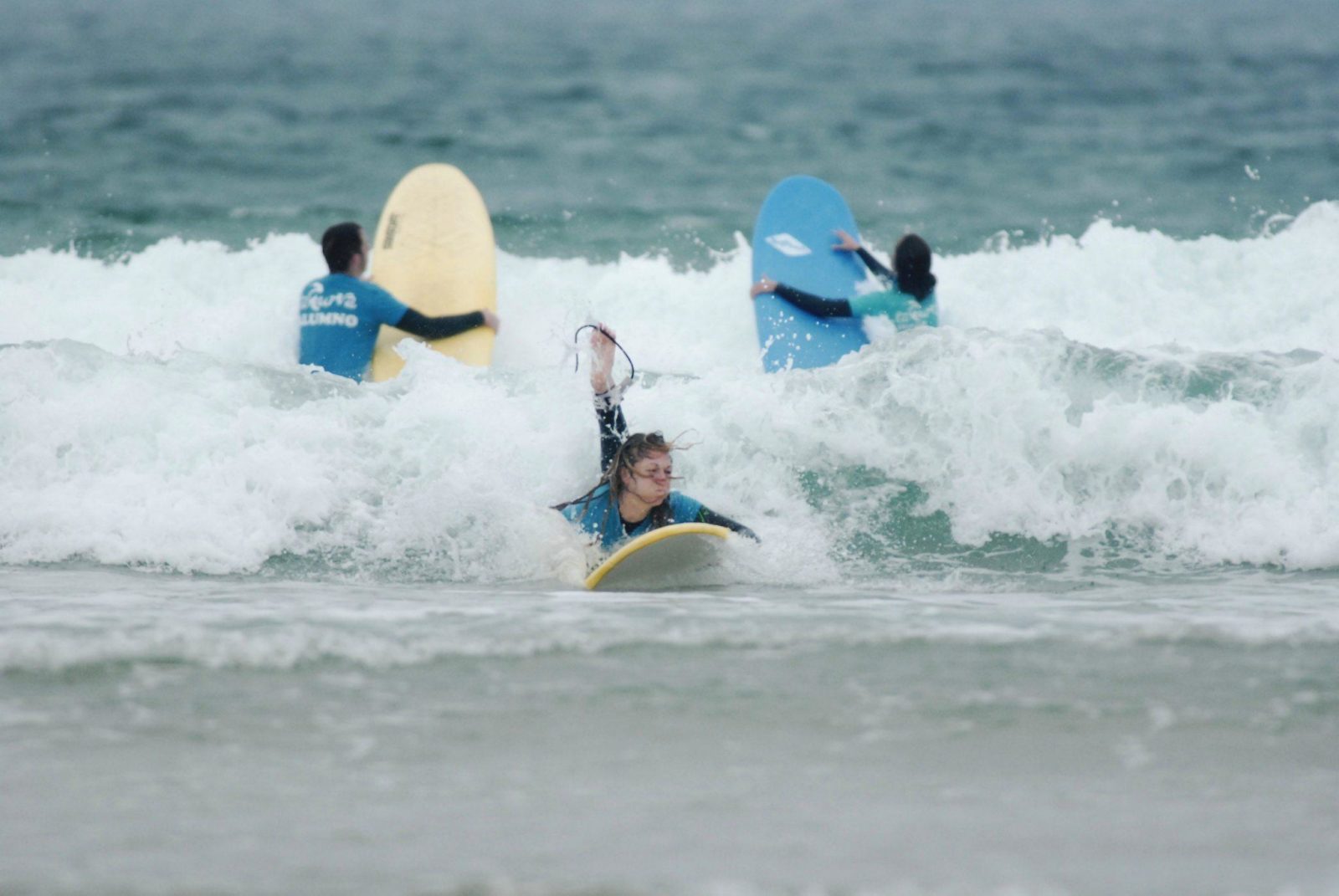 Don't be put off if you don't get it straight away
As I write this I'm still spending most of my time trying to get both feet on the board and not fall straight off into the water! I'd say for every 10 waves I catch, 9 of them end in my falling off before I can stand. It just makes me more determined to keep going through. I think if I'm honest, I just love being in the water! I love the battle, and the feeling when you finally manage to catch a wave and get both feet on the board is priceless.
Drink plenty of water
You will probably get sunburnt, you will work your arse off for at least 2 hours in the sun during your lesson, and you will be tired. Don't be dehydrated too. Make sure you drink plenty of water; it will help with the tiredness and stop you from getting headaches.
Learn the language
If you are planning on going somewhere you don't speak the language, either make sure they have an instructor that speaks your language, and offers lessons in that language, or learn enough to be able to understand the instructors.
I did both, some of my instructors were English and some were Spanish. I really enjoyed having lessons in both languages and wished I'd done some more preparation and asked for my classes in Spanish to help me learn more. As surfing is visual, and kinesthetic learning as well as verbal it's easy to follow along and link the words to the movements.
Prepare physically
If you know you don't have a great level of fitness then I would strongly recommend doing a bit of training before your course to help you prepare. Get in the pool and swim! Even better put a float in-between your legs and swim using just your arms. When you are on the board it's going to be mostly arm strength you need when paddling.
Do some yoga; this will help with your flexibility and your balance. 2 hours can be a really long time getting thrown around in the water! Catching the wave is sometimes the easy bit; it's the wading back out through the waves that can often the most difficult and exhausting. If it's windy and the waves are strong it's one hell of a leg workout.
That said if you don't do any preparation you will be fine…you're just going to ache like hell the next day after you have don't forget about insurance. I personally use Safetywing insurance for Digital Nomads. But that will only cover your medical expenses. So if you need something more comprehensive then it's Heymondo all the way!
Spain Travel Guide Planning
🚗 Where can I book bus or private transportation ?
I recommend Bookaway. They have a lot of transport options in all over Europe.
🎫 Where can I buy tickets for museums, attractions, and tours?
I recommend either Viator or GetYour Guide. They have a lot of options!
👩‍⚕️ What is the best insurance to have while traveling?
I recommend using Heymondo for a great value policy. The app also offers you 24/7 Dr Chat. For Digital Nomads check out SafetyWing digital nomad insurance.
I have also written a blog post covering all my recommended travel insurance here
✈️ Any flight recommendations?
WayAWay offers you cheap flights with cashback. You can use this code CLAIRE22 to get 10% off. Otherwise Skyscanner or Expedia are my go-to flight searching platforms.
📱What do you use for internet connection while traveling?
I'm a big fan of personal WiFi devices and they have saved my ass so many times when traveling. I wrote a full review of the top travel WiFi devices you can read here. I personally use GlocalMe as I can either pop in a physical sim card or use their local carrier.
With regards to my phone connection, I use e-sims while traveling, so rather than having to swap out my regular sim card I can download the app and buy a virtual sim card. I recommend using eitherAirhub or Alosim. Both have great coverage of multiple countries and are very easy to use.
🛏️ What is the best platform to use for booking accommodation?
The 3 best platforms that I normally use are Booking.com, Hotels.com, and Expedia They offer great deals and multiple options. I always check all three to be sure of the best deals.
🛅 Do you have any luggage recommendations for traveling?
I do have a complete list of the best packing and luggage products that I recommend, you can check the list here. I'm currently traveling with this suitcase and this backpack.
Final Thoughts
So there you have it, a quick but comprehensive guide on surfing Spain.
From the best surfing in Spain in the northern regions to catching waves in the south, Spain surfing should be on any surf enthusiast's bucket list.
Remember, whether you're a pro catching barrel waves in Mundaka or a beginner riding your first wave, the Spain surf experience is one you'll not want to miss.
And if you don't fancy surfing school in Spain there are places all over the world where you can learn to surf. To help you decide where is the best place for you to go take a read of this great guide to choosing where to surf.