Are you looking for things to do in La Fortuna Costa Rica? If you are, and you are an adventurous traveler, you will be spoilt for choice with activities. La Fortuna has so many things to do it makes it hard to choose.
One thing I'm sure of is that if you are looking for tours in La Fortuna a trip to Mistico Park needs to be in your plan.
Did You Get Travel Insurance Yet?

The Insurance companies I recommend are Hey Mondo, Safety Wing, and Travel Insurance Master

Hey Mondo is great if you are looking for a great value flexible policy. They offer single-trip cover, annual multi-trip cover, and long-term travel cover. Safety Wing is great value, with monthly coverage starting at $39. It's super easy to use, and it just renews each month. I currently use them as they offer me free cover for my son as part of my policy. I also use Travel Insurance Master for short trips.

Read my full travel insurance post here, where I go into detail about all companies.
Where Is La Fortuna Costa Rica
La Fortuna is situated in north-central Costa Rica, right at the foothills of the awe-inspiring Arenal Volcano. Specifically, you'll find it in the Alajuela Province, which is about 140 kilometers or roughly a 3 to 4-hour drive from the capital city of San José.
This town is the epitome of Costa Rican natural beauty; think lush rainforests, cascading waterfalls, and of course, that looming, majestic volcano as the town's backdrop. It's almost like Mother Nature took all her best features and packed them into this one little area.
Quick Tip: Book accommodation, tours, and transport ahead of time online to save money and stress.
Best La Fortuna Tours: Click here to check out the top La Fortuna tours
Best La Fortuna Accommodation: Click here to check out the best accommodation in La Fortuna
Best La Fortuna Transport: Click here to book a bus, ferry, or train in La Fortuna
How To Get To La Fortuna Costa Rica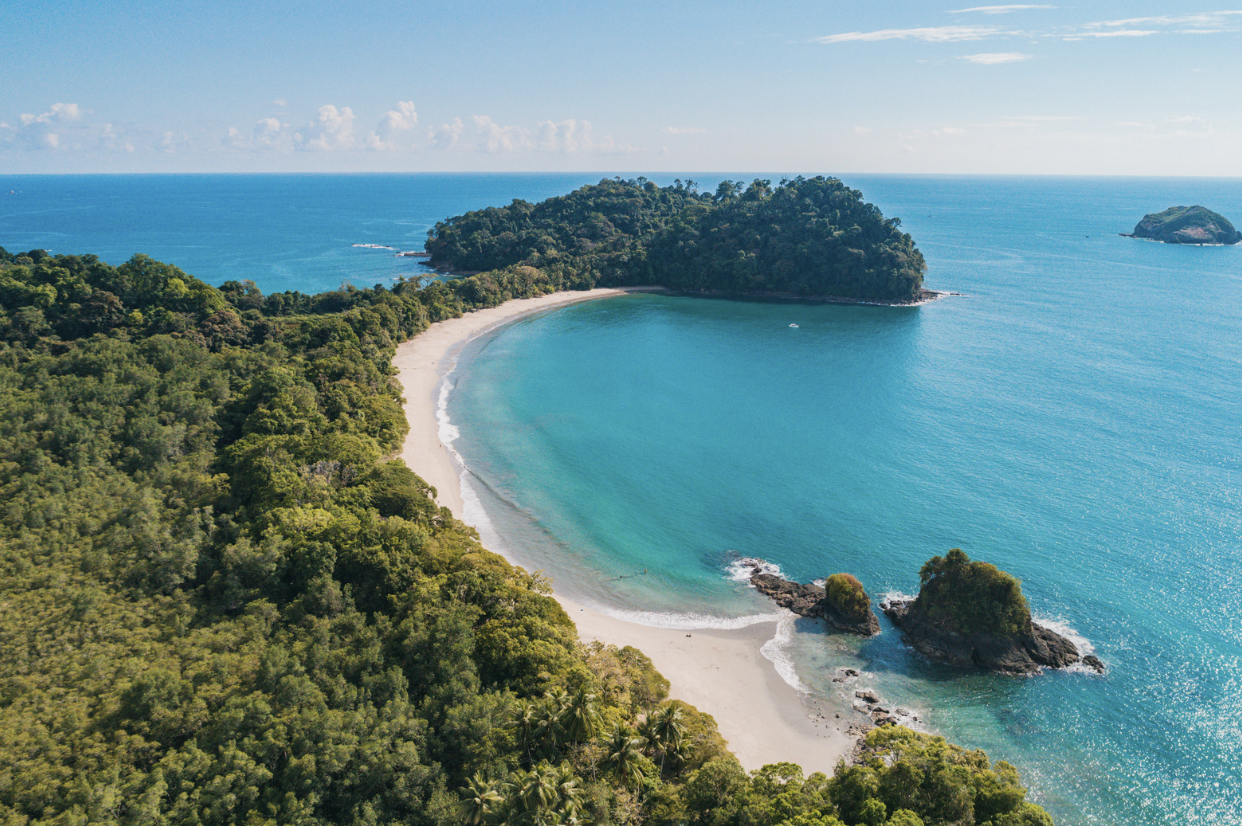 Getting to La Fortuna is a breeze, and there are multiple options depending on your budget, time, and sense of adventure.
I actually wrote a full blog post about how to get from San Jose Airport to La Fortuna you can read it here.
By Car:
If you're up for a road trip, renting a car is a fantastic option. It offers the freedom to explore at your own pace. From San José, it's about a 3 to 4-hour drive via Route 1 and Route 142. The roads are generally in good condition, but make sure to have GPS or a good map handy. Also, watch out for some curvy roads as you get closer to La Fortuna.
By Bus:
Taking the bus is the most budget-friendly way to get there. The journey takes roughly 4-5 hours from San José, and buses depart from the Terminal 7-10. Just a heads up: the bus will make several stops along the way, so it might be a bit longer but it's a great way to see the countryside.
By Shuttle:
Shared or private shuttle services are also available. These are more expensive than the bus but are faster and more convenient. Many companies offer door-to-door service from your initial location to your final destination in La Fortuna.
By Plane:
If you're short on time, you can also fly into the Arenal Airport, which is about 25 minutes from La Fortuna. However, these are usually small domestic flights and can be quite pricey.
Adventure Options:
For the ultra-adventurous, some tour companies offer unique ways to get to La Fortuna, like white-water rafting trips that start in one location and end in La Fortuna. These are more expensive but offer a once-in-a-lifetime experience!
When Is The Best Time To Visit La Fortuna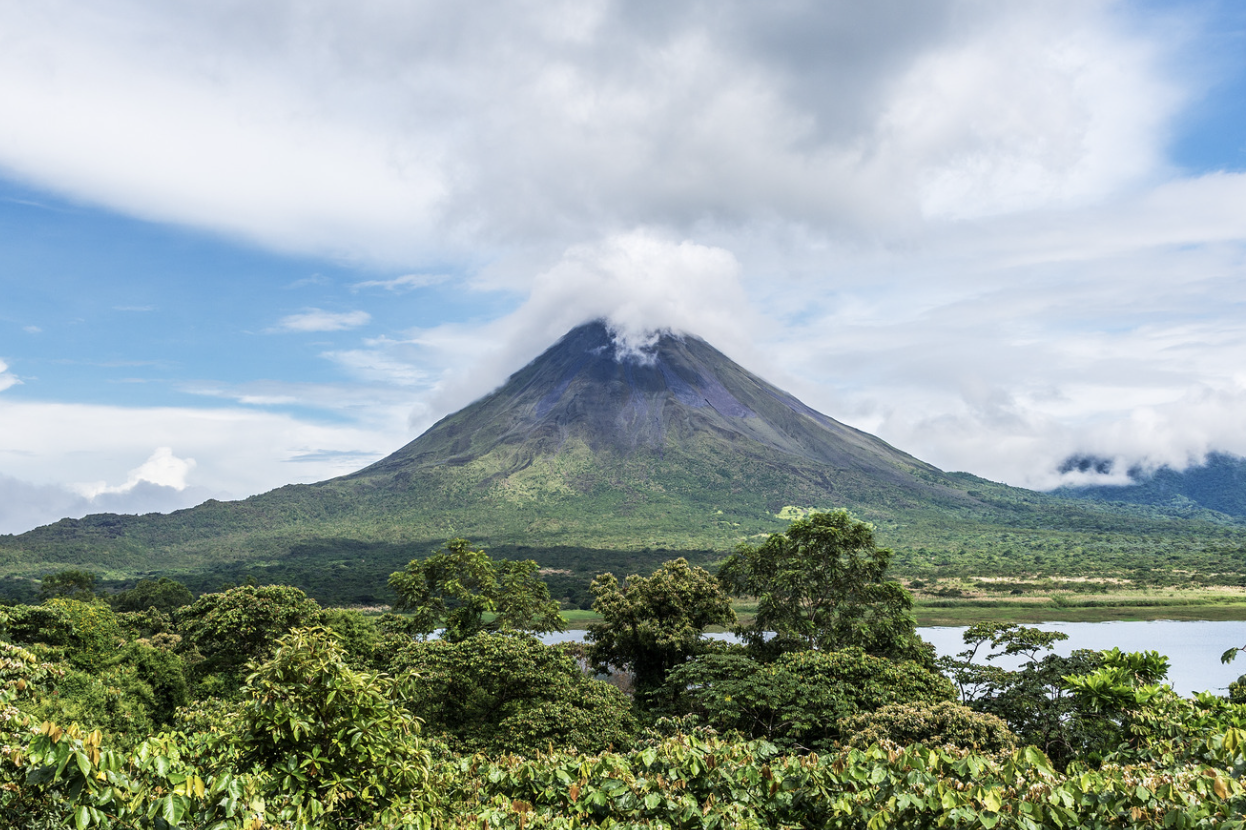 Wondering when is the best time to visit La Fortuna? Well, it honestly depends on what you're after, in my opinion, there really isn't a "bad" time to visit La Fortuna. It all boils down to what you want to get out of your trip.
Dry Season (December – April)
If you're looking to escape the winter blues or just prefer sunshine and clear skies, then the dry season is your best bet. This is peak tourist season, so places like Arenal Volcano National Park and the hot springs will be bustling.
On the flip side, you'll get the best views of the volcano, fewer rain showers to interfere with your plans, and ideal conditions for outdoor activities like ziplining or hiking.
Just be prepared for slightly higher prices and make sure to book accommodations and activities well in advance.
Wet Season (May – November)
Now, don't let the term "wet season" scare you off. Yes, there will be rain, but it's usually in the form of afternoon showers, leaving you plenty of time for morning adventures. Plus, the landscape is at its most lush and beautiful during these months.
If you're into photography like me, you'll love how vibrant everything looks. Wildlife is also more active, making it a great time for animal spotting.
Best of all? Fewer crowds and lower prices!
Shoulder Months (May, November)
If you're looking for a compromise, consider visiting during the shoulder months of May or November. You'll dodge the crowds while still enjoying a mix of dry and wet days.
Plus, many hotels and tour operators offer discounts during these months, so it's kinder on your wallet.
These are the Costa Rica activities I had on Costa Rica Bucket List:
Walk the Mistico hanging bridges Costa Rica
Rappelling down a waterfall
I actually managed to check almost all of them off in just three days. This was because I did a full day of activities in Mistico Park. The only thing I didn't manage to do was the rafting… next time!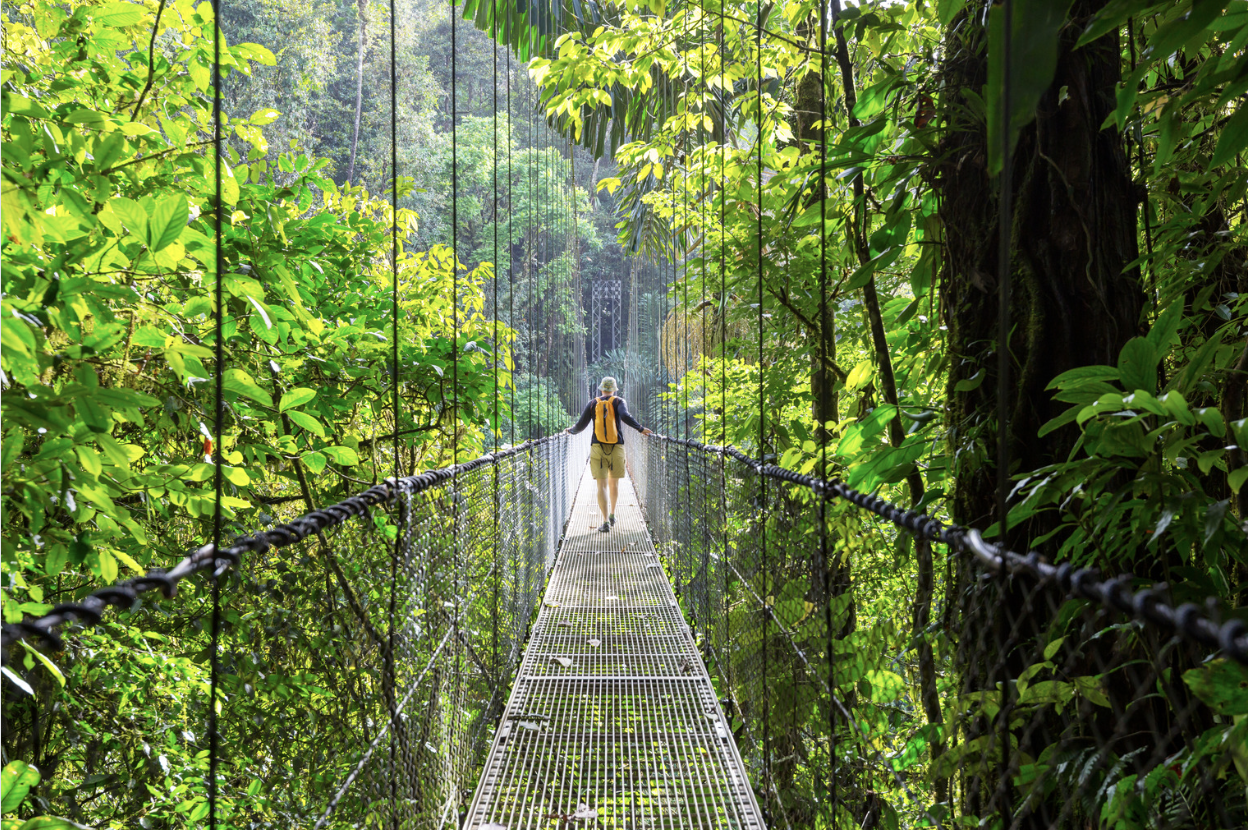 Best Things to Do In La Fortuna Costa Rica
Here's my go-to list of things to do in La Fortuna Costa Rica, curated from my own travels and adventures: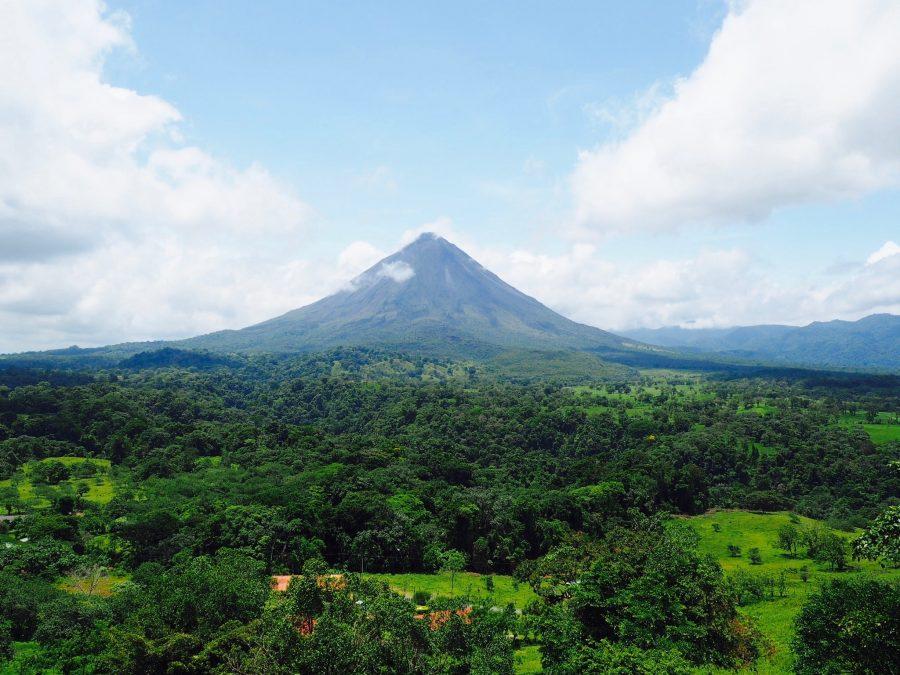 You simply can't visit La Fortuna and not see the Arenal Volcano. Whether you choose to hike or just admire it from a distance, it's an absolute must-see. There are various trails for all levels of fitness, and the views are stunning.
Visit Mistico Park
Mistico Park is a family-run private reserve in the Arenal Volcano area of Costa Rica. For many years it was a farm but in 2000 they started construction of their hanging bridges Costa Rica. Two years later in 2002 their hanging bridges opened to allow people to experience the extraordinary biodiversity of their land. Then in 2014 they expanded and began to operate more tours including the two that I experienced.
What I loved most Mistico Park is that is is still owned and managed by the family. It's now on the third generation of managers from the Castillo Rodriguez family.
Tours I chose to do 2 tours there; Paco's Horse Tour and Spider Monkey Cannon. This also included a zip line through the Costa Rican jungle.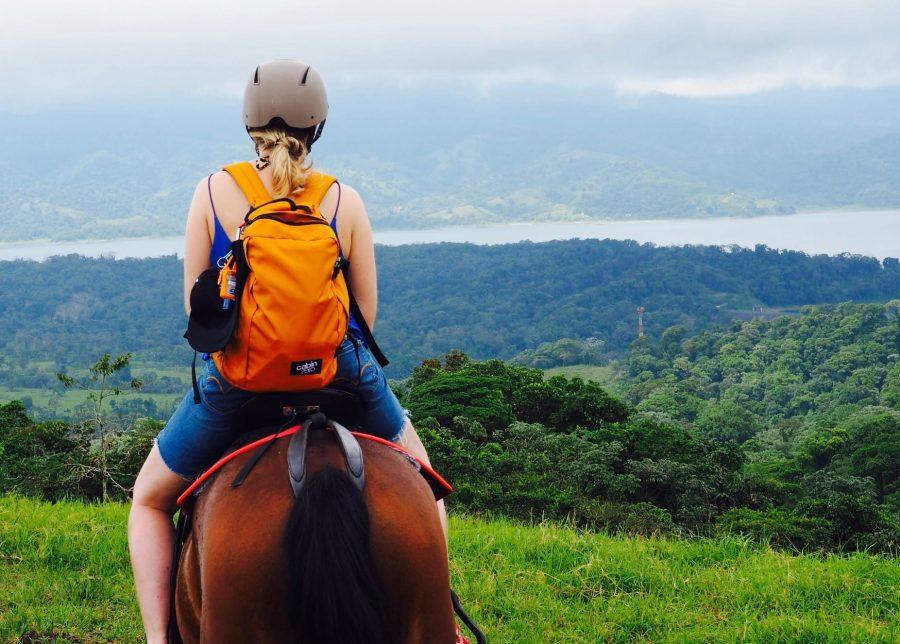 Other tours available in Mistico Park Costa Rica are:
Mistico Night Walk
Birding Guide Tour
Arenal Expedition
Safari by Raft – If you fancy rafting in La Fortuna
Trails – there are so many to choose from.
Hanging Bridget Trail – A classic must in Costa Rica
When you book your tour let them know where they are staying and they will pick you up! Or if you are driving they have a free car park. Public transport it is more tricky, from La Fortuna you would need to take a taxi for $30.
If you do one of the packages meaning you spend a full day at the park you also get a complimentary lunch. I didn't even realize this so it was a great surprise. It was actually a running theme throughout the day, I always got more than I expected.
This probably shocked me so much as I always expect to be overcharged at places like this, not the case here. Lunch was pretty filling! I had pasta, a smoothie, a coffee, and a dessert.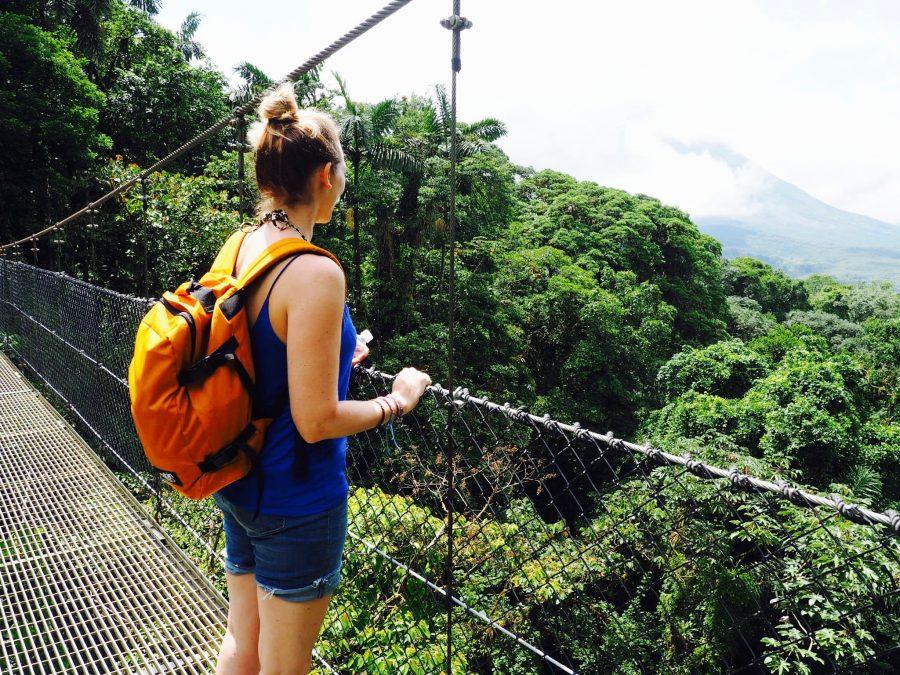 Have you even been to Costa Rica if you haven't walked along some hanging bridges?
The Mistico hanging bridges are a must-visit! It's a 3.2-kilometer trail weaving through Costa Rica's stunning rainforest, complete with 16 bridges—6 of which are hanging—to give you varying perspectives of this lush paradise.
These bridges are engineering marvels, super sturdy, and range in length, with the longest stretching of almost 100 meters. As you traverse this natural wonderland, you're not just walking; you're literally suspended in the midst of vibrant flora and exotic fauna. From toucans and hummingbirds flitting about to monkeys and coatis making guest appearances, biodiversity is off the charts.
For me, this place felt like being in a live-action nature documentary. I couldn't stop taking photos; every corner offered a new, Instagram-worthy shot. You can also opt for a guide to make sure you don't miss any of the hidden gems along the way. The Mistico hanging bridges are an absolute must-visit.
Hot Springs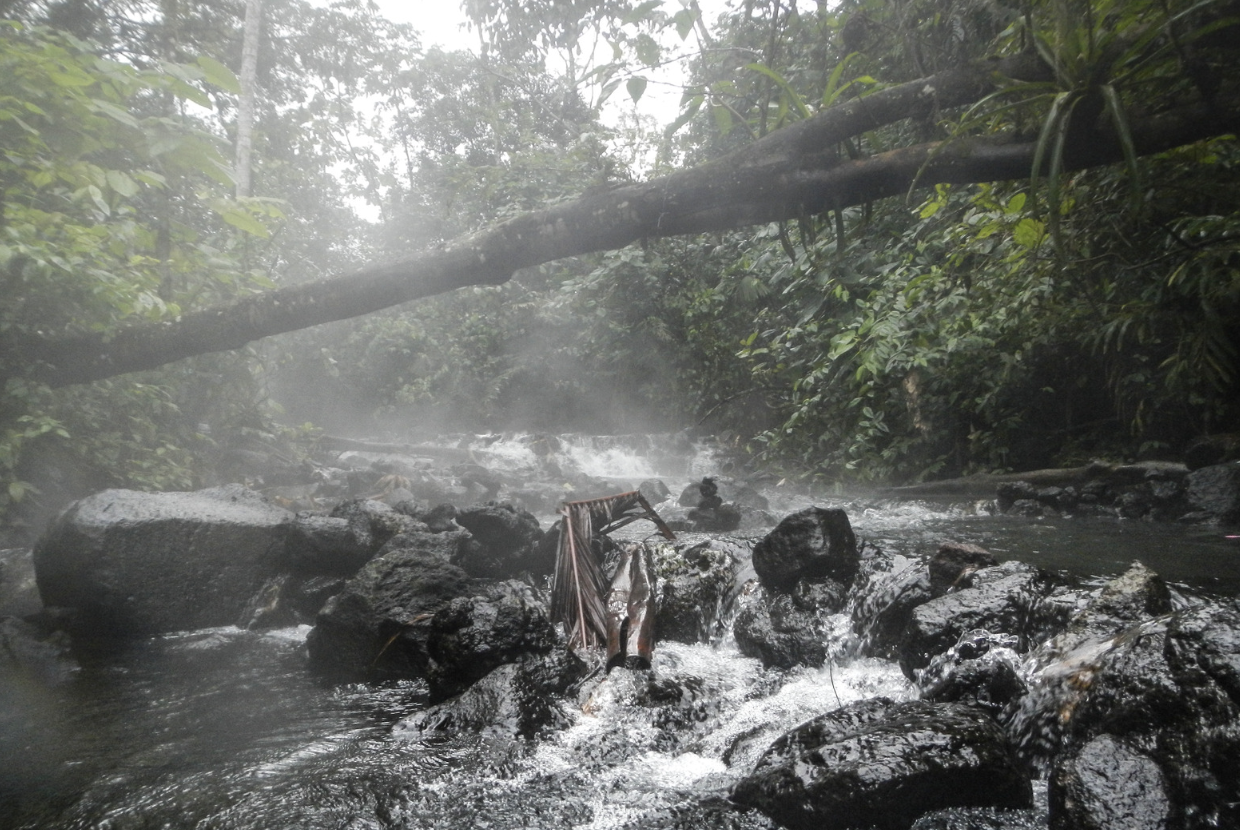 La Fortuna is famous for its thermal hot springs. The hot springs are fueled by the geothermal activity from the volcano, making the water rich in minerals that are said to have healing properties. There are several options to choose from, ranging from the lavish resorts like Tabacon and Nayara Springs to more budget-friendly spots like Baldi Hot Springs.
When I visited I was a broke backpacker so opted to go to the free hot springs called "El Chollin". Nestled by the side of the road near the more upscale Tabacon resort, this is a little slice of paradise where you can bask in warm, mineral-rich waters without spending a dime.
It's not as fancy as the paid options, so think "natural setting" rather than "resort amenities."
The only complicated thing for me was getting there! Costa Rica can be complicated to navigate on a budget which is why if you can, I'd always recommend renting a car in Costa Rica. There was no bus to the hot springs when I visited so I needed to take a taxi there and back which for sure ate into my backpacker's budget!
Bring your swimsuit because a dip in the pool at the base of this 70-meter waterfall is incredibly refreshing. The hike down—and back up—is a bit steep but totally worth it.
If you're a thrill-seeker like me, white-water rafting on the Balsa or Toro rivers is a must. You'll paddle through rapids, enjoy scenic views, and even spot some wildlife along the way.
I chose to go to Spider Monkey Cannon within Mistico Park to do a whole afternoon of rappeling and ziplining in La Fortuna.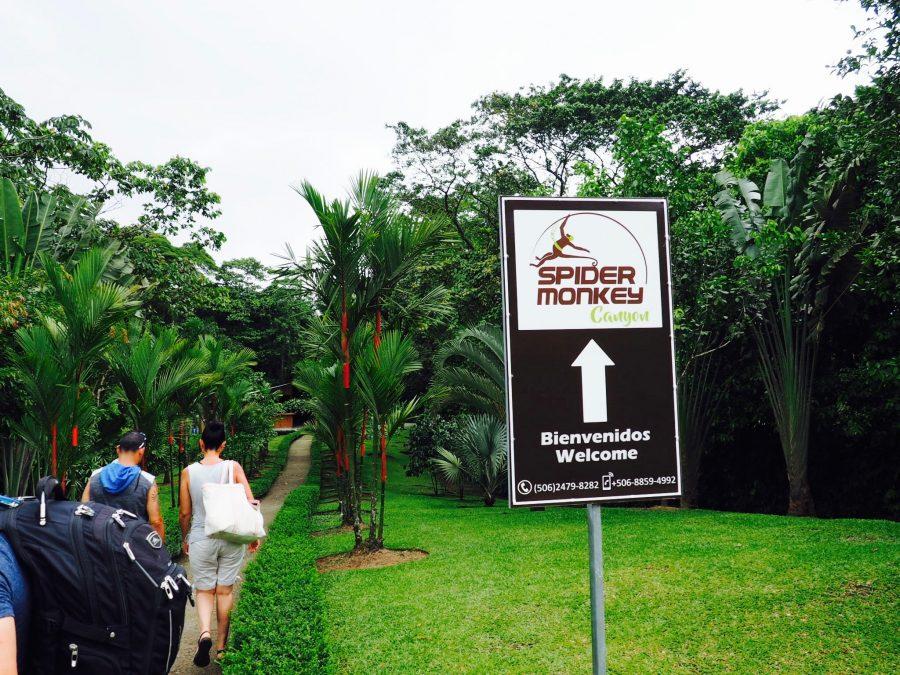 The first rappel was the most terrifying as once you are attached you have to zip out into the center of the rope and then rappel down. The first part was what I feared the most, I felt like I needed to build up to this! But I stepped up and went for it.
I think I really surprised myself with how calm I was and how much fun it was! It actually felt really easy and I was excited for more!
Once again I was impressed with how many rappels we actually did include in the tour. As well as all of the rappels there were 2 points we had to jump off a bridge/ ledge, a zip line and at the end, we even waded through a river in the jungle for 15 minutes. It was just an incredible experience. And the value for money was brilliant.
The 3 guides were so professional, friendly and helpful they made the experience something I will never forget. Whenever any of us were apprehensive they out us completely at ease and not once did I worry about my safety, quite impressive when you are being dangled by a rope over a waterfall I'd say!
At the end of the tour once again Mistico Park Costa Rica impressed me with their attention to detail, cold and wet when we returned to the changing area we were met with clean towels, hot tea and coffee, bottles of water and the videos they had taken of our tour all edited and ready to view.
I created my own edit using their footage and the footage from my headcam.
Horseback Riding la fortuna
First off, I have never been on a horse before. Well, possibly as a child, but I have no memory of it. So to say I was a little bit apprehensive was an understatement. I didn't really know what to expect, or if I would even like being on a horse. But I chose this Horseback riding tour at Mistico Park because it sounded fun and I knew it would be a challenge for me.
Doing a horseback riding La Fortuna tour in La Fortuna is a fantastic way to explore the surrounding areas, especially if you're traveling with kids. Most horseback riding La Fortuna tours also include a guide who can tell you about the local flora and fauna.
We walked and met the horses and the second guide. Each tour has 2 guides one who leads the way and a second who is more interactive and looks after the clients. This attention to health and safety instantly put me at ease and reduced most of my anxiety about the tour. After a quick lesson on how to command the horse, we were ready to go.
From howler monkeys to toucans, the wildlife in and around La Fortuna is incredible. Guided tours through the rainforest are available, where an experienced guide can help you spot some of Costa Rica's diverse wildlife.
We saw a lot of wildlife including spiders, snakes and some beautiful birds. I ate guava that we picked from the trees and I was even able to walk across one of the hanging bridges!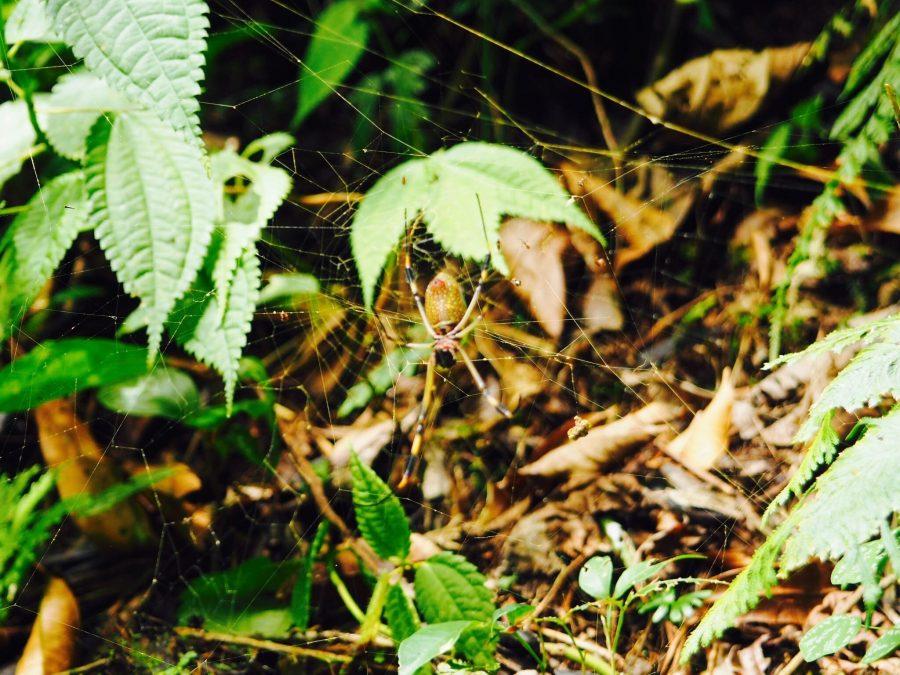 If you're up for something a bit different, how about a caving expedition? The Venado Caves are about an hour away, and you can explore underground rivers, stalactites, and stalagmites.
Stand-Up Paddleboarding on Lake Arenal
For a more laid-back adventure, spend a day paddleboarding on Lake Arenal. The views of the volcano from the lake are absolutely breathtaking.
Sample The Local Cuisine
Last but not least, don't forget to indulge in some local cuisine. Whether it's a traditional "casado" meal or some fresh ceviche, the food in La Fortuna is delicious.
Quick Tip: View my full Central America Packing list here and my 1 month Central America itinerary here
Places to stay in La Fortuna Costa Rica
There are a lot of hotels in La Fortuna Costa Rica so you won't struggle to find the right place for you. I stayed in Lost Iguana Resort. You can read about my stay there here. But if a resort is out of your budget then there are a lot of budget hotel or hostels in La Fortuna to choose from.
Here is a brief guide to help you decide where to stay in La Fortuna Costa Rica depending on your budget:
Hostels in La Fortuna
Arenal Hostel Resort you can get a dorm bed for under $10 per night. They have a pool with a swim-up bar and a cool vibe. The pizza was so expensive though. I would eat elsewhere.
Selina – Its a big chain but you know what you are getting. It is great for Digital Nomads because of the coworking spaces. Plus I love knowing that I can work and they have strong wifi.
Budget hotels in La Fortuna
You can get some pretty amazing budget accommodation in La Fortuna. Here are my favorite accommodation places in La Fortuna that are perfect if you can't deal with hotels and don't have a big budget for accommodation.
Sloth House – you can stay here for around $20 USD a right and you have a very good chance of seeing a sloth in the garden. need I say more!?
Luxury hotels and resorts in La Fortuna
Lost Iguana – very close to Mistico park Costa Rica and worth every penny.
Volcano Lodge & Springs – I didn't stay here but it looks amazing and has great reviews with solo travelers.
Arenal Volcano Inn – This place looks amazing! and it has great reviews.
La Fortuna Travel Guide Planning
🚗 Where can I book bus or private transportation while I'm in La Fortuna?
I strongly recommend using Bookaway. You can book almost all transport in the major tourist destinations through them online. They don't just cover buses they also cover shuttles, ferries, and private drivers.
🎫 Where can I buy tickets for museums, attractions, and tours in La Fortuna?
I recommend either Viator or GetYour Guide. They have a lot of options!
👩‍⚕️ What is the best insurance to have while traveling?
I recommend using Heymondo for a great value policy. The app also offers you 24/7 Dr Chat. For Digital Nomads check out SafetyWing digital nomad insurance.
I have also written a blog post covering all my recommended travel insurance here
✈️ Any flight recommendations?
WayAWay offers you cheap flights with cashback. You can use this code CLAIRE22 to get 10% off. Otherwise Skyscanner or Expedia are my go-to flight searching platforms.
📱What do you use for internet connection while traveling?
I'm a big fan of personal WiFi devices and they have saved my ass so many times when traveling. I wrote a full review of the top travel WiFi devices you can read here. I personally use GlocalMe as I can either pop in a physical sim card or use their local carrier.
With regards to my phone connection, I use e-sims while traveling, so rather than having to swap out my regular sim card I can download the app and buy a virtual sim card. I recommend using eitherAirhub or Alosim. Both have great coverage of multiple countries and are very easy to use.
🛏️ What is the best platform to use for booking accommodation?
The 3 best platforms that I normally use are Booking.com, Hotels.com, and Expedia They offer great deals and multiple options. I always check all three to be sure of the best deals.
🛅 Do you have any luggage recommendations for traveling?
I do have a complete list of the best packing and luggage products that I recommend, you can check the list here. I'm currently traveling with this suitcase and this backpack.
Final Thoughts
My overall experience at Mistico Park is that they take things to another level. Their customer service and attention to detail are seriously impressive. They went over and above what I expected time and again and I have no hesitation in telling you if you go to La Fortuna book a tour with them. You will not regret it! I know I didn't.
The one thing I found most difficult in Costa Rica was how expensive things were in comparison to other places in Central America I have visited. For that reason, it is really important you do a good Costa Rica budget before traveling.
Not sure if you should visit La Fortuna or Monteverde? I must admit I wanted to do both places but I just didn't have the time. If you can't decide then take a read of this great comparison by Have Seat Will Travel to help you decide!