Are you looking for things to do in La Fortuna Costa Rica? If you are, and you are an adventurous traveler, you will be spoilt for choice with activities. La Fortuna has so many things to do it makes it hard to choose. One thing I'm sure of is that if you are looking for tours in La Fortuna a trip to Mistico Park needs to be in your plan.
These are the Costa Rica activities I had on my list:
La Fortuna zip line
Hiking in Arenal National Park
Rafting in La Fortuna
Walk the hanging bridges in La Fortuna (of course)
Rappelling down a waterfall
Horseback riding in the jungle
I actually manage to check almost all of them off in just three days. This was because I did a full day of activities in Mistico Park. The only thing I didn't manage to do was the rafting… next time!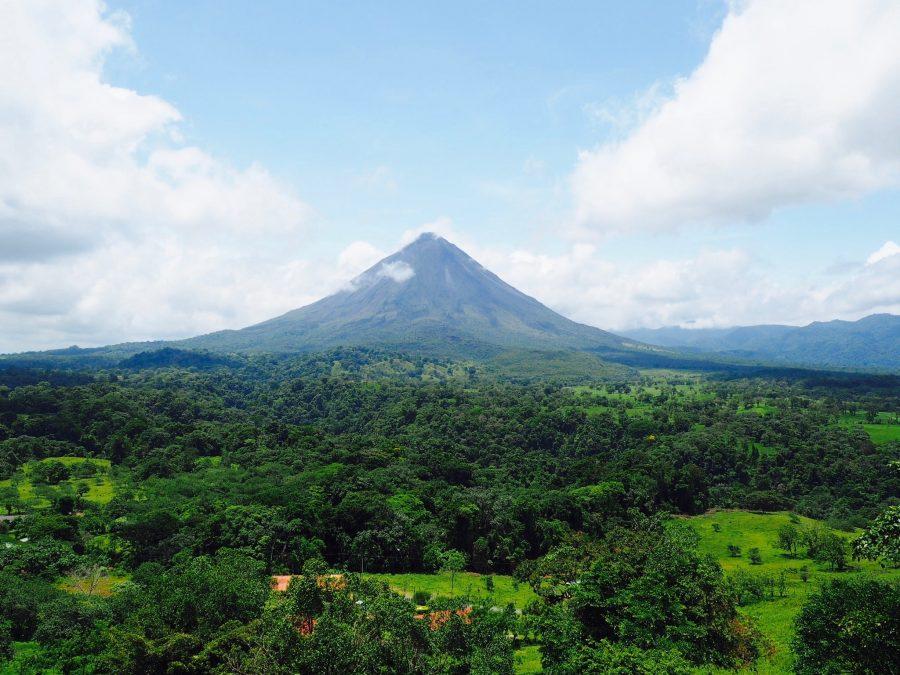 There are so many Activities in La Fortuna
Although I'm normally more of a beach person, and there are a lot of amazing beach towns in Costa Rica, I'm so glad I went inland on this trip! I spent the day at the park doing one of their combination tours and it is one of the best days I've had traveling. There are so many options for activities you can do here it was tough for me to choose. When I think of Costa Rica I think of canopy tours but I decided I wanted to push myself out of my comfort zone so I chose 2 activities I had never done before and that terrified me a little! Paco's Horse Tour and Spider Monkey Cannon – Rappelling! This also included a zip line through the Costa Rican jungle!
Just to point out before going any further until recently I had a crippling fear of heights, I wouldn't even walk across a bridge without breaking into a cold sweat, so the thought of dangling above a cannon by a rope made me feel a little dizzy.
A little bit about Mistico Park
Mistico Park is a family run private reserve in the Arenal Volcano area of Costa Rica. For many years it was a farm but in 2000 they started construction of their hanging bridges. Two years later in 2002 their hanging bridges to allow people to experience the extraordinary biodiversity of their land. In 2014 they expanded and began to operate more tours including the two that I experienced.
What I loved most about this place is that is is still owned and managed by the family. It's now on the third generation of managers from the Castillo Rodriguez family.
You can read the full story on their website here.
Paco's Horses
First off, I have never been on a horse before. Well, possibly as a child, but I have no memory of it. So to say I was a little bit apprehensive was an understatement. I didn't really know what to expect, or if I would even like being on a horse. But I chose this tour because it sounded fun and I knew it would be a challenge for me.
Upon entering the park I was greeted by the reception staff who introduced me to Augustine my guide. He spoke excellent English and helped get me set up with my safety gear and some water for the tour. We also decided this would be a good time to practice my Spanish so agreed to talk in Spanish as much as I could. I LOVED this. A tour and a Spanish class all in one!
The Guides in Mistico Park
We walked and met the horses and the second guide. Each tour has 2 guides one who leads the way and a second who is more interactive and looks after the clients. This attention to health and safety instantly put me at ease and reduced most of my anxiety about the tour. After a quick lesson on how to command the horse, we were ready to go.
I was really impressed with Augustine's knowledge of the wildlife and plants of the park. His ability to spot the tiny frogs and sloths high up in the trees was remarkable. Yes, thats right we saw sloths! Although sadly they were very high up and I was unable to take a picture. But I was able to look through Augustine's binoculars. It was a very exciting moment.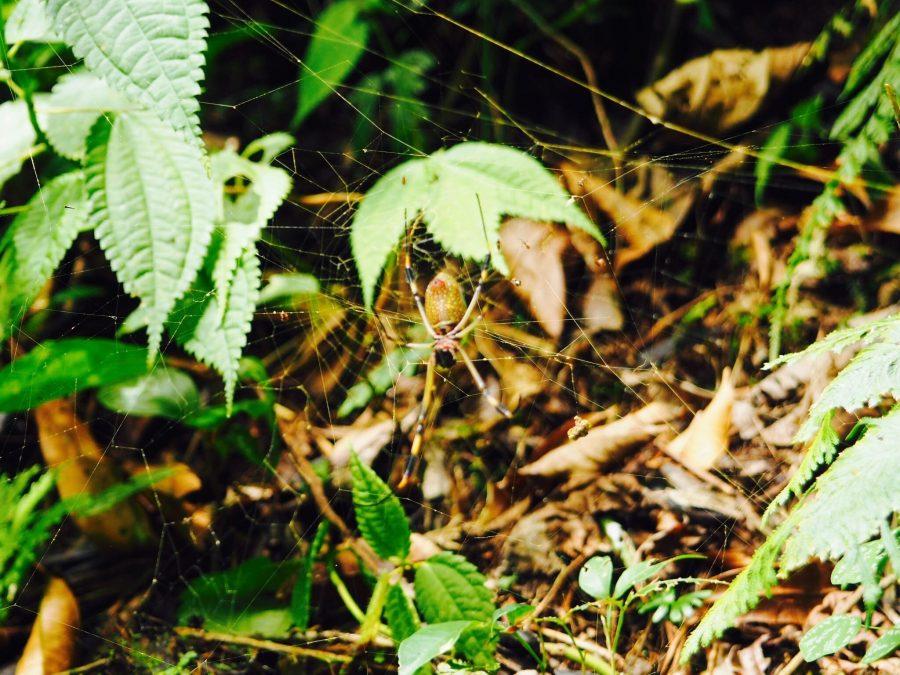 The Tour
We saw a lot of wildlife including spiders, snakes and some beautiful birds. I ate guava that we picked from the trees and I was even able to walk across one of the hanging bridges!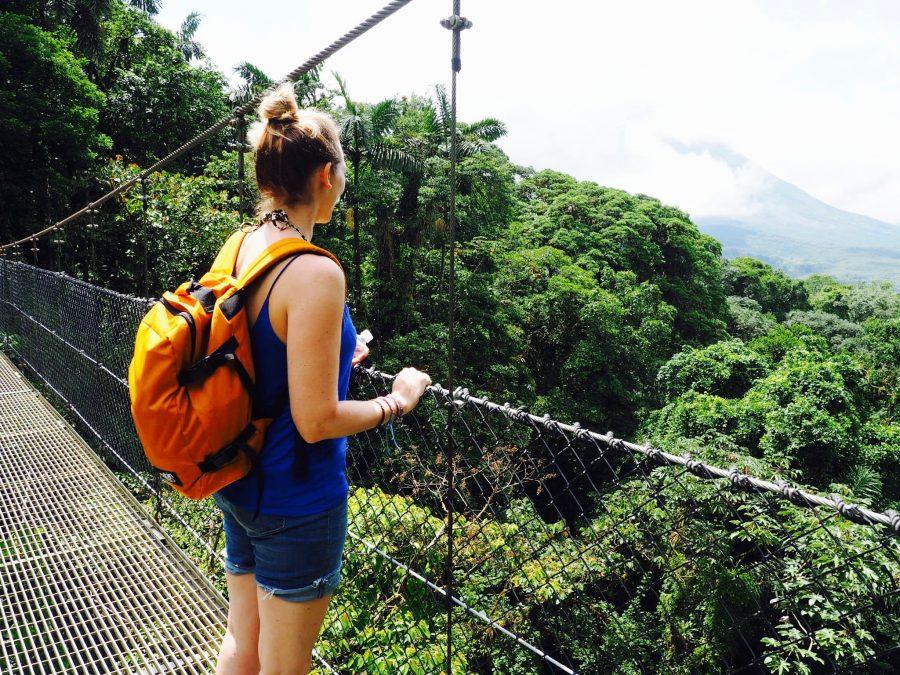 It was a pretty incredible morning and I really can fault anything about it. All of my expectations were exceeded and I loved getting to explore the rainforest on horseback with an expert guide.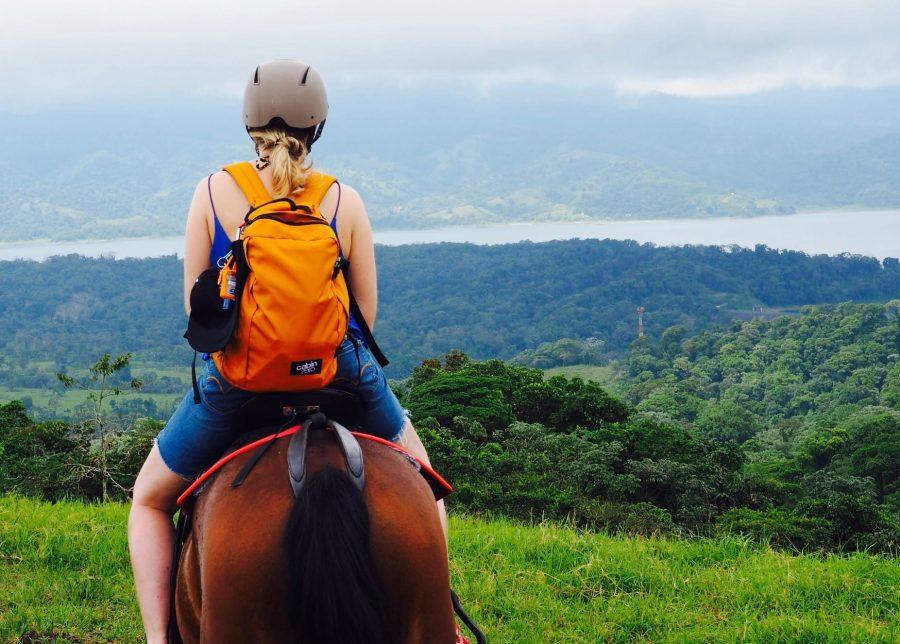 Lunch
If you do one of the packages meaning you spend a full day at the park you also get a complimentary lunch. I didn't even realize this so it was a great surprise. It was actually a running theme throughout the day, I always got more than I expected. This probably shocked me so much as I always expect to overcharged at places like this, not the case here. Lunch was pretty filling! I had pasta, a smoothie, a coffee and a desert. On reflection, I probably shouldn't have eaten it all as I was really full and had to put on a harness for the next tour!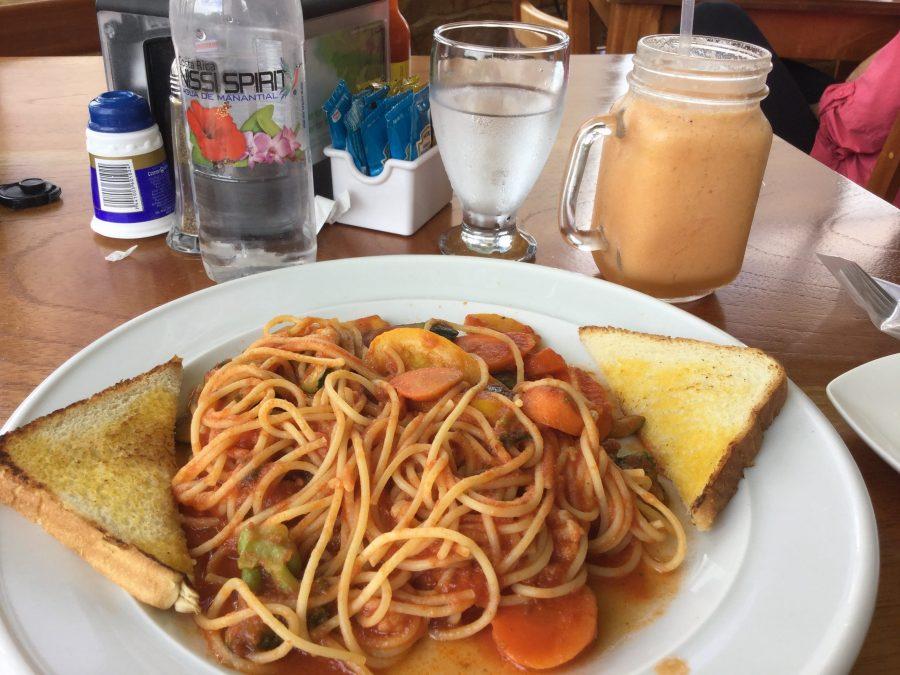 Spider Monkey Cannon
I met my fellow rappellers over lunch and together we were transported the 10-minute drive to a different part of the park. None of us had ever rappelled before which meant we were all in the same position.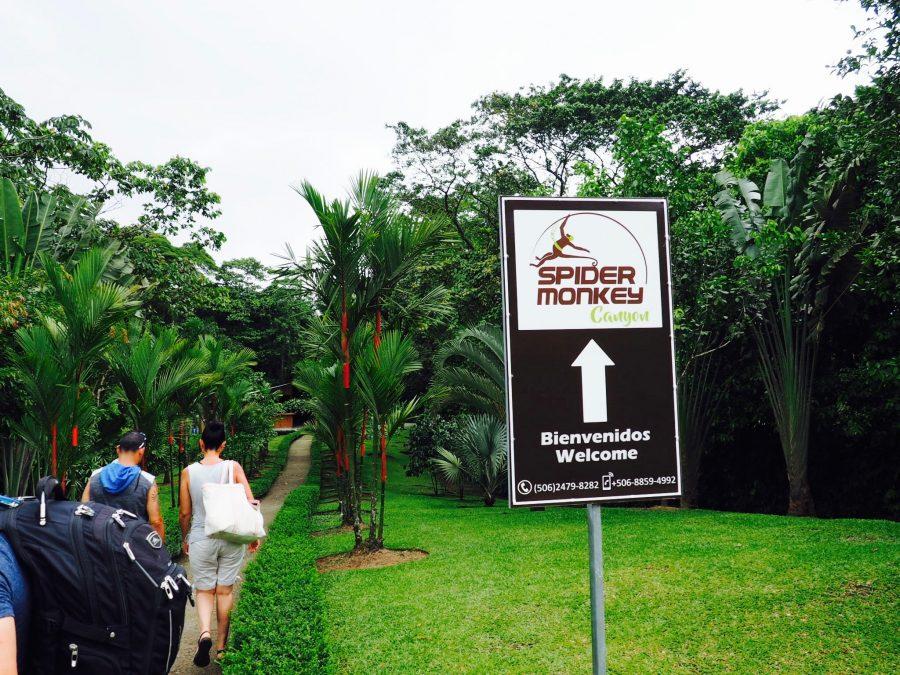 When we arrived at Spider Monkey Cannon our three guides Cesar, Antonio, and Juan introduced themselves. We changed in the changing rooms and put our stuff into the lockers provided. We were then fitted with the safety equipment. I had my GoPro headcam and they even fitted it for me on the helmet!
After a safety brief, they gave a demonstration of how to rappel and we were off! It felt quick and I was still very nervous. I think this is because I had never even seen anyone rappelling and I had no idea if I would be able to do it or not. This is the first time since being treated for my heights phobia I have even tried anything as crazy as this, so I just didn't know how I would react.
My first rappel in Costa Rica!
The first rappel was the most terrifying as once you are attached you have to zip out into the center of the rope and then rappel down. The first part was what I feared the most, I felt like I needed to build up to this! But I stepped up and went for it.
I think I really surprised myself with how calm I was and how much fun it was! It actually felt really easy and I was excited for more!
Once again I was impressed with how many rappels we actually did include in the tour. As well as all of the rappels there were 2 points we had to jump off a bridge/ ledge, a zip line and at the end, we even waded through a river in the jungle for 15 minutes. It was just an incredible experience. And the value for money was brilliant.
The Guides
The 3 guides were so professional, friendly and helpful they made the experience something I will never forget. Whenever any of us were apprehensive they out us completely at ease and not once did I worry about my safety, quite impressive when you are being dangled by a rope over a waterfall I'd say!
At the end of the tour once again Mistico Park impressed me with their attention to detail, cold and wet when we returned to the changing area we were met with clean towels, hot tea and coffee, bottles of water and the videos they had taken of our tour all edited and ready to view.
I created my own edit using their footage and the footage from my headcam.
Other tours available in Mistico Park are:
Arenal Zorbing
Natural History Walk
Mistico Night Walk
Birding Guide Tour
Boat Tour on Arenal Lake
Arenal Expedition
Safari by Raft – If you fancy rafting in La Fortuna
Trails – there are so many to choose from.
Hanging Bridget Trail – A classic must in Costa Rica
For more information click here
How to get to Mistico Park
When you book your tour let them know where they are staying and they will pick you up! Or if you are driving they have a free car park. Public transport it is more tricky, from La Fortuna you would need to take a taxi for $30.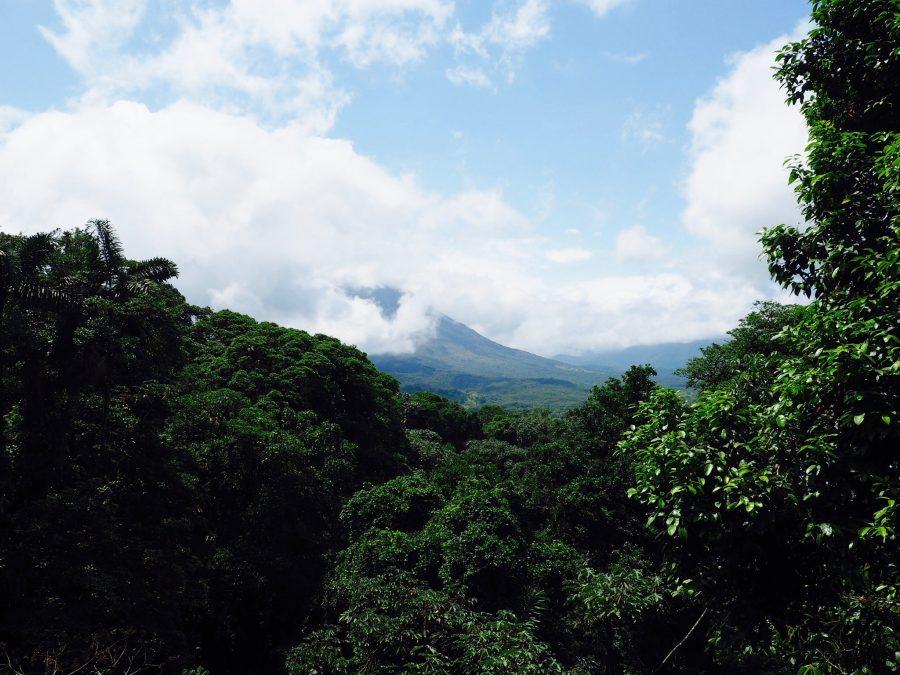 Places to stay in La Fortuna Costa Rica
There are a lot of hotels in La Fortuna Costa Rica so you won't struggle to find the right place for you. I stayed in Lost Iguana Resort. You can read about my stay there here. But if a resort is out of your budget then there are a lot of budget hotel or hostels in La Fortuna to choose from.
Here is a brief guide to help you decide where to stay in La Fortuna Costa Rica depending on your budget:
Hostels in La Fortuna
Arenal Hostel Resort you can get a dorm bed for under $10 per night. They have a pool with a swim-up bar and a cool vibe. The pizza was so expensive though. I would eat elsewhere.
Selina – Its a big chain but you know what you are getting. It is great for Digital Nomads because of the coworking spaces. Plus I love knowing that I can work and they have strong wifi.
Budget hotels in La Fortuna
You can get some pretty amazing budget accommodation in La Fortuna. Here are my favorite accommodation places in La Fortuna that are perfect if you can't deal with hotels and don't have a big budget for accommodation.
Sloth House – you can stay here for around $20 USD a right and you have a very good chance of seeing a sloth in the garden. need I say more!?
Luxury hotels and resorts in La Fortuna
Lost Iguana – very close to Mistico park and worth every penny.
Volcano Lodge & Springs – I didn't stay here but it looks amazing and has great reviews with solo travelers.
Arenal Volcano Inn – This place looks amazing! and it has great reviews.
Some other top things to do in La Fortuna Costa Rica
White Water Rafting

La Fortuna Waterfall

Tabacon Hot Mineral Pools

Skytram Canopy Tours

Final Thoughts
My overall experience at Mistico Park is that they take things to another level. Their customer service and attention to detail are seriously impressive. They went over and above what I expected time and again and I have no hesitation in telling you if you go to La Fortuna book a tour with them. You will not regret it! I know I didn't.
The one thing I found most difficult in Costa Rica was how expensive things were in comparison to other places in Central America I have visited. For that reason it is really important you do a good Costa Rica budget before traveling.
Not sure if you should visit La Fortuna or Monteverde? I must admit I wanted to do both places but I just didn't have the time. If you can't decide then take a read of this great comparison by Have Seat Will Travel to help you decide!
Traveling in Costa Rica and Central America?
Take a read of my top articles:
Things to do in La Fortuna Costa Rica | Mistico Park
Resorts in La Fortuna Costa Rica | My stay at the Lost Iguana Resort
What to pack for Central America
What to pack for The Rainy Season in Central America
10 Reasons to Travel Central America during Rainy Season
Are You Traveling soon?
Be sure to check Skyscanner for the best flight deals.
I never travel anywhere without Travel Insurance. If you are looking for insurance be sure to check World Nomads first.
This post was proofread by Grammarly