Planning a trip to Morocco and wondering if it's safe for solo female travelers? I recently spent two months traveling solo in Morocco and I can happily report that Morocco is very safe for solo female travelers, but there are some tips and tricks you need to know to have the best experience possible. Keep reading for 10 essential travel tips for solo female travelers in Morocco.
Did You Get Travel Insurance Yet?

If 2020 taught us anything, it's that you need to be prepared for anything!

The Insurance companies I personally recommend are Hey Mondo, Passport Nomads, Safety Wing, and Travel Insurance Master

Hey Mondo is great if you are looking for a great value flexible policy. They offer single-trip cover, annual multi-trip cover, and long-term travel cover.

Passport Nomads provides the most comprehensive cover for Digital Nomads. If you find yourself in need of medical care you just contact them and they will pre-load your card with the funds to cover your treatment, meaning you won't need to pay out of pocket and then put in a claim later.

Safety Wing is great value with monthly cover starting at $39. It's super easy to use and it just renews each month. I currently use them as they offer me free cover for my son as part of my policy.

I also use Travel Insurance Master for short trips.

Read my full travel insurance post here where I go into detail about all 4 companies.
12 Essential tips for female travelers in Morocco
1. Wear headphones and sunglasses to avoid eye contact with touts
In places that get a lot of tourists in Morocco, like Fes and Marrakech, there are these fake guides called "touts".
Touts are harmless, but they're total conmen. Usually, they aim to confuse tourists and then demand a high tip for righting them.
Touts will approach you on the street and look for any way to start a conversation, which will somehow always lead to them demanding money.
The only way to avoid touts in Morocco is by not giving them an in to start a conversation with you because once they do they'll just follow you around the souks relentlessly unless you go inside a cafe or hotel.
Morocco is a wonderful country, but the touts are exhausting, and they target women traveling alone more than couples or men.
The best advice I could give you would be to keep a pair of sunglasses and headphones on your person that you can quickly put on if you need to travel through a busy area. This way you'll easily be able to avoid any touts trying to bother you.
2. Take a tour if you're visiting the souks to avoid harassment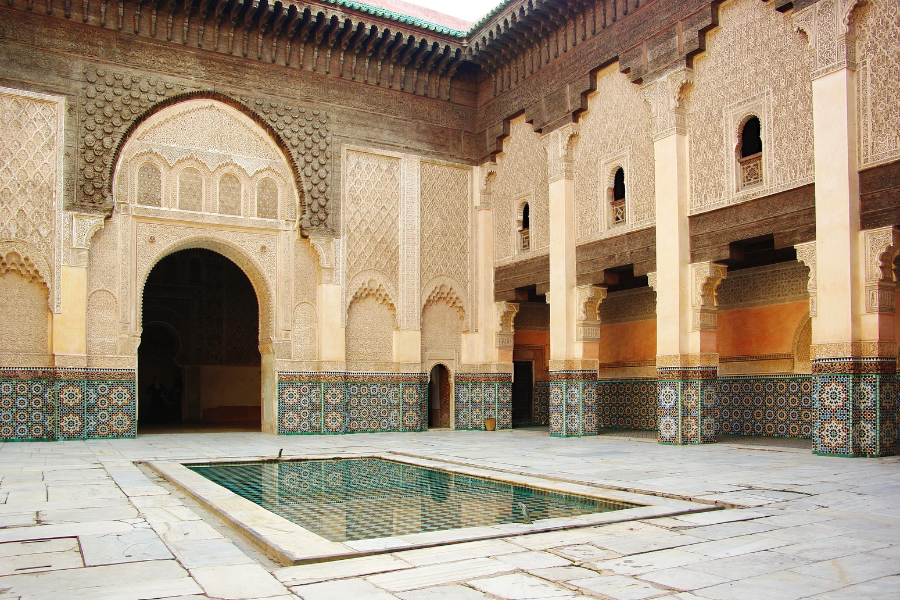 The souks in the Old Medinas of Fez and Marrakech are amazing, and an experience I recommend everyone have at least once while traveling in Morocco!
As a solo female traveler, I, unfortunately, received more harassment from shop owners in the souks than other tourists. Some sellers even grabbed my arm and tried to pull me into their stall!
To avoid this kind of treatment, I recommend taking a guided tour of the souks. If you're accompanied by a local the harassment won't be nearly as bad, and you will be able to shop (relatively) in peace while learning about the history of the Medina from your guide.
3. Organize a pickup beforehand from the airport
Taxi drivers in Morocco are notorious scammers, and the taxi drivers at the airport are the worst offenders!
I recommend always arranging transportation from the airport to your hotel in Morocco beforehand, either through your hotel or by hiring a private transfer service.
4. Don't listen to anyone telling you you're going the wrong way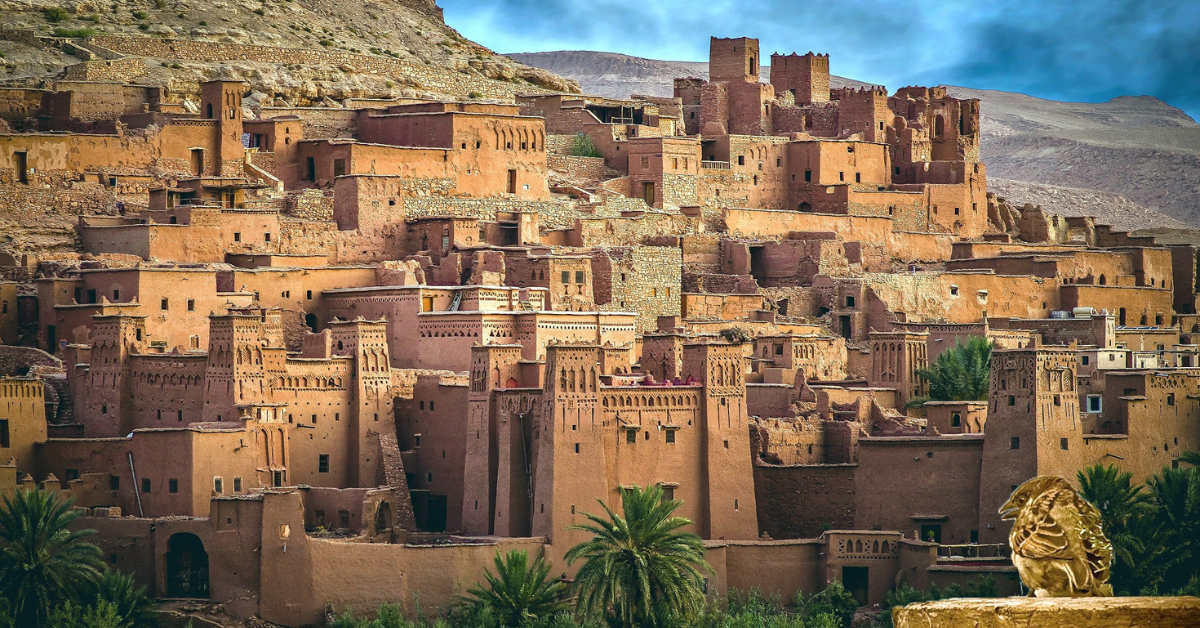 There's a very common scam in Morocco called the "wrong way scam". Touts target foreigners in the windy maze-like streets of the Old Medinas and tell them that they're going the wrong way. Then, they turn them around and demand a tip for showing them the "right way".
On my last trip to Morocco, I found the touts had gotten more brazen with this scam, to the point of it just being plain funny. Guys would come up to me in the street and tell me I was "going the wrong way" without even asking where I was heading first!
Needless to say, don't fall for anyone telling you that you're going the wrong way in Morocco.
5. Remember to haggle!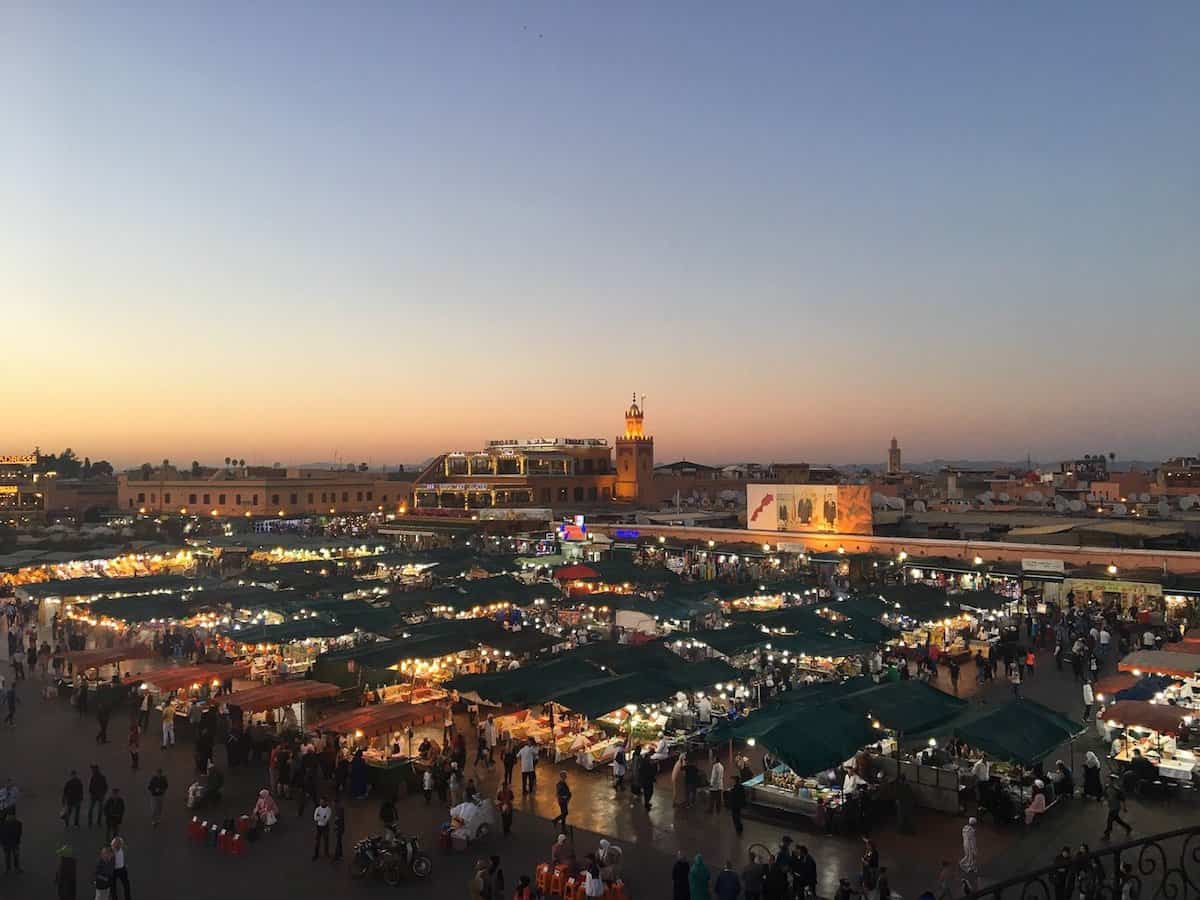 Almost everything in Morocco is up for negotiation, it's part of the fun of shopping there!
If you're a foreigner traveling in Morocco, the first price a shop owner gives you in the souks, unless there are official prices posted, is usually 2-10x what the item actually costs!
You need to haggle with the shop owner and work them down to a reasonable price.
6. Only pack what you can carry
You won't regret only packing what you can carry in Morocco. There are a ton of towns and cities that aren't car-friendly.
I remember on my first trip to Morocco I visited the town of Imlil in the High Atlas Mountains, and there was no way to drive to my hotel.
The only way to get to my hotel was by hiking there up a steep incline. Even though I thought I had packed pretty light (by my standards) I wound up paying a guy with a donkey to help me bring my bag up the rest of the way!
This all could have been avoided if I was just traveling with just a carry-on or a backpack.
Other places in Morocco, like the Old Medinas in Marrakech and Fez, don't allow cars at all. A few times I have stayed in Marrakech I've been pulling all my luggage half a mile or more into the Medina, not a fun thing to do with a huge suitcase, so I recommend packing light!
7. Use a ride-sharing app whenever possible
The taxi drivers in Morocco are the worst scammers! Sometimes they will charge a foreigner 5-10x for a trip as they would a local. Occasionally there will be taxi scams where a driver takes a foreigner around in circles and then demands a higher payment for the "long trip".
I recommend always using a ride-hailing app in Morocco when it's available. Currently, the most popular ride-hailing apps in Morocco are Careem, Roby, Heetch, and Yassir.
Reasons female travelers should take ride-hailing apps whenever possible in Morocco:
You'll be able to track your app on a map in live time.
You can see your driver's rating.
Your driver knows they will be rated on their conduct at the end of the trip.
You have a set price you don't have to haggle.
8. Dress appropriately
While I have seen female tourists in Morocco dressed in skimpy clothes, you'll find that you're treated better when you're dressed more modestly in Morocco.
There is vibrant nightlife in Morocco, especially in more coastal cities like Taghazout, so I wouldn't say to pack a little black dress if you plan on going out, but your day-to-day clothes should err on the side of being more covered up.
You don't have to cover your hair as a foreigner in Morocco, and in the cities, a t-shirt and a pair of pants are more than modest enough.
A good rule of thumb is to just make sure your shoulders and knees are covered if you want to dress respectfully in Morocco. You can also check the travel essentials you can carry for women here.
What to wear in Morocco
9. Take out cash as soon as you can
Morocco is a cash-oriented country and there are a lot of hotels, restaurants, and other services that won't accept cards at all.
To best prepare for your time in Morocco, I recommend taking out cash as soon as you arrive in the country.
I wouldn't suggest using a money exchange service in Morocco, there are too many scams. Instead, I recommend taking out cash at an ATM.
At any airport in Morocco, there should be bank-affiliated ATMs in the arrivals terminal that will work with foreign debit cards.
Tip: Always deny the bank's conversion rate when taking money out of an ATM in Morocco! The banks usually have a worse conversion rate than the global standard, and you will save a ton of money by refusing their rate when withdrawing cash from an ATM.
10. Don't drink the water!
Morocco is not a country where you can safely drink tap water, which is why you'll see so many locals drinking Mint Tea with every meal because boiling the water for tea kills all of the bacteria which could make you sick.
I recommend traveling with a travel water purifier if you're visiting Morocco so you can drink the tap water anywhere!
11. Know a little bit of French
The main languages in Morocco are French and Arabic, but in many of the cities popular with tourists like Casablanca, Marrakech, and Agadir, you can get by with just french.
French uses the same alphabet as English, so as an English speaker I found French a LOT easier to translate, both in reading and speaking, than Arabic.
Tip: Download both French and Arabic for offline translation on the Google Translate app, it's free and so helpful when traveling in Morocco!
12. Get out of the hectic city at least once during your trip!
So many tourists come to Morocco and only see the big cities like Fez, Marrakech, and Tangier. While the cities in Morocco are amazing once-in-a-lifetime experiences, you're really missing out on a lot of what Morocco has to offer if you don't explore outside of the cities!
As a female traveler on my first trip to Morocco, I was feeling a little burnt out after a week in Marrakech. There was so much street harassment, scamming touts, and just a general feeling of being overwhelmed I almost gave up on the country!
Luckily, I left the big city and spent a weekend in the High Atlas Mountains at the end of my first trip. Leaving the city was just the breath of fresh air I needed to fall in love with Morocco.
Here are some excursions outside of the cities I recommend:
Looking for somewhere to stay in Morocco? Check out these options:
Luxury Hotel
Boutique Hotel
Budget Hotel
Backpacker Hotel
Solo female travel in Morocco: Conclusion
I hope this guide helps you navigate Morocco as a solo female traveler! While Morocco isn't the easiest country for solo female travel, it is very rewarding.
by Katie from KatieCafTravel.com
Katie is a full-time traveling Digital Nomad who loves adventure, art, good wifi & even better coffee. "