Quick Rundown On Cusco
Cusco is not the political capital of Peru, Lima is. But Cusco is the cultural and touristic capital of Peru, maybe of all of South America.
When people talk about their Peru trips, Cusco is the highlight. It's the nearest (large) city and the nearest airport to Machu Picchu.
While Machu Picchu is likely the sight that draws everyone to Cusco, the city and the surrounding Sacred Valley have a LOT to offer!
There are people that spend weeks or even months staying in Cusco, but here, we'll tell you how to spend 5 days and make sure you get a little taste of everything the area has to offer.
Did You Get Travel Insurance Yet?
If 2020 taught us anything, it's that you need to be prepared for anything! Travel insurance has always been high my list of things to get before I travel but now more than ever its at the top of my list.

I'm pretty sure we have all had travel plans messed up because of COVID and not all insurers covered this. So when looking for travel insurance it's important to check it covers travel disruption due to COVID-19, Hey Mondo, Passport Nomads, Safety Wing, and Travel Insurance Master all provide cover for this.

Hey Mondo is great if you are looking for a great value flexible policy. They offer single trip cover, annual multi trip cover, and long term travel cover. You even have the option to start the cover when you are already on your trip, although you won't be covered for the first 72 hours. For me my favourite feature is their app which offers you a 24/7 Dr chat and the ability to file a claim direct in the app.

Passport Nomads provides the most comprehensive cover for Digital Nomads. The game changer with them is that you have a red card and if you find yourself in need of medical care you just contact them and they will pre load your card with the funds to cover your treatment, meaning you won't need to pay out of pocket and then put in a claim later.

Safety Wing is great value with monthly cover starting at $39. It's super easy to use and it just renews each month. They have an excess of $250 and it's simple to make a claim through their website. I currently use them as they offer me free cover for my son as part of my policy and I like that it renews on a monthly basis, so I don't have to pay out a big lump sum up front.

I also use Travel Insurance Master for some short vacation type trips.

If you are doing shorter trips or an extended backpacking trip then Hey Mondo or Travel Insurance Master are the best option. If you are a digital nomad or planning travel of at least 6 months then go for Passport Nomads or SafetyWing.
Day 1 – Walk the City
The first day in Cusco can be a doozy, depending on where you're coming from. The city sits at an elevation of over 3,400 meters, or 11,000 feet! That's more than twice the elevation of Denver, Colorado, where professional athletes are known to have a harder time playing.
Elevation sickness is real, and it can happen to everyone, not just people who are out of shape.
On the first day in Cusco, I recommend taking it easy. There are some strenuous activities to get into around Cusco, but you won't want to do those on your first day, just in case the elevation hits you.
Day 1 – Recommendations
Start your day with a cup of coffee at Cappuccino Cusco Cafe. If you're lucky to get a table by the window, you'll have a view of the main square where you can observe culture and humanity at its most beautiful as you get your morning dose of "you can do this."
Put your comfy shoes on and walk around the square, and up the stairs to the San Blas district. San Blas is a charming district in Cusco where you'll find lots of great photo opportunities and cute shops and cafes to stop in and visit.
Be ready for the stairs though. It's a huge amount of stairs, and at 11,000 feet, that's no joke. You'll feel every one of those 11,000 feet standing on your chest when you reach the top, but you'll be rewarded with what will likely be your favorite part of Cusco.
Other sites within walking distance:
By the time you've gone to all these sights, you'll be ready to get a good night's sleep and wake up early for day 2!
Day 2 – Lake Humantay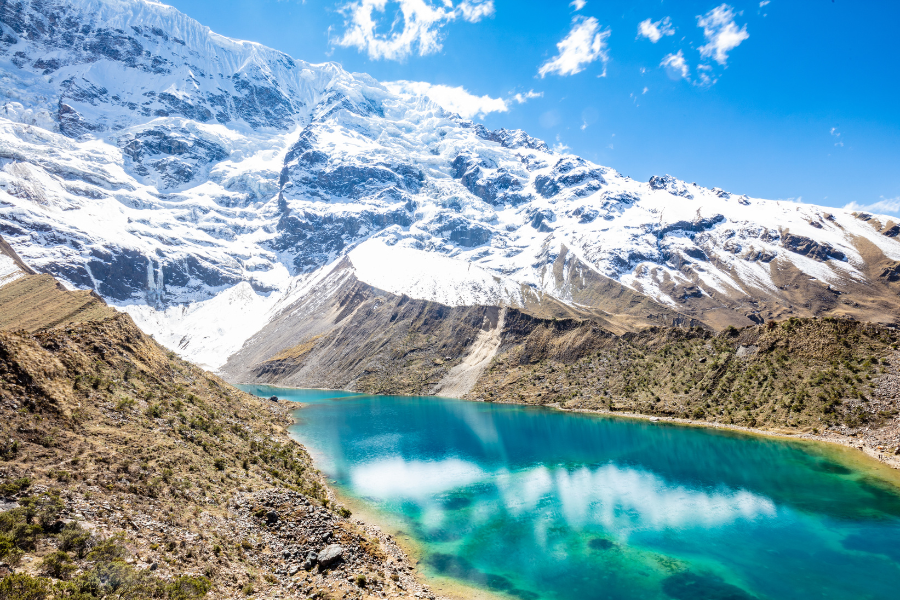 If you're in Cusco, you've probably heard of Lake Humantay. It's one of the most popular activities in the area. It's on most people's must-do lists.
The tough part about seeing Lake Humantay is you'll most likely have to wake up early to go, as it's several hours away. Tours to this sight start as early as 4:00 am. You'll be able to sleep on the bus on the way, but it's still early.
Even though it's early, it's worth it to go, especially if you're a hiker. It's quite a hike to the top, but most people that go to Cusco are into hiking and outdoor activities, so it shouldn't be a problem.
I should mention, only do this tour if you're feeling good. If you're feeling elevation sickness at all, I do not recommend doing this, as it's quite strenuous and could cause intensified effects of elevation sickness.
If you're up for it though, it's quite an experience, with amazing views!
After this full-day activity, I recommend rewarding yourself with a nice dinner at Morena, located in the Plaza de Armas. It's an upscale restaurant that serves authentic Cusqueñan food. Make sure to save room for their delicious dessert of an affogato with churros!
Day 3 – Maras and Moray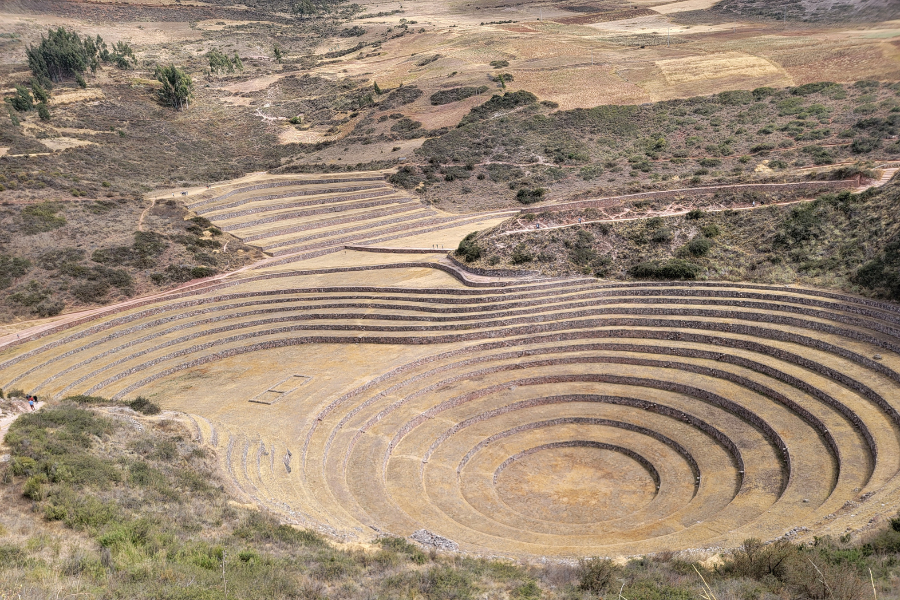 Day 2 was long and might have been tough! So, for day 3 I recommend doing something a little less strenuous.
The nearby ruins of Moray are an interesting sight that will not have as many tourists as some of the other sights in the area. It's an Inca ruin sight where they used tactics of changing elevation to cultivate different crops.
The agricultural terraces are reminiscent of what we've seen (and will see) at Machu Picchu.
The Maras Salt Mines are near the Moray ruins and are often grouped on the same tour. The mines are an impressive sight, especially when you hear the story of how they are cared for.
Each family in the surrounding area is assigned one of the salt pools to care for and cultivate salt from their respective pool. This salt is used in packaged food like chocolate or potato chips, or even sold by itself.
Maras and Moray can be seen by a tour involving a van or car and driver, or by ATV if you're feeling a bit more adventurous.
Bonus: Where To Stay In the Sacred Valley
Since you're already in the Sacred Valley, I recommend spending one night at the Mountain View Experience.
It's a beautiful piece of land with small private cabins where you'll get a high-end glamping experience. There are llamas on the property that you'll be able to feed. The cabins provide a stunning view of the Andes and the Sacred Valley.
The lodge also offers an excellent food menu! You won't regret taking advantage of this experience.
Day 4 – The Journey to Machu Picchu Begins
Rather than return to Cusco, I recommend moving through the sacred valley and making your way toward Machu Picchu.
From the lodge at Mountain View Experience, take a taxi to Ollantaytambo. This is where the train station is that will take you to Machu Picchu.
There is also a very cool ruin site to visit in Ollantaytambo. I recommend spending the early part of the afternoon visiting the ruins in the town and having a bite to eat in the square afterward.
From there, take an afternoon train with Peru Rail to the town of Aguas Calienties. The train ride is 3-3.5 hours and will put you in Aguas Calientes in the early evening.
It's a cute little town that's inaccessible by car. Taking the train is the only way in. Becasue of this, there are no cars in the streets.
The main street is too steep to drive on anyway, and contains a lot of stairs. Walking around Aguas Calientes, and taking a dip in the thermal pools is a great way to spend the remainder of your day.
The town is quiet and provides some really nice views of the mountains around it. You can really feel that you're about to see Machu Picchu.
Day 5 – Machu Picchu!
This is the day you've been waiting for, the day that likely brought you to Peru in the first place. I recommend waking up fairly early and catching a bus up to Machu Picchu. It'll cost you $12 USD, but I believe it to be worth it.
Some people take the stairs, but it's a LONG ways, and I like the idea of arriving at the front gate of Machu Picchu fully refreshed and ready to spend as much time in the ruins as possible.
You can get your Machu Picchu tickets here. It's a good idea to buy them as far in advance as possible, especially if you hope to hike one of the mountains in the ruins. Getting these tickets is one of the first things you'll want to do when you plan your trip to Peru.
When you're in the ruins, take the time to soak in the views and feel the magic of the site. Don't hurry through, like some people do. Enjoy it. Appreciate it.
When you're done, if you're still in the mood for a bit of adventure (and want to save $12), take the stairs down and the trail back to Aguas Calientes. It takes 40 minutes or so, and it's another HUGE amount of stairs, but going down is infinitely easier than going up.
Even with taking the stairs back to town, you'll arrive with plenty of time to catch a train back to Ollantaytambo, and still take a taxi back to Cusco, thus concluding our 5 days in cusco.
If You Have More Time
If you do have more days in Cusco, here are some additional sights and activities you'll want to consider:
Pisac – a small town near Cusco with an excellent ruin site
Rainbow Mountain – another full-day tour that is several hours away and includes a strenuous (due to the elevation) hike
Urubamba – a small town in the Sacred Valley with river views and great local markets
Other Parts of Peru Worth Visiting
When you're done in Cusco, or before you get there, depending on how you've planned your trip, there are other parts of Peru that should be on your must-see list.
Lima will likely be the entry point to the country. Whether on your way in or out of Peru, Lima is worth spending a few days. It's a culinary and nightlife hotspot and has some great sights and views along the beach.
Huacachina is an oasis in the middle of the desert and the home of the exciting sandboarding activity. It's also a hot party town when the sun goes down.
Arequipa is considered to be the most beautiful city in Peru. With the volcanoes around the city, and the beautiful Plaza de Armas, you'll be happy you decided to visit Arequipa.
Lake Titicaca is an interesting destination where you can get a taste of the native Uros people and see the floating islands where they still live to this day.
Cusco Hotel Recommendations
Luxury Hotel
Mid Hotel
Budget Hotel
Concluding Our Cusco Itinerary
It's easy to spend time in Cusco. It's the most fascinating of the cities in Peru. There is so much to do and see, it's easy to spend five days in Cusco and the Sacred Valley and still have tons of things on your wish list of things to do.
This 5 day Cusco itinerary gives you a taste of everything, the city of Cusco, the Sacred Valley, glamping, Inca ruins, and of course, Machu Picchu.
Whether you have 5 days in Cusco or more (less would be hard!) now, you've got all you need to enjoy your time in Cusco!
Author's Bio
Andrew is an author and a traveler who has spent a lot of time in hostels in Latin America since 2020 and now shares adventures and pro tips on his website, Flights and Footsteps. You can follow his adventures on Instagram.