So finally, you are planning a trip to Peru and looking for some unique things to do in Lima Peru. Well, it is indeed a traveler's paradise with numerous treasures in its fold. One of such gems is the astonishing city of Lima – the capital of Peru. Located on the Pacific coast, the city of Lima offers a remarkable diversity of activities for its visitors. Whether you are a history person, cultural buff, adventure aficionado, or nature enthusiast, the city holds something for everyone.
In this post, I have included some of the top places to visit in Lima, and others must do things to do that you should add in your Peru itinerary for ultimate vacation time in Lima. So, here we begin our list!
Take a Free Walking Tour
There are hardly any travel destinations in the world that offer something free to foreign tourists. But, Lima is an exception! The free walking tour is probably one of the best things to do in Lima. On this tour, you will get to explore and experience the beautiful culture and history of Lima. The tour begins at 9:50 AM outside the Tourist Information Center on Avenida Jose Larco. The tour includes some popular historical landmarks including San Martin Square, The Main Square, Chocomuseo, The House of Peruvian Literature, Boulevard Chabuca Granda, and Santo Domingo Church and the Indian Market.
Explore Huaca Pucllana
As I mentioned, the city of Lima has everything for all. So, if you are a history lover, be ready to explore one of the most astonishing historical sites of Peru while vacationing in Lima – Huaca Pucllana. Huaca Pucllana is a pyramid that traces its history between 300 and 700 AD. Just to let you know, Huaca Pucllana is a stunning construction from millions of adobe bricks. There is also a popular restaurant at this popular tourist site in Lima. Once you are done relishing the beauty of Huaca Pucllana, visit the restaurant where you can savor the taste of delectable delicacies as well as gaze upon the sunset views which is another spectacular thing to do here.
Location: Ca. Gral. Borgoño Cuadra 8, Miraflores 15074, Peru
Opening Hours: Wednesday to Monday from 9:00 AM to 5:00 PM and 7:00 PM to 10:00 PM
Entry Fee: 2 USD
Go Paraglide by the Coast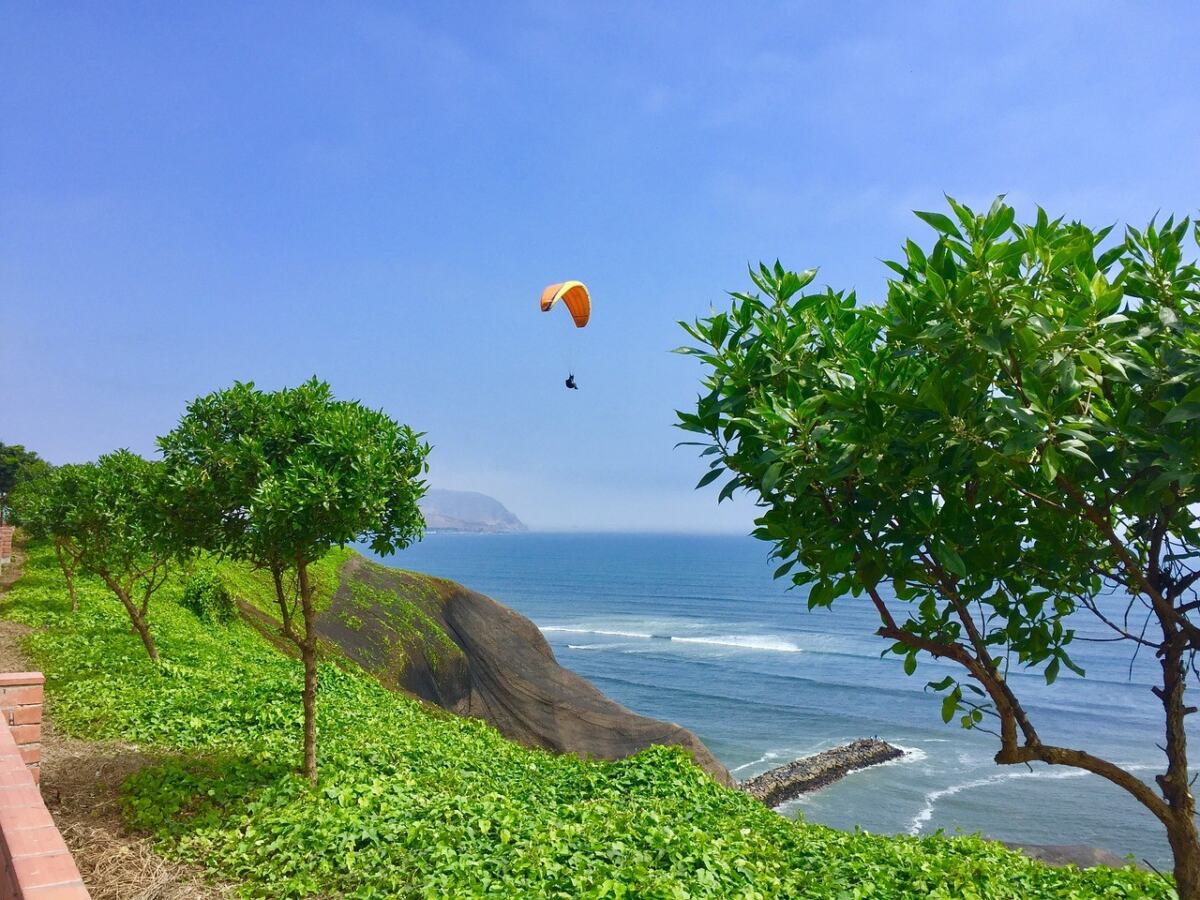 Since the city of Lima is located on the coast of the Pacific Ocean, it offers plenty of opportunities for adventure buffs to indulge in some thrilling experiences. There are a number of Paragliding hotspots in Lima. The best one is located at the clifftop para Puerto in the region of Parque Raimondi. From Parque del Amor, this hotspot is just a short walk away towards the north. This is a place where you will meet the most experienced paragliders in Lima. This 10-minute experience is one of the most unique things to do in Lima. Flying in the sky and relishing the bird-eye view of the entire region is indeed an experience I strongly recommend for you. The experience also includes videos and pictures of flight so that you can save it as a memory and later relive the moment by seeing it.
Location: Malecón Cisneros 4013, Miraflores 15074, Peru
Opening Hours: Sunday to Saturday from morning to evening
Entry Fee: $85 USD
Visit Larco Museum
Now comes a renowned place for all the museum lovers, Larco Museum. The museum is known to display a wide sort of pre-Colombian art that dates back to the 18th century. The display consists of more than 50,000 pots. On these pots, you can see the exquisite ceramic works of Chancay, Cupisnique, Inca, Chimu cultures. If you want to get the detail of the museum and the significance of each and every ancient object displayed in the museum, then I recommend you to organize a guided tour.
Inside the museum, there is also an Erotic Gallery which grabs the attention of a lot of tourists because of its display of ceramic showcasing the X-rated images or scenes. However, there is nothing to worry about if you are visiting with your family as the museum also houses a range of family-friendly pottery.
Location: Av. Simón Bolivar 1515, Pueblo Libre 15084, Peru
Opening Hours: Sunday to Saturday from 9:00 AM to 10:00 PM
Entry Fee: $10 USD
See the Saint Francis Monastery
Saint Francis Monastery, also known as Basilica y Convento de San Francisco is one of the most impressive landmarks in the city of Lima. The monastery also includes catacombs and an impressive library. There are also underground vaults that were once used as the resting place for members of fraternities until the 19th century. Talking about the library, it houses around 25,000 antique texts, some of which even trace their history before Spanish Conquest. The museum also has the last supper painting in the local version which is made by Diego de la Puente.
Location: Jirón Lampa, Cercado de Lima 15001, Peru
Opening Hours: Sunday to Saturday from 9:30 AM to 5:30 PM
Entry Fee: The entry fee of the church is free. However, you have to pay for Catacombs and Monastery. The ticket price is 5 USD.
Enjoy a Walk Around the Plaza Mayor
Ok so it may not be one of the most unique things to do in Lima but you simply cannot afford to miss the downtown of the city and while in the region, a walk around the Plaza Mayor is a must do in Lima. Formerly known as Plaza de Armas, Plaza is one of the oldest public spaces in the city. Here, you can also explore the other popular tourist landmarks of Lima like the Cathedral of Lima, Government Palace, and Municipal Palace. It was built to have all the most important institutional buildings around it. Just to let you know, Plaza Mayor holds a huge historical and cultural significance. Another key highlight is the colonial fountain which serves as the main centerpiece of this place.
Location: Plaza central Lima, Cercado de Lima 15001, Peru
Opening Hours: Sunday to Saturday throughout the day.
Entry Fee: No Entry Fee
Explore Modern and Historic Peruvian Art at Museo de Arte de Lima
There are numerous museums in Lima. The best one is the Museo de Arte de Lima. The museum is known to house a wide sort of assortment covering 3000 years of history. Amongst those fascinating exhibits, there is also a collection of some stunning religious paintings from Cusquena School. This is the perfect place for all the art lovers to take a plunge into modern and contemporary art. Not just this, the museum also hosts various events where you can expect to meet some artists. A not to miss thing is the nearby MATE – Museo Mario Testino. It is dotted with rooms that house the spectacular work of an acclaimed photographer. He rose to fame with his workpieces of Princess Diana – the Royal Highness.
Location: Parque de la Exposición, Paseo Colon 125, Cercado de Lima 15046, Peru
Opening Hours: Tuesday to Sunday from 10:00 AM to 7:00 PM
Entry Fee: around 10 USD
Explore Peru's Most Classy and Trendiest Neighborhood
Any guess about that neighborhood where you should go on your trip to Lima? Well, don't stress yourself much! It's Miraflores. It is one of the most upscale neighborhoods in Lima. Here in Miraflores, you will find everything from cozy bars to stylish restaurants to Discoteca. Not just this, Miraflores is one of the best and safest neighborhoods to book accommodation in Lima. Adding to the charm of this place is the coast that attracts a huge crowd of tourists both local and foreigners. Here, the seafront broadway is also dotted with the beautiful Parque del Amor, also known as the Love Park. The park contains colorful mosaics and sculptures. There are plenty of amazing things to do in Miraflores like parasailing, surfing, Pisco Museum, Indian Market, and much more.
Location: Av Jose Larco 453-497, Miraflores 15074, Peru
Opening Hours: Sunday to Saturday, throughout the day.
Need accomodation in Lima? Try one of these places

Belma Boutique Bed and Breakfast
Go On An Ultimate Food Tour in Lima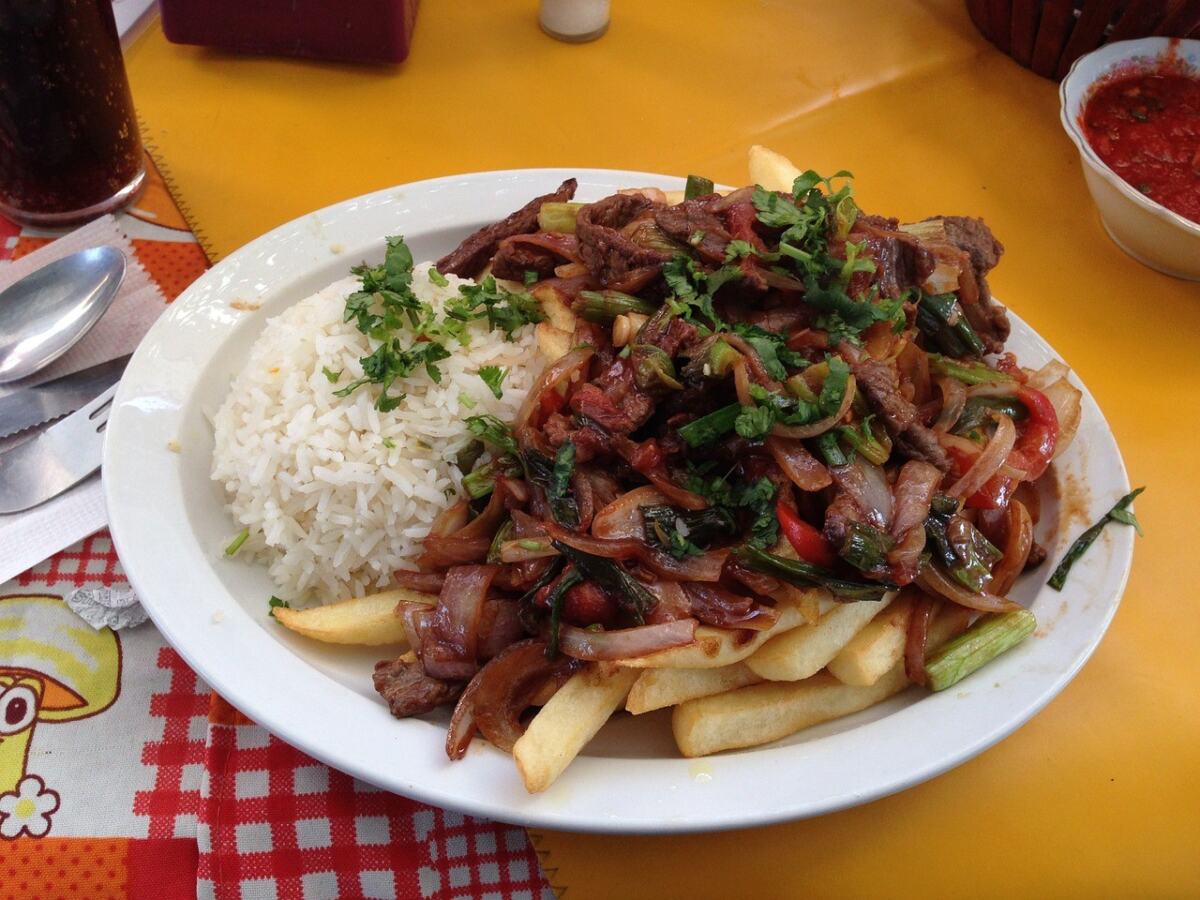 As I'm sure you already know that Lima is considered as one of the top destinations for culinary experiences in Latin America. Food tourism in Peru is quite a big thing and one of its epicenters is Lima. Such is the demand for Peruvian food that in 2019, the country was acclaimed amongst the World's Leading Culinary Destinations for consecutive 8th years. Here you can enjoy a wide assortment of Peruvian dishes. The city of Lima has some World's best restaurants that you should look to visit if your budget allows you. Otherwise, you can look for cheaper options that are also good to relish the Peruvian cuisine. La Picanteria, Osso, Malabar, Chez Wong, Amaz, and Maido are some high-class restaurants to visit in the city. Not just the food, Peru is also known to offer the exceptional taste of various distinctive fruits that are limited to the country only. Mercado Central and Mercado Surquillo are two popular markets where you can enjoy fruits as well as food in Lima.
Join a Local Cooking Lesson
Talking about food tourism in Lima, well, the city also offers you a chance to cook with locals. If you love to cook, then I would recommend taking a cooking class while in Lima where you will get a chance to indulge in a unique experience in Lima with a local. For that, you can join a professional cooking class. The class not just includes cooking but also a visit to the market to purchase all the ingredients. This is undoubtedly one of the best things to do for all the food lovers and why it made my unique things to do in Lima list.
Cost: around $85 USD
Go Rappelling and Canyoning
If you are an adventure buff, I am sure you won't find any hassle in traveling 2.5 hours to San Jeronimo de Surco from Lima. This adventure begins with a trek that goes all the way up to Huanano Waterfall. Once you reach the destination, take a break to gain some energy. Thereafter, be ready to rappel down to Songos Village. Now comes another adventure. From the village, there is an obstacle course which is quite fun to indulge in through canyoning.
Learn to Surf Along Lima's Costa Verde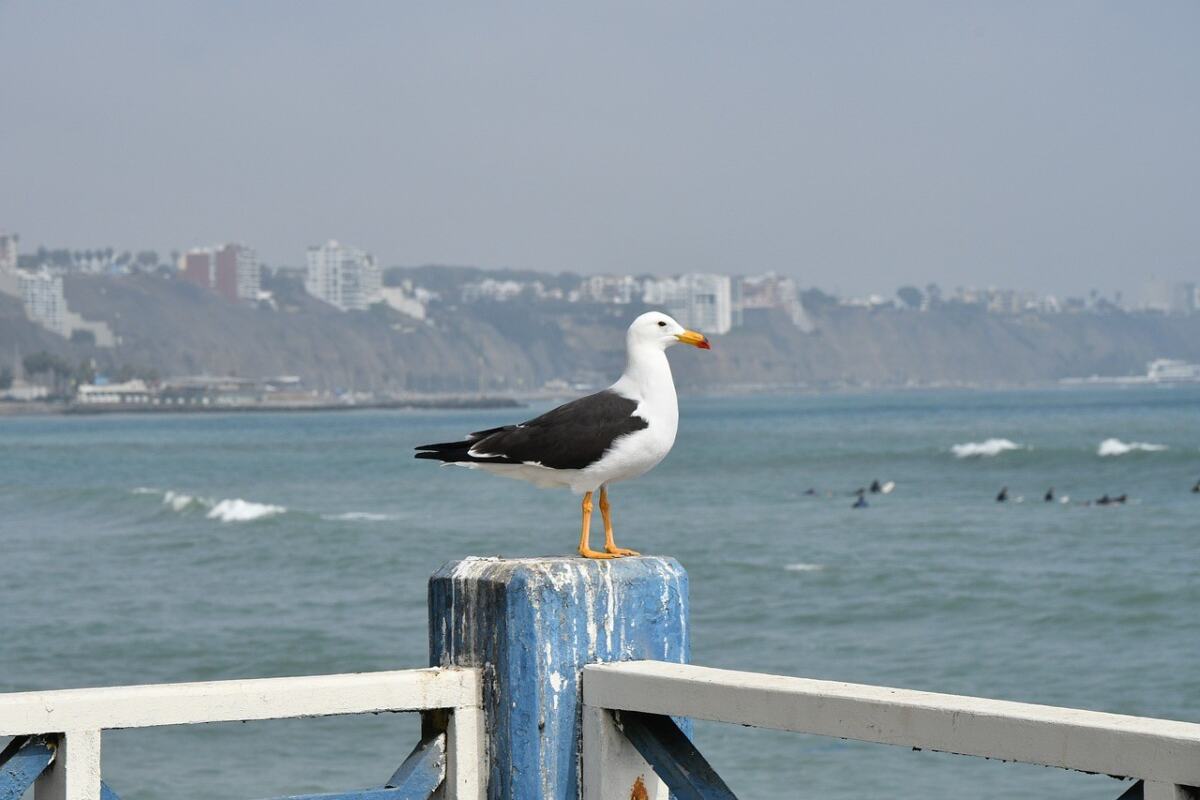 How's this for a unique thing to do in Lima? Did you know that Lima is also known as a popular surfing destination? There are plenty of beach spots in Lima where you can enjoy surfing. The Costa Verde of Lima has some great surfing spots for both locals and tourists. South of Barranco La Herradura is also a spot where you can indulge in this thrilling water sport activity. However, if you are a beginner, then Waikiki in Miraflores is the best choice for you to hit the gentle waves of ocean waters. There are plenty of surfing schools that can help you learn the basics and skills of surfing while ensuring your safety in Lima. There is also the very famous Waikiki Club which was established in the year 1920. It is one of the world's first surf clubs.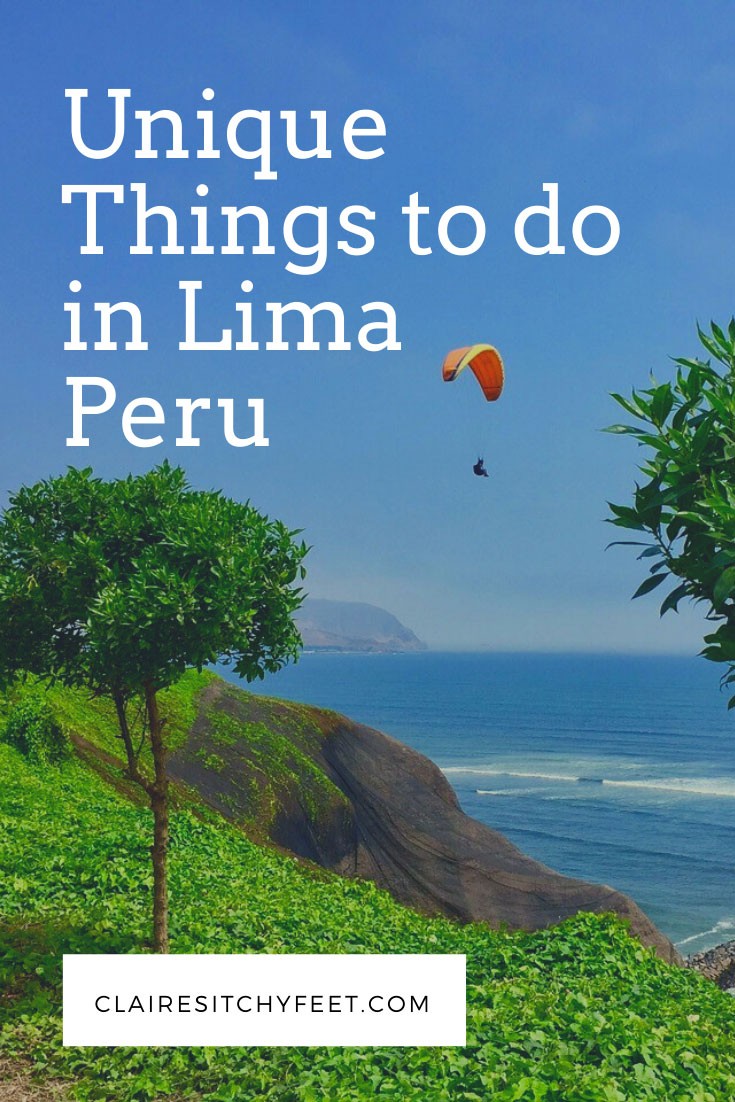 When is The Best Time to Visit Lima
There are four seasons in Lima – Summer, Winter, Autumn, and Spring. However, the best time to visit Lima is from December to April. During these months, the weather of the city remains all pleasant and in favor of tourism. The summer is the peak tourist season which attracts a huge footfall of tourists. In these months, you can find some great spots to capture the surreal sunset view. A number of key events like Foundation of Lima, Carnaval, Pisco Sour Day, Good Friday, Easter, and the Feast of the Immaculate Conception are observed during these months.
That said, the months from May to November also attracts a considerable footfall of tourists. But these months are known for misty fog and light rain. This is also a time when you can experience a number of local festivals and celebrations including Peruvian Independence Day. If you are a foodie, then consider planning a trip to Lima in September as this is the month when the annual Mistura is observed. It is the largest food festival in South America.
Now that you have all the information about unique things to do in Lima, you are all ready to plan a tour. This list really is just a starting point as there is much more to do and explore in the city of Lima. So, be open and welcome all the experiences with open arms. By the end of your trip, surely, you will be taking a bucket load of indelible memories to cherish for a lifetime.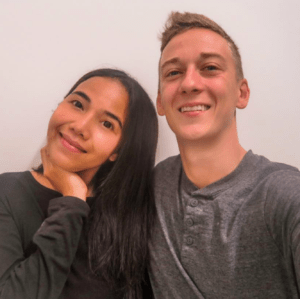 Author Bio:
Jimmy & Tah, are American and Thai Millennials who left their careers in the military and finance to become full-time travelers.