In this Solo Guide to Tokyo, I'm going to go through everything you need to know to have the best solo trip to Japan possible. There are many places where it's safe to travel solo, but not so many where society is actually geared up for people who want to be alone – but Tokyo is one such place.
This might sound strange considering that Tokyo is immense – the metropolitan area alone covers around 2200 square kilometers. And it's hugely crowded – thirty percent of Japan's population lives in the center and it's estimated that 3.5 million of them pass through Shinjuku station every day.
As you stand nose to nose with about three other people on the busy Yamanote train line that circles the city, it might feel like this is the last place on earth anyone could spend time alone, let alone be welcomed for doing so; yet despite this, 'Hitori culture' – Hitori means 'one person' in Japanese, is huge with restaurants, bars, and hotels all catering brilliantly to solo travelers.
It's also an incredibly clean and safe city that's easy to get around.
What To Do in Tokyo Solo
Find Your Happy Place
Every neighborhood in Tokyo has a different feel and finding the ones the suit your personality is key to having your best trip. If you want to dodge people, see bright lights, stare at a giant roaring Godzilla head or drink in a bar so small you can touch both walls at once, Shinjuku is your venue of choice.
For shopping or people spotting, the crowded streets of Shibuya and Harajuku team with teen fashion and Insta-friendly food trends while hipster Shimokitazawa is where to stop off if you want street art, vintage fashion and smoky jazz bars.
For a change of pace, Yanaka is a touch of older Tokyo with a more traditional shopping street – that has a thing for cats. Akihabara, Ikebukuro, and Nakano embrace all things anime or cosplay – while Asakusa offers temples and old izakaya. And that's just the main touristy area – you could spend days exploring shops, restaurants, and backstreets in each of them.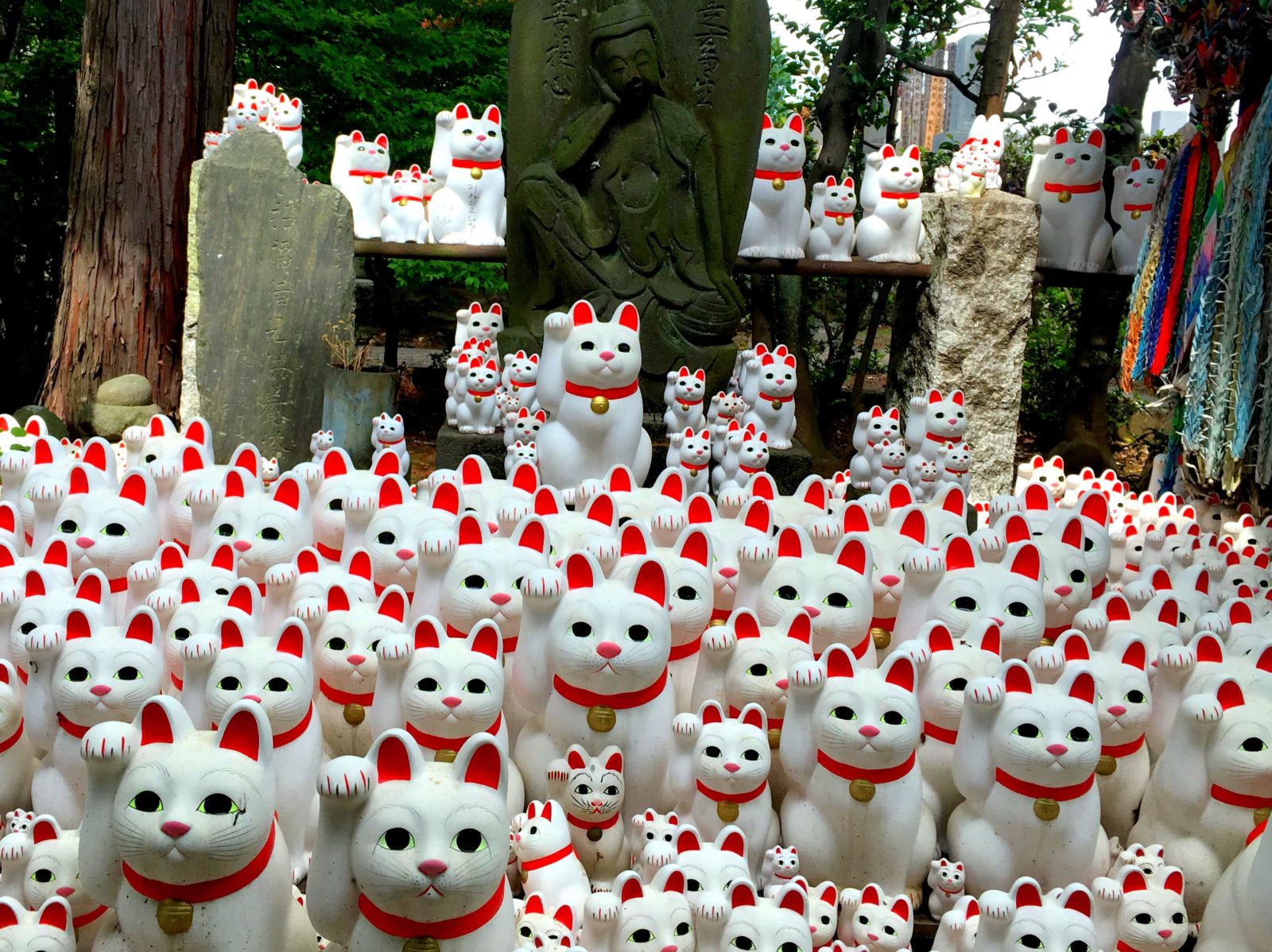 Seek out a Shrine
Tokyo has hundreds of them. Headline grabbers include Senso-ji in Asakusa, famous for its giant red lantern and shopping street, and the Meiji Shrine near Harajuku where you might spot a Japanese wedding if you're lucky. However, there are a few other, less famous temples that offer something special.
Five times a day at Fukagawo Fudo-do a day you can experience the flames and hypnotic drumming of a Goma fire ritual or jump on the train to Gotokuji with its thousands of waving cats. Top tip – go here first thing in the morning to beat the crowds as the area containing the cats is very small.
Immerse Yourself in teamLab Borderless
This digital art museum is currently one of the most popular things to do in Tokyo. It's a series of immersive light installations that have to be seen to be believed. Okay, so going solo might not lead to the best selfies (you can't use a tripod or selfie stick either) so just go and enjoy it at the moment. It's definitely one of the more unique things to do in Tokyo – but as I said, it's busy so go as it opens, or in the evening when crowds die down.
Eat Your Way Round Tsukiji Outer Market
The fish market the area was famous for has moved to pastures new but the outer market remains and it's lined with stalls selling some of Tokyo's finest street food. Exploring here is probably my favorite thing in Tokyo – and something I always do solo as it's hard to keep track of someone else in the jam-packed space. If you want to find the best stalls, you might want to take one of the many food tours to hit the market each morning.
Get Naked With Strangers
Onsens are baths full of hot, mineral-infused waters and the perfect place to soak away sightseeing aches. However, you have to enter an onsen completely naked (the baths are segregated by gender) and while I'm quite happy to do this in front of a whole load of people I will never see again, I'm not doing it with my best bud from back home in tow.
If you feel the same, an onsen visit is the perfect solo trip experience!
Oedo Onsen Monogatari in Odaiba is probably the most foreigner-friendly Tokyo onsen but brush up on bath etiquette before you go; it's essential that you shower and wash your hair before entering the water and you will not be allowed in if you have obvious tattoos.
Nightlife In Tokyo
Tokyo is very safe to explore at night and dining is where Tokyo's acceptance of people going solo comes into its own. No-one is going to look at you strangely when you walk in as a party of one. In fact, the famous ramen chain Ichiran actually has partitions between each seat so solo diners can enjoy a little more privacy. And when you're perched watching the dishes revolve at a sushi train (often called Kaiten sushi or sushi-go-round) no-one can tell who you are with. At Genki in Shibuya, you order by screen and the food is delivered by a tiny replica bullet train.
Walking into a bar though could be a different story – you'll generally be welcomed, but as you sit watching groups of friends shout 'Kampai' and order skewer after skewer of amazing grilled yakitori and other bar snacks, you might want someone else there with you (not least so you can order more skewers!). Cue the Magical Trip Bar Hopping tour.
These are run all over the city and give you the chance to team up with a local guide and other travelers to visit a handful of local bars for drinks and snacks. It's not a 'shots till you drop' kind of tour – instead, you'll learn about Japanese food and culture and get to try a few bars that might not be so easy to visit on your own. I took the Shinjuku tour which started off in the tiny Memory Lane alley, the type of place I wouldn't normally attempt to visit solo as it just looks a bit impenetrable without speaking good Japanese.
Even if you're not normally a tour person you might want to try one in Tokyo. While people are very friendly, and many speak some English, you can find yourself not having a long conversation with anyone for days – a tour gives you a chance to chat! I normally book two or three tours during a week-long solo trip to Tokyo.
How to Get From Tokyo Airport To The City
Tokyo has two airports. Haneda is closest to town. If you fly into Haneda, you can take the train or monorail lines to stations in the city (Shinagawa and Hamamatsucho respectively) in less than 15 minutes. There's also the Limousine Bus which takes about an hour to reach Tokyo station but drops off at a number of specific hotels on the way so it may take you closer to your accommodation. It also runs all night if you have an early or late flight.
Narita is Tokyo's second airport and further away from town. Two trains offer the best option for getting into the center; the Narita Express will bring you into main stations including Tokyo, Shibuya and Shinjuku in 60-90 minutes while the Keisei Skyliner comes into Ueno and takes 41 minutes.
If I'm flying into Narita after about 7 pm at night though, I normally stay the night at an airport hotel. Not because it's not safe to travel into Tokyo solo later at night but because it's a long journey I can't face after an international flight, and the airport hotels can be cheaper than ones I like in the city. Hotel Nikko is my top choice. The rooms are small but perfect for one.
Getting Around | Public Transport in Tokyo
Tokyo has a huge railway system that will get you pretty much anywhere you need to go to the city easily and a single journey costs 170-320 yen per trip. Get a Pasmo or Suica card to make it easy to transfer around the different rail networks without having to buy individual tickets.
If you return the card at the end of your trip you'll get back a deposit of 500 yen. Or, try one of the 24-72 hour unlimited metro cards available to tourists which can save you a lot of money if you're mostly using the lines they cover. Taxis are very safe and honest but expensive.
Accommodation in Tokyo
This to me is the truly blissful part of traveling solo in Tokyo – Japanese hotel rooms, and the beds within them can be tiny. With one person in them, they feel cocooning and cozy, two of you involves constantly dancing around each other and your suitcases. If I'm traveling solo, my choice of hotels is far greater than when I'm traveling with my partner. If you are traveling with your family then you will need to do some extra research to find the best family hotels in Tokyo as all of these recommendations are for solo travelers.
One of the best places to stay for your first solo trip to Japan is around Shinjuku as it's great for transport and full of evening dining options on your doorstep if you're tired – and considering I normally walk 15-20km a day in Tokyo, I'm usually tired. The Shinjuku Gracery is particularly well located.
If you do want a bit more space, check out the Citadines Shinjuku – it's a bit further away from the main station, but it's surrounded by a cute local neighborhood with bars and restaurants that are very welcoming to solo diners. The ramen at Shaka was one of the best I've ever had.
If you're nervous about eating alone, the apartments also have kitchens. If you're looking for something a bit cheaper – but uniquely Tokyo – try Book and Bed which describes itself as an 'accommodation bookshop' combining a library like a décor with small individual sleep spaces, and the perfect opportunity to meet other travelers. Other good areas with lots to offer travelers are Asakusa and Shibuya.
Safety Tips For Tokyo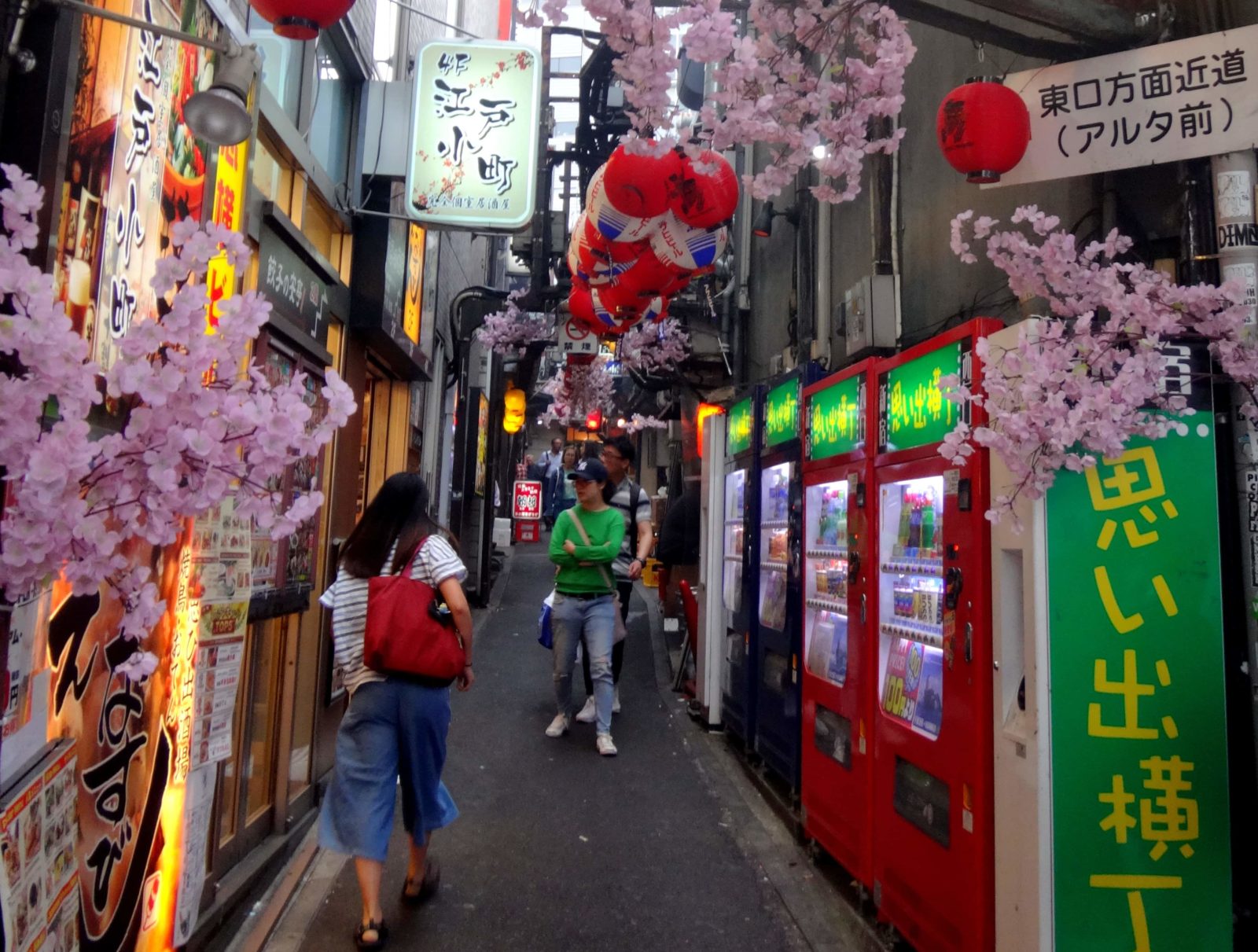 Generally, Tokyo is very safe. There are not many areas I don't feel safe to walk around solo during the day or at night – although obviously it pays to keep your wits about you. If you do feel worried, look for the local Koban (police box) and they will help you.
There is a red-light district in Shinjuku but the 'entertainment' is very much kept inside the bars and the bar touts are not interested in single, female travelers, or even, usually, non-Japanese male ones. Be a bit more cautious in Roppongi where touts are more foreigner-focused and incidences of drink spiking have been reported.
Also, Japan has a reputation for train gropers, particularly on crowded trains. It's said they rarely pick on foreigners but to avoid risk completely trains do have female-only carriages at certain times of the day. Look for the pink 'women-only' signs on the platform edge to determine where they will stop.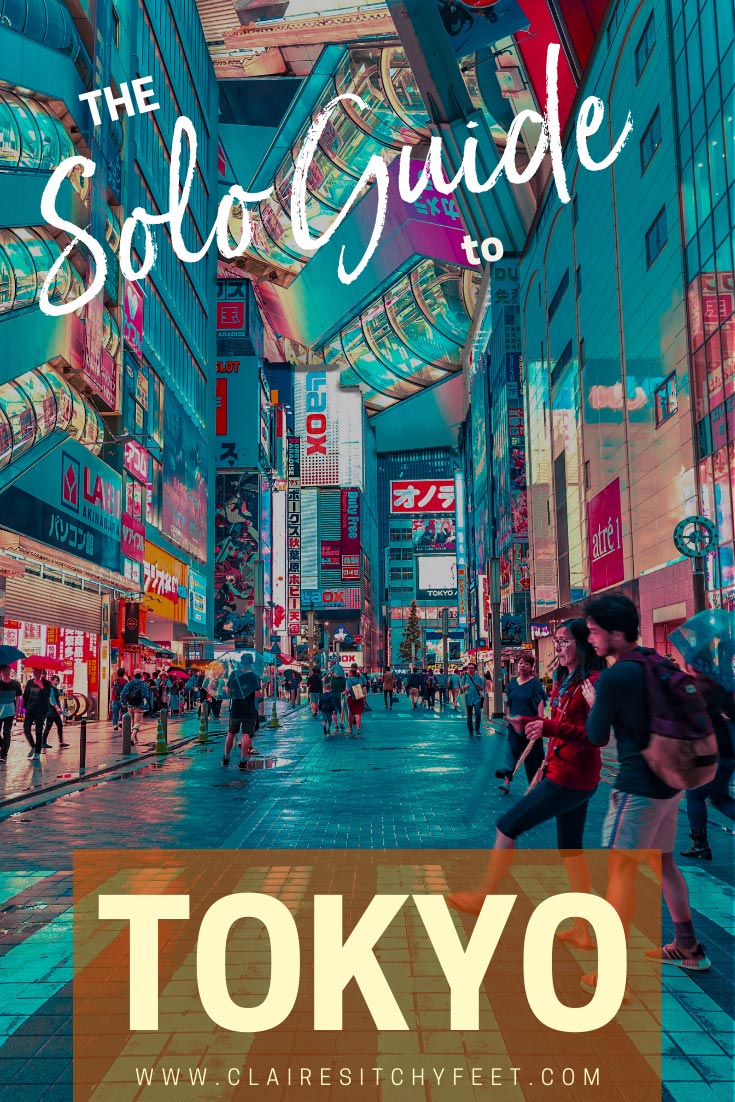 Final Thoughts
To me, the only downside of traveling to Tokyo, solo, or otherwise, is that you simply can't see it all in one trip and if you like it, you'll get hooked. Take it from someone about to go back for trip number six!
Author Bio: Helen Foster from Destination>Differentville is a bit Japan-obsessed – as if the whole 'six visits' thing didn't give that away. Her blog focuses on the quirkier sights in a destination. If you want to know where to meet a robot in Tokyo or drink with a monk in Kyoto, she knows the answer.