With more than 20 million travelers flocking to the European city every year, Venice is one of the most popular tourist destinations in the world. There are many attractions to see and activities to do than just a ride in the gondola or a walk through the Bridge of Sighs. If you're traveling solo to Venice, Italy, use our guide to help you plan a fun and memorable vacation in the "City of Canals".
Top Things To Do in Venice
We've created a list of the top things to do in Venice for solo travelers or for people looking for the best European girl's trip destination. So whether you're in Venice for two days or even a week, you'll have plenty to do!
And by the way, there are a few great Italian travel blogs written by locals and ex-pats alike that can provide even more info and advice on visiting Venice, and we'd recommend checking them out for some extra tips.
Here are the best things to do in Venice Italy when you're flying solo:
Learn how the world-famous Murano glassware is made from the same process that has been used for more than 100 years.
Take Cooking Lessons from a Chef
Learn how to make authentic Venetian Cicchetti from a real chef while sipping prosecco.
The cathedral is a treasure-trove of historical Venetian art, relics, and statues dating back to 1092.
Located just right across St. Mark's Basilica, the climb to the top of the San Marco will give you the best views of the city of Venice.
Take a Mask-Making Class from a Local
Find out how they make the colorful masks for Carnival then create your own Venetian mask in only 1 hour.
Nightlife in Venice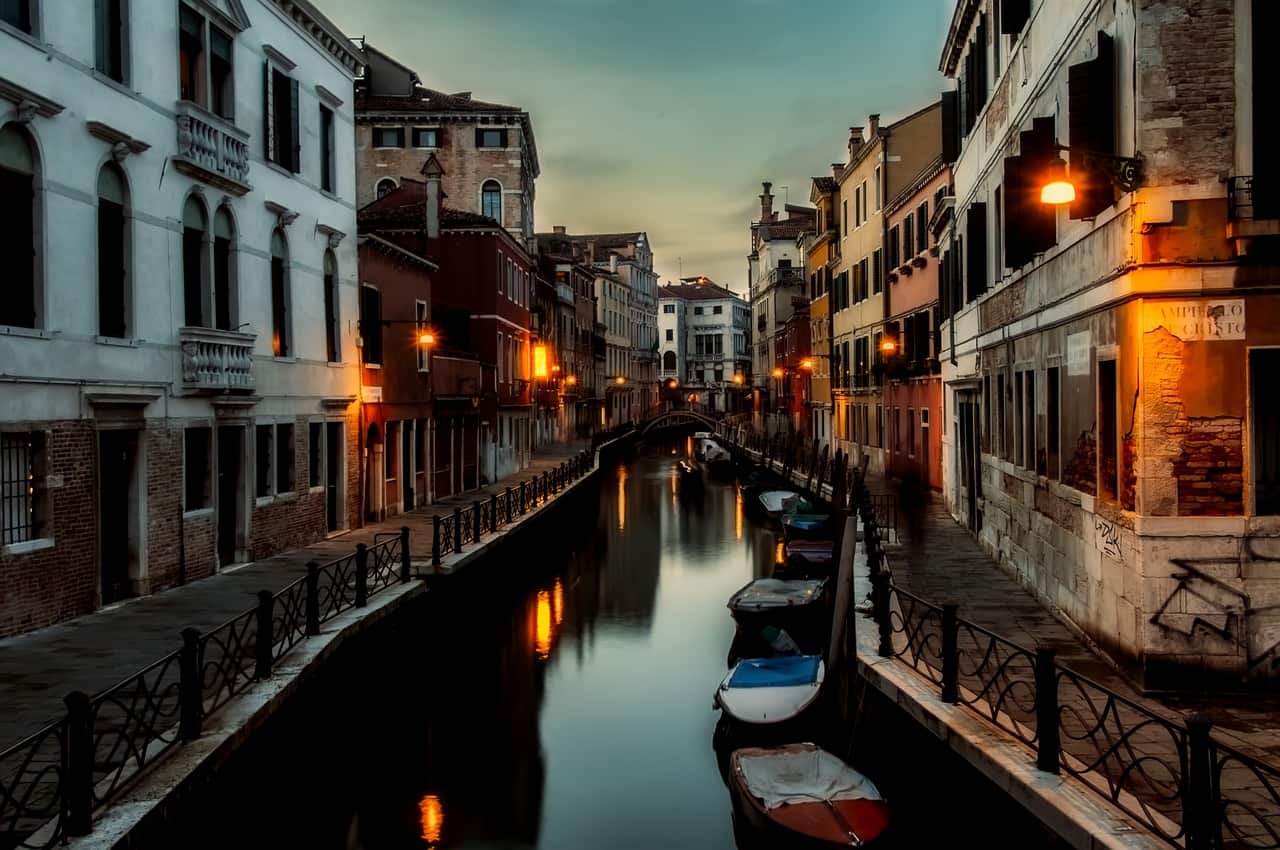 If you're looking for clubs or dance places where you can party, you should head off to Mestre which is located at the foot of the Ponte della Liberta, a 2.6m bridge that connects the city to Venice.
Venice nightlife can be quite lively. There are plenty of quaint small pubs, cafés, and restaurants that feature local bands.
If you're looking for a place to have a nightcap, listen to nice music, or just chill out with the locals, here are our suggestions for a wonderful night out in Venice.
Try the Drinks List at Baccaro Jazz – Located just a few minutes from the Rialto Bridge, Baccaro Jazz is very popular for its unique and very interesting drink list.
Listen to Local Band at the Venice Jazz Club – Relax to soothing jazz music at the Venice Jazz Club which features some of the finest jazz musicians in the city 5 nights a week.
Chill Out at the Promenade at Zattere – Grab a bite and a drink, find a stone bench, and take in a breath-taking view of the Giudecca.
Have a Drink with the Locals at Campo Santa Margherita – Venetians are very friendly people and the Campo Santa Margherita which is located close to Piazzale Roma and Ca'Foscari University is where the young locals go for budget food and bacari.
Get Your Heart Pounding at the Ghosts & Legends Walking Tour – Relive the fantastic stories of murder, ghosts, and superstition while walking down the cold, dark, cobblestoned alleyways of Venice.
How to Get From the Airport to Venice
Marco Polo Airport is located only 13km from Venice and is the international airport that services the city.
There are many options available for getting to Venice. You can go by land or by boat. The cost of each mode of transportation is different. To make sure you start your day in Venice on a happy note instead of a frustrating one, here are ways you can get to Venice from the Airport.
Shuttle Transfer Service – For only 8 Euro, the shuttle transfer service will get you to the bus stop at Piazzale Roma in 20 minutes. A return ticket will cost 15 Euro.
ATVO Bus – The airport has a fleet of ATVO buses that leave for Piazzale Roma every 30 minutes. An ATVO bus ticket costs 8 Euro.
ACTV Bus – The ACTV bus costs 8 Euro and leaves every 15 minutes for Piazzale Roma. Unlike the ATVO bus, the ACTV provides luggage racks for the passengers.
Water Bus – It will take you 1 hour and 15 minutes to get to Venice but you'll get a head start on the Venetian experience. The cost of a Water Bus ticket is 15 Euro.
Water Taxi – Not a good option for the solo traveler as a Water Taxi can cost anywhere from 100 to 150 Euro depending on where you are going. A shared water taxi will cost you around 35 Euros.
Train – You need a bus ride to the Mestre train station to get to Venice. This is the most affordable option at 3 Euro for the bus ride to the Mestre Train and 1 Euro to Venice.
Regular Taxi – You will be in Venice in 15 minutes but a taxi ride will cost you 35 Euros.
Getting around Venice
Water, water everywhere… and not a car in sight! That is because Venice is a "City in Water"; it is connected by canals and bridges. From the Piazzale Roma, you won't come across any form of land-based public transportation.
No cars, no buses, and no taxis.
And that makes Venice all the more a fun city to visit!
There are 3 ways to get around Venice:
Vaporetto
Water Taxi
Walking
The Vaporetto or water bus is the main mode of transportation in Venice. Tickets can be bought at the Piazzale Roma or upon leaving the Venezia Santa Lucia train station.
A one-way ticket on a Vaporetto will cost you around 7.50 Euro. However, the best deal if you plan to go around the city – and you should – is to get a 24-hour pass for 20 Euro.
If you are planning to stay longer in Venice, there are Vaporetto passes for 48-hours, 72-hours, and seven days at 30 Euro, 40 Euro, and 60 Euro, respectively.
Water taxis are available. But at 50 Euro for a quick, short-distance ride, this is not a viable option for solo travelers.
Walking is a great way to experience the sights, sounds, smells, and feels of Venice. You walk at your own pace and stop by whatever tickles your fancy.
Another walking option is to join guided walking tours such as the "The Hidden Gems and Secrets Tour", a 2-hour trek that starts from the secluded streets of Venice and ends at the art district of Dorsoduro.
Just be mindful of where you're walking. Remember, the city is connected by canals. If you're not careful, you might find yourself falling into the water while trying to take that Instagram-worthy picture!
For women who are traveling solo, Venice is generally a safe place to visit. The crime rate is quite low. However, like other touristy cities, there are incidents of muggings and pickpocketing.
If you want to experience the nightlife in Venice, avoid narrow, dimly-lit streets. Visit bars, cafés, or restaurants that are walking distance from your hotel. As much as possible, stay near places where there are water taxis or vaporettos. Always secure your valuables and don't walk around with too much cash.
Accommodation in Venice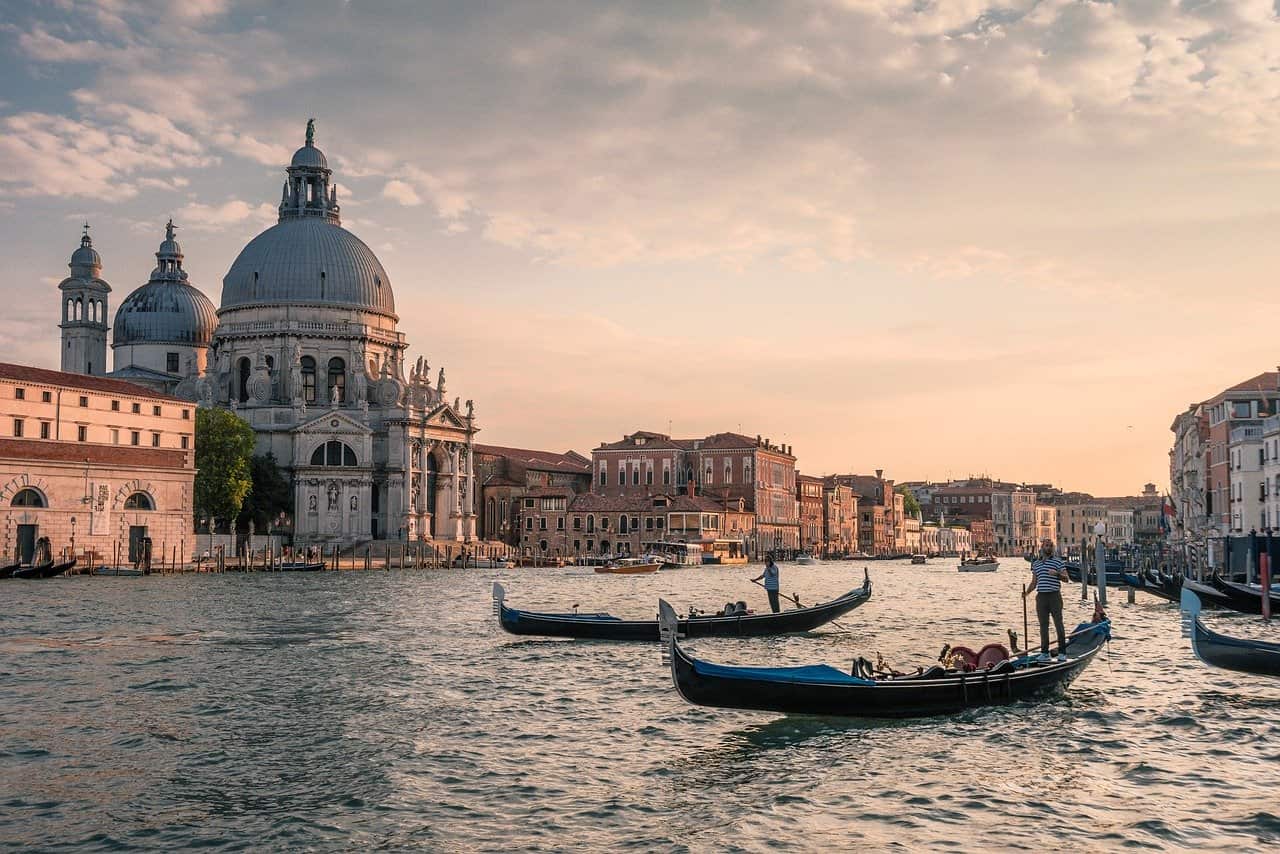 When traveling solo, your time is best spent going around the city. A hotel is just a place to rest your weary head.
Or is it?
In Venice, you can find accommodation to fit every budget. The most affordable hotels are still a joy to stay at. You can get nice, comfortable rooms with excellent views of the city!
Here are a few of the best hotels to stay in Venice:
Low Budget Accommodation:
B&B San Marco – Starting at 70 Euro per night, you get canal and rooftop views, breakfast with the owners, and very clean rooms with linens as bed sheets.
Hotel dell' Opera – Considered a hidden gem in Venice, this charming hotel is housed in a building from the 18th century that has maintained its elegant terrazzo flooring and antique furniture. Rooms start at 66 Euro per night.
Al Ponte Mocenigo – Sleep comfortably in a baldaquin bed and weather permitting, wake up to a hearty breakfast at the courtyard for only 78 Euro per night.
Mid-Range Accommodation:
Hotel Canaletto – This elegant hotel is accessible via the Rialto Bridge and San Marco Square features good-sized rooms, a mini-bar, and fridge plus complimentary breakfast. Rates start at 160 Euro per night.
Hotel Antiche Figure – Just a few steps away from the Jewish Ghetto, the Basilica dei Frari, and a 10-minute walk from the Rialto Bridge, a stay at the Hotel Antiche Figure will cost you 160 Euro per night.
Palazzo Veneziano – A 4-star hotel with a design that heavily focuses on antique Venetian materials such as bronze, glass, and stones will set you back 152 Euro per night.
High-End Accommodation:
Hotel Moresco – For 249 Euro per night, you get to sleep in Venetian-style rooms that mix classic design with technology plus a great view of the city.
Hotel Danieli – A wonderful combination of glamour and tradition with a terrace that gives you an excellent view of Venice, all for 455 Euro a night.
The Gritti Palace – Even with its steep starting price of 675 Euro per night, the Gritti Palace is constantly ranked in the top 10 value-for-money hotels of Trip Advisor – and the rooms are almost always sold out!
Safety Tips For Venice
As we mentioned, Venice is generally considered one of the safest places to visit for solo travelers. Still, you should never let your guard down. In every place, in every country, bad elements exist.
Here are a few safety tips to keep in mind when traveling solo to Venice:
Be Aware of Your Surroundings – It's nice to walk around while listening to your favorite music but when traveling solo, it pays to ditch the earbuds and has all senses working at all times.
Stay Informed – When planning your itinerary, consider the rate of criminal activity that takes place in the areas you want to visit. If the incidence of crime is on the high side, it might be best to strike off the place in your "to-visit" list.
Choose Well-Lit Roads – Especially when going out at night, choose places that can be accessed by wide and well-lit roads.
Always Secure Your Cash – Wallets are best kept in the front pocket area of your pants. It may not be fashionable, but cargo pants with zippered pocket areas will give you a better chance of keeping your valuables secure. A belt bag may look so 80s but at least you know the wallet's safe.
Wear the Right Shoes – Thinking of going out in heels? Think twice if you do especially if you'll be treading cobblestoned roads. If you have to walk faster, wearing canvas or cross-trainers will be the smarter choice.
Don't Bring Valuable Jewellery – Nothing looks more like a target sign than expensive jewelry. For solo traveling women, leave your expensive jewelry at a safety deposit box when going out.
Inform Someone of Your Plans – Before going out, call your family or a close friend and give them your itinerary. You can also leave word at the front desk of your whereabouts just as an extra precautionary measure.
Get good Insurance– Of course, it goes without saying you should always make sure you have solid insurance before any trip.
Final Thoughts
The best time to visit Venice when traveling solo would be during the months of March to September purely due to the warmer weather.
It will be a good idea to bring high-cut, waterproof boots in case you get greeted by Aqua Alta or high waters. As a city surrounded by water, it is not uncommon for the streets to get flooded from time-to-time.
Other than that, when in Venice, do as the Venetians do – enjoy and love life!