Are you looking for your next vacation? Are you searching for villas in Italy with a private pool? In this post, you will find 5 of the most incredible luxury rentals in Tuscany. Each one has its own pool and is beyond beautiful!
Why Rent a Luxury Tuscan Villa
Wondering why you should choose Tuscany as your next vacation destination? Quite simply, because it is beautiful.
From the stunning Duomo Florence to the Piero della Francesca masterpieces in Arezzo, Tuscany is magical.
But if you need more convincing, how about wine, olives, rolling hills, stunning coastline, I could go on and on. But if you want some more detailed information about why you should go on vacation in Tuscany than take a read of this.
The best thing about renting luxury villas in Tuscany with a private pool is it's the perfect way to enjoy a family vacation. Staying in hotels can be great if you are visiting a city where you are likely to be out and about during the day.
But when staying somewhere like Tuscany you are likely to want to enjoy more time relaxing and enjoying spending time together with loved ones. Having a luxury villa in Tuscany with a private pool means you can spend your days splashing around and your evenings enjoying some al fresco dining and Tuscan wine. Although there are also plenty of adventures to have in Tuscany if you want to be more active.
The beauty with many of these luxury Tuscany villas is that you can easily arrange for a private chef, wine tours, and even bike tours all through the rental company. Many of the villas also make fantastic wedding venues, although Italy is also a fantastic option if you are looking for a honeymoon destination on a budget!
Villa La Quercia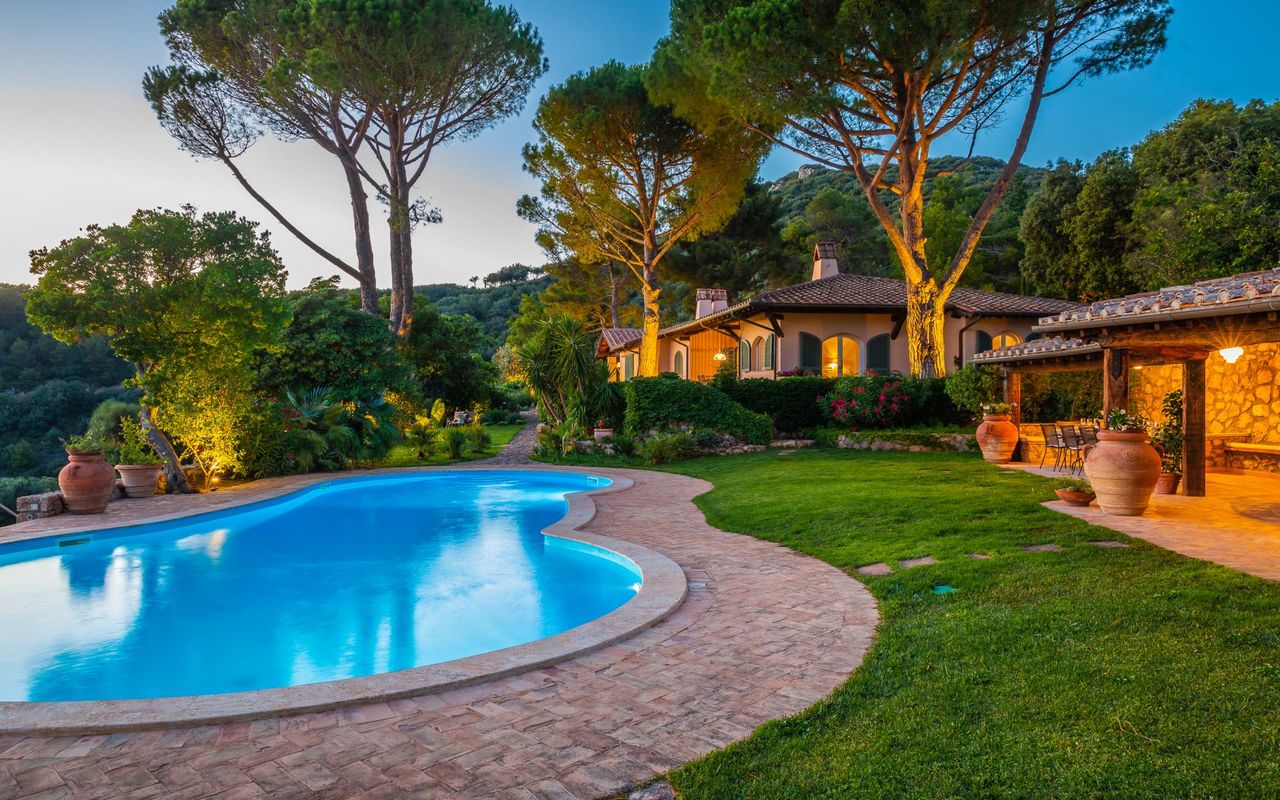 Villa La Quercia is located on the Monte Argentario peninsula. It is one of my top picks of Villas In Italy With Private Pool because of the spectacular views. From the villa, you can see of the islands of Giglio, Giannutri, Montecristo, Elba, and even Corsica (on a good day). It is one of my favorite Tuscany villas with private pools.
On 18-hectare this gorgeous estate boasts a large garden full of fruit trees and olive groves, ornamented with native Mediterranean shrubs. Within the garden, which is completely fenced in, is a beautiful heated pool with the view mentioned earlier, a dining area with an outdoor bar, and a wood oven.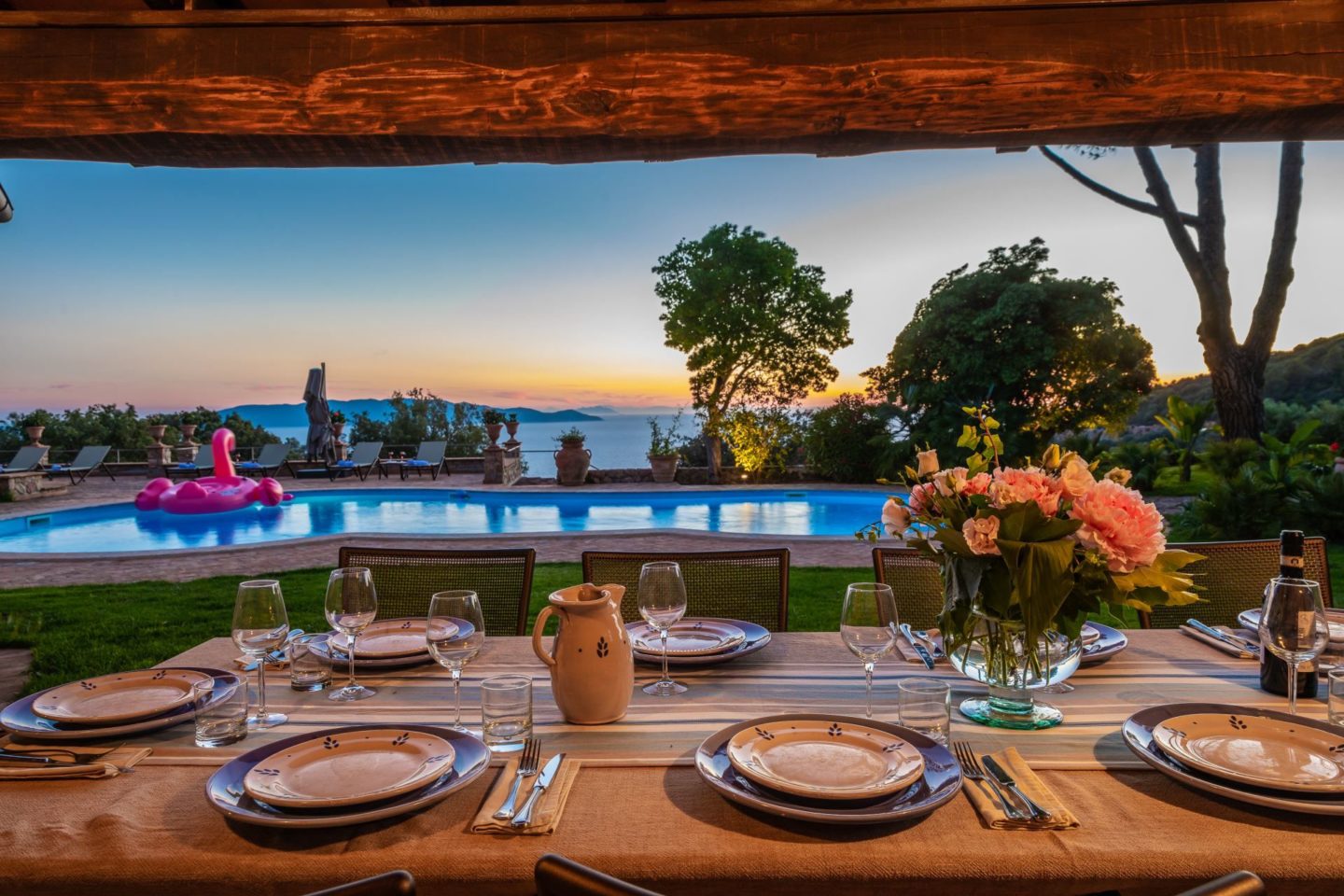 Large enough to accommodate 13 people, inside guests will find 7 full baths, 7 bedrooms, table tennis, and a bowling alley! Could you ask for anything more in a villa? You can, and this one delivers with an amazing location. It's just 2 kilometers from the beach which has a beach club the villa has an agreement with and only 6 kilometers from the picturesque town of Porto Santo Stefano.
Check the availability of this stunning Italian villa.
Villa Baia al Mare
Villa Baia al Mare gets you up close to the Tuscan Coast. This amazing waterfront villa in Castiglioncello will leave you in awe with its spectacular views and, with any luck, some sunsets to die for!
From the pool deck, with its in-ground circular swimming pool filled with seawater, you can bask in the sun with the sound of the ocean filling your ears. Want to get closer to the ocean? Take the ladders down the cliffs and sunbathe, fish, dive, swim or snorkel.
How convenient is that?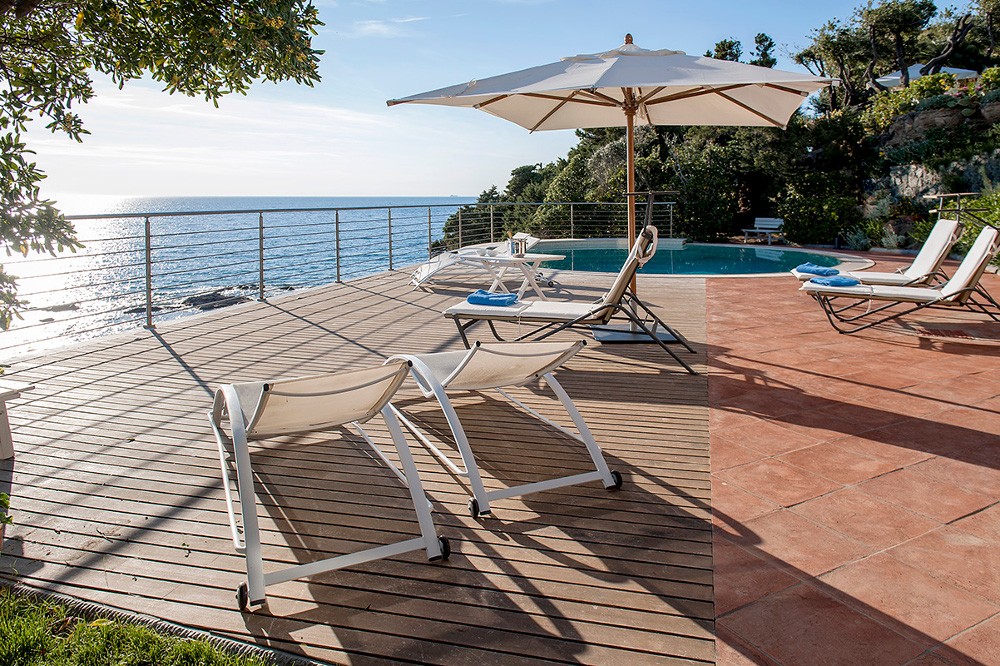 Once you've had your fill of the water head over to the large garden filled with holm oaks and strawberry trees for even more tranquility.
In my opinion, it is one of the most stylish Villas in Tuscany, thanks to its minimalist interior which makes it perfect for a relaxing and luxurious getaway. With room for up to 12 guests, this is one of the best luxury villas Tuscany for big families or groups of friends wanting to spend time together.
Click here to check the availability of this waterfront Tuscan villa.
James Bond Tuscan Castle
There are literally hundreds of luxury villas in Tuscany with private pools, but only one that James Bond himself has been in. In May of 2008, scenes from the James-Bond movie "Quantum of Solace" with Daniel Craig and Giancarlo Giannini were shot in this villa.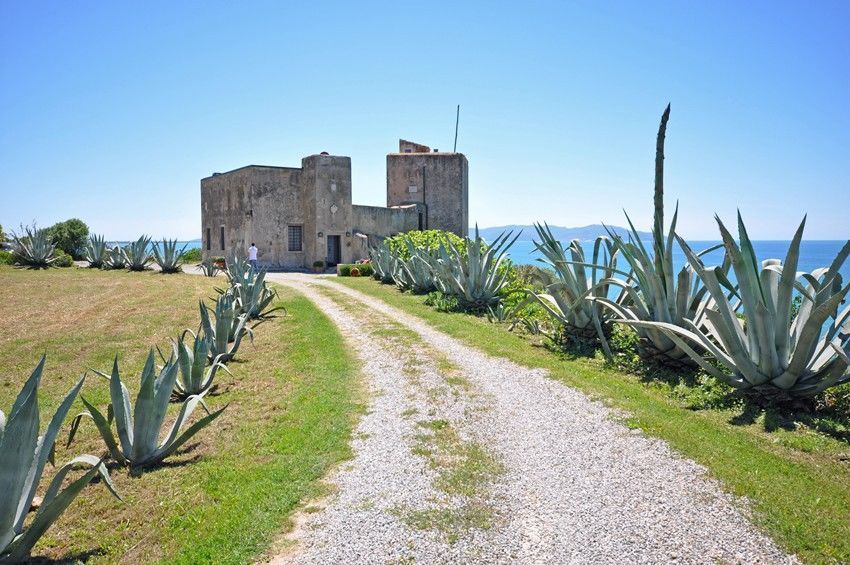 Conveniently located in the south of Tuscany, on the Gulf of Talamone. This castle for rent in Tuscany has direct access to the gorgeous cliffs. It also offers panoramic views over the Argentario and Talamone coastline.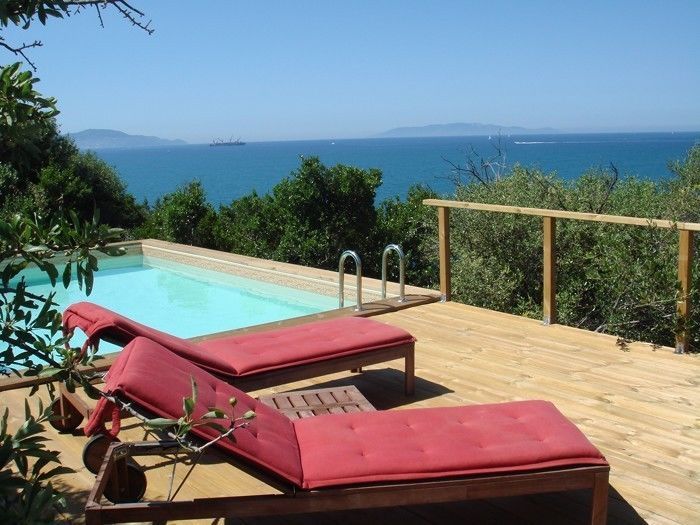 The pool really adds to the charm of this villa. And thanks to the terrace it's the perfect place for a barbecue.
This villa is perfect for events and even hosts weddings.
Check the availability of this castle for rent in Tuscany.
Borgo La Fortana – Luxury Farmhouse
Once the hunting lodge of a noble family from Lucca, Borge La Fortana has been completely restored and is a perfect destination for a large group as it sleeps up to 24 guests.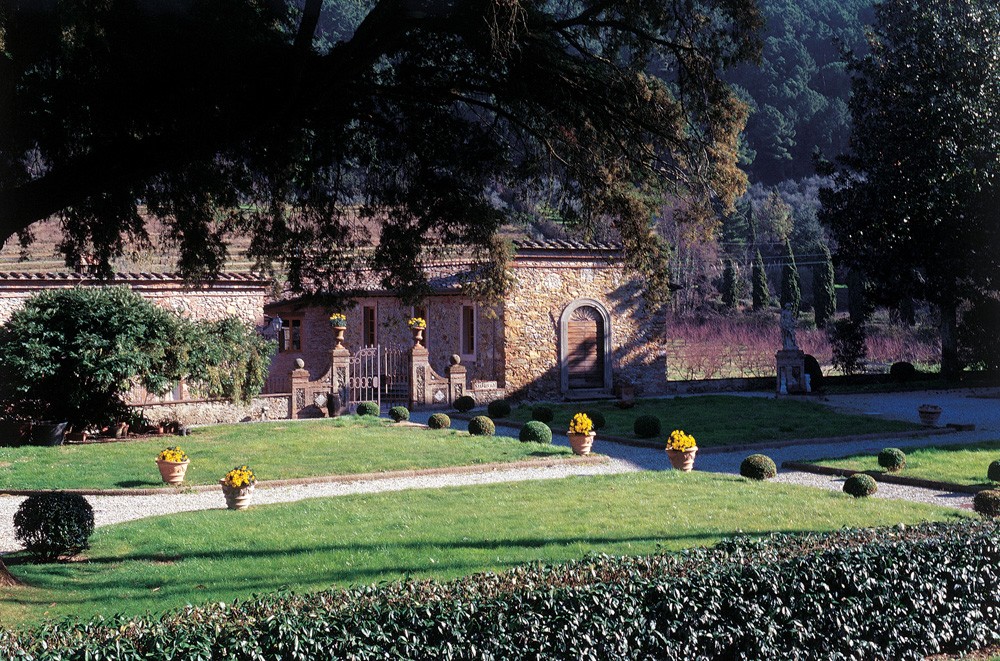 With its spectacular views of the Tuscan hills, this luxury farmhouse will wow guests with its lavish decor and amenities. Its many lounges make it the perfect place for entertaining. Especially for those who love music thanks to its domed music room. Other features include a formal living room, card and billiard room, wine tasting room, and sun lounge with a library. Could you get any more Boujee?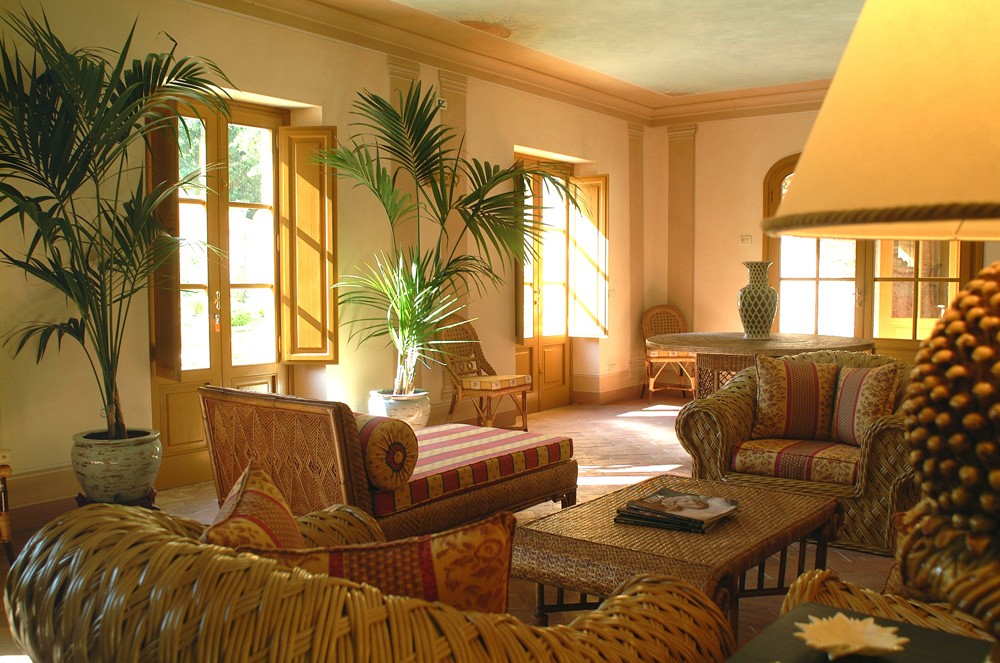 Outside is where this property really charms guests with it's 2000 square meter Italian gardens. The fish pond and fountains are settled next to little piazza perfect for romantic outdoor dining. In addition, there is a large floodlit swimming pool. Perfect for relaxing after a long day of exploring the Tuscan countryside.
Check the availability of this stunning Italian farmhouse for rent.
Villa dei Fiori
Of all the villas on this list, this one is the most impressive. Villa dei Fiori is a history 19th-century estate nestled within hill terraces of olive groves. Grab 21 of your closest friends and rent this villa!
The property also boasts magnificent Italian gardens that look like something out of a movie. Wandering through the camellia and azalea trees will make you feel like you've stumbled into a simpler time. And on the pine forest hilltops, you'll also find castle ruins that will take your breath away.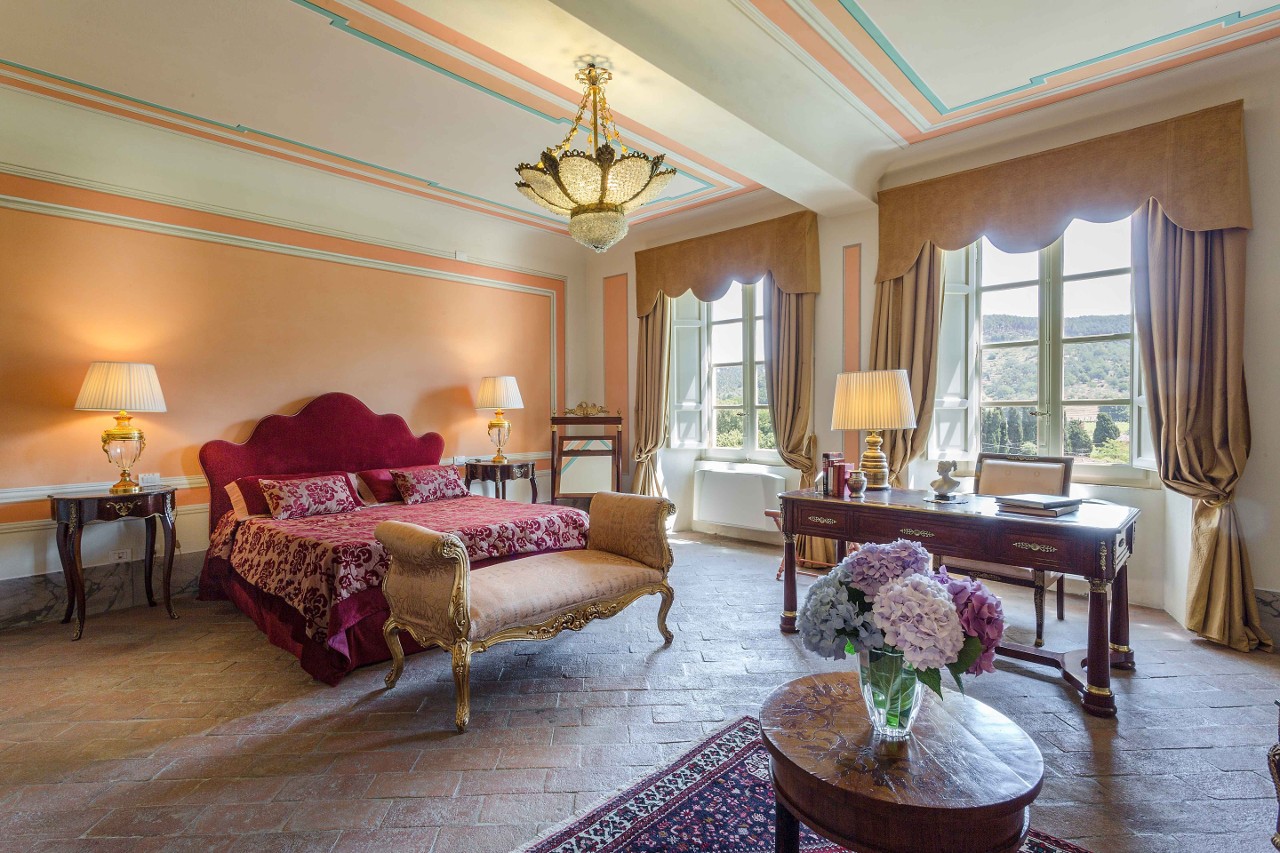 To make the property even more appealing are the gorgeously decorated interiors. Just like the gardens, you'll think you stepped back in time with the elegant furniture and charm. Featuring a swimming pool, wine cellar with wine tasting room, arched loggia for outdoor dining, billiard room, and grand banquet room. Plus there are so many beautiful doors and windows the light inside really is exquisite.
This Tuscan luxury villa for rent is the perfect setting for a getaway or a lavish wedding with friends and family. For weddings, there is a private chapel available for rent.
Check the availability of this luxury Italian villa.
I hope this article has been useful in helping you to find luxury Tuscan villa rentals for your next vacation in Italy.