Wondering what to pack for backpacking? Before I hit the road to start my backpacking adventure a big concern for me was knowing what to pack for my backpacking adventure. I can't even tell you how many articles I read, checklists I printed off and Amazon lists I had! So much advice, so little space in my backpack! But these lists were truly invaluable for me and so I wanted to offer my contribution and share my backpacking essential. I hope it helps!
My Ultimate Backpacking Packing List
Luggage
You can't backpack without a good one! Take a read of this guest post for advice about choosing a backpack and this one for tips on packing. Here are my favorite backpacks.
Most people travel with a smaller duffle bag or rucksack that they wear on their front too…I know I do/ So take this into consideration when choosing the size of your backpack
.

Right now I personally travel with a Mountaintop 70L because I was on a pretty tight budget and it was only $75. It is still going strong after a year and a half, although you can tell that it isn't great quality so if you can stretch your budget my next buy will be an Osprey Women's Aura. As well as my backpack I have also added a Chester Suitcase to my luggage… it's been a lifesaver for my back, and I love the builtin lock to keep all my gear safe! Sometimes a suitcase isn't a good idea (Thailand I'm looking at you), but somewhere like Europe it can be a godsend).
As well as my luggage I'm a big fan of this crossbody bag. It not only looks cute but it is also Anti-theft making it any traveler's best friend!
Check prices on Amazon
And finally, I never go anywhere without at least one cute cotton/ canvas tote bag. I use then for everything from laundry to shopping.
Click here to check price on Amazon
Bumbag/ fannypack
Yes, I know they are a bit cliche. But I love mine and it is so handy! I have a black leather Fanny Pack and I just make the belt part longer to throw it across my body for a night out or daytime shopping trip. I only really wear it around my waist when I'm on the move and I have my full backpack on.
Waterproof bag
Having a dry bag is a bit of a must. Especially if you are planning on backpacking in Asia. If you are not sure then I suggest getting either a small dry bag or get a set of the thinner dry bags that can have multi uses like holding your dirty laundry! The smaller ones are perfect for keeping your valuables dry when at the beach solo (so you can take your money and phone into the water with you, and the larger one will hold everything you need for a boat trip.
Packing Cubes
I love packing cubes. They keep my bag organized and save space. Win-win!
I even made a video on how to use them and wrote a whole blog post! If you are backpacking the slim ones are better for fitting into a backpack.
Click here to check prices on Amazon
Hanging Toiletry Bag
It's always good to have a hanging toiletry bag so you don't have to put your bag down in communal bathrooms.
Sleeping bag liner
If you are staying in hostels it's worth bringing a sleeping bag liner, just in case. I actually used mine quite a lot because I was cold at night rather than the bed being dirty. But trust me, it doesn't take up much room and when faced with a dirty bed you will be glad you brought it!
 

Microfiber towel
You can find plenty of cheap ones on Amazon but I now travel with this cute and super colorful towel from Minx NY. It folds up small, has a secret stash pocket for hiding my things on the beach, and it looks so much more fun than the drab one-color ones.
If you prefer something a little more luxurious I'm also a fan of the Batini Bay towels, although they don't fold up quite so small.
Camera
Right now I'm using an Olympus OM-D E-M5 Mark II and I do love it. It has been by my side since I first started this crazy journey.
However, as I've been vlogging more and more added a Cannon Rebel to my collection because of the flip screen.
The Olympus takes amazing photos and videos, it's small, fast and whenever I need something easy I take that. If I need to do more pro stuff I take the Cannon.
I also have a GoPro for diving and adventure stuff and a Dji Drone for epic areal shots.
MacAir
I really did try to find a better compact laptop for traveling, I almost bought a surface pro, but I just couldn't do it! After years of editing video and photos on a Mac, I trust it to get the job done more than any other system. Although the MacAir does struggle a little when I'm editing video and a MacPro would have been a better choice for me. It does get the job done, and I would be lost without it. If you are planning on editing your backpacking photos and some videos then MacAir all the way. If you can stretch to a MacPro, even better!
GoPro
I actually left my first GoPro on a boat in Guatemala! I couldn't afford to replace it so I tried a cheaper version. Big mistake. The video quality was ok but the photo quality was terrible. What I love about GoPro is that you can take great video and photos on it. So I invested in the new 2018 entry level GoPro although for just $100 more I could have gotten a much higher functioning one, for me, it does the job.
If like me you need it for Scuba Diving then you will need to invest in a GoPro diving housing as it only goes down to 10 meters. I also bought a GoPro dome to play with… although I have yet to get a decent shot! Using a GoPro for underwater photos, especially with a dome takes a lot of practice to perfect!


Smartphone
When I first started traveling I decided I didn't want to take a fancy iPhone with me and downgraded my smartphone to an old-fashioned brick. BIG MISTAKE. Mostly because I ended up completely lost in Guatemala without google maps and other handy apps to get me around. So I ended up buying a cheap smartphone there just for the maps. It was pretty terrible but did the job.
As someone who likes to post regularly to Instagram though it was useless, so I upgraded to a slightly less crappy phone in Colombia, but the camera was awful. I did a lot of research and found the PERFECT phone Honor 7X GSM. Less than $200 with a fantastic camera, it looks and takes pictures and videos like an iPhone, just without the hefty price tag. It is also unlocked so you can put any sim card in it. I have had it for almost a year now and it is still working perfectly and I've not noticed any loss of battery life.
External hard drive
If you are traveling with a laptop and regularly downloading your images and videos then you really should have an external hard drive to regularly back everything up. In fact, if you have space I recommend having 2 and also backing up everything to the cloud. Yes, that might seem excessive. But trust me after losing ALL of my Guatemala and Hawaii photos and videos because my external hard drive broke it's not. Don't let that be you, always back up in 3 separate places.
I recommend getting at least one hardwearing shock resistant harddrive one and then a cheaper one. Also keep a flash drive on you, just in case. They don't take up much space and are super useful if you need to print boarding passes etc.
Power bank
I always have 2 power banks in my backpack. The large one I use to charge up my GoPro and Camera, as well as getting several charges for my phone. The smaller one only charges my phone one time, so it's fine to keep in my bag for when my battery dies.
The bigger one is bulky, so I don't want to take it with me if I'm just heading out on a day trip. But the bigger one has saved e more than once on long bus journeys or when I'm working and my GoPro batteries run out. It has also come in really useful when I've been staying in hostels without a plug socket close to my bed.
Headphones
When I first started traveling I was on buses a lot and so my noise canceling over the ear Sony headphones were a godsend. They are comfortable, wireless so I didn't get tangled up, and the battery lasts FOREVER! But now I'm not doing that so much I find they take up a bit too much space for me. I also needed headphones with a mic for teaching English online. So I now travel with my headset and then some earbuds which take up way less space.
Speaker
This is one of those items I thought I didn't need and then bought later on in my trip because I missed being able to play music a bit louder than my phone would allow. I love this mini speaker because it's small, the sound isn't too bad and it's really cheap. The battery life is ok too (and my power bank charges it super quick when it runs out!).
Kindle
Buying a Kindle was actually a big deal for me as I hated the idea of reading on one, I'm such a book geek. But backpacking and a bag of books just don't really go. So I gave in and bought a Kindle and I love it. I can read on the beach (not possible on my phone or a tablet due to the reflection) and the battery lasts forever. Plus as long as I have wifi I can download something new to read. You can now even get a waterproof Kindle!
Mobile wifi hotspot
I never leave home without my TEPPY. It's amazing for times on the road, sketchy hotel wifi issues, and as an emergency back up.
If you want to get your own then use CLAIRESITCHYFEET for a 10% discount on sales and rental, (only valid for 100 uses so be quick).

Rain Jacket or Umbrella 
You are going to need to pack something that will keep you dry. The problem is that often when it rains in tropical countries the temperature doesn't drop. Putting on a rain jacket can be a sweaty business! So it's worth packing a mini umbrella if you can find the space. If not a sweaty rain jacket/windbreaker it is.
Hat
Depending on how stylish you are feeling pack something more in fashion or a simple baseball cap to keep the sun out of your eyes and your face.
Sunglasses
Always check the UV protection even if you get a cheap pair. I travel with a nice (expensive) pair for walking around the city and a cheap pair for the beach.
Sarong
I have two and I use them all the time! They aren't just great to cover-up at the beach they are also perfect to replace your towel. I also take them to the beach to lay on and I even use them to tuck under the top bunk bed to give myself some privacy while sleeping in dorm rooms.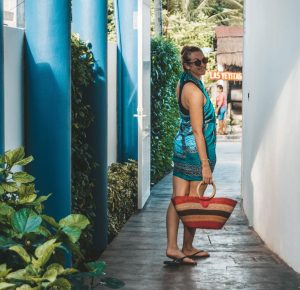 Lock
Make sure you have a lock for the lockers in the hostel. Most hostels with let you rent one or buy one but it's always better to get your own. If you plan to use a lock for your checked in luggage make sure it is TSA approved lock to avoid any airport drama!
Headtorch
I'm an adventure girl, so I never travel without my head torch. If nothing else it's good for getting home at night and reading in bed! But if you do decide to go in any caves or hiking up any volcanos then you will be glad you have it.
Click to check prices on Amazon
Earplugs
If you are staying in hostels you need earplugs….that is all!
Waterbottle
You will find water filters in most places so make sure you take a good BPA free water bottle. Less plastic people, save the planet! I love this double-lined stainless steel one as it keeps my water nice and cool no matter how hot it is.
Swiss Army Knife
I don't go anywhere without mine! You have no idea how many showers, plug sockets, and doors I've fixed using it! Plus you never know when you might need a knife (or a bottle opener). Be the kind of girl who carries a Swiss Army Knife. Although please don't forget to pack it in your checked-in luggage!
Carabiner Clip
I never travel without at least 2 carabiner clips – 1 big one and a few smaller ones. They come in so handy for everything from attaching my sandals to my backpack to clipping on my GoPro.
Click to check prices on Amazon
Bamboo cutlery and copper straw
I'll say it again. Less plastic, save the planet! Single-use plastic is the devil and should be avoided at all costs haha. No, but really lots of places are now banning single-use plastic (hurray) so do yourself a favor and get ahead of the game by getting a bamboo cutlery set and a copper straw for your mojitos.

Shopping bag
See above. Always carry a foldaway shopping bag. Great for shopping and laundry.
Soap bar for washing clothes
A bar of laundry soap is less likely to leak and saves on your liquid allowance. I also like to pack a fingernail scrubbing brush for washing clothes. I use this for scrubbing the areas of my clothes more prone to soaking up smells.
Click to check prices on Amazon
Ziplock Bags
They come in handy for everything from storing food to protecting your toiletries from leakage. Make sure you wash and reuse though!
Travel Adapter
Depending on what country you are traveling from, make sure you have a multipurpose travel plug adaptor.
First Aid Kit
Make sure your mini first aid kit is stocked up with bandages, mini scissors a small bandage, steri strips, paracetamol, ibuprofen, diarrhea tablets, constipation relief, and rehydration sachets. If you prefer more natural remedies then take a read of this post I wrote on essential oils. Also always carry Activated Charcoal with you, in case you want to know why read this.
Earplugs
I never travel without earplugs. I've had way too many bad nights sleep and there is nothing worse.
Wet Wipes and Toiletries
I know wet wipes aren't very environmentally friendly but when I'm camping they do come in really handy. I think I make up for it with all of my other natural products though!
Sunscreen
Poncho
I always have a plastic poncho, always!
Washing Line
This travel washing line is so handy and it doesn't take up much room so I always keep it in my backpack.
Mobile wifi hotspot
I don't ever leave home without my TEPPY. It's amazing for times on the road, sketchy hotel wifi issues, and as an emergency back up.
If you want to get your own then use CLAIRESITCHYFEET for a 10% discount on sales and rental, (only valid for 100 uses so be quick).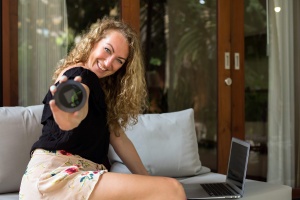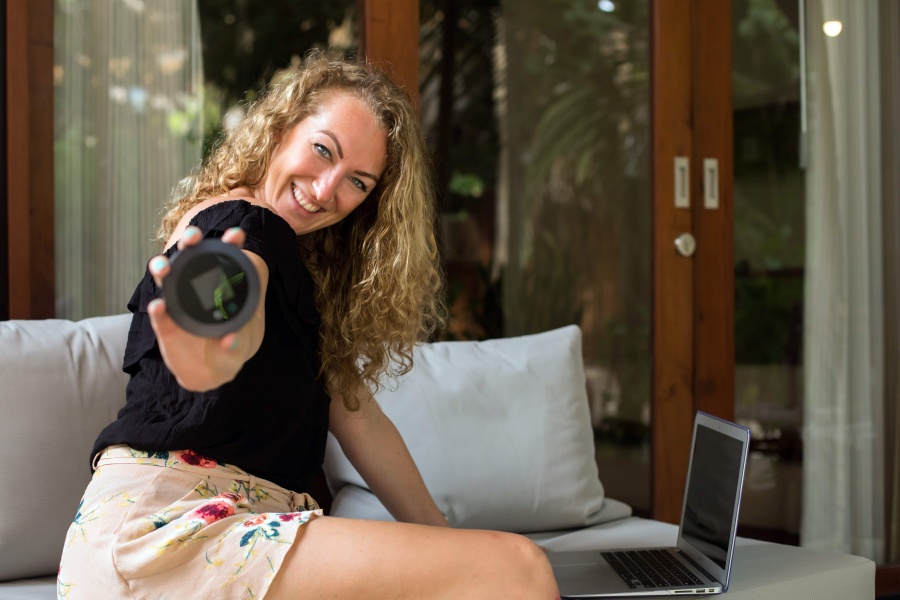 Toiletries to take Backpacking
I'm a total hippy and don't like to use anything with too many chemicals in. If you like going natural like me, here is a list of my favorite products you can find on Amazon.
Or if you are more into DIY then take a read of this post on Natural Products for travelers. If I'm honest I hardly take anything with me! Just soap, toothpaste, solid shampoo, conditioner, and my toothbrush. If I'm flying I don't pack much more than that. If you want to buy before you go, here are the products I use and love… all (mostly) natural.
Insect Repellent
You can make your own or buy one with a decent amount of DEET in it.
Tissues
Just in case! Also doubles as emergency toilet paper.
Hand Sanitizer
On the road, it's not always possible to wash your hands so having a little one of these attached to your daypack is a good idea.
Clothing to take Backpacking
Mix and Match
This is rule number one and it's an important one. You need to make sure that you don't have any single wear items packed. Everything in your bag should be mix and match. I  normally include only 1 patterned top and 1 patterned bottoms so that everything else will match. If you pack lots of patterned tops and bottoms you are going to be limited to what you can wear together. Before packing lay everything out and do a practice mix and match just to make sure everything goes well together.
Easy wash and quick dry.
When choosing clothes I always try and choose things that wash easily (leave the dry clean only at home), don't need ironing, are lightweight and will dry quickly. I also try not to bring anything heavy as it will also take up more space. I prefer to pick thin light clothing so I can squeeze a few more things in rather than larger heavier material that takes up space.
Clothing List
8 light tops / vests / t-shirts

3 pairs of shorts (I know they are heavy but I always have a pair of denim shorts)

2 dress

1 pair of leggings

1 pair of light trousers

fleece jumper

raincoat

8 pieces of underwear (I love these fun ones from Shinesy)

3 bikini tops 2 pairs of black bottoms

3 pairs of socks

1 belt
Here are some of my favorites!
Other Stuff to Take Backpacking
Photocopies of passport
I am obsessed with this. I have photos on all of my devices and photocopies in each bag. You never know when you will be asked for this and if you lose your passport having a photocopy makes it much easier to get a replacement. Trust me, you will need to do this.
Fake wallet
I like to carry a fake wallet with some old bank cards and a small amount of money that I can hand over in case of an emergency. I always keep my cash and bank card separate. When possible I leave my bank card safely locked up.
Insurance
Whatever you do, don't forget to get insurance. I personally use World Nomads as it's the only insurance company who offers the flexibility I need as a nomad. When I'm not traveling as much and I'm more stable in one place I use Safety Wing, they provide medical insurance for Digital Nomads.

However, if you have a return ticket or are a gap year student there may be better options. Take a read of this blog post for more information.
Traveling with children
If you are traveling with children then you are going to need some extra things to make your life a bit easier. Take a read of this great post full of the best gear for traveling with kids.
This post was proofread by Grammarly
Are you ready to book your trip?  To help you get the best deals and service here are the companies that I personally use to book all of my travel online. I always shop around before booking anything, but these are my tried and tested starting places.