When looking for a digital nomad backpack there are so many factors to consider. As a digital nomad, you have pretty different needs to backpackers, for starters, you are going to be carrying your office on your back and so as well as comfort and durability, the safety and security of the content of your digital nomad backpack is vital.
To come up with this list of the best digital nomad backpacks I enlisted the help of 8 fellow digital nomads. Each of them shared with me their favorite tried and tested digital nomad travel bag including a review of why they love it. Every bag on this list is great for digital nomad luggage for slightly different reasons.
Some things to consider before buying a digital nomad backpack
There are 6 things that you need to consider before buying a backpack for digital nomads and they are:
Waterproof – This is a biggie. It's worth investing in a digital nomad backpack that is at very least water-resistant. Otherwise, you may end up doing what I've had to do several times, wrapping your digital nomad gear in a bin bag! Or putting your bag in a bin bag (true story). Saver time and stress by buying a waterproof bag from the get-go.
Laptop storage – Your digital nomad bag needs to keep your laptop safe. It is, after all, our number one priority. So finding a bag that has a safe space to hold your laptop and keep is safe is a big bonus.
Make sure it is light to carry – this is for 2 reasons, firstly because you don't need to be carrying around any unnecessary weight. And secondly, because airlines are getting more and more strict at inforcing the weight of carry-on bags, I've personally had mine weighed several times in the past few months. Every pound helps!
Size is everything – Your backpack for digital nomads needs to be big enough to fit everything in and small enough to be taken as a carryon when flying. So it's important to pay close attention to the size. Every bag on this list of the best digital nomad bags can be used as both a carryon. I've included the actual bag dimensions to help.
Security – The security of your bag needs to be considered. Making sure the bag isn't easily opened, has some hidden zips and secure spaces to hide your digital nomad gear.
Cost – You should see buying digital nomad equipment as an investment. It's worth paying for a bag that is going to meet all of your needs and stand the test of time. But if you are on a budget then there are some options out there that don't cost the earth.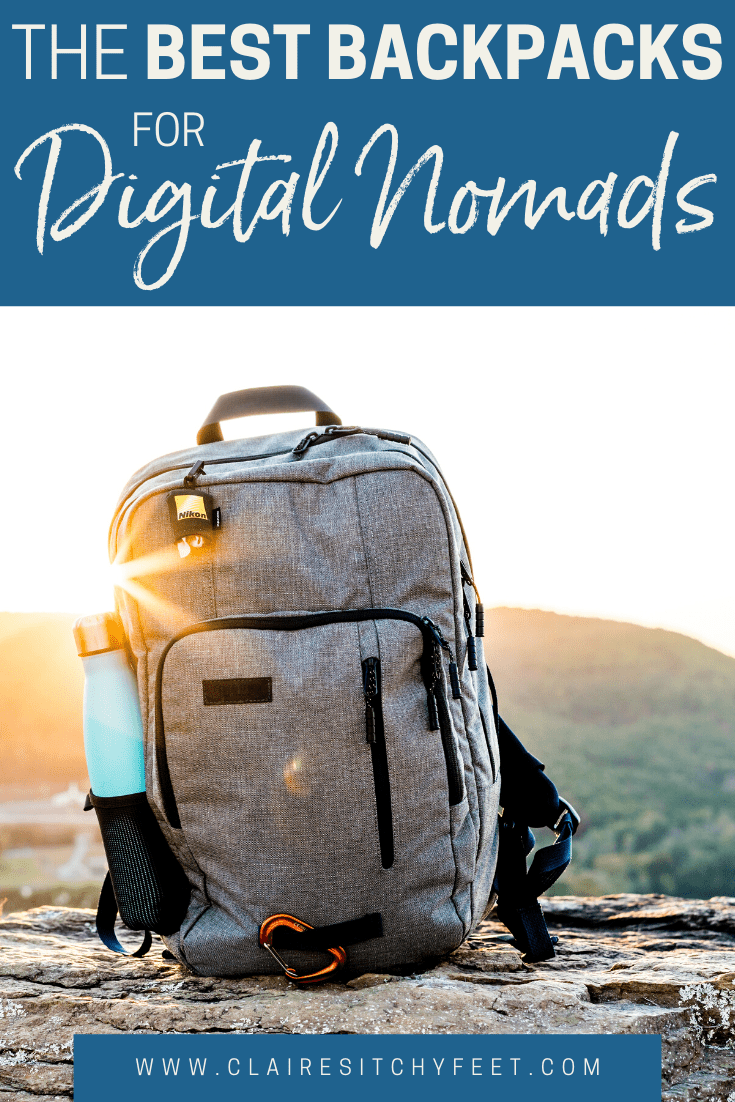 The Best Backpack For Digital Nomads 2020
| Backpack | Best for | Weight | Volume | Dimensions | Price | Buy |
| --- | --- | --- | --- | --- | --- | --- |
| FE Active 30L | Adventure and traveling on/ near water | 2lb | 30L | 21 x 13 in | Under $40 | Buy on Amazon |
| Cargo Hauler Duffel | Adventure and durability | 1.8lb | 40L | 22.75 x 8.75 x 12.5 in | Under $100 | Buy on Amazon |
| Osprey Farpoint | The minimalist traveler | 3lb | 40L | 22 x 14 x 9 in | From $120 | Buy on Amazon |
| Pacsafe Venturesafe | Security | 3.3lb | 45L | 21.7 x 13.8 x 8.7 in | Under $200 | Buy on Amazon |
| Tortuga 35 Setout | Women | 3.8lb | 35L | 22 x 14 x19 in | Under $200 | |
| Eagle Creek Global Companion | Organization and adventure | 3.5lb | 40L | 22 x 14 x 9 in | Under $170 | Buy on Amazon |
| The Wayks | eco-conscious digital nomads | 5.3lb | 45L | 23.6 x 12.2 | €289.00 | |
| Lowe Alpine Carryon | Space | 3lb | 45L | 9.8 x 13.8 x 21.6 in | Under $200 | Buy on Amazon |
| Cabin Zero | Lightweight travelers | 1.11lb | 44L | 20.1 x 14.6 x 7.9 in | $88 | Buy from Cabin Zero |
FE Active 30L Waterproof Dry Bag
So this isn't my day to day Digital Nomad backpack, I switch between Cabin Zero and my Kanken. But it's the one I take with me when I'm doing crazy things like visiting the Amazon or hiking through the Jungle.
The FE Active 30L is the only daypack I trust to keep my laptop and digital equipment safe and dry while I'm traveling in places with the risk of getting wet. This could be in a hot and humid jungle, or it could be while island hopping in Thailand.
Knowing my laptop is safe and dry while disembarking boats, or even just chilling by the pool gives me huge peace of mind. There are padded straps so it's good for hiking and a chest strap so you can distribute the weight more evenly. Inside there is just one zipper pocket where I can put things like keys, bank cards, and headphones that I might need to access quickly.
There are grab and go pockets on each side for my water bottle as well as a built-in bungee cord on the front which can come in really handy for holding wet towels, or a t-shirt. Best of all, it's normally under $50 on Amazon!
So if you are a digital nomad who likes to live a little on the wild side then this is the bag for you!
Claire
Cheap
Completely waterproof as it's a dry bag
Quick access for a water bottle
Light – Under 2lb
Padded shoulder straps and back support
Built-in bungee cord (for yoga matt etc)
No separate laptop storage
No waist strap to help with weight distribution
At only 30L it's on the small side if you want just one bag to travel with.
Since 2019, I've been using the Cargo Hauler Duffel 40L by eagle creek. I opted for the 40L, but they are different sizes available as well as different colors. I like how practical it is, I can wear it as a backpack or as a duffel bag. It's the perfect size if you travel with a piece of carry-on luggage only.
It's also made to protect your valuables from rain and snow which helps if you're a nomad. You got to protect that laptop of yours. Practical, the Cargo Hauler Duffel looks amazing and is also made of durable materials. After a few months of traveling, it still looks new!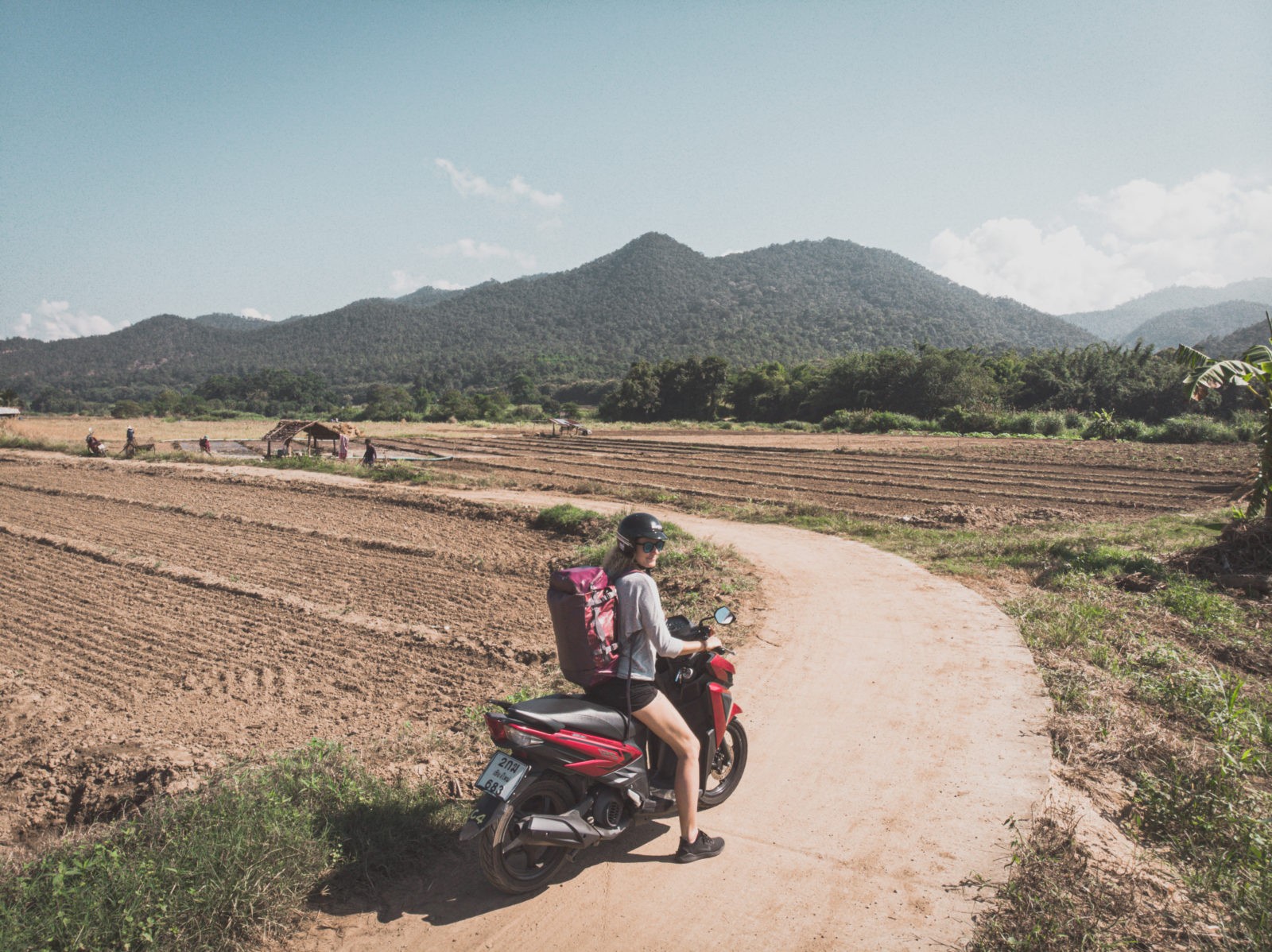 The bottom is padded so you won't get worried about your valuables and you can also lock the bag with a padlock if you need to leave your bag somewhere for some reason.
As a digital nomad, I need to have a practical bag that I can use to protect all my travel gear but also to protect the tools I use on a daily basis. Since I'm based in Southeast Asia, I can't buy a proper backpack here. I do need to have a high-quality bag and this is exactly what I found with eagle creek.
This is a seriously heavy-duty bag and will last a long time.
lightweight
Can remove the backpack straps and use as a duffle bag
Water-resistant
Carryon size
Folds up into itself
"No Matter What" warranty
Comfortable to wear
Six heavy-duty lash points for attaching this bag to a roof rack
10 lockable zippers with storm flap
No compression straps
No waist strap to help with weight distribution
The end pockets don't have lockable zippers
One of the best backpack lines for digital nomads to choose from is undoubtedly the Osprey Farpoint series. All of these backpacks are designed with comfort in mind and are extremely lightweight and have an adjustable harness and lockable zippers on the main bag making it ideal for digital nomads.
The Osprey Farpoint comes in 4 different sizes:40L, 55L, 70L and 80L with each bag having different pros and cons for use as a digital nomad.
The Osprey Farpoint 40L is the ideal backpack for digital nomad minimalists who want to avoid baggage fees as you are able to use this bag as carry-on and are traveling with minimal electronic gear.
The Osprey Farpoint 55L & 70L are more suitable backpacks if being carry-on only isn't essential, as they come with a detachable daypack. This makes both models ideal if you want to have a smaller backpack for daily use. It is also possible to get away with having the Osprey Farpoint 55L as a carry-on bag depending on how strict the airline is and how fully-packed you have the bag.
The Osprey Farpoint 80L is a larger backpack without a detachable daypack and isn't ideal for digital nomads unless they have a lot of gear.
It's worth keeping in mind that Osprey also have a Fairview series, which is quite similar to the Osprey Farpoint series but designed specifically for women. The Fairview comes in 40L, 55L & 70L versions.
Michael from The World Was Here First
Lockable sliders on main compartment zipper
Laptop and tablet sleeve secure in a lockable compartment
Internal compression straps
Slash pocket
Padded top and side handles
Comes in different colors
Meets most airline carry-on requirements
LightWire frame suspension
mesh back panel for ventilation
Stowaway back panel so you can cover straps and check it in
Front compression straps
Lockable main compartment
The water bottle compartment isn't easily accessible
The laptop pocket position is at the front and throws off the weight distribution
No hip belt pockets
The anti-theft Pacsafe Venturesafe
The anti-theft Pacsafe Venturesafe EXP45 is a great option for digital nomads. It's the perfect size for carry-on, hopping on and off trains and buses and navigating the underground and if you need a nap at the bus station or the airport you can attach the backpack to a stationary object.
While it holds up to 45 liters (you can also easily fit a 15-inch laptop), and comes with a spacious main compartment for valuables, security is what makes this particular backpack so special.
For safety reasons, the Pacsafe backpack features slash-proof materials and internal locking cables that will prevent pickpockets from cutting the water-resistant fabric and breaking into your backpack.
These stainless steel locking cables come in handy for locking the backpack to a table in a café or for using it in a locker room at hostels.
The Pacsafe Venturesafe EXP45 is very lightweight, roomy, and you can open it like a suitcase. It has adjustable shoulder and waist straps and a chest strap that can be easily stowed away. The straps and hip belt evenly distribute the weight of a fully-loaded backpack.
The front zippered compartment has a large velcro pocket so that you can make the most of its storage space, and more than a dozen zippered mesh pockets and storage dividers can be used to totally customize the internal storage organization.
Antitheft design – securable and puncture-resistant zippers
cut resistant fabtic
Includes stainless steel cable to lock bag to objects with padlock
Carryon size
5-year warranty
Water-resistant
External compression straps
Three external attachment points to fit jackets, yoga mat, or sleeping bag
Padded & adjust. shoulder straps
Hip belt for better weight distribution
Height adjustable sternum strap
Book-style opening to the main compartment
Side stretch pocket for carrying a water bottle
Color choice
Padlock not included
No rain cover
The laptop compartment is at the front of the bag which can make it awkward when the main compartment has a light load.
Tortuga 35L Setout women's
As a frequent traveler, I have tried out many backpacks. I like to pack light, and I travel carry on only 99% of the time. One of the best backpacks I've tried recently is the Tortuga 35L Setout women's backpack. It's great for digital nomads or anyone else who travels a lot with a laptop. The bag has a dedicated laptop sleeve, which makes it easy to take out your laptop at the security check.
There's also room in that pocket for a tablet, an external harddrive, a notebook, or anything else that's fairly flat. Just don't pack your laptop cord in there because it would be too bulky against your back.
Another reason I like this backpack is that is opens like a suitcase, which makes it easy to find things in it. There are several other pockets too, so it's easy to keep your things organized.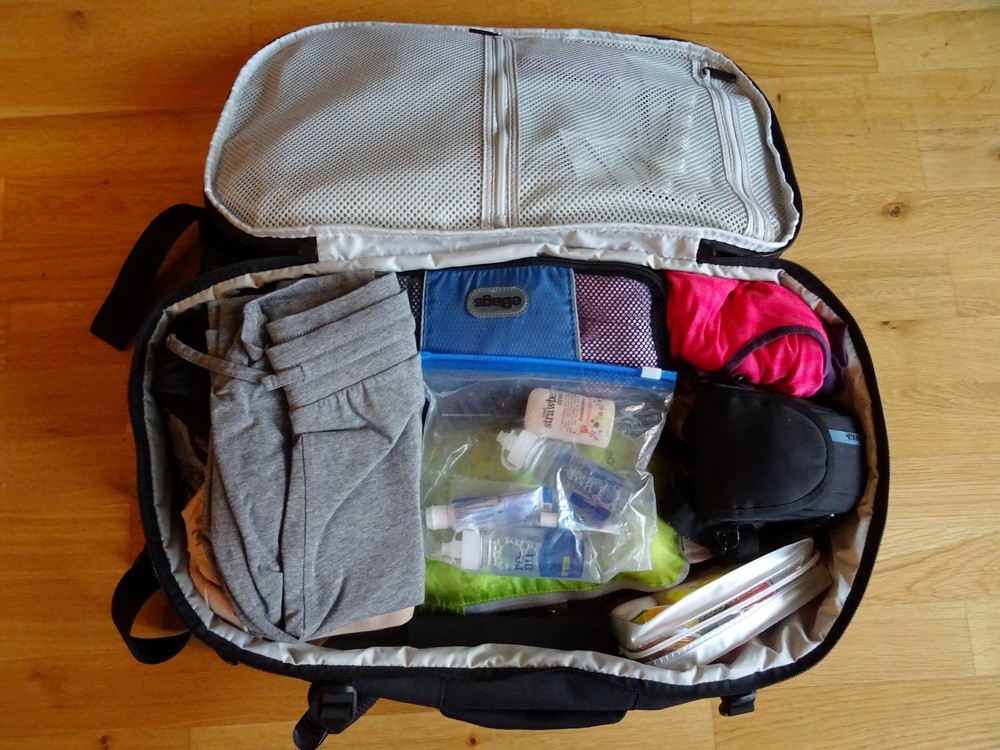 You can never have too many pockets. The Tortuga Setout is a roomy bag, and I can easily fit the things on my typical packing list into it. I was skeptical of the waist strap since it's removable – permanently attached ones tend to be better – but I was pleasantly surprised by how much support this one offered.
Since it's a women's backpack, it's designed with the female frame in mind, so it fits better than a male or unisex backpack. It doesn't look like a hiking backpack, so it's great for people who might want to look a little more professional. And at 35L, it's the perfect size for carry on travel.
Ali Garland from Travel Made Simple
Packs like a suitcase and carries like a backpack.
Carryon size
Padded removable hip belt
Laptop and tablet sleeves
Hideaway shoulder straps
Weather resistant
Organization pockets
Lockable zippers
Water bottle pocket
On the heavy side at almost 4lb
Accessing the front organization pouch or the laptop pocket can be difficult when the bag is full
The compression straps aren't as effective as they could be
Eagle Creek Global Companion 40L
We're both big believers in the carryon-only approach to travel. Not only because it's more eco-friendly and economical to pack light and avoid paying extra airline baggage fees, but also because we know WAY too many people who have had their trips ruined by an airline losing their luggage.
Then, of course, there's the added convenience of being able to access our camera gear, laptops, and other travel blogging essentials during flights or long bus/train rides.
Since neither of us are hardcore backpackers, our needs for a backpack are pretty simple. We want something light, standard carryon size, with plenty of storage pockets for gear organization. It's also got to be rugged enough to stand up to our outdoor adventures, which have included hanging with Penguins on the ice in Antarctica, trekking to see Mountain Gorillas in the forests of Rwanda, climbing glaciers in Norway, and lots of hiking in the beautiful Blue Ridge Mountains of North Georgia and North Carolina.
Eagle Creek's 40-liter Global Companion backpack has met all of these needs perfectly the last few years. In fact, it's literally the only backpack I've used since we got it, accompanying us on every single trip we take. Measuring 13.75 x 21.5 x 8 inches (35 x 55 x 20 cm) and weighing 3 lbs 9 oz, it's got loads of features that make it a great choice for outdoor enthusiasts.
The bag is designed ergonomically for a comfortable carry, with padded, moisture-wicking straps, back panel, and hip belt. The hip belt, sternum straps, shoulder strap adjustors, and top load adjusters allow you to customize every aspect of the fit for your personal center of gravity, which helps stabilize the pack on long hikes.
In terms of storage and organization, the bag is designed with a large butterfly opening and two separate internal compartments, more like what you'd expect from a piece4 of luggage. The 17″ padded laptop sleeve can be accessed from inside the bag or from the top; there's a shoe compartment in the bottom to keep dirty shoes away from clean clothes; and there are two zippered front panel pockets with mesh slip pockets, a padded electronic pocket, a key fob, and a pen slot. There's also a mesh stuffer pocket in front for storing your wet items separately.
For security and safety, the Global Companion has self-repairing lockable zippers, which can be used to secure the bag even when it's stuffed to the brim without risk of breaking. The lockable top zippers can be double-secured by linking into the Central Lock Point, and there's also a safety whistle attached to the bag for emergency situations.
Best of all the Global Companion 40L is completely covered by Eagle Creek's No Matter What Warranty, so you'll never have to worry about whether or not they'll accept a return on the bag. Not, in our experience, that you're ever likely to need it… –
Bret Love & Mary Gabbett of Blue Ridge Mountains Travel Guide
Ergonomically shaped with padded shoulder straps and hip belt '
Book-style opening reveals and packing compartments
Padded 17″ laptop sleeve in the main compartment
Lots of little pockets to help you organize things
Water-resistant
A lot of hanging straps – The shoulder straps can't be stowed away and the waist straps cannot be removed
Bulky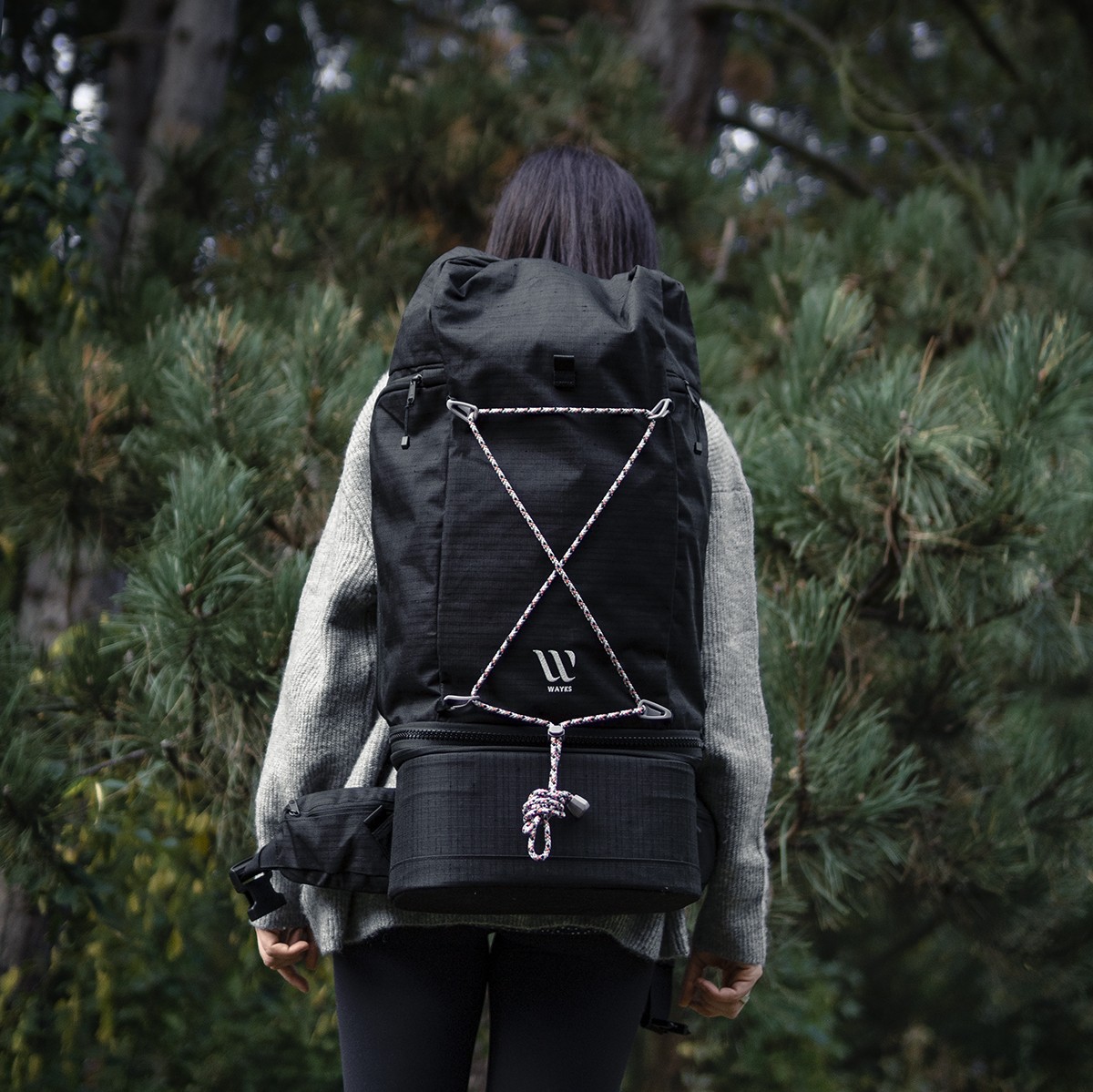 The Wayks is a versatile recycled backpack that is designed in Berlin and ethically made with reputable and certified suppliers who take their social and environmental responsibility seriously.
The young German startup strives for every one of their actions to significantly and continuously reduce the social and environmental impact of all their products.
But eco-consciousness aside, the bag really delivers as a seriously reliable travel companion. The 45L modular bag is not only robust and very well made, but it is also stylish and very practical.
The bottom part unzips to become a camera or cooler bag and the top part a smaller day pack. The yoga mat strap is a nice addition for those on yoga holidays. A really nice alternative to the bigger brands out there.
Amelie from Mostly Amelie
Can transform into a day bag
Roll-top and clamshell opening
Inside organization including a laptop section
Modular design
Adjustable straps to your height and size
Removable back panel
Sturdy, removable bottom compartment and hip belt
Carryon size
Waterproof, recycled fabric
Very comfortable
Easy access outside pockets
Super functional stylish bag
Can be hard to access your laptop easily and quickly when full
The sand color will get dirty quickly
Zippers a little small
Heavy at 5.3lb
When looking for a backpack that is suitable for work, life, and travel be sure to consider the Lowe Alpine Carry-on 45. As a digital nomad, I have tried and test various backpacks along my travels around the world.
The great thing about the Lowe Alpine Carry-on 45 is that you can carry it on the as hand-luggage and it fits in the overhead compartments without any trouble whatsoever.
With the dimensions being (55 x 35 x 20-25cm) it is specially designed to fit the requirements of the hand-luggage policy of any airline. Which makes it a great option for any business traveler and even the minimalist traveler who wants a light piece of luggage they can rely on.
The Backpack is also equipped with side compression straps, that allow you to squish the backpack down even further to fit the requirements. Although it does not have a dedicated laptop section, one other great feature is how amazingly light it is. Not to mention the tamperproof zips which allow me to open the backpack all the way around from the front. Meaning, I can get easy access to all my belongings.
The generous space also allows me to fill up the backpack with ease and has two support inside to secure my belongings.
Foldaway harness
Shoulder strap
All locking zippers have tamperproof zippers
Internal and external load
Compression straps
Padded laptop sleeve
Hydration sleeve
Removable rain cover
Handles made for easy grabbing
On the heavy side at 3lb
Mesh side pockets too shallow for water bottle
I'm a firm believer that a good backpack for digital nomads could be also good for almost anyone else (after all, at this very right moment, I do not consider myself a digital nomad since after my trips I return to a base in the beautiful Galicia, in northern Spain) and I need you to know that I have tried many, many backpacks. So the choice of this one is pretty justified, after a few years of trial and error.
So much so, that after discovering it about five years ago, my life has been simplified in such a way that it is the only backpack that normally accompanies me in every adventure I undertake.
That's right, the Cabinzero 42L is perfection made backpack. Neither too big nor too small, with just enough space to maximize the cabin allowance that allows you to travel from a weekend to several months if you know how to prioritize and pack as light as possible.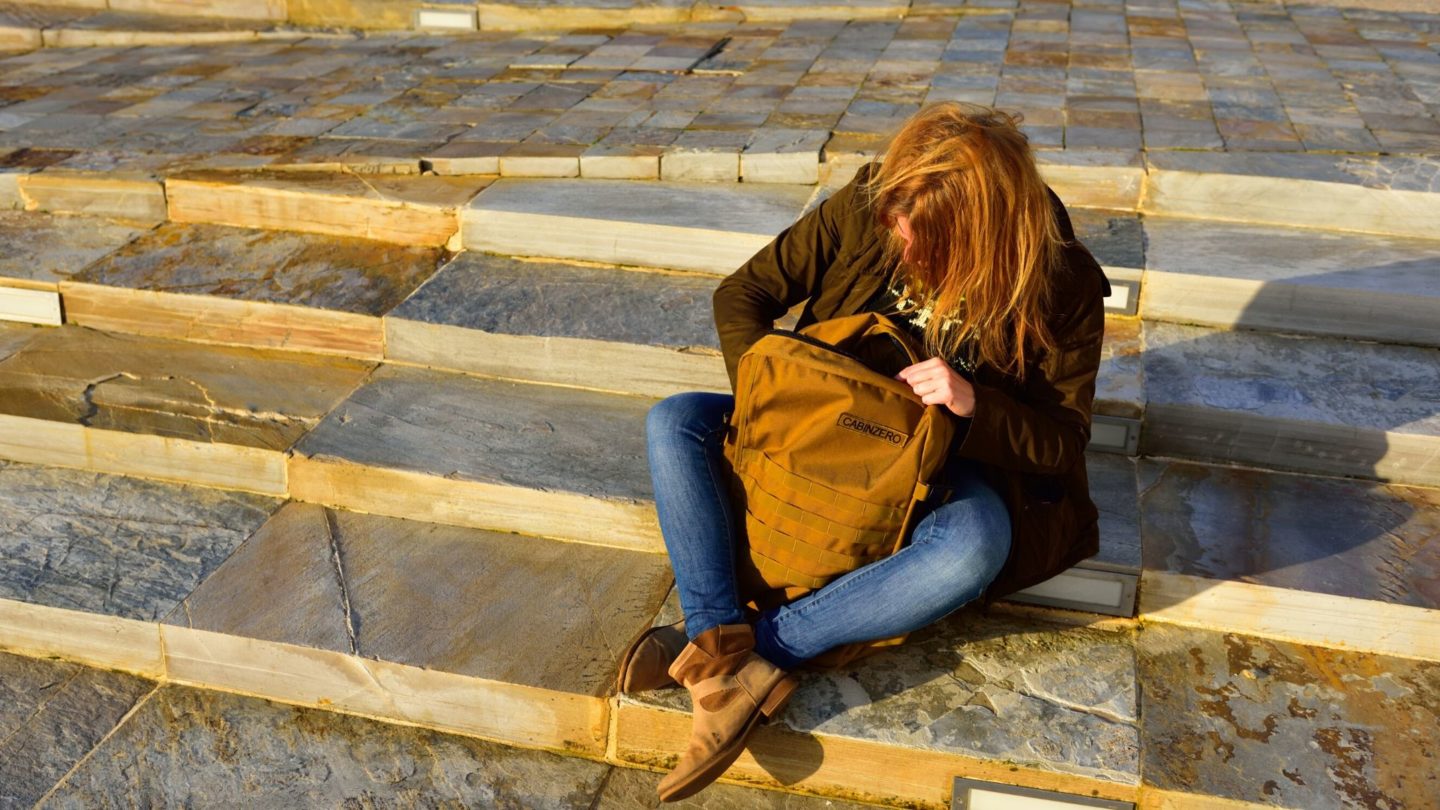 Among all those offered by the brand, the 'Urban' stands out for being water-resistant. Now, I am going one step further and for a year and a half, I have not traveled with anything else but my – slightly smaller – Cabinzero 28L. Laptop, camera, toiletries, clothes and all.
I recommend you check them out, my life has changed (for the better) since I lightened what I carry on my back and Cabinzero is to blame for this.
Inma Gregorio from A World to Travel
Super lightweight for the size
Top and side handles
Lost and found tags built in for tracking
Lockable zip
Quick access front zip panel
Bright colors
Simple stylish design
Ergonomics aren't great so it can feel very heavy when fully packed
A little large to use as a day bag
No wast strap