When in Guatemala, Chichicastenango market is a must-do travel bucket list item. Now if you are going purely for the shopping there are better places to shop. But if you are going to soak up the most incredible open-aired market in Central America read on to find out everything you need to know about visiting Chichicastenango.
Reasons not to visit Chichicastenango market
You can get the same things in markets all over Guatemala for cheaper and with less chaos. I didn't actually buy anything at Chichicastenango. I went looking for some nice sandals and a unique piece of jewelry. Both of which I bought in Panajachel when I got back from Chichicastenango market as it was nicer and I got a better deal.
Did You Get Travel Insurance Yet?
Reasons to visit Chichicastenango
When to go to Chichicastenango
The market is on every Thursday or Sunday. Go early to beat the crowds. I arrived there at 9:30 am with was perfect.
How to get to Chichicastenango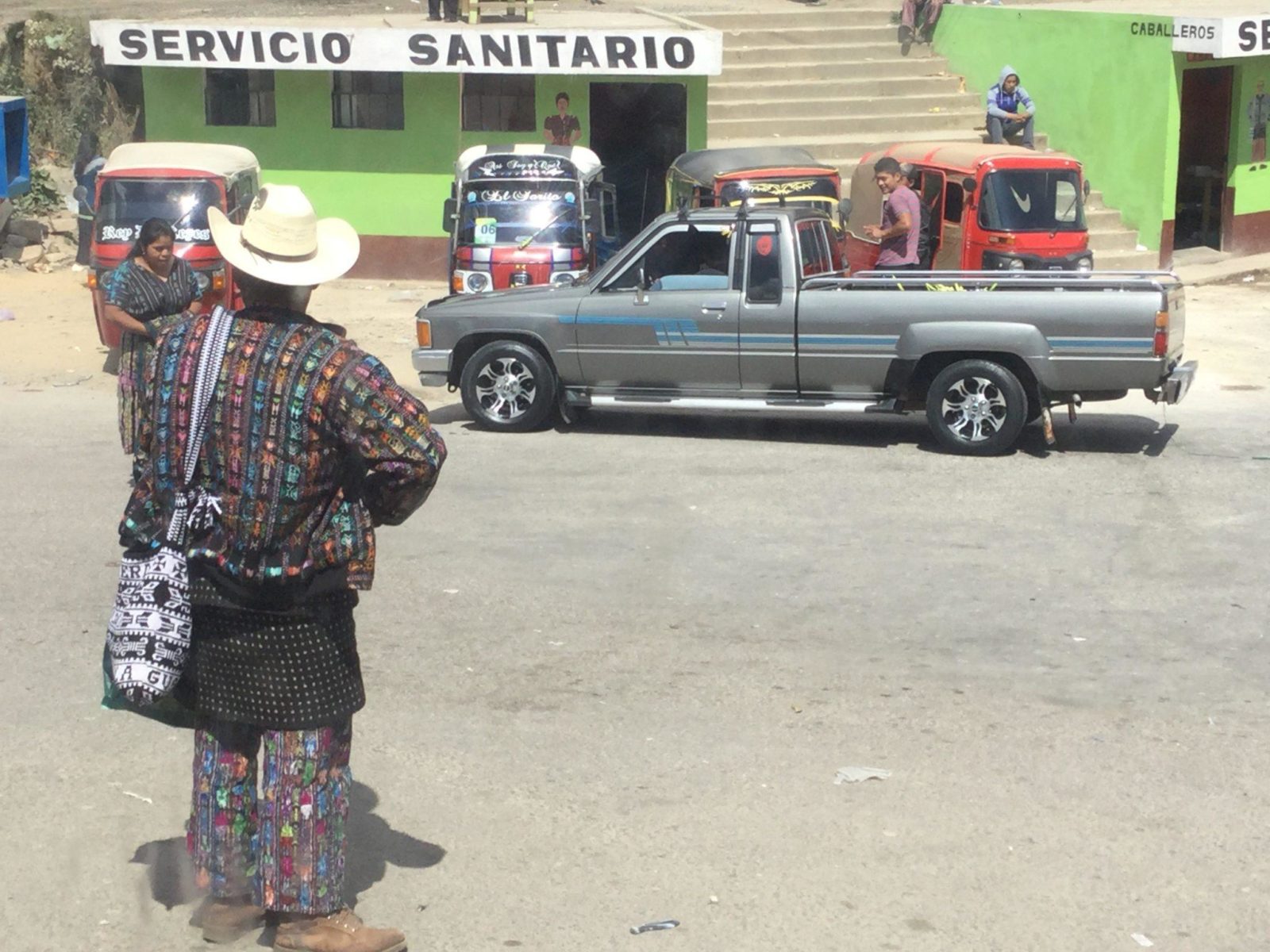 The best way to get to Chichicastenango if you are coming from Antigua or Guatemala City is to take a direct shuttle. You can book your shuttle through GuateGo here. If you want to travel to Chichicastenango from Lake Atitlan you will need to make your way to Panajachel. From there you can either book a shuttle or you can take the chicken bus (well it's actually 3 chicken buses!).
If your Spanish is non existent and you don't like the idea of taking the Chicken bus then book a shuttle with GuateGo. Or if you want to go on a little adventure then take the chicken bus to Chichicastenango. It really is a lot easier than you may think. I wrote all about traveling to Chichicastenango from San Pedro or Panajachel read my post here.
What to do when you arrive in Chichi
Have Breakfast in the Market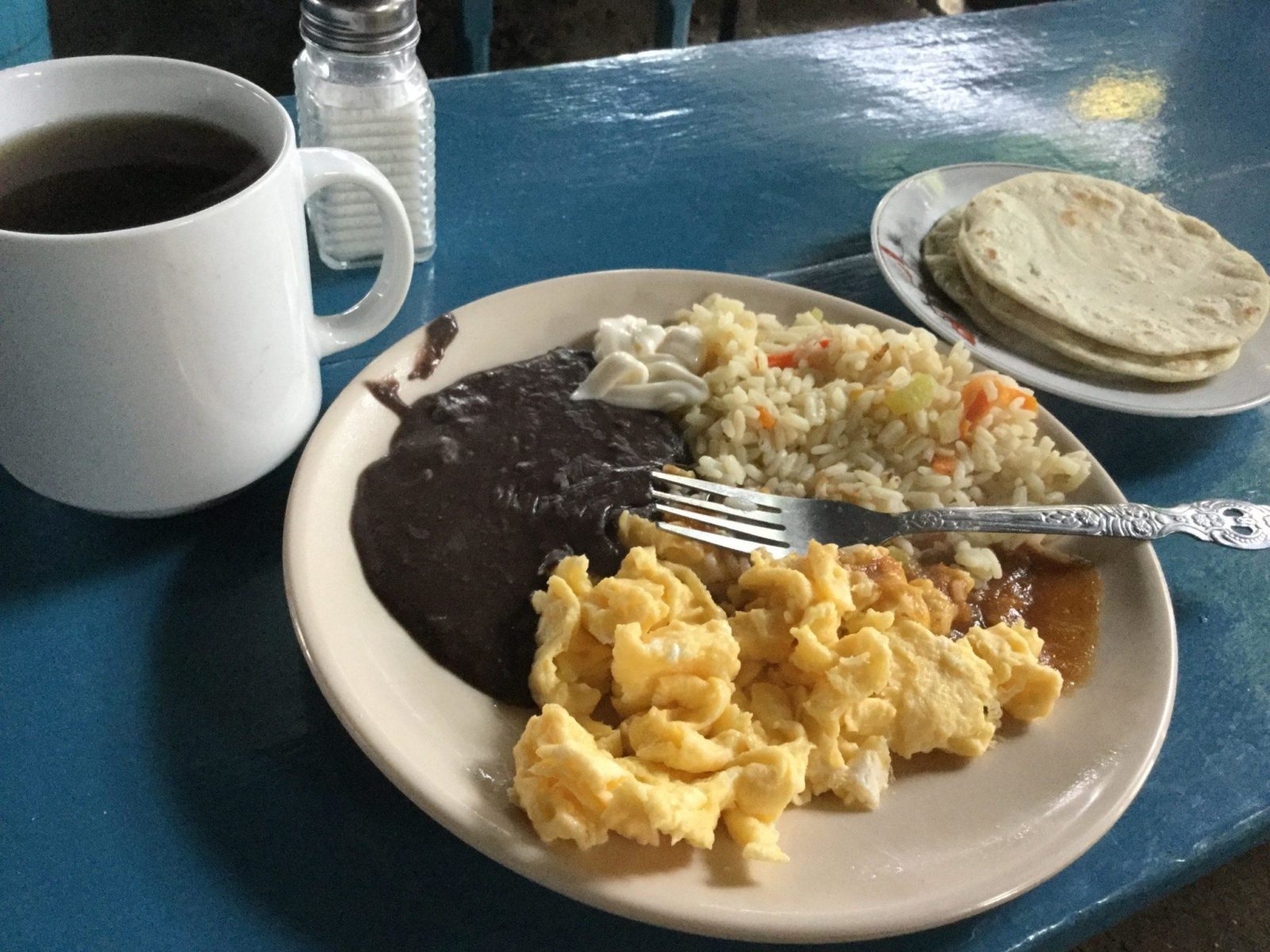 When you arrive in Chichicastenango head in a straight line down through the market from your drop off point. When you almost get to the end turn in (right) and you will see an undercover part of the market where there is a lot of food. Grab yourself a Guatemalan breakfast and some cafe (coffee). Don't expect any milk or a skinny latte on the menu… you're in Guatemala. The coffee comes black and sweet with a few bits floating in the bottom.
Explore the market
Once you are fed and watered wander around the market and look at the incredible colors of the textiles and crafts available.
I'm British, in general bartering isn't our thing, but here it's a way of life. As a general rule whatever they ask half it and then take it from there.
If animal cruelty makes you upset I would seriously give it a miss. I saw quite a lot of animals ties up in cages etc and it wasn't nice. They have a very different view culturally towards animals in many countries so it's good to be aware so you can avoid it.
How long do you need to spend in Chichicastenango?
I spent about 2 hours there and I was ready to go home. I was so glad I came on the public bus and not the tour bus as I would have had to wait for hours there. It's pretty full on and its hard to find a place you can go and chill out for a while.
Looking for somewhere to stay in Chichicastenango?
There isn't much in the way of accommodation there but here are the booking.com listings for Chichicastenango.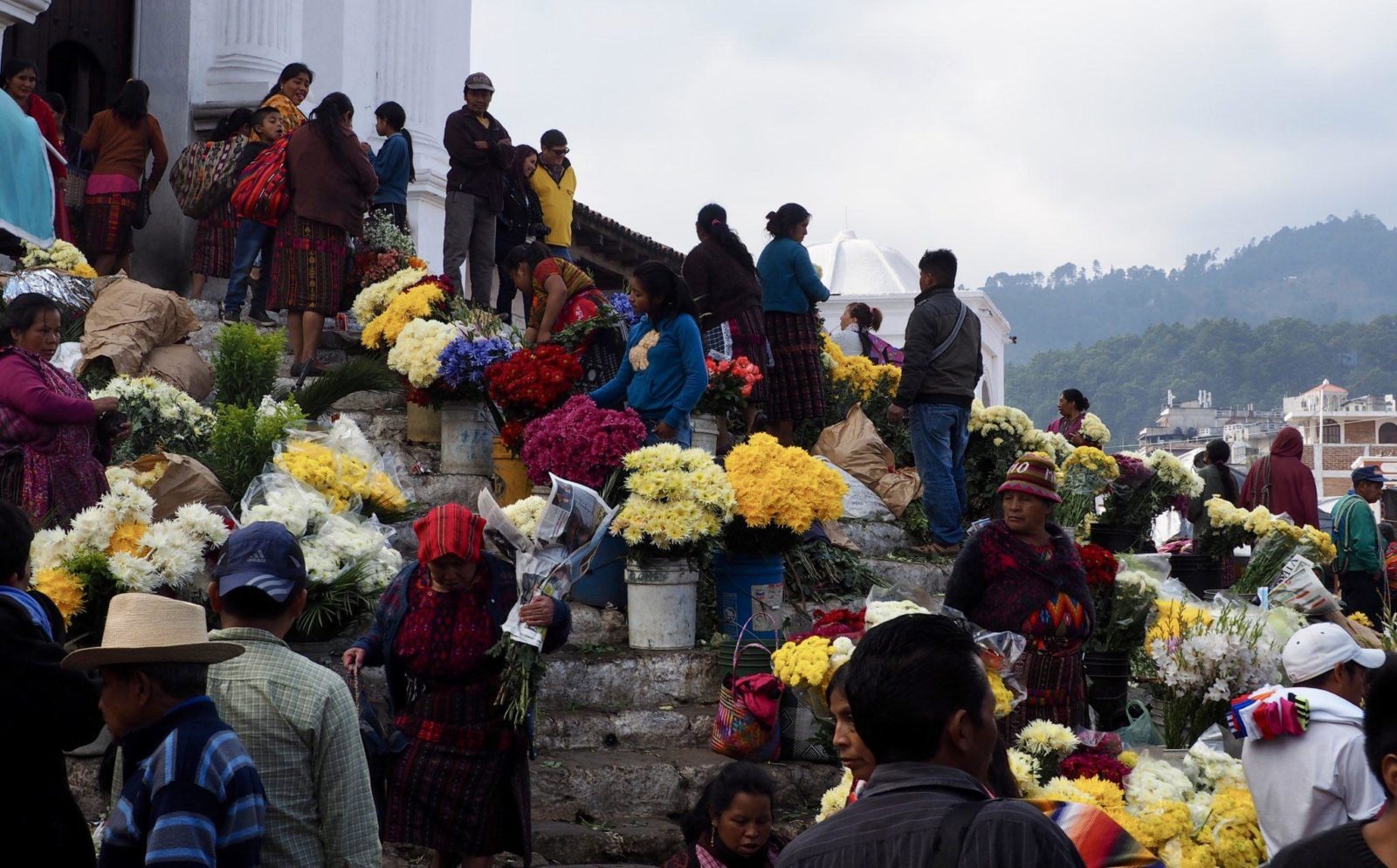 A note about photography in Guatemala:
While I was there I witnessed but groups, of mostly older white North Americans, barging around putting cameras in people's faces. They were quite clearly there on some kind of photo trip and had little to no intention of actually buying anything. It was pretty insensitive. Please remember while running around wielding your camera that these are people going about their work. They are not exhibits there for you to photograph. Yes take photographs but be discreet and sensitive. If you are photographing someone it's always nice to get consent or buy something from them.

If you want to book a tour >Chichicastenango or book a shuttle the only company I recommend is GuateGo. They are a Guatemala owned company that has painstakingly brought together all of the transport and tour options in one easy-to-use website. You can book transport in Guatemala with them here and Guatemalan tours with them here.
Looking for somewhere to stay in Lake Atitlan?
If you want to stay in San Pedro then I'd recommend Zoola San Pedro Atitlan, AmiGos, Hotel Tinamit, or Cristalinas Cafe, Hotel & Restaurant at Lake. If you are planning on staying in San Marcos and enjoy yoga then I cannot recommend Eagle's Nest Atitlán enough. If yoga isn't your thing and you want something bit more upmarket then you can't go wrong with Lush Atitlan.
My friend Julia is developing an incredible retreat center close to San Marcos. They have several places to stay and I can't recommend them enough! I stayed there and it was the most blissed-out I've been in years. Click here to learn more. In Panajachel, I recommend PanaHouse or Selina Atitlan
This post was proofread by Grammarly