Need to get from Antigua to Lake Atitlan? There are a few different ways and in this post I'm going to talk you through the best ways to make the journey, starting with the cheapest.
Always Travel through Panajachel to or from Antigua
If you are planning to travel from Antigua to Lake Atitlan the easiest place to travel to or from is Panajachel. So wherever your starting or final destination you want to take the bus between Antigua and Panajachel.
If you decide to travel by chicken bus rather than a shuttle you will need to catch it from Panajachel anyway. However, if you are in any of the other towns it will be easy enough to book a tourist bus or find a private transfer.
The reason I say this is because if you book a direct shuttle from San Pedro to Antigua for example, it will take you hours and hours longer. Plus that road coming in and out of San Pedro is a death trap haha. There is a constant stream of buses coming through Panajachel to Antigua and boats ferrying people from the lakeside villages. Trust me, I did this journey more times than I care to remember, take a boat to Panajachel and then a bus from Panajachel to Antigua.
Did You Get Travel Insurance Yet?
If 2020 taught us anything, it's that you need to be prepared for anything! Travel insurance has always been high my list of things to get before I travel but now more than ever its at the top of my list.

I'm pretty sure we have all had travel plans messed up because of COVID and not all insurers covered this. So when looking for travel insurance it's important to check it covers travel disruption due to COVID-19, Hey Mondo, Passport Nomads, Safety Wing, and Travel Insurance Master all provide cover for this.

Hey Mondo is great if you are looking for a great value flexible policy. They offer single trip cover, annual multi trip cover, and long term travel cover. You even have the option to start the cover when you are already on your trip, although you won't be covered for the first 72 hours. For me my favourite feature is their app which offers you a 24/7 Dr chat and the ability to file a claim direct in the app.

Passport Nomads provides the most comprehensive cover for Digital Nomads. The game changer with them is that you have a red card and if you find yourself in need of medical care you just contact them and they will pre load your card with the funds to cover your treatment, meaning you won't need to pay out of pocket and then put in a claim later.

Safety Wing is great value with monthly cover starting at $39. It's super easy to use and it just renews each month. They have an excess of $250 and it's simple to make a claim through their website. I currently use them as they offer me free cover for my son as part of my policy and I like that it renews on a monthly basis, so I don't have to pay out a big lump sum up front.

I also use Travel Insurance Master for some short vacation type trips.

If you are doing shorter trips or an extended backpacking trip then Hey Mondo or Travel Insurance Master are the best option. If you are a digital nomad or planning travel of at least 6 months then go for Passport Nomads or SafetyWing.
Taking the Chicken Bus from Antigua to Lake Atitlan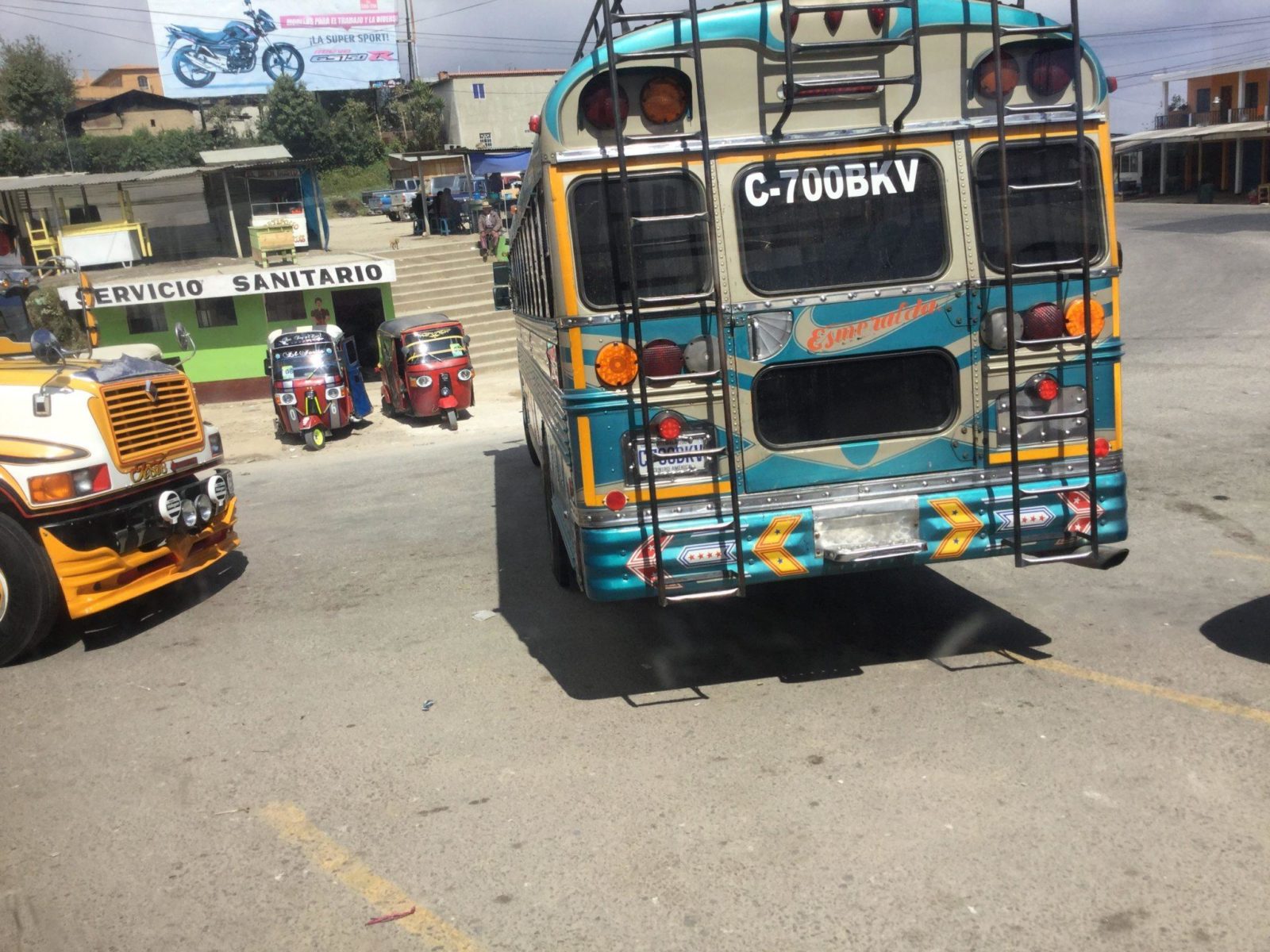 This is the cheapest way, but it can also be a bit tricky. The timetable is limited, so if you can't leave in the morning you will most likely need to get a tourist bus.
To get from Antigua to Lake Atitlan
There is one direct bus early in the morning from the main bus station by the market. It leaves at 7 am and should arrive in Panajachel at 10:45 pm.
To get from Panajachel to Antigua
There is no direct bus to Antigua from Panajachel so you will need to get 3 buses.
Take a Tourist Bus/ Shuttle from Antigua to Lake Atitlan
Traveling by shuttle is by far the easiest way to travel if you miss the direct chicken bus, or if you prefer to travel in a little bit more comfort! Book a direct shuttle through GuateGo by clicking the link here or you can book through most hostels.
When you travel by shuttle you also have the added benefit of a comfort stop halfway and you see them securing your bag on the roof (rather than it just being slung on top of the chicken bus!)


Take a private car or shuttle from Antigua to Lake Atitlan

If money's no object for you then one of the tour companies can arrange a private shuttle. Antigua tours will take up to 4 people one way for $100. You can also book a private shuttle with GuateGo.
Final Thoughts
Take a look here for information about things to do around Lake Atitlan. Or if you are heading to Antigua then make sure you take a read of my posts on Antigua.
The company I recommend for booking transport and tours in Guatemala (other than the individuals and companies I have named) is GuateGo. They are a Guatemala-owned company that has painstakingly brought together all of the transport and tour options in one easy-to-use website. You can book transport in Guatemala with them here and Guatemalan tours with them here.