I've always loved visiting Chester in the UK, so when I was invited to Hotel Indigo Chester for 2 nights I couldn't resist! I actually grew up just over the river in Liverpool, so I've spent a lot of time in Chester over the years, but mostly just shopping haha. So to get to spend 2 nights there and do some fun tourist things was a real treat, especially as I discovered there is so much more to see and do in Chester than just shopping!
The Hotel Indigo brand has become my go-to boutique hotel while in the UK for a few reasons:
The amazing central locations
Very family friendly (I've been traveling with my baby and husband)
The ones I've visited have out-of-this-world restaurants to dine at
Each one is designed to bring in elements of the area it's located making the rooms super fun and special
In this post I'm going to give you the full lowdown of my 2-night stay in Hotel Indigo Chester, the good and the not-so-good, to help you decide where to stay in Chester on your next trip.
Be sure to check out my UK itinerary here and my UK travel guide here for more information about traveling in the UK, and if you are looking for some fun things to do in Chester then read this.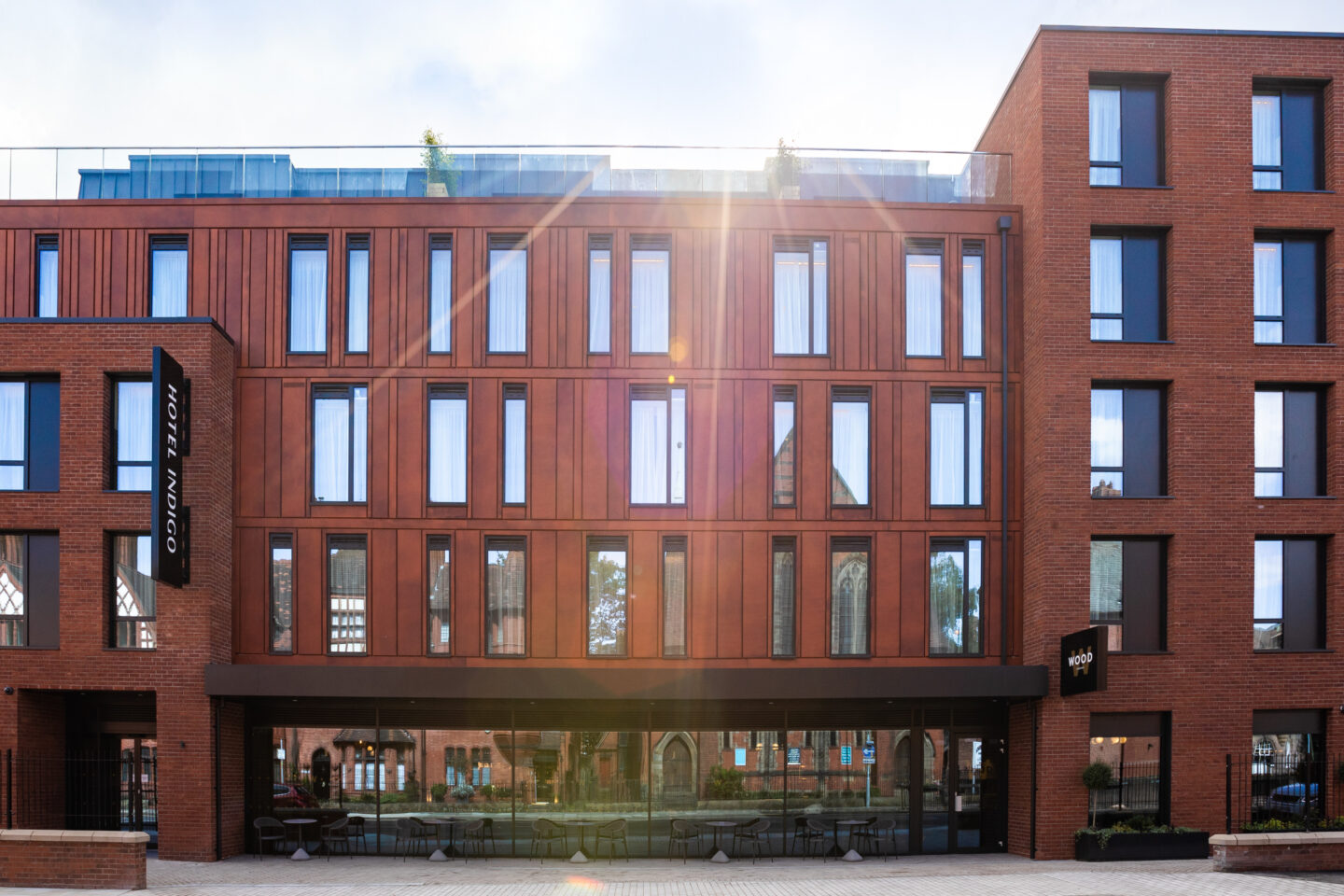 Did You Get Travel Insurance Yet?
If you are planning a trip right now then you NEED to think seriously about insurance. If 2020 taught us anything, it's that you need to be prepared for anything! Travel insurance has always been high on the list of things to get before you travel but now more than ever it should be at the top of your list! I'm pretty sure we have all had travel plans messed up because of COVID and not all insurers covered this. So you need to find an insurer that covers travel disruption due to COVID-19, World Nomads, Safety Wing, or Travel Insurance Master are the ones to go for.

World Nomads is great for incidents that happen prior to your trip, so if you get sick or are unable to travel due to travel restrictions some of their policies will cover that as cancellation cover.

Safety Wing goes the extra mile and covers quarantine outside your home for up to 10 days, they also have a really handy map on their website showing requirements and restrictions for each country.

I also use Travel Insurance Master for some short vacation type trips as they are cheaper than World Nomads a lot of the time.

If you are doing shorter trips or a longer backpacking trip then WorldNomads or Travel Insurance Master are the best option. If you are a digital nomad or planning travel of at least 6 months then go for SafetyWing.
Why Visit Chester?
Chester might not be somewhere that springs to mind as a "must-visit" place in the UK. But it really is. It has a rich and interesting history dating back to the Romans. In fact, you will see Roman ruins all over the city and you can even walk parts of the 2000-year-old city walls.
Then of course there is The Rows, which is the first image that comes to my mind when I think about Chester. The Rows are continuous half-timbered galleries that make a second floor of shops above the main ones in the city center. There really is nothing else like it in the UK. You can reach the rows by steps at either end of the buildings and you will find Rows on Watergate Street, Northgate Street, Eastgate Street, and Bridge Street. They really do look special and I think it's why my family loved to come shopping here when I was growing up. I have such strong memories of having lunch in one of the tea rooms up on the second floor here. Some of the buildings originate from as far back as the 13th century.
Chester has both a river and a canal perfect for walking or boating when the weather allows. There is also a huge park to wander around and lots of other city center tourist attractions.
Of course, there are two close by attractions that draw the masses to Chester, the zoo, and the races! Chester race course was established in 1539, making it the oldest racecourse still in operation in the world. Pretty impressive. They have regular meets which you can check out here. Don't forget to bring your hat if you decide to go to the races here, people dress to impress.
Hotel Indigo Chester Overview
Hotel Indigo Chester was opened in June 2019, making it a relatively new hotel, and you can tell as it still has that 'fresh' new hotel feel. As with all hotel Indigos, a lot has gone into the design and concept of the hotel. No two Hotel Indigo properties are alike. In Chester they have taken influence from the city's racing history and the hotel has been designed to uniquely reflect this.
From the outside, the hotel doesn't look like anything special, but the inside is another story. We arrived early and were unable to check in, so we spent some time relaxing in the lounge/ bar area which was very comfortable and had plenty of power sockets so we could get some charge! We ordered some drinks and felt very at peace catching up on some work here.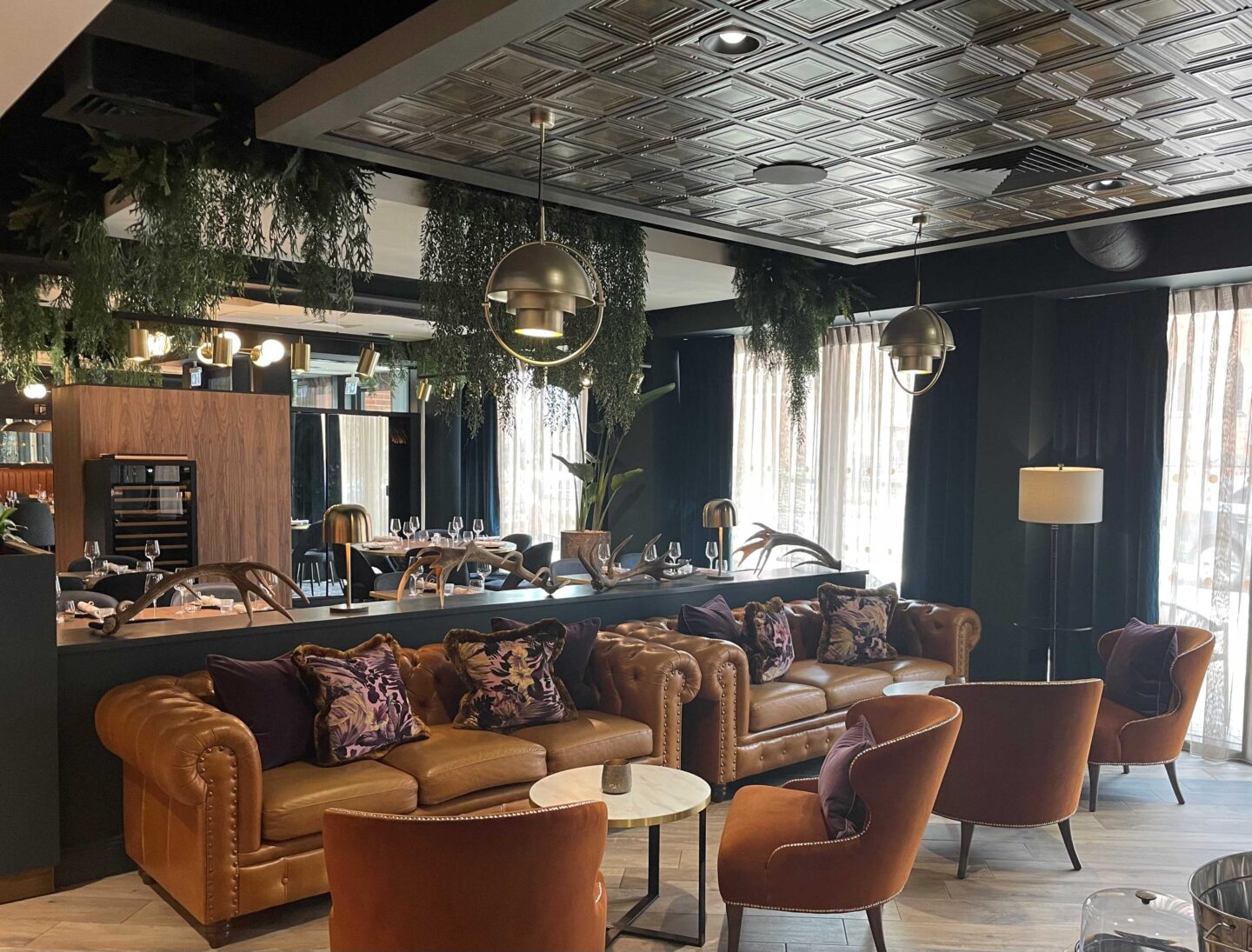 The staff were attentive and very helpful, there was some confusion about how many nights we were booked in for but that was quickly rectified by them.
My only negative was the parking situation. Like most of the city center hotels in Chester, there is no parking available for guests. They do have an affiliation with a nearby car park on Pepper street which heavily reduces the cost of parking (from £20 per day to £12 per day). It's a 5-10 minute walk from the parking to the hotel, which again is ok. But the car park really isn't very access friendly. So with the pushchair and my suitcase I struggled. So much so that on the way back I couldn't even find the lift and had to just push the pram up the ramp where the cars go! And if you are lucky enough to find the lift you will also find a step to enter the car park from the lift on some levels.
But if you plan accordingly, or don't come with a pushchair then you will be fine. There is a place you can drop your bags off outside the hotel and you can get 10 minutes of parking across the road, so my suggestion is to park for 10 minutes and drop your bags off, then go and park your car. Same on the way back.
Hotel Indigo Chester Rooms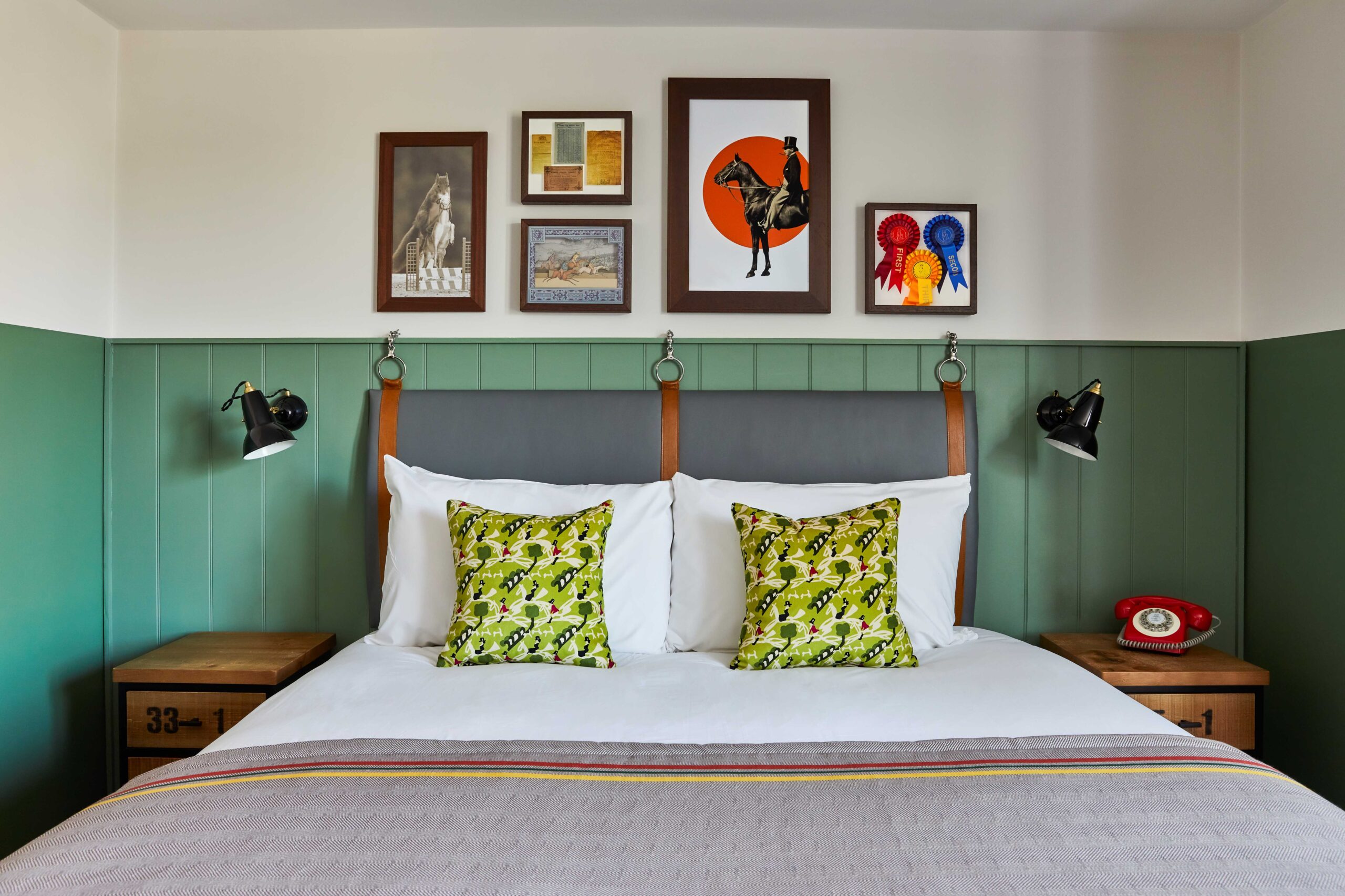 There are 75 guest rooms in hotel Indigo Chester with 2 lifts to take you up to your floor. The rooms are decorated in 3 different Chester-inspired themes.
Our room was inspired by Chester's race course. I loved all of the small design details, the sliding stable door of the wardrobe, the deep hunter greens, and even the metal bucket bin was in keeping with the stable feel.
Our room came with a super comfy Hypnos bed with luxury Egyptian cotton linen. Which was so amazing to sleep on. Honestly, I wish I could have taken the sheets home with me! The bathroom is spa-inspired (although not quite as impressive as our bathroom at Hotel Indigo in Bath, which I'm still obsessing over). There was a kettle with a selection of teas (and fresh milk in the fridge for us Brits), plus a Nespresso coffee machine, and some water and soft drinks available. There was also a 40" flat screen TV, not that we used it.
And of course, most important for us as a digital nomad family, high-speed Wi-Fi!
We spent a restful 2 nights in the room undisturbed by any noise. There was central air so we were able to control the room temperature, which is extra important with having the baby with us. All in all, I really liked the rooms, they had a lot of character.
Central Location
With all hotel Indigos, it's all location, location, location. And Chester doesn't let the side down. It's in a great location close to the city center, historical center, and of course, the train station.
You will find everything you need within walking distance from the hotel, including an abundance of good places to eat in Chester from fine dining to fast food, depending on what you are looking for.
The Forge Restaurant
Of course, if you are staying at Hotel Indigo in Chester, then you really must dine in The Forge restaurant for at least one evening.
The Forge is a 70-seater restaurant and cocktail bar with an exclusive private dining room within Hotel Indigo Chester. Its been open since May of 2021 and is the third Mike Robinson restaurant within a hotel Indigo (The Woodsman in Stratford Upon Avon and The Elder in Bath are the other 2).
The concept behind Robinson's restaurants is 'British food, using only British ingredients, with an emphasis on wild produce and sustainability'. And that really shines through.
The kitchen here is open so you feel incredibly close to the action, so to speak. The staff were so knowledgeable and passionate about the food that it made me excited about the food.
What I really loved was that it's an upscale restaurant but not snooty. We actually ate there at night with the baby, who was teething and not impressed by the whole thing. This of course put me really on edge as I didn't want to spoil other people's experience in the restaurant with a baby crying.
But the staff completely relaxed me, at one point one of them even took the baby so I could finish eating. When my husband went to change the baby they took his food to keep it warm without me having to ask. They really did go above and beyond. And the food was bloody amazing too! I wrote a full review that you can read here about my experience.
Final Thoughts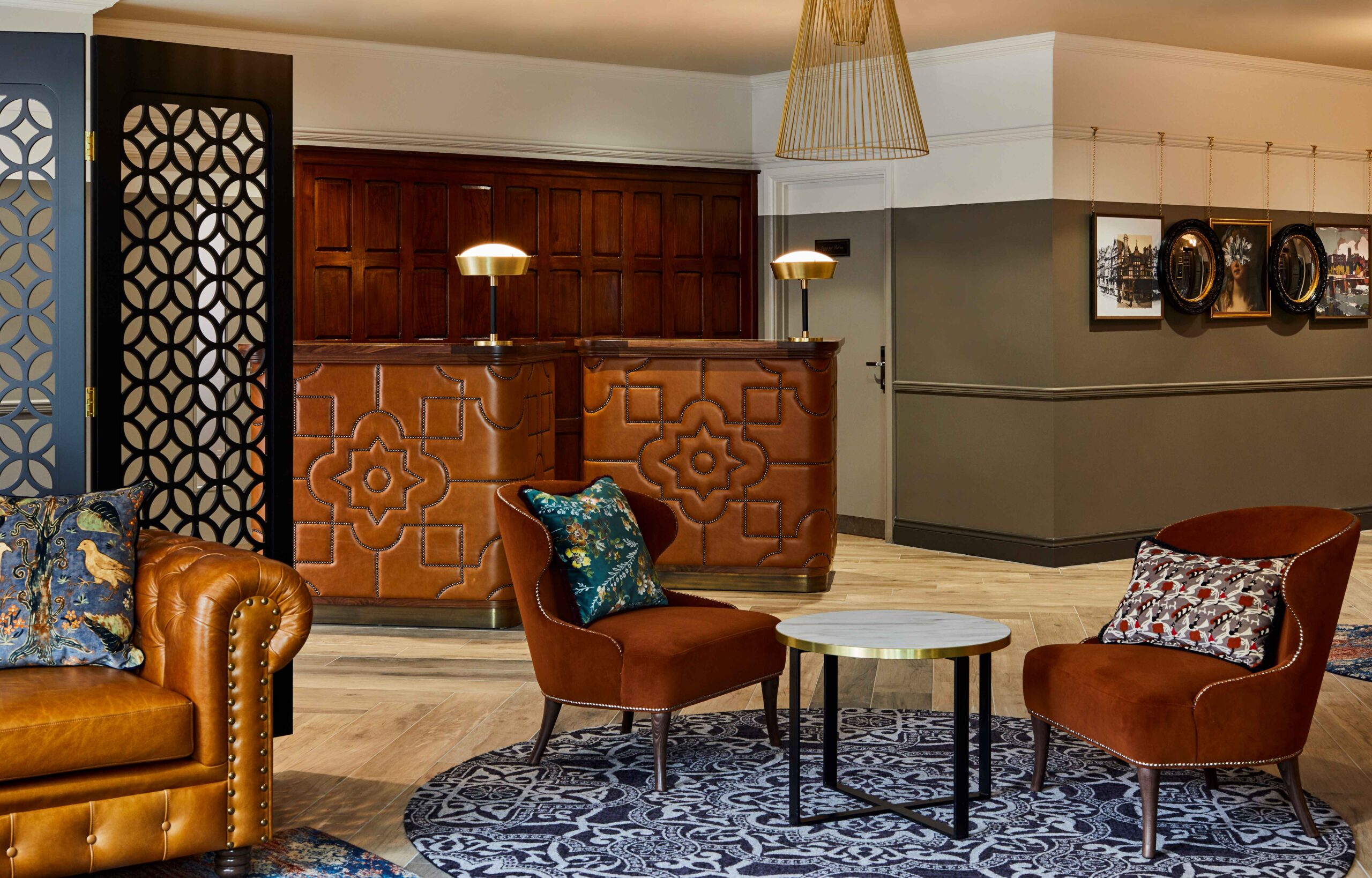 We had a great time in Chester and staying at Hotel Indigo absolutely enhanced the whole experience. I'd highly recommend staying here for Couples, solo travelers, and of course families. The location is perfect for anyone traveling on public transport as it's so close to the train station and it makes a great jumping-off point to explore everything in central Chester.
Room rates from £119 for bed and breakfast and you can book here using this link.
Like it? Pin it!