Are you planning a trip to South America? Then you are going to need to take some Spanish classes. If you think you can get away with shouting at the bus driver slowly, in English, then you need to read this article I have compiled on why it is essential you learn Spanish in Latin America and why learning Spanish in Medellin is the best.
For those of you who have been following my blog for a while, you will know I haven't found learning Spanish easy. I went to several schools in Guatemala, but it has been learning Spanish in Colombia that I've been successful. That's why I'm convinced that Colombia is the best country to learn Spanish in.
Did You Get Travel Insurance Yet?

The Insurance companies I recommend are Hey Mondo, Safety Wing, and Travel Insurance Master

Hey Mondo is great if you are looking for a great value flexible policy. They offer single-trip cover, annual multi-trip cover, and long-term travel cover. Safety Wing is great value, with monthly coverage starting at $39. It's super easy to use, and it just renews each month. I currently use them as they offer me free cover for my son as part of my policy. I also use Travel Insurance Master for short trips.

Read my full travel insurance post here, where I go into detail about all companies.
Why Learn Spanish in Colombia?
Ok, confession time. When I was planning my trip I narrowed it down to two options for learning Spanish — Guatemala, and Colombia.
From what I had read online learning Spanish in Colombia came up on top in almost every category. But when it came down to choosing between the two I chose Guatemala because I thought Colombia was too dangerous to travel alone.
Now don't get me wrong I have no regrets because I spent an unforgettable nine months in Guatemala.
But I couldn't have been more wrong on the whole safety front. So, whatever you decide don't let your preconceived ideas about Colombia being dangerous to deter you from traveling there.
Fast forward to now, it's difficult for me to think of a reason NOT to pick Colombia to learn Spanish. Ask anyone who has visited lately and they will talk about how they fell in love with the country. Yes, Colombia has had a troubled past, but it is quickly becoming a favorite with backpackers and nature-loving travelers. Colombia has something for everyone!
Its biodiversity is beyond compare. Where else in the world can you explore white sand beaches, deserts, lost cities high in the Sierra Nevada mountains, and the Amazon Jungle all in one country?!
Why Colombia is Best for Beginners
Colombia is great if you are a total beginner. In general, Colombians speak with more of a neutral accent compared to other South American countries. This makes it the perfect place for beginner learners.
Colombians also speak relatively slowly (so long as you stay away from the Caribbean Coast) and clearer than most other South American countries. It is also one of the cheaper places to study with lessons being budget-friendly, and the cost of living being low.
I did find classes in Colombia more expensive than in Guatemala, but the schools in Colombia were much better, and so for me, it is worth spending the extra money in the long run.
Need to book transportation in Colombia?
I highly recommend booking all of your Colombia transportation with GottoGo. You can search for buses, shuttles, ferries, and Flights on their website. What I love most about them is their customer service. I know these guys personally from my time living in Guatemala and they really do look after their customers. So if anything happens and you get delayed and miss your bus, you can just call them and they are always there to help.

If you book through them you will pay a little more than if you book in person at the bus station. But it's worth it for the ease and security in my opinion. Click here to search for transportation in Colombia.
Where to learn Spanish in Colombia
The main cities in Colombia all have a lot of schools. Most people choose from Bogotá, Medellín, Cartagena, and Cali. I strongly advise learning Spanish in Medellín as, in my opinion, it is the best city in Colombia! Although if you study with Toucan language school Medellin they also have schools in Bogota and Cartagena so you could do a little tour whilst not skipping a beat with your classes!
UPDATE: Toucan Language School is unfortunately permanently closed, however, I have included some alternatives at the end of this post.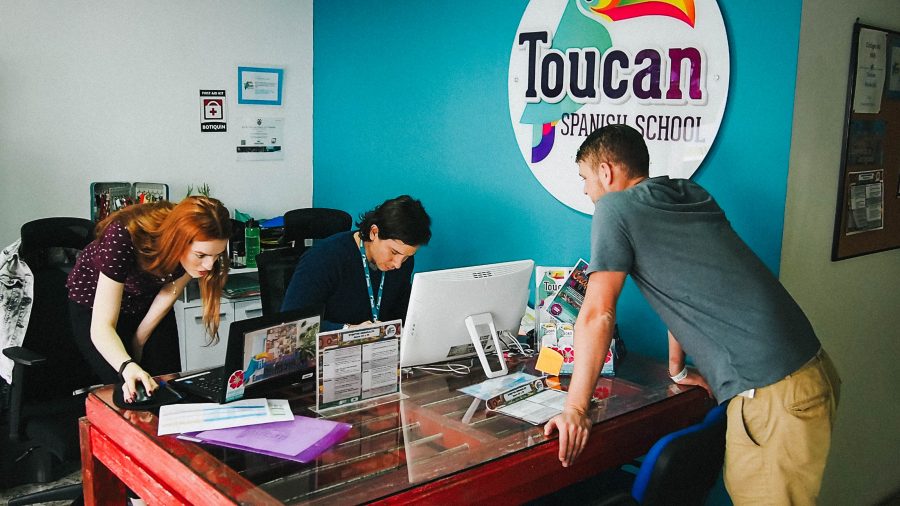 My experience at Toucan language school Medellin
As I've already mentioned Toucan Language School wasn't the first school I attended but it was the first one that offered group classes. This was a big bonus for me. Having only taken 1-on-1 classes, I found the experience too intense as a complete beginner.
I missed the interaction you can only get in a group class and the support of having a shared learning experience with others.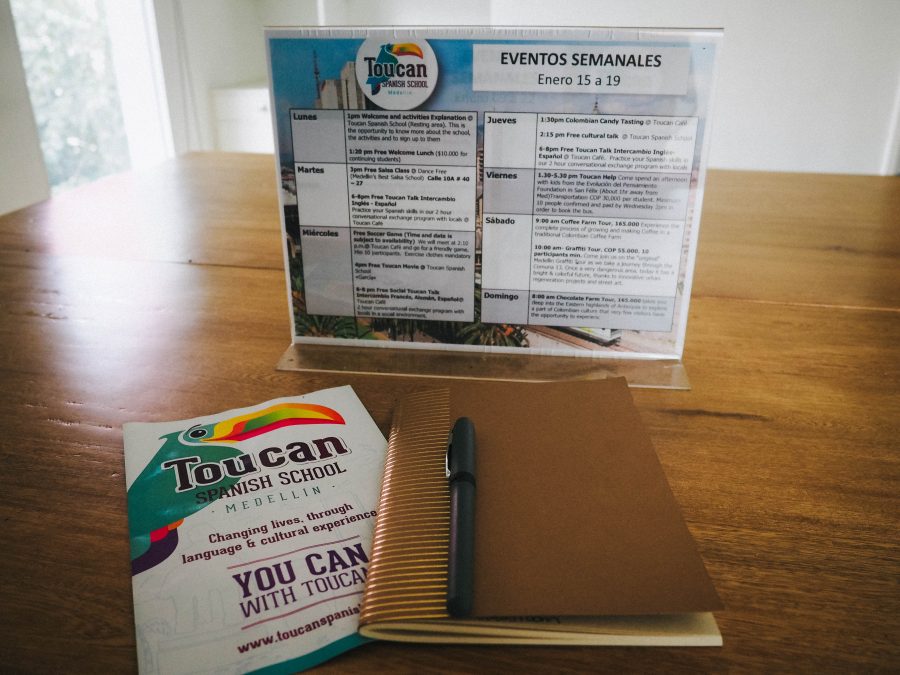 What I liked about this Spanish course in Medellin with Toucan was that I had to take an assessment before starting classes. Toucan has a set curriculum where you learn whilst sharing a class with people on your level.
On Mondays, there was always a review, so if you feel that you are at the wrong level you can simply change class to jump forward or back a week. It also means you can take four weeks of classes and even if you decide to take a week off for sightseeing you can simply pick up where you left off knowing you won't miss anything.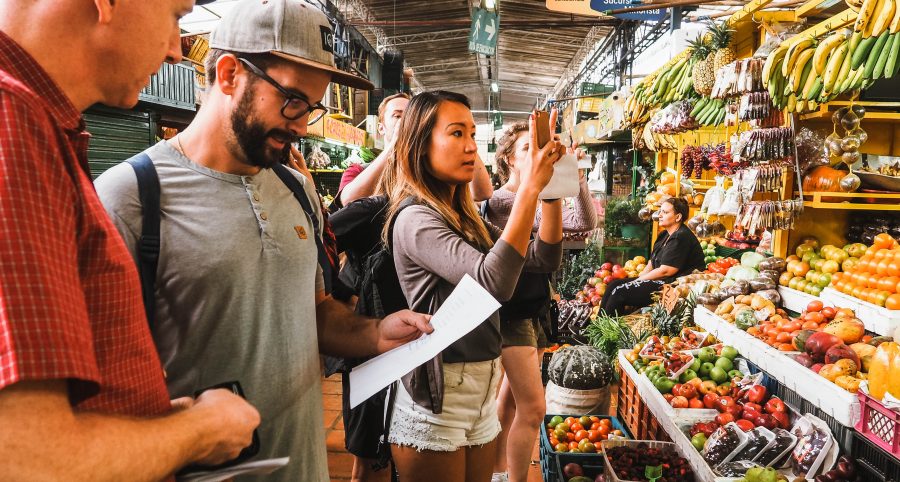 Toucan is also by far the most professional school I have attended — the teachers and staff were all incredible, and I felt completely supported in my learning.
What to Expect at Toucan Language School
The groups were small — six to eight people normally — and classes were four hours a day, five days a week. For me the group size and length of the class was perfect. I think any longer and my brain would have shut down!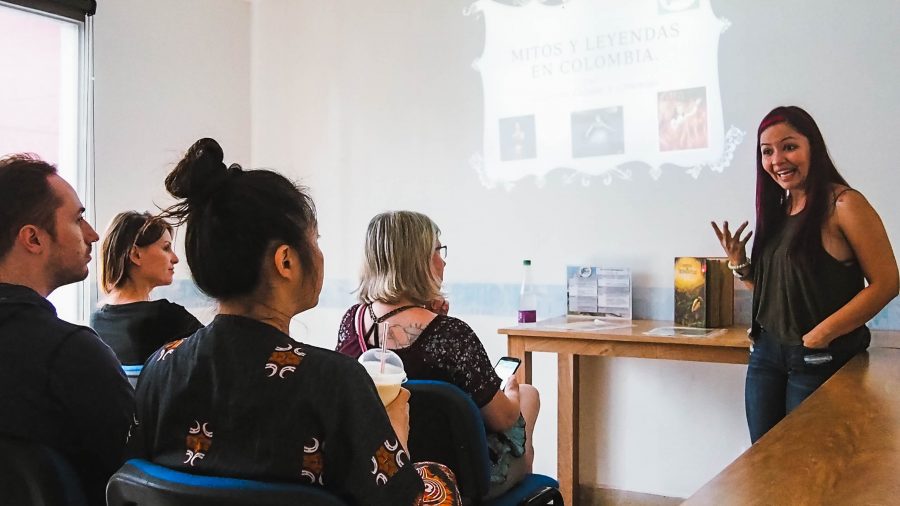 Toucan has a reputation for being a 'party' school. That was NOT my experience at all. Everyone in my class was serious about learning. For me, Toucan Spanish school Medellin is a social school. They have extracurricular activities every day from Salsa classes to intercambios in their cafe four times a week. This created a social atmosphere and I made some good friends. Yes, there were some parties, but that was on the weekend!
Many students took up dance classes at DanceFree where you can always be guaranteed to find a few students dancing the night away. I took 1-on-1 classes with them and you can read about that here.
My Journey at Toucan Spanish school Medellin
As I already had some Spanish experience I began at week three (complete beginners start at week one of the three-month program) and I progressed quickly. Far quicker than I did at the other schools. This is partly because I've been living in Latin America for a year now so Spanish is much more familiar to me.
The first week for me was really 'gap filling' and reviewing things I already knew. At this stage, the teacher spoke about 70% of the class in English.
By the end of the week, I noticed a huge improvement in my confidence and ability to converse in Spanish.
I took four weeks in total and over the four weeks less and less of the class was in English.
Our final week was completely in Spanish with just a few words in English if we really couldn't understand something. By the end of the four weeks, I felt confident using some past tense, a bit of future and my present tense felt pretty solid. I had expanded my vocabulary. But most importantly I felt more confident speaking.
Grammar
The level of grammar you learn is always a point of contention. This is because in general travelers want to learn the language to travel. So they want a course with a practical focus. Although the classes do focus on grammar, which you need from classes, you normally cover that the first two days. The rest of the week is spent practicing.
In other schools I have attended I felt I was just being filled full of grammar.
At Toucan they didn't just give me the rules, they made me use them! That was one of the things I loved about the group classes, we never stopped talking.
Toucan Tours
Toucan also has a cafe and tour desk in the same building as the school. I did several of their tours and really enjoyed hanging out in their cafe after class. You can practice everything you learn in class most evenings at one of their intercambios.
To summarize here are some reasons to choose Toucan:
Small group classes
Option to take 1-2-1 classes
Extracurricular activities daily
Professional teachers
Discount on their tours
Set curriculum
Focus on talking
A social school where you will make friends
Learning a language with a learning disability
As a dyslexic person learning a second language has been (and still is) a painful process for me. I have no short-term memory, so I have to go over and over and over something before it finally sticks.
If I had the chance to do my four weeks over I would do two weeks and then take a week off or a week of private (or semi-private) classes and go back to group classes for my final week(s).
Group classes are amazing but the teacher has to keep the class moving, so if you are struggling to grasp something it can be difficult to really get the attention you need in a group. Doing a mix of group classes, where you can practice talking with others, and 1-on-1 classes where you can learn at your own pace is, in my opinion, the best way to learn.
If you can't afford a week of 1-on-1 classes then take a week off to self-study, practice with locals and sightsee. It sometimes helps to take some time to let everything settle in and be able to put your new skills into practice.
Alternative Spanish Lessons:
An alternative to Toucan Language school is Blink Spanish Immersion School & Hostel where you pay for the lessons, accommodation and meals – and can choose the amount of weekly vs one on one classes you have. This is designed to be a very immersive experience and everyone you are staying with are also taking lessons, so would be great as a first stop to get to know the language very quickly.
The Olsa International School is a more conventional language school and has incredible reviews explaining all of the teachers' passion for helping people to grasp the Spanish language.
Final thoughts
My number one tip is to learn some basics before you arrive. By learning the basics before your trip you won't be as overwhelmed when you arrive at your destination. It will also make your first week in language school much easier. Download Duolingo and spend an hour a day on there if you can.
For more great tips and things to think about before learning Spanish abroad take a read of this.
Wondering where to stay in Medellin? I recommend staying in either El Poblado or Laureles and here are a few of my favorite places to stay:
Parceros Med Hostel ( I stayed here for a month and loved it!)
Los Patios Hostel Boutique
Purple Monkey Hostel
Hostal Medellin -Laureles
El Jardín de la 10 – El Poblado
You can also read my full Where to Stay in Medellin Guide here.
This post was proofread by Grammarly