Are you wondering how to spend a weekend in New York City? With so much to see and do you are going to need to do some planning to make the most of your 2 days. So to help you out here is my two-day guide to help you plan the perfect weekend in New York City.
How to Spend a Weekend in New York City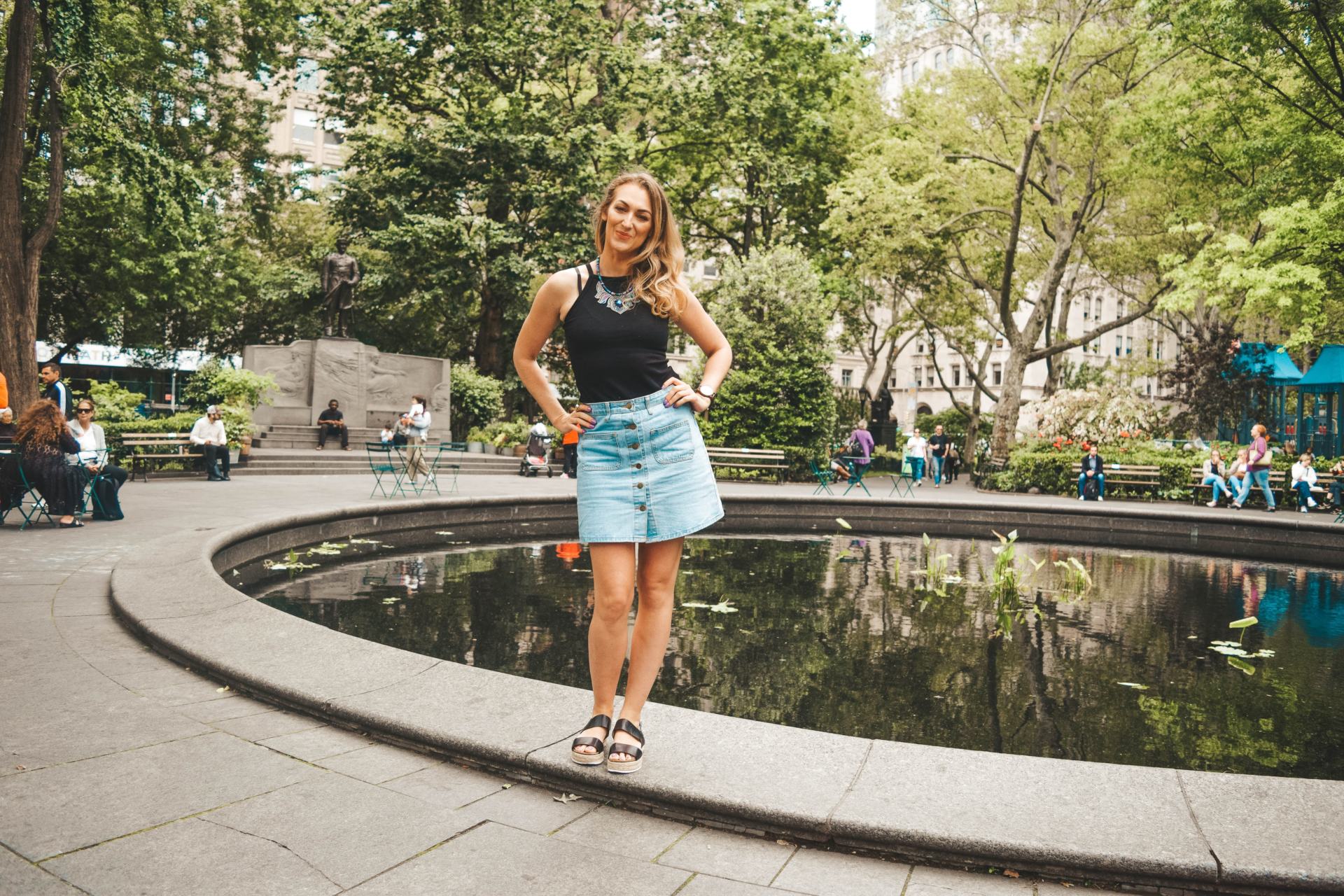 Saturday in New York City – Brunch anyone?
Williamsburg
In every city, there is an ever-changing hipster capital where the weekends are filled with brunch, coffee, and (overpriced vintage) thrift. In New York that place (for the time being) is Williamsburg. We decided to get the river ferry over so we could take some pictures. The root we took was subway from 42nd Street to Grand Central Station (another sight checked off) where we stopped for a quick tourist photo shoot.
East River Ferry
We then walked east down 34th Street and took a right on 1st Avenue. To get to the East River Ferry you have to take a left and head under the flyover through a little tunnel and out into a public space/ park. You should then see the ferry on your right. If you go on a weekday the ferry is $4 on a weekend it's $6 for one way. It isn't a long journey, we got off at North Williamsburg which was the third stop, but it gives you an opportunity for a slightly different view of the City. So have your camera ready and make sure you get up top and sit on the right side of the ferry.
Two Door Tavern
When you get off the ferry head to the right road (5th Ave) and walk for about 10 mins until 116 where you will find Two Door Tavern on the right-hand side of the road. The brunch is to die for! For $15.99 you get an item from the brunch menu, a Tea or Coffee and a juice/mimosa or a Bloody Mary. I went for Eggs Benedict, Coffee and a Mimosa (I also drank Amy's Tea American style with honey and lemon and it was delicious).
Amy ordered the French Toast with banana and I have never seen anything like it!
I would highly recommend Two Door, the food was spot on at a fair price, the staff were lovely and the décor was perfect for a lazy Saturday brunching with friends.
We then took a walk down to 70th and 7th Ave (keep your camera close as the street art is stunning and everywhere) to Artists and Fleas: Artist, designer, and vintage market.
Weekend Market in Brooklyn
If you like handmade jewelry, vintage clothing, and handmade cosmetics then this is the place to find all three. Although it is mostly jewelry there are some other gems like Bad Girl Good Tea (if you like your tea you will love this, I got Blue Hippy: a mix of white tea, wild blueberries, heather flowers).
A record seller and a few local artists selling their paintings. As well as my tea I was drawn to a stall called Raw Spirit she sells healing gems crafted into earrings (silver and good quality). I wanted them all, but I was really drawn to the emeralds (which open and nurture the heart). You can get these earrings online but if you want to save yourself some $$ then visit her stall, as they were cheaper than they are online.
Once you are done with the market have a wander back up 7th. Soak up the hipster vibes, drink coffee and overpay for second-hand clothes in the thrift shops. Then jump on the subway on Bedford Ave and head back to Manhattan.
Visiting the 9/11 memorials at ground zero
The memorial is stunning and it's where you would think people would come to take a moment or two of quiet contemplation and to remember the tragedy of the horrific terror attack on America. It isn't. The memorial is stunning. But rather than a place of respect, I found it full of people posing for selfies and family photos. I'm not sure if it was because it was a Saturday and perhaps attracted a different crowd. But it left a bit of a nasty taste in my mouth. If you are heading this way make sure you stop at
If you are heading this way make sure you stop at St Paul's. "The little chapel that stood" it's the oldest church still standing in Manhattan. It was also the place that became a 'basecamp' for rescue workers after 9/11 where they went to eat and rest. There was a makeshift memorial in there until recently but it has now been moved into the official visitor center.
If you want to go to the museum then I would recommend booking as the queues are huge and when we arrived on the day's tickets were sold out.
Sunday – Spend the day exploring Central Park and The Met
Central Park
The top of my to-do list was Central Park. It's huge and you really do need at least half a day to explore. We started at Time Square for a quick obligatory photoshoot before crossing over to 5th Avenue.
Top Tip: Make sure you stop off on the way to the park to pick up lunch so you can find a spot to eat in the park.
We entered on the east side and walked up the East of the park towards The Met (The Metropolitan Museum). I really wanted to see the Alice in Wonderland sculpture and it's in the East.
Street Performers
About a third of the way up we stopped off to watch a street performance. In New York culture is everywhere. On every street corner, subway station and in every park are artists and performers putting on a show to earn a living. The golden rule is; If you don't want to pay, then don't watch, even a few dollars whatever you can afford/ think it's worth. They are working (hard) this is their job, so think of it like going to watch a performance in a theatre.
Alice in Wonderland
We found Alice! But we did have to wait for ages for the small children/ monkeys to stop climbing on it.

Visit The Metropolitan Museum
We walked right the way up to The Met. The steps are always full of people. normally eating lunch. For all you Gossip Girl fans out there this was where they filmed Blair and her minions eating lunch.
The Met is huge and needs at least half a day to explore! Entry is by donation, for an adult the suggested donation is $25 or $12 for a student. We paid $20 for both of us, as we were only going to be in there for 2 hours as we didn't have much time. Our reason for going in there was to have a quick look around a few of the exhibitions and have a drink on the rooftop bar. With views of Central Park and the Upper East Side. It seemed like the perfect rest stop before walking back to the park.
Unfortunately, after paying our $ and entering the museum we discovered it was closed until May! So don't try and get up there in the winter.
Top Tip: You don't want to rush Central Park and it's huge so make sure you give yourself plenty of time. Take a full day to walk up the East side. Visit The Met and then walk down the West Side so you cover as much as you can.
We then took a stroll back down the West side of the park and jumped on the subway down to 10th and 14th (West Side) to walk The Highline.
Walk The Highline
This is another one of those things that I have wanted to do for ages but just not had the chance. The Highline is free to visit and offers a public garden space with stunning views of the city from above. A disused railway track, built above the city in 1934 as part of a transport improvement project, it runs 1.5 miles from St Johns Park up to 34th Street.
The train line stopped being used in the 80's and although it was almost demolished some local residents objected and fought against the demolition requesting that it was used as a public space instead. The first section was opened in 2009 with the last section opening in 2014.
Unfortunately for me March/ April is not the time to visit as it was pretty barren, but the views of the city were still worth the visit. It's one place I'm sure I will head back to in the spring/ summer.
The Highline can only be preserved if 98% of its costs are raised from donations so if it is somewhere you do visit then consider becoming a friend or making a donation here. I've already got my mum to sign up for some volunteering!
Top Tip: Go at dusk before it closes so you get some pictures of the bright city lights. New York comes alive when the sun goes down after all.

Final Thoughts on how to spend a weekend in New York City
I love weekends in NYC and there is always so much to do. This guide is really just scratching the surface! Whatever you decide to do I hope you have a wonderful time. Let me know all about it in the comments below!
Shop my New York City look:
Are you ready to book your trip?  To help you get the best deals and service here are the companies that I personally use to book all of my travel online. I always shop around before booking anything, but these are my tried and tested starting places.