Looking for the best wellness activities in Guanajuato? After having a baby I must admit I'm much more conscious about looking after myself and so wellness has become a big priority for me, especially when traveling. So on my recent trip to the state of Guanajuato in Mexico, I went looking for the best wellness centers and activities to ensure my Guanajato road trip was well balanced.
And remember, there is more to wellness than just visiting a Guanajuato spa or doing yoga in Guanajuato! Although visiting a spa in Guanajuato is always a good idea! Also, don't forget to use some of these Mexico captions to pair with all your awesome photos.
Visit The Beer Spa in Mineral de Pozos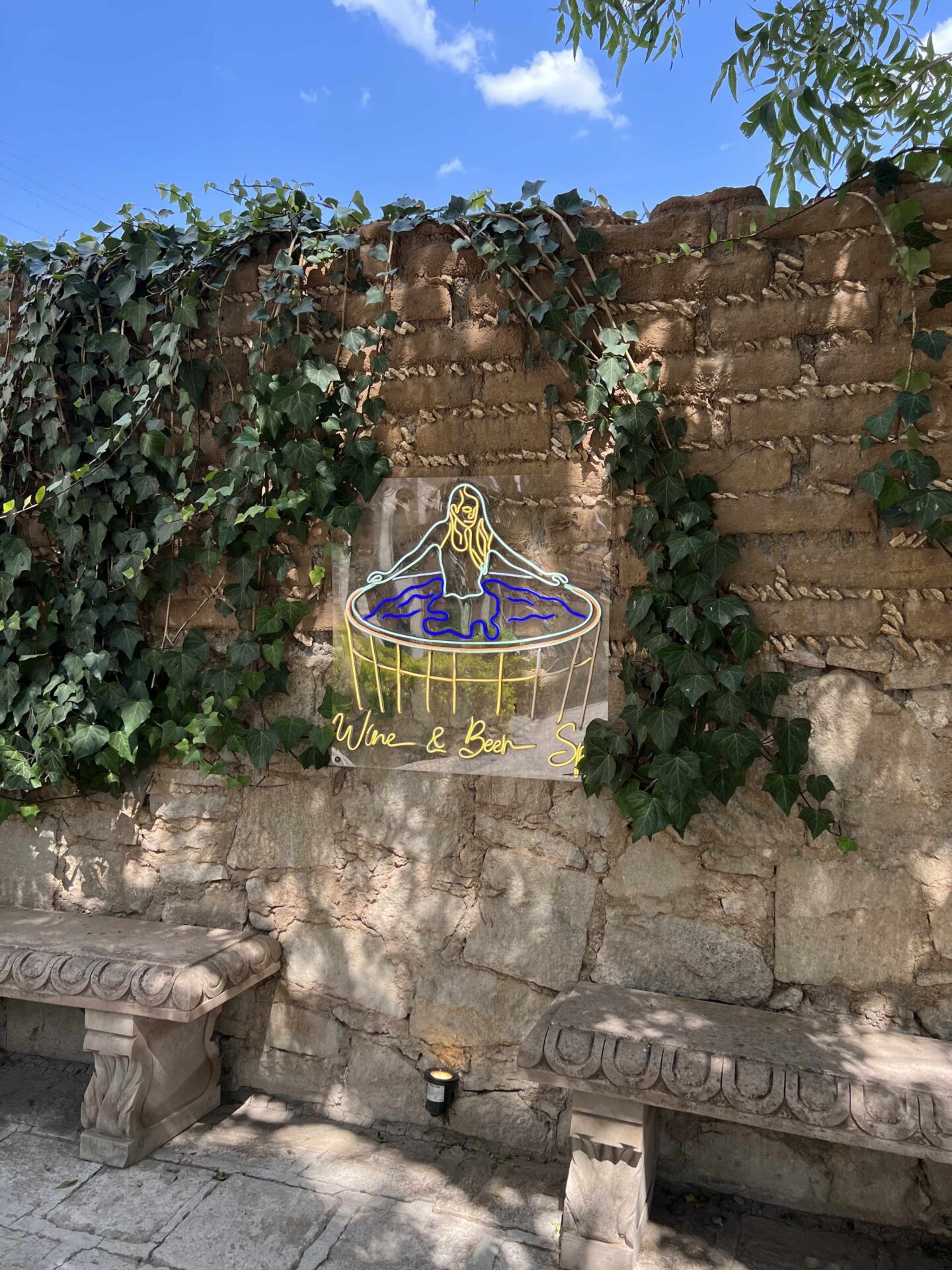 If you are looking for the ultimate pampering experience for beer and wine lovers then look no further than the Beer Spa in Mineral de Pozos.
The Guanajuato beer spa is within the boutique hotel La Casona Minera and booking is essential. You can choose to bathe in beer, red wine, or if you don't fancy smelling like a brewery, you can choose to bathe in locally grown Lavanda.
There are plenty of cute places to relax within the hotel grounds and you can also get other treatments such as massages and facials.
Sweat it out in a Temazcal
A temazcal is a prehispanic sweat lodge and a must for any wellness enthusiasts. I love Temazcals so much that I did one as part of my baby's naming ceremony for the guide parents. When you leave a temazcal it's believed that you are reborn.
A full temazcal is around 3 hours and is in 5 parts: the opening ceremony which takes place outside of the temazcal, and then once you go inside there are what's referred to as 4 doors. Each shaman conducts the ceremony slightly differently so I won't say too much about each of the 4 parts. But what I can say is that I always feel amazing after all that sweating! It's also very spiritual too so don't be surprised if you feel a bit emotional in there as you clean all that energy and emotion.
You will find temazcals all over the state of Guanajuato but especially in Guanajuato City and San Miguel de Allende, I also found one in Mineral De Pozas right on the square by the hotel with the beer spa.
Centro Holistico Masaje Y Temazcal
Enjoy a Guanajuato Spa Day
Bathing in beer, not your thing? Then head to Guanajuato City to enjoy a spa day there instead. There are 3-day spas in Guanajuato City all varying in price and quality.
The top spa in Guanajuato can be found on the grounds of the boutique hotel Villa Maria Cristina. To just use the spa facilities (pools, steam room, etc) there is a cost of $750 pesos per person. This charge even applies to hotel guests. If you want treatments then a massage here will set you back $1600 pesos, which is the most expensive massage I've ever heard of in Mexico! And the entrance to the spa isn't included in that. So you are better off just using the spa facilities and getting a massage somewhere else as the massages here are ok, but not worth the hefty price tag.
Next up is the hotel spa casa del sol. This spa is not as fancy as the Maria Cristina spa, but the prices are much better. They have some great packages and offers that change regularly, and spa access is included in all packages, but you will need to tell them when booking you want pool access. To give you an example, their Guanajato spa offers a 2-person package that includes massages, facials, spa hydrotherapy, and a glass of wine lasting 2:50 minutes for $2300 pesos, which is a great offer. You will need to pay a 50% deposit here to secure your booking.
The most economical day spa in Guanajuato City is B Natural Spa which does have hydrotherapy, but the pool isn't as nice as the other 2 and it's also a little further out of town. However, the prices are good. They have packers starting at $1500 pesos for one person which includes body exfoliation, a body mask, a massage, hot towels, and the hydro pool.
Make sure you book treatments in any of these Guanajuato spas a few days ahead of time. You don't need to book hydrotherapy in Maria Cristina, just treatments.
Visit one of the (well hidden) Guanajuato Hot Springs
There are lots of natural hot springs in Guanajuato. Most of them are totally underdeveloped, and can be tricky to find! Some of the ones at least on the map are around the magic town of Salvatierra along the Rio Lerma.
It can be quite the adventure trying to find them and you won't find much in the way of facilities there so be sure to pack everything you need before you go. Here is a map of some of the hot springs we found.
Relax In La Gruta San Miguel de Allende
If driving around the countryside in search of hidden hot springs in Guanajuato isn't your thing, then you can also visit La Gruta San Miguel de Allende.
These are developed natural hot springs in San Miguel de Allende (well 10 minutes outside of San Miguel De Allende) and they are the most well-known in the state of Guanajuato. It's no Grutas Tolantongo but the Guanajuato grutas is still well worth spending time at.
Pamper Yourself in a Hotel Spa San Miguel de Allende
Although there are some nice hotel Spas in Guanajuato City, the best hotel Spas are in San Miguel de Allende. So if you want to pamper yourself for a night or 2 then check out these luxury hotel spa San Miguel de Allende options.
The newest hotel in town also has one of the most luxurious spas. AMATTE Wellness Community has really elevated the wellness offering in San Miguel De Allende. boasting a terrace with an orchard, a dipping pool, and a shiny new fitness center with Life fitness equipment. It really does take wellness in Guanajuato to another level.
The concept of AMATTE Wellness Community is to provide a space where its guests and visitors can enter a 'nest' of well-being, enjoyment, and good living. You can check prices for a night here.
Hotel Matilda Spa is one of my favorite luxury spas in Mexico. As well as a menu of luxurious treatments on offer they also offer mini yoga and wellness retreats. No hydrotherapy pools sadly, but the treatments are so yummy it makes up for it. If you want to spend a night check the prices here.
The Spa at the Rosewood Hotel is otherworldly. Again there is no hydrotherapy circuit, but they do have some lonely swimming pools, a fitness gym, and a tennis court. If you are not a hotel guest and you schedule 3 treatments on the same day then they will include a light lunch and access to the fitness suite in your package.
Get Off The Grid in Sierra de Lobos
One of the best ways to clear your mind and focus on your well-being is to get off the grid for a few days. And just outside of Lion you will find lots of cute cabañas in Sierra de Lobos where you can relax and unwind in nature.
Of course, if sitting around reading and enjoying the views is a bit too much peace and quiet for you, then there are plenty of activities from hiking to horse riding you can do to keep you busy (and away from your phone).
Treat Yourself to a Guanajuato yoga Retreat
And finally, it wouldn't be a post about wellness in Guanajuato without including a Guanajuato yoga retreat now, would it! You will find yoga classes are readily available in both Guanajuato City and San Miguel De Allende. But if you want to take your yoga practice that bit deeper and your relaxation to another level, then consider doing a yoga retreat in Mexico. I found this 6-day cooking and yoga vacation available in San Miguel de Allende.
This blog post was sponsored by Guanajuato Tourism. However, as always, all opinions are my own.