Looking to treat yourself to a yoga retreat Mexico in 2020? Well, you are in luck as Mexico has a wealth of affordable yoga retreats. From luxury yoga retreats in a yoga resort Mexico to rustic beach yoga retreats that offer surfing and scuba diving for the more adventurous yogis.
Best Yoga Retreats in Mexico
In this blog post, I have handpicked my favorite affordable yoga retreats in Mexico in 4 of my favorite areas all of the retreats come highly recommended and are available to book online via Book Yoga Retreats. If you are not sure if you want to do a yoga retreat, or a yoga teacher training then read this first, and if you need some packing advice then take a read of this yoga packing list.
Ps if you need a travel yoga mat for your Mexico retreat? Then read my review first.
Not sure about doing a yoga Mexico retreat? I also have guides to yoga teacher training and retreats in Bali, Guatemala, and Colombia
Tulum Mexico Yoga Retreats
There is no shortage of Tulum yoga retreats, seriously! Just take a wander around the beach road and you will see an advert for yoga classes and retreats every few meters! Tulum and yoga go hand in hand. But be warned, because Tulum is such a well-known name as a beach yoga retreat venue you have to be careful to not overpay. Accommodation here can vary greatly from a tent on the beach to luxury 5* resorts, so be sure to look carefully before booking anything.
Each of the Tulum yoga retreats I've picked have great reviews and are good value for money as most of them as flexible retreats, so you can arrive any day of the week and in between yoga Tulum classes you are free to explore the local area.
Price from: $567
Number of nights: 3
Yoga Style: Hatha, Iyengar, Vinyasa, Yin, Restorative
Location: Tulum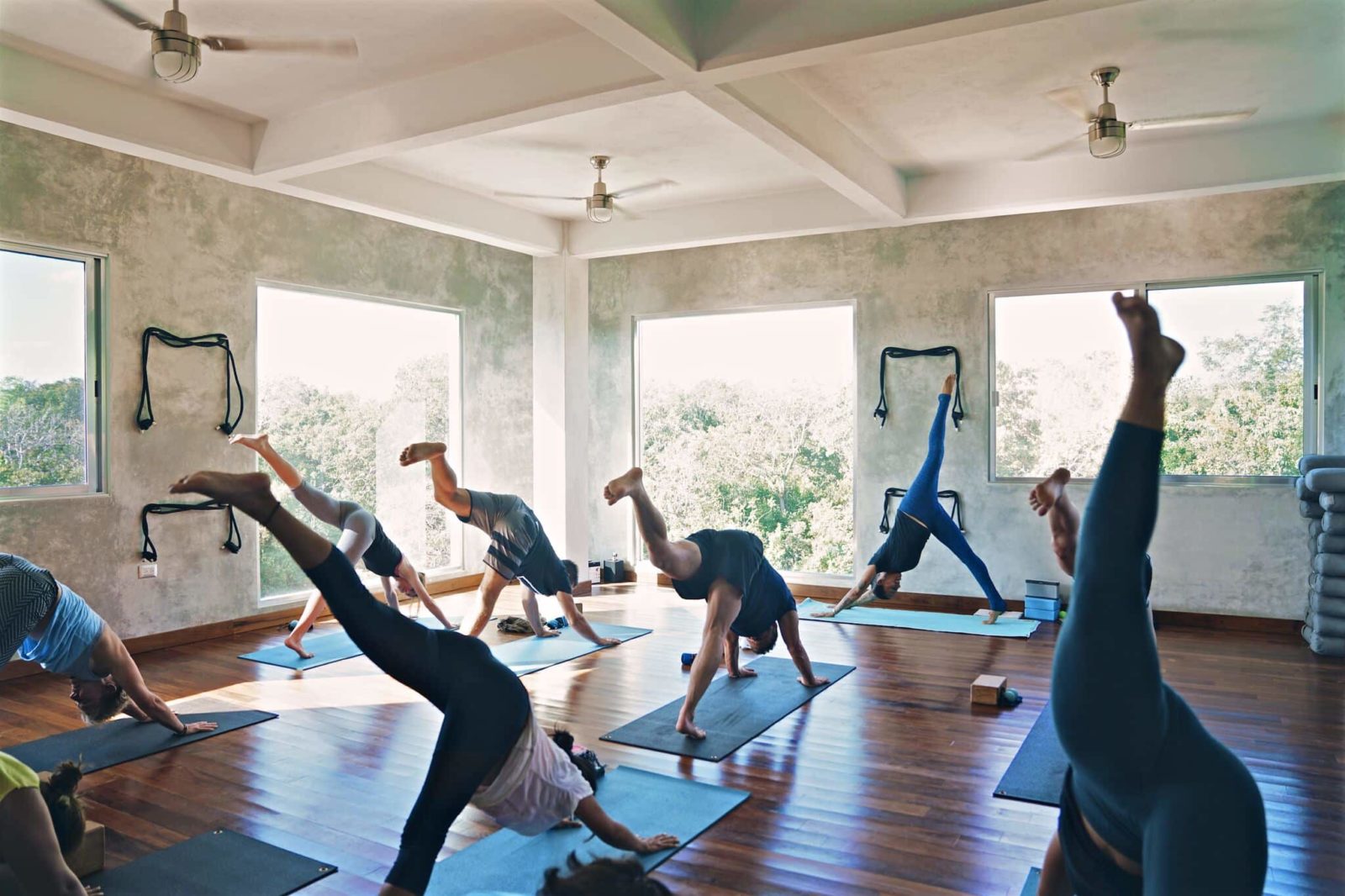 This Tulum Mexico yoga retreat is in a great location on the beach road between Tulum town and Tulum beach. The yoga studio itself is up on the 3rd floor with great views and beautiful wooden floors. Accommodation is close by in one of their 4 loft apartments which all have kitchenettes where you can prepare your own meals (the only meal that is included is a welcome continental breakfast). Yoga in Tulum is a big deal and this is one of the best Tulum yoga studios with world-class teachers.
The Tulum retreat includes 3 nights accommodation, bike hire, and you get a 15% discount if you want to do any scuba diving, free diving, or snorkeling excursions.
Each day you will have up to 4 yoga Tulum classes to choose from to help deepen your yoga practice. Yoga styles you can choose from include: Hatha, Iyengar, Vinyasa Flow, Mobility, Yin, Restorative, and Meditation practices.
Included in the retreat:
Unlimited daily yoga
Yoga mats and props
Accommodation in a beautiful loft apartment
Kitchenette with coffee maker and blender to prepare basic or raw meals
Bike to explore
15% discount on scuba, free diving, and snorkeling tours
Wi-Fi
Purified water
Coffee and tea
Welcome continental breakfast supplies in your fridge (granola, fruit, yogurt or almond milk, honey).
Linens and beach towels
Safe
Cleaning service
State and local taxes (16% IVA and 3% accommodation)
Honey shampoo and body wash
Check our their recent reviews on this Tulum yoga retreat.
Price from: $869
Number of nights: 6
Yoga Style: Hatha, Kundalini, Vinyasa
Location: Tulum
If you are looking for a longer Tulum yoga retreat and are up for a little Glamping in Mexico then this is the retreat for you. Don't bee fooled by the tents though, this is more of a luxury yoga retreat than a super basic camping experience. You will get 6 nights in one of their seven luxury glamping tents or in one of their private suites.
As well as 2 daily yoga Mexico sessions you will get a 1-hour full-body massage, 12 meals, and use of their bikes. The hotel is situated in Tulum town so it's a taxi or bike ride to the beach, but it does have a pool, a farm, a restaurant, a fire pit, Wi-Fi throughout, and of course, a yoga shala.
The shala itself is the biggest selling point for me as you will be practicing your daily yoga classes in the middle of the permaculture farm surrounded by their organic gardens. Each week the yoga schedule changes slightly but styles of yoga include Hatha, Vinyasa, and Flow and are held every day at 8:00 a.m. and at 7:00 p.m.
Included in this Tulum yoga retreat:
Yoga sessions twice daily (morning and afternoon) except on your arrival and departure date, when you will only take one class, and on Sundays when there is only a morning class
1 x 60 minute massage in the comfort of your room or in the massage room by the Shala
A bicycle during your stay for you to stroll down Tulum in your free time
6 nights' accommodation
12 meals
Read the latest reviews on this Tulum Mexico yoga retreat here.
Beach Yoga Vacations Mexico
Do you want to spend your practicing yoga on the beach in Mexico? Then one of these beach yoga retreats is for you. Puerto Escondido is one of the top surf and yoga destinations in Mexico, forget Tulum, here you will find a much more authentic (and budget-friendly) experience, plus unlike the Riviera Maya, there is great surf in this area. Another top beach destination in Mexico is Puerto Vallarta, also on the pacific coast on Mexico, but here you will find life a lot less rustic and much more in line with places like Playa del Carmen and Cancun.
Both places have a lot to offer, but if you want a little more luxury then choose Puerto Vallarta.
6 or 15 Days Yoga and Surf Camp in Puerto Escondido, Mexico
Price from: $273
Number of nights: 5
Yoga Style: Hatha Yoga & Surfing
Location: Puerto Escondido
Price from: $508
Number of nights: 14
Yoga Style: Hatha Yoga & Surfing
Location: Puerto Escondido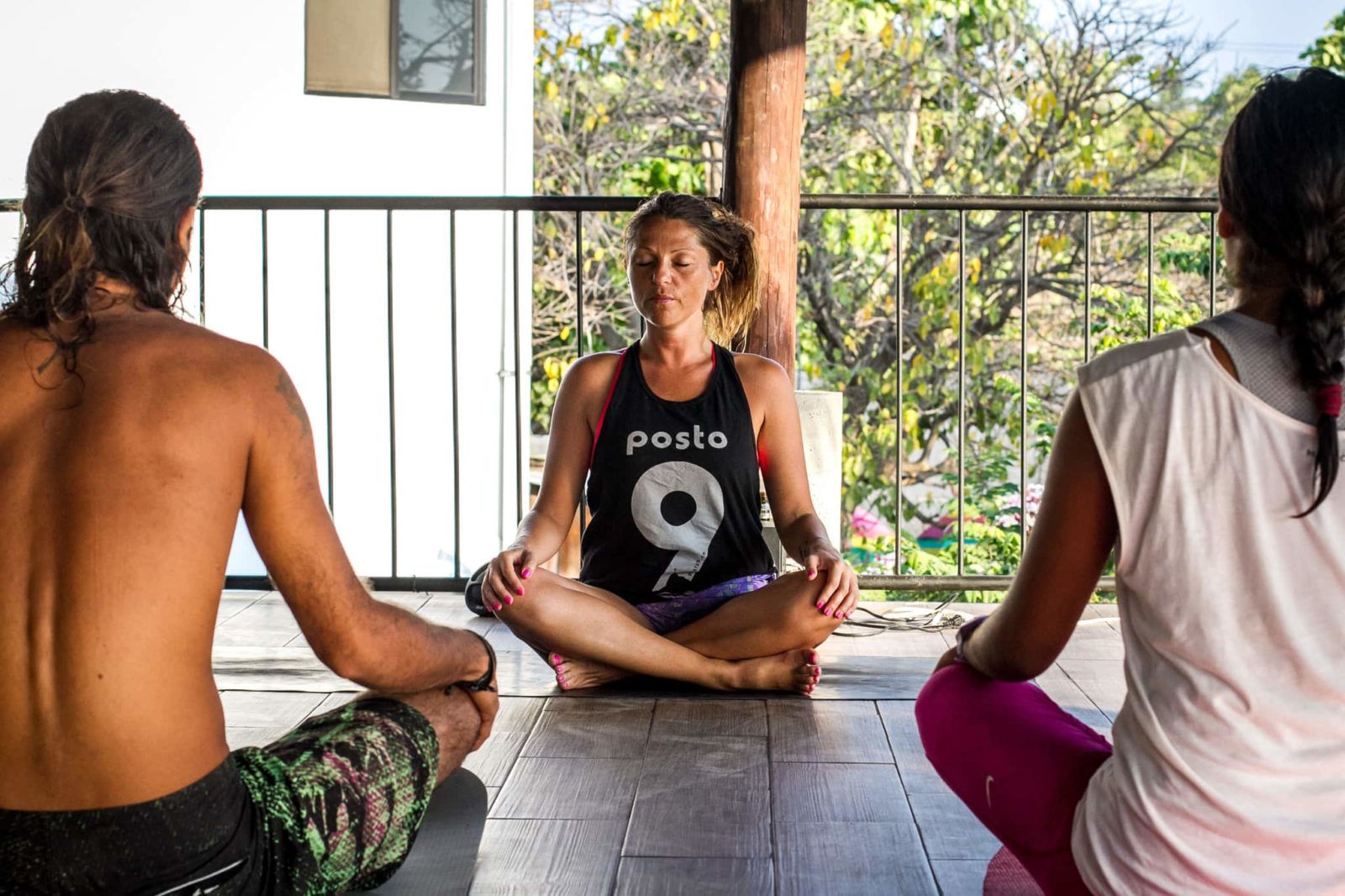 If you want to do yoga in Mexico whilst learning a new skill then this surfing and yoga retreat Mexico is for you. It's actually more of a surf camp Mexico than a serious yoga retreat, but it does look like a lot of fun and it is great value for money… in fact, ist one of the best budget yoga retreats Mexico you are likely to find! It is also a very safe destination, especially for solo female travelers. Choose this affordable yoga retreat Mexico if you want your money to go a long way!
No matter your skill level, they will be able to accommodate you at their surf camp. You will get daily 2-hour surf lessons and there are yoga classes available every Tuesday, Wednesday, Thursday, and Sunday from 6:00 p.m. to 7:00 – 7:30 p.m. The classes are Hatha and aimed more for beginners as a way to complement your surfing lessons.
Included in the 6-day beach yoga retreat:
Photo session
5 surf lessons
3 yoga classes
5 nights accommodation
Airport transfer
Included in the 15-day beach yoga retreat:
Photo session
10 surf lessons
6 yoga classes
14 nights accommodation
Airport transfer
Check recent reviews for the 6 day Yoga and Surf Camp in Puerto Escondido, Mexico
Check recent reviews for the 15 day Yoga and Surf Camp in Puerto Escondido, Mexico
Price from: $999
Number of nights: 7
Yoga Style: Anusara, Bikram, Kundalini, Vinyasa, Yin, Integral, Aerial, Bhakti, Ananda, Zen, Chakra, Therapeutic
Location: Puerto Vallarta
What's included:
2 yoga classes daily by expert teachers
3 daily, chef-prepared, nutritious and delicious meals
1 snorkel guided adventure to Los Arcos
a hike to beautiful waterfalls
1 day of Seva – guided community service
Transportation and escort to and from all activities
Use of your villa's private pool and the community's common pool
7 nights accommodation
Included excursions:
Snorkeling at Los Arcos: You will take a boat to Los Arcos and explore beautiful tropical fauna
Hike up to beautiful waterfalls
Giveback day: You will go to to a school, hospital, or community center in need and help transform it
Puerto Vallarta is one of the top seaside destinations in Mexico, and it is easy to see why. Next to the jungle but overlooking the pacific sea, what better place to relax and unwind than here? This wellness retreat Mexico is the perfect escape where you can enjoy 2 daily yoga classes with views of the mountains and the bay. When you aren't practicing yoga you can enjoy one of your gourmet meals, take a walk on the beach, or simply relax by the pool.
Staying here is not like staying at a typical yoga retreat center, here you are accommodated in a fully-staffed, open-concept jungle villa surrounded by lush vegetation which makes it feel almost as if you are staying in a luxury treehouse.
Check recent reviews for this luxury yoga retreat
Price from: $1,599
Number of nights: 7
Yoga Style: Hatha, Vinyasa
Location: Puerto Vallarta
Now although all of the yoga vacations in Mexico on this list would be great for solo female travelers, this one is specifically crafted just for women looking to escape to Mexico and reconnect with your body, mind, and spirit. The Single Yogini retreat was designed to provide an opportunity to meet other health and yoga enthusiasts while staying at the yoga resort Mexico.
What makes this one of the best yoga retreats in Mexico is that all accommodation is beachfront palm-thatched cabins floating on stilts, tastefully decorated and furnished by local artisans. You will get 2 yoga classes per day plus 3 delicious daily meals a guided jungle trek, plus a surf or stand-up paddleboard lesson. Oh, and of course a 90-minute massage!
The yoga retreat center is located in a place called Xinalani which is about 12 miles south of Puerto Vallarta Airport and is only accessible by boat. Xinalani is a unique retreat center in Mexico set on a pristine beach serving up healthy gourmet style meals of afresh fish, seafood, and on occasion chicken.
What's included:
a complimentary Into the Wild jungle trek
1 daily courtesy margarita (or equivalent in value)
a surf or stand-up paddleboard lesson
1 90 minute deep tissue massages (or equivalent in value)
2 complimentary uses of surf or stand-up paddleboards (2 hours each day)
2 yoga classes per day
7 nights lodging
Delicious breakfast, lunch, and dinner each day and freshly made non-alcoholic beverages.
Shuttle Service (PVR Airport to PVR Airport round trip)
Price from: $2,123
Number of nights: 7
Yoga Style: Vinyasa, Restorative, Ashtanga
Location: Troncones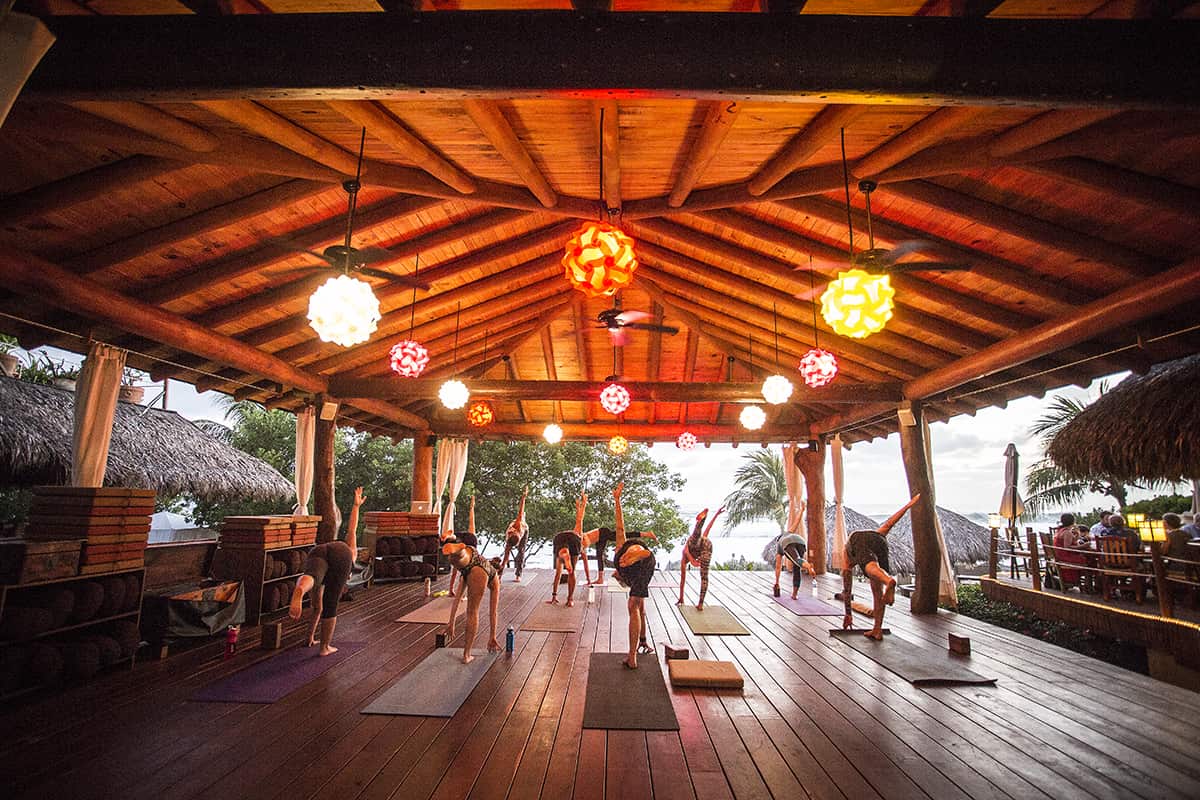 This Restore & Refresh wellness retreat Mexico is one of a kind. The term 'off the beaten path' gets knocked around a lot, but with this retreat, that is exactly what you are going to get! Troncones an underdeveloped beach village in Mexico that most people have never even heard of in the shadows of the Sierra Madre Mountains.
Yoga vacations Mexico don't get more relaxing than this if you are looking to escape from the crowds and enjoy deepening your yoga practice while being accommodated in your own private hand-thatched oceanfront bungalow with views of the Pacific Riviera and the Sierra Madre Mountains.
What's included in this wellness retreat Mexico:
Daily morning meditation
Unlimited yoga classes
2 massages
1 adventure tour
1 Wellness counseling session
7 nights accommodation in their yoga resort Mexico
Gourmet breakfast and dinner
Present Moments Luxury Yoga Retreat also includes massage treatments, a wellness consultation, plus breakfast and dinner. If you have any dietary requirements then you will need to let them know as meals will include meat and fish.
Spiritual Retreat Mexico
Price from: $372
Number of nights: 2
Yoga Style: Hatha
Location: Tepoztlán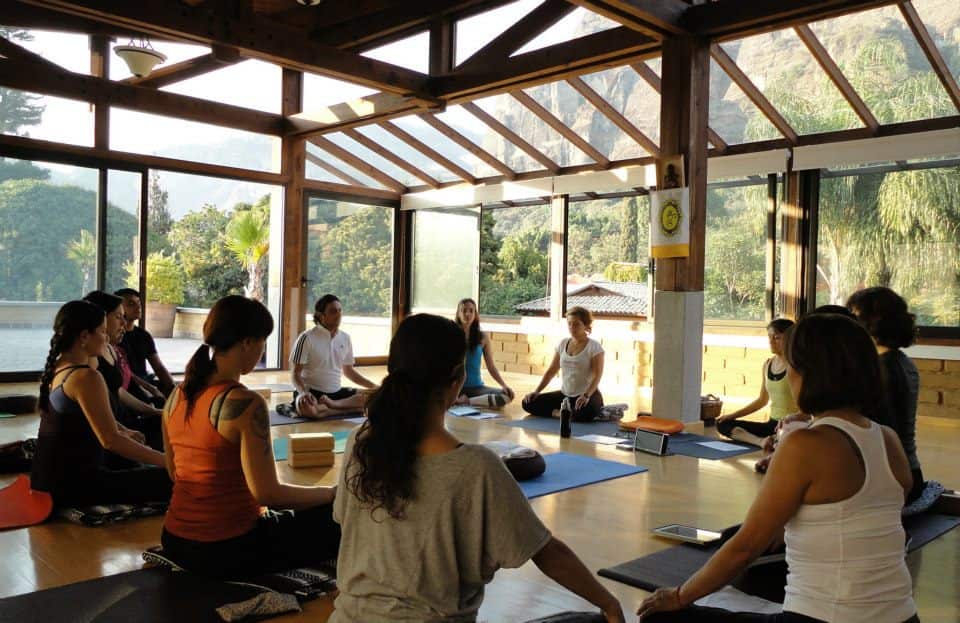 This is a short wellness retreat Mexico perfect if you are looking to relax and recharge for a few days somewhere close to Mexico City. The magical Mexican town of Tepoztlán is located at the foot of the Tepozteco mountain just 75 kilometers (46 miles) south of Mexico City.
Over the spiritual retreat Mexico weekend, you will be treated to 2 yoga classes and a meditation class plus 3 meals each day as well as 1 massage over the weekend.
What I love about this weekend retreat is that they can accommodate groups here with up to 6 people being able to share a room if booked together. This would be the perfect weekend break for groups of friends looking to spend a weekend relaxing together.
What's included:
2 yoga classes daily
meditation class daily
1 massage
1-day use of vitality pool
3 vegetarian meals a day
Pool access
2 nights accommodation
Check recent reviews for the retreat
Are you ready to book your trip?  To help you get the best deals and service here are the companies that I personally use to book all of my travel online. I always shop around before booking anything, but these are my tried and tested starting places.