Guanajuato, officially the Free and Sovereign State of Guanajuato, is home to some of Mexico's beautiful Pueblos Magicos (Magic Towns) including Guanajuato's capital, Guanajuato city. Its history, architecture, and silver mines are recognized by UNESCO, making Guanajuato city one of Mexico's 35 UNESCO World Heritage Sites.
Guanajuato is known for its colonial architecture, museums, and historical sites. The city was founded by Spanish miners during the colonial era and is one of the oldest cities in North America. It's also home to many artisans who produce silver jewelry and other crafts in local shops called tianguis. From its rich history to its beautiful architecture and culture, you'll find something new to do in Guanajuato City every day of the year.
Below, I have listed some of the best things to do in Guanajuato, Mexico, from visiting the local Mummy museum to enjoying a yummy and relaxing affogato at one of Guanajuato's traditional restaurants.
Here are some of the best things you can do while you're in Guanajuato, Mexico:
Did You Get Travel Insurance Yet?
If 2020 taught us anything, it's that you need to be prepared for anything! Travel insurance has always been high my list of things to get before I travel but now more than ever its at the top of my list.

I'm pretty sure we have all had travel plans messed up because of COVID and not all insurers covered this. So when looking for travel insurance it's important to check it covers travel disruption due to COVID-19, Hey Mondo, Passport Nomads, Safety Wing, and Travel Insurance Master all provide cover for this.

Hey Mondo is great if you are looking for a great value flexible policy. They offer single trip cover, annual multi trip cover, and long term travel cover. You even have the option to start the cover when you are already on your trip, although you won't be covered for the first 72 hours. For me my favourite feature is their app which offers you a 24/7 Dr chat and the ability to file a claim direct in the app.

Passport Nomads provides the most comprehensive cover for Digital Nomads. The game changer with them is that you have a red card and if you find yourself in need of medical care you just contact them and they will pre load your card with the funds to cover your treatment, meaning you won't need to pay out of pocket and then put in a claim later.

Safety Wing is great value with monthly cover starting at $39. It's super easy to use and it just renews each month. They have an excess of $250 and it's simple to make a claim through their website. I currently use them as they offer me free cover for my son as part of my policy and I like that it renews on a monthly basis, so I don't have to pay out a big lump sum up front.

I also use Travel Insurance Master for some short vacation type trips.

If you are doing shorter trips or an extended backpacking trip then Hey Mondo or Travel Insurance Master are the best option. If you are a digital nomad or planning travel of at least 6 months then go for Passport Nomads or SafetyWing.
1. Wander the streets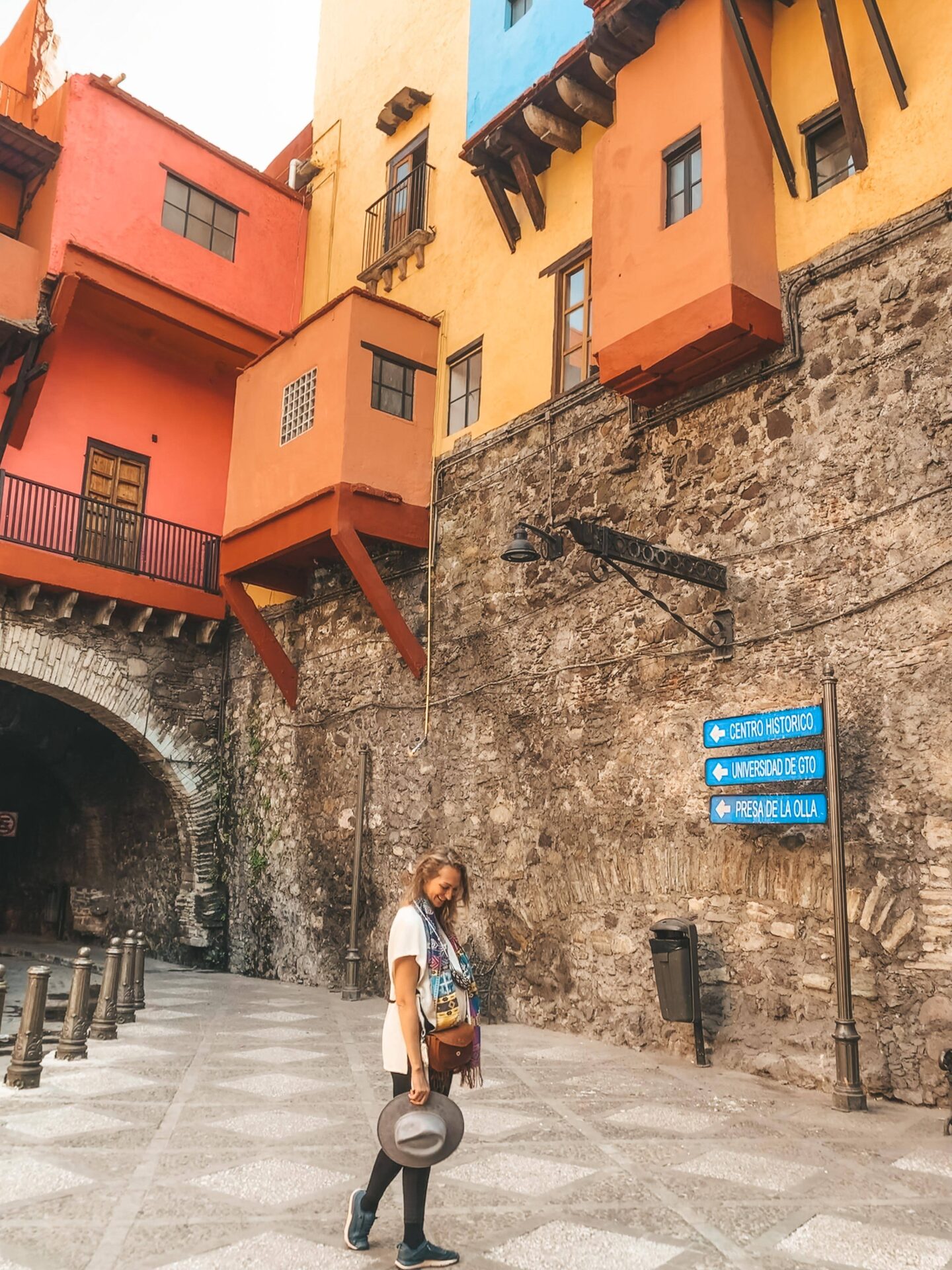 The city of Guanajuato is filled with narrow cobblestone streets, colorful buildings, and plenty of parks, which all make it an ideal place and one of my favorite things to do to walk around and explore.
You can take a tour of the historic center that has been declared a National Historic Monument, visit El Jardin (Jardin de la Union), the main plaza of Guanajuato City, or explore the city's famous murals – you can find them scattered throughout the city, especially in La Bufa where many artists have painted on walls around the entire neighborhood.
2. Food tour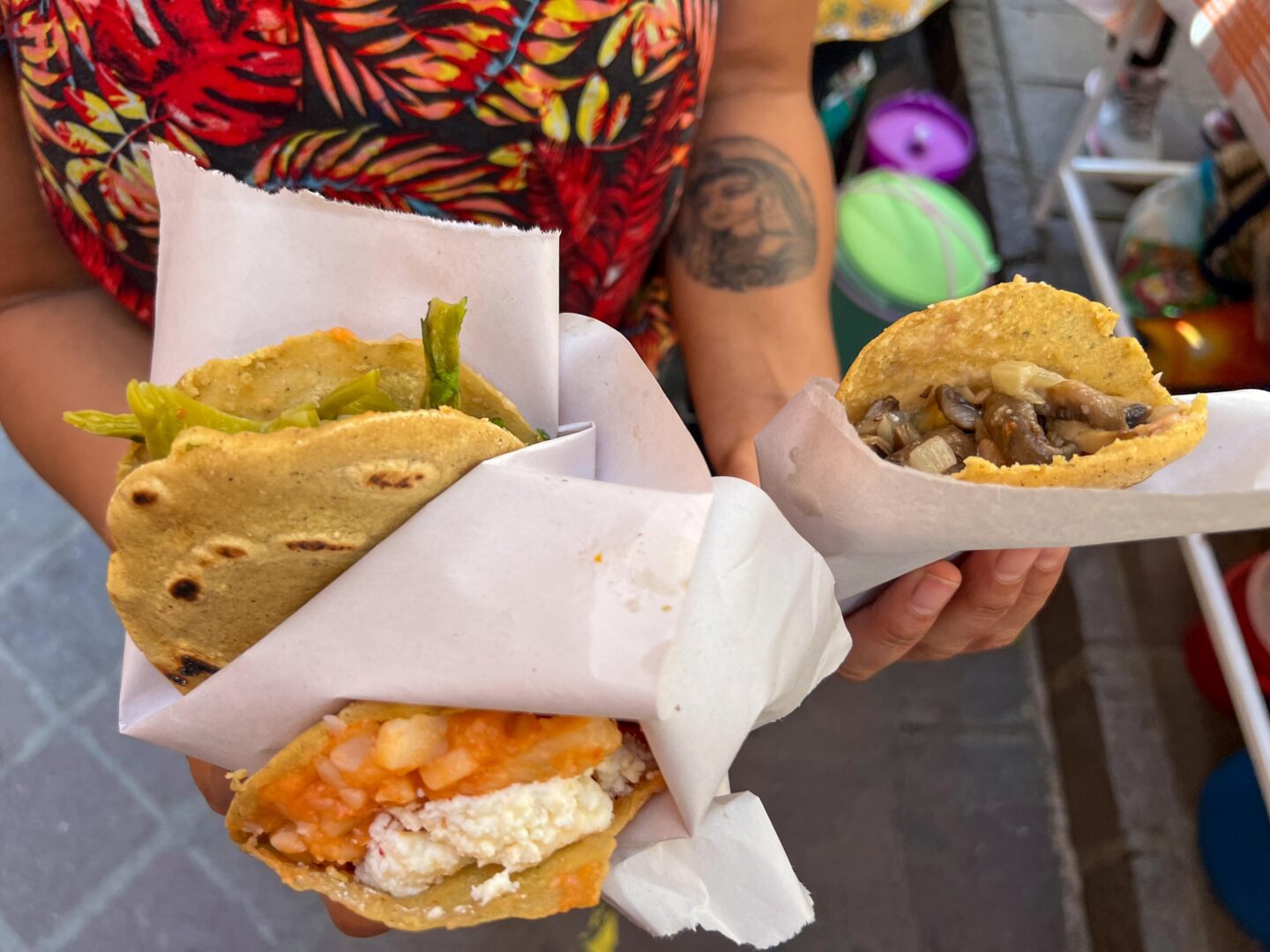 The city of Guanajuato is known for its delicious street food, and there's no better way to experience it than a guided street food tour!
By taking a street food tour of Guanajuato, you get to visit some of the best restaurants in town and try traditional dishes made with local ingredients and served with a side of culture and history. You'll learn about how Guanajuato has been influenced by its many cultures over time and how that shows up in its cuisine. You'll also have fun meeting new people from around the world and getting a taste of what makes this city so special. I did this tour on my last visit to Guanajuato and loved it.
3. Visit the theater
Cultural and artistic activities are always a great way to spend your time in Guanajuato. The city of Guanajuato is home to a number of theaters, including Teatro Juárez and Teatro Principal, where you can stay entertained at night with a live performance of various plays and musicals.
4. Momias museum
If you're looking for cultural activities and things to do in Guanajuato, Mexico, make sure to visit Museo de las Momias (Mummy museum), where you can learn about the city's history. The city of Guanajuato is famous for the Mummy Museum but it is in no way a family-orientated attraction – the collection includes mummified fetuses and babies, too.
The mummies present in the museum are not ancient but from the turn of the last century. They're a number of naturally mummified bodies interred during a cholera outbreak that took place around Guanajuato in 1833.
It's probably one of the weirdest and creepiest things I've ever seen. But it's also very interesting and worth a visit… maybe go before breakfast though!
5. University of Guanajuato
The University of Guanajuato is the oldest university in Mexico which was established in 1732, making it one of the oldest universities in Latin America. You can take a tour of this historic university and learn all about its rich history and architecture while in Guanajuato.
6. Callejón del Beso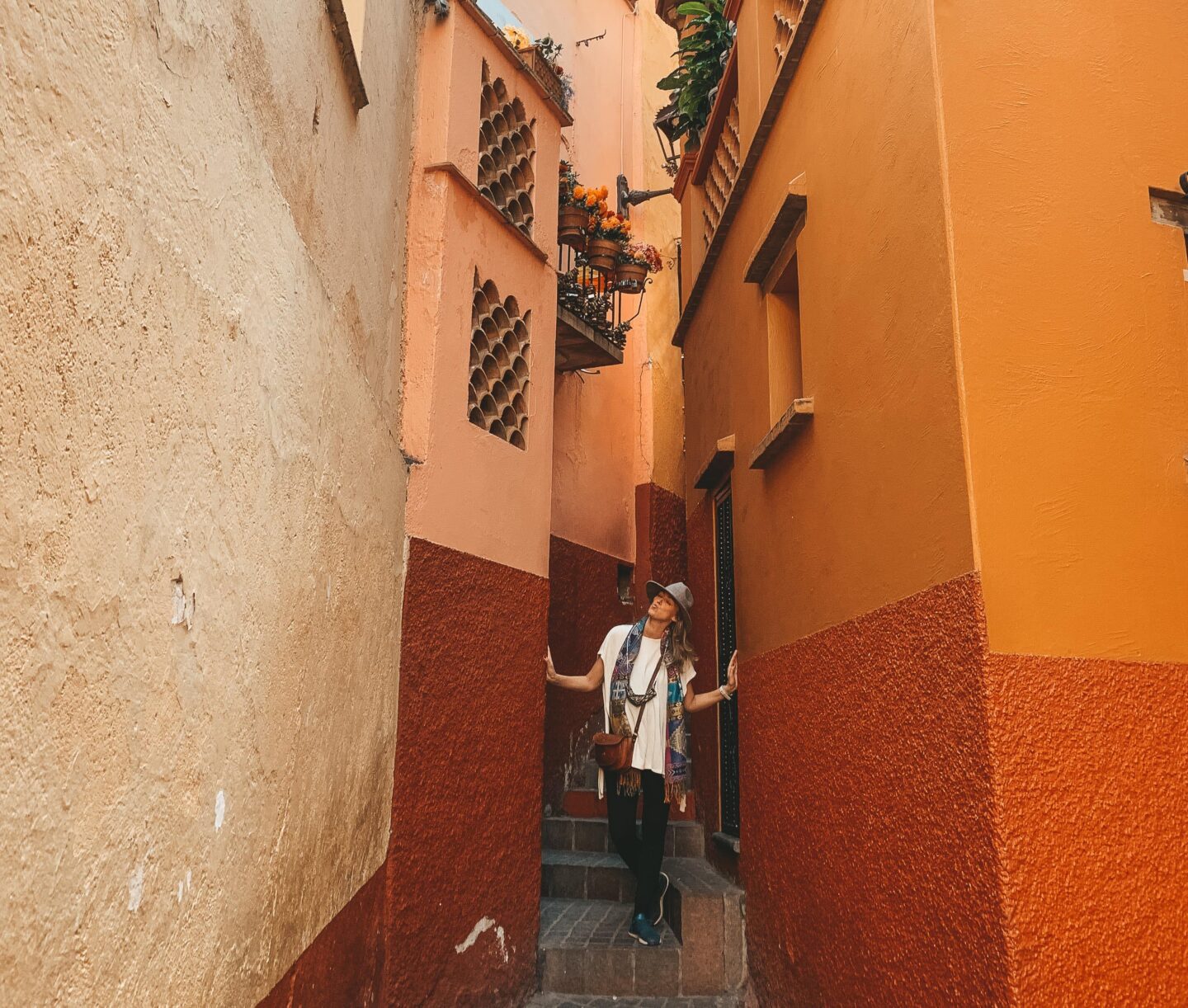 The historic Callejón del Beso is known for its narrow cobblestone streets and beautiful architecture. The narrow alleyway is filled with brightly colored buildings, making it one of the most popular spots around the city for taking photos.
7. Callejoneada
If you're looking for something fun to do with your friends or family over the weekend, consider attending one of Guanajuato's Callejoneadas, they're always a blast! This time-honored tradition happens each evening at different times starting from 6:30 pm.
You will need to buy a ticket from one of the street sellers for the time you want, prices are between $100-150 pesos per person. You will find many people selling tickets around the central park area by the theatre. This is the area you will need to return to at your allotted time for your Callejoneadas experience.
As a non-Mexican, I didn't know any of the songs, but it was still a lot of fun. You sing you dance, and you take a short tour of the city. Stopping along the way for some beers, some stories, and a lot of laughs.
This experience really makes the nightlife in Guanajuato stand out. Every night is a party here!
8. Basilica of Our Lady of Guanajuato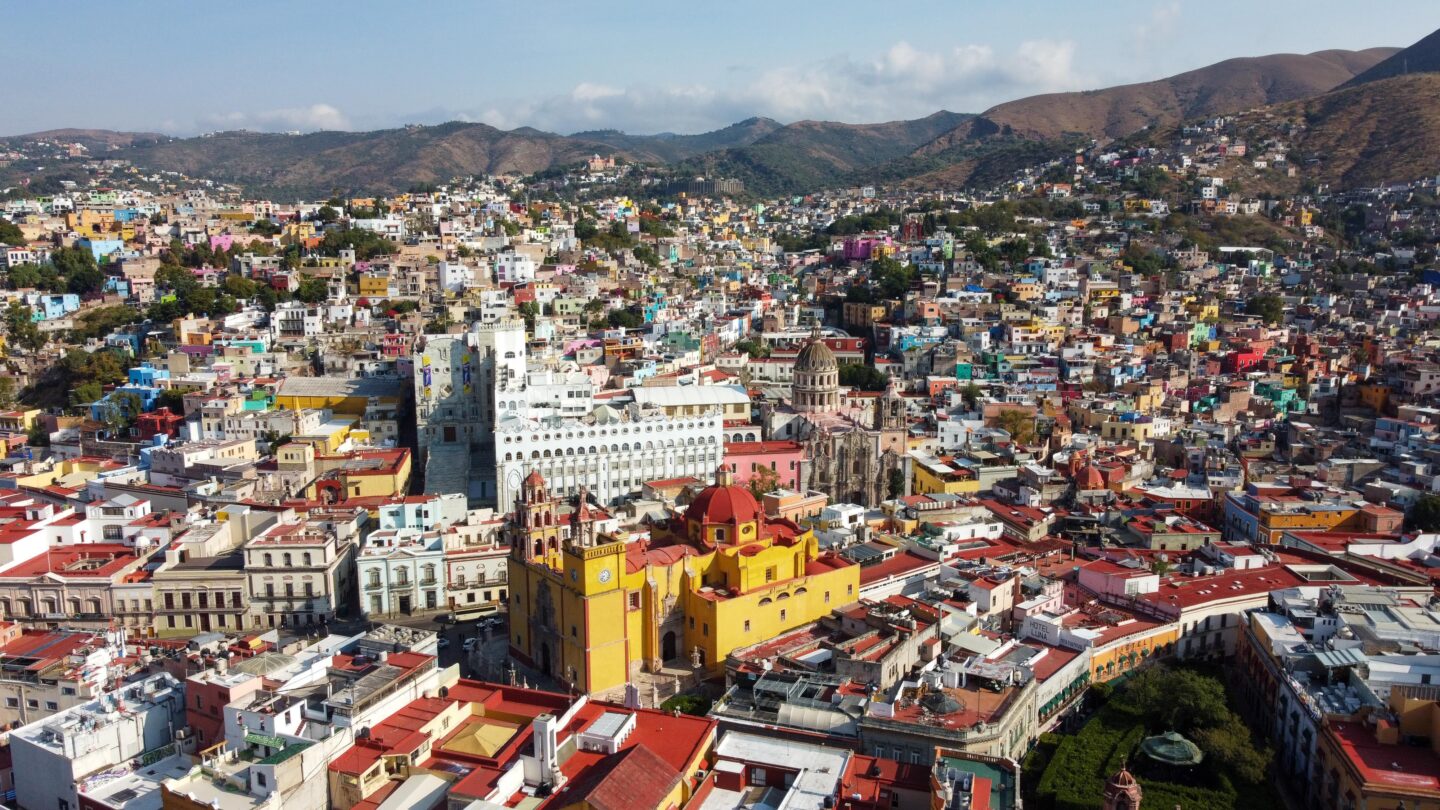 This beautiful baroque church of Our Lady of Guanajuato is one of the oldest churches in Mexico, famous for its ornate interior. It's also known as one of the most emblematic structures in the city of Guanajuato. The church is located in the Plaza de la Paz and has had the distinction of basilica since 1957.
9. Cristo Rey viewpoint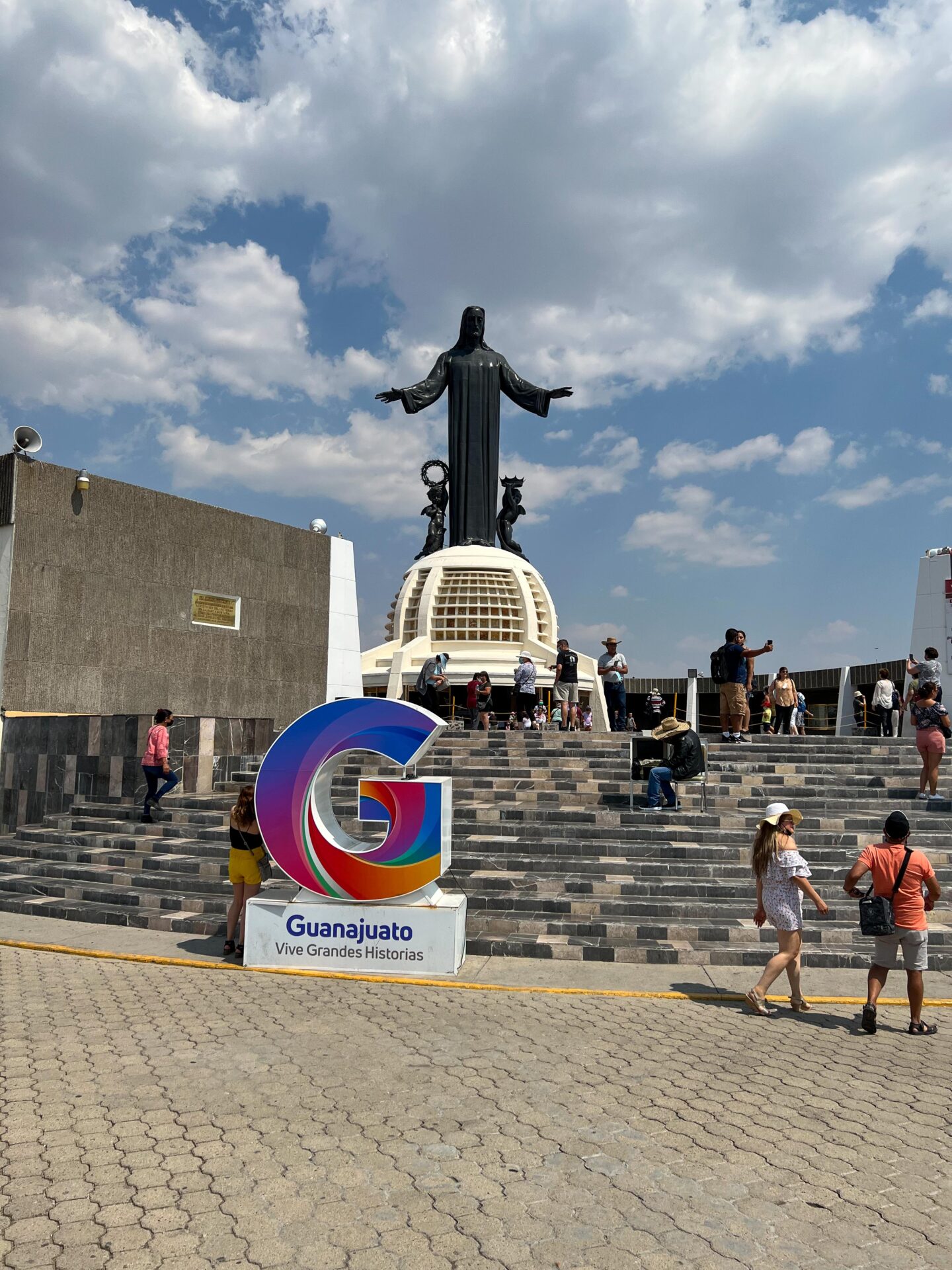 The Cristo Rey viewpoint provides a breathtaking view of Guanajuato City and its surrounding areas.
Getting up there is a bit of a mission, but totally worth it! We drove up in our car and I was pretty nervous as it did get pretty steep in some areas. But it was easy to park up there and I was grateful to not have had to be on a but haha.
That said, the easiest way to get up there without your own car is to take a tour. You will see tours to Cristo Rey advertised all over Guanajuato and they are all pretty much the same price. You can of course take the public bus, but it will take a lot longer and probably isn't worth the saving for the time you will wast.
Once up there the view is absolutely stunning, and you just can't help wondering how on earth they got this huge statue up that hill.
10. La Pipila / Funicular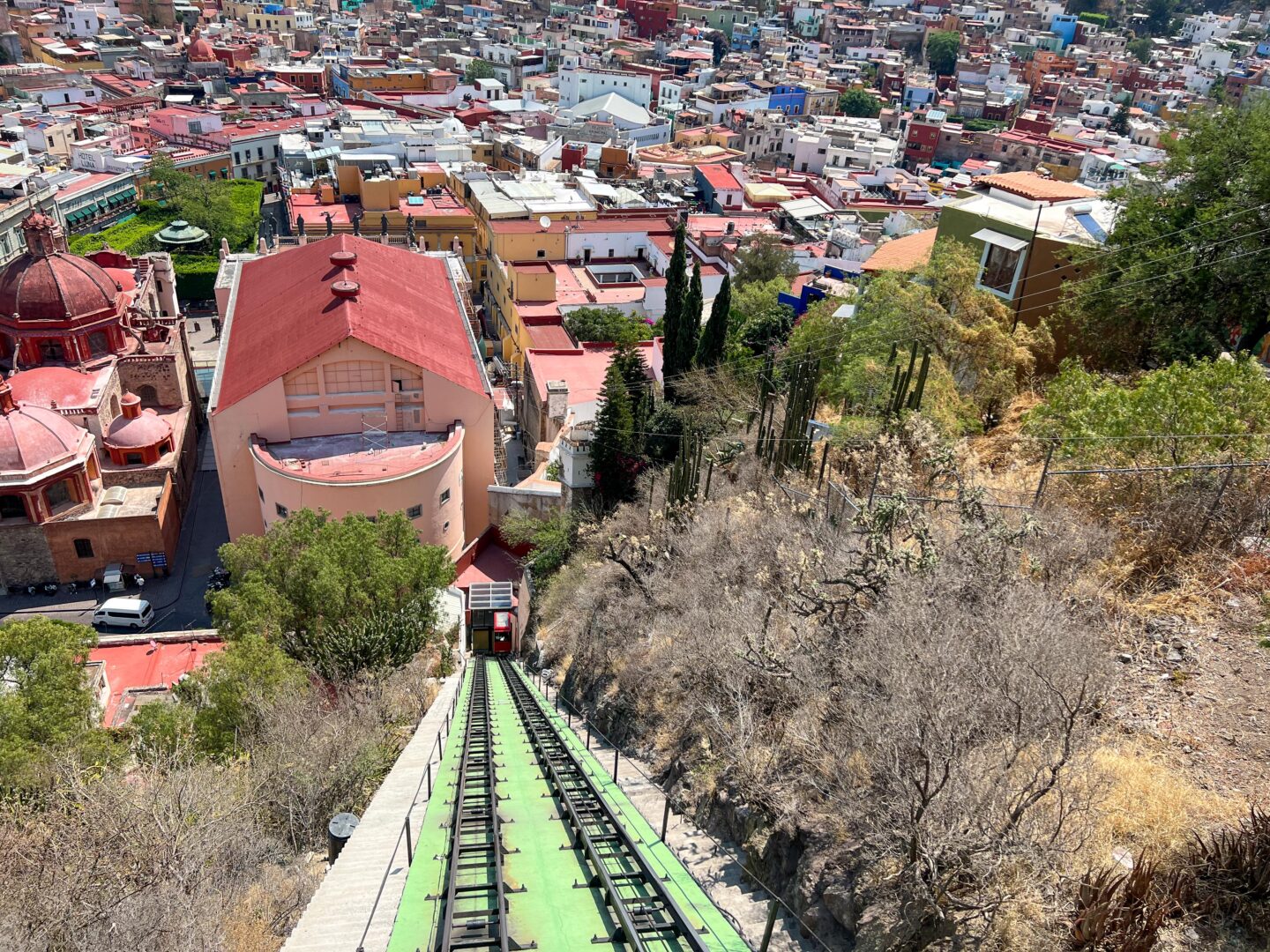 Another must-do while in Guanajuato, Mexico is visiting the monument of La Pípila where you can take the Guanajuato Funicular which provides a cheap and scenic way to climb up the hillside to the Monumento Al Pipila.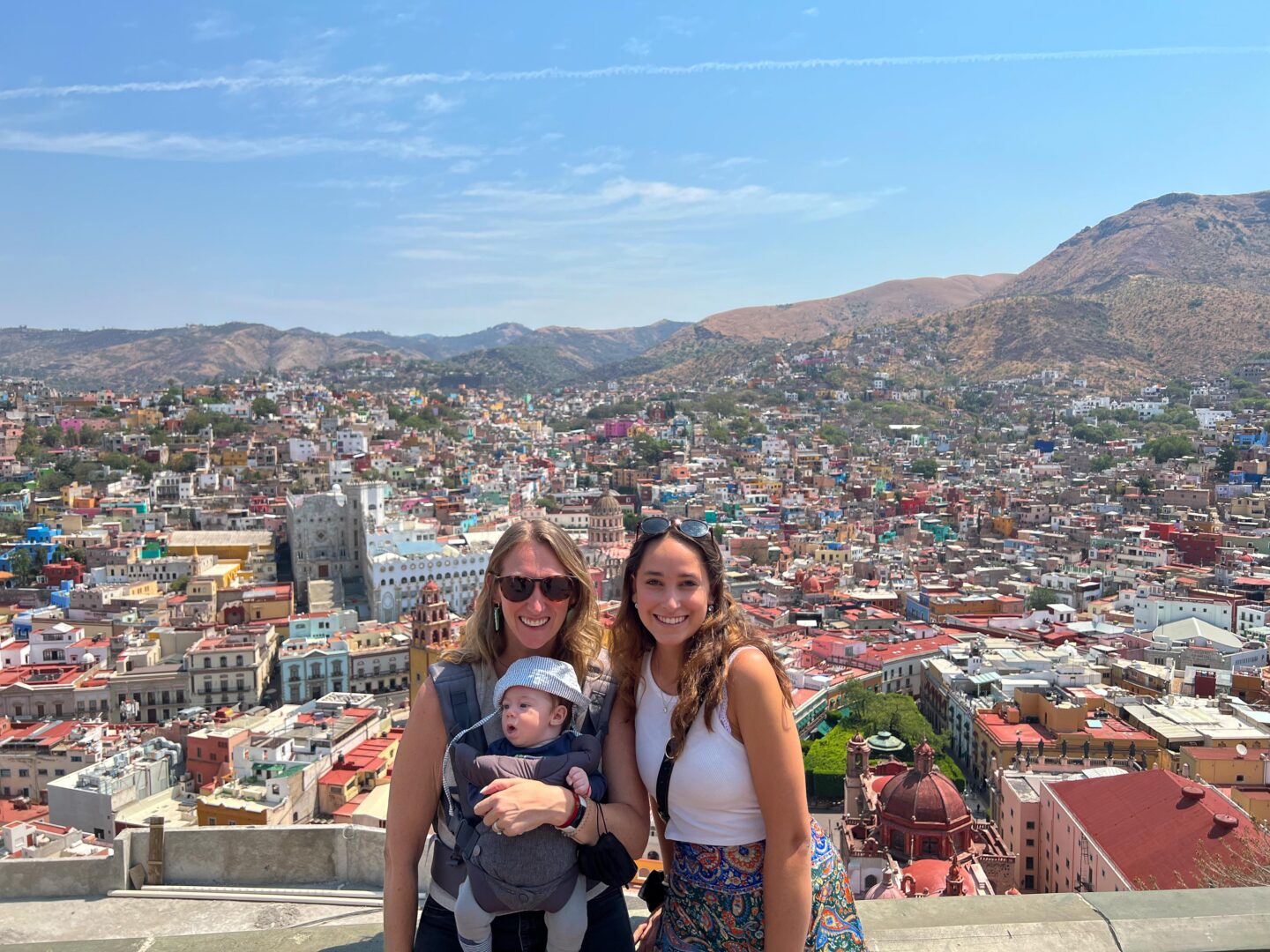 The park also has an amazing view of the city from above.
11. Visit the spas
Another thing you should definitely add to your list of things to do in Guanajuato City is going for a spa experience. Relaxing in a spa after a long day of exploring is always a good idea! For those looking to experience something luxurious, I'd recommend Sense, A Rosewood Spa, a truly magical place surrounded by a tropical forest. If you're looking for something more affordable, try Shanti San Miguel which offers massages at a very reasonable price.
12. Calle de Sopeña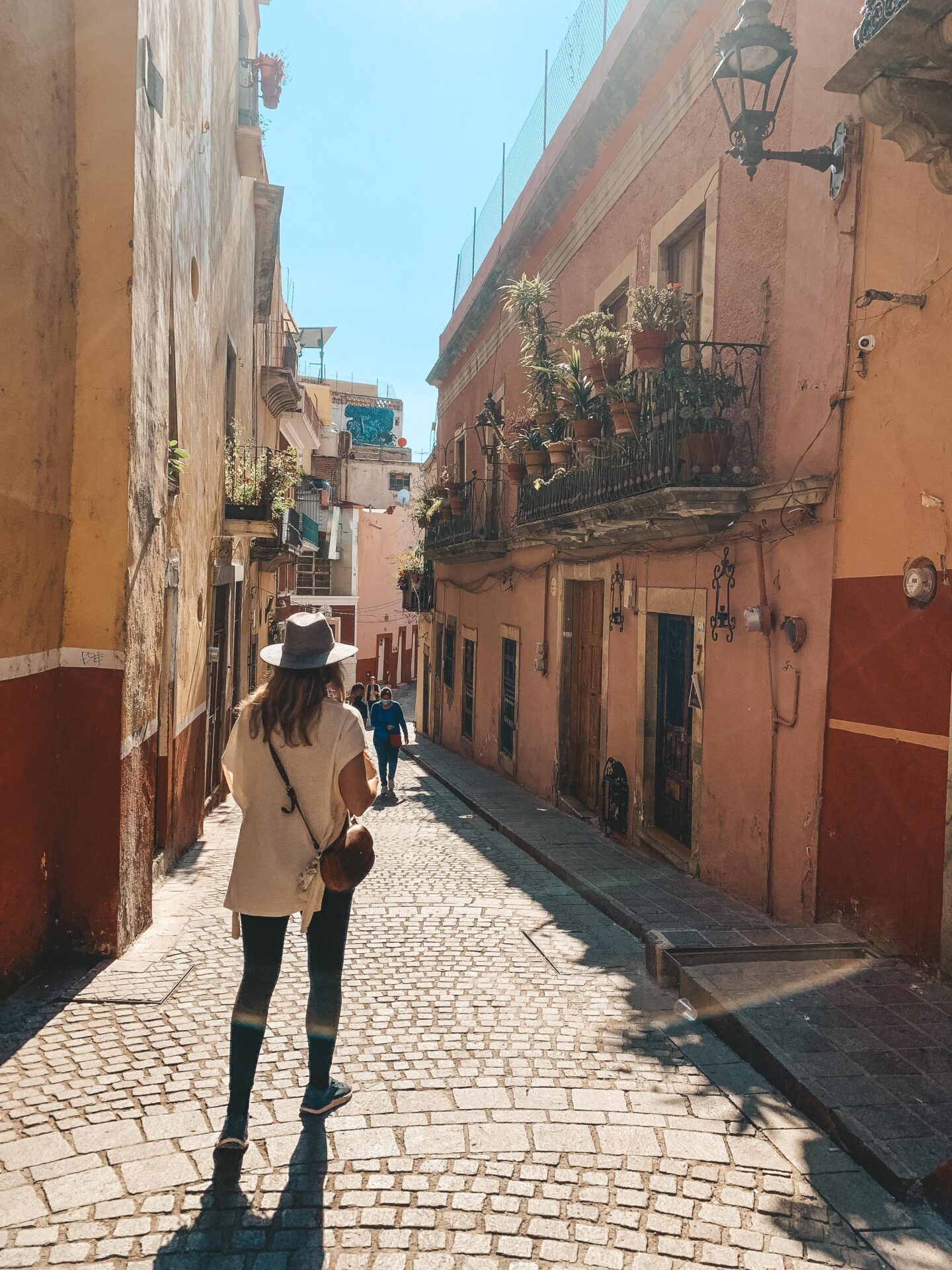 Calle de Sopeña is probably the most picturesque street of the city of Guanajuato City, and having your photo taken is definitely one of the coolest experiences and things to do in Guanajuato, Mexico. Calle de Sopeña is also filled with restaurants and bars where you can have a drink and watch the street artists perform.
13. Calle subterranean
Calle subterranean is an underground passageway that leads from the main plaza down to the Basilica of Our Lady of Guanajuato. It's a great way to get an introduction to the city's history without having to worry about traffic or crowds. This underground street is perfect for exploring at night when it's lit up with beautiful bright lights.
What to wear in Guanajuato
14. Diego Rivera museum
The Diego Rivera Museum showcases the work of the famous Mexican artist Diego Rivera (and also the husband of the equally famous Mexican artist Frida Kahlo), including his murals which are on display throughout the city. It also features temporary exhibits from other artists and photographers so there's always something new to see. The museum features murals by Diego Rivera himself as well as works by other artists who were influenced by him.
15. Iglesia de San Diego
Built around 1663, Templo de San Diego is considered the first monastery that existed in Guanajuato. The original church was destroyed in a giant flood, and the monastery that was adjoined to the church was never rebuilt.
16. Templo de San Francisco
Built by Franciscan monks in 1741, Templo de San Francisco is full of beautiful frescos and there's even a small museum on-site where you can learn about the history of the people who lived here during the colonial period.
17. Mercado Hidalgo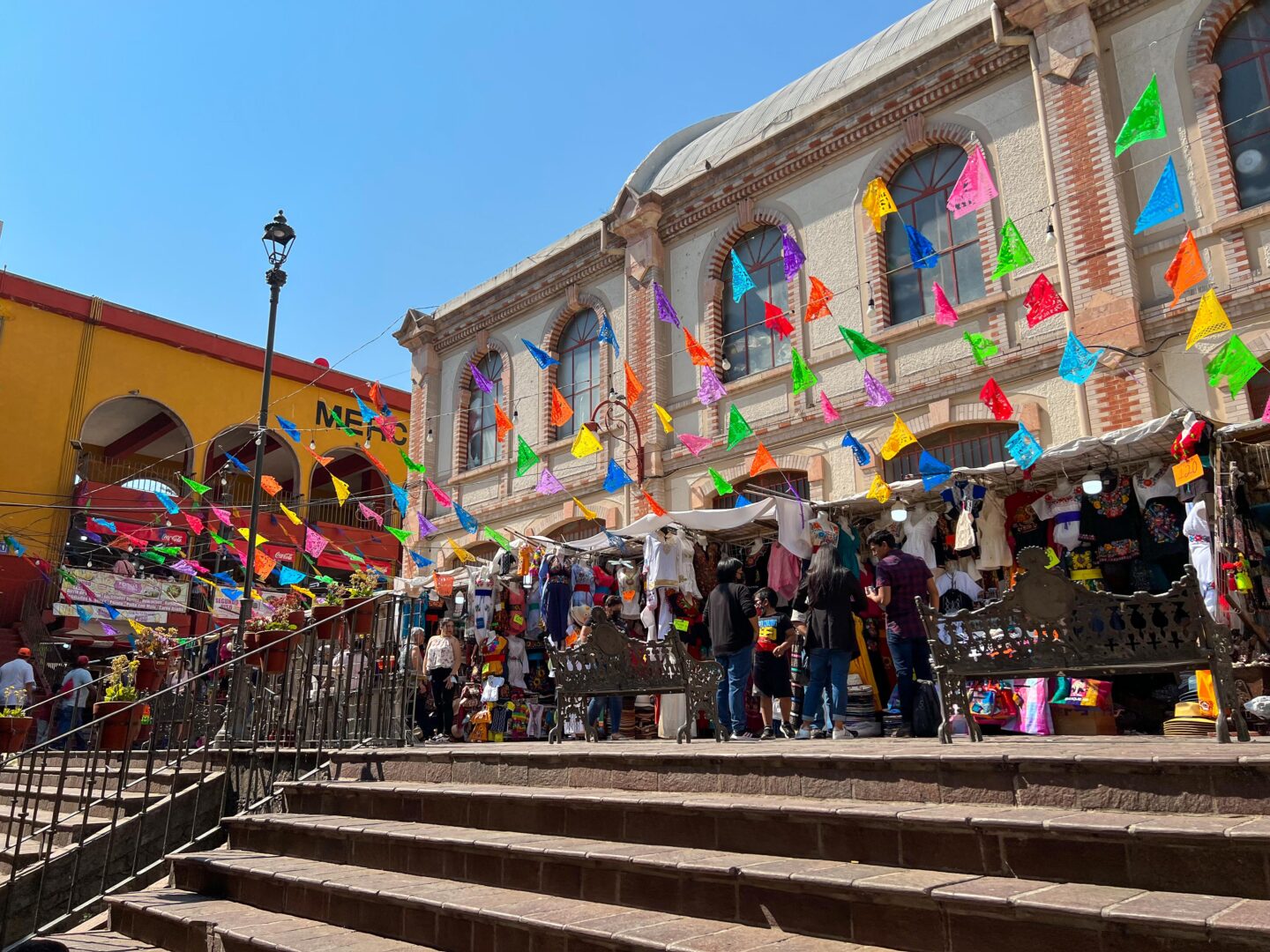 Head over to Mercado Hidalgo for some delicious street food stalls and restaurants selling traditional dishes such as sopes (tortillas topped with meat or cheese) and guacamole. It's the best place to grab some authentic Mexican food as it's one of the most popular places to shop in town where you'll find everything from fresh produce to handmade crafts and clothing.
18. Plaza de la Paz
Check out Plaza de la Paz where you can take in the city from above and enjoy the beautiful views of its historic buildings. The Plaza is where most locals gather for lunch or just for some fresh air during the day. It's also home to a monument designed by Mexican artist Jesús Contreras, which serves as a memorial for the Mexican war.
19. Alhóndiga de Granadita
Alhóndiga de Granadita is where the first victory for Mexico's independence took place in 1821. The name Alhóndiga translates roughly from both Arabic and Spanish as grain market or warehouse. This building was once used as a grain warehouse but now serves as an event space for weddings, dances and concerts.
20. Drink an Affogato in El Horla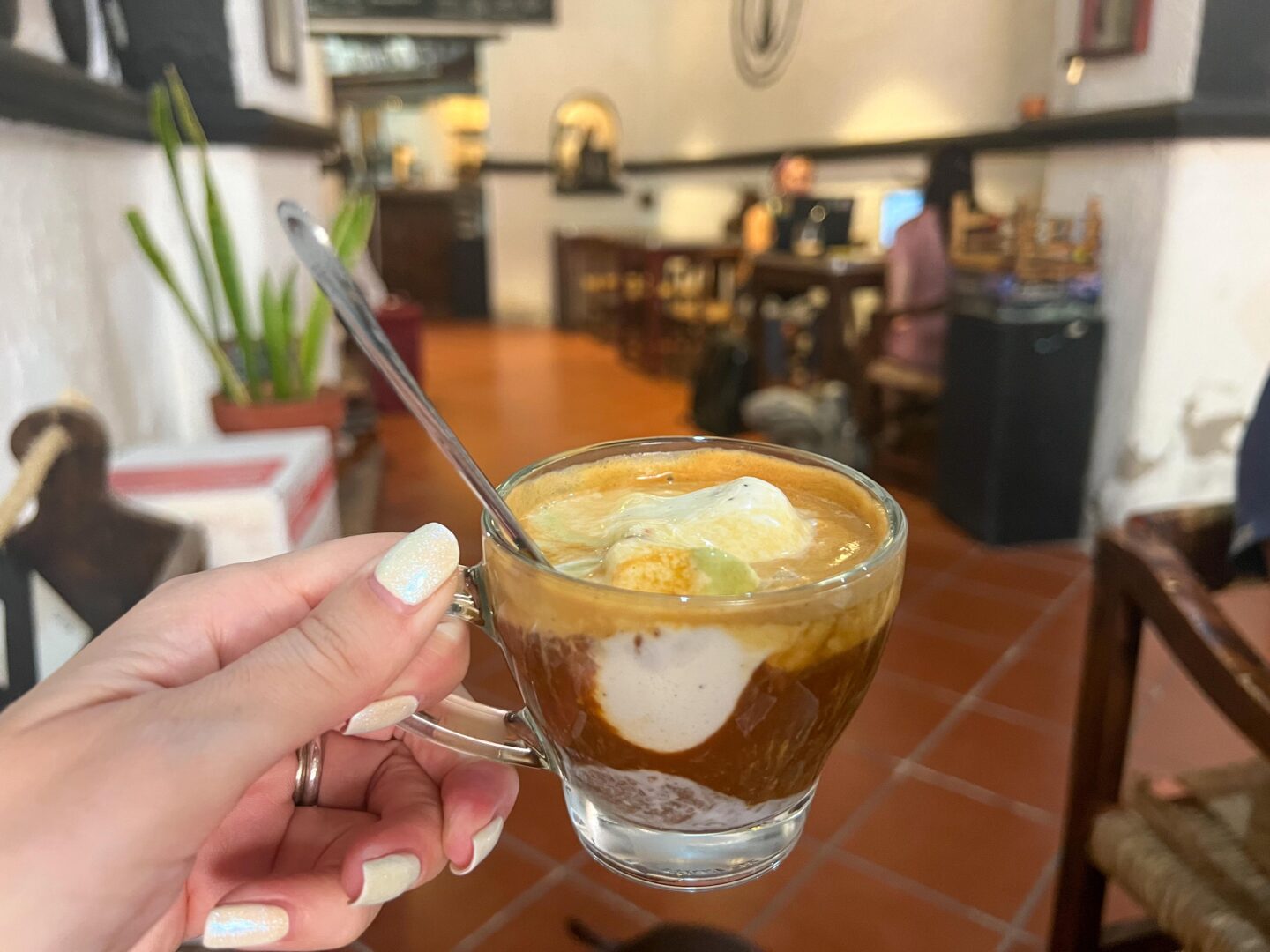 You'll definitely want to stop by El Horla for an affogato, a scoop of vanilla ice cream topped with hot espresso. Trust me, this ice cream drink will be a perfect way to cool off after your day of exploring! El Horla is one of the most popular cafés to just sit back and relax, and watch people go by.
21. Take the tourist trolley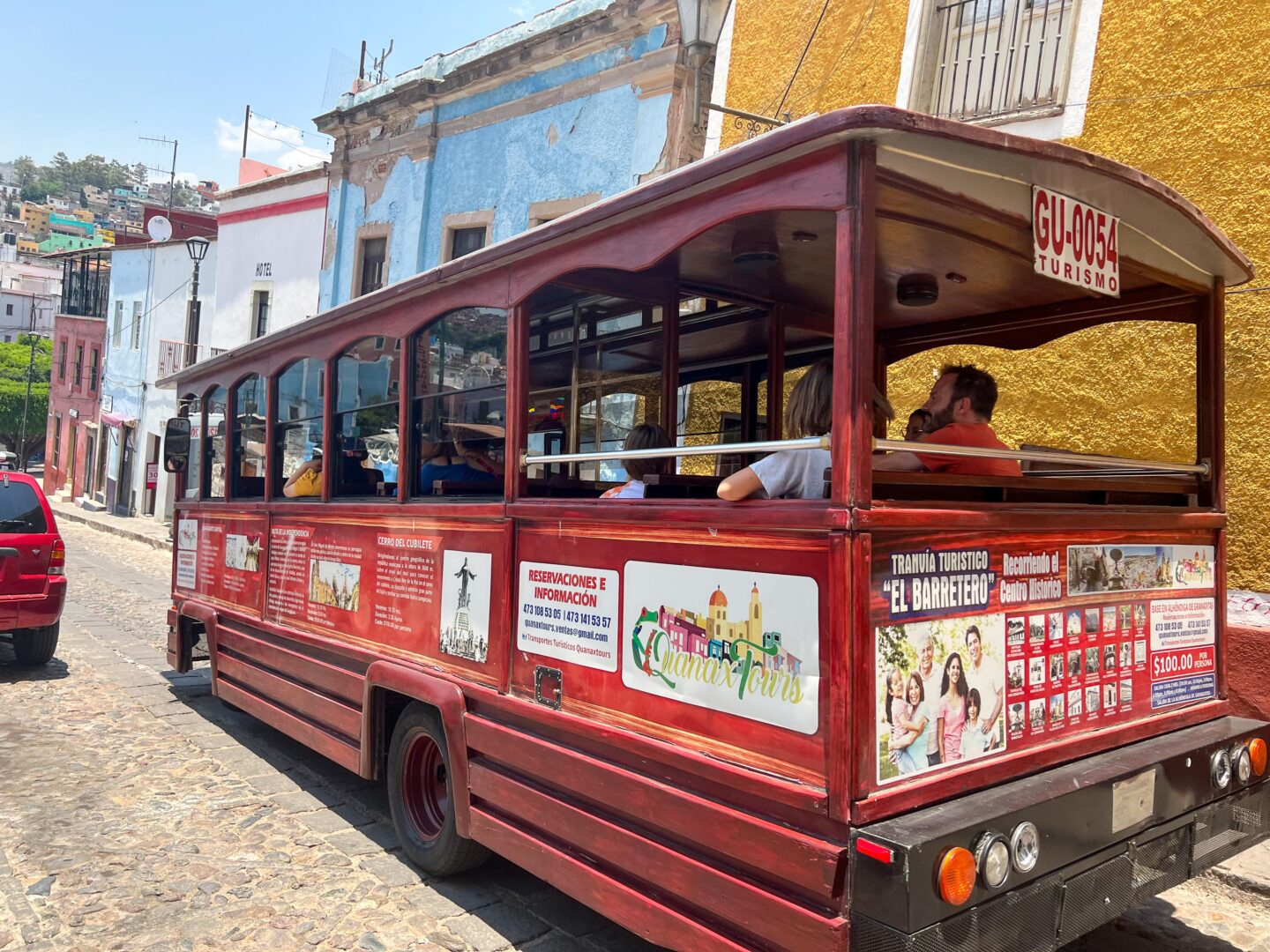 The best way to explore Guanajuato City is by foot. If you want something more relaxing though, then check out the tourist trolley around town as it gives you a chance to get some fresh air while learning about Guanajuato's history and culture.
22. Visit a cantina
If you're looking for a break from all that walking around, have a drink at one of the city's many cantinas. They make for an incredible place to kick back and enjoy some local brews while listening to live music or watching dancers perform local folk dances.
23. Have a drink at the Embarcadero overlooking the dam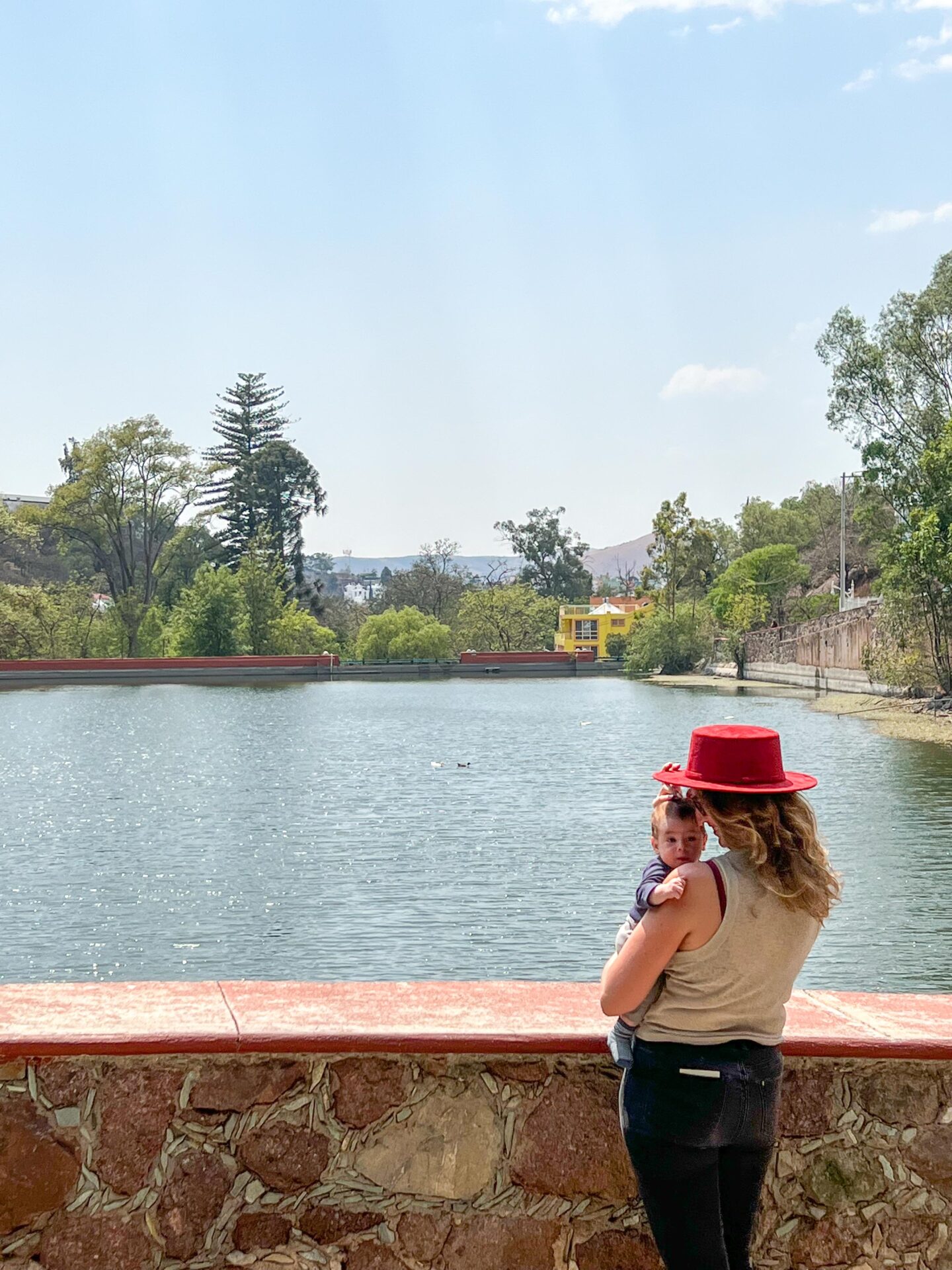 The Embarcadero is a great spot to get some fresh air and watch the boats pass by, and also one of the best places to enjoy a drink in Guanajuato, Mexico. You can watch the sunset from there, but it's also perfect for a post-dinner cocktail (or two!).
Looking for somewhere to stay? Check out these options
Luxury Hotel
Boutique Hotel
Casa del Rector Hotel Boutique
Quinta Las Acacias Hotel Boutique
Budget Hotel
Backpacker Hotel
Takeaways
The city of Guanajuato is one of the most colorful and lively cities in all of Mexico, with a unique charm that can't be found anywhere else. From the moment you arrive, you'll be enamored with the city's culture and history.
You're sure to fall in love with its labyrinth of cobblestone streets, surrounded by colorful buildings and endless amounts of delicious food. Make sure you've got a full itinerary for your trip to Guanajuato because it's a city that's jam-packed with cool things to do!