Guadalajara wasn't anywhere I'd really thought of visiting in Mexico until I'd been living in Puerto Vallarta. Then, of course, I married a man from Guadalajara, and the next thing I know I'm living there and finding out just how many cool things to do in Guadalajara there are… and there are a lot!
Guadalajara is the capital and largest city of the Mexican state of Jalisco. It's a great destination in Mexico for anyone who wants to immerse themselves in Mexican culture as there are so many things to see in Guadalajara. In this Guadalajara travel guide, you'll find everything you need.
Did You Get Travel Insurance Yet?

The Insurance companies I recommend are Hey Mondo, Safety Wing, and Travel Insurance Master

Hey Mondo is great if you are looking for a great value flexible policy. They offer single-trip cover, annual multi-trip cover, and long-term travel cover. Safety Wing is great value, with monthly coverage starting at $39. It's super easy to use, and it just renews each month. I currently use them as they offer me free cover for my son as part of my policy. I also use Travel Insurance Master for short trips.

Read my full travel insurance post here, where I go into detail about all companies.
Although I'd be lying if I said I loved living in Guadalajara, it is a pretty awesome city. Probably my third favorite Mexican city, after Mexico City and Guanajuato. As I said, over the past few years, I've gotten to spend a lot of time in Guadalajara as it's my husband's home city. So you can rest assured that you are getting some solid local information in this post that you might not find on other blogs from bloggers just passing through.
One of the main things I get asked about Guadalajara is if it is a safe city. Well, the answer is complicated and so if you are worried about safety in Guadalajara then read this blog post on safety here.
Whether you are looking for a cultural experience or a casual dining spot in the city, I've got you covered. For the best Guadalajara places to visit, I have curated a list of some of the top things to do in Guadalajara Mexico below.
The 15 Top Things To Do In Guadalajara Mexico
1. Watching a Lucha Libre Fight
Looking for fun things to do in Guadalajara? Lucha libre (Mexican wrestling) is one of Mexico's most popular attractions and a must-have experience to include on your bucket list for Guadalajara.
To see some of the best Mexican fighters in colorful masks and costumes fight like there's no tomorrow, head to the Arena Coliseo de Guadalajara where you can experience Lucha libre firsthand every Tuesday (8:45 pm) and Sunday (6 pm) evening.
Who would have thought that watching a fight could end up on your "Best things to do in Guadalajara" list?!
2. Listening to the Mariachi Bands Play At la Plaza de Los Mariachis
La plaza de Los Mariachis, formerly a center for mariachi bands in the 19th century, is a historic plaza where you can still enjoy the occasional appearance of mariachi bands.
Enjoy a night out with amazing Mexican food paired with a shot of tequila while listening to live music as part of your authentic Guadalajara experience.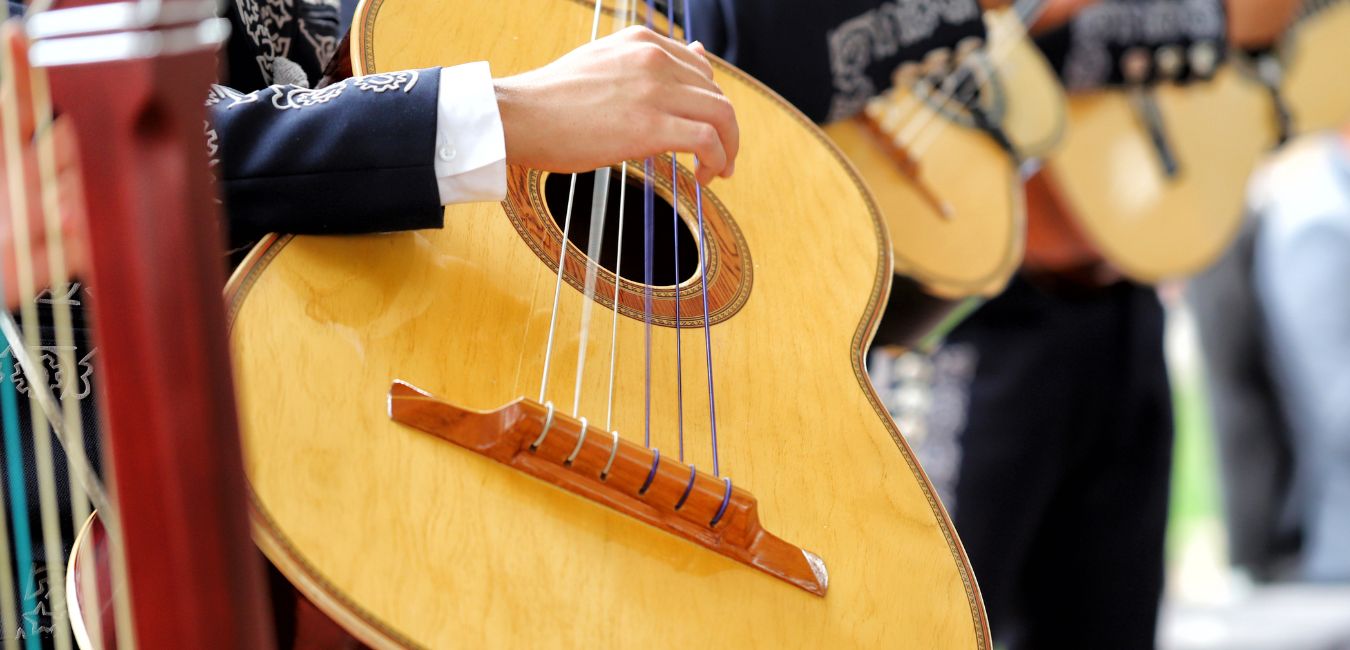 3. Visiting Mercado de San Juan de Dios
In the largest indoor market of Latin America (and also one of the largest markets in the world), you can find local products ranging from Mexican food to typical designer knock-offs, and everything else in between. Visiting Mercado de San Juan de Dios is a truly unique experience among the Guadalajara tourist attractions.
Keep in mind that only some vendors accept credit cards, the rest are cash-only. If you do use your credit card, be aware that vendors charge somewhere between 3-8% to cover their charges for using credit.
4. Eating a Torta Ahogada
Torta ahogada originates from the Mexican state of Jalisco and although it is popular in some other parts of Mexico, too, it is most popular in Guadalajara.
The name ("drowned submarine sandwich") refers to the sandwich being submerged – totally or partially – in a sauce made primarily of dried chili pepper.
This native Guadalajarian dish is often said to hold a special place in the hearts of locals or those who have spent time in Guadalajara. The people from Guadalajara even claim that you haven't really visited Guadalajara until you have tried a torta ahogada.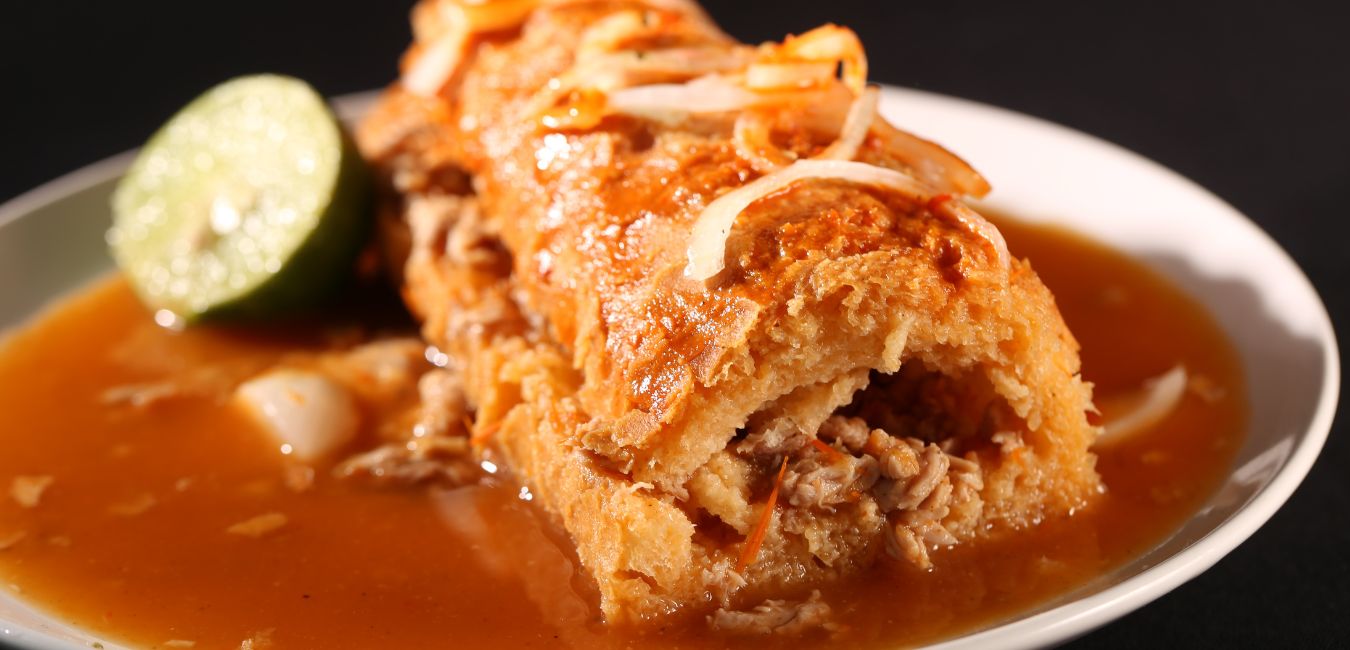 5. Sampling Some Birria Tacos
Tacos are undoubtedly one of Mexico's famous exports, and for a very good reason.
Similarly to torta ahogada, birria is native to Jalisco, Mexico. A rich stew that's typically made with either goat or lamb, it is traditionally served in a consomé broth, and there are no tacos involved. But of course, Jalisco knows better!
Here, birria tacos are filled with a type of Oaxacan melted cheese called quesillo, plus cilantro, lime and white onion, and a small bowl of consomé is served on the side for dipping. Until this day, it is one of the best dining experiences I have ever had.
6. And for Dessert… a Jericalla!
Jericalla – also known as the Mexican crème brûlée – is a typical Mexican dessert from… you guessed it, Guadalajara!
While crème brûlée, flan and jericalla all look very similar, they are in no way identical. Even though all three desserts are made with a base of egg, vanilla, sugar, and milk, they differ in their preparation and some other ingredients that become key to the final consistency.
For jericallas, the "burnt" top is accomplished by placing the dessert under a broiler for about five minutes while with crème brûlée, the sugar is caramelized using a torch.
7. Chivas Football Team
Not to be confused with the Scotch whisky brand, Club Deportivo Guadalajara or Chivas is a Mexican men's association football club based in Guadalajara, Jalisco.
If you're into sports and especially football, make sure you don't miss the opportunity to watch a Chivas game!
8. Taking the Tequila Train
Did anyone say a tequila train with an all-you-can-drink bar? I'm all in!
Formally known as the Jose Cuervo Express, the tequila train travels between the town of Guadalajara and the community of Tequila which, believe it or not, is an actual place in Mexico! The 11-hour journey starts at 9 am in Guadalajara; you can choose from either a morning or sunset train experience, with the other leg of the journey by bus.
Taking the tequila train is not only one of the coolest Guadalajara tourist attractions but an unforgettable experience for you as well.
9. Visiting Chálala
Cafetería Chálala is a cute and comfortable café with fresh food and a great selection of local dishes at a fair price.
10. Enjoying a Day Trip to Tlaquepaque
For a quick getaway from Guadalajara, you can opt for a visit to the pueblo Magico Tlaquepaque. Officially San Pedro Tlaquepaque (its historical name), Tlaquepaque is a city located about 10 kms southeast of Guadalajara. It is especially known for its galleries, ceramics, pottery, and mariachi, and is frequently visited by locals and tourists alike.
Tlaquepaque attractions include the regional ceramics museum, a beautiful municipality garden with its own vendors (Jardin Hidalgo), and a colorful umbrella lane.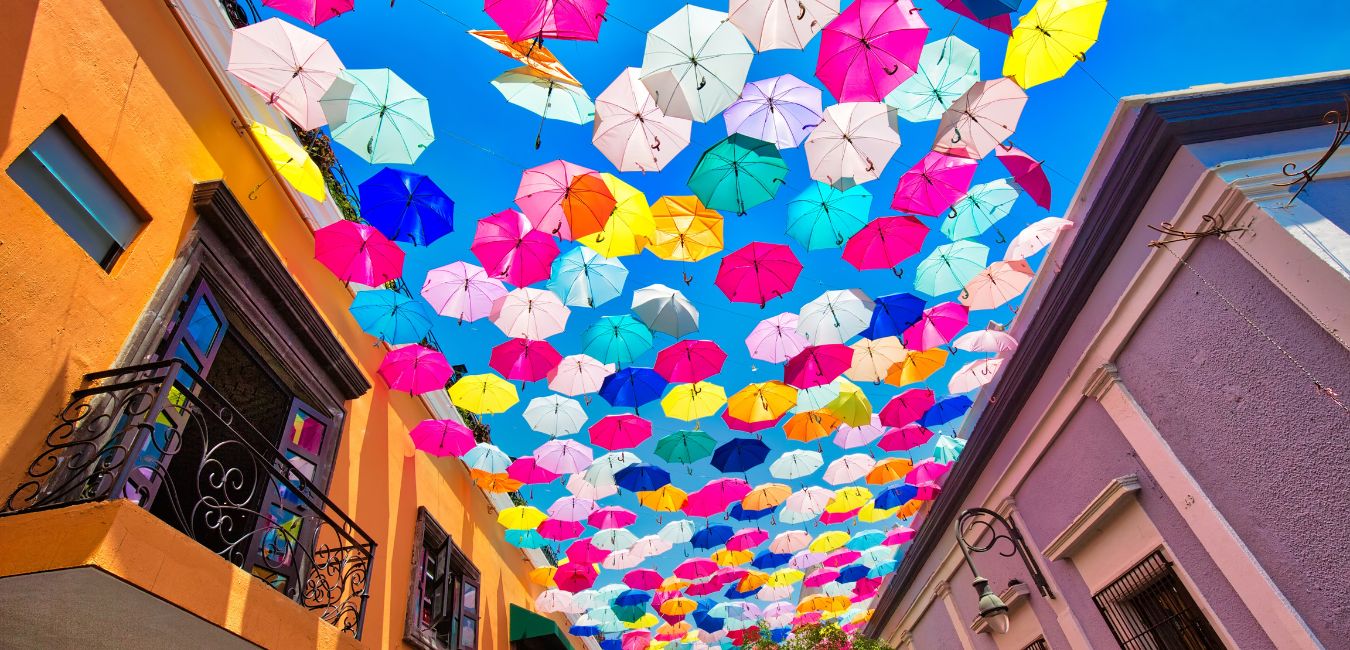 11. … Or Zapopan
Similarly to Tlaquepaque, Zapopan is also part of Guadalajara today. As the city developed, it connected all the nearby towns, Zapopan and Tlaquepaque included, both of which maintain their historic centers nowadays.
Make sure to check out the Basilica of Our Lady, a beautiful piece of architecture during your visit to Zapopan.
12. Going Viral From El Código Viral
For some unique things to see in Guadalajara, pay a visit to Zapopan's Selfie Museum, El Código Viral, where you can level up your Instagram game while snapping an infinite number of photos in front of their 60+ colorful installations and backgrounds, including a bubble bath (with plastic bubbles) and a flower room.
13. Visiting Museo Cabañas
For the best Guadalajara places to visit, I highly recommend Museo Cabañas. The orphanage-turned-museum is considered one of the most important buildings of neoclassical architecture in Mexico and was designated a UNESCO World Heritage Site in 1997.
14. Starting the Day at palReal
Café palReal is a very popular brunch spot with a great and cozy atmosphere. Their breakfast selection includes some of the best Mexican dishes and the coffee is one of the best I have ever tasted. Since it's very popular among locals and tourists alike, the place can get quite busy, especially during weekends.
15. Riding a horse
For those of you looking for a horseback riding lesson in Guadalajara (yes, that's also one of the fun things to do in Guadalajara!), there are several tours that you can book, some even with a money-back guarantee.
One of my favorite tours was the Tequila Route, where you can ride through stunning landscapes while listening to historical stories and legends, then stop by some of the most famous tequila houses for tasting sessions. Who said that horseback riding has to be boring?
PIN ME!