Ever since I first clapped eyes on a picture of someone relaxing in the pools at Grutas de Tolantongo I knew I NEEDED to visit! I couldn't quite believe that this place 1. Existed and 2. Was in Mexico, and so close to Mexico City.
If there is one thing 2020 made me grateful and appreciative of, it's just how incredible Mexico is. I'm constantly blown away by the sheer beauty and diversity of this country. I am happy to report that visiting Tolantongo grutas did not disappoint since it is one of the best waterfalls in Mexico.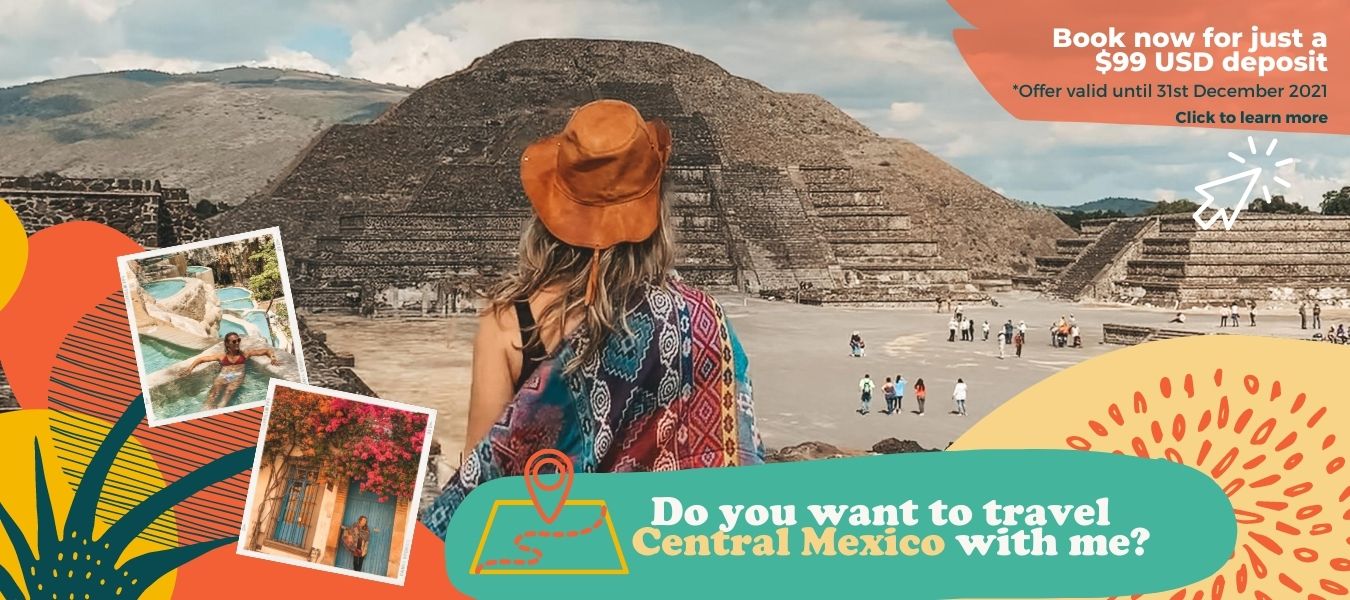 Why Visit Grutas Tolantongo
Yes I know, I'm a big cliche. I went to Grutas Tolantongo just for the instagram shot, but having visited there, I'm happy to report there are many more reasons to go there than just getting "The Shot". It's a great way to spend the day relaxing in the Tolantongo hot springs
What is Grutas Tolantongo
Firstly, you may be wondering what grutas Tolantongo even is. Well, the word 'grutas' is a Spanish word for cave. So it translates into Tolantongo caves in English. As well as some super cool caves to explore (don't forget your flashlight) what Grutas Tolantongo Mexico is really famous for is the hot spring pools.
The Tolantongo hot springs have always been there, but the actual sight was developed for tourism back in the 1970's. These days it's the main source of income for the local people in San Cristobal and a very popular tourist destination with people from Mexico City and its neighboring state. What you will notice when you visit the Tolantongo caves is just how many families there are vacationing there. It was actually really nice to see.
As of right now, Tolantongo isn't so well known outside of the area it's in. I only saw one other group of foreign tourists there and half of my Mexican friends had even heard of it. So if you want to visit, go now before it gets too popular! If you're into Yoga, you could also find a couple of relaxing Yoga retreats in Grutas Tolantongo.
Did You Get Travel Insurance Yet?
If 2020 taught us anything, it's that you need to be prepared for anything! Travel insurance has always been high my list of things to get before I travel but now more than ever its at the top of my list.

I'm pretty sure we have all had travel plans messed up because of COVID and not all insurers covered this. So when looking for travel insurance it's important to check it covers travel disruption due to COVID-19, Hey Mondo, Passport Nomads, Safety Wing, and Travel Insurance Master all provide cover for this.

Hey Mondo is great if you are looking for a great value flexible policy. They offer single trip cover, annual multi trip cover, and long term travel cover. You even have the option to start the cover when you are already on your trip, although you won't be covered for the first 72 hours. For me my favourite feature is their app which offers you a 24/7 Dr chat and the ability to file a claim direct in the app.

Passport Nomads provides the most comprehensive cover for Digital Nomads. The game changer with them is that you have a red card and if you find yourself in need of medical care you just contact them and they will pre load your card with the funds to cover your treatment, meaning you won't need to pay out of pocket and then put in a claim later.

Safety Wing is great value with monthly cover starting at $39. It's super easy to use and it just renews each month. They have an excess of $250 and it's simple to make a claim through their website. I currently use them as they offer me free cover for my son as part of my policy and I like that it renews on a monthly basis, so I don't have to pay out a big lump sum up front.

I also use Travel Insurance Master for some short vacation type trips.

If you are doing shorter trips or an extended backpacking trip then Hey Mondo or Travel Insurance Master are the best option. If you are a digital nomad or planning travel of at least 6 months then go for Passport Nomads or SafetyWing.
Things To Do Grutas Tolantongo
Wondering what there is to do at Grutas Tolantongo? There is actually more to do than I realized.
Explore the Tunnel
This was the first place my tour guide took us. If I'm honest, I would have preferred to go directly to the pools as I got so wet here (not good for the photos haha), and I was completely unprepared! I didn't realize I was going to be going into a dark, wet tunnel with large pools of water. I didn't have a waterproof case for my phone, my GoPro, or a waterproof flashlight. So I only went into the first part and then headed back out.
So, don't be like me. Go prepared. When you go up to the tunnel area they will tell you to rent a locker and lock away your stuff. Lock everything away, put your phone in a waterproof case, and be dressed only in your swimwear. If you have your phone you can take pictures and also use the flashlight.
Sorry, no photos because I'm a dumb dumb who didn't have her phone in a cover…
Enter the Cave
Once you are done exploring the tunnel, head back down the steps and into the cave. It was way cooler than I thought it would be. There is a pretty powerful waterfall right in the center of the cave making it hard to swim from one side to the other. But do swim in a bit to avoid the crowds at the entrance.
If you swim over to the right-hand side there is another tunnel there. It will take a bit of strength to get to the side. But once you get there the current eases up.
Relax in the pools (and get your Instagram shot)
To get from the main entrance to the pools it's an uphill hike. Or you can take the bus for $10 pesos… obviously I opted for the bus. Walk right through past the camping and restaurants and you can either walk over the suspension bridge or go down through the tunnel.
The pools can get very busy, especially on weekends. So if you do want an epic instagram picture you need to be here as soon as it opens and work fast. Or just do what I did and photoshop the people out… haha.
Even though when we got there, there were a lot of people around, it wasn't hard to find empty pools so we had plenty of time to take some pictures and then relax in the pools for a bit. What I really loved about visiting the pools was because of its position on the side of a cliff, it feels very private, especially if you go to one of the lower ones. It's the perfect spot for couples wanting some quality time.
Chill in the river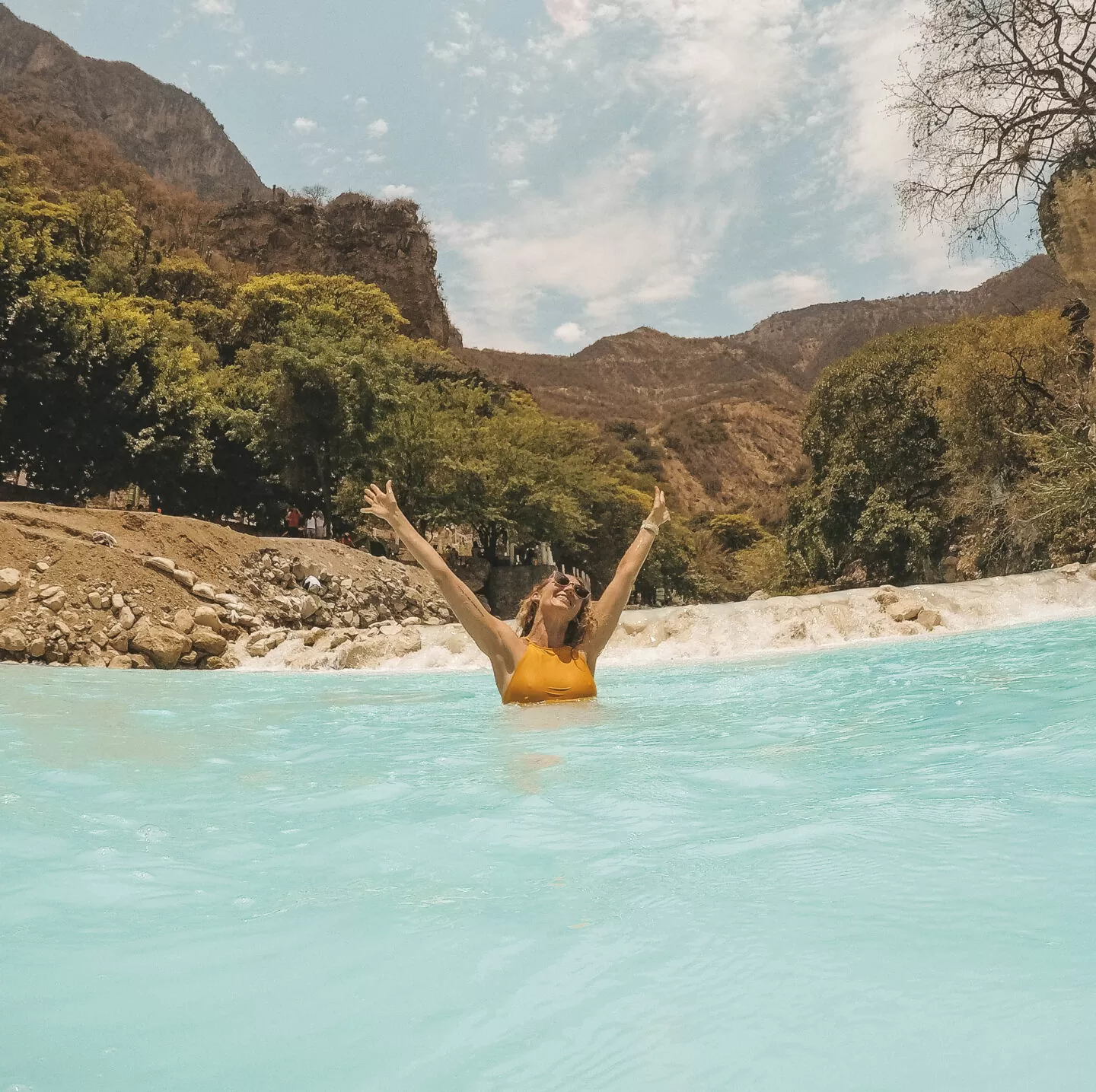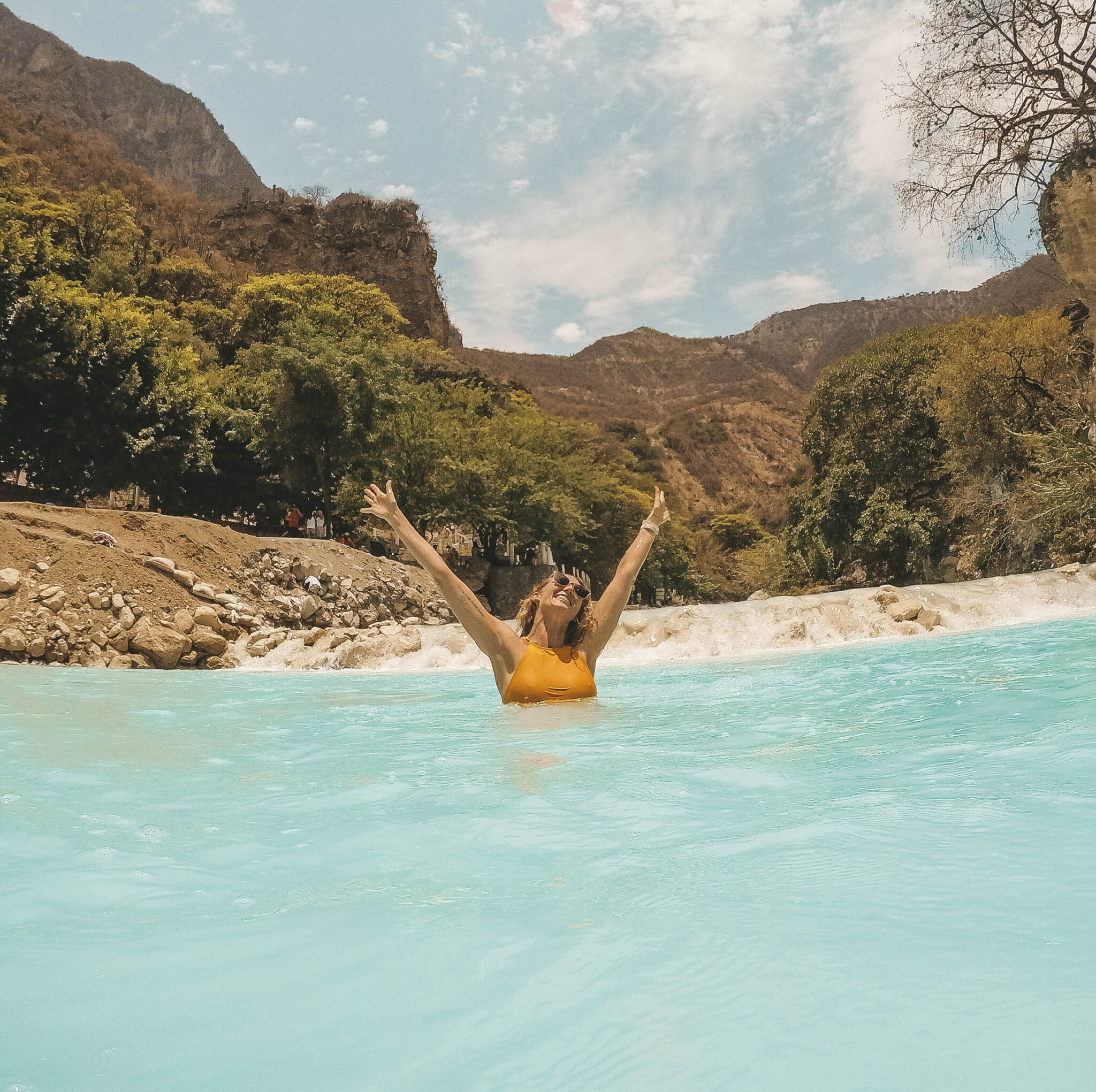 We actually opted to walk back to the main area rather than taking the bus. It was a really nice downhill walk through the jungle and it took around 15-20 minutes. I did do it with a guide though, I'm not sure I would have trusted my navigational skills to find my way back alone!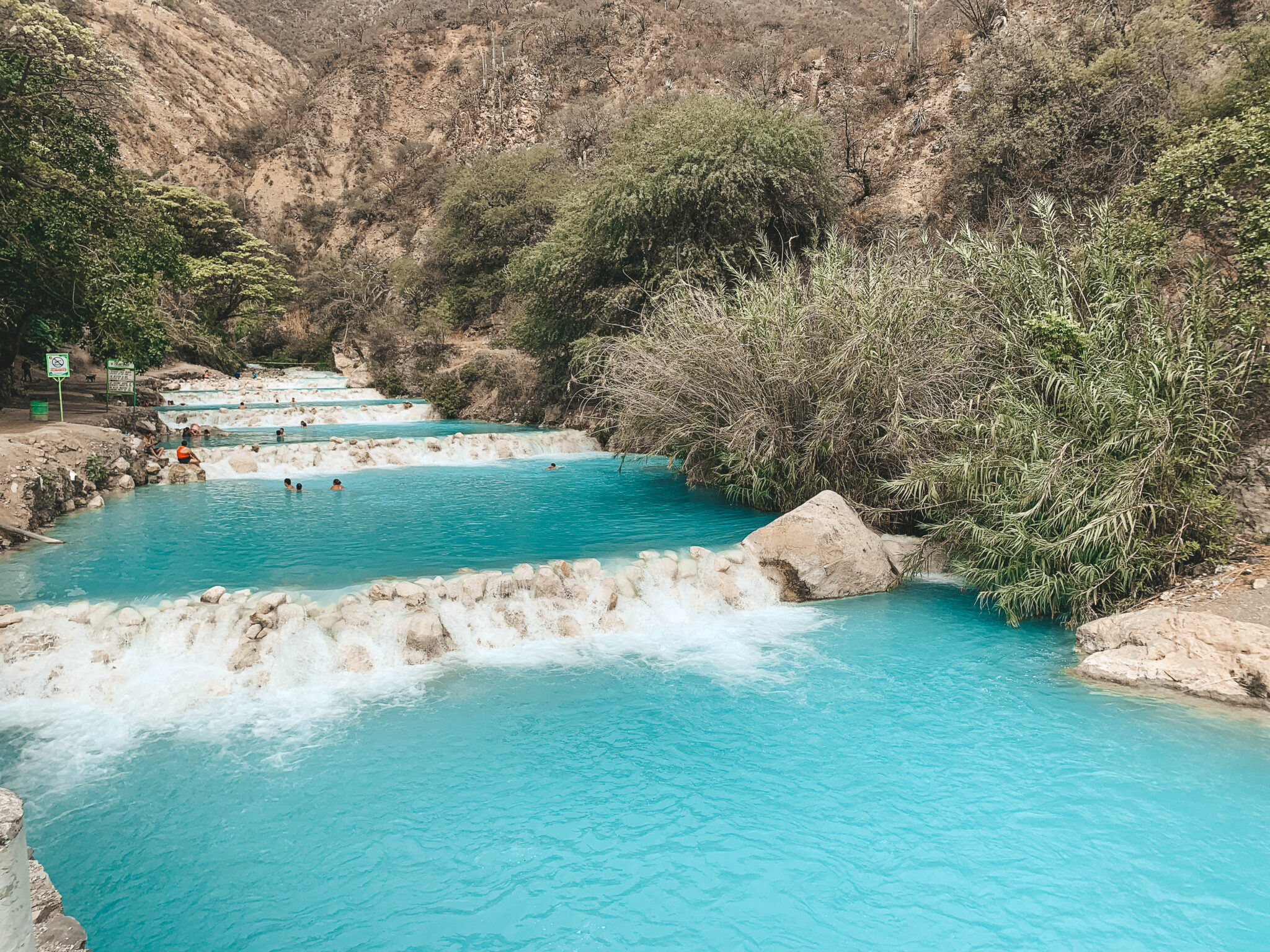 The river can get very busy, so we had to find an emptier spot to go to. You will find people camping right along the river bank. If you are going to stay a while it's worth renting a table and chairs in the shade so you can cool off as both the pools and river are totally exposed to the sun.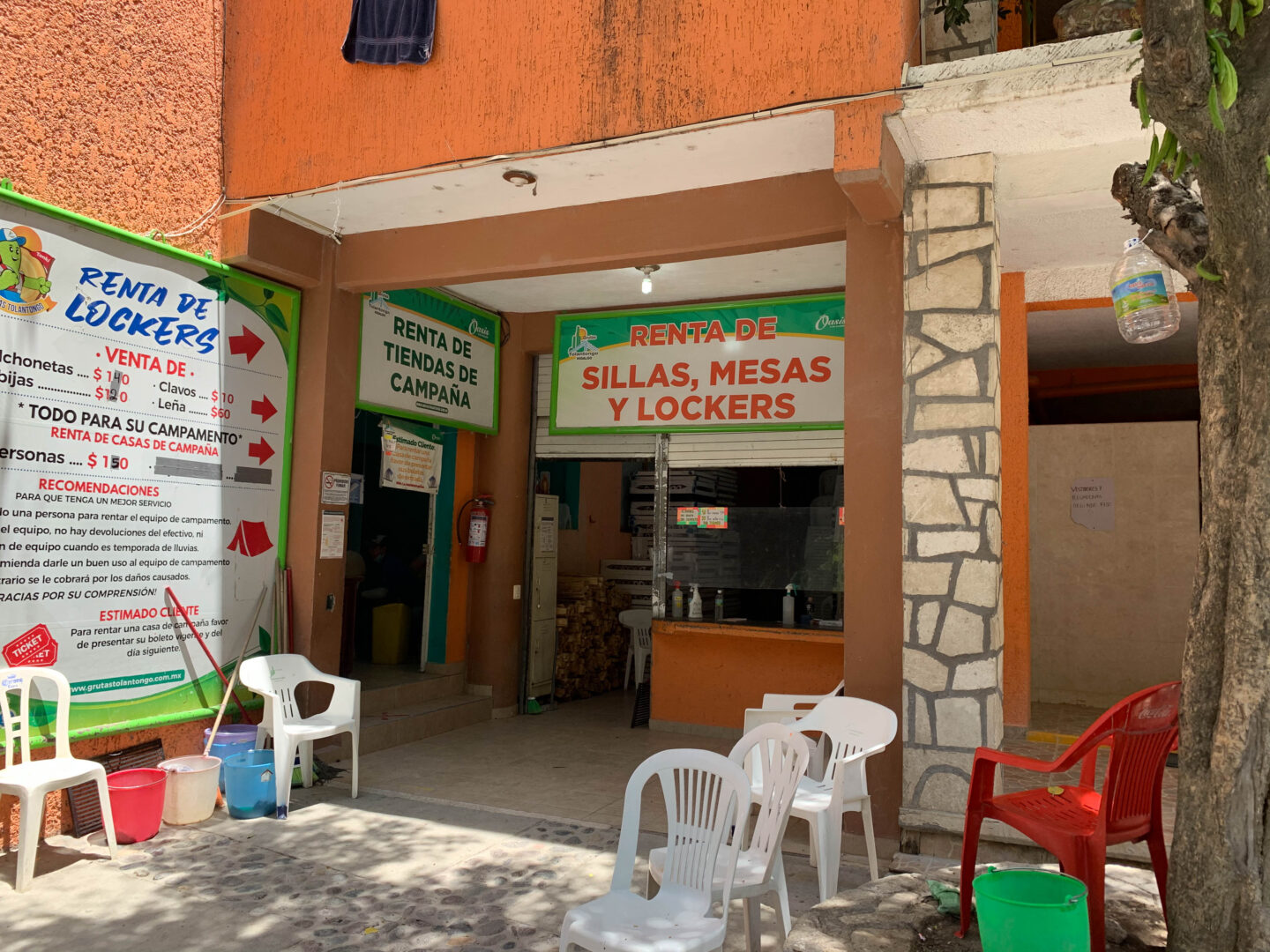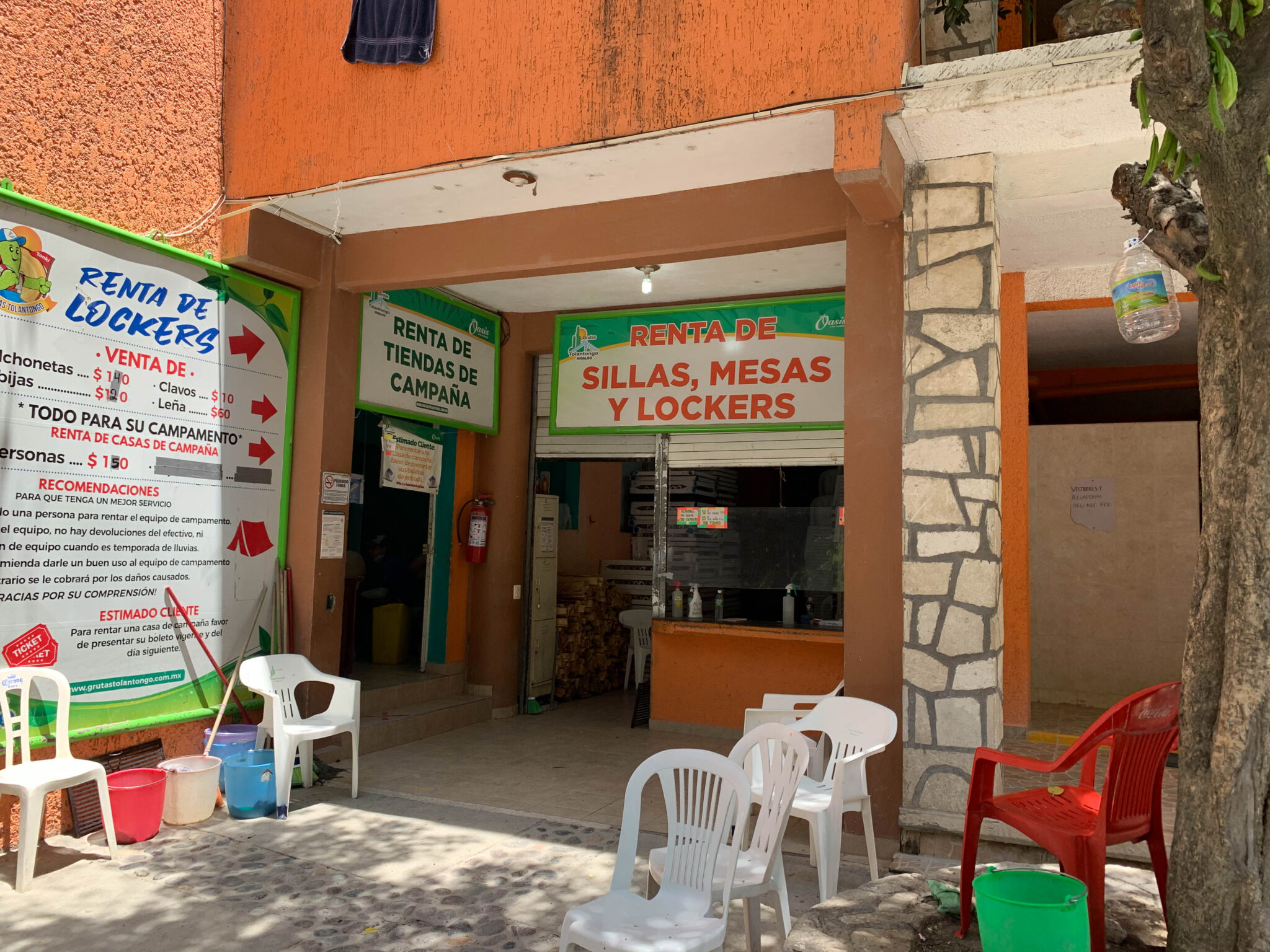 Zipline
Need a bit more action and adventure in your day? Then they have a zipline here which looks pretty cool and only costs $200 pesos (around $10 USD). I didn't do this as I'd just got back from 4 days in Ciudad Valles which had been non stop ziplining, waterfall jumping and rappelling!
Eat some Barbacoa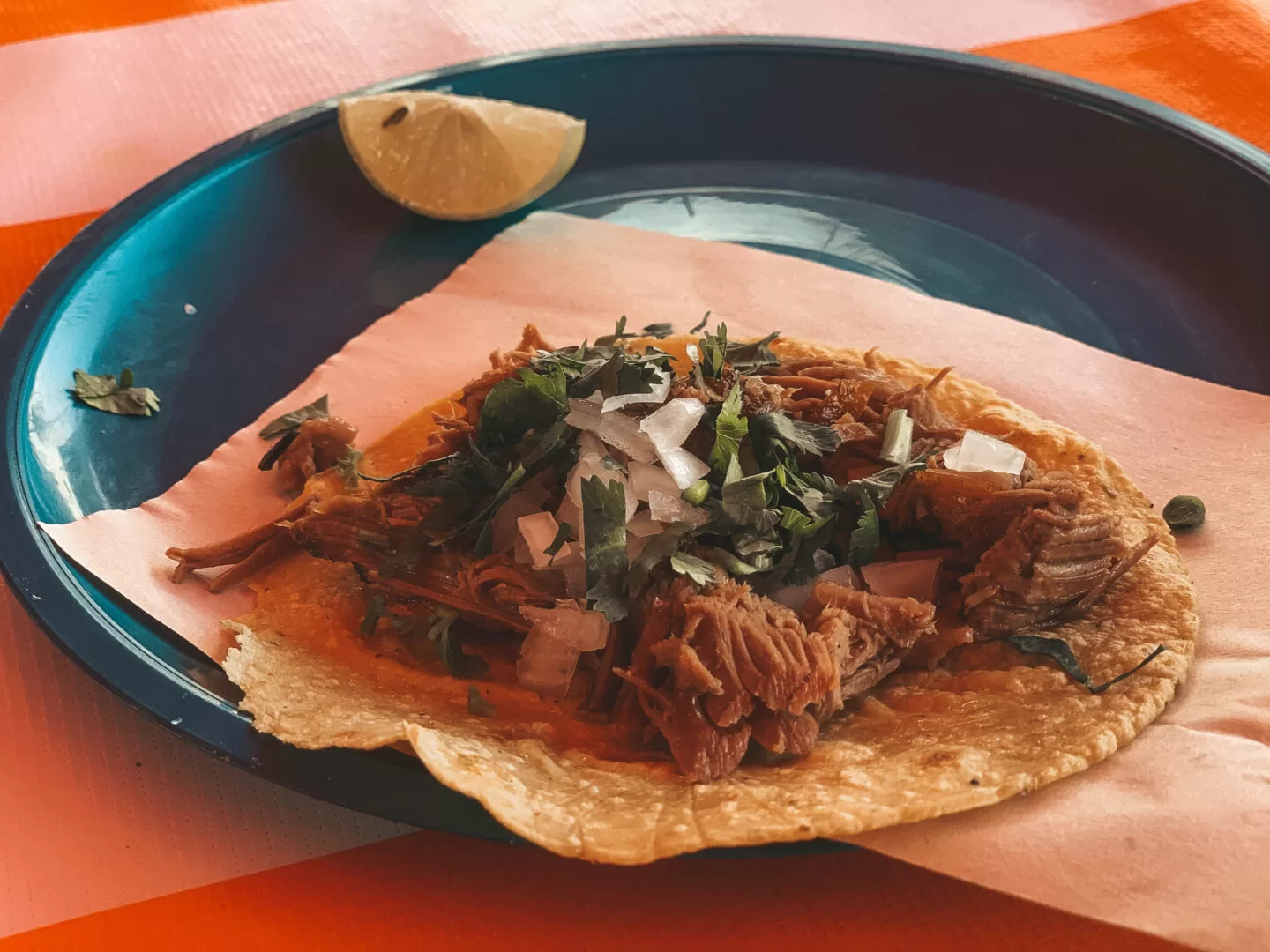 If you are a meat eater and haven't tried barbacoa yet, you are in for a treat! We actually stopped at a taco place on the way from Mexico City to Tolantongo for breakfast barbacoa tacos. It's what this region of Mexico is famous for. Babacoa comes from the word barbeque and it refers to the way the meat is prepared. Basically, they take a lamb and then cook it in a hole in the ground covered with maguey leaves. You can find it everywhere here and you can even see where they prepare it in the restaurant within the park.
Where Is Grutas Tolantongo
Grutas Tolantongo is located in San Cristobal in the state of Hidalgo. Most tourists who visited Tolantongo here are coming from Mexico City, which is 3 hours south of Tolantongo. Or from Ciudad Valles in San Luis Potosi, which is a little further away.
The zip code is 42370 in case you need is and you can easily see the location using the map of Grutas Tolantongo below.
How To Get To Las Grutas Tolantongo
There are a few different ways to get to Tolantongo and different Tolantongo vacation packages you can find, depending on a few factors including your budget, comfort level, and available time.
Because I only had a day and I didn't want to take a public bus or do a Tolantongo tour right now (C*V*D and all) I opted to take a private tour to Grutas Tolantongo I was picked up at 6 am from my accommodation in Mexico City, driven to Tolantongo, shown around the entire park and delivered back to my apartment by 7 pm the same day. Honestly, it was an amazing experience. I didn't have to worry about buses, renting a car, or even figuring out the best places to eat. Everything was done for me… yes I know, I'm not a backpacker anymore haha. But I also love getting shown around somewhere by someone who knows the place so I can give you guys all of the best information.
If you want my opinion, doing a private tour with Vibe Adventures is the way forward if you are a couple or can get a small group together to bring down the cost. I was with my partner and our guide gave us plenty of time and space to relax and enjoy the experience. We never felt rushed at all. It really was the perfect day. If you are a solo traveler then this probably isn't an option for you as it would be a bit too expensive.
Here are the different options for visiting Tolantongo:
Do A Private Tour
I highly recommend doing the private tour of Grutas Tolantongo with Vibe Adventures. Our guide spoke perfect English and I love that they are a small company operating lot's of direct day and multi-day tours in Mexico. If you are interested in booking a tour with them you can use the form below to get in touch with them directly for a quote.
Do A Group Tour
For solo travelers, this is going to be your easiest and cheapest way of getting to grutas solo if you just want to go there and back in a day from Mexico City. Group tours are very affordable and run regularly. The only downside is most of the tours are in Spanish so you are either going to need to take some Spanish classes or find an English-speaking tour.
Take The Public Bus
It's possible to take public transportation here from Mexico City. If you don't speak any Spanish at all this isn't going to be the easiest option for you as there are a few changes. Just make sure you have these instructions screenshotted on your phone!
The bus from Mexico City to Grutas Tolantongo takes about 3.5- 4 hours. You will need to make your way to the Mexico North bus terminal from there you need to take a bus to Ixmiquilpan Hidalgo City. OVNIBUS or FLECHA ROJA line are the ones to book with. When you arrive at Ixmiquilpan Hidalgo you are going to need to take a colectivo (small public minivan) from the bus station in Ixmiquilpan to Ixmiquilpan central. You are going to need to get off the colectivo at Morelos Market. Tell the driver as you are getting on so he can let you know when to get off.
Once you have arrived at Morelos Market you will need to walk through the market to find the microbus station located in the San Antonio parking lot (see map). From this bus station, you can take a microbus to Grutas Tolantongo. The last bus leaves at 5:30 pm so be sure to leave yourself plenty of time.
I would honestly only do this option if you are planning to stay for a few days.
Rent a Car
And finally, the last option is to rent a car and drive yourself. The roads are actually pretty good so I would feel confident driving there. The only part that was a bit sketchy is when you are coming down the mountain to get to Tolantongo. There were a few too many hairpin turns for my liking! But I'm also not sure I'd want to be on a bus doing those turns either haha.
Here is a map of the route from Mexico City to Grutas Tolantongo.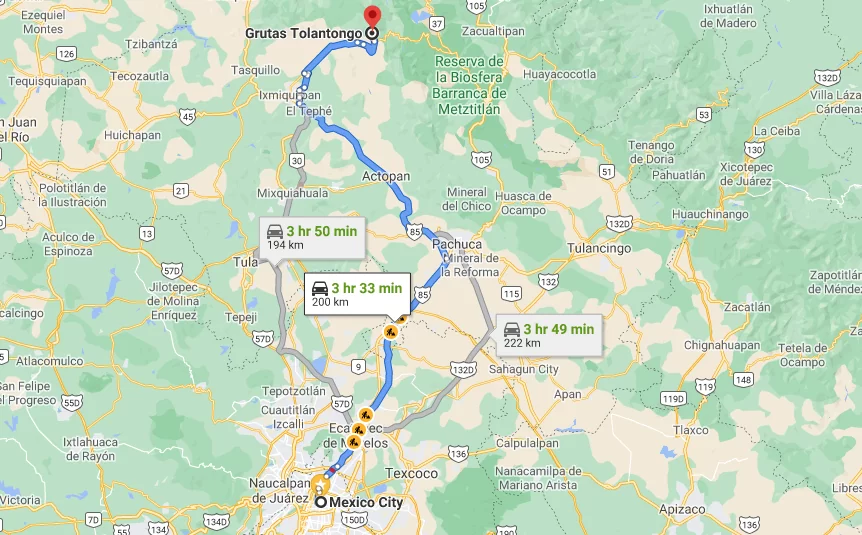 Map Of Grutas Tolantongo
Here is a map of Grutas Tolantongo. You can also get the most up-to-date information about visiting from the official website here.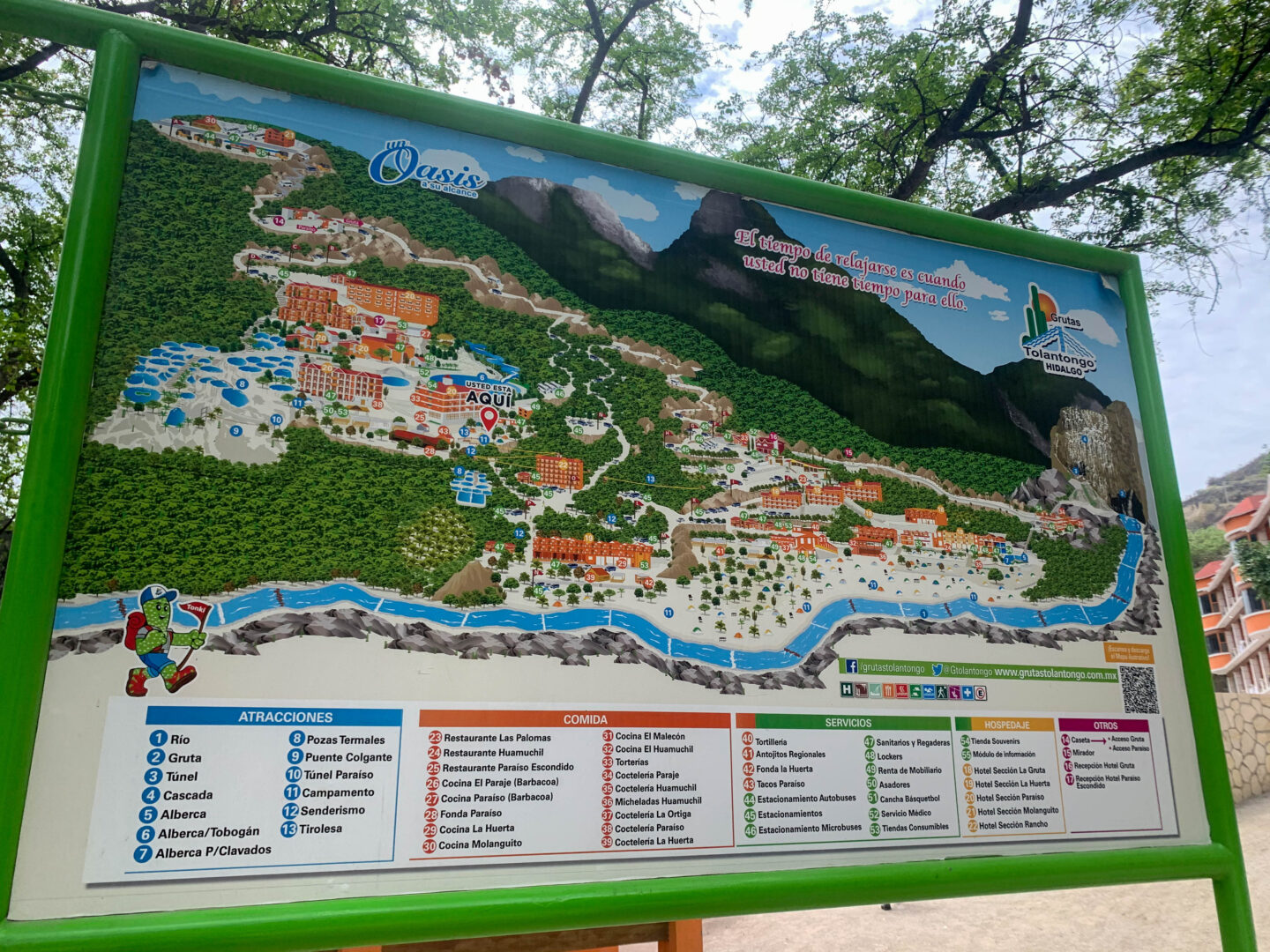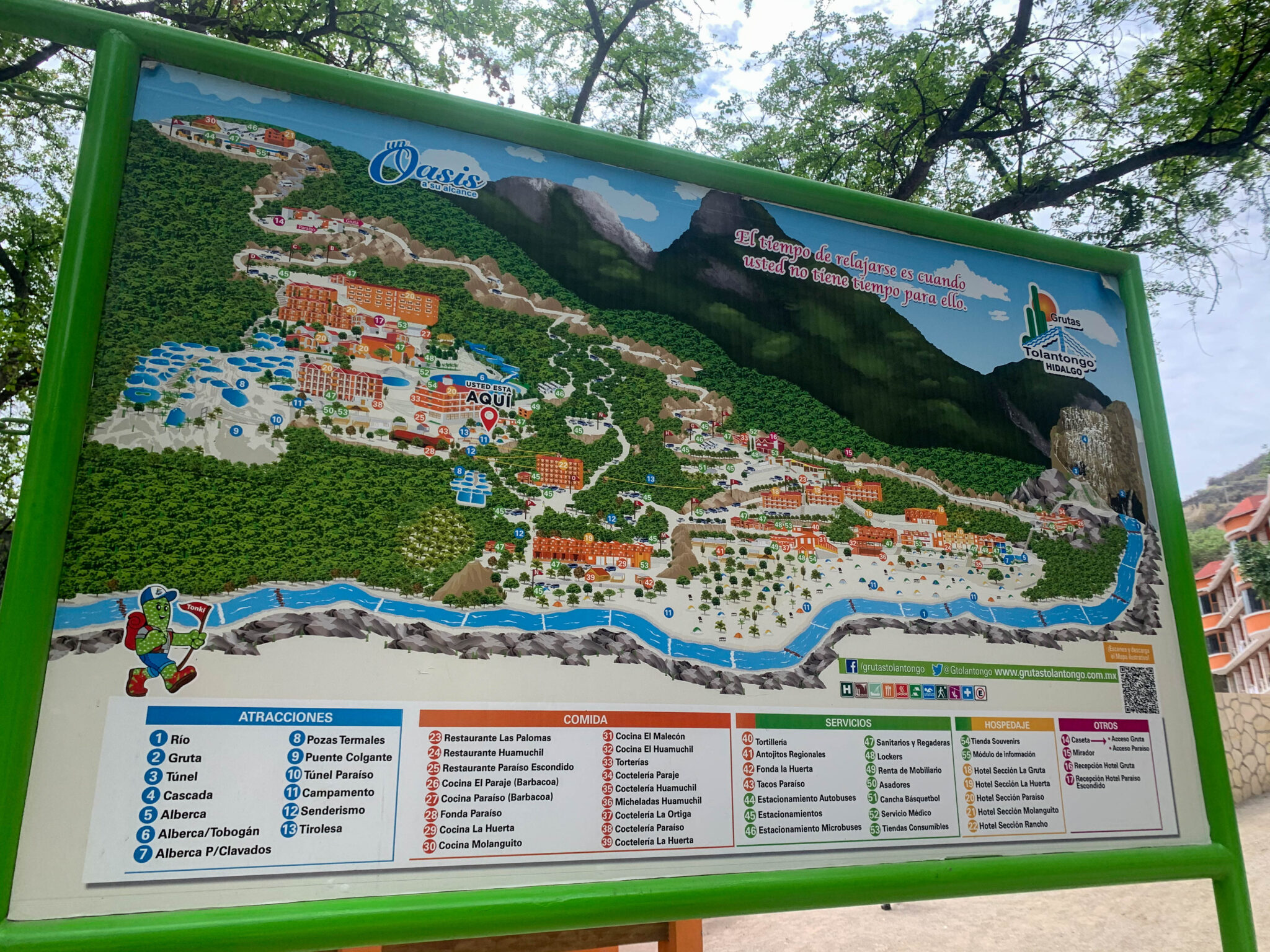 When Is The Best Time To Visit Grutas de Tolantongo?
The only times I would really avoid visiting Grutas Tolantongo is during public holidays (especially Semana Santa) and if possible skip weekends. It's open all year round, and the water is always hot.
I visited in May and it was a little bit chilly getting out of the water, but still nice. Although I would probably advise you to skip visiting during the rainy season (July – August) or if you don't mind a little rain, just book a hotel room over camping maybe!
Staying At The Tolantongo Hotel
Ok, I'm going to need all you type A pre-planners not to freak out. You actually can't pre-book the Tolantongo hotel rooms here. Everything is cash only and the only way to get a room is to turn up early and book and pay for it there and then. So if you do want to spend a night or 2 here then you are going to need to plan to arrive early. Especially if you want to book one of the cheaper options as these will sell out first.
But honestly, so long as you don't plan your visit to arrive during the weekend or on a public holiday like Christmas or Semana Santa you will be fine. The rooms are basic but nice and there are lots of them! You can see all of the rooms and prices here on their webpage.
Camping at Tolantongo Grutas
Want to get a bit rustic? Then camping at Grutas is a great idea! It will save you money and it's super easy as you can rent everything you need here and the staff even set it all up for you. They even have BBQ's to rent! You can find all of the prices of the tents on this page here. It's a great budget-friendly option if you need to keep down the costs.
But just remember you are in Mexico and people are here on vacation and like to make noise. When I was there I spotted rather a lot of huge speakers haha. So be prepared for some evening musical entertainment Mexico style!
Budget for Grutas Tolantongo
The entry fee for Grutas Tolantongo is currently $150 pesos and parking is $20 pesos per day. Grutas Tolantongo is a cash-only destination. Your plastic is no good here and it will not be easy to find an ATM so you will need to bring enough cash with you.
If you book a private tour everything is included and prices start at $56 USD
Group tours start at around $30 USD – just check what's included as often with the cheaper ones you don't get any meals included.
If you decide to rent a car and drive, don't forget to budget in money for gas and tolls.
What To Pack For Las Grutas Tolantongo
For a full Mexico packing list click here. But if you just want to know what you should pack to take to Grutas I've added some essentials below!
Swimsuit
I love these ones from Newchic! I actually took 3 with me so I could change for photos haha.
Water Shoes
I'm pretty obsessed with my Tropicfeel shoes. They are great for hiking and for water. They take 5 minutes to dry in the sun! If you prefer to go into the caves and tunnels with shoes on then make sure you pack some good water shoes.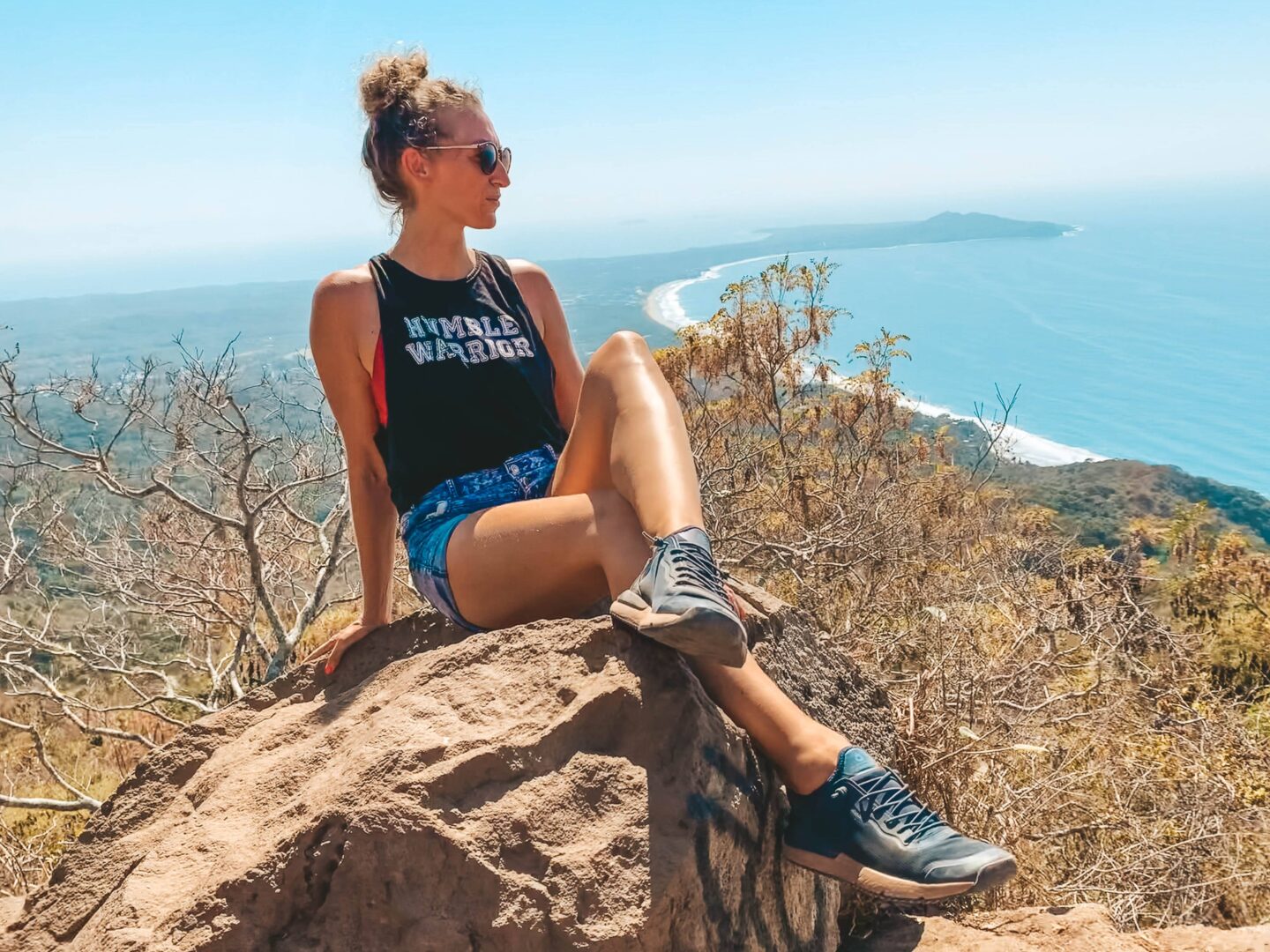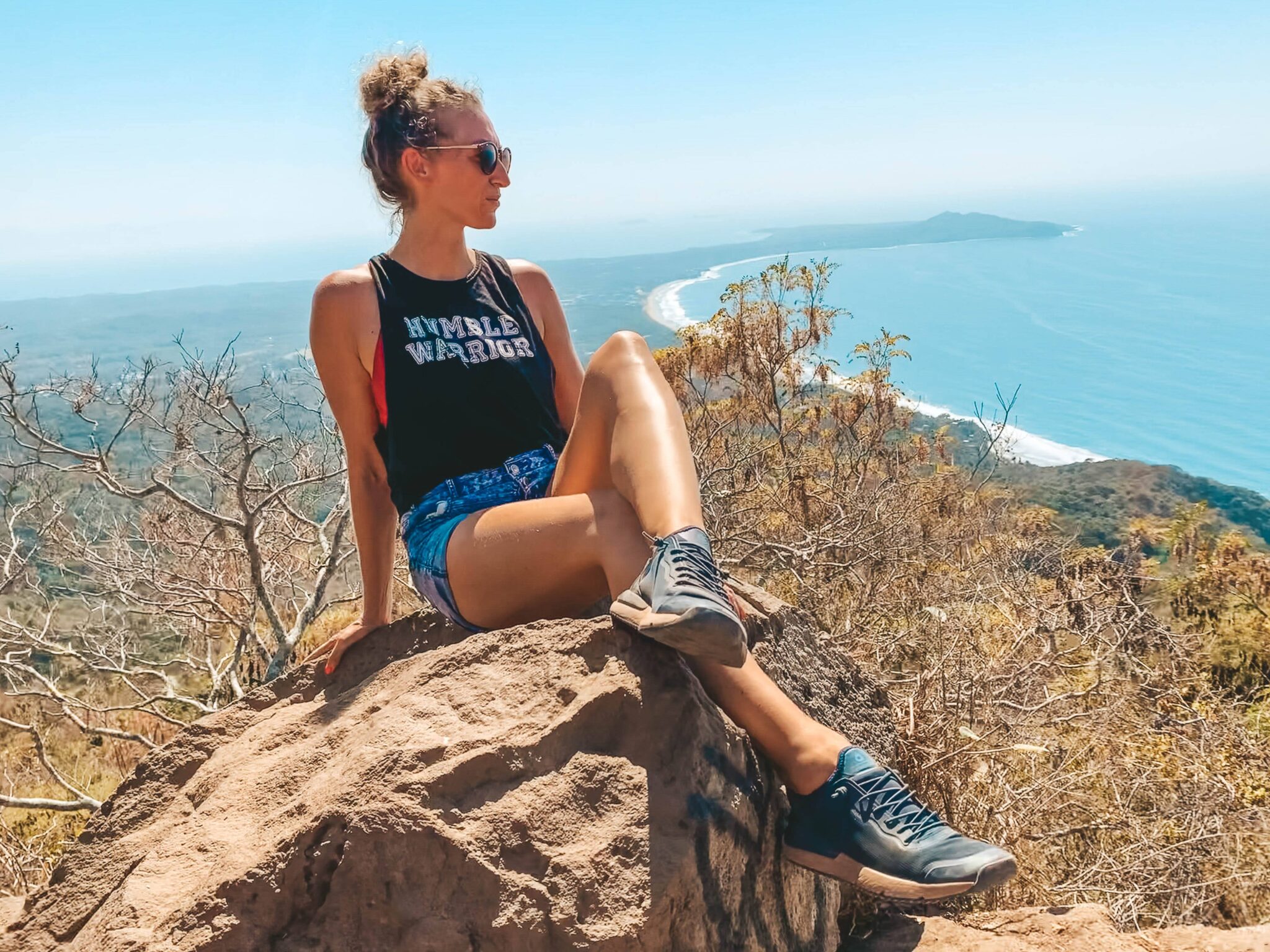 Daypack
I never go on an adventure without my Tropicfeel daypack now. It's super lightweight, water-resistant, and it folds away into a bag when you no longer need it.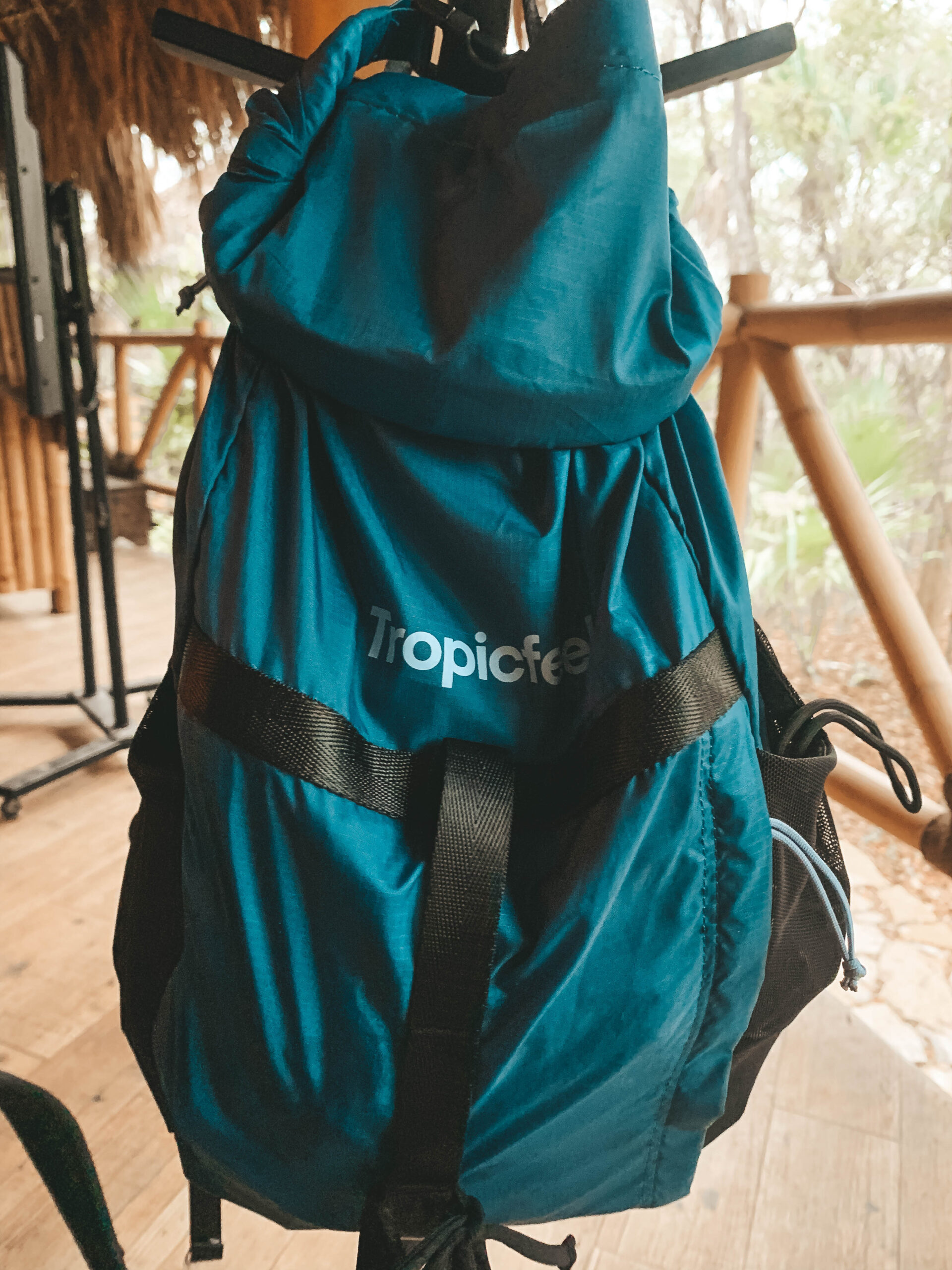 Pin For Later!