Wondering what to do around Bogota? If you are staying in Bogota for more than a few days there are some pretty incredible places you can visit. Just a short bus ride from the city are 3 amazing day trips from Bogota I can highly recommend. Bogota may be a big city, but trust me, just the other side of those mountains is a whole other world! I really recommend making at least 1 of these day trips from Bogota if you can.
The 3 Best Day Trips from Bogota Colombia
Cathedral del Sal
La Chorerra Waterfall (the highest waterfall in Colombia)
Therme Spa in

Choachí
Each of these can be arranged as day tours from Bogota with a private tour company like Colombian Buddy. Or you can do what I did and make your own way there!
Visit the Catedral del Sal from Bogota
This is probably the most popular of the day trips from Bogota. Most people visiting Bogota for more than 2 days make the trip to The Cathedral of Salt in Zipaquirá. You will find lots of tour companies wanting to take you there for a nice fee.
Don't bother.
It is so easy to get there on a bus and you have to pay for a guided tour anyway in the entrance fee. So take my advice and save yourself some $$.
For my full guide including how to get there click here to read my full post.
Visit La Chorrera waterfall from Bogota
Just 1 hour outside of Bogota is La Correra Waterfall, the tallest in Colombia. This is my personal favorite of all of the Bogota day trips.
If you have a few days in Bogota I highly recommend spending at least one of your days there outside if the city! It really is a different (more beautiful and less polluted) world just over those mountains.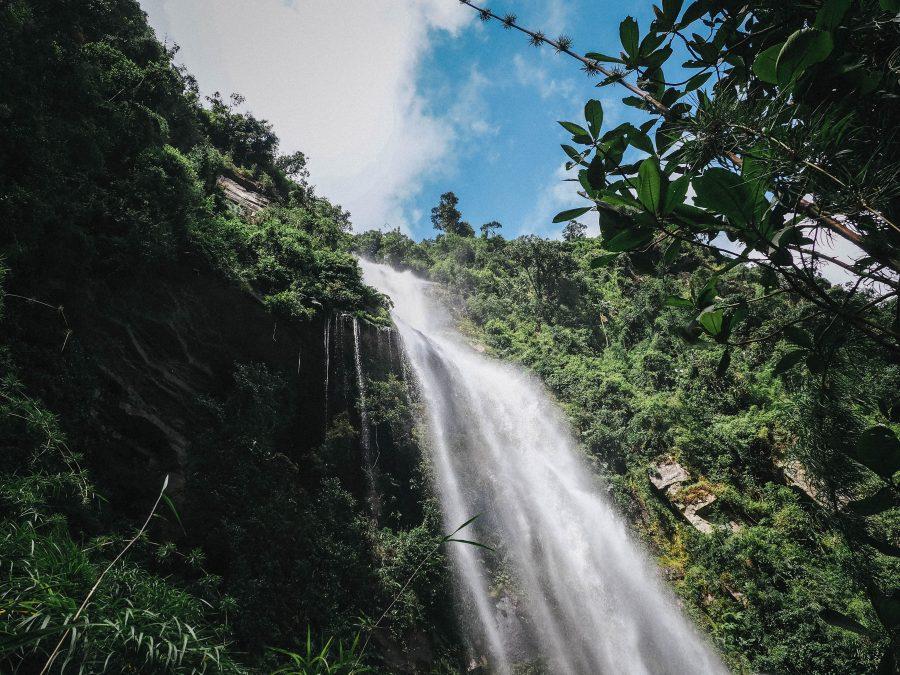 It is easy to reach and so worth the day trip from Bogota!
You can read my full post here or take a watch of my short video.
Visit the Thermal Spa in Choachi
If you are looking for the perfect relaxing escape from the smog of Bogota then look no further. Just a 1-hour bus ride from Bogota in a town called Choachí you will find Thermales Santa Monica. This is the closest Thermal Spa to Bogota and well worth a visit.
The cost of a day pass is really reasonable. For an Adult it is $20mil on a Monday, $25mil Tue-Sat and $35mil on Sundays or public holidays, making it one of the most affordable Bogota day trips.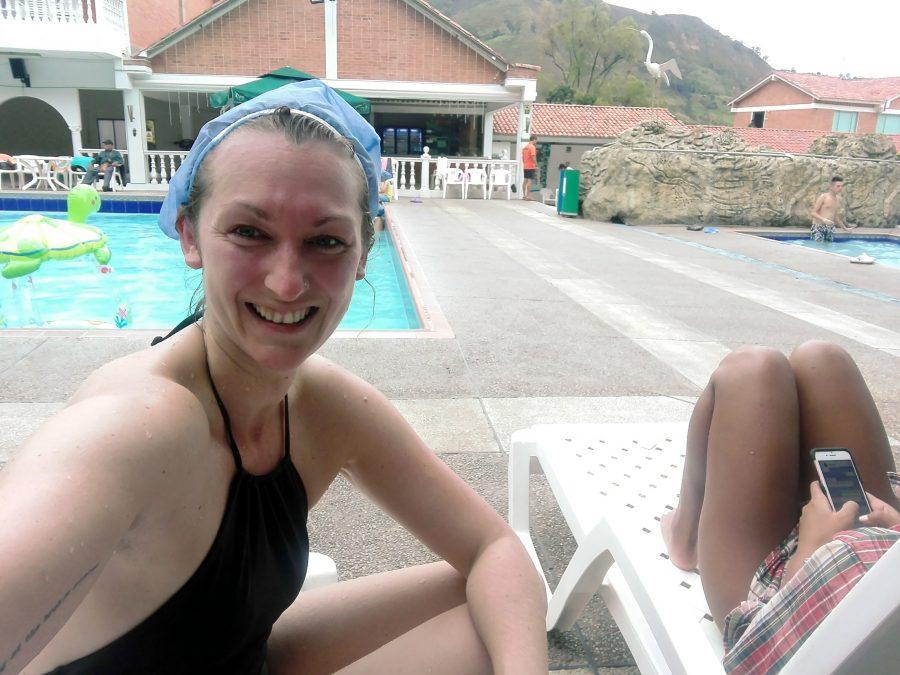 You can read my full post here.
Top Tip: The spa
is on the same bus route as the waterfalls so I suggest doing 2 Bogota day trips in one and going to the waterfall and camping overnight there. Then the next morning make your way back up to the main road and take a bus down to Choachi (or just hitchhike – probably quicker) and find a campsite or Finca to stay there if you want to stay for a second night. Then you can spend the day in the spa returning to Bogota on the last bus at 5 pm or the next morning.
Wondering where to stay in Bogota? I recommend staying in Chapenero over La Candelaria if you are staying longer than 24 hours.
Hotels I recommend are:
Hotel Morrison
Selina Chapinaro
Republica Hostel Chapinero
Hotel Living 55
93 Luxury Suites & Residences
If you are only in town for 1 night then I recommend staying in one of these places in La Candelaria:
Selina La Candelaria
Casa artistica
Arche Noah Boutique Hostel
If you need a hotel close to the airport then I recommend the Radisson AR Bogota Airport.
Concerned about safety in Bogotá? Take a read of my safety guide to Bogotá.
This post was proofread by Grammarly
Are you ready to book your trip?  To help you get the best deals and service here are the companies that I personally use to book all of my travel online. I always shop around before booking anything, but these are my tried and tested starting places.