Wondering what to do around Bogota? If you are staying in Bogota for more than a few days there are some pretty incredible places you can visit. Just a short bus ride from the city are 3 amazing day trips from Bogota I can highly recommend. Bogota may be a big city, but trust me, just the other side of those mountains is a whole other world! I really recommend making at least 1 of these day trips from Bogota if you can.
Need a Colombia backpacking itinerary? Click here to read mine.
Did You Get Travel Insurance Yet?
If 2020 taught us anything, it's that you need to be prepared for anything! Travel insurance has always been high my list of things to get before I travel but now more than ever its at the top of my list.

I'm pretty sure we have all had travel plans messed up because of COVID and not all insurers covered this. So when looking for travel insurance it's important to check it covers travel disruption due to COVID-19, Hey Mondo, Passport Nomads, Safety Wing, and Travel Insurance Master all provide cover for this.

Hey Mondo is great if you are looking for a great value flexible policy. They offer single trip cover, annual multi trip cover, and long term travel cover. You even have the option to start the cover when you are already on your trip, although you won't be covered for the first 72 hours. For me my favourite feature is their app which offers you a 24/7 Dr chat and the ability to file a claim direct in the app.

Passport Nomads provides the most comprehensive cover for Digital Nomads. The game changer with them is that you have a red card and if you find yourself in need of medical care you just contact them and they will pre load your card with the funds to cover your treatment, meaning you won't need to pay out of pocket and then put in a claim later.

Safety Wing is great value with monthly cover starting at $39. It's super easy to use and it just renews each month. They have an excess of $250 and it's simple to make a claim through their website. I currently use them as they offer me free cover for my son as part of my policy and I like that it renews on a monthly basis, so I don't have to pay out a big lump sum up front.

I also use Travel Insurance Master for some short vacation type trips.

If you are doing shorter trips or an extended backpacking trip then Hey Mondo or Travel Insurance Master are the best option. If you are a digital nomad or planning travel of at least 6 months then go for Passport Nomads or SafetyWing.
The 3 Best Day Trips from Bogota Colombia
Cathedral del Sal
La Chorerra Waterfall (the highest waterfall in Colombia)
Therme Spa in

Choachí
Each of these can be arranged as day tours from Bogota with a private tour company like Colombian Buddy. Or you can do what I did and make your own way there!
Visit the Catedral del Sal from Bogota
This is probably the most popular of the day trips from Bogota. Most people visiting Bogota for more than 2 days make the trip to The Cathedral of Salt in Zipaquirá. You will find lots of tour companies wanting to take you there for a nice fee.
Don't bother.
It is so easy to get there on a bus and you have to pay for a guided tour anyway in the entrance fee. So take my advice and save yourself some $$.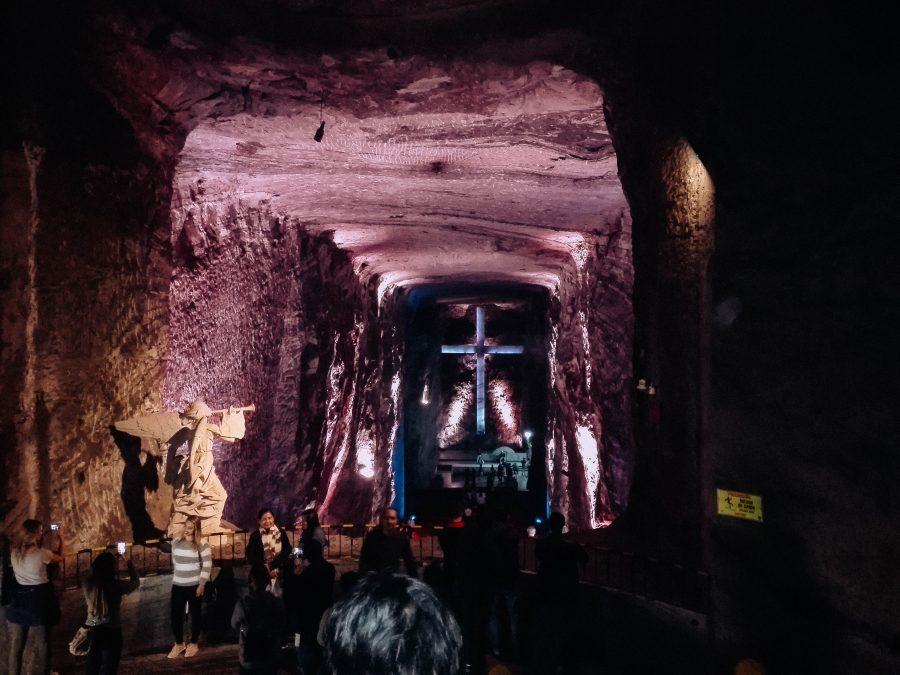 For my full guide including how to get there click here to read my full post.
Need to book transportation in Colombia?
I highly recommend booking all of your Colombia transportation with GuateGo. You can search for buses, shuttles, ferries, and Flights on their website. What I love most about them is their customer service. I know these guys personally from my time living in Guatemala and they really do look after their customers. So if anything happens and you get delayed and miss your bus, you can just call them and they are always there to help.

If you book through them you will pay a little more than if you book in person at the bus station. But it's worth it for the ease and security in my opinion. Click here to search for transportation in Colombia.
Visit La Chorrera waterfall from Bogota
Just 1 hour outside of Bogota is La Correra Waterfall, the tallest in Colombia. This is my personal favorite of all of the Bogota day trips.
If you have a few days in Bogota I highly recommend spending at least one of your days there outside if the city! It really is a different (more beautiful and less polluted) world just over those mountains.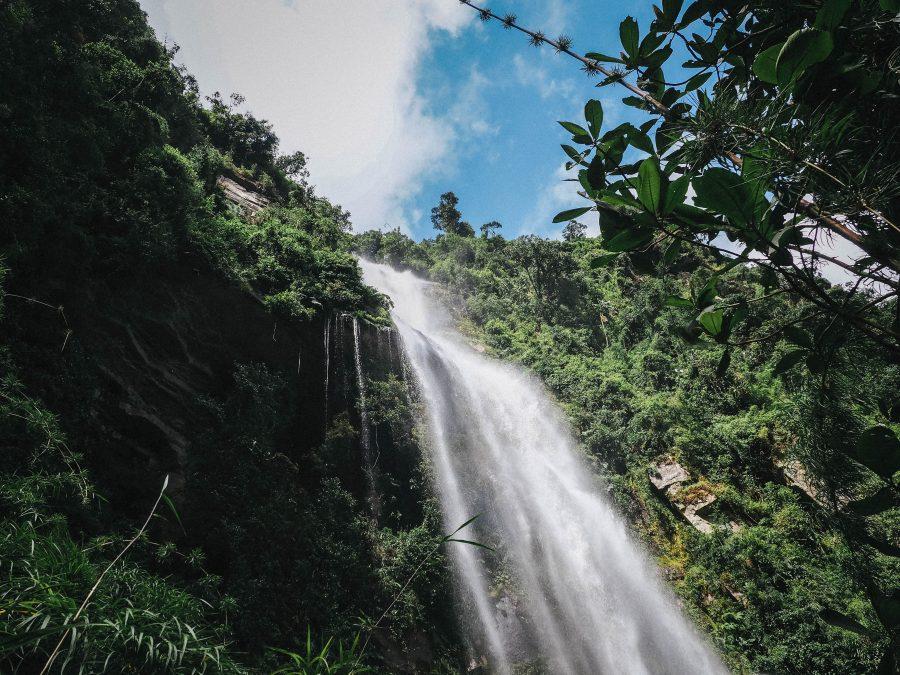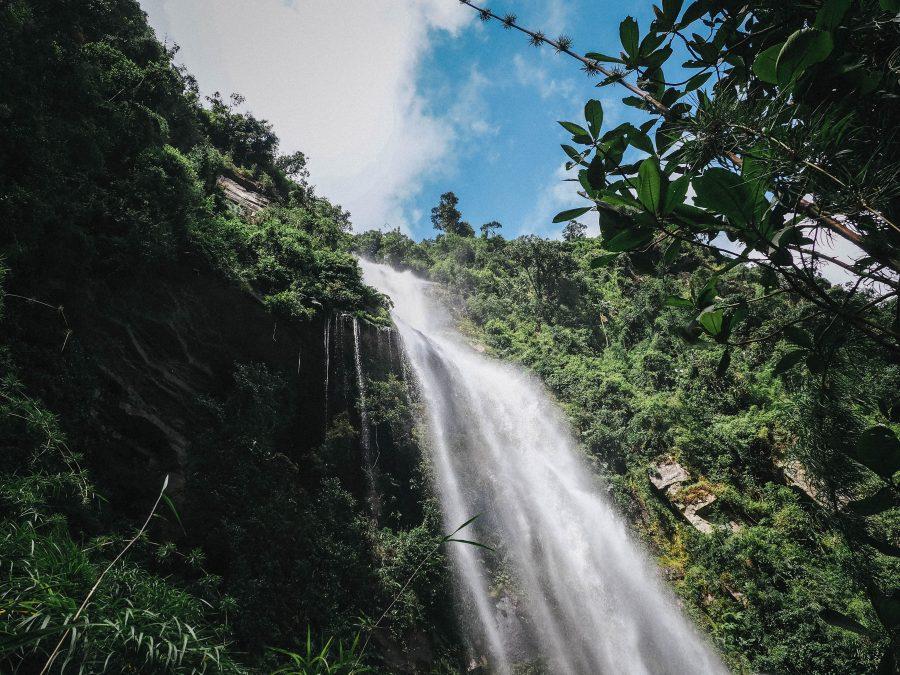 It is easy to reach and so worth the day trip from Bogota!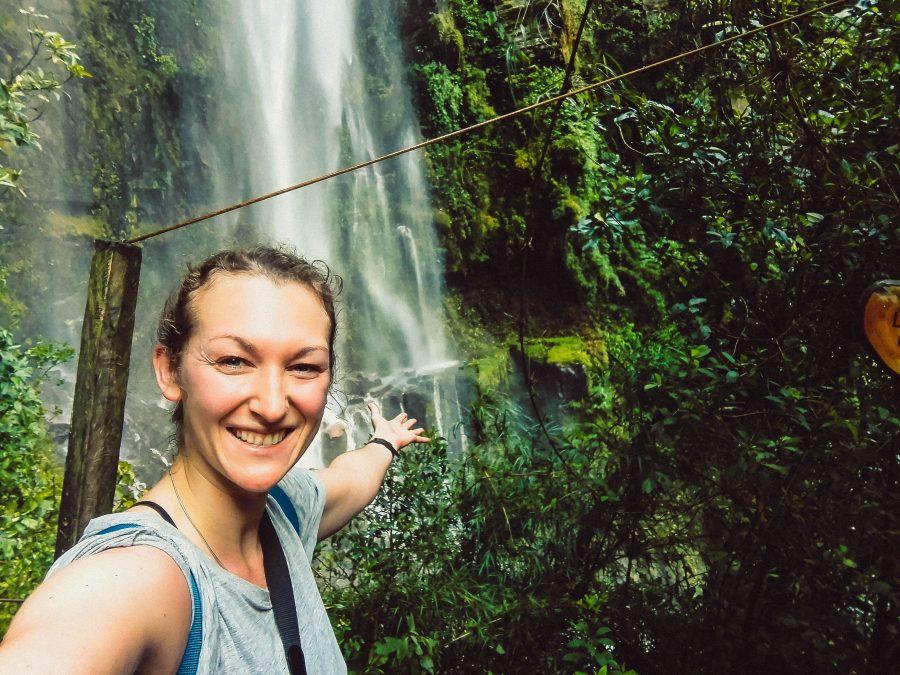 You can read my full post here or take watch of my short video.
Visit the Thermal Spa in Choachi
If you are looking for the perfect relaxing escape from the smog of Bogota then look no further. Just a 1-hour bus ride from Bogota in a town called Choachí you will find Thermales Santa Monica. This is the closest Thermal Spa to Bogota and is well worth a visit.
The cost of a day pass is really reasonable. For an Adult it is $20mil on a Monday, $25mil Tue-Sat and $35mil on Sundays or public holidays, making it one of the most affordable Bogota day trips.
You can read my full post here.
Top Tip: The spa
is on the same bus route as the waterfalls so I suggest doing 2 Bogota day trips in one and going to the waterfall and camping overnight there. Then the next morning make your way back up to the main road and take a bus down to Choachi (or just hitchhike – probably quicker) and find a campsite or Finca to stay there if you want to stay for a second night. Then you can spend the day in the spa returning to Bogota on the last bus at 5 pm or the next morning.
This post was proofread by Grammarly