If you are planning a trip or a move to Colombia you may be feeling a little nervous, especially if you are traveling alone and maybe you are thinking about using a Colombia tour guide service.
Before I arrived in Colombia I had watched the news, my friends and family were vocal about their concern for my safety in Colombia and as my Spanish wasn't the best I knew things were going to be tricky to start, and it was. So when I found out about Colombian Buddy a personal Colombia tour guide service, I knew I needed to learn more.
Did You Get Travel Insurance Yet?
If 2020 taught us anything, it's that you need to be prepared for anything! Travel insurance has always been high my list of things to get before I travel but now more than ever its at the top of my list.

I'm pretty sure we have all had travel plans messed up because of COVID and not all insurers covered this. So when looking for travel insurance it's important to check it covers travel disruption due to COVID-19, Hey Mondo, Passport Nomads, Safety Wing, and Travel Insurance Master all provide cover for this.

Hey Mondo is great if you are looking for a great value flexible policy. They offer single trip cover, annual multi trip cover, and long term travel cover. You even have the option to start the cover when you are already on your trip, although you won't be covered for the first 72 hours. For me my favourite feature is their app which offers you a 24/7 Dr chat and the ability to file a claim direct in the app.

Passport Nomads provides the most comprehensive cover for Digital Nomads. The game changer with them is that you have a red card and if you find yourself in need of medical care you just contact them and they will pre load your card with the funds to cover your treatment, meaning you won't need to pay out of pocket and then put in a claim later.

Safety Wing is great value with monthly cover starting at $39. It's super easy to use and it just renews each month. They have an excess of $250 and it's simple to make a claim through their website. I currently use them as they offer me free cover for my son as part of my policy and I like that it renews on a monthly basis, so I don't have to pay out a big lump sum up front.

I also use Travel Insurance Master for some short vacation type trips.

If you are doing shorter trips or an extended backpacking trip then Hey Mondo or Travel Insurance Master are the best option. If you are a digital nomad or planning travel of at least 6 months then go for Passport Nomads or SafetyWing.
What is Colombian Buddy?
They actually have a great website you can visit that gives you a ton of information, and this cool video.
In short, a Colombian Buddy can be whatever you want and need it to be! They are like a professional friend, who knows their country and wants to help you fall in love with Colombia and have the best time you can there. To help you get an idea of what they can do here are a few things:
Local Knowledge
I think this is one of my favorite services, especially if you are on a budget. You can ask for one of their Colombia tour guides to come and sit down with you and tell you everything you want and need to know about the area.
As someone who arrived in Bogota and had no local knowledge, basic Spanish and no local friends, I am kicking myself that I only found out about Colombian Buddy a week before I left! They can not only give you local information but they can also help with more general national stuff. For example. You could ask to meet for an hour in a coffee shop, in that time your Colombian Buddy can not only give you a list of things to see and do in the city you are in but they can also talk to you about local safety, transport, cost of basics (so you don't get ripped off at the market) and you can ask them for advice on your Colombian itinerary if you are traveling around the country.
This information is gold! It won't just save you time in doing the research yourself, but it could also save you money by making sure you don't get ripped off.
I spent the morning of my last day in Bogota with Paolita from Colombian Buddy. She took me on the most incredible (easy) hike that is accessible from the city with the BEST views! I would never have found this hike, or been able to get to it without her help.
Need to book transportation in Colombia?
I highly recommend booking all of your Colombia transportation with GuateGo. You can search for buses, shuttles, ferries, and Flights on their website. What I love most about them is their customer service. I know these guys personally from my time living in Guatemala and they really do look after their customers. So if anything happens and you get delayed and miss your bus, you can just call them and they are always there to help.

If you book through them you will pay a little more than if you book in person at the bus station. But it's worth it for the ease and security in my opinion. Click here to search for transportation in Colombia.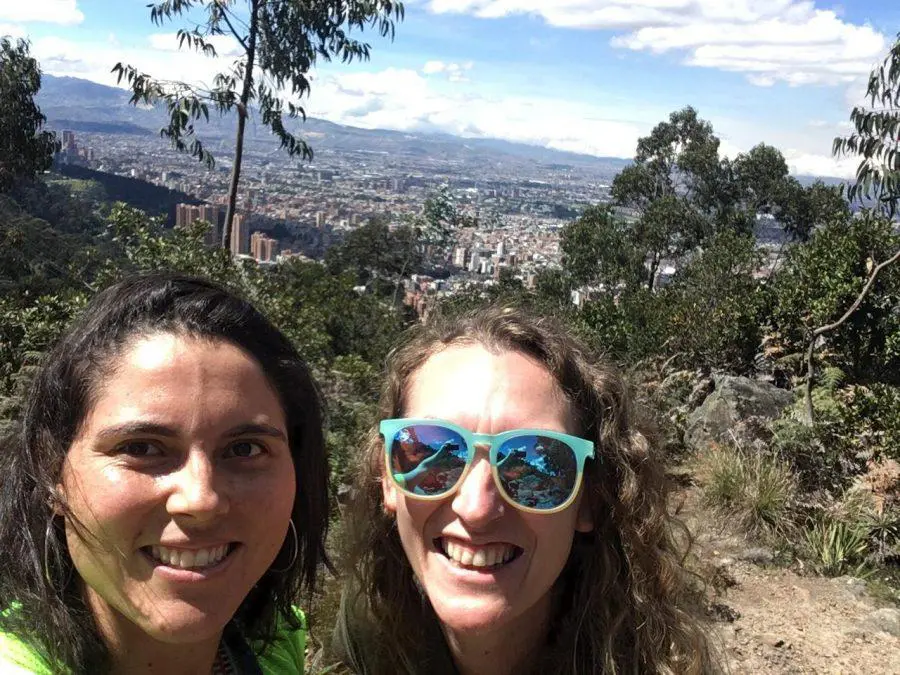 Just look at the views! Way better than Monserrate…
This hike wasn't just beautiful (and a welcome break from the smog of the city), it was also super informative. Paulie talked me through the city pointing to landmarks and giving me advice on where things were. I think if I'd have done this the day after I arrived in Bogota my trip would have been a whole lot better! Seeing the city from above like that gave me a whole new perspective. She also talked about the transport system and the green spaces.
In my opinion, the best way to spend your first morning in Bogota would be to do this 1-hour hike and then go for a coffee after. That way you get a great orientation and all of the information you might need for your trip!
A Spanish speaking helpful friend
Spanish not that great? Mine is ok, I can order food, ask for simple things and have a basic conversation with someone. However, there are times when I've known I needed to do something a little more complicated and have been filled with dread.
When I sprained my ankle and needed to go to the doctor. Doctors = more complex language that goes over my head.
That time my phone was stolen and I needed to report it to the police and cancel it with the phone company. Calls to Claro = my worst nightmare… in fact, just talking in Spanish on the phone, in general, makes me want to cry!

When I had to go and buy a replacement phone and ask for the same number. Buying phones in Colombia is a bit tricky as you have to do all kinds of things to register so if it is stolen they can shut the phone down. This is to help deter phone thieves. Me trying to buy a phone = many puzzled looks I don't understand!
For all of these scenarios, I needed a Spanish-speaking friend. Fine if you have one, but if you don't, that's where Colombian Buddy can help you out. Simply give them a call, explain your problem and they will come to the rescue!
Company on trips or nights out
Ok, so this is a big one. Sometimes solo travel can get a little lonely. If you want a night out but have no idea where to go they can not only recommend where to go, but they will take you there and have a dance with you! Having spent some time hanging out in their office with resident dance instructor … I can highly recommend this! I had my first Cali style salsa class with them and it was so much fun!
Or maybe you want to go and visit a local attraction but you are a little nervous about getting the bus on your own? Never fear they can accompany you on your trip and make sure you get there safely and have the best time. Although they aren't professional tour guides they know their way around and will make sure you have the best experience.
Shopping buddy
This is a great one if you are planning on staying in town for a while. Your Colombian Buddy can show you the best places to shop and make sure you get the best deals on your shopping. You just keep a note of where you are and the cost and then when you go on your own next time you know you are getting the best deals! Money well invested I'd say!

Vacation planner
Ok so this one is for those of you out there with a little bit more cash to play with but who want an authentic Colombian experience. If you aren't into group tours booked through an agent (often very expensive and in big groups) you can ask Colombian buddy to plan your trip for you. All they will need is your dates, budget and a list of things that you like to do.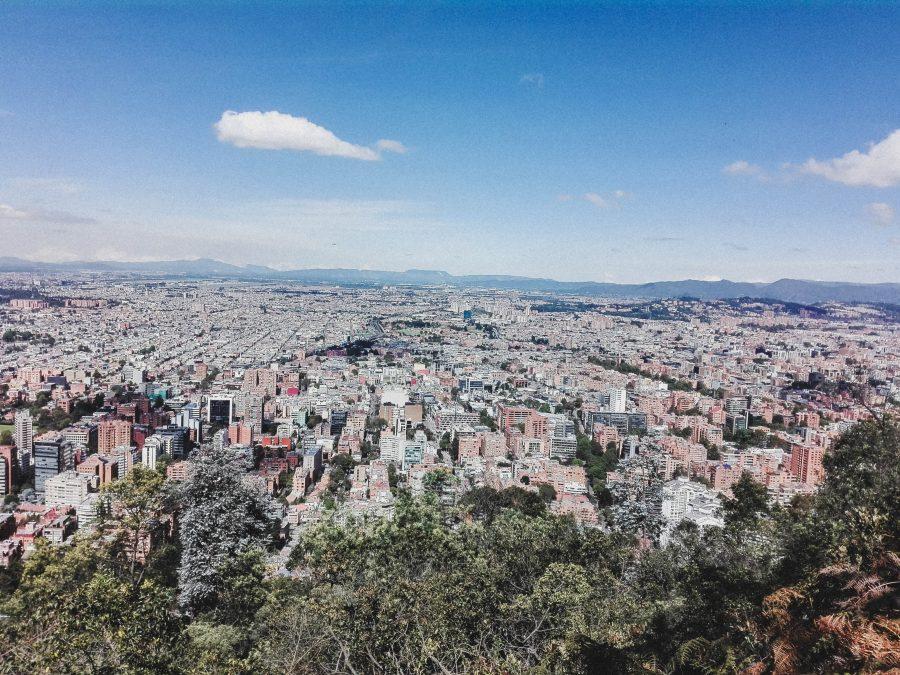 For example:
I'm in Bogota for 3 days and I like nature, hiking and salsa dancing. They will then plan activities they know you will love for those 3 days. They can also accompany you for the 3 days.
Or if you have to say 3 weeks in Colombia you can do the same on a bigger scale. They will plan as little or as much as you like. They can advise you what places to visit, how long to stay, how to get there and where to stay. As well as helping you find cool things to do while you are there.
They also offer:
A massage service (they will come to your hotel) and 121 Salsa Classes (amazing)
Reasons you need a Colombian Buddy
There are many reasons why I think Colombian Buddy experience is an amazing. But here are my top 3:
Saves you time
If I'd have known about Colombian buddy when I first arrived in Bogota I would have asked them to show me how to use Transmilenio and asked them to give me a bit of an orientation. Doing this would have saved me HOURS of time and a few taxi rides. I got lost 4 times in my first week and I was late for 2 job interviews and my first English lesson with a new student. I really could have done with the help!
Sitting down with them for an hour to plan what you can do in the city (or country)will save your hours of research and searching through travel books.
Saves you money
If you are on a budget and want to save money they can help by giving you money-saving tips and advice. For example, you can save money by using the bus to get to the airport rather than a taxi and they can explain how.
Helps you to make the most of your visit
If I hadn't found Colombian Buddy I would not have found this amazing view. I hadn't read about it anywhere online and even if I had, without a car and a bit of local knowledge I probably wouldn't have found it. Their local knowledge will help you find the best things to do on your trip. And that is priceless
Yea, but is it for backpackers? I'm on a budget you know!
Trust me when I say if you just pay for 1 hour of there time and a coffee you will easily make that money back in savings with the advice they give you. Also if there is a group of you who want to do something then you can all chip in and split the cost.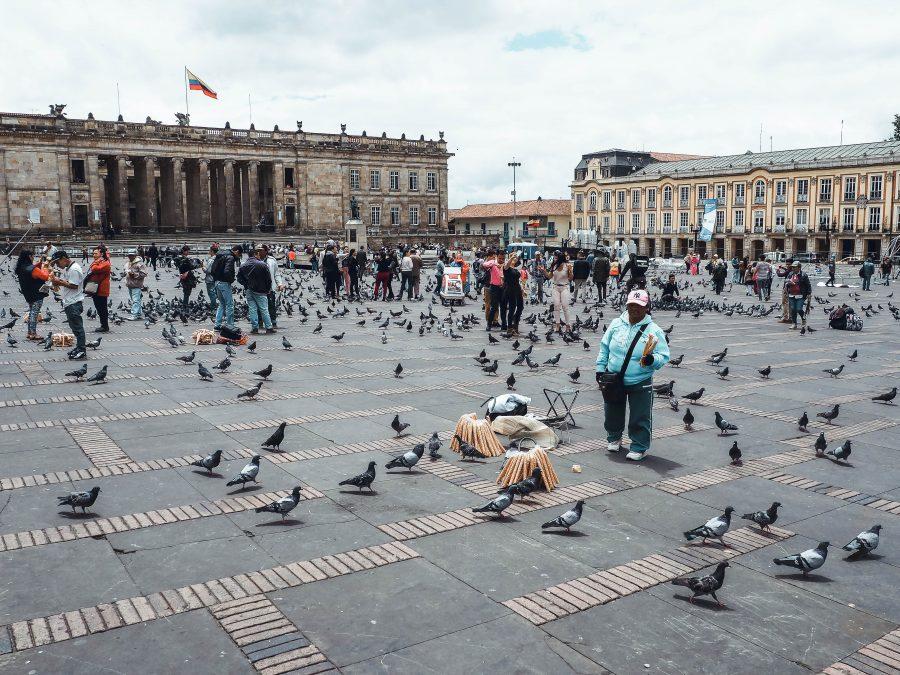 How does it work?
Colombian Buddy was set up by 2 Backpackers. After backpacking around Latin America they returned home to Colombia and set up Colombian Buddy as they saw a real need for a service like this. While they were traveling they missed out on so many cool experiences in the city's they visited as they just didn't hear about them or know how to get to them. So Colombian Buddy was born to help people visiting Bogota make the most of their trip. They have more recently expanded to other cities in Colombia.
To use their services you just contact them by email, WhatsApp or phone and tell them what you need.
Payment works like this:
You cover all expenses for yourself and your buddy (pretty fair!) and then you pay what you think your experience (and their time) is worth. There is a recommended hourly rate of $12 for your buddies time and you pay at the end.
To be clear I have not been paid for this article and it is 100% my own opinion. I just think it's an incredible service and wanted to help promote it so others know about it when visiting Colombia. I really hope it is useful to you and please do leave me a comment below and feel free to ask any questions!
Wondering where to stay in Bogota? I recommend staying in Chapenero over La Candelaria if you are staying longer than 24 hours.
Hotels I recommend are:
Hotel Morrison
Selina Chapinaro
Republica Hostel Chapinero
Hotel Living 55
93 Luxury Suites & Residences
If you are only in town for 1 night then I recommend staying in one of these places in La Candelaria:
Selina La Candelaria
Casa artistica
Arche Noah Boutique Hostel
If you need a hotel close to the airport then I recommend the Radisson AR Bogota Airport.
Concerned about safety in Bogotá? Take a read of my safety guide to Bogotá.
This post was proofread by Grammarly