If you are looking for the perfect relaxing escape from the smog of Bogota then look no further than the Termales de Choachi (a thermal spa near Bogota). Just a 1-hour bus ride from Bogota you will find Thermales Santa Monica. This is the closest Thermal Spa to Bogota and one of the most relaxing Bogota day trips you can make!
Why visit the Termales de Choachi?
After 2 months in Bogota I was in serious need of a few things:
Fresh air

Relaxation

Heat

A bit of self-care/ pampering – that wasn't going to break the bank

A crazy bus ride over the mountains
OK so maybe I wasn't that in need of the last one but trying to find my way on public transport to a new place in Latin America is always an adventure I enjoy!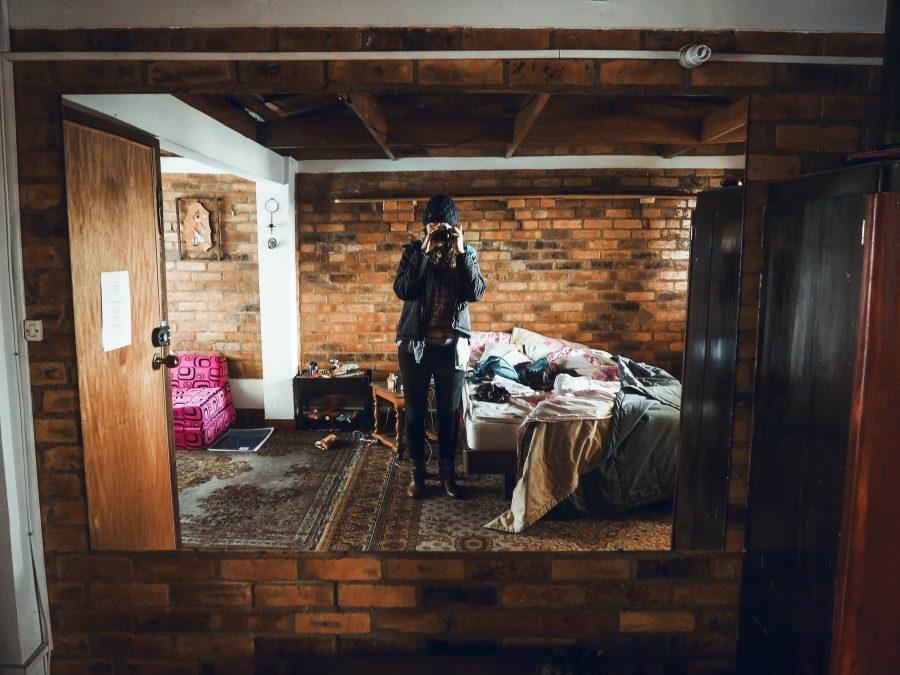 As the Spa is just an hour away from Bogota on the bus it is a great place to escape to for a day. At a lower altitude than Bogotá, it is also a lot warmer. I can't even tell you how happy I was to be able to walk around in my swimwear after months of having to always wear my coat in the city.
About the Thermal Spa close to Bogota
The water in the pools is from a mineral hot spring, meaning it is a little bit smelly! But nothing too overbearing. I noticed it more on my skin and hair traveling back on the bus than I did in the water. There are 5 main pools in the public complex including:
Large 'swimming pool'

Small children's swimming pool

Jacuzzi

2 small hot pools

2 saunas (normally only 1 is working during the week)

2 steam rooms (normally only 1 is working during the week)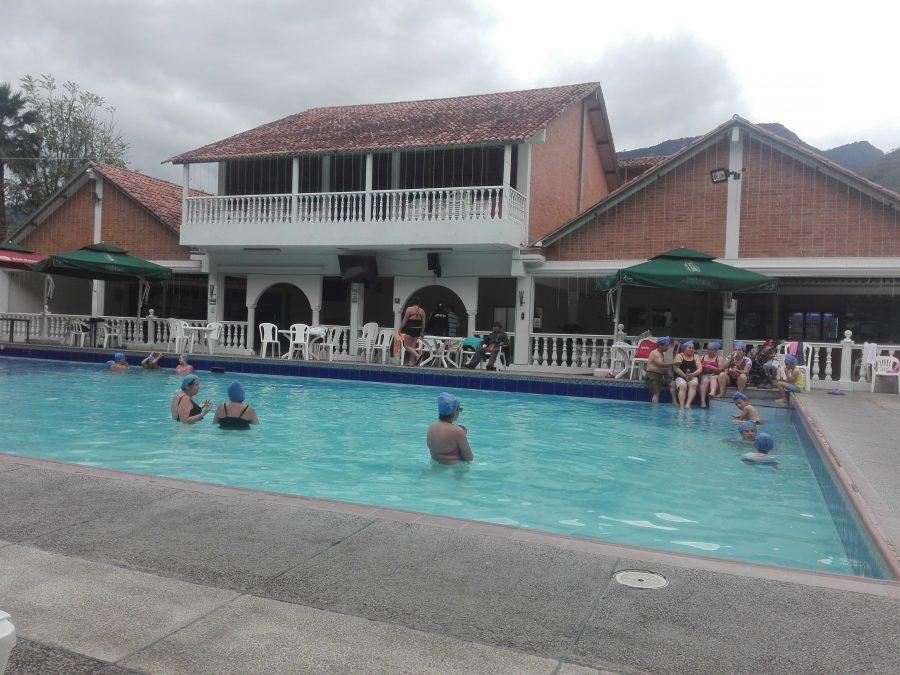 In the Termales de Choachi there are treatment rooms, and I would have loved a massage, but I didn't see any therapists or any information about booking. They also have nothing on their website, so I'm not sure how of if you can book treatments. I
There is also a restaurant and a snack bar. The food is on the pricey side for Colombia, but as you would expect from a Spa. We had a good nice meal and fruit juice, nothing special though.
If you want to stay overnight at the hotel you also get access to a private guest only area.
The cost of a day pass to the Termales de Choachi is really reasonable. For an Adult, it is $20mil on a Monday, $25mil Tue-Sat and $35mil on Sundays or public holidays.
Things to do in Choachi
One thing that I regretted straight away was not staying overnight in Choachi. Driving through our TukTuk driver gave us so much information about cool places to stay and pointed them out on-route. I was kicking myself! Sadly I couldn't stay as I needed my laptop to teach the next morning, and I hadn't brought it with me. If I could do this trip again I would 100% stay overnight.
Where to stay in Choachi
If you do decide to stay, get the 9:30 bus from Bogota and just ask around in the town for where the best places to stay are. I would suggest one of the fincas in between the town and the spa. You can get a TukTuk to drop you off and be sure to get his number so you can call when you need to go anywhere.
It's a small town but it looked like a nice place to explore for a few hours and eat some local food. The fincas looked really peaceful and perfect for a night or peace and quiet away from Bogota. Sadly I didn't get to explore the town or stay myself so I can't tell you much more about it.
Getting to Choachi Spa from Bogota
It's actually really easy to get the bus, and very cheap.
Take the Transmilenio to Tercer Milenio (one stop south of AV Jimenez on the Caracas line). When you get out of the station (south side) you will see a large police station on your right. Cross the road towards the police station and walk down that road (Calle 6).
Just after you pass the police station on your right you will see a bus stop and a few street vendors. Look to your right and you will see a small inside (garage) bus station. Go to the ticket booth and ask for the bus to Choachi. The cost is $8MIL COP each way.
Once you arrive in Choachi grab a taxi or a TukTuk and ask them to take you to the Thermales. It should only cost 5mil one way. I would ask for a phone number of the driver so you can call him to pick you back up. Although when I left there were 4 drivers there ready and waiting to run people back into town.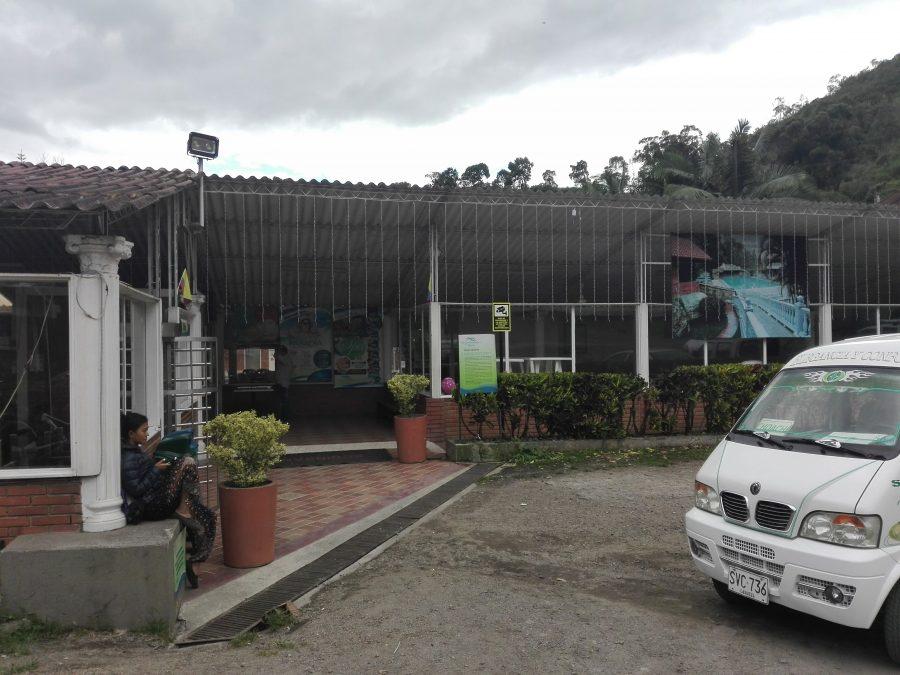 Getting the bus back to Bogota is down to luck! Make sure you arrive back to the bus stop by 4:30-4:45 as the last bus from the town is at 5 pm. There are busses all day, but no set timetable and when I tried asking the driver he just shrugged his shoulders. I think they just come and go whenever!
Wondering where to stay in Bogota? I recommend staying in Chapenero over La Candelaria if you are staying longer than 24 hours.
Hotels I recommend are:
Hotel Morrison
Selina Chapinaro
Republica Hostel Chapinero
Hotel Living 55
93 Luxury Suites & Residences
If you are only in town for 1 night then I recommend staying in one of these places in La Candelaria:
Selina La Candelaria
Casa artistica
Arche Noah Boutique Hostel
If you need a hotel close to the airport then I recommend the Radisson AR Bogota Airport.
This post was proofread by Grammarly
Are you ready to book your trip?  To help you get the best deals and service here are the companies that I personally use to book all of my travel online. I always shop around before booking anything, but these are my tried and tested starting places.