Just 1 hour outside of the city is one of my top Bogota day tours, Cascada la Chorrera Bogota, the tallest waterfall in Colombia. If you have a few days in Bogota I highly recommend spending at least one of your days there outside if the city! It really is a different (more beautiful and less polluted) world just over those mountains.
How to get to Cascada La Chorrera from Bogota
You have a few options to get from Bogota to La Chorrera:
Visit Parque La Chorrera by Car
If you have a Colombian friend with a car or decide to rent one then it's a pretty straightforward drive. The car part is at the trailhead in Parque la Chorrera and costs just $5mil COP.
For most people, this isn't an option though. Although you could probably get an Uber driver to take you and arrange for him to come and pick you back up a few hours later. This would still be cheaper than a tour especially if there are a few of you.
Take a Tour to Cascada la Chorrera Waterfall Bogota
You will find plenty of tour companies offering to take you for $300MIL – $700MIL COP. They will pick you up, guide you around and bring you back. But to put the cost in perspective I spent less than 20MIL COP and that included lunch…
Did You Get Travel Insurance Yet?

If 2020 taught us anything, it's that you need to be prepared for anything!

The Insurance companies I personally recommend are Hey Mondo, Passport Nomads, Safety Wing, and Travel Insurance Master

Hey Mondo is great if you are looking for a great value flexible policy. They offer single-trip cover, annual multi-trip cover, and long-term travel cover.

Passport Nomads provides the most comprehensive cover for Digital Nomads. If you find yourself in need of medical care you just contact them and they will pre-load your card with the funds to cover your treatment, meaning you won't need to pay out of pocket and then put in a claim later.

Safety Wing is great value with monthly cover starting at $39. It's super easy to use and it just renews each month. I currently use them as they offer me free cover for my son as part of my policy.

I also use Travel Insurance Master for short trips.

Read my full travel insurance post here where I go into detail about all 4 companies.
Take the Public Bus from Bogota to La Chorrera Waterfall
It's actually really easy to get the bus to La Chorrera, and very cheap. Especially when you compare it to the cost of a tour!
Take the Transmilenio to Tercer Milenio (one stop south of AV Jimenez on the Caracas line). When you get out of the station (south side) you will see a large police station on your right. Cross the road towards the police station and walk down that road (Calle 6). Just after you pass the police station on your right you will see a bus stop and a few street vendors. Look to your right and you will see a small inside (garage) bus station. Go to the ticket booth and ask for the bus to Choachi. Let him know you are going to Cascada la Chorrera, he will let the driver know to stop for you. The cost is $7.5MIL COP each way.
Once you get off the bus you will see a tienda (shop) with a green roof to your right. It's a good idea to check with them the bus times going back. I didn't do this and ended up sat there for 2 hours waiting.
Take a walk down the road through the village to the trailhead. I have been told this walk is 45 minutes. I'm not convinced though, it seemed a lot further than that to me. But it is downhill. I managed to hitch a ride of some very friendly locals. They were so happy to see a tourist in their village I was invited to come and stay with their family and they wouldn't let me leave until I took their phone number in case I needed anything! I also managed to get a lift back up as I really didn't fancy that long uphill walk back to the main road. It's a small village so if you ask around one of the locals will be happy to drop you for a few MIL COP (I gave him 5MIL).
**I really do not recommend hitchhiking or asking people for lifts if you don't speak any Spanish. This is a remote area and no one will speak English. **
The Hike to La Chorrera
The trail starts here at this shop/ restaurant. You can use the bathroom and pick up some supplies for the hike.
The trail itself is really well marked out and it's pretty impossible to get lost!
You walk through some farmlands past a cool looking campsite (if you have the time bring your tent and camp).
Then you will reach a second tienda (with the best Empanadas I've tasted in Colombia so far). I didn't stop on the way there but I did on the way back. The owner is a really cool guy from Cuba who introduced me to traditional Cuban music and even demonstrated the dance for me. He also asked his friend to give me a lift back up the main road. So be sure to stop on your way back for a beer and a chat. He also has accommodation to rent if you don't fancy camping.
Take a left at the tienda and you will find the path to the waterfall.
After 10 minutes or so you will reach the first waterfall. It is actually inside an activity center. If it is open ( it wasn't when I was there) you have to pay $8MIL and they will give you a tour of it (not optional), you can walk behind the waterfall and take pictures etc. It was closed when I was there, but I was told you can move across this piece of wood and just go in if it is locked up. I didn't because I didn't see where he meant until the way back and I was worried about the time.
The hike took me around an hour and a half to do and it was really pleasant.
I also had a little 4 legged friend to keep me company along the way. She belonged to the Cuban in the tienda, or I probably would have tried to keep her haha.
There are so many beautiful views along the way.
I loved all of the little wooden signs too.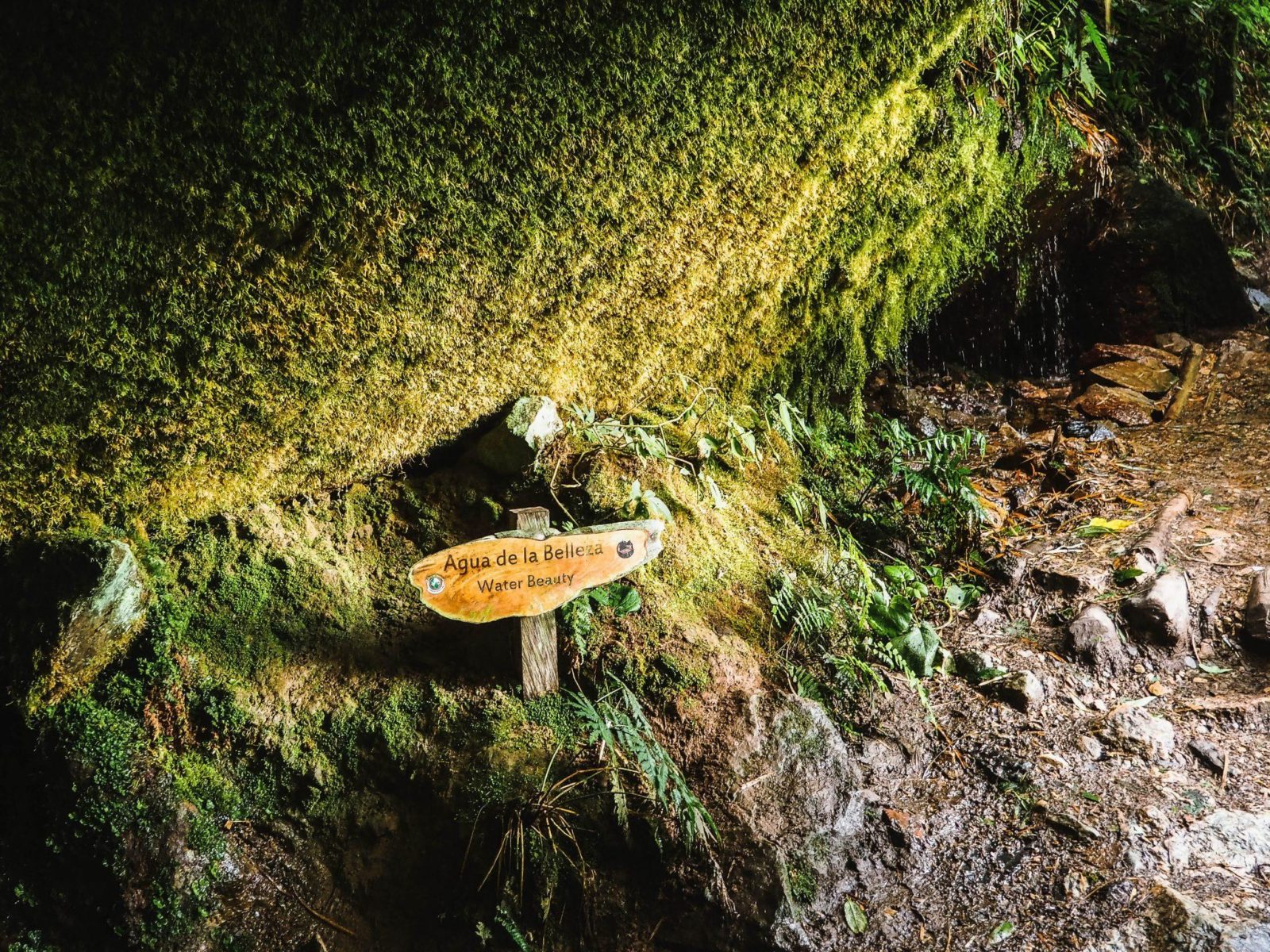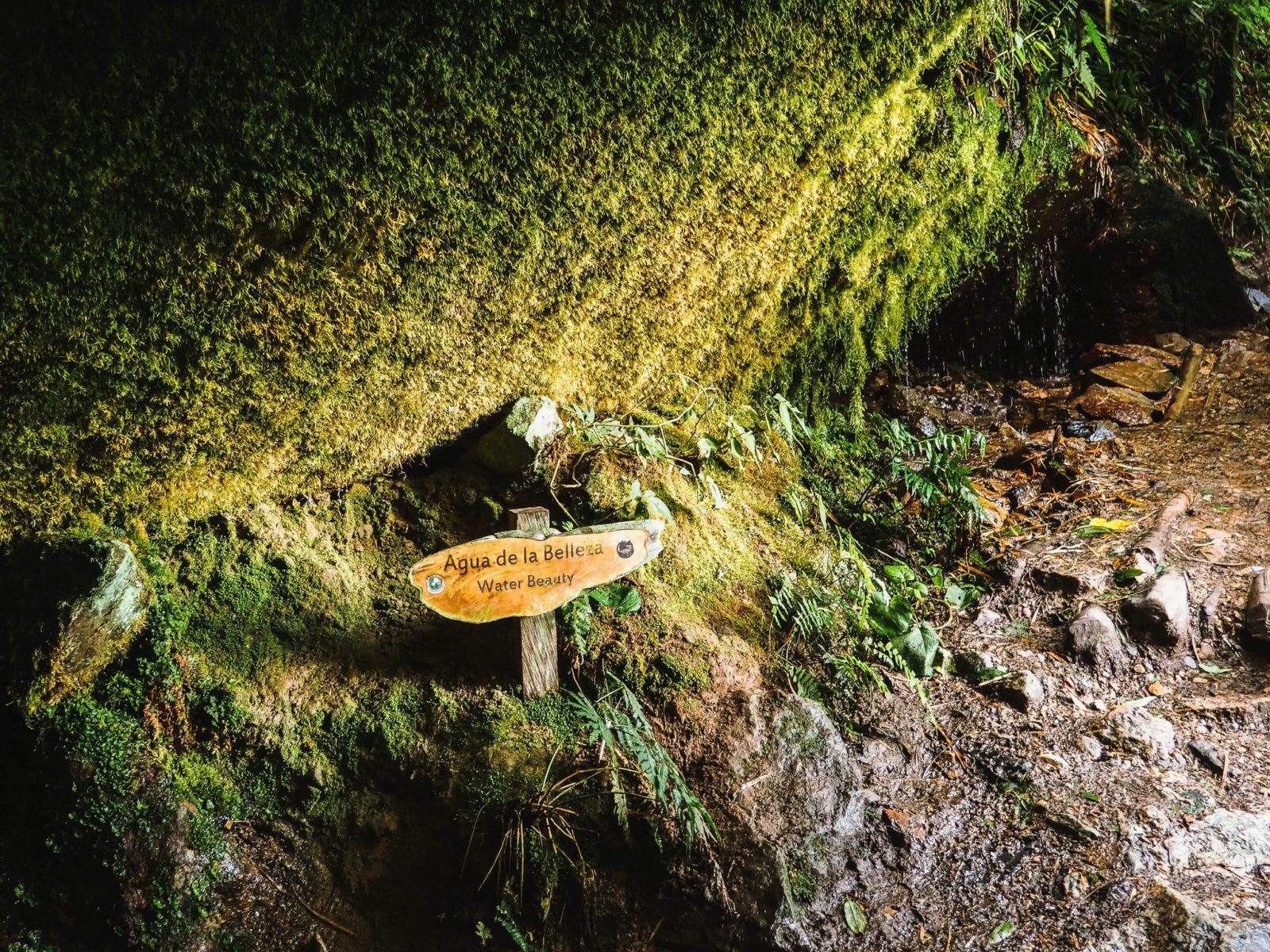 From a distance the waterfall really is incredible
But it's even better when you get up close.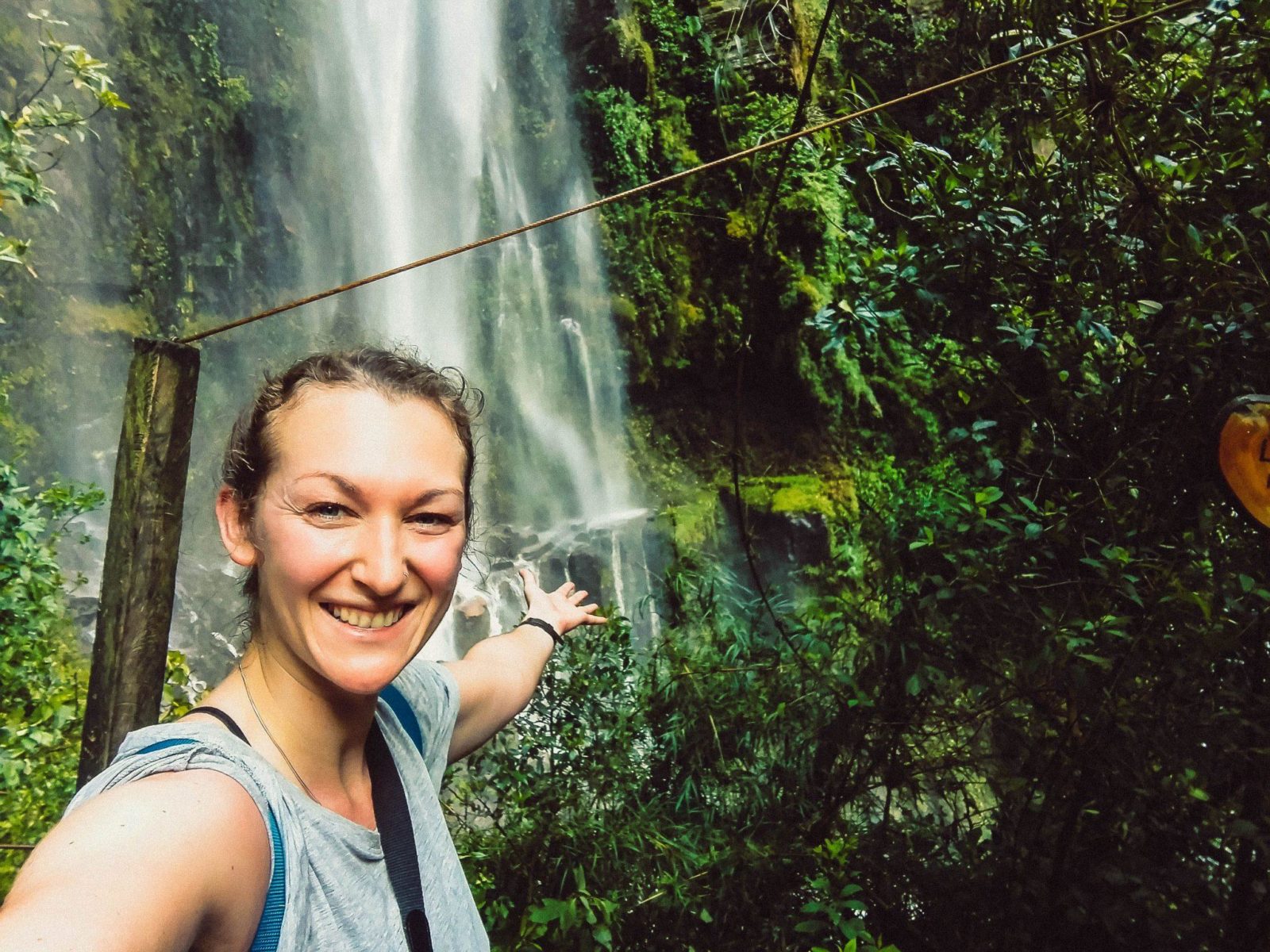 Just as I was about to leave the clouds broke and the sun came out.
And this beautiful rainbow appeared.
Be sure to wear appropriate footwear as there is a lot of rocky patches you have to walk through and also a shallow stream you have to cross. I was really glad of my hiking boots.
You take a slightly different route back for the first part, not sure why, but I did as the sign told me!
When you get back to the yellow tienda be sure to stop off for a drink and an empanada and ask if he knows anyone who can give you a lift to the bus if you don't fancy the walk.
When you get back up onto the main road get yourself a drink at the tienda and grab a seat to wait for the bus to Bogota. It's not a busy road and you will hear the bus coming before you see it.
**Warning**

If you get car sick be sure to take something as it is a very windy road over the mountain and I felt a little queasy on the way back!
Looking for other fun day tours from Bogota? How about visiting the thermal spa!
This post was proofread by Grammarly