When planning my trip to Colombia my biggest concern as a solo female traveler was safety in Bogota Colombia. I'd heard all of the horror stories warning me about how unsafe Bogota in Colombia is, the El Paseo Millonario taxi rides, and the pickpocketing. I'd also read plenty of blog posts saying there is nothing to worry about, and how safe Bogota is.
In my personal experience, Bogota is far from a safe city, but neither is New York City or any other big city! In this post, I am going to talk you through some of the safety issues you are likely to face and offer you some safety advice for Bogotá Colombia.
As I am a woman, and this is a solo female travel blog, this advice is aimed at women, however much of it is also suitable for men traveling in Bogota as well.
Okay, first things first. Bogota is very different from other cities in Colombia. That is why this safety post is specifically written for Bogota, and not Medellin, Cali, or the Caribbean coast. Each of those places has its own issues. Although there are common themes, Bogota is a bit more dangerous than the other cities in my personal experience.
Secondly, I feel it is important to mention that I lived in Bogota for several months. I worked in the city and spent time traveling around on public transport both during the day and at night. During the time I lived there I was almost robbed once (I chased him down haha) and had my phone stolen just once on the Transmillenio.
Bogota is a dangerous city, that doesn't mean you shouldn't go, it just means you should educate yourself and take precautions. It is a wonderful city and you really should visit.
Thirdly, they have a saying in Colombia and you should remember it – "No dar papaya" – it translates literally as "don't give papaya" (the fruit). It's meaning is don't give anyone the chance to steal your shit. In Colombia petty theft is fair game, if you leave your phone on the table, expect to get it stolen. I LOVE Colombia, but this is the worst thing about the country, it is seriously exhausting keeping your eyes on your things at all times, but it is the only way!
Did You Get Travel Insurance Yet?

If 2020 taught us anything, it's that you need to be prepared for anything!

The Insurance companies I personally recommend are Hey Mondo, Passport Nomads, Safety Wing, and Travel Insurance Master

Hey Mondo is great if you are looking for a great value flexible policy. They offer single-trip cover, annual multi-trip cover, and long-term travel cover.

Passport Nomads provides the most comprehensive cover for Digital Nomads. If you find yourself in need of medical care you just contact them and they will pre-load your card with the funds to cover your treatment, meaning you won't need to pay out of pocket and then put in a claim later.

Safety Wing is great value with monthly cover starting at $39. It's super easy to use and it just renews each month. I currently use them as they offer me free cover for my son as part of my policy.

I also use Travel Insurance Master for short trips.

Read my full travel insurance post here where I go into detail about all 4 companies.

The biggest Bogotá safety issues are:
Taxis

Street Crime (pickpocketing and bag theft)

ATM theft

Drink spiking
I have broken down each one and gone into as much detail as I can. While in Bogota I almost had my bag stolen (he did steal it but I ran down the street screaming and he gave it back to me!) and I did have my phone stolen. I also spent over 2 months living in La Candelaria in a pretty unsafe place. So I am speaking with some authority here!
Taxi Crime in Bogota
Number 1 rule in Bogota. Ladies, do not get in a taxi on the street of Bogota, EVER! Taxis in Bogota are not safe. The best case is they will take you on a nice tour of the city that you didn't ask for to run up the meter. Worst case you will experience the El Paseo Millonario ride.
Now, these might not happen every day, but it happens enough for it to have a name… I personally know a couple this happened to and there were guns involved. They were held hostage at gunpoint for several hours and forced to withdraw large sums of money for ATMs all over the city. Now chances are you would be fine, but honestly, don't take the risk when you can easily get a taxi using Tapsi, Uber, Beat, DiDi or Cabify.
All of these apps can be downloaded and it's the safest way to get a taxi in Bogota.
A note about Uber. In early 2020 Uber stopped working in Colombia for around 2 weeks (that's how long it took them to find a loophole to start operating again). As of now, it is working but there is a lot of hostility between the Taxi drivers and Uber drivers. So when using any of the ride-sharing apps make sure you always sit in the front of the car so you can pretend the driver is a friend. That way there is less chance of the driver getting yelled at by a taxi driver!
Need to book transportation in Colombia?
I highly recommend booking all of your Colombia transportation with GottoGo. You can search for buses, shuttles, ferries, and Flights on their website. What I love most about them is their customer service. I know these guys personally from my time living in Guatemala and they really do look after their customers. So if anything happens and you get delayed and miss your bus, you can just call them and they are always there to help.

If you book through them you will pay a little more than if you book in person at the bus station. But it's worth it for the ease and security in my opinion. Click here to search for transportation in Colombia.
Pickpockets in Bogota
Golden rule number 2 in Bogota. Never put anything in your pocket! EVER. I would also suggest you wear your backpack as a front pack.
I found out the hard way about this one. This is especially valid if you are traveling on the Transmiliniol system. In my time in Bogota, I used Transmilinio daily. I never put anything in my pockets EVER. Then one day I was tired and put my phone in my pocket in a rush to get n the packed bus. 5 minutes later it was gone. As easy as that! If you look anything like me (a 5f8″ gringa with blonde hair and blue eyes you are a walking target my friend so be warned.)
Keep a tight hold on your things as opportunists are everywhere!
Bag Theft and Petty Crime in Bogota
Golden rule number 3. Never leave anything anywhere, ever. If you are in a cafe don't put your phone on the table and don't leave your bag on the floor. Either have it on your lap or attached to you in some way.
On my 3rd day in Bogota, I was having a coffee and reading my book in a coffee shop. My bag was on the floor. A guy walked in and stood by me for a few minutes, dropped his bag, and picked mine up. I noticed as soon as he walked out as it felt a bit odd and when I looked down my bag was gone. So I ran out of the coffee shop screaming like a crazy person. There are police EVERYWHERE in La Candelaria so if a gringa starts screaming it draws the kind of attention thieves don't want. Lucky for me he dropped the bag on the street and ran off. I was very lucky!
Using ATM's in Bogota
Golden rule number 4 choose your ATM wisely. Due to the ATM charges I always withdraw the maximum amount per transaction. Doing this on the street always makes me super nervous. Then walking home with a bag full of money isn't ideal either. There are a few ways you withdraw money in Bogota safely, or at least with less risk.
Find an ATM inside a bank rather than one on the street.

Don't put all of your money together. I prefer to split my money up. I put a little in my purse, some in a pocket of my bag and then the largest amount I put in my bra. I always wear my leggings with a secret pocket to withdraw money too and use the pocket to keep my ATM card.
Go straight back to your accommodation. Take the fastest route and don't stop!
Drink spiking in Bogota
There is a well-known drug in Colombia called Borrachero. When drunk it pretty much turns you into a zombie! Be really careful with your drink when you are out drinking and don't accept drinks from strangers. This is common across Colombia, not just in Bogota. I must be honest, I was living in a dangerous part of town far away from my friends, so in the whole time I lived in Bogota I never went out! I just never wanted to risk getting home alone. So I never really worried about this!
These are the main general Bogota safety issues you need to be aware of.
But there are some others which I have covered below:
Is downtown Bogota safe?
La Candelaria might be safe during the day. But trust me it is not safe at night, I lived there for 2 months and I felt genuinely terrified walking home from work most evenings. There is a lot of street crime with people being mugged outside their hotels. Read this guide about where to stay in Bogota, I break down all of the different areas where it's safe to stay.
If you have a short time in Bogotá most people stay in La Candelaria because it's the most convenient place to stay. But if you are staying longer than 2 days stay further north in the Chapinaro area (Parque 93, Zona T, or the Zona Rosa). They have far better nightlife than Candelaria and are much safer. You can safely walk around at night, unlike La Candelaria. To get downtown for the 'tourist attractions you will just need to get on the Transmiliniao or book a taxi.
Stay out of the South of Bogota
There is no real reason to go any further south than La Candelaria. So don't. It isn't safe and there is nothing to see anyway. It is a huge city with plenty of places to explore in the north!
Is it safe to go hiking in Bogota?
Bogota has some amazing hikes. But they can be dangerous. Before you go on any of the hikes be sure to check with some locals about any issues. Or better yet hire a Colombian buddy to take you!
Is it safe to hike up to Monserrate
If you want to walk up Monserrate you should only do it when the police are there. It is a hotspot for muggings! The safest time to go is on a Sunday morning when the trail is packed with locals doing their Sunday pilgrimage. If you go during the week the best time to go is between 6-9am when the path is guarded. If you get there and don't see the guards don't hike.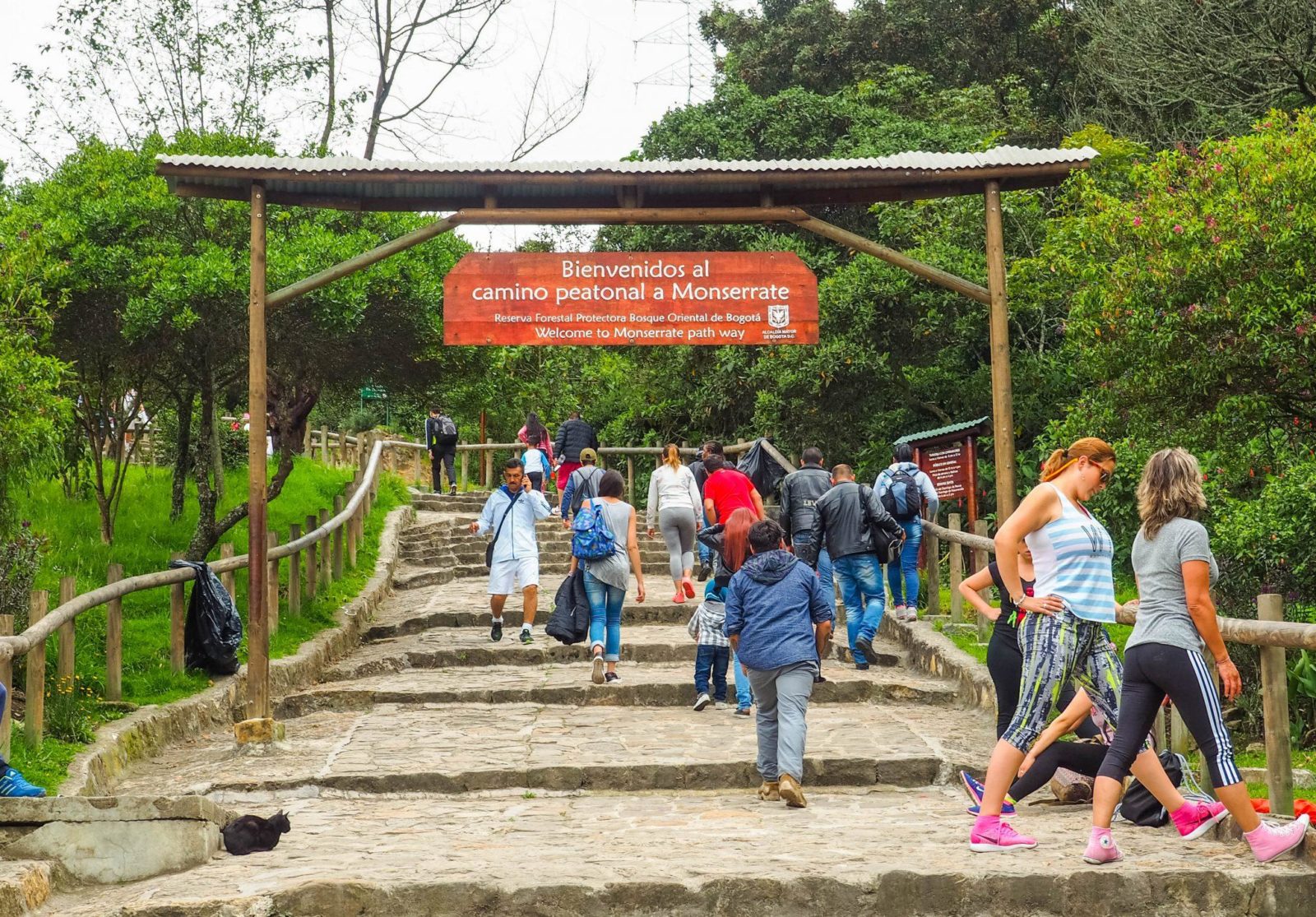 Keep a low profile and carry as little on you as possible
If you don't want to draw attention dress down. Leave the flashy clothes and jewelry at home and try and blend in as much as you can. I'm 5"8ins with blond hair and blue eyes…so it is hard for me to blend in! I wore a hat a lot and dressed in dark clothes.
Politics in Bogota
As Bogota is the capital city there are a lot of protests and political marches. I lost count of the amount I saw here during my time in the city. To avoid getting caught up in these potentially volatile situations avoid walking through any protests and marches. The best way to stay safe is to stay as far away from it as possible.
Summary
I wanted to write this post because I feel people, especially women traveling alone, should be as informed as they can be when traveling to Bogota. I read several misleading posts basically saying yea Bogota is totally safe don't worry and it made me a little mad. Yes, they may not have had any issues personally. But Bogota is far from safe and it is misleading to say so.
That said I highly recommend spending a few days in Bogota. And so long as you are careful (and lucky) you shouldn't have any problems. Just be aware of the dangers and stay cautious! Remember always listen to your gut, if it doesn't feel right GET OUT.
This post was proofread by Grammarly