Looking for the perfect beach getaway this summer? Look no further than Limassol, located on the southern coast of Cyprus.
Limassol boasts some of the best beaches on the island, offering something for everyone. Whether you're looking for a family-friendly destination or a cosmopolitan vibe, Limassol has it all. I've been living part-time in Cyprus for a few years now and in this blog post, I'm going to share with you the top beaches in Limassol, including my personal recommendations of the best beach bars to visit.
Did You Get Travel Insurance Yet?

If 2020 taught us anything, it's that you need to be prepared for anything!

The Insurance companies I personally recommend are Hey Mondo, Passport Nomads, Safety Wing, and Travel Insurance Master

Hey Mondo is great if you are looking for a great value flexible policy. They offer single-trip cover, annual multi-trip cover, and long-term travel cover.

Passport Nomads provides the most comprehensive cover for Digital Nomads. If you find yourself in need of medical care you just contact them and they will pre-load your card with the funds to cover your treatment, meaning you won't need to pay out of pocket and then put in a claim later.

Safety Wing is great value with monthly cover starting at $39. It's super easy to use and it just renews each month. I currently use them as they offer me free cover for my son as part of my policy.

I also use Travel Insurance Master for short trips.

Read my full travel insurance post here where I go into detail about all 4 companies.
The Best Beaches in Limassol
Columbia Beach
Located in the heart of Limassol, Columbia Beach offers a unique blend of natural beauty with a cosmopolitan vibe.
The beach features crystal-clear waters and white sand, making it the perfect spot for sunbathing and swimming. With a variety of beach bars and restaurants, Columbia Beach is the ultimate destination for a day of relaxation and fun.
St. Raphael Resort Beach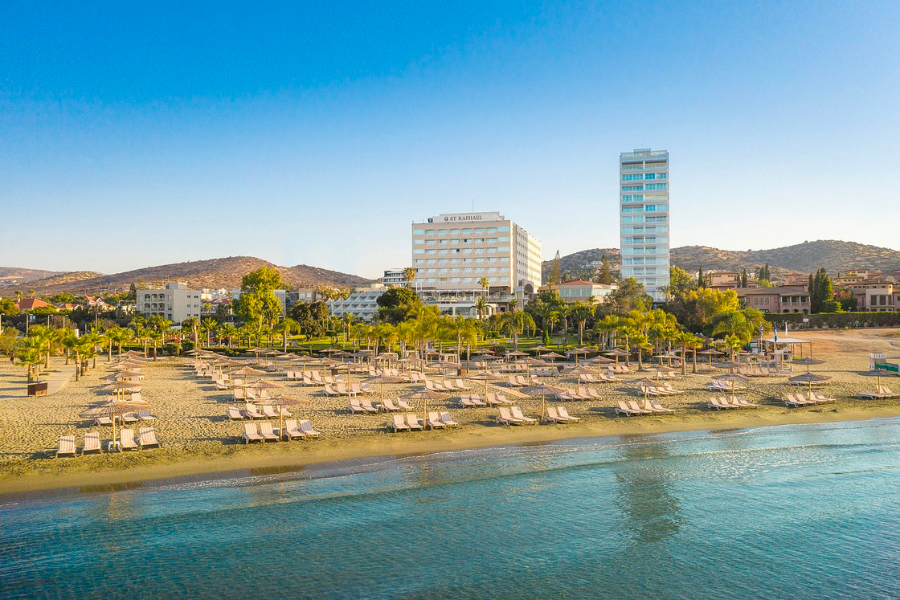 If you're looking for a family-friendly beach with plenty of water sports activities, St. Raphael Resort Beach is a perfect choice.
Located in the eastern part of Limassol, this beach offers a range of activities, including water skiing, parasailing, and windsurfing. The beach also features a playground and a variety of family-friendly restaurants and bars.
Governor's Beach (family, unique setting with white rocks)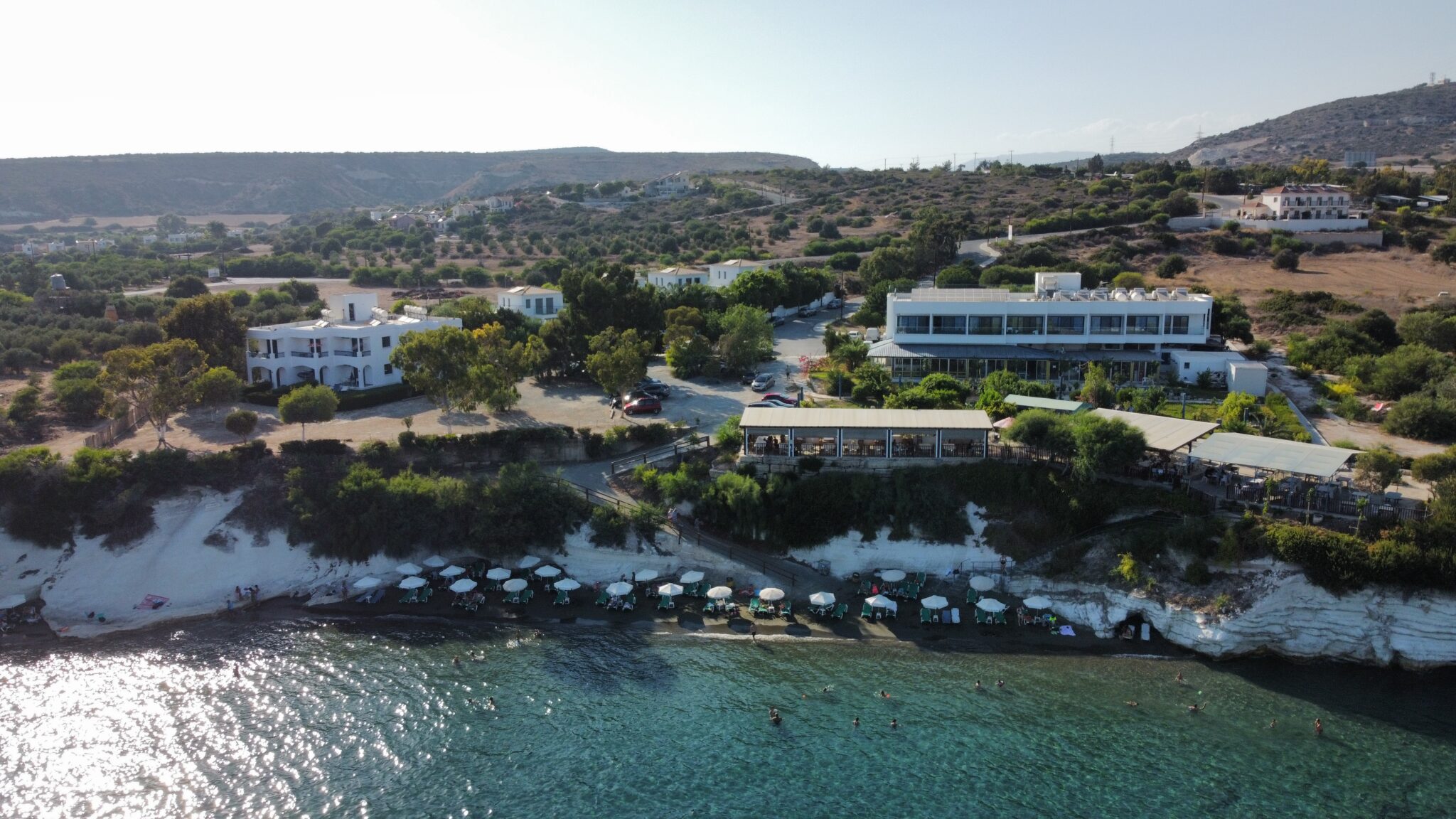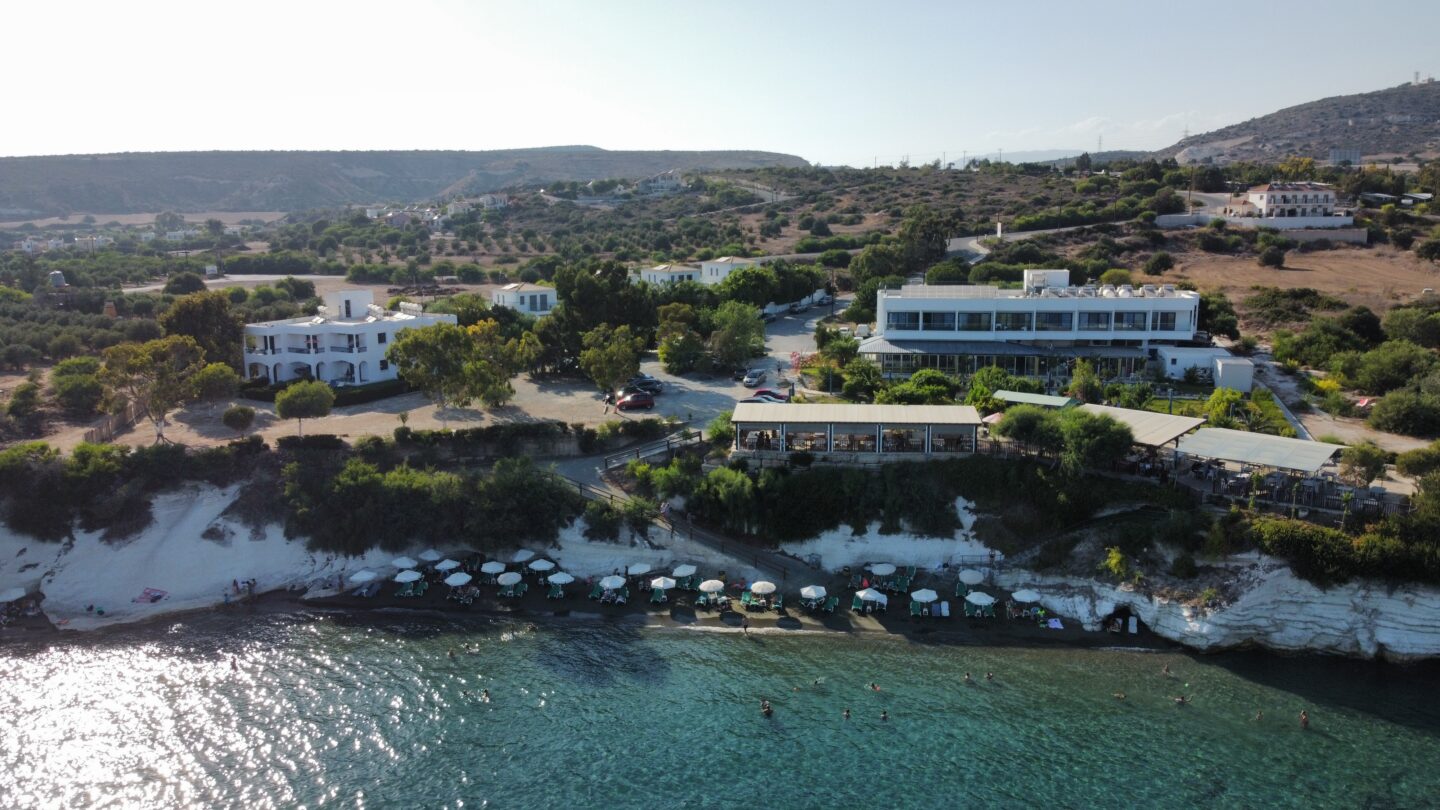 Governor's Beach, located on the outskirts of Limassol, is a unique destination known for its stunning white rocks and crystal-clear waters.
The beach is ideal for families, with a playground and a restaurant nearby. If you're looking for a peaceful escape, Governor's Beach is the perfect destination. We love coming here in the late afternoon when it's not so hot. After some time on the beach head up the steps to the restaurant to refuel!
You are going to need a car to get here as it's a 20-30 minute drive from Limassol city center. You also have to walk down a steep incline so it's not the best beach for those with mobility issues.
Marina Beach
Located at the prestigious Limassol Marina, Marina Beach offers a luxurious beach experience with stunning views and clear waters. The beach is surrounded by high-end restaurants and cafes, making it the perfect destination for a day of relaxation and indulgence.
It's not the nicest beach in Limassol, but it is one of the easiest to get to and convenient as it's so close to the center. So if you don't have transport it's a great option.
Kourion Beach
Kourion Beach, located in the western part of Limassol, is known for its adventurous water sports activities, including surfing and paragliding.
The beach is also home to ancient ruins, including a well-preserved Greco-Roman amphitheater, making it a unique destination for history buffs.
If your idea of a relaxing afternoon at the beach is spending time doing activities then this is the perfect beach for you!
Lady's Mile
Lady's Mile, located in the southwestern part of Limassol, is a family-friendly beach known for its shallow waters and soft sand. The beach features a range of facilities, including showers, changing rooms, and a variety of restaurants and cafes.
Although Lady's Mile is considered a family-friendly beach there are also plenty of classy upscale beach bars and restaurants for those looking for day beach parties. Both Aplostra and Captains Cabin have incredible set-ups for friends wanting to rent a bed with waiter exclusive service while listening to local and international DJs during their vacation.
We love both restaurants in the winter months too as the food is incredible and very reasonably priced. In the shoulder season, you can rent a bed for the standard 2.50 euros each. But during the summer months, these places are the places to be and the pricing reflects that!
The Best Beach Bars in Limassol
Aplostra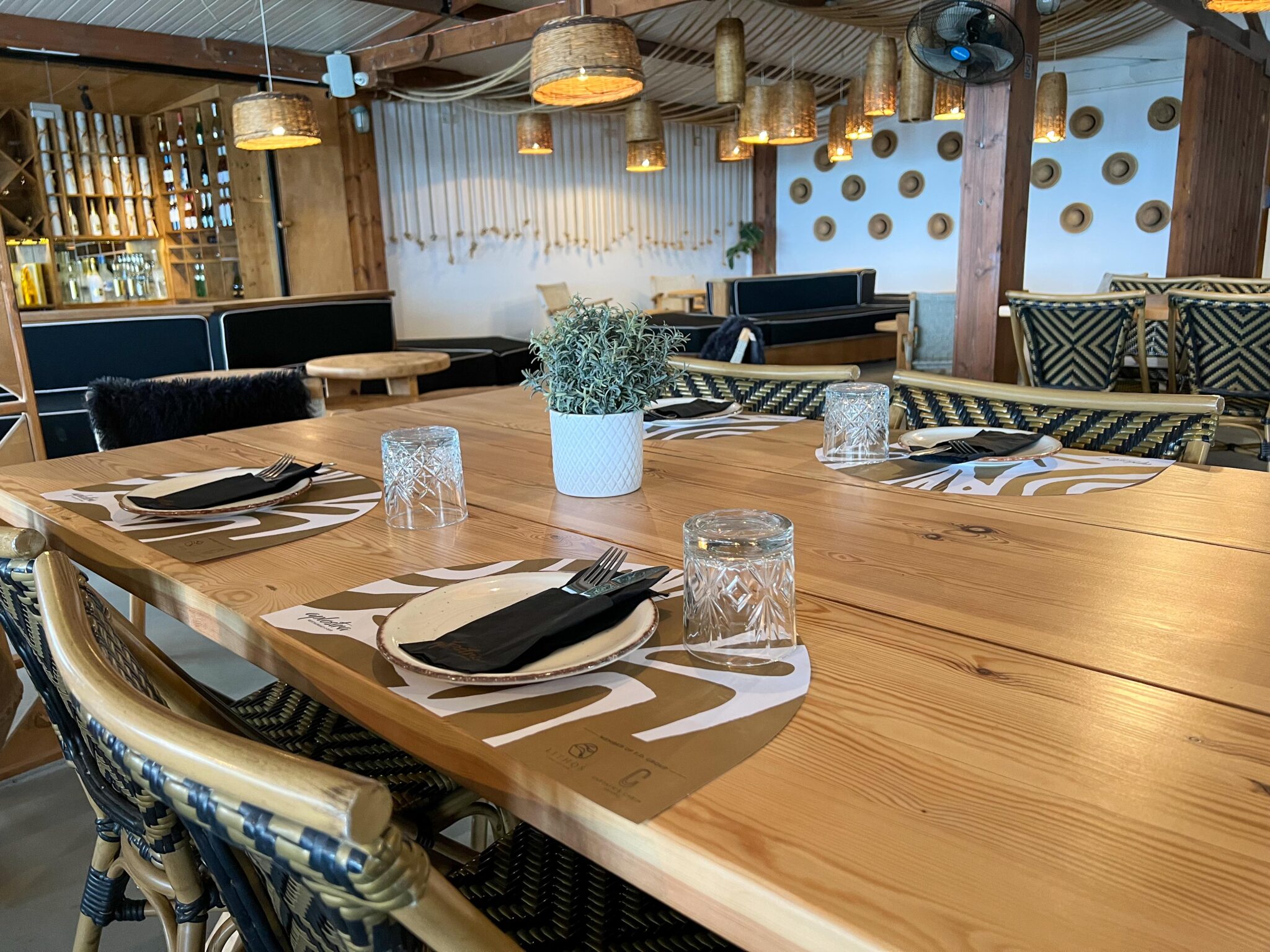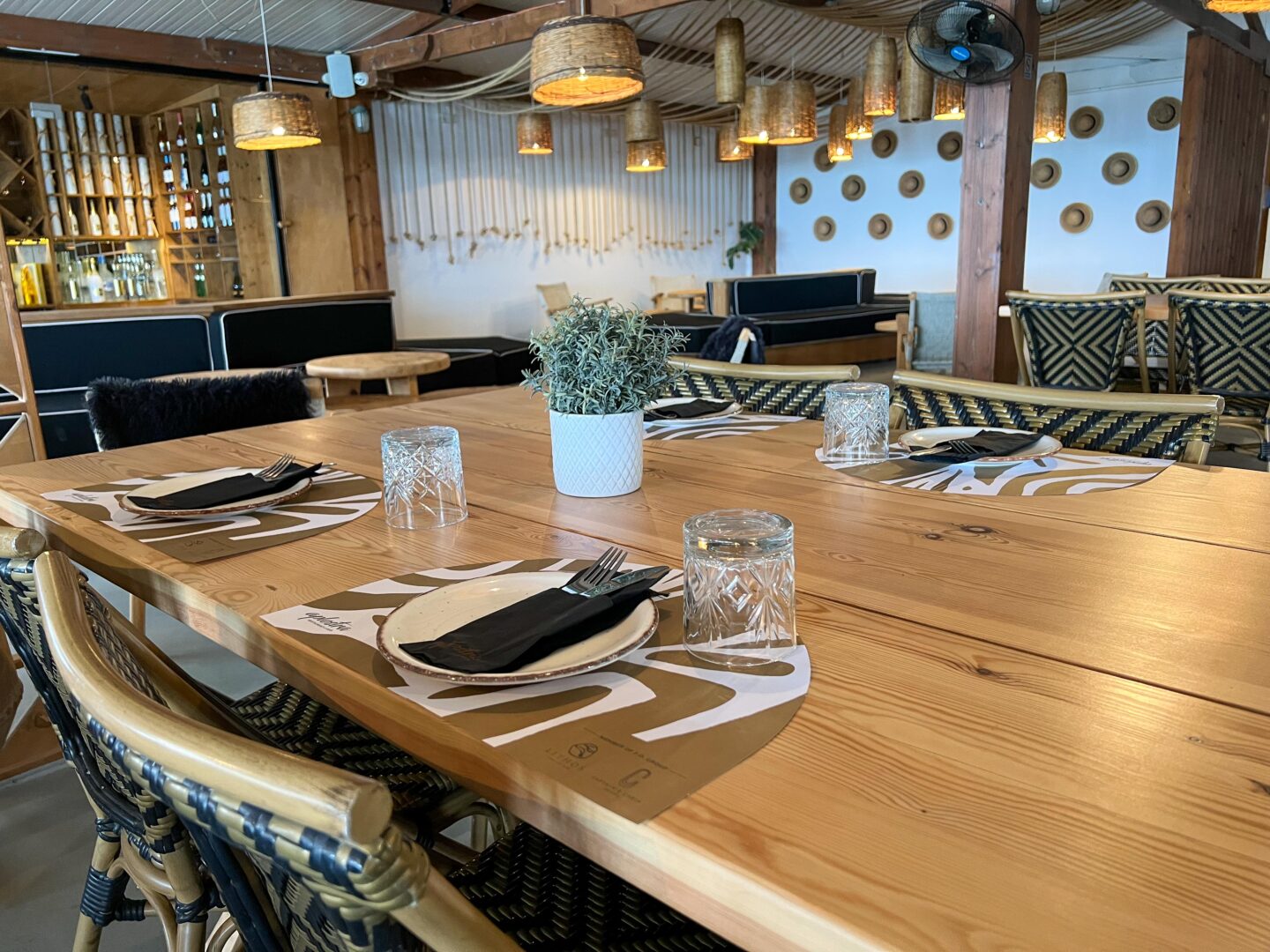 Aplostra gives me serious Tulum vibes thanks to its decor and general ambiance. It's a popular restaurant/ beach club for both locals and tourists alike.
Offering a diverse menu of dishes that showcase the best of Mediterranean cuisine, with a focus on fresh, locally-sourced ingredients. There's something for everyone here, whether you're a meat-lover, a seafood enthusiast, or a vegetarian. I highly recommend the risotto!
All of our food was beautifully presented, with colorful ingredients arranged artfully on the plate.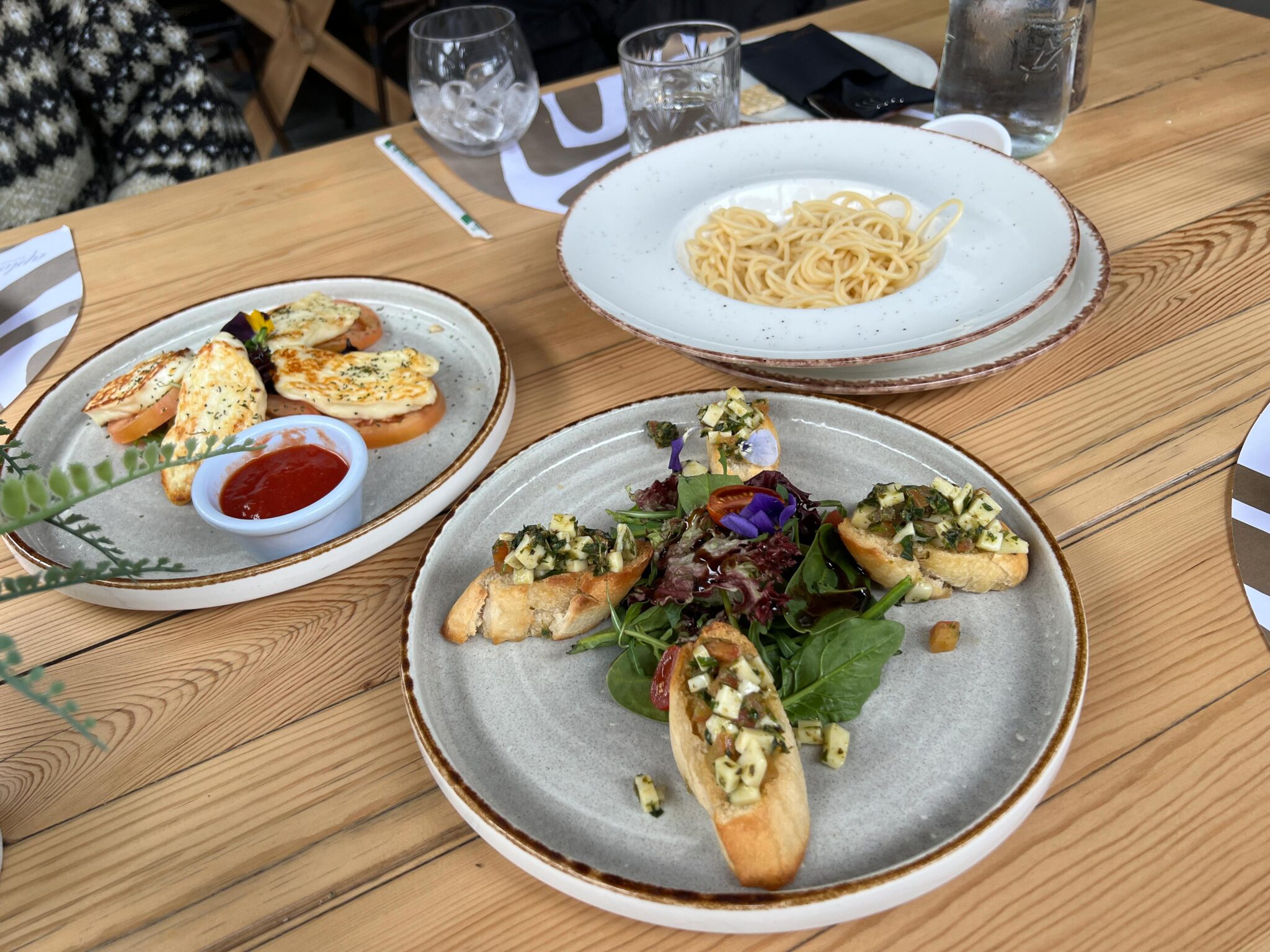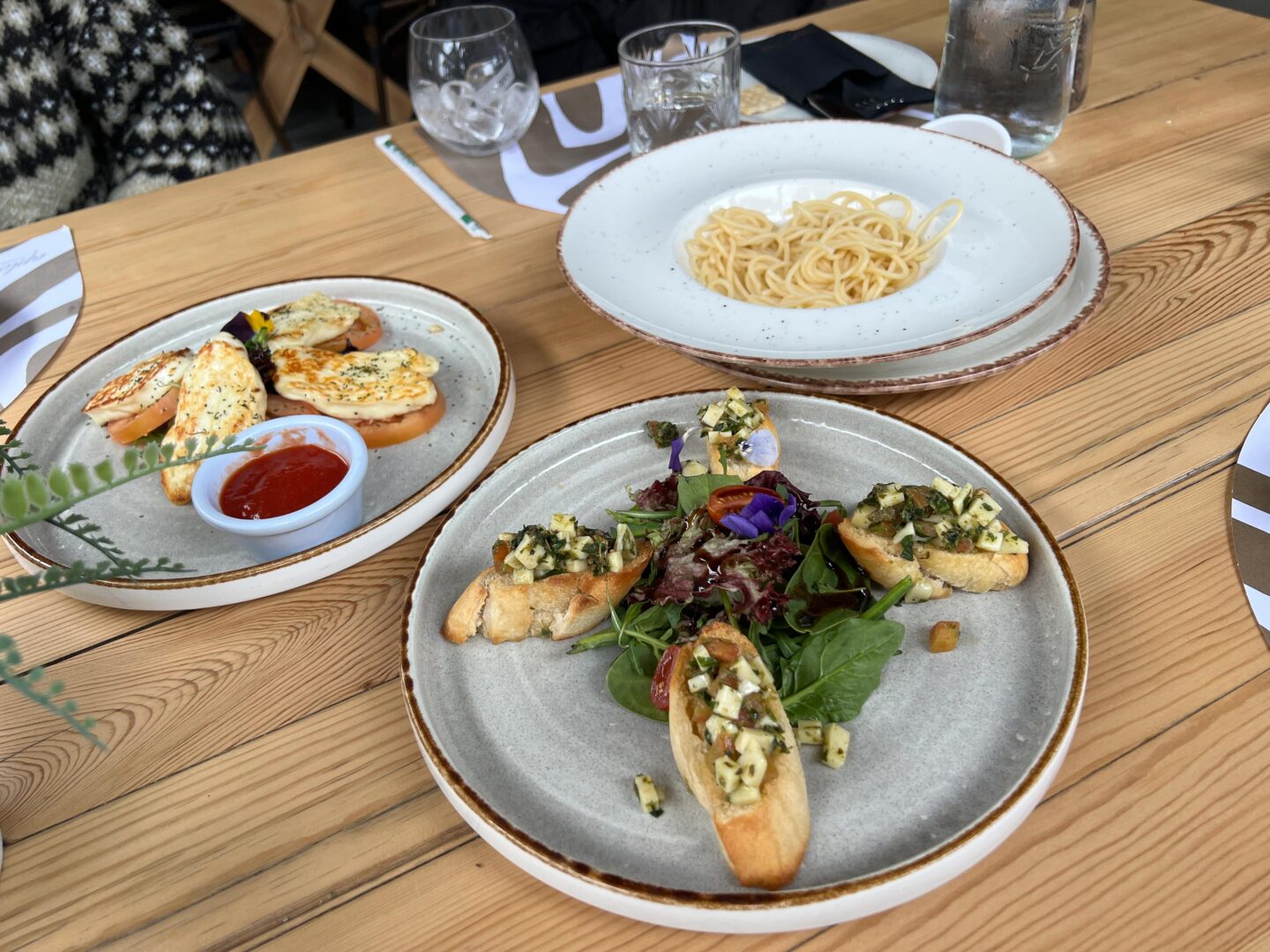 In the summer months, Aplostra is a popular Beach Club destination, not surprising really considering its prime location. It really is the perfect spot to soak up the sun and enjoy the Mediterranean Sea.
The atmosphere at Aplostra Beach Club is vibrant and energetic, with music playing throughout the day and a lively bar that serves a range of cocktails, beers, and other drinks.
Captains Cabin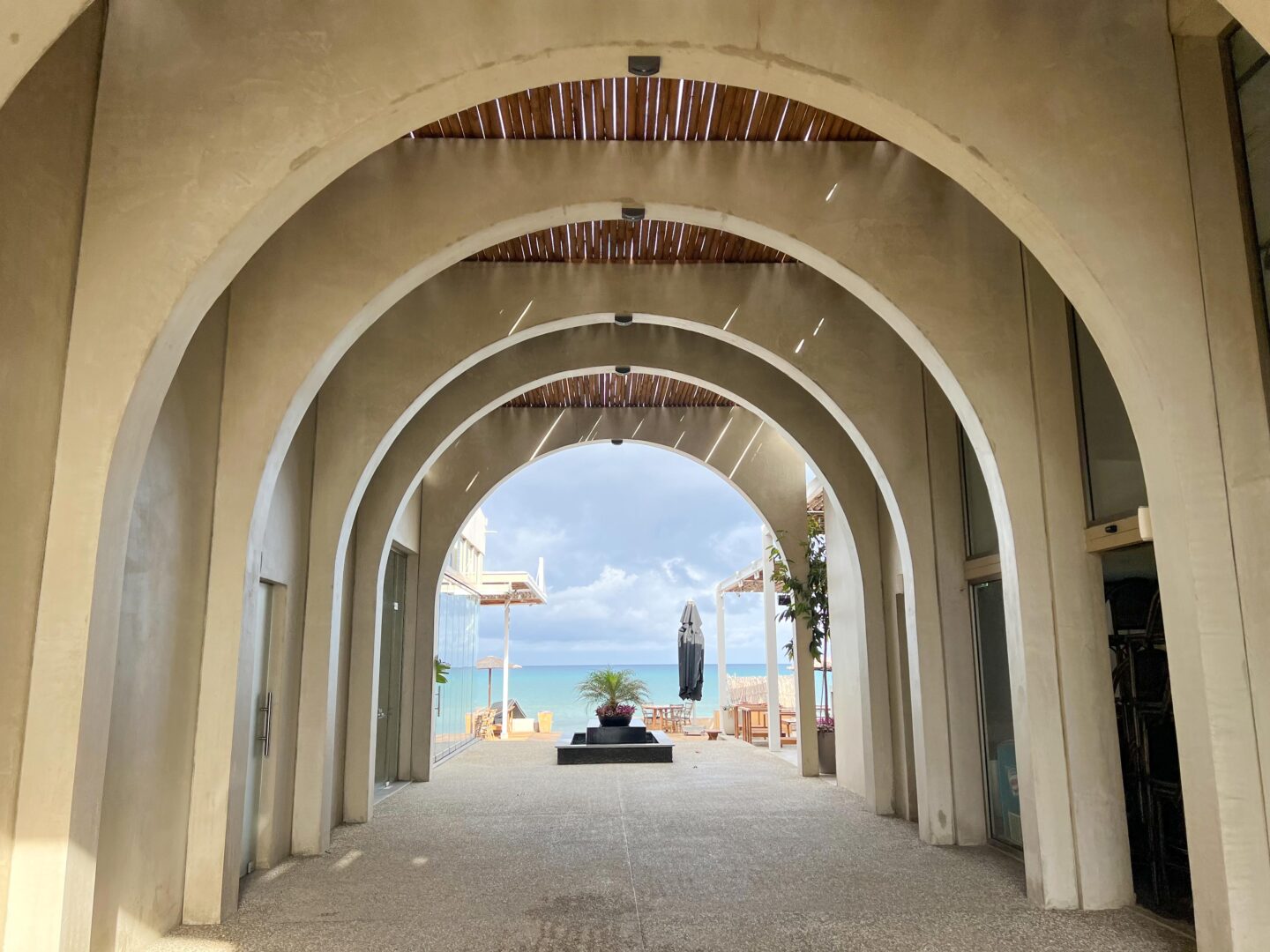 Captain's Cabin is owned by the same family as Aplostra and it has a very similar vibe. We visited during the winter and the restaurant doesn't fail to impress.
Of course, during the summer it becomes a very different place. Captains Cabin is known for its lively atmosphere. Regular events and parties are hosted at the club, with music and entertainment provided by local and international DJs and performers.
Guaba Beach Bar
Guaba Beach Bar is a legendary venue known for its amazing parties and world-class DJs. It's been a staple of the Cypriot clubbing scene for over 15 years and has become one of the most iconic beach bars in the world.
Situated right on the beach, the bar has a stunning backdrop for its daytime and nighttime events. With a capacity of over 3,000 people, it's a massive venue.
Guaba is renowned for its unforgettable parties, with a lineup of the world's most popular DJs and live acts. The sound system is top-notch, ensuring that the music is always pumping and the crowd is always dancing.
Not into all-night parties? No problem Guaba is also a place to enjoy some delicious food and drinks. The bar has a wide selection of cocktails, beers, and wines, as well as plenty of food options, including salads, burgers, wraps, and pizzas.
Columbia Beach Bar
Located on Columbia Beach, Columbia Beach Bar features a variety of cocktails and a range of food options, making it the perfect destination for a day of relaxation and indulgence.
The first thing you'll notice when you enter the Columbia Beach Bar is its white-washed walls, sleek furniture, and panoramic views of the sea, it's a space that's both stylish and comfortable. The bar is open-air, providing the perfect setting for taking in the refreshing sea breeze and basking in the warm Mediterranean sun.
But the real star of the show at Columbia Beach Bar is its drinks menu. The bar offers an extensive selection of cocktails, beers, wines, and spirits, all expertly crafted by the skilled mixologists. The cocktail menu is particularly impressive, with a range of classic and creative concoctions on offer, all made with fresh ingredients and served with flair.
In addition to the drinks, Columbia Beach Bar also offers a range of tasty snacks and light bites. The menu features a variety of appetizers, salads, sandwiches, and wraps, all made with fresh and high-quality ingredients. The dishes are perfect for sharing, making Columbia Beach Bar a great spot for a casual meal with friends.
In terms of ambiance, Columbia Beach Bar really shines in the evenings. As the sun sets over the sea, the bar transforms into a lively spot, with music, entertainment, and a buzzing atmosphere. It's the perfect place to enjoy a night out with friends or to celebrate a special occasion.
Plus Sea Beach Bar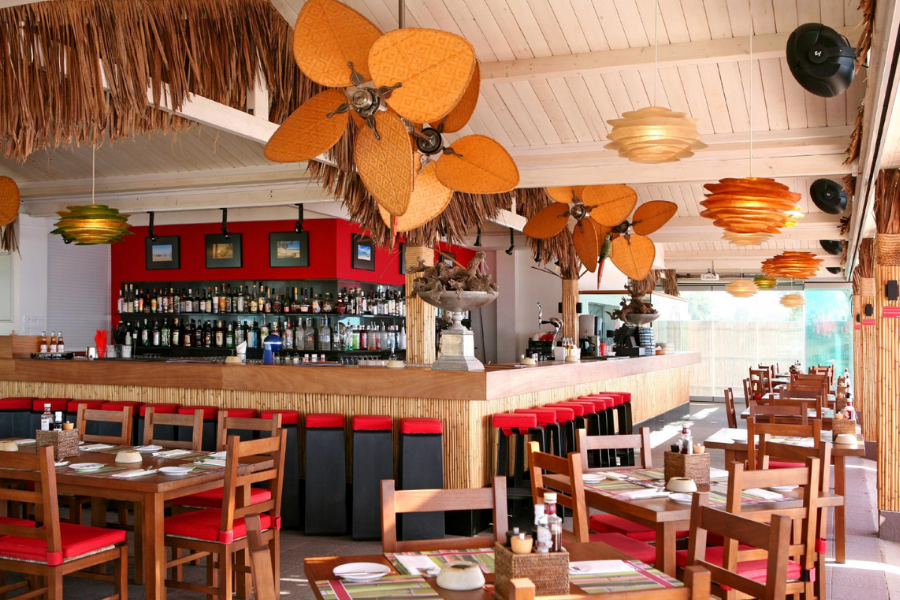 Think stunning views and high-end cocktails.
Plus Sea is another beach bar in Limassol offering a range of events and DJs, making it a trendy upscale destination for a night out.
The bar has an open-air design, allowing you to take in the sea breeze and the sound of the waves while you enjoy your cocktails as the sun sets over the Mediterranean Sea.
The drinks menu at Plus Sea Beach Bar is as impressive as its views. With a wide range of artisan cocktails, the bartenders really know their stuff and can create custom drinks just for you!
There isn't a full restaurant menu here but there are plenty of options for light meals and snacks to keep you going.
Conclusion
Limassol is home to some of the best beaches and beach bars in Cyprus. From family-friendly destinations to cosmopolitan vibes, Limassol has it all.
Whether you're looking for a peaceful escape or a lively beach bar experience, these beaches and beach bars are sure to make your trip to Limassol unforgettable.
Pin for later