Pissouri is a beautiful village located on the southern coast of Cyprus, nestled between Limassol and Paphos. It's quaint and peaceful, perfect for a relaxing holiday or a day trip as part of your Cyprus itinerary. I got to explore Pissouri recently with my family and we had a wonderful day hiking, making lace, eating all the Cypriot food, and then relaxing in the resort with massages!
In this blog post, I'm going to share with you my personal experience visiting Pissouri and let you know some of my top things to see, eat, and do when visiting Pissouri.
Did You Get Travel Insurance Yet?

If 2020 taught us anything, it's that you need to be prepared for anything!

The Insurance companies I personally recommend are Hey Mondo, Passport Nomads, Safety Wing, and Travel Insurance Master

Hey Mondo is great if you are looking for a great value flexible policy. They offer single-trip cover, annual multi-trip cover, and long-term travel cover.

Passport Nomads provides the most comprehensive cover for Digital Nomads. If you find yourself in need of medical care you just contact them and they will pre-load your card with the funds to cover your treatment, meaning you won't need to pay out of pocket and then put in a claim later.

Safety Wing is great value with monthly cover starting at $39. It's super easy to use and it just renews each month. I currently use them as they offer me free cover for my son as part of my policy.

I also use Travel Insurance Master for short trips.

Read my full travel insurance post here where I go into detail about all 4 companies.
Where is Pissouri?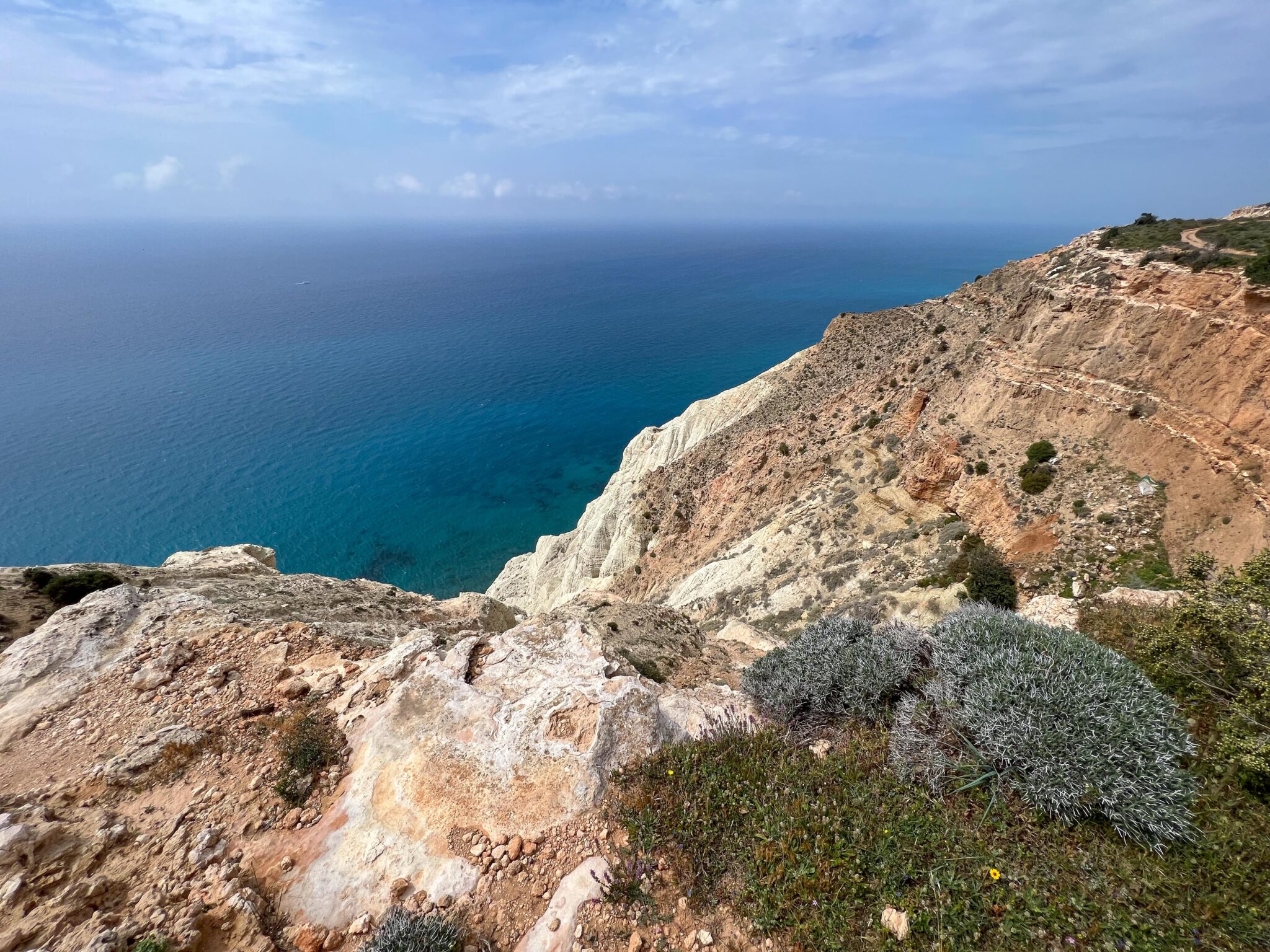 The village of Pissouri is situated in the Limassol region of Cyprus perched on a hillside, Pissouri provides breathtaking views of the Mediterranean Sea and the surrounding mountains.
The beach is just a short drive away, where you can enjoy the crystal clear waters and soak up the Mediterranean sun.
Weather in Pissouri
If you're worried about the weather in Pissouri don't be.
Overall, Pissouri has a Mediterranean climate with hot summers and mild winters.
In the summer months, from June to August, temperatures can soar up to 35°C (95°F), so make sure to pack plenty of sunscreen and stay hydrated. The humidity can make it feel even hotter so booking a hotel or villa with AC is a must!
The winter months, from December to February, are generally cooler with temperatures averaging around 15°C (59°F). This time of year you are going to want to make sure your room has some heating as it can get pretty chilly at night.
Although Pissouri is not known for heavy rainfall, the winter months do see more precipitation than the summer. So, if you're looking to avoid crowds and enjoy milder weather, consider visiting Pissouri during the off-peak season.
I visited in March and it was the perfect time to visit. Thanks to the rains the flowers were in bloom and the grass was green making our walks extra beautiful.
How to Get to Pissouri Cyprus
Getting to Pissouri is easy and convenient. If you're flying in, the nearest airport is Paphos International Airport, which is about a 30-minute drive away. From there, you can rent a car, take a taxi, or use a shuttle service to get to Pissouri.
Another option is to fly into Larnaca International Airport, which is about a 90-minute drive away, but offers more flight options.
If you prefer to drive, Pissouri is located just off the A6 highway, which connects Limassol and Paphos.
The village is also serviced by a local bus that runs between Limassol and Paphos.
Whatever your mode of transportation, you'll be treated to stunning views of the Mediterranean Sea and the surrounding countryside as you make your way to this charming village.
Accommodation in Pissouri Cyprus: Finding the Perfect Place to Stay
Pissouri is a charming village in Cyprus, and it offers a variety of accommodation options to suit every budget and preference. From luxurious villas to cozy apartments, Pissouri has it all.
If you're looking for a relaxing and peaceful holiday, you can find several quaint hotels and guesthouses nestled in the heart of the village.
On the other hand, if you prefer a more luxurious experience, Pissouri boasts a range of high-end resorts with incredible amenities such as spas, private pools, and restaurants. Whatever your budget or preferences, you are sure to find the perfect place to stay in Pissouri.
TOP PICK: Columbia Beach Resort Pissouri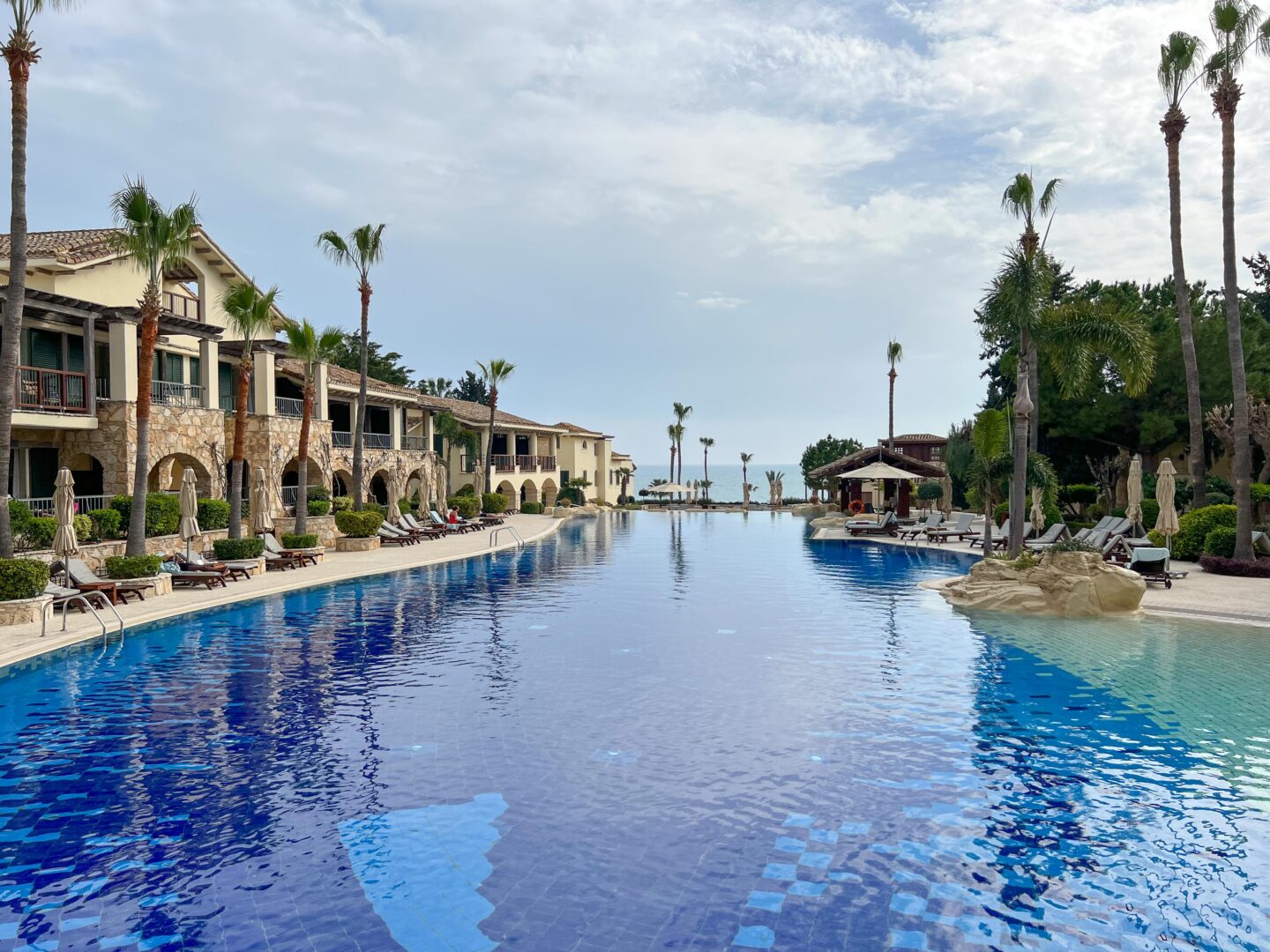 If you're looking for a luxurious beachfront getaway, check out Columbia Beach Resort. Located in the stunning Pissouri Bay Beach, this resort offers world-class service and amenities, including two swimming pools, three restaurants, and six bars. This traditional Cyprus village-inspired resort is one of the most charming and luxurious destinations you'll ever experience. Carlos and I were immediately taken with the stunning swimming pool, and with no shortage of relaxing spots to unwind, we found ourselves quickly at home. The resort's suites are truly a cut above, with no standard rooms in sight. During my visit, I had the opportunity to tour both a family and garden view suite, each one exuding a unique blend of spaciousness, comfort, luxury, and class. And when it's time to indulge in some self-care, the spa boasts an extensive treatment menu featuring heated and cold plunge pools, fitness and yoga studios, and the most relaxing massages. If you're considering a trip to Cyprus, Columbia beach resort is an absolute must-visit.
Kotzias Beach Apartments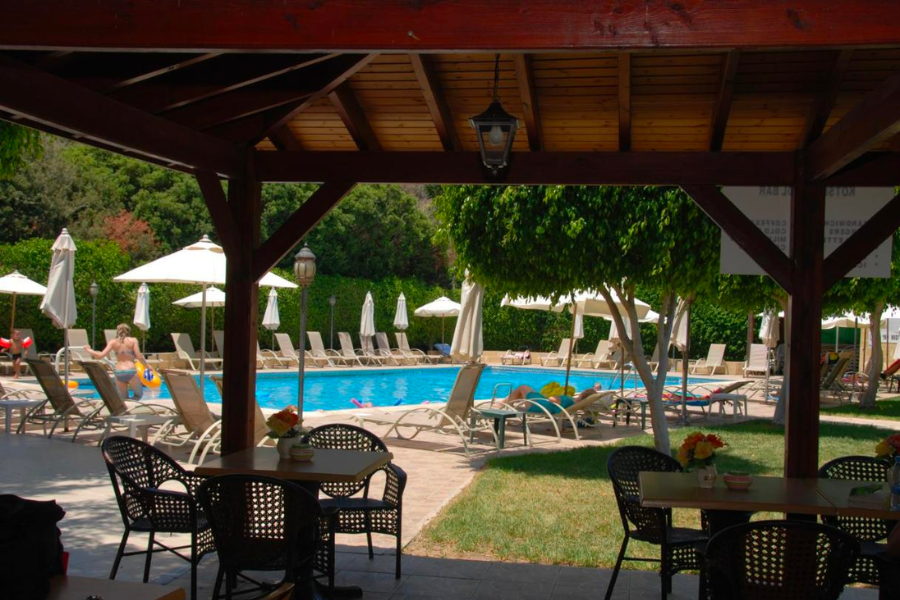 Kotzias Beach Apartments is a beautiful self-catering accommodation located in a well-tended garden, offering a peaceful oasis. With a pool, sun terrace, and snack bar, you can relax and enjoy the serene atmosphere. Each unit has a private balcony overlooking the pool and garden and is equipped with a kitchen, seating, and dining area, fridge, stove, and TV with satellite channels.
Hill View Hotel Apartments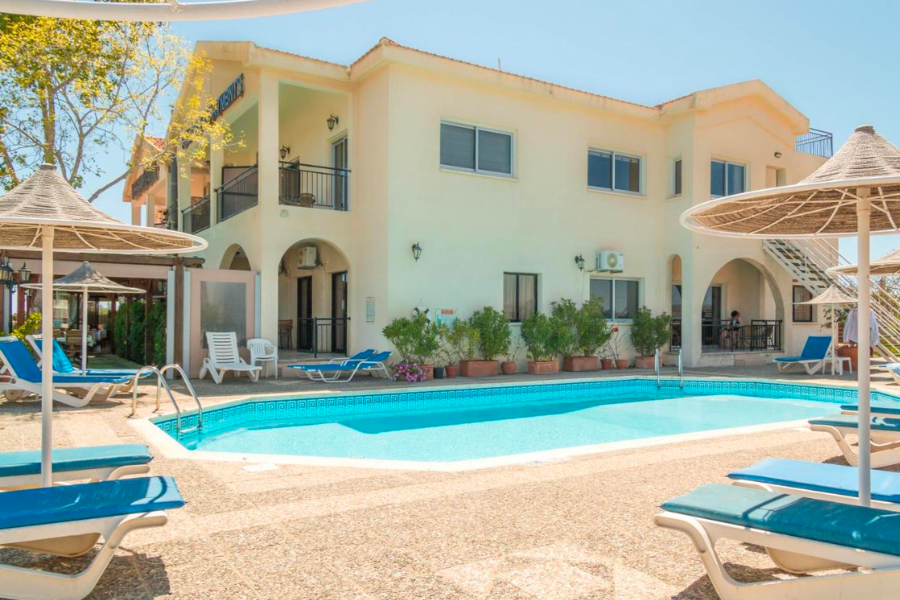 Hill View Hotel Apartments offers stunning views of Pissouri village. This hotel offers spacious self-catered accommodation and a bar-restaurant. Each unit is equipped with an open-plan kitchen, including a stove and fridge, and a seating area with a satellite plasma TV. You can enjoy free Wi-Fi throughout the property.
Villas in Pissour
Prefer a villa to a hotel? No problem you will find plenty of options for villas in Pissouri, here are a few of my personal favorites.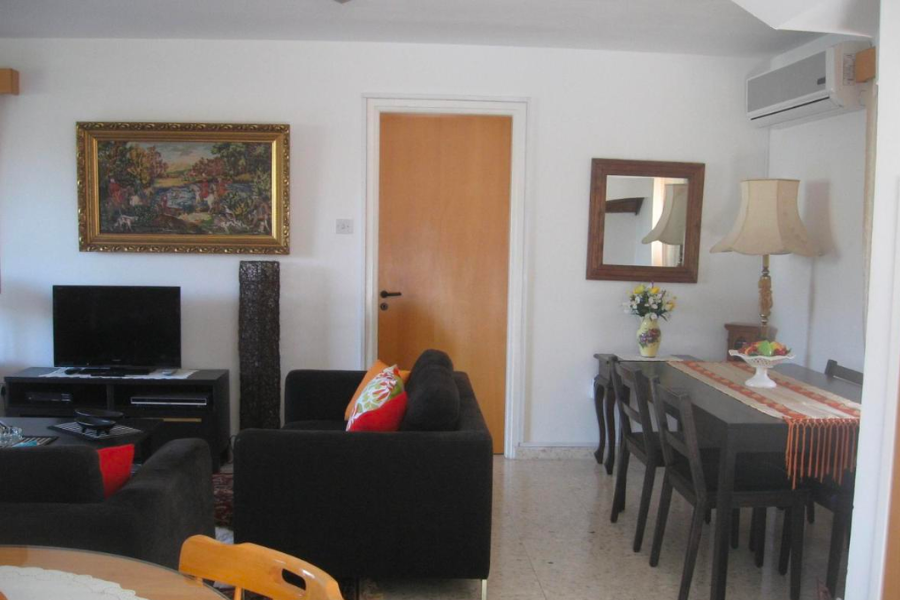 Zena Holiday Villa is a stunning split-level, located on a hill in Pissouri village, offering peaceful surroundings and breathtaking mountain views. The living room features a cozy fireplace and a flat-screen satellite TV with CD/DVD player, while the fully equipped kitchen boasts a microwave, two fridges (one of which filters drinking water), a coffee machine, and a dining area. You can also enjoy free private parking on the premises.
Eve Pissouri Soultanina Villa
Eve Pissouri Soultanina Villa is a bright and spacious holiday home located just 2 km from Pissouri Bay. The villa has a private outdoor pool with a sun terrace and stunning sea, mountain, and pool views. It features three separate bedrooms, a living room with a cozy fireplace, and a dining area for eight people. The villa also includes a fully equipped kitchen with a stove, fridge, washing machine, and dishwasher. There is free Wi-Fi throughout the property.
Vineland Holiday Villas is a self-catered complex situated just 200 meters from Pissouri Bay Beach. The villas are split-leveled and each has its own private pool, landscaped gardens with outdoor furniture, and BBQ facilities. Free Wi-Fi and private parking are also available for guests. All villas offer stunning views of the Mediterranean Sea.
Getting Around and Exploring Pissouri
Getting around Pissouri is easy whether you're walking or driving. The village is small and compact, so it's easy to explore on foot. If you are driving things can be a little tight and parking may be difficult during peak times so you are going to want to check if your accommodations provide reserved parking in the summer.
The best way to really explore Pissouri is by walking. Take a stroll around the winding streets, stopping to admire the stunning views of the surrounding hills and vineyards.
If you do prefer to drive then there are plenty of car rental options available, and the roads are well-maintained and easy to navigate. Some of the must-see spots include the beautiful Pissouri Bay, with its crystal-clear waters and sandy beach, and the charming Pissouri village square, with its traditional tavernas and cafes.
There are several car rental companies in Pissouri that offer a variety of vehicles to suit your needs, from small cars to SUVs.
Renting a car will give you the flexibility to explore the nearby villages, beaches, and attractions at your own pace. It's also an easy way to get to and from the airport and to take day trips to nearby towns and cities. Just be sure to familiarize yourself with the local driving rules and regulations, such as driving on the left-hand side of the road, and make sure you have a valid international driver's license.
I'd only really recommend renting a car if you are planning to explore more of Cyprus. If you are just spending a week or 2 in Pissouri and not planning to travel you really don't need a car.
How to Spend a Day in Pissouri
Morning: Exploring the Pissouri Village and Hike the Aphrodite trail
Afternoon: Relaxing at the Beach or doing a lace making class
Evening: Indulging in Fine Dining and village Nightlife
Hiking Aphrodite's Trail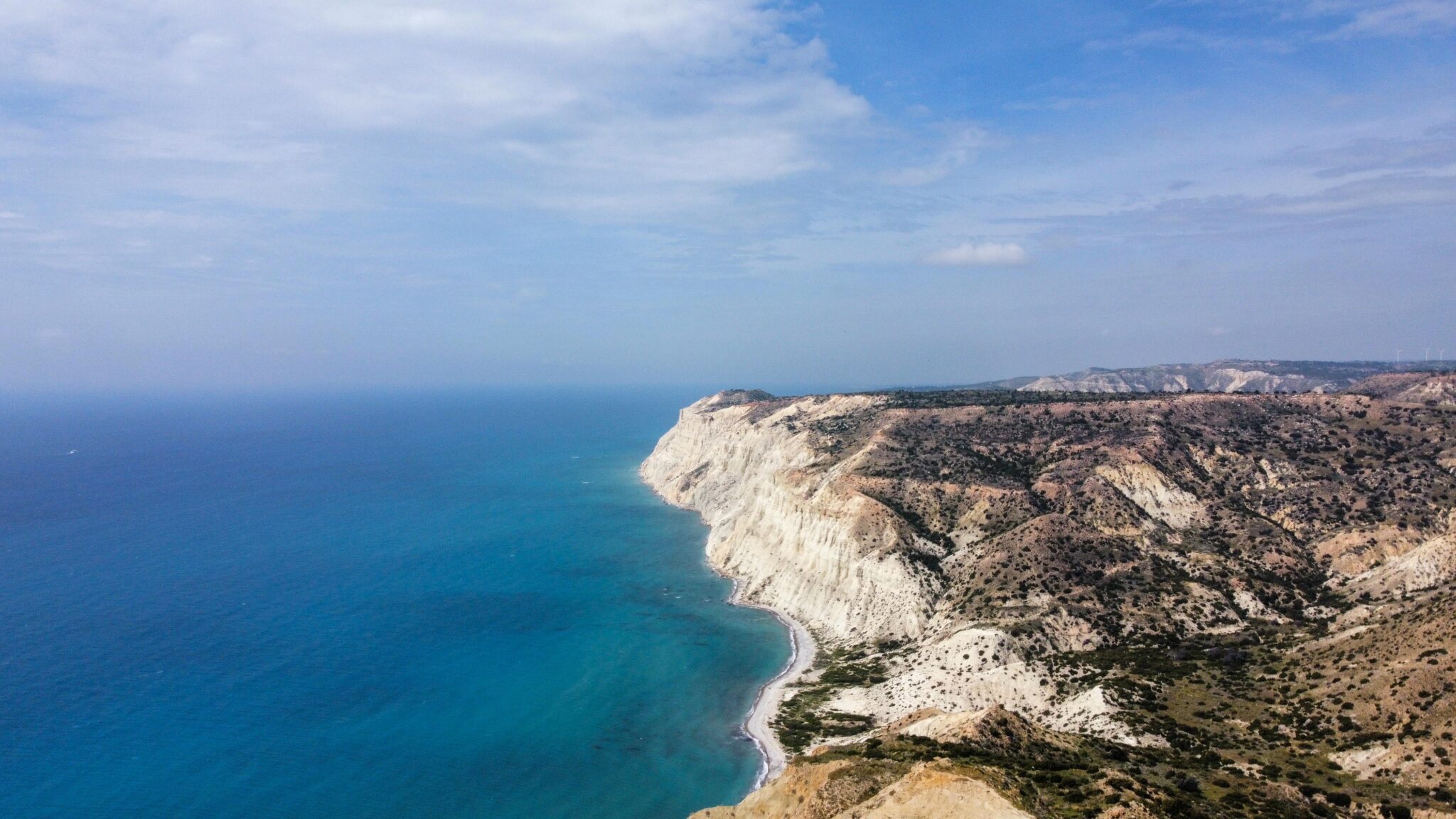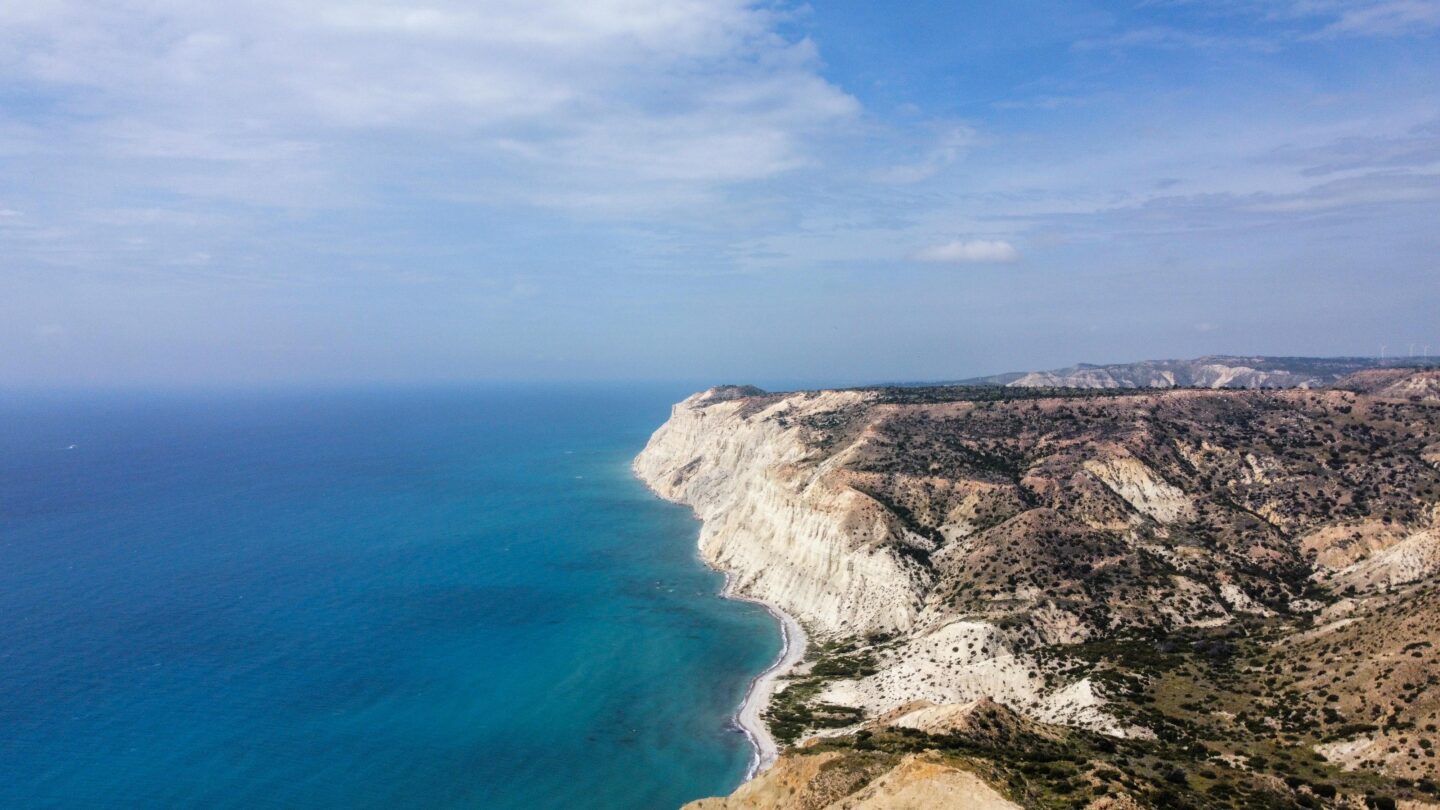 The Aphrodite Trail is a popular hiking trail in Pissouri that offers stunning views of the Mediterranean Sea and the surrounding countryside. The trail is named after the goddess Aphrodite, who is said to have emerged from the sea nearby.
The trail is pet friendly and even goes down to a dog-friendly beach (something rare in Cyprus).
The trail is approximately 7 kilometers long and takes around 2-3 hours to complete, depending on your pace. It begins in Pissouri village and winds its way through the countryside, passing vineyards, olive groves, and wildflowers.
Along the way, you'll encounter several interesting landmarks, including an ancient olive press, a restored Venetian bridge, and a hilltop chapel with panoramic views.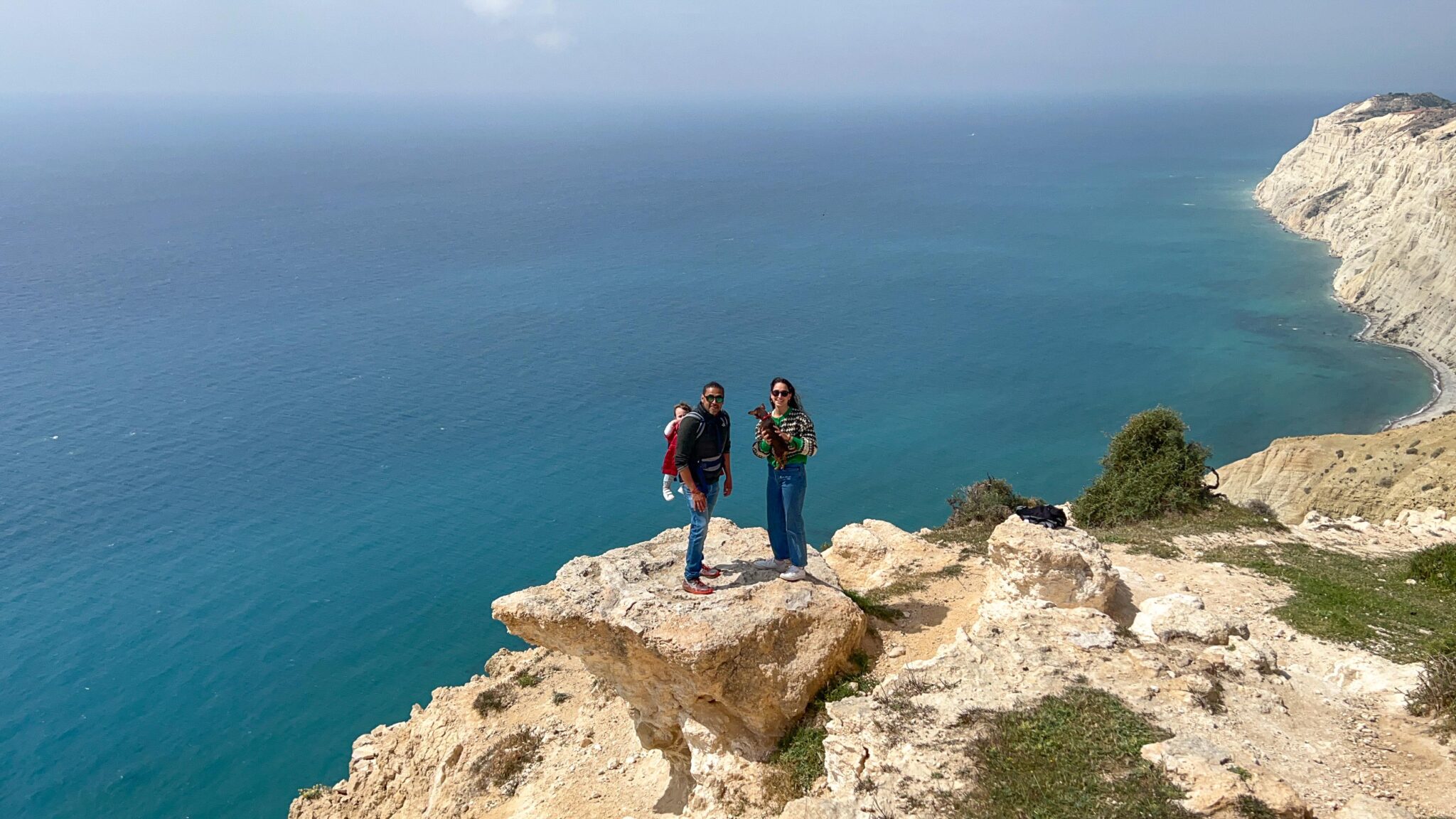 The trail is well-marked with signs and is suitable for hikers of all levels, although some sections can be steep and rocky. It's important to wear sturdy shoes and bring plenty of water and sunscreen, as there is little shade along the way.
If you have a smartphone you can actually scan the QR code at the trailhead and it will load a Google map of the trail so you can follow along and make sure you are on the right track.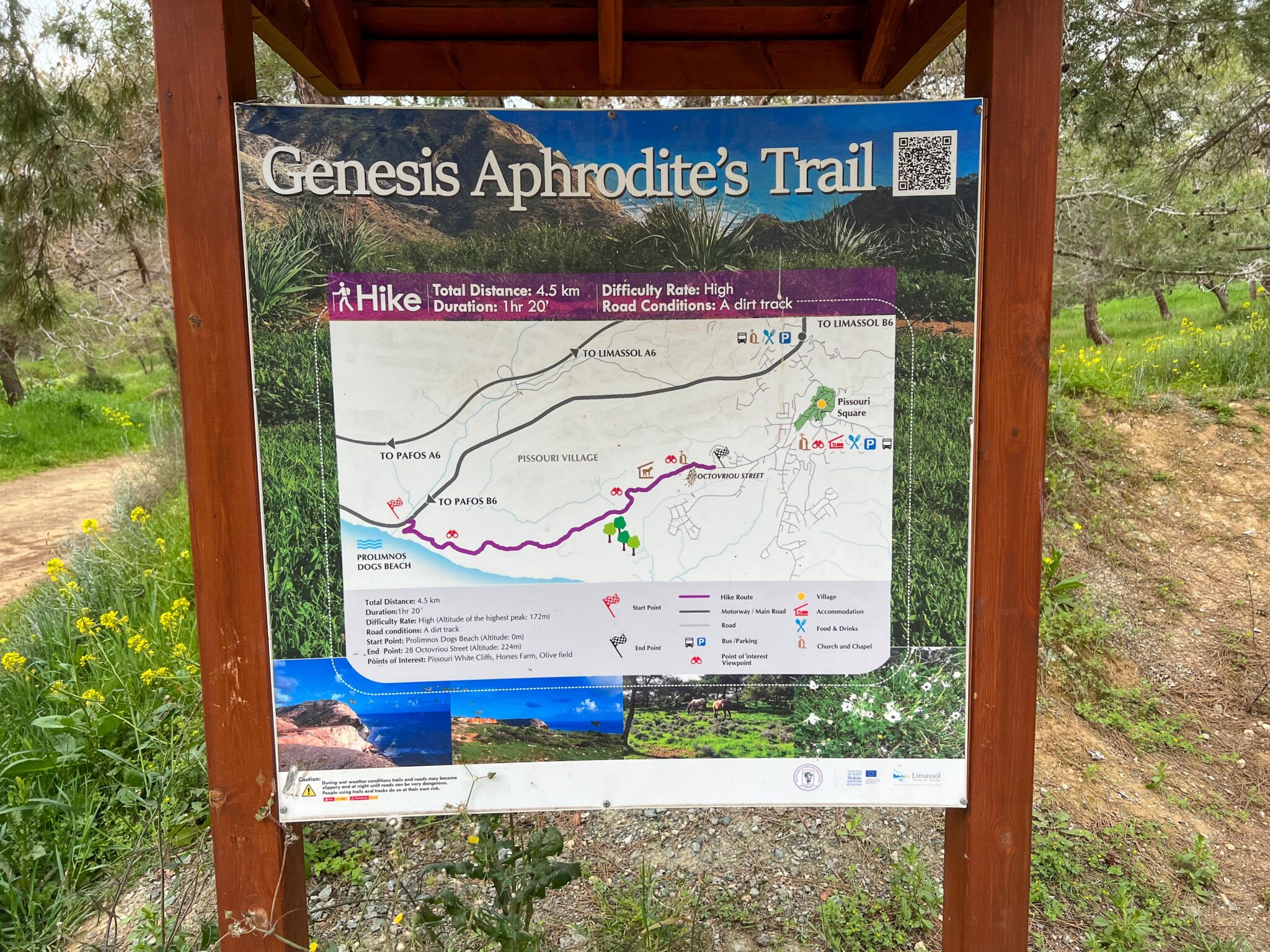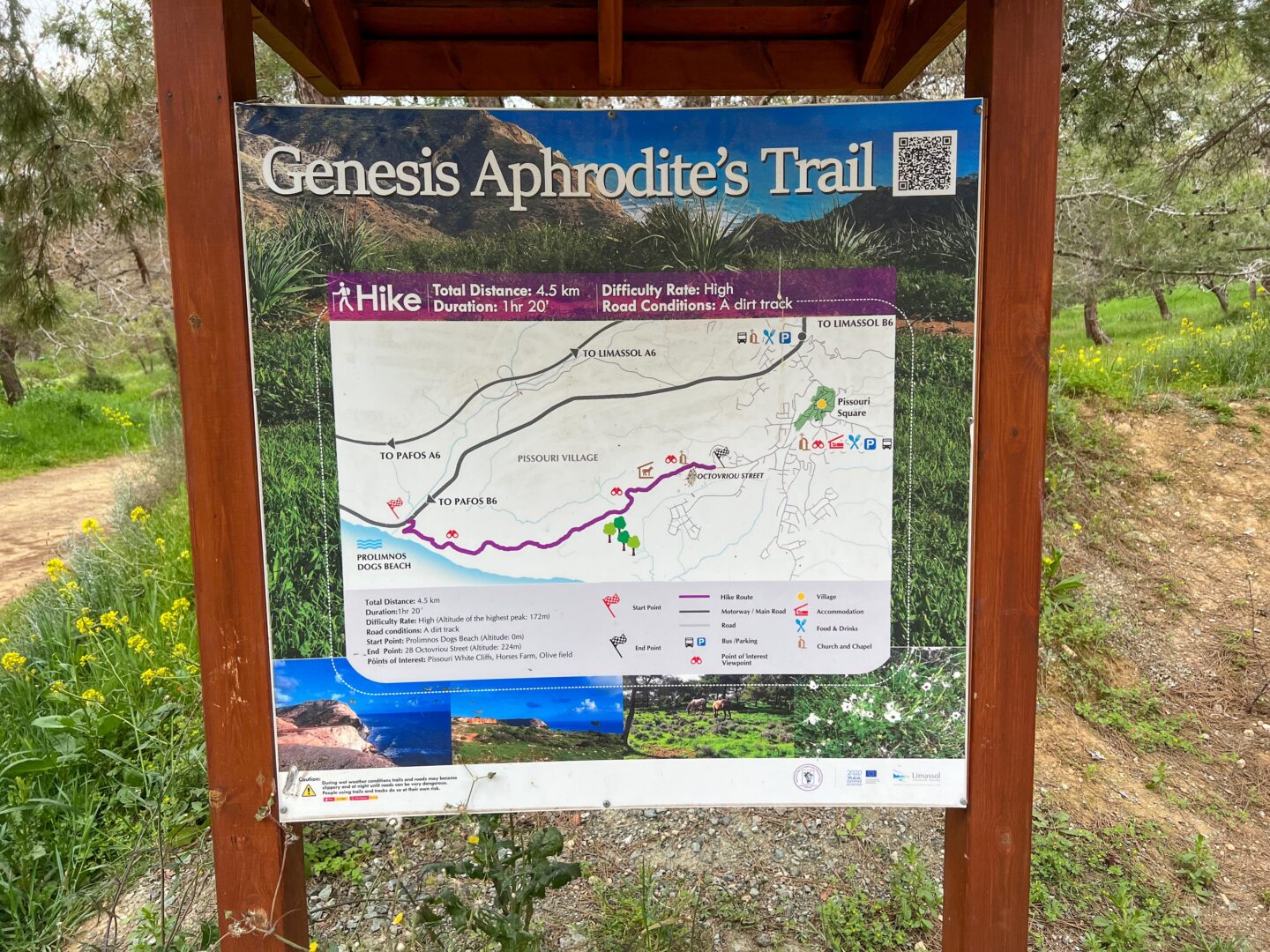 We only did part of the hike as we didn't have so much time or a proper hiking carrier for Charlie. If you want to just do a reduced hike like we did go to the trailhead and walk up to the horses and back and then you can drive to the cliffs and walk around there too.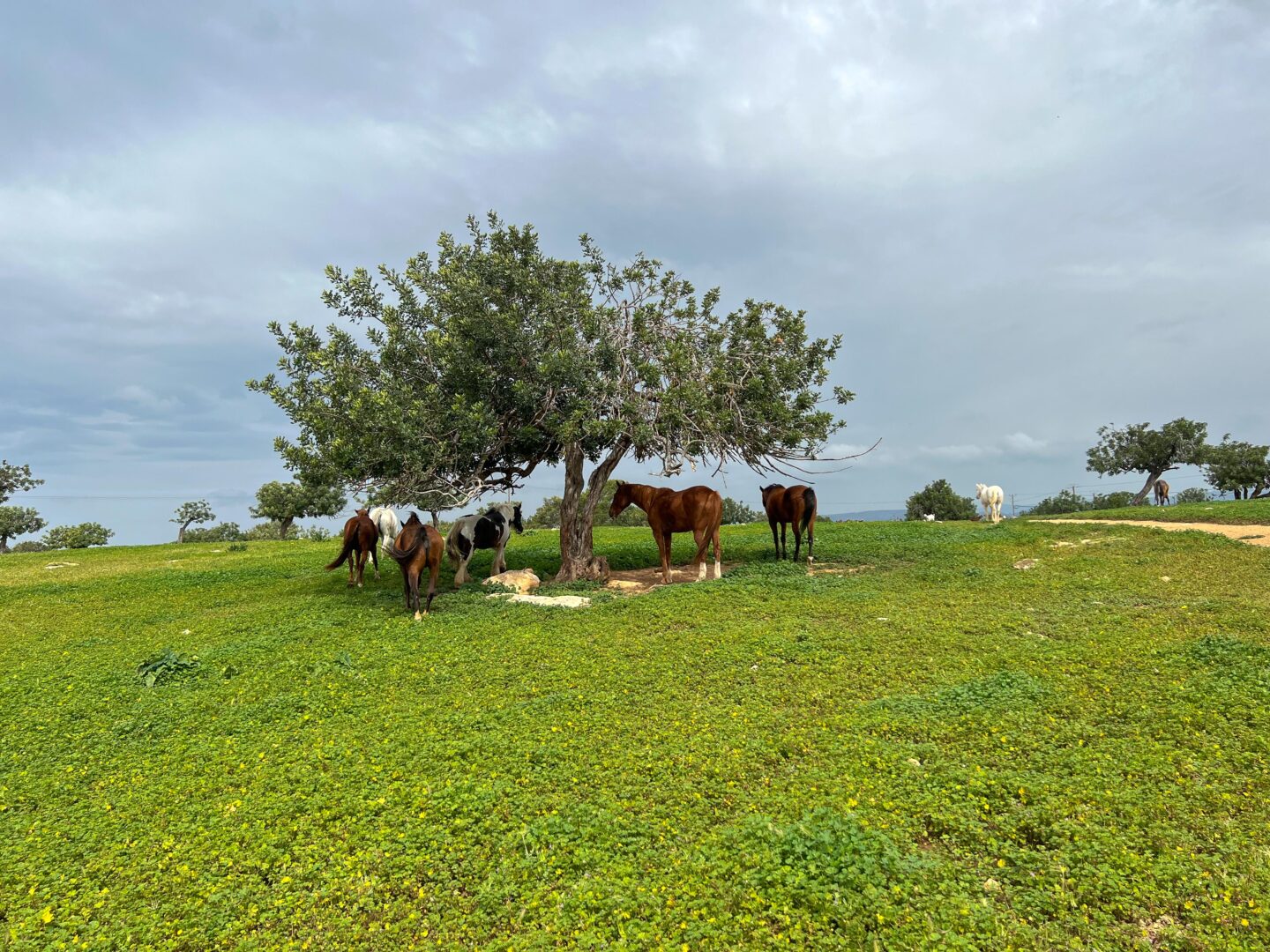 Another good option is to take 2 cars. Drive one car to the cliffs and park there and then all get in the second car and drive to the trailhead. Then you can just walk to the cliffs and drive back!
We loved hiking the Aphrodite Trail. The views from the cliffs were simply stunning and it's a fantastic way to experience the natural beauty and rich history of Pissouri.
Restaurants in Pissouri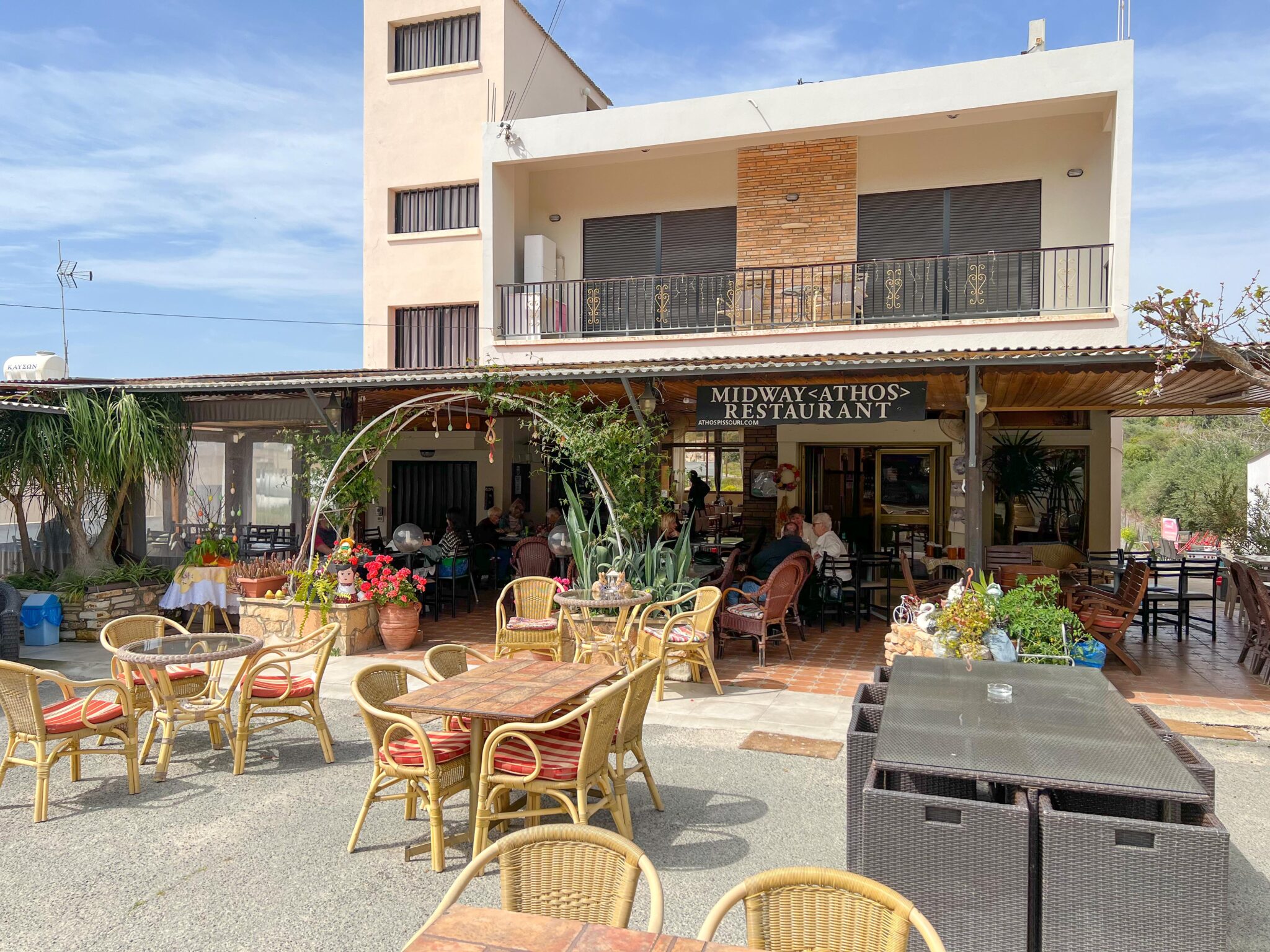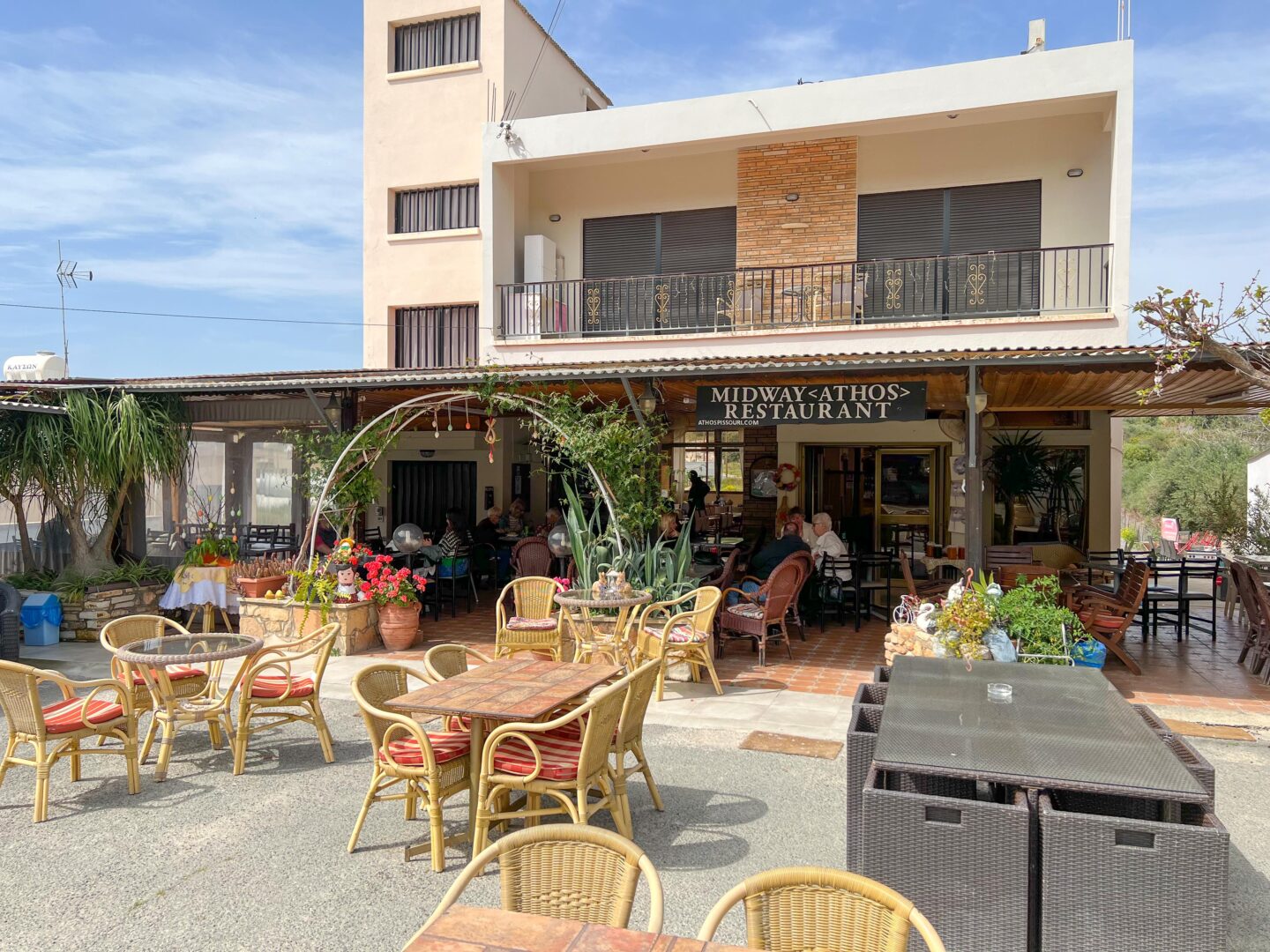 When it comes to culinary adventures, Pissouri has plenty to offer. From traditional Cypriot dishes to international cuisine, there's something for everyone.
One of my personal favorites is Midway Restaurant, which is perfectly located between the village and the beach. The lunch menu is always impressive, with delicious options ranging from grilled halloumi and local salads to fresh seafood and meat dishes.
If you're looking for more dining options, there are plenty of other great restaurants to choose from in Pissouri.
Some other highly recommended spots include O'Vrakas Taverna for traditional meze and The Bunch of Grapes for British cuisine with a Mediterranean twist.
For a more upscale experience, I highly recommend Platea Restaurant, which serves up inventive dishes made from local ingredients. And if you're in the mood for some international flavors, don't miss out on the Indian and Thai dishes at Pebbles Restaurant.
Platea Tavern: A family-run restaurant with a cozy atmosphere and a variety of traditional Greek dishes.
O'Vrakas Taverna: A popular spot with an outdoor terrace overlooking the bay, serving up delicious meze and fresh seafood.
The Bunch of Grapes: A quaint, traditional restaurant that uses fresh local ingredients to create classic Mediterranean dishes.
Pissouriana Tavern: Another family-run restaurant with a menu full of authentic Cypriot dishes and a warm, welcoming atmosphere.
Yialos Tavern: Located right on Pissouri Bay, this taverna offers stunning views and a menu full of fresh seafood.
Platea Cafe-Bar: A great spot for a relaxed lunch or evening drink, with a variety of light bites and refreshing cocktails.
Bunch of Grapes Bakery: A bakery and cafe serving up freshly baked pastries, breads, and cakes, as well as breakfast and lunch options. Perfect for a quick bite before heading to the beach!
Property for Sale in Pissouri: Why Investing in Pissouri Real Estate is a Good Idea
If you're considering investing in real estate, then Pissouri is definitely a location to consider.
This beautiful village is nestled in the foothills of the Troodos Mountains, offering a picturesque setting with stunning views of the Mediterranean Sea.
With Pissouri being conveniently located just 30 minutes away from both Limassol and Paphos, it makes it an ideal location for those who want to be close to the action but still enjoy a tranquil setting.
The village has a strong tourism industry, with plenty of visitors coming to enjoy its beautiful beaches and idyllic setting. This means that there is a steady demand for rental properties, which can provide you with a steady source of income.
In addition, property prices in Pissouri are still relatively affordable compared to other areas of Cyprus, making it an attractive option for investors looking to get in on the ground floor. Plus, with ongoing developments and new projects in the area, there is plenty of potential for growth in the coming years.
Whether you're looking for a holiday home or an investment property, Pissouri is definitely a location to consider. With its stunning setting, convenient location, and affordable property prices, it's no wonder that so many people are investing in real estate in this beautiful village.
Conclusion
In conclusion, Pissouri, Cyprus is a must-visit destination for travelers looking for a relaxing and peaceful holiday.
Whether you're looking for adventure or relaxation, Pissouri has something for everyone.
Pin for later