Looking for the perfect time to visit Limassol, Cyprus? In this article, I'm going to break down the impact of weather, events, and crowds to help you decide the best time to visit Limassol.
In this post, I'm also going to share some of the key events in Limassol's annual calendar including the Limassol Wine Festival and the Limassol Marathon.
I've been in Limassol in both the high and low seasons and so I'll be talking a bit about my personal experience in the summer and winter.
Did You Get Travel Insurance Yet?

If 2020 taught us anything, it's that you need to be prepared for anything!

The Insurance companies I personally recommend are Hey Mondo, Passport Nomads, Safety Wing, and Travel Insurance Master

Hey Mondo is great if you are looking for a great value flexible policy. They offer single-trip cover, annual multi-trip cover, and long-term travel cover.

Passport Nomads provides the most comprehensive cover for Digital Nomads. If you find yourself in need of medical care you just contact them and they will pre-load your card with the funds to cover your treatment, meaning you won't need to pay out of pocket and then put in a claim later.

Safety Wing is great value with monthly cover starting at $39. It's super easy to use and it just renews each month. I currently use them as they offer me free cover for my son as part of my policy.

I also use Travel Insurance Master for short trips.

Read my full travel insurance post here where I go into detail about all 4 companies.
The Weather in Limassol
I'm not going to lie, in the summer Cyprus is HOT, like for me unbearably hot. In July and August, you are going to bake! It's one of the reasons we choose to always visit Cyprus during the shoulder seasons.
Of course, if you are only planning to visit Limassol for a week or 2 for a vacation and all you want to do is lounge by the pool of a resort sipping on ouzo, then the summer season is for you.
But if you prefer to be a bit more active and do some more cultural activities, then the heat of the summer might not be the best time to visit Limassol.
Limassol has a typical Mediterranean climate with long hot summers and mild winters. Now although the winter is mild, the villas and most hotels are built for the summer heat, so they don't keep in the warmth so much.
The summer season, from June to September, is by far the hottest and driest, with average temperatures hovering around 30°C (86°F). Although it can feel a lot hotter due to the humidity.
The rainy season lasts from December to February/ March, but even during these months, it's rare to have several days of continuous rain. Although the week we landed back in Cyprus in January 2023 we had almost a whole week of rain!
When we visited Limassol in September there really didn't seem like there were so many people on the street. We tried walking along the seafront, but with no shade it was tough and we had to keep stopping to get out of the heat.
In complete contrast when we were there during the winter (January-March) we were stunned at just how different it was. To start with we couldn't park anywhere! It was packed. There were so many people enjoying the seafront walk with their families. Restaurants were overflowing and because of the mild temperatures, it was so much more enjoyable.
So when choosing to visit Limassol really depends on what you want to do in Limassol. If you are looking to avoid the heat I'd strongly consider traveling during the shoulder seasons of spring (March to May) or autumn (October to November), when temperatures are milder. During these times tourist things like boat trips are generally still running, and you still get the nice weather. But it's not so hot that you can't walk around and enjoy the sites.
But don't forget that Limassol has mountains and so if you are feeling the heat you can always take the short drive up to explore that region and cool off. In the winter you can even ski up there!
Events and Festivals in Limassol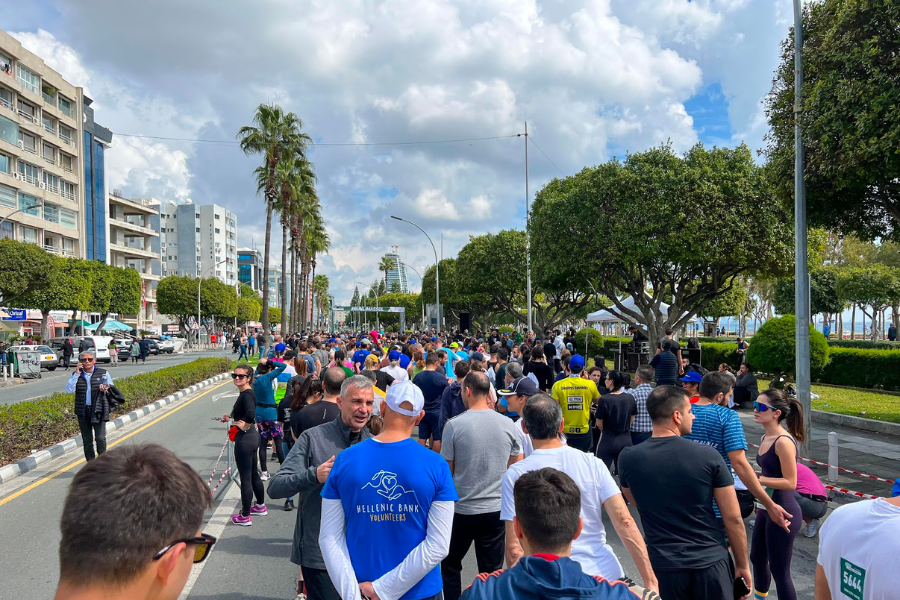 Limassol is pretty big on events. There is always something going on there and in my experience, the events are always pretty well organized. If you happen to find yourself there at the same time as an event it's well worth going down and joining in.
If you're looking to experience some of the local cultures, consider planning your trip around one of the many events and festivals that Limassol has to offer. The Limassol Carnival and Wine Festival are two of the most popular, but there are also plenty of religious and cultural festivals throughout the year. Just keep in mind that these events can impact tourism and prices, so plan accordingly.
Limassol Carnival
Limassol Carnival is one of the most popular events in Cyprus, attracting thousands of visitors from around the world. I was really sad that I didn't get down to it this year. But we found out too last minute and had no idea where to park so decided it could end up being a nightmare as it gets very crowded!
The "Grand Carnival", takes place in the weeks leading up to Lent and is a celebration of music, dance, and plenty of colorful costumes. The main event is the grand parade, which takes place on the Sunday before Ash Monday. There are carnival parades over that weekend in all the main cities in Cyprus, but Limassols knocks the socks off the rest (or so I've been told).
During the Limassol carnival parade, locals and visitors alike take to the streets in elaborate costumes, dancing to the beat of traditional Cypriot music. Limassol Carnival is a unique and unforgettable experience that truly captures the essence of Cypriot culture and traditions.
If you are coming to Limassol during the carnival you may find prices to be a little elevated and it will be a super busy weekend as there will also be a lot of Cypriot tourism that weekend too.
Wine Festival
I was in Limassol during the Wine Festival, but sadly I was unable to make it as it takes place in the evenings and I had no childcare for my little one… next year I'm making it a must in my calendar though!
The Limassol Wine Festival is THE event in Limassol's calendar. It takes place each year in a park close to the seafront to celebrate Cyprus' rich winemaking culture. It takes place in late August and early September, and it's a great opportunity to taste local wines and traditional food while enjoying live music and dancing.
The festival attracts both locals and tourists, and it's a perfect way to experience the island's culture and hospitality. If you're planning to attend, make sure to book your accommodation in advance, as this is a peak tourist season and prices can be higher than usual.
If you are a bit of a wine connoisseur and are in Cyprus during this time then I'd recommend doing a wine tour in Limassol too as it's peak wine-making season in the region. You can read about my experience here.
Religious and cultural festivals
​​Limassol boasts a rich history and culture, and it's hard to escape it when visiting. As the primary religion in Cyprus is Greek Orthodox there are a lot of different religious holidays and events throughout the year. It's worth checking online to see if your vacation coincides with one of them as it could be a great opportunity to witness.
One of the most significant is the celebration of Easter, which involves elaborate processions, hymns, and feasts. Additionally, the Feast of Saint Andrew in November is a significant religious festival that includes church services, traditional dances, and food stalls.
Another popular religious festival is the celebration of Saint Mary on August 15th, where the locals gather at churches across the city to participate in religious ceremonies and processions.
If religious festivals aren't your thing then Limassol also hosts a variety of cultural festivals, including the International Festival of Ancient Greek Drama and the Limassol Beer Festival. All of these events provide visitors with a chance to explore the city's rich cultural heritage and to engage with locals in a fun and festive atmosphere.
Limassol Marathon
Myself and my husband actually ran the 5k this year and I can honestly say it was a great experience.
The Limassol Marathon is one of the most significant sporting events in Cyprus, attracting runners and fitness enthusiasts from all over the world and we loved being a p[part of the Limassol Marathon weekend (even if it was just running the 5k haha).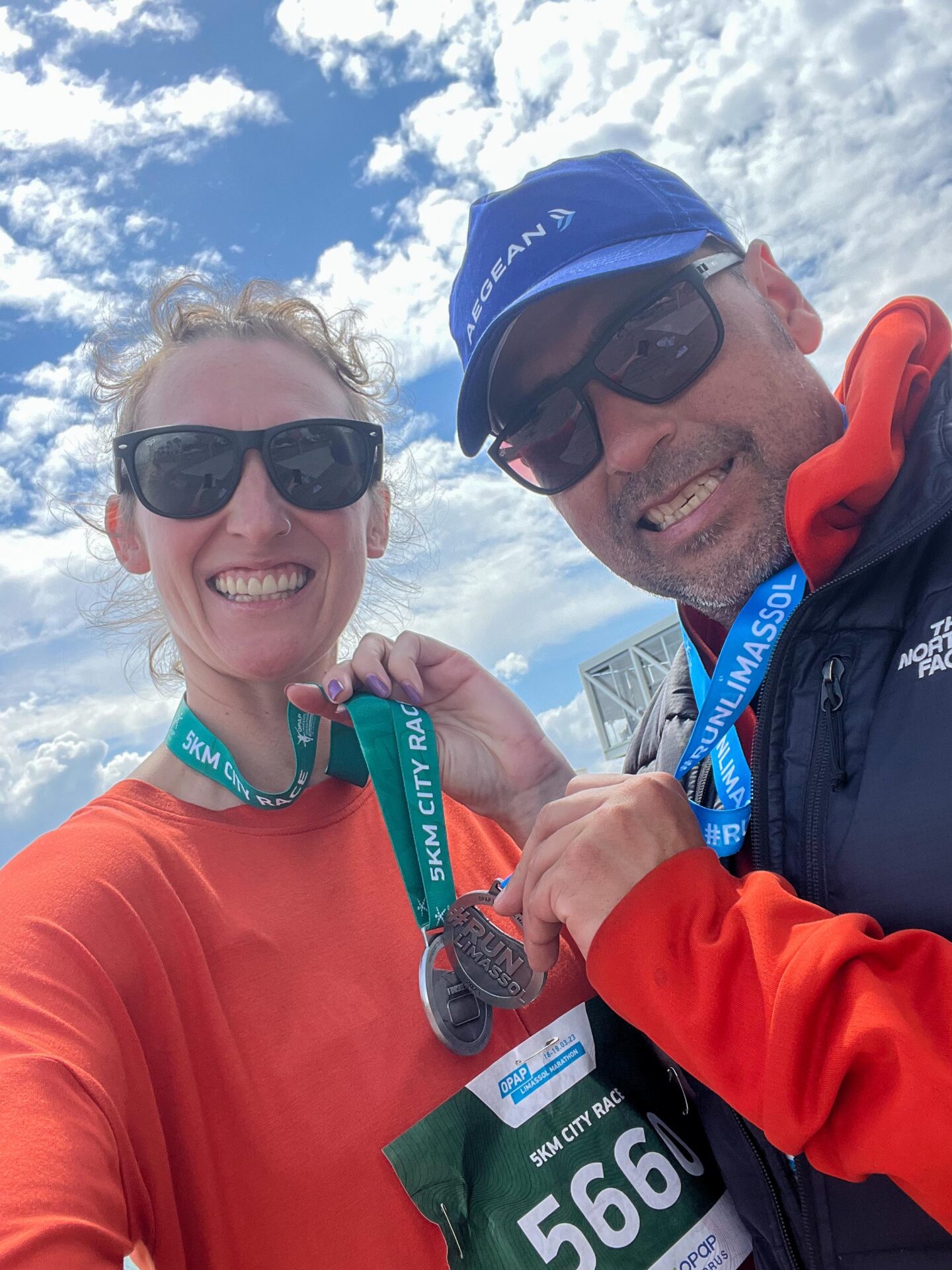 The Limassol Marathon takes place every spring (click here to see dates), usually in March or April when the weather is mild and perfect for running. The route takes participants along the scenic coastal road of Limassol, offering some pretty special views of the Mediterranean Sea.
In addition to the full marathon, there are also half-marathon, 10K, and 5K races available. The event is well-organized, with aid stations, cheering crowds, and a festive atmosphere along the entire route.
Whether you are a seasoned runner or just looking for a fun and challenging experience, the Limassol Marathon is an event not to be missed.
High and Low Season in Limassol Cyprus
High vs. low season
In Limassol, the high season typically runs from June to August, which means that tourist crowds are at their peak during these months. Although during these months you won't find many locals. Many Cypriots not working in the hospitality industry actually take off the month of August completely… you won't find a dentist, builder, or even many doctors working in nonemergency settings during August! However, the summer months also offer the most consistent and pleasant weather, with temperatures averaging around 30°C (86°F) and long hours of sunshine.
Accommodation and transportation prices also tend to be higher during this time, making it the most expensive time to visit. Car rentals can get crazy during this time, and sometimes it's hard to even find a rental last minute, so be sure to book ahead!
On the other hand, the low season, which runs from November to March, tends to be much quieter with fewer tourists around but far more locals. You will find many more locals in the cities during the winter as all of the smaller tourist areas like Aya Napa completely shut down for the winter and the locals move to the city.
While the weather may be cooler and rainier, it's still possible to have a great time in Limassol during this time of the year, especially if you're looking for a more budget-friendly trip. I actually much prefer winter in Limassol to summer. The only thing you will miss out on is water-based activities like scuba diving and boat trips.
Other Factors to Consider
Of course, there are other factors to consider as well, such as accommodation prices, flight and transportation costs, and food and dining experiences.
Accommodation prices in Limassol
Accommodation prices in Limassol vary depending on the season. During the peak tourist season, which runs from June to August, hotel and rental prices tend to be higher due to high demand.
However, there are still plenty of affordable options available, including budget hotels, hostels, and rental apartments.
If you're looking to save money, consider visiting during the shoulder season, which runs from April to May and September to October. During these months, you can find lower rates on accommodations while still enjoying warm weather and fewer crowds.
Looking for accommodation in Limassol? Click here to read my full review.
Flights and transportation costs
When planning your trip to Limassol, it's also important to consider the cost of flights and transportation.
The great thing about Limassol is how well-connected it is. Limassol sits pretty much in the middle of Pathos and Larnaca airports so you can fly into either and have no issues.
Larnaca International Airport is the nearest and from there, you can easily take a taxi, rent a car or take the bus to reach Limassol.
The other option is to fly into Paphos International Airport, which is slightly further away but the same goes, but you can easily find transport to Limassol from Paphos.
Traveling within Limassol is also very easy. Transportation costs within the city are quite reasonable, with buses being the most affordable option. That said don't expect much conversation from bus drivers in Cyprus as they are notoriously grumpy!
Taxis are also readily available but can be more expensive and the drivers can be pretty crazy so strap in! The best way to get around Limassol is by bike (you can rent bikes on the street easily) or by renting a car.
If you choose to rent a car you really need to book in as much advance as you can as prices can get crazy and rental cars often sell out completely during peak times.
Food and dining experiences
The seasons can have a significant impact on food and dining experiences in Limassol. During the peak summer months, many restaurants and cafes offer al fresco dining options, allowing visitors to enjoy their meals in the warm Mediterranean sun.
The menus also tend to focus on lighter, refreshing dishes that complement the weather.
In contrast, during the cooler months, the focus shifts to heartier meals, warm soups, and stews.
Visitors can also experience the local delicacies that are in season, such as fresh oranges and lemons in winter or succulent figs and watermelons in summer.
Additionally, prices for dining can fluctuate during high and low seasons, so it's worth considering the impact of the season when planning your dining experiences in Limassol.
Conclusion
In conclusion, there's really no bad time to visit Limassol. It all depends on what you're looking for in a vacation. Just remember to consider the weather, events, high and low season, and other factors when planning your trip. Happy travels!
Pin for later