Phuket City. The capital of Phuket Province in southern Thailand, it is frequently referred to as the "Pearl of the Andaman Sea". While visiting there you are probably going to want to take some of the best day trips from Phuket to make the most of your time there.
Phuket attracts hordes of tourists every year, and it's not hard to guess why. It has something that caters to every traveler: lush, beautiful jungles; marvelous, pristine beaches; mouth-watering street food; a vibrant nightlife; an array of Phuket extreme sports everyone will want to try; and a wide array of accommodations, from budget to luxury.
Furthermore, with so many stunning islands nearby, it is the perfect city to use as a base, as you launch on several island-hopping adventures. But, with so many islands and Phuket day trips to choose from, it may be hard to decide where to go. So, to help you out, here is my list for the absolute best day trips from Phuket City you can take. Enjoy!
Did You Get Travel Insurance Yet?

The Insurance companies I recommend are Hey Mondo, Safety Wing, and Travel Insurance Master

Hey Mondo is great if you are looking for a great value flexible policy. They offer single-trip cover, annual multi-trip cover, and long-term travel cover. Safety Wing is great value, with monthly coverage starting at $39. It's super easy to use, and it just renews each month. I currently use them as they offer me free cover for my son as part of my policy. I also use Travel Insurance Master for short trips.

Read my full travel insurance post here, where I go into detail about all companies.
The Top 5 Best Day Trips From Phuket City
Koh Phi Phi
First off, let's talk about one of Thailand's most notorious islands: Koh Phi Phi. Highly popularized by Leonardo DiCaprio's film The Beach, the island has unfortunately turned into a bit of a tourist trap.
But that doesn't mean it's not worth visiting; it is a gorgeous island, with breathtaking beaches and magnificent rock formations. But visitors should manage their expectations. It is overdeveloped. It is not a pristine, untouched hidden gem. But, it has a lot to offer.
The Phi Phi Islands consist of two islands: Koh Phi Phi Don and Koh Phi Phi Leh. Koh Phi Phi Leh is uninhabited and is the home of the famous Maya Bay. Unfortunately, you can no longer visit Maya Bay (at least until 2021), as the government of Thailand is taking steps to repair the damages caused by tourism.
However, by hiring a long-tailed boat, you can visit Maya Bay by sea. You can also tour many of the other attractions on Koh Phi Phi, including Monkey Bay, Bamboo Island, Mosquito Island, and Tonsai Village. I also recommend doing the Koh Phi Phi Viewpoint Hike, as it is stunning to gaze at the Phi Phi Islands from above.
How to Get to Koh Phi Phi from Phuket City: There are two ways you can get from Phuket City to Koh Phi Phi: you can take a 2-hour ferry from Rassada Pier, or a more expensive, 1-hour speedboat. Remember to book a few days in advance, especially during high season!
Phang Nga Bay
One of the most stunning places in all of Thailand, Phang Nga Bay is filled with sheer limestone karsts rising from emerald waters. With big attractions like the James Bond Island (Koh Ta-Pu), and the water village Koh Panyee, Phang Nga Bay should be on everybody's bucket list.
And there's a lot more you can do in Phang Nga Bay. From climbing the breathtaking Samet Nangshe Viewpoint to cruising around the bay on a private boat, Phang Nga Bay truly caters to every traveler.
How to Get to Phang Nga Bay from Phuket City: The most convenient way of getting to Phang Nga Bay is by tour, or by booking a long-tail or speedboat day trip. However, you can also get there by bus, car, motorbike, and taxi. Bus services operate every day, departing every hour, and take 1.5 hours to get to Phang Nga Bay. You can also rent a car or motorbike, or hire a taxi; the drive takes a bit over an hour.
Khao Sok National Park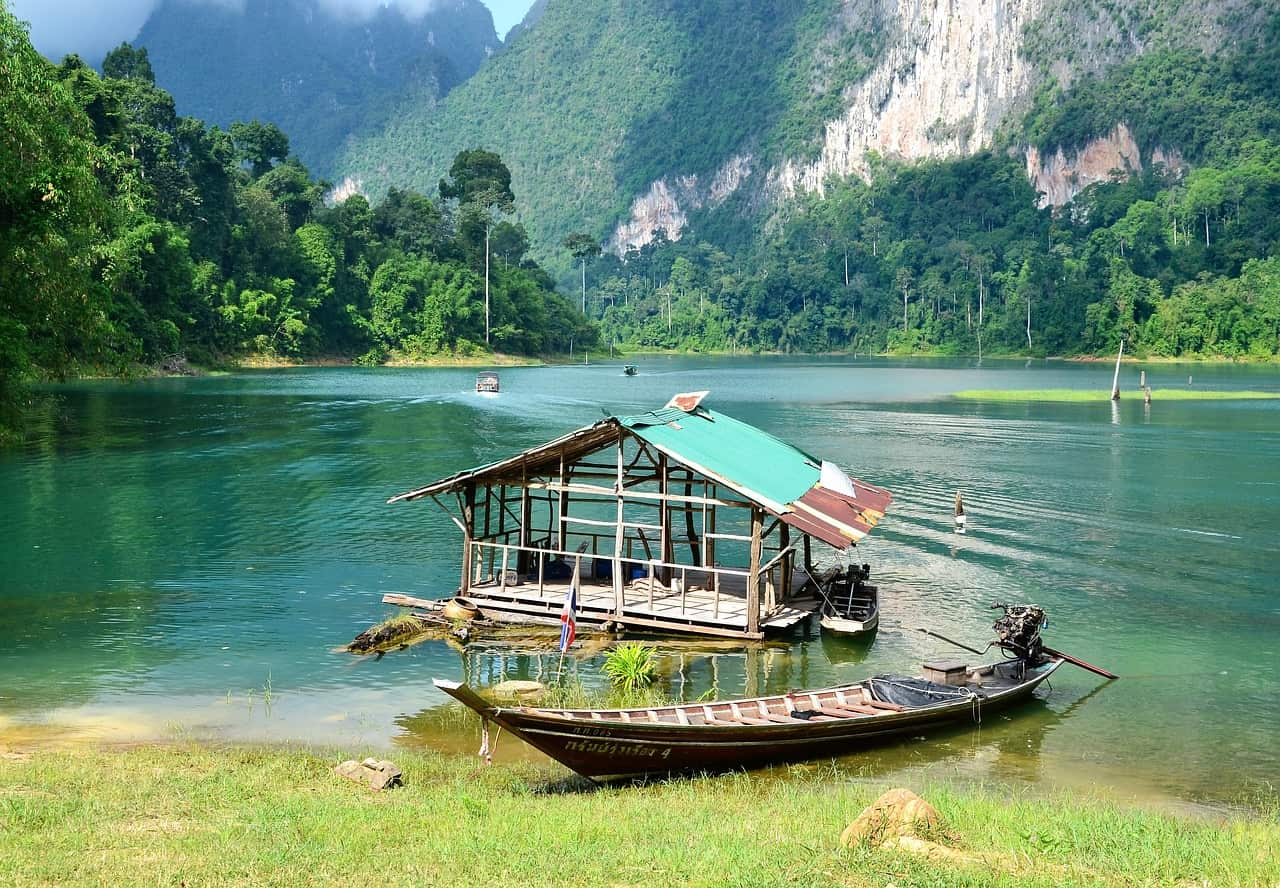 Next, for those tired of the beach, or for those dying to gaze up at the towering limestone karsts again, Khao Sok National Park is for you! Housing one of the oldest evergreen rainforests in the world, Khao Sok will take your breath away.
With diverse wildlife, gorgeous lakes, and lush jungles, there's an abundance of things to see and do in Khao Sok National Park. One of the biggest attractions is Cheow Larn Lake: an exquisite lake covered with floating raft houses.
You can also raft down a river, trek through the forest, or take a cooking class. But beware of visiting during monsoon season, as the leeches will be out!
How to Get to Khao Sok National Park from Phuket City: A very convenient way of getting to Khao Sok National Park is by booking a tour, or by booking a minibus. However, if you want more freedom, you can also rent a car or motorbike. The drive takes around 3 hours. It is also possible to go by bus, but the drive will take around 4 hours.
Similan Islands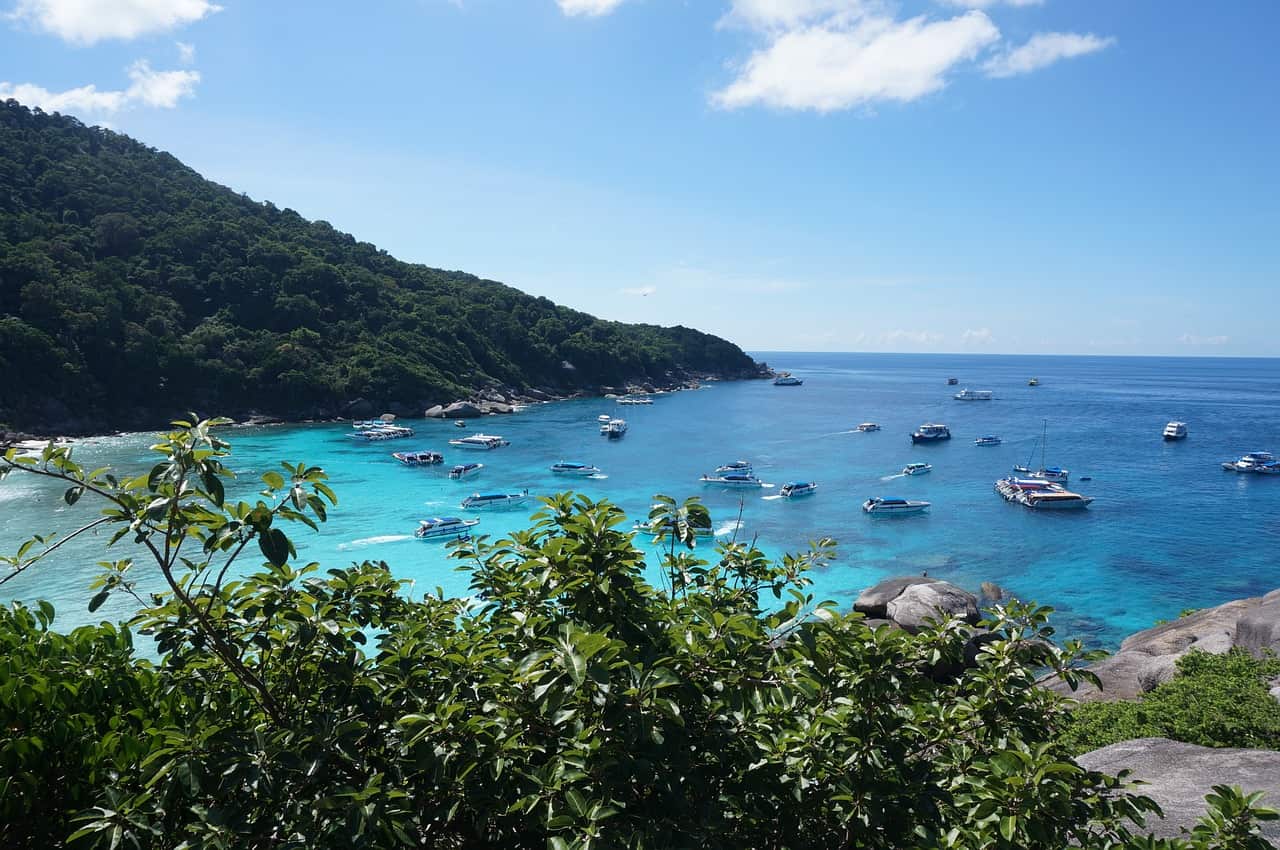 Now, let's get back to island hopping. If you love to snorkel or scuba dive, there's no better day trip to make than the Similan Islands. Located in Mu Koh Similan National Park, the Similan Islands are an archipelago consisting of 11 islands.
Truly, the Similan Islands are exquisitely beautiful. With exceptionally diverse wildlife lying underneath the crystal-clear shallow waters, it is one of the best places to snorkel. Furthermore, the islands are breathtaking, covered in thick forests, huge boulders, and pristine, untouched beaches. This little archipelago surrounded by dazzling coral reefs is the perfect day trip to make from Phuket.
How to Get to the Similan Islands from Phuket City: The easiest way to get to the Similan Islands is to book a tour with arranged transportation. However, if you want to get there on your own, you'll first have to get to the Taplamu Pier near Khao Lak. This is possible by bus or taxi. Buses can take anywhere between 1.5-3 hours to get you to the pier. From the Taplamu Pier, you can take a ferry to the Similan Islands, or you can rent a boat.
Gibbon Rehabilitation Project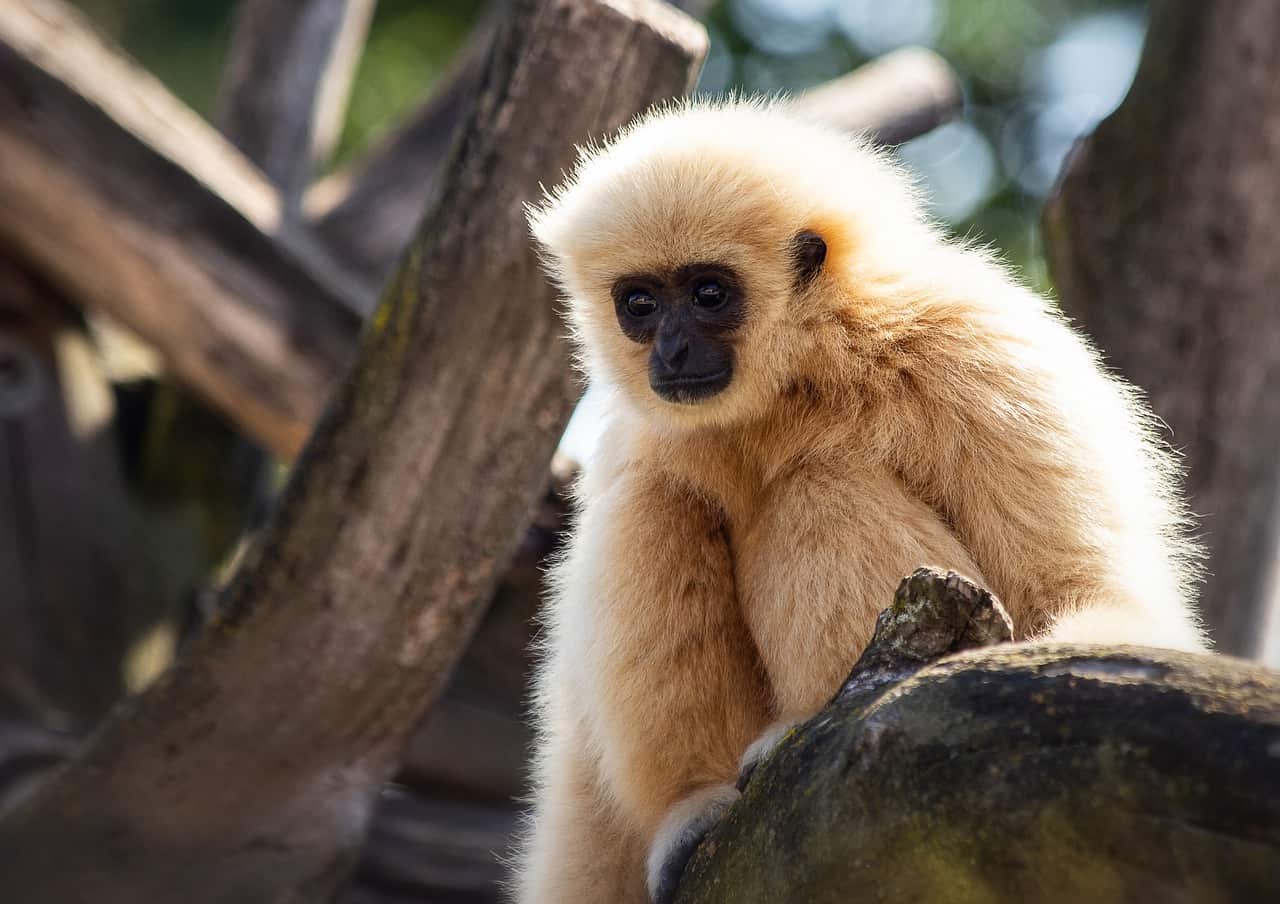 A less popular, yet remarkable day trip from Phuket is the Gibbon Rehabilitation Project. Housed deep in the tropical rainforest near Bang Pae Waterfall, the Gibbon Rehabilitation Project's goal is to rehabilitate abused and mistreated gibbons, and to release them back into the wild.
Visiting the Gibbon Rehabilitation center is a wonderful and educational experience and a great reminder about responsible tourism. Many of these gibbons are captured as babies, their parents massacred, and are then used as props for tourism photos. Visiting the center is a great reminder that we have to be conscientious about our decisions while traveling.
At the Gibbon Rehabilitation center, you are also able to observe some of the gibbons. While a few of these gibbons are recent arrivals, others are permanently homed, unable to be released into the wild. While you can't touch or feed these gibbons, it is a lot of fun to watch them swing around.
And since you're in the area, I also recommend hiking to the Bang Pae waterfall. It's a short hike to a stunning waterfall and a great place to cool off from the humidity.
How to Get to the Gibbon Rehabilitation Center from Phuket City: The easiest way to get to the Gibbon Rehabilitation Center is to rent a motorbike. Driving there only takes around 22 minutes. Another option is to go by taxi, if you're okay with spending the extra cash. A final option for the budget travelers like me, who are uncomfortable on motorbikes, is to take a blue songtaew to the Phuket Bang Rong Pier, and then to rent a motorbike or taxi from there. The bus takes around one hour to reach the pier, from which the drive to the Gibbon Rehabilitation Center is much shorter.
More Information for Your Trip to Phuket
The Best Time to Visit Phuket
The absolute best time to visit Phuket is from November to February. This is when the weather is the coolest, with temperatures ranging from around 23°C to 30°C. While this means there will be more crowds and costs will be higher, it is worth it.
March to mid-May is the hottest season, with temperatures ranging in the mid-30s. Mid-May to October is monsoon season, with the average temperature being around 28 °C to 29 °C. The humidity also tends to be high, and the weather patterns erratic, making the water conditions more hazardous. However, there are many advantages to traveling to Phuket in the monsoon season, such as lower prices and smaller crowds.
Want some tips on what to pack for Thailand? Click here for a minimalist packing list for Southeast Asia!
How to Get to Phuket from Bangkok
There are 3 main ways of getting to Phuket from Bangkok: plane, train, and bus.
Plane: An airplane is definitely the quickest and most convenient way to get from Bangkok to Phuket. It only takes 1 hour, and it can be pretty cheap, especially if you fly with budget airlines like AirAsia. However, there are some drawbacks to these budget airlines. For instance, these flights fill up quickly, are frequently delayed, and charge extra for check-in bags. However, I think it's worth it. From Phuket airport, you can take a taxi or the public local bus to Phuket City.
Train: While taking a train from Bangkok to Phuket is another option, it is a lot more difficult. There isn't a direct train that takes you all the way to Phuket, so you'll first have to take a train from Bangkok to the town of Surat Thani. This will take around 8.5-12 hours. Then, you'll have to transfer onto a bus, which will take an additional 4-5 hours to get you to Phuket. This method requires you to make two separate bookings, so you'll have to be mindful of transfer times and potential delays.
Bus: Finally, there are both day and night buses that take you from Bangkok to Phuket. These buses typically take 14 hours to arrive at their destination and tend to offer AC and onboard snacks and drinks. The level of comfort these buses provide varies, depending on the cost and quality of the carrier.
Overall, I would recommend taking a plane from Bangkok to Phuket, if it is within your budget. If not, I would recommend taking the bus. Click here if you want some tips on traveling on a budget!
Biography
Hello! My name is Mia, and I'm a Canadian with a passion for hiking and exploring the world by foot. While I'm currently working abroad in Japan, I also run the travel blog Walk a While with Me, where I share my tips and guides for traveling around the world. Follow my adventures on Instagram, Facebook, and Twitter.