Have you heard negative things about Bangkok? To get the most out of your trip you need to know what to do in Bangkok to avoid hating it. Having visited Bangkok twice (in a three-week trip) first I hated it, and then I fell in love. So I decided to put together this short post with my 6 Ways to Avoid Hating Bangkok.
Having spoken to, and read, posts by other female travelers who haven't had good experiences in this city I thought I'd share some of my experience, and offer a few ways to avoid wanting to stay in your hotel room!
What to Do in Bangkok to Avoid Hating It
I did a lot of research on the best places to stay in Bangkok and read a lot of reviews on Booking.com to make sure we booked into a great hotel.
I decided to pre-book a mid-priced hotel in Bangkok (as I knew it was going to be a long flight we wanted to know where we were staying so we could get a taxi straight there and get some sleep) so I could sleep off the jet lag in a bit of comfort.
When we got to the hotel, it was fine, especially as we only had 2 days in Bangkok. BUT it was too far out-of-town, the staff were nice, but not particularly helpful. I think this was a big factor in my lack of love, it just made everything that bit more difficult, and when you are tired and a little culture-shocked that's the last thing you need.
The Solution to Avoid Hating Bangkok Since the First Day
Stay at The Yard Hostel – If you don't believe me, take a look at their reviews. It was spotless, beautiful, friendly, and although it was central it felt like a million miles away from Bangkok. I know if I'd stayed there for the first time the staff would have helped guide us around the best things to do and places to see and it would have drastically improved my first impression of Bangkok.
2. Don't Plan to Do Much on Day One in Bangkok
Unless you are a super hero who doesn't get jet lag, don't plan to do much on your first day in Bangkok. Eat close to where you are staying and just get some sleep. There is so much delicious Thai street food around you won't need to go far.
I decided to wander the streets in search of food. Jet lag, culture shock and not knowing the area was a terrible mix and it didn't end well…there were almost tears and I don't even want to think about what I ate!
3. Get to the Temples in Bangkok Nice and Early
Rise and Shine! If you are going to be spending day 1 catching up on sleep make sure you get up extra early on day 2 and head straight to the Grand Palace (that is if you want to see it). It gets incredibly busy there and the earlier you can get there the better. Plus it's a bit cooler in the morning, which you will be grateful for.
Get it out of the way first thing and then work your way through the other places you want to visit from there. If I'm honest I preferred Wat Po, it was peaceful, there weren't as many people and you can get a Thai Massage. I had an hour-long foot massage and it was incredible.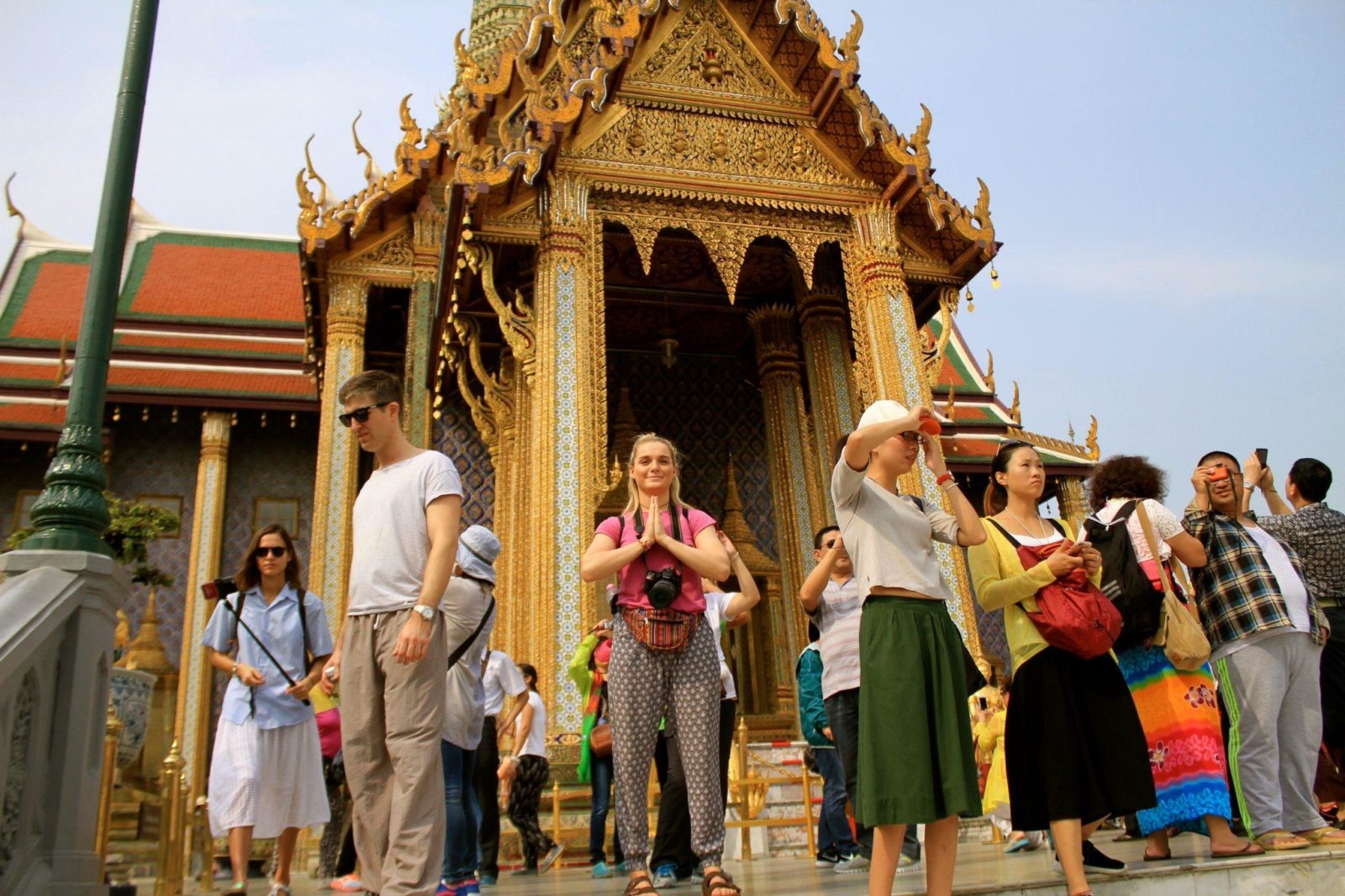 4. Issue Caution Haggling With Tuk Tuks in Bangkok
Now I know people say you need to haggle when getting taxis and Tuk Tuks in Bangkok, however, we didn't do this at all and we didn't have any issues whatsoever. I'd read all the warnings about being taken to shops for fuel tokens and horror stories about getting ripped off.
None of these things happened to us. We agreed on a price most of the time before we got in and didn't question that price and our reward was being taken to where we wanted to go without any hassle what so ever. I didn't feel ripped off by the prices we paid and the drivers didn't need to take us to these places because we were paying them well.
I know people may disagree with this, but it worked for me. Bangkok like many other places is somewhere you need to watch out for scammers. Make sure you know what to look out for before you travel. This article gives you the top 10 scams to look out for when traveling.
5. Embrace Koh San Road
I was one of those "oh no I won't be going to Koh San road" people but after wandering around clueless on arrival in Bangkok. I was actually relieved to find a road full of fellow travelers, street food and places to get a beer. We got talking to people straight away who gave us loads of great advice. We found out the hard way how strong the local beer is, and tasted some local delicacies…
6. Skip Bangkok Altogether on Your Way In, and Do It on Your Way Out
I did what most people do: Spent a few days in Bangkok when we first arrived in Thailand and then only spent a night there on the way back. If I could do it again I would do it the other way round. It takes a while to get into the swing of life in Thailand and if it's your first time there it could take you even longer.
After 3 weeks of traveling around, I returned to Bangkok with a completely different attitude and confidence. I swear the first time I was there I wandered found for 2 days in a total daze and I really didn't it at all. When I went back I felt so sad that I didn't have any spare time to have a few days there before returning home.
If I haven't convinced you yet then take a read of this amazing post from Dominican Abroad. It's full of some great advice to help you enjoy Bangkok. Or my friend Nic from See Nic Wander wrote a great post on exploring Ancient Bangkok.
Are you planning your Honeymoon in Bangkok take a read of this great guide to help you plan your stay.
If you are planning a trip to Thailand I have a lot of great blog posts to help with your trip:
If you are planning to visit Thailand check out my other posts:
How to see Thailand in 3 weeks
Top Tips for First Time Visitors to Thailand
What to pack for a backpacking adventure in Thailand
5 Reasons to do Yoga in Thailand
Are You Traveling soon?
Be sure to check Skyscanner for the best flight deals.
Did You Get Travel Insurance Yet?
If 2020 taught us anything, it's that you need to be prepared for anything! Travel insurance has always been high my list of things to get before I travel but now more than ever its at the top of my list.

I'm pretty sure we have all had travel plans messed up because of COVID and not all insurers covered this. So when looking for travel insurance it's important to check it covers travel disruption due to COVID-19, Hey Mondo, Passport Nomads, Safety Wing, and Travel Insurance Master all provide cover for this.

Hey Mondo is great if you are looking for a great value flexible policy. They offer single trip cover, annual multi trip cover, and long term travel cover. You even have the option to start the cover when you are already on your trip, although you won't be covered for the first 72 hours. For me my favourite feature is their app which offers you a 24/7 Dr chat and the ability to file a claim direct in the app.

Passport Nomads provides the most comprehensive cover for Digital Nomads. The game changer with them is that you have a red card and if you find yourself in need of medical care you just contact them and they will pre load your card with the funds to cover your treatment, meaning you won't need to pay out of pocket and then put in a claim later.

Safety Wing is great value with monthly cover starting at $39. It's super easy to use and it just renews each month. They have an excess of $250 and it's simple to make a claim through their website. I currently use them as they offer me free cover for my son as part of my policy and I like that it renews on a monthly basis, so I don't have to pay out a big lump sum up front.

I also use Travel Insurance Master for some short vacation type trips.

If you are doing shorter trips or an extended backpacking trip then Hey Mondo or Travel Insurance Master are the best option. If you are a digital nomad or planning travel of at least 6 months then go for Passport Nomads or SafetyWing.
This post was proofread by Grammarly