Want to see the real England? Then you need to visit Cornwall at least once. If you visit Cornwall then you really should do some coastal walking. The Minack in Cornwall has been on the top of my places to see in Cornwall for years, and it's on the Porthcurno to Gwennap Head trail. So if you want to visit the Minac you need to do some Coastal Walking in Cornwall from Porthcurno to Gwennap Head.
After a quick search online I found this great app called iWalk Cornwall which I downloaded and wanted to try out. The walk gave me was from Porthcurno to Gwennap Head. This took me past The Minack. So I packed my bag and got in my car ready for my adventure.
If you aren't into apps then I would recommend buying Cornwall Coastal Path book or one of these other guides.
Because of parking and convenience, I decided to skip out the first part of the walk and I went straight to The Minack. When you enter the village drive through past the theatre up the hill to the church car park. It will cost you £5 per day to park.
Make sure you take cash as there is no machine – Just a friendly person taking the money and offering some local advice. From there walk back to The Minack.
Visiting the Minak in Cornwall was every bit the magical place I had pictured in my head.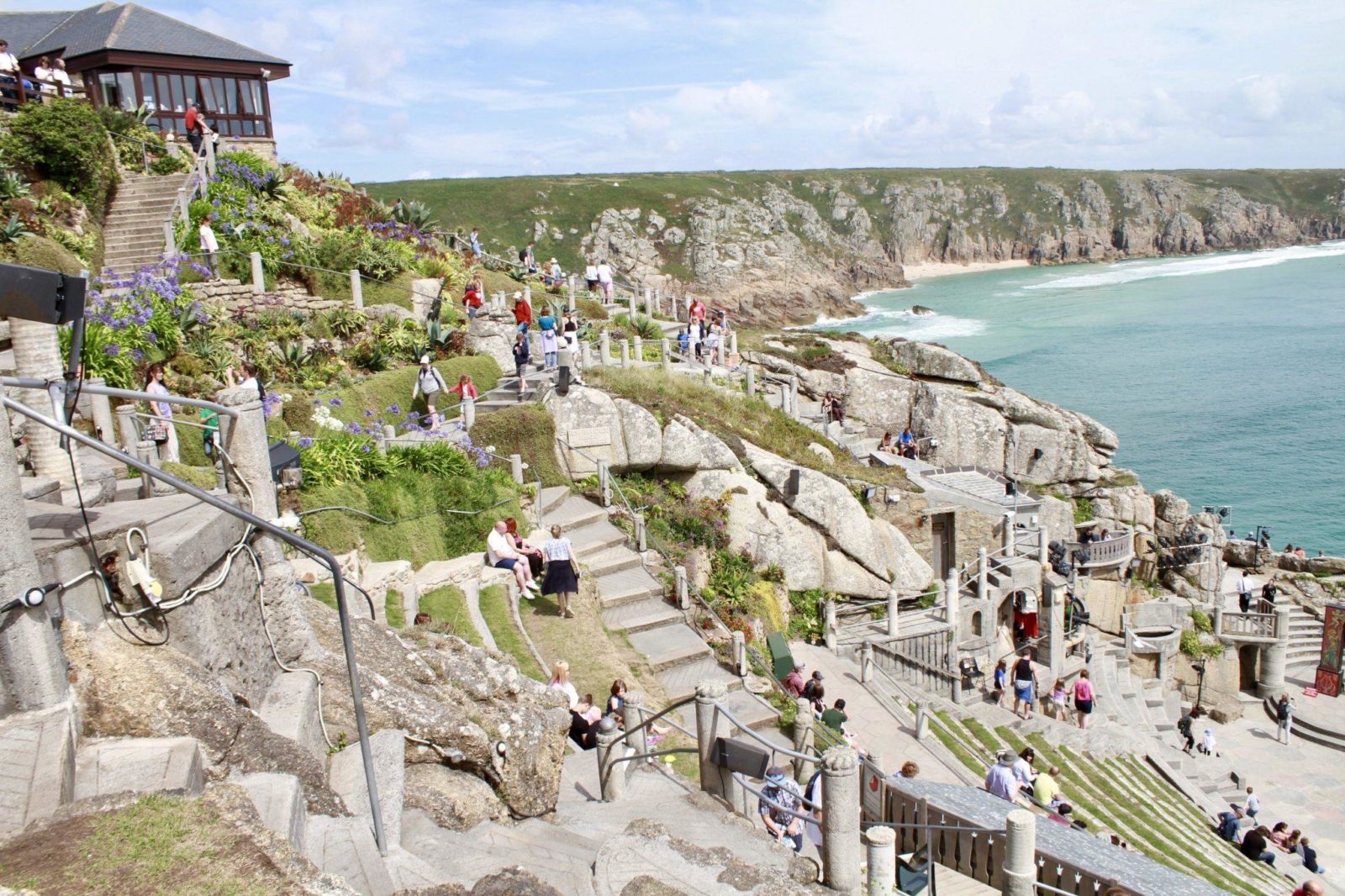 My only regret was that I wasn't able to see it at night or to be able to watch a performance there. I also had no idea of the history of the theatre. It was a lifelong labor of love, designed and built by Rowena Cade.
The history of the theatre is fascinating, read more here, there are an exhibition and short film at the theatre you can view while you are there. I highly recommend it.
From there I fired up my iWalk Cornwall app and began my walk.
As soon as I set off I was grateful for the app, it was fantastic. Even will little to no signal it kept me on track. I didn't feel the need to keep it in my hand as it vibrates when a new instruction comes through.
I was able to keep it in my back pocket, stopping and checking when it vibrated.
The directions were great, easy to follow and had I not had it I don't think I would have found my way. There were some changes in direction I would have missed were it not for this app.
The views were spectacular and it probably took me an hour longer than it told me it would as I just kept sitting and looking out to sea.
If you are a fan of Poldark then this is a great walk as they did a lot of the filming along this part of the coast.
After some time you turn in from the coastline. Although the sea views were no more I think the last bit was the most fun part of this walk so many turns and huge empty fields to run through.
When I saw this cornfield I laughed out loud to myself, but I took a breath and plowed through!
On my walk, I think I went through 3 of these fields before finally coming out right by the car part. I even met some fellow walkers in the middle of it.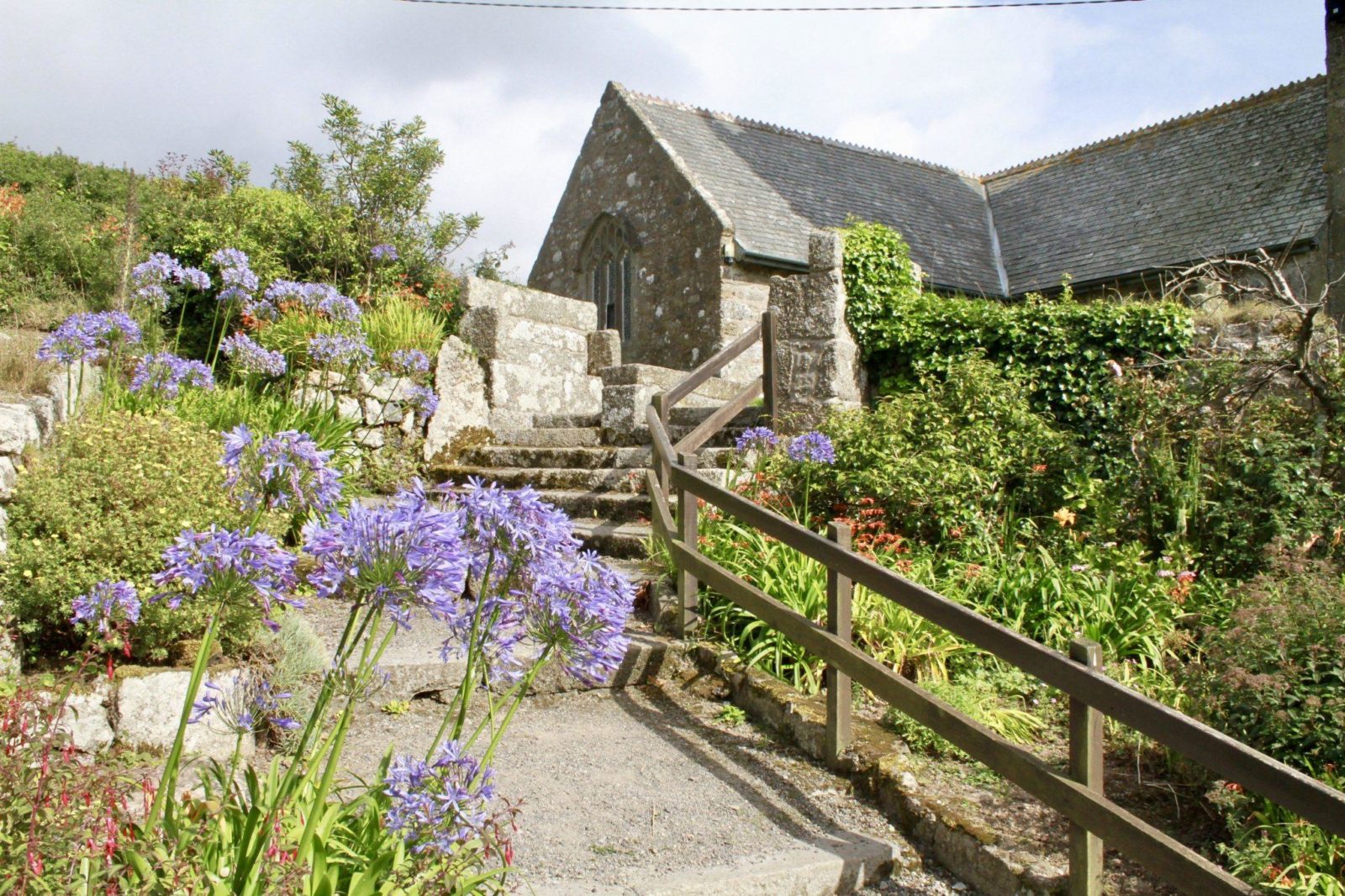 I think this walk was my favorite. Oh, Cornwall how I miss you!
On my way back to Plymouth I decided to make a quick visit to St Michael's Mount as it was another of Cornwall's gems I hadn't yet visited. I knew I didn't have much time and I wouldn't actually be able to get out to the Mount but thought I could at least see it and take a few nice photos.
I just wish I'd had some more time so I could have explored a bit more…One day!
There are so many amazing things to see and do in Cornwall you need more than one day to cover it all. If you are thinking of visiting then take a read of Inspired By Map's Day Trip Guide to Cornwall for some more inspiration!
Getting to Cornwall
Plane – You can fly into Newquay Airport
Train – The closest train station is in Penzance. From there you can get First Bus 1 or 1A. Do make sure you plan this journey though as transport down in Cornwall isn't the most reliable (It's not uncommon for it to be drawn to a halt due to cows or sheep…)
Car – If you are traveling from London I would highly recommend getting the train to Plymouth and then hiring a car. It really is the best way to travel around, Cornwall. Be warned though in Summer weekends are pretty busy on the roads and if you are nervous at driving down a single track country lanes maybe this option isn't for you! Search the best deals on Skyscanner.
Where To Stay in Cornwall
Start by searching on Skyscanner this also checks booking.com for you. If you don't find what you are looking for then you should also check Airbnb. You will struggle to find budget accommodation in this area. If you are on a tight budget then I'd recommend Airbnb, get yourself a tent and camp or head to somewhere like Newquay where you can find a hostel.
Places I'd recommend are:
Budget
Get a tent and camp
Mid
The Old Success Inn – It's a few miles away in Sennen Cove but it's such a beautiful spot and it's perfect if you like to surf. These are also a lovely walk from Sennen Cove to Lands End. You would be looking at around £60 per night including breakfast and free Wifi out of season.
High
The Stable Rooms – Offering self-contained apartments also in Sennen with just a 12-minute walk from the beach.
 Don't forget your insurance!
Are you traveling in The United Kingdom? Be sure to check out my other blog posts:
Coastal Walking in Cornwall | Boscastle to Tintagel
7 reasons to visit Cornwall in the United Kingdom
7 reasons to visit Devon in the United Kingdom
10 reasons Liverpool needs to be on your UK bucket list
How to spend a day in Bath, United Kingdom
Coastal Walking in Cornwall | Porthcurno to Gwennap Head
Planning your visit to Liverpool | How to get there and where to stay
10 reasons to visit Plymouth in the United Kingdom
What's in my Bag | Packing advice for Europe
Are You Traveling soon?
Be sure to check Skyscanner for the best flight deals.
I never travel anywhere without Travel Insurance. If you are looking for insurance be sure to check World Nomads first.
This post was proofread by Grammarly