In this Solo Girl's Guide to What to Do in Sofia, Bulgaria, my friend Annemarie from Travel on the Brain shares all the best things to do in Sofia alone. Wondering, "Is Bulgaria safe to travel to?" and, more specifically, "Is Sofia, Bulgaria safe?" You've come to the right place.
Sofia is an excellent destination for female solo travelers, even though Bulgaria isn't the most popular place for worldwide adventurers. Thankfully, you'll get to avoid crowds and enjoy everything the beautiful country of Bulgaria has to offer.
Solo Girl's Guide to Things to Do in Sofia Bulgaria
Walking Tour
The best way to see Sofia is by participating in a free walking tour, starting at the Palace of Justice. Whether you book a tour or plan one, you must check out St. Kyriaki Cathedral Church and its gorgeous murals.
Next up is the 16th-century mosque Banya Bashi. Sofia has always been a city of many cultures and religions, and the Bulgarian people are very proud of it. Banski Square, a small and charming park, is located just steps away from the mosque and is perfect for a short picnic. I recommend grabbing a snack or dessert from Sofia's Central Market, located just across the street.
Along the way, you'll also see the beautiful Regional History Museum and its famous water fountains. The warm water comes from a special spring and is high in sulfur—locals bring giant water bottles to fill up on the mineral-rich water.
The area surrounding the museum is perfect for food and coffee lovers. There are many small cafes to enjoy, and you might stumble upon hidden ruins and artifacts while wandering the streets.
Finish your tour by returning to Serdika and heading towards the Ivan Vazov National Theater. Don't miss the golden stone street in front of the National Art Gallery!
Shopping
Credit cards aren't typically used in Bulgaria, so most won't work nationwide. Ensure you always have cash on hand, especially for public transportation.
The heart of Sofia is the best place to shop for fashion and souvenirs. Vitosha, the city's main street, has plenty of Western stores and local souvenir shops. At night, it's also an excellent place to sit outside and enjoy a drink.
Sample Local Cuisine
Local restaurants not located on Sofia's main shopping streets are incredibly affordable. Most don't have English menus, and some only have pictures—research a few staple dishes so you know what to order. Shopska salad never fails!
Nightlife
If you love to party, Sofia's nightlife doesn't disappoint—just be aware that most bars and cafes shut their doors at midnight. I love the Raketa Rakia Bar for its futuristic Soviet interior design and unique menu of mystery drinks.
Clubs are the place to go if you want to party until sunrise. Most people will visit several different clubs throughout the night. Sofia hosts countless live performances, concerts, and shows. For a young, hip crowd, stay on campus in Studentski Grad.
How to Get From Sofia International Airport to the City
Sofia International Airport is directly connected to a metro that travels to Serdika. The trains leave regularly, and you don't need to change lines when you get to the city center. You can see the metro map here.
Alternatively, you can get a bus ticket from an airport kiosk and take the 84 Bus into town. Don't forget to stamp your ticket for validation and purchase a separate ticket for your luggage.
For taxis from Sofia International Airport to the city center, use the app TaxiMe to avoid scams and check prices before your ride. Prices are typically based on distance, not time, and increase during peak times, like at night.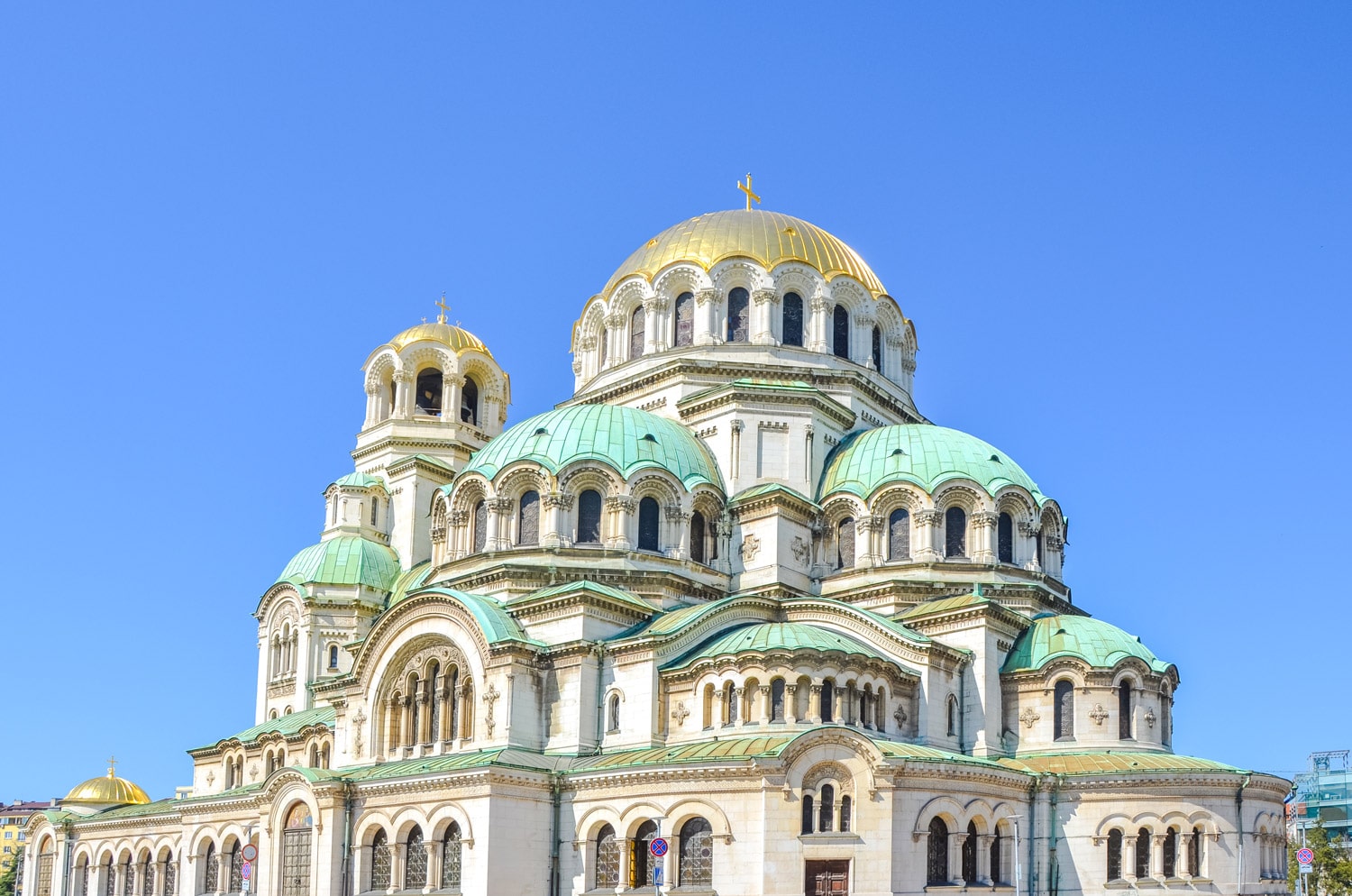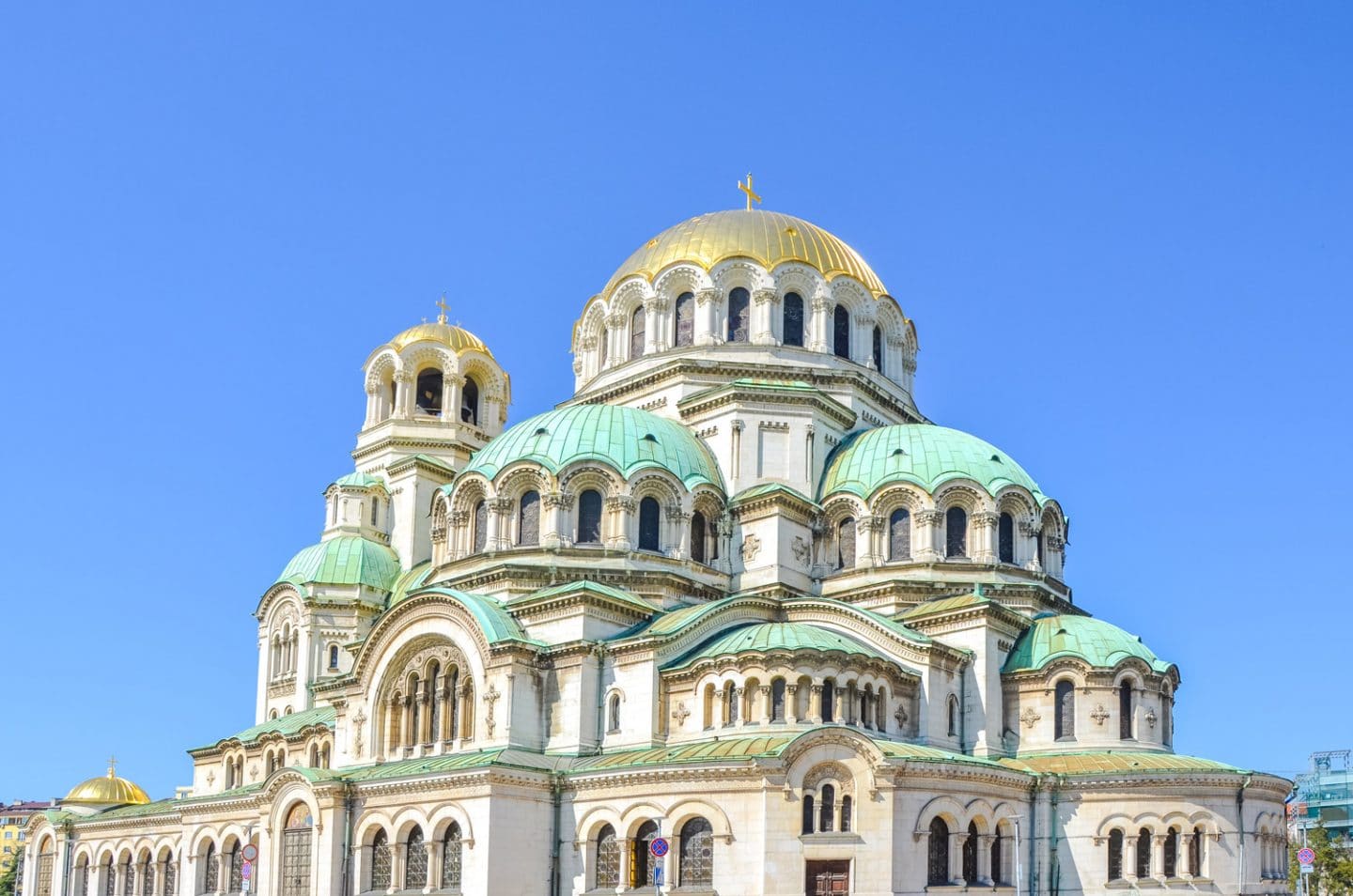 Getting Around Sofia
Public transportation in Bulgaria is quite good as there are trams and buses everywhere and an extensive metro system. Rides are also available for an affordable price, so you can travel on a budget.
If you're visiting Sofia for a few days, a one or 3-day metro card is worth the price since you can use public transportation as often as you like. To take a day trip from Sofia, check out the trains and intercity buses available.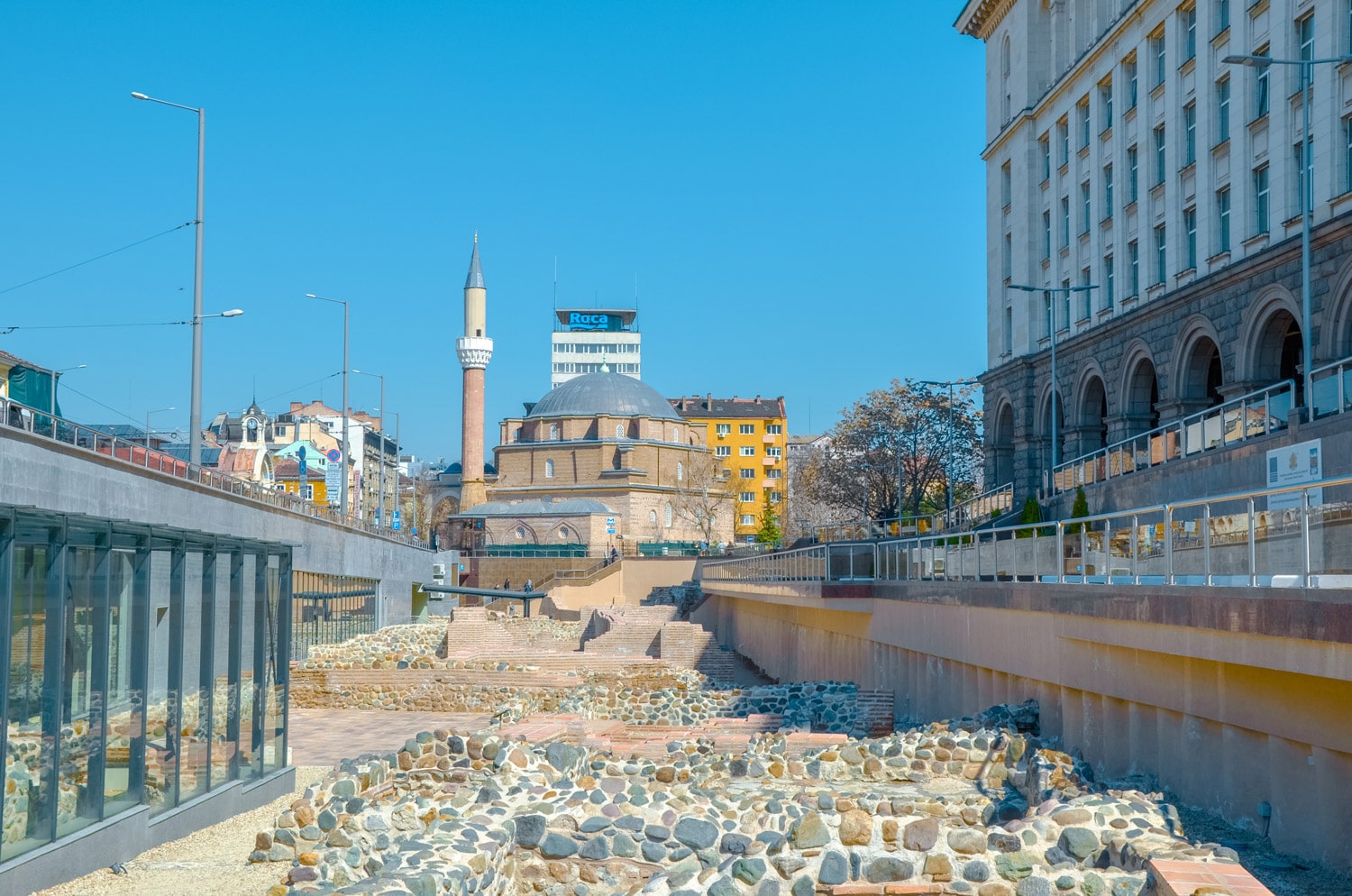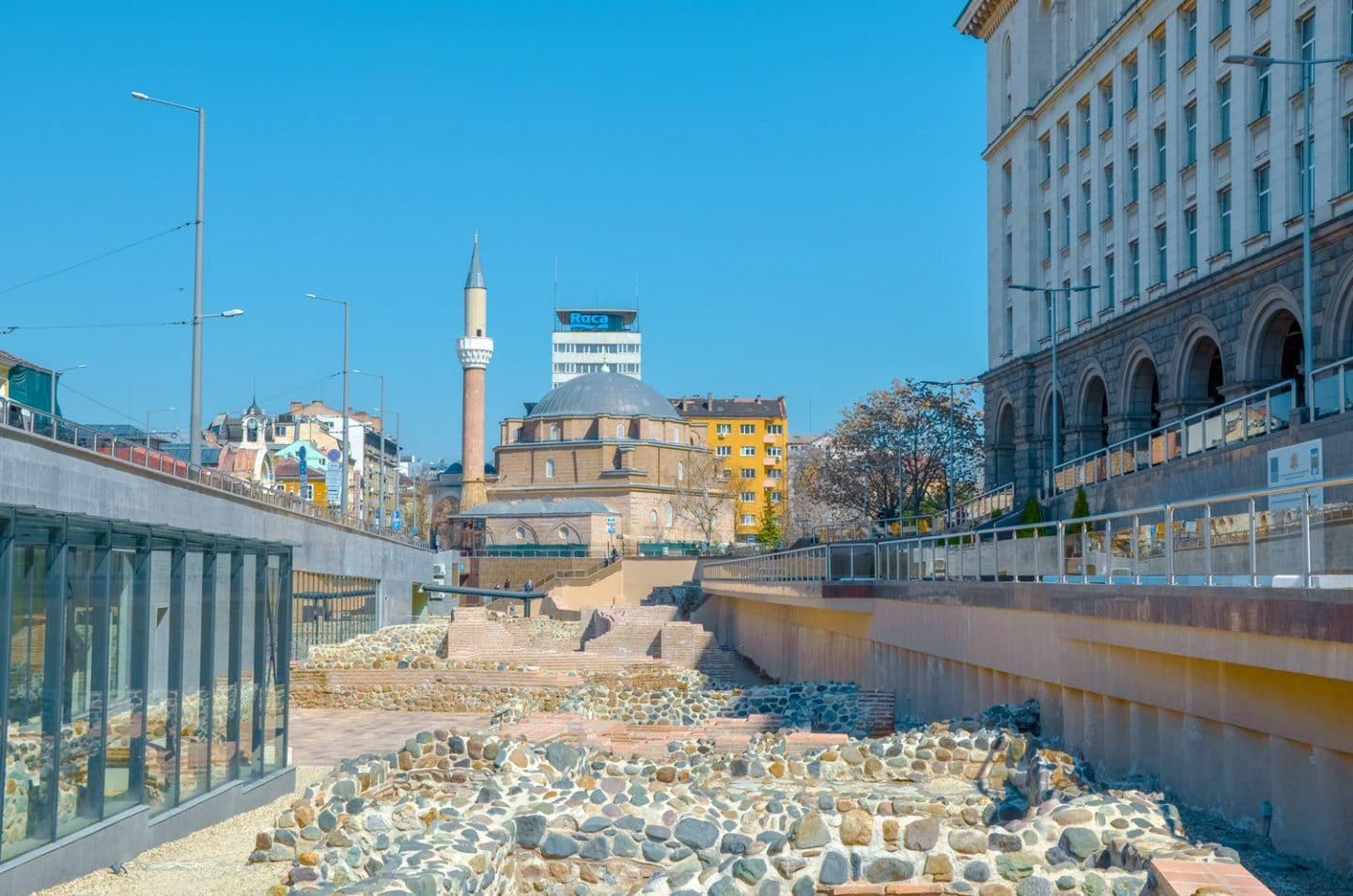 Where to Stay in Sofia
I've stayed in several hostels in Sofia, but Hostel Mostel is my go-to. Don't expect hostels in Bulgaria to be high-end—they're more like renovated guesthouses, but the atmosphere is warm and welcoming.
Hostels are a great way to meet new people, and the staff can connect you with affordable tours and day trips. This is how I found out about the free walking tours in Sofia and tours to Boyana Waterfall! Many hostels in Sofia also offer free breakfasts or dinners.
For a more private experience, browse accommodations on Airbnb.
Is Sofia Bulgaria Safe? Sofia Safety Tips
I've talked extensively about Safety in Bulgaria, but Sofia is pretty safe. Even walking at night in Sofia, I never felt unsafe and haven't experienced street harassment or catcalling.
Use common sense, trust your gut feelings, and inform someone of your plans and where you'll be during your trip. In Sofia, the most commonly avoided area is near the train and central coach station, especially at night—avoid walking here after dark.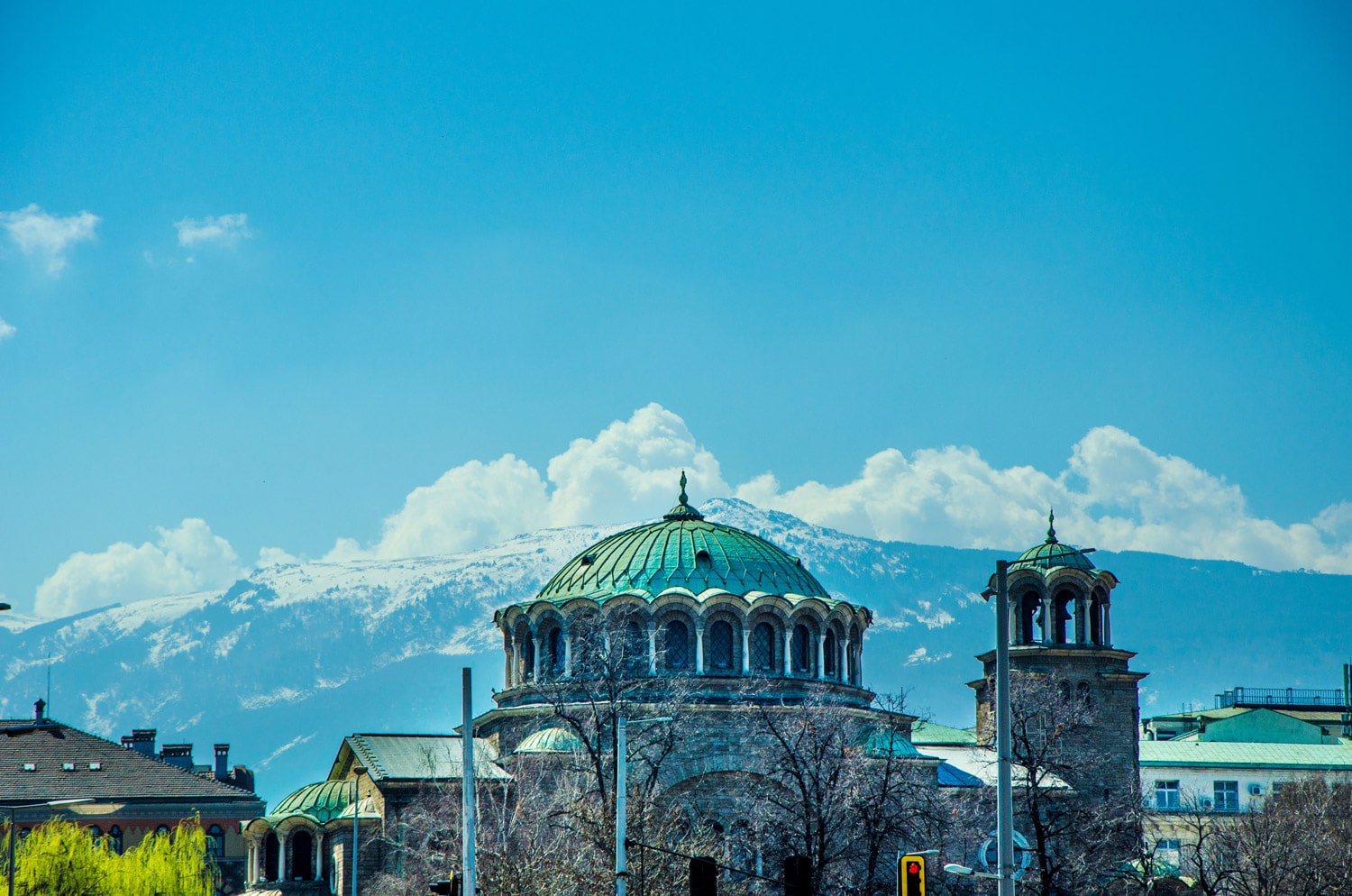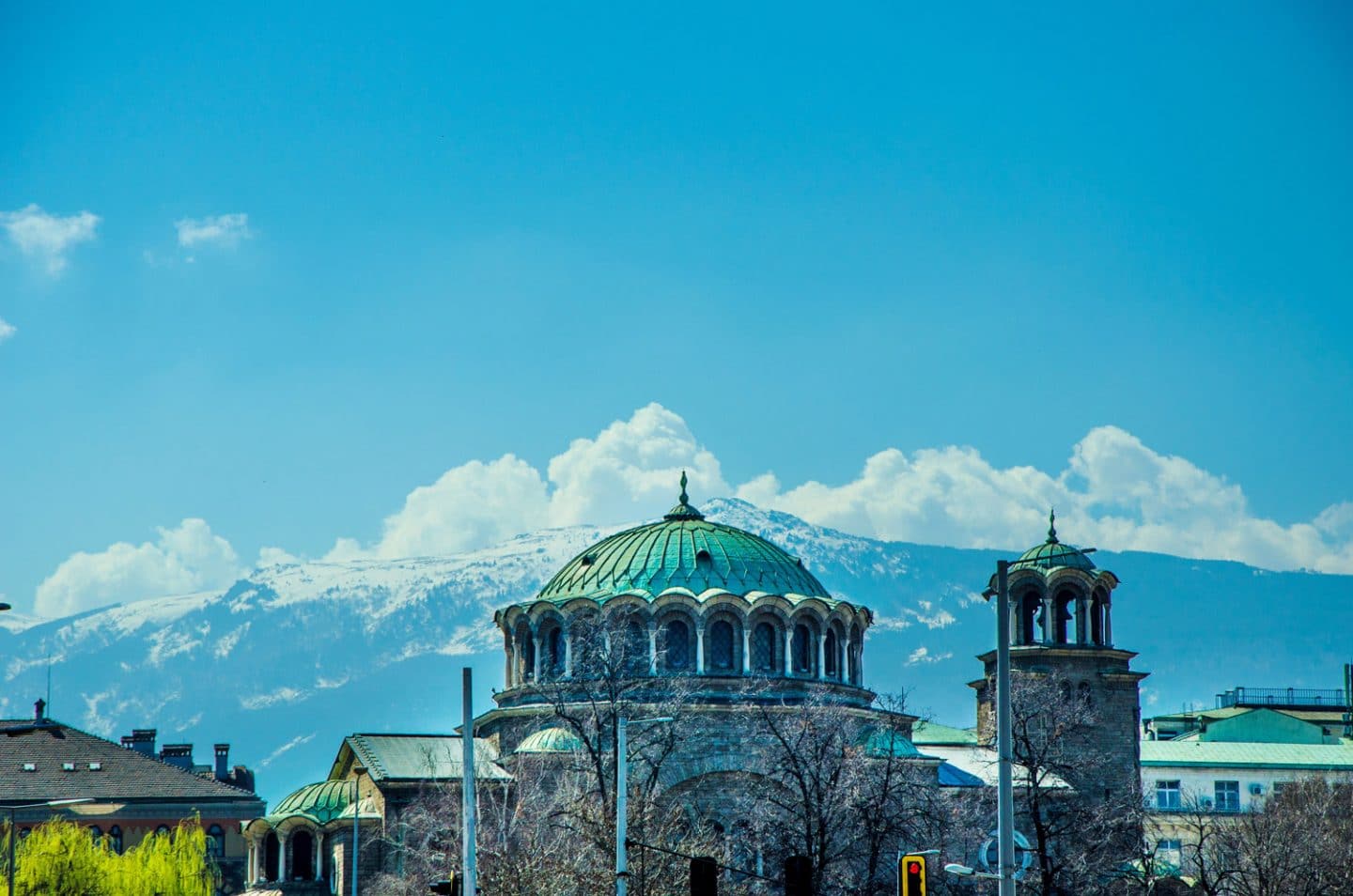 Bulgarian Culture
Bulgarians might come off as stern, but they're generally very friendly—if you smile at someone on the street, they'll usually return the favor! Don't shy away from conversing, as English is relatively common throughout Sofia and other major cities in Bulgaria. Learn basic Bulgarian phrases such as "dobre dan" (good morning) and merci (thank you). It'll go a long way!
Things to Do in Sofia Bulgaria FAQs
What to Do in Sofia Bulgaria as a Solo Female Traveler?
I recommend going on a walking tour of Sofia to explore the city's historic buildings, local culture, and mouthwatering cuisine.
Is Bulgaria Safe to Travel To?
Bulgaria is generally safe for tourists and solo female travelers if you use common sense and stay aware of your surroundings.
What's the Best Time of Year to Visit Sofia?
Spring and fall are the best times of year to visit Sofia for great weather and minimal crowds. Summer is the peak tourist season in Bulgaria.
Is Sofia Bulgaria Safe? Final Thoughts on What to Do in Sofia Bulgaria
Sofia, Bulgaria, is one of my favorite places in Europe to visit. It's underrated and full of magical hidden gems. I love cafe-hopping and the freedom to enjoy city life or escape into nature. The coach station in Sofia also allows for day and cross-country trips, so it's straightforward to travel the country. Hopefully, this guide to what to do in Sofia, Bulgaria answers all your questions about "Is Sofia, Bulgaria safe?" and more!
Love
Annemarie
Author Bio
Annemarie from Travel on the Brain is about chronic wanderlust, addictive foodism, and crazy travel stories. Her blog features in-depth travel guides, off-the-beaten-path locations, and entertaining travel videos to inspire your next trips.
Follow Travel on the Brain: YouTube | Facebook | Twitter | Instagram