In this guest post, Lora Pope from Explore with Lora shares her insider knowledge on things to do in Kuala Lumpur (KL) and the best places to visit in KL. If you're planning a solo trip in Malaysia and need recommendations on what to do in KL, you've come to the right place. We'll also answer questions like "Is Kuala Lumpur safe?" and "What are the best things to do at night in KL?"
Did You Get Travel Insurance Yet?

The Insurance companies I recommend are Hey Mondo, Safety Wing, and Travel Insurance Master

Hey Mondo is great if you are looking for a great value flexible policy. They offer single-trip cover, annual multi-trip cover, and long-term travel cover. Safety Wing is great value, with monthly coverage starting at $39. It's super easy to use, and it just renews each month. I currently use them as they offer me free cover for my son as part of my policy. I also use Travel Insurance Master for short trips.

Read my full travel insurance post here, where I go into detail about all companies.
Solo Travel Malaysia: What to Do in Kuala Lumpur
Kuala Lumpur, commonly known as KL, is the capital city of Malaysia. The city offers expansive skylines, endless shopping, and some of the tastiest food in Asia. KL is a great place to start or end a solo trip in Malaysia because the Kuala Lumpur International Airport is a central travel hub. You can fly into KL from your country of origin, spend a few days exploring the city, and continue to your next destination in Asia. Let's dive into my top recommendations for the best place to visit in KL.
Things to Do in Kuala Lumpur Alone: Places to Visit in KL
Batu Caves
The Batu Caves consist of a beautiful Hindu Temple located inside a cave. The cave is easy to access from the center of Kuala Lumpur, as you can take a direct train ride there, and it's often considered the best place in KL to hang out and experience local culture.
While the caves are a popular activity to do in KL, they're worth a visit—go early in the morning or late in the evening for fewer crowds. In recent years, the steps to the caves were painted vibrant colors of the rainbow, perfect for a photo opportunity.
Quick Tip: Book accommodation, tours, and transport ahead of time online to save money and stress.
Best Kuala Lumpur Tours: Click here to check out the top Kuala Lumpur tours
Best Kuala Lumpur Accommodation: Click here to check out the best accommodation in Kuala Lumpur
Best Kuala Lumpur Transport: Click here to book a bus, ferry, or train in Kuala Lumpur
Petronas Twin Towers
The iconic symbols of Kuala Lumpur, the Petronas Towers, are the tallest twin towers in the world. Rising 452 meters into the sky, they fully illuminate the skyline. Behind the towers is a lovely park to visit during the day. At night, the park has water fountain shows synchronized with music. Tours of the Petronas Towers run daily if you want to go inside, or you can enjoy them from one of the city's many rooftops.
Shopping
One of the best things to do in KL alone is shopping since the city has stores accommodating every taste and budget. For high-end fashion, try the Pavilion Mall, located in the famous Bukit Bintang area. Many street markets cater to a lower budget. Check out Petaling Street to get a sense of the city's local shopping scene.
Sample Local Cuisine
Given the delicious and diverse mix of Indian, Chinese, and Malaysian cuisine, sampling the city's many food options is a top activity to do in KL. There are several high-end restaurants in the KL area, but some of my favorite food experiences were sampling local cuisine at small street vendors. I highly recommend Jalal Alor Food Street for some of the best authentic Malaysian food!
Kuala Lumpur Bird Park
The KL Bird Park is a 20.9-acre public outdoor aviary in the heart of the city. This park offers a great chance to see some of Malaysia's exotic native birds and escape the hustle and bustle of the city. Next to the bird park is a gorgeous botanical garden where you can see local flora and fauna.
Things to Do in KL at Night
There are plenty of things to do at night in KL since the city is filled with pubs, restaurants, and clubs. Bukit Bintang is a narrow, bar-filled street known as Kuala Lumpur's go-to party venue. KL is also home to many incredible rooftop bars where you can enjoy views of the gorgeous city skyline.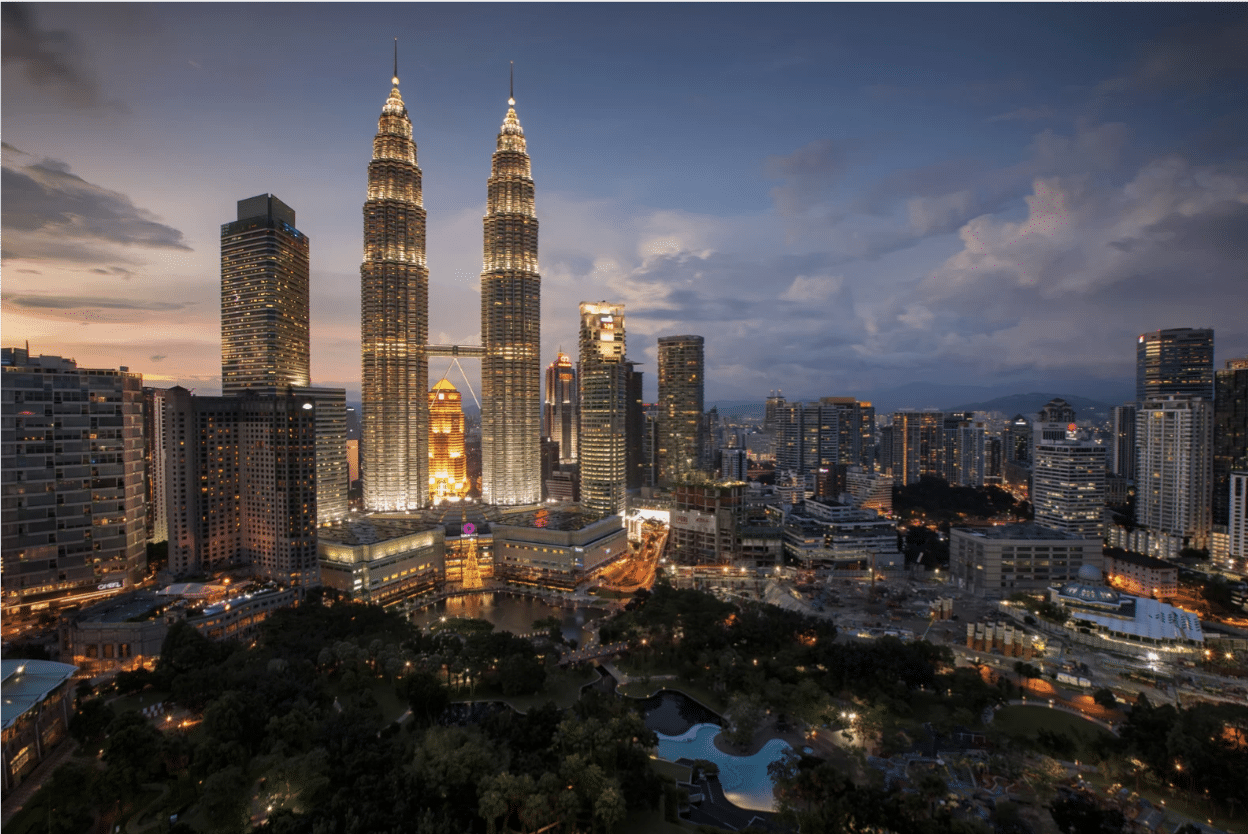 Helicopter Pad Lounge
This unique bar is set on a rooftop helicopter pad, boasting fantastic city views. The lounge opens at 6:00 p.m. and the rooftop at 7:00 p.m., so arrive early to secure a seat. After 9:00 p.m., the Helicopter Pad Lounge transforms into a bustling nightclub. It's the best place to visit in KL for a fun and energetic club atmosphere.
Night Markets
Night markets are also the top things to do in KL at night. These markets are typically set up daily in small neighborhoods with streets closed to motor vehicles. Locals shop at these markets for fresh produce and prepared goods—tourists can try cheap, authentic dishes at these nightly street markets.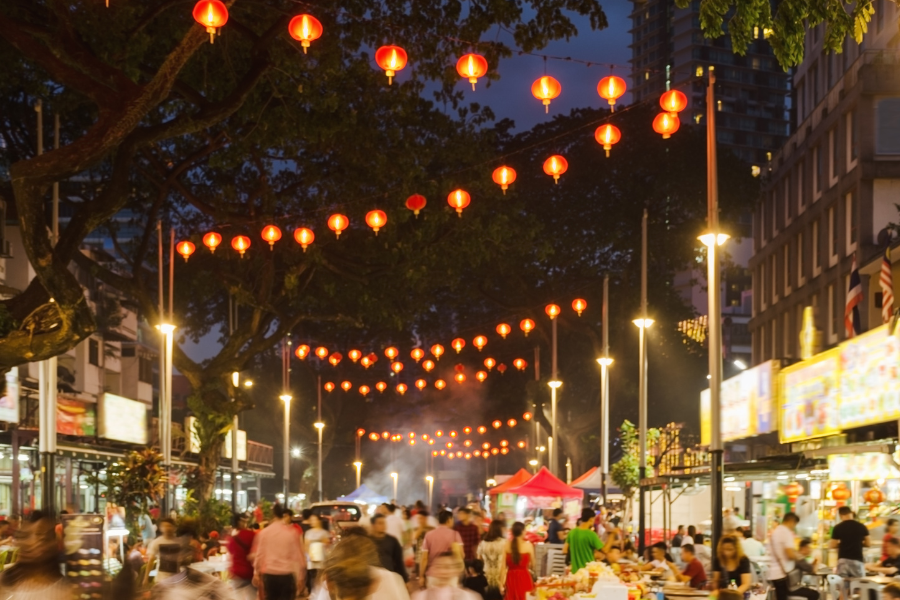 Bar Crawls
If you aren't comfortable exploring at night alone, many KL hostels run nightly bar crawls you can sign up for. A bar crawl allows you to visit local spots and make new friends. Alternatively, you can browse couchsurfing.com and Facebook for local bar meetups in Kuala Lumpur. This is a top nighttime activity in KL for branching out and meeting people from all over the world.
How to Get From Kuala Lumpur International Airport to the City Center
Kuala Lumpur is about an hour's drive from the airport, but there are affordable options for getting into the city.
Train
The KLIA Express is a non-stop, high-speed train that connects the KL Airport to the downtown area. It costs around 55MYR for a one-way ticket, and the ride takes around half an hour.
Taxis
Taxis are available from the airport to the KL city center and typically cost 80 to 100MYR.
Rideshare Services
Uber and other ride-sharing apps work well in Kuala Lumpur and are typically cheaper than taxis. I used the Grab app in KL and had a good experience.
Hotel Transfer
Your hostel or hotel may offer transfers from the airport for a fee—reach out to them beforehand for more information on available options.
Getting Around Kuala Lumpur
Once you're in a popular area of KL (Bukit Butang, KL Complex, Chinatown, etc.), you can safely walk around alone. In between these areas, I found the streets were less popular and pedestrian-friendly, which made me a little uneasy. Like any big city, KL has some areas that are better than others. If you aren't sure whether an area is safe to visit alone, check with local Facebook groups or the receptionist at your hostel or hotel.
The best way to get around (especially at night) is by taking a Grab ride to your destination. Grab is affordable and safe—the rides are a set price, so you don't have to worry about being overcharged or negotiating the cost of your trip.
Where to Stay in Kuala Lumpur
This Kuala Lumpur hostel is highly recommended. I started my trip in KL at Mingle Hostel—the best place in KL to hang out and meet fellow travelers. The hostel has a social atmosphere and offers daily activities and tours. The hostel is next to Chinatown, so great food and shopping options are just a short walk away.
This apartment complex has become a well-known Airbnb option for travelers thanks to its legendary rooftop pool. Rates vary depending on the type of accommodations you choose, but I snagged a one-bedroom room for $25 a night while visiting.
Is Kuala Lumpur Safe? Safety Tips for KL
Malaysia is a predominately Muslim country, so it's best to be respectful and follow local customs regarding your appearance and behavior. If you plan to visit any temples, dress conservatively and cover your knees and shoulders. When visiting a mosque, cover your head and limbs with a headscarf and sarong (many mosques lend these to visitors at the entrance).
If you plan to explore an activity in KL at night, take a Grab to your destination and avoid walking alone in quiet parts of town. While walking, keep your head up and be alert—don't stare at your phone, as you might be targeted. Always be proactive about your safety, and avoid overly friendly strangers.
What to Do in KL: FAQs
What Are the Best Things to Do in KL Alone?
I recommend visiting the Batu Caves, shopping, and sampling the local cuisine from high-end restaurants and authentic street vendors.
Is Kuala Lumpur Safe?
The touristy areas of Kuala Lumpur are usually safe for solo female travelers. Stay aware of your surroundings, be wary of strangers, and keep an eye on your belongings.
What Are the Best Places to Visit in KL?
You must visit the Petronas Twin Towers and night markets in Kuala Lumpur for an authentic taste of life!
Kuala Lumpur Travel Guide Planning
🚗 Where can I book bus or private transportation ?
I recommend Bookaway or 12goAsia. You can find lots of different transportation available in all over Asia.
🎫 Where can I buy tickets for museums, attractions, and tours?
I recommend either Viator or GetYour Guide. They have a lot of options!
👩‍⚕️ What is the best insurance to have while traveling?
I recommend using Heymondo for a great value policy. The app also offers you 24/7 Dr Chat. For Digital Nomads check out SafetyWing digital nomad insurance.
I have also written a blog post covering all my recommended travel insurance here
✈️ Any flight recommendations?
WayAWay offers you cheap flights with cashback. You can use this code CLAIRE22 to get 10% off. Otherwise Skyscanner or Expedia are my go-to flight searching platforms.
📱What do you use for internet connection while traveling?
I'm a big fan of personal WiFi devices and they have saved my ass so many times when traveling. I wrote a full review of the top travel WiFi devices you can read here. I personally use GlocalMe as I can either pop in a physical sim card or use their local carrier.
With regards to my phone connection, I use e-sims while traveling, so rather than having to swap out my regular sim card I can download the app and buy a virtual sim card. I recommend using eitherAirhub or Alosim. Both have great coverage of multiple countries and are very easy to use.
🛏️ What is the best platform to use for booking accommodation?
The 3 best platforms that I normally use are Booking.com, Hotels.com, and Expedia They offer great deals and multiple options. I always check all three to be sure of the best deals.
🛅 Do you have any luggage recommendations for traveling?
I do have a complete list of the best packing and luggage products that I recommend, you can check the list here. I'm currently traveling with this suitcase and this backpack.

Final Thoughts on What to Do in KL
I flew to Kuala Lumpur because I found a cheap ticket there from Canada, but I fell in love with the city. If you plan to solo travel Malaysia, I recommend visiting KL and spending at least a few days exploring this wonderful city. Hopefully, you've enjoyed this guide to what to do in Kuala Lumpur alone!
Love
Lora xx

Bio:
Lora Pope is a Canadian travel blogger on a quest to visit every country in the world and discover the best wildlife and nature that the planet has to offer. She has traveled to 47 countries and is currently backpacking through India as part of a one-year trip around the world. While traveling, her favorite things to do are hike, dive, and try to find wildlife. She is passionate about wildlife conservation and sustainable tourism and loves to find organizations worldwide that are, too.
Follow Lora on Social Media: Instagram | Twitter | Pinterest
Check out our other Solo Girl's Guides:
Barcelona | Copenhagen | Israel | Kuala Lumpur | Moscow | Nepal | Queenstown | Prague | Santa Barbara | Stockholm | Uzbekistan | Vegas | Zurich
This post was proofread by Grammarly.