Boston is the lively and historic capital of Massachusetts and is an amazing city to visit that combines loads of waterfront activities with shopping, incredible restaurants, unique charm, and of course, history. If you're looking to spend one day in Boston, this guide will focus on the very best things to do for first-time visitors to help you plan your perfect day in this beautiful New England city.
Did You Get Travel Insurance Yet?

The Insurance companies I recommend are Hey Mondo, Safety Wing, and Travel Insurance Master

Hey Mondo is great if you are looking for a great value flexible policy. They offer single-trip cover, annual multi-trip cover, and long-term travel cover. Safety Wing is great value, with monthly coverage starting at $39. It's super easy to use, and it just renews each month. I currently use them as they offer me free cover for my son as part of my policy. I also use Travel Insurance Master for short trips.

Read my full travel insurance post here, where I go into detail about all companies.
One Day In Boston Suggested Itinerary
1. Start Your Day at the Boston Public Gardens
Not to be confused with Boston Common, the Public Gardens is a separate park that was actually the first public garden park in the U.S. If you've only got one day in Boston, this is a must-see. This park features a beautiful pedestrian bridge with an Instagram-worthy powder blue railing, sculptures, a pond, and of course, plenty of gardens. Be sure to take a ride on the Swan Boat during your visit!

2. Stop For A Coffee & Snack at Tatte Bakery
A one day in Boston must-see is the Tatte Bakery is known for its latte foam art, gorgeous interior, and incredible pastries. Now that they have a few locations sprinkled all over the city, it's easier than ever to pop in for a quick break to rest your feet, and fuel up with a latte and snack.

3. Walk The Historic Freedom Trail
If you're a history buff, you'll likely want to walk the entire Freedom Trail, which is a 2.5 mile red-bricked trail through the city that connects 16 historically significant attractions. If you're not a history buff, it's still worth walking a small portion of the trail just to appreciate the fact that the city's history dates back to the 1600's.

The best place to start the Freedom Trail is at Boston Common, which will be a quick walk from the Public Gardens. From there, you can also see the Massachusetts State House, which features a 23k dome at the very top of the building.

There are plenty of self-guided walking tours you can find online if you wish to continue along the trail. This is an excellent choice for things to see in Boston in one day. To do the whole trail, budget at least two hours.
4. Walk The Charming Streets of Beacon Hill
If you stopped your Freedom Trail tour at Boston Common, you're just a short walk away from Beacon Hill, Boston's most charming neighborhood. Many of the streets will be lined with brick and cobblestone and walking down Acorn Street, Boston's most Instagrammed little side street is a must.

There are also some really beautiful storefronts in this neighborhood, so be sure to keep an eye out for any window displays that catch your eye, and pop in to do a bit of shopping. This is the perfect spot to look for an Airbnb in Boston if you're spending a weekend in town.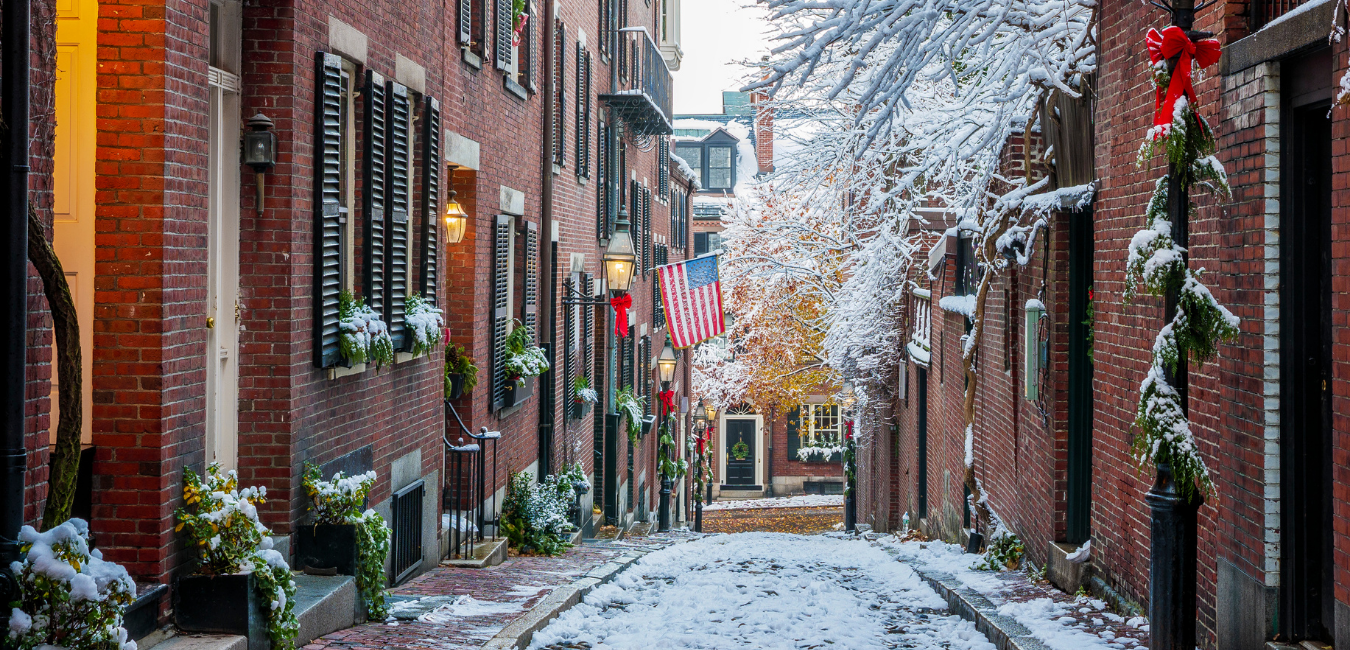 5. Lunch at The Parish Cafe
At this point of your one day in Boston, you're probably ready for lunch, and one of the best places in Boston for a great lunch is The Parish Cafe, which is located in the Back Bay neighborhood. This place is known for its amazing onion rings and sandwiches, so it's a good thing you've worked up an appetite with all the walking you've done so far!

6. Visit The Shops on Newbury Street
A few blocks from The Parish Cafe is Newbury Street, which is regarded as the best shopping destination in Boston, and is definitely worth your time even if you're sightseeing Boston in one day. Each storefront is housed inside a vintage brownstone building from the 19th century, making it a very unique shopping experience.
Newbury Street is home to mostly high-end brands like Burberry, but you'll also find some moderate staple stores such as Anthropologie, as well as some independently-owned boutiques. It really has a mix of everything, including restaurants and cafes.

7. Walk Along The Waterfront Parks
This is one is a MUST DO on things to do in Boston in one day. Boston has a lot of waterfront paths, walkways, and parks to enjoy, so be sure to take some time to head over to the water. A few of the best places for a walk along the water in Boston are the Harbor Walk in the Seaport district, The Esplanade along the Charles River, and the Harbor Walk along the Christopher Columbus Waterfront Park.

If you have an interest in visiting the New England Aquarium during your visit, the Christopher Columbus Waterfront Park is very close to the aquarium, so these two sites can easily be combined.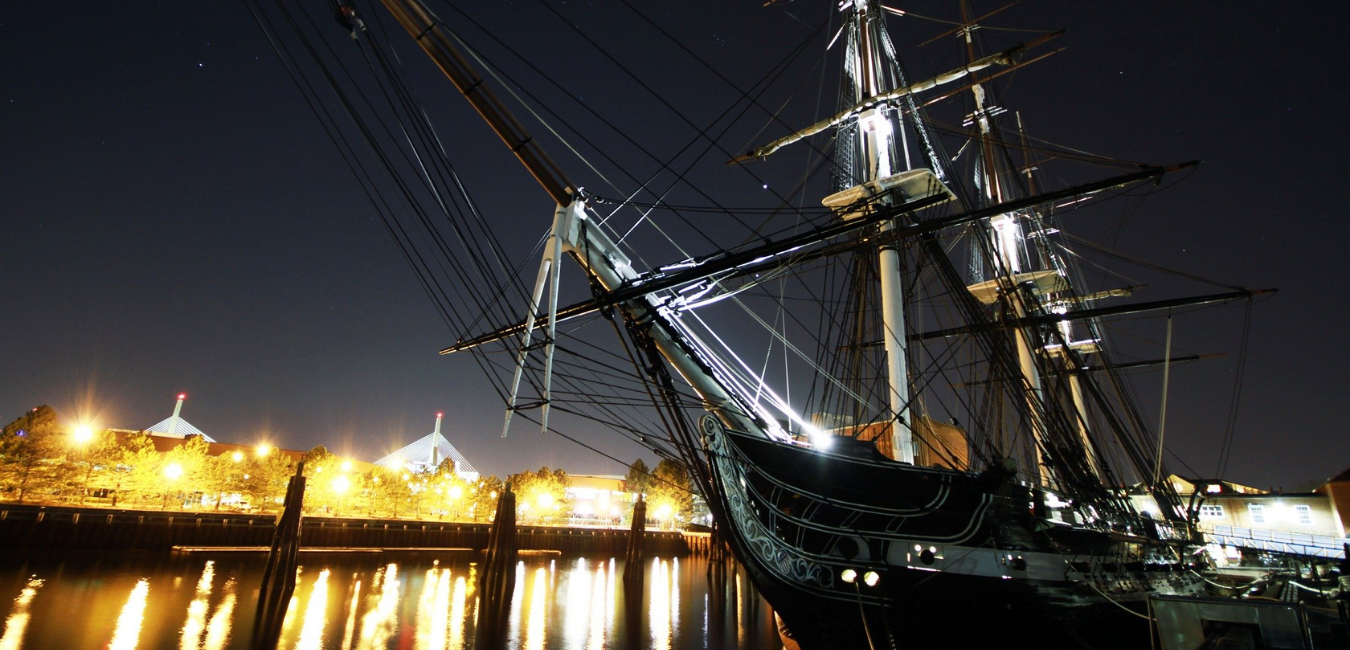 8. Explore Faneuil Hall & Quincy Marketplace
Faneuil Hall is one of the stops you'll make if you complete the Freedom Trail, but it's also worth a visit if you've veered off-course. Not only is it packed with history (it was a meeting place where important events such as the Boston Massacre, tea crisis, women's suffrage, and abolition were passionately debated), but it's now also an exuberant marketplace with shops along cobblestone, pedestrian-only streets, in addition to still being an active government meeting place.

The Quincy Market food hall is actually the largest in all of New England, so if you've got a craving for a cup of chowder to hold you over until dinnertime, or really, any kind of cuisine you could think of, you'll likely find it here.

9. Grab Dinner at Neptune Oyster
One of the best seafood restaurants in Boston is Neptune Oyster. While they don't take reservations, it's worth the wait to eat here. Neptune offers a raw bar in addition to a menu that's locally-sourced, traditional seafood with a modern twist, and everything is delicious.

If visiting on a weekend for dinner, it's a good idea to swing by and put your name in, as the wait times can be up to an hour. Depending on how long the wait is, Faneuil Hall is just a quick 5-minute walk away, and a great way to kill some time while you wait for your table.

10. End Your Day With A Cannoli From Mike's Pastry
Just a short walk from Neptune Oyster is the famous Mike's Pastry, which is known for having amazing cannoli. The cannolis are definitely worth venturing over for, but the shop is filled with all kinds of desserts to pick from, so be sure to fill a box to bring home with you (but most definitely eat those cannolis while they're fresh!). They're usually open until 10pm, making it a great way to end your Boston one day trip.

Additional Suggestions for a Boston One Day Itinerary
While everything in the list above will provide you with one perfect day in Boston, if you've visited before, and are back to explore for another day, or maybe some of those sites just weren't up your alley? Don't worry! There's so much to do in this city with plenty more sites to explore. Here are a few additional things you can check out when visiting Boston for one day to create your perfect itinerary:

1. The Lawn On D
This is a great outdoor park and event space with giant swings that even light up at night. This attraction is only open seasonally, so be sure to check hours before making a special trip.

2. Explore the Museums
There are quite a few museums to explore, including the Museum of Fine Arts, Boston's Children Museum, Boston Tea Party & Ships Museum, and the Museum of Science. And of course, the New England Aquarium.

The Isabella Gardner Museum is not only a museum that showcases more than 7,500 paintings, but also an incredible example of architecture with grounds that are beautiful enough to warrant a visit on their own. This is a more unique option to add to your one day in Boston itinerary.

3. Go On a Sailing Boat Tour
There are so many sailing and boat tours that leave from Boston's harbor, including whale-watching tours, so if you're looking to get out onto the water, this is a great city to do that. This is also a great activity if you're going to Cape Cod with the family.
Getting Around Boston
Like any major city, Boston has an extensive public transit system that's easy to navigate, and will get you anywhere you want to go. For one day in Boston, it's best to get the 1-day transit pass if you know you'll be relying on public transit for the entire day.
Boston is also very walkable, and sometimes, it's quicker and easier to just walk. Google Maps will be your friend here. Uber and Lyft are also both easily accessible in the city, and are the most convenient option.

Getting To Boston
Since this post is all about one day in Boston, it's probably safe to assume you're driving in. Driving in Boston is pretty easy, and like any city, it starts to get more congested as you enter downtown. Plug in Google Maps, and you're good to go.

If you need to fly in, and you're only spending one day in Boston as part of a larger trip, Boston Logan International Airport is the biggest airport that serves the city, and because it's a major hub, you can often find great deals on flights. From the airport, you can either opt for rideshare to get downtown, or take the subway, bus, or even water taxi.

Parking In Boston
If you drive into the city, you'll definitely want to park your car for the day, and get around on foot or with public transit and/or rideshare. To make your day as stress-free as possible, it's a really good idea to research parking ahead of time, and possibly even make your reservation before you arrive. A couple of great websites to check out to plan for parking in Boston are Best Parking and Spot Hero. You should expect to pay anywhere from $12-$35 to park for the day, depending on the lot or garage you choose.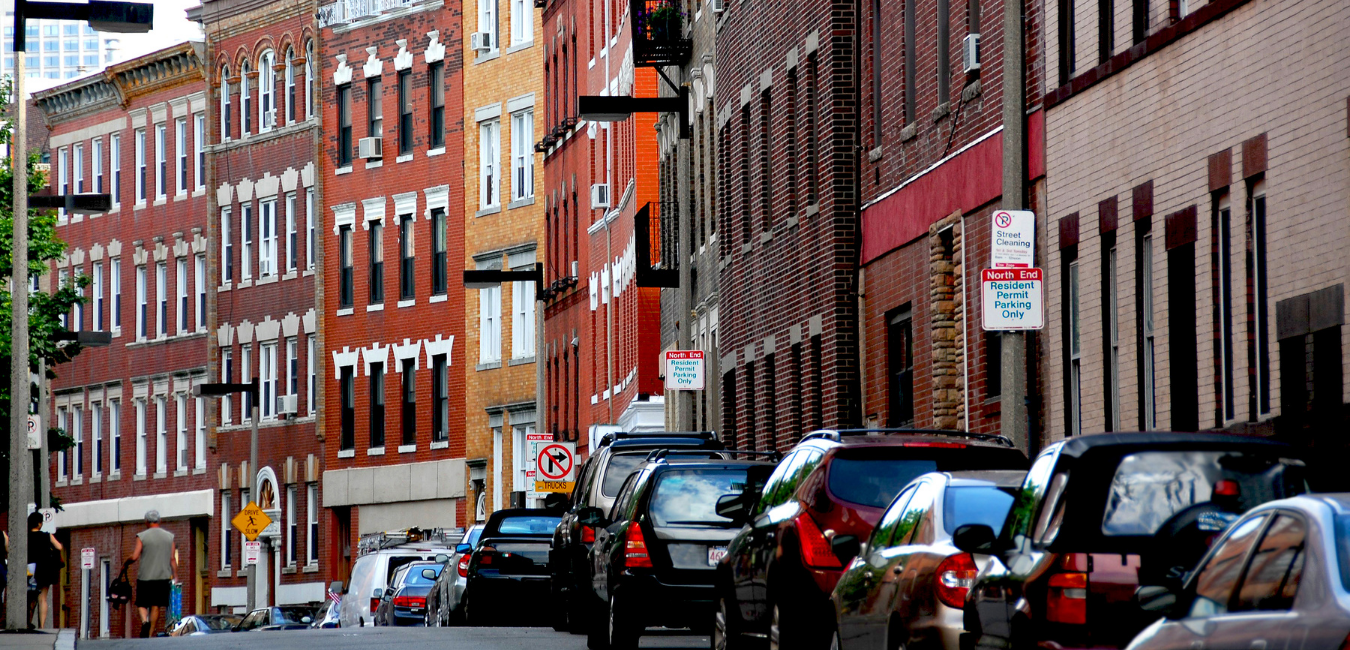 Safety In Boston
Boston is a very safe city, especially if you stick to the areas suggested in this post. You'll just want to practice a normal amount of caution and be aware of your surroundings. This is a great city to visit for female solo travelers.

Final Thoughts
Boston is such a fun city to visit, and because it's easily walkable, you can really pack a lot in and see most of the major sites in a short amount of time. Of course, it's worth spending a few days or more to appreciate everything the city has to offer, but seeing Boston in one day is absolutely worth your time.
If you enjoyed this post, take a look a these Visiting Cape Cod For The First Time and What To Do on Cape Anne, MA by Samantha Hamilton from New England Wanderlust.
Looking for a place to stay in Boston?
Author's Bio:
Samantha Hamilton is a travel blogger based in Upstate New York, and covers destinations around New England and the Northeast. With a focus on coastal regions, her mission is to showcase the natural beauty and history in New England, and show people that you don't have to travel far to see incredible things. When not exploring the Northeast, she also travels the world both solo, and with her husband. Follow her on Instagram and YouTube.