Planning a solo trip to Copenhagen? In my Solo Girl's Guides series, I have brought together some of my favorite female travel bloggers to talk about their top solo female travel destinations. In this weeks guide guest poster, Kitiara Pascoe shares with you fun things to do in Copenhagen plus her best solo travel tips and advice to make sure you have the best solo trip possible.
The Solo Guide to Copenhagen
Denmark's capital has been voted the top city to visit in 2019 by Lonely Planet and, to be honest, I can see why. I traveled there for my first solo trip in September 2018 for a couple of reasons.
Firstly, I thought turning 30 needed to be marked by doing something new and secondly, Copenhagen just looked so easy. Just a 2-hour flight from the UK, Copenhagen sits on the outermost brink of the country it presides over. It's stationed in Denmark's sprawling archipelago, blissfully flat and somehow blends history with sleek modernity more seamlessly than any city I've ever visited.
Why you should visit Copenhagen
Copenhagen is a wonderfully easy place to travel to. Why? For a start, the Danish are inherently friendly and relaxed. For a nation with a serious preference for cycling, perhaps it's not surprising. Copenhagen is also small enough to be walkable, pretty enough to enjoyably get lost and safe enough to walk around at night without looking over your shoulder. In short, the city is a welcoming and happy one. And that's just the beginning.
Copenhagen also has fantastic food all the way from street food up to world-class restaurants as well a penchant for excellent coffee. And if there's anything a solo traveler needs, it's a place to sit down, drink a great flat white and watch the world go by.

Fun things to do in Copenhagen
Get Lost! Copenhagen's winding city center is the perfect place to just wander and get lost. It's small enough to never get too lost and beautiful enough to discover sights you might not have done if you'd followed a regimented plan.
With Scandinavian style oozing out of every shop window, stylish Danes peddling along old streets and vines creeping up brickwork, the simple act of wandering around will allow you to get to know the city well.
Take Photos
Nyhavn Probably Copenhagen's most photographed spot, Nyhavn is an old fishing port and is right on the edge of the center and very close to the Metro station Kongens Nytorv where you'll most likely alight from the airport. Nyhavn is endlessly picturesque, with both sides lined with colorful terraced buildings and wooden boats tied to the sides.
Take a boat tour
From Nyhavn, you can take a boat tour of the city's canals as well as cross the foot and cycle bridge over to Paper Island and Christiana.
Visit The Rundetaarn
Right in the center, Copenhagen's Rundetaarn is a wonderful place to visit for a solo traveler because its intriguing beauty is something to appreciate in thoughtful solitude. Simply, it's a helical ramp that winds steadily up to the top. Painted white inside, this 17th-century tower is a stunning ascent and capped off with a viewing platform at the top with a 365-degree view of the city. You can read more about exploring the Rundetaarn in my recent post!
Freetown Christiana
Copenhagen's hippy town almost seems at odds with the slick modern feel of the rest of the city but really, it's just an extension of Denmark's laid-back attitude.
Although Christiana isn't actually the free-for-all cannabis haven that it once resembled, it's still a world unto itself and a fascinating look into another side of Copenhagen. It's a safe and friendly place to explore and a unique community experiment that has been evolving for decades.
Botanical Gardens
On the edge of the city center and not far from one of the best food markets, Copenhagen's botanical gardens are free to wander around with tropical and sub-tropical greenhouses at the far end accessible for a small fee. The greenhouses are absolutely worth the entrance fee with the palm house being an extraordinary experience with its wrought iron spiral staircases and circular walkway. The other houses host butterflies and cacti and are all available on one ticket.
Nightlife in Copenhagen
Tivoli Gardens Food Market
The Tivoli Gardens comes alive at night and it's one of the best times to visit. It doesn't close until midnight and has its own food market so make for the perfect evening activity. If you're looking for some dinner but don't fancy sitting alone in a restaurant, the city's two food markets are welcoming places for solo travelers.
Torvehallerne market
In the city center and Reffen on Paper Island, it's super easy to rock up and wander around the food outlets to see what takes your fancy. Plenty of people are here eating alone as well as in groups of friends, colleagues and couple so you won't feel out of place.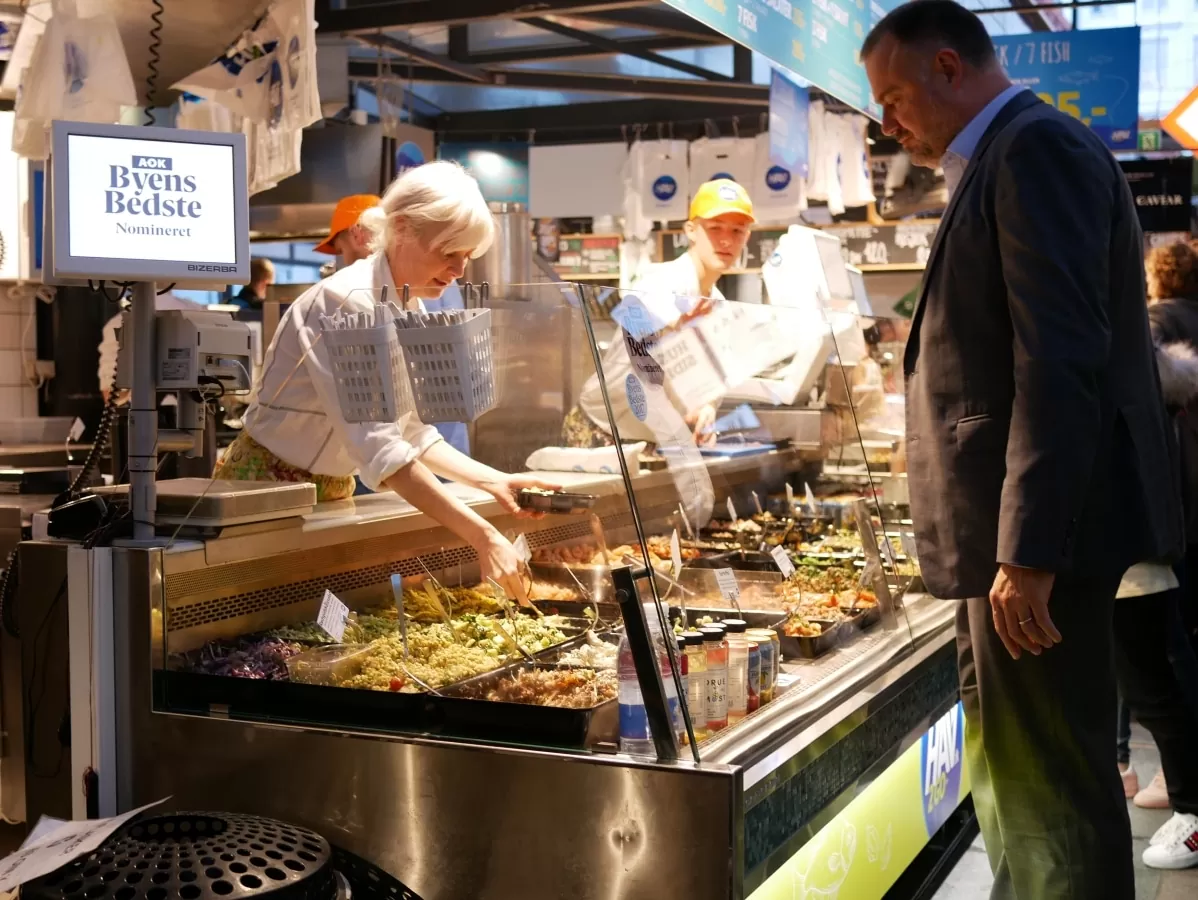 Copenhagen has such a relaxed atmosphere that even on an anxious day you could easily feel comfortable sitting on a barstool and sampling a local beer. There are some achingly cool bars here and plenty of hipster places where it's just a nice atmosphere to relax in.
How to get from the airport to central Copenhagen
Metro
Copenhagen has got to be one of the easiest airports to city transfers I've ever done. The metro takes just 15 minutes to get into the center of the city where you'll get off at either Kongens Nytorv or Nørreport. The metro leaves from the end of the arrivals hall where there are ticket machines or you can simply use the DOT phone app for public transport tickets. Everything is signposted in English as well as Danish. Because the metro is so fast and simple, it's absolutely the best way to get into the city.
Taxi
You can take a taxi as well although taxis are considerably more expensive.
Getting around Copenhagen
Getting around Copenhagen is blissfully easy with its metro, S-train, buses and small size car. The traffic is light compared to most capital cities and drivers are always on the lookout for cyclists and pedestrians.
You can walk everywhere in the city center and even further afield.
Hire a bike
If you want to save your feet on trips to places like the Assistens Cemetery (burial place of Kierkegaard and Hans Christian Andersen) and Christiana, hiring a bike is a great way to do it. Bike hire is available from hostels, hotels as well as numerous hire shops around the city. Cycle paths are excellent but often busy in the center, so always keep an eye out for other cyclists and signal when you're stopping.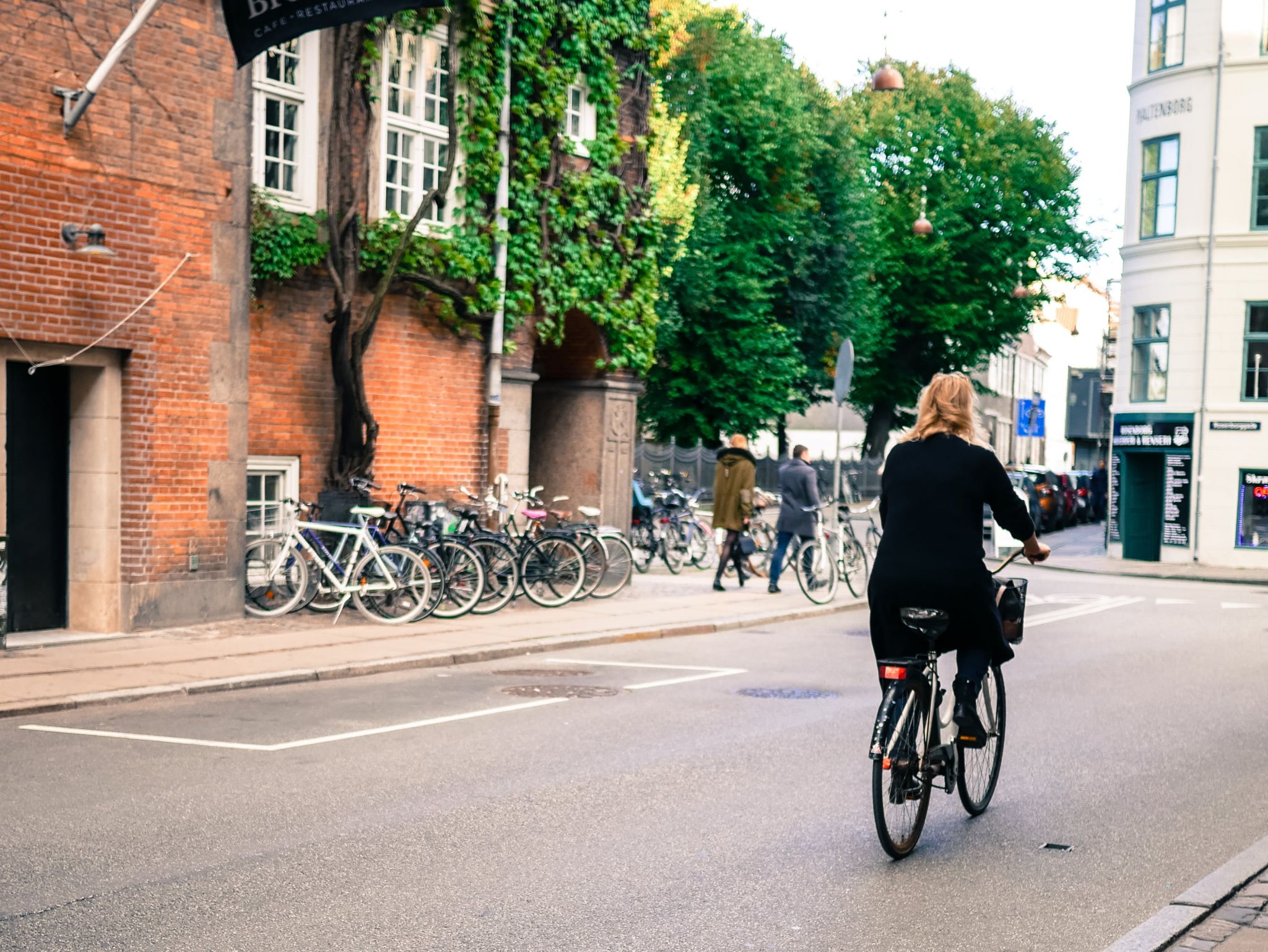 Train
The metro is simple and easy to use. You can download the DOT app on your phone and buy digital passes. There's a ticket for everyone but CityPasses are particularly great as they can be used on all public transport and you can pick how long you'd like it to last in 24-hour chunks.
Taxis
Taxis are available but the city's public transport is so easy and accessible to use that taxis would only be the best option for a small number of travelers. City taxis are expensive but card payments are usually accepted. You can also book taxis through the companies' apps.
Copenhagen has a very safe feel to it and using public transport after dark is still safe, even for solo female travelers.
Where to stay in Copenhagen
I stayed in the Generator Hostel just a five-minute walk from Kongens Nytorv metro station and the same from Nyhavn. Affordable and central, it was a cool hostel to stay at, especially if you want to meet others.
Copenhagen has plenty of hostels (with dorms and private rooms) as well as hotels and AirBnBs so the choice is good. Prices tend to be cheaper outside of summer and Christmas.
Safety tips for Copenhagen
Aside from the usual tips of keeping an eye on your belongings, Copenhagen feels very safe for solo female travelers and I experienced no catcalling or any feeling of danger. Even after dark, the city is relaxed and there are plenty of people walking around alone.
Final Thoughts
I chose Copenhagen as the destination for my first solo travel trip and it was the best decision. The Danes have an exceptional fluency in English and everyone I met was helpful and friendly. The city is easy to get around and has so many beautiful places and parks to stroll and just get lost in. I was nervous about finding places to eat and relax alone but, actually, with fantastic coffee shops (Coffee Collective!) and delish, busy food markets, I never felt self-conscious.
A lot of people say that Copenhagen's expensive and granted, it's not cheap (a coffee is around €5) but you don't need to spend much to have a great time. Eating at the food markets keeps costs down and there are plenty of free and cheap sights to see.
Love
Kitiara x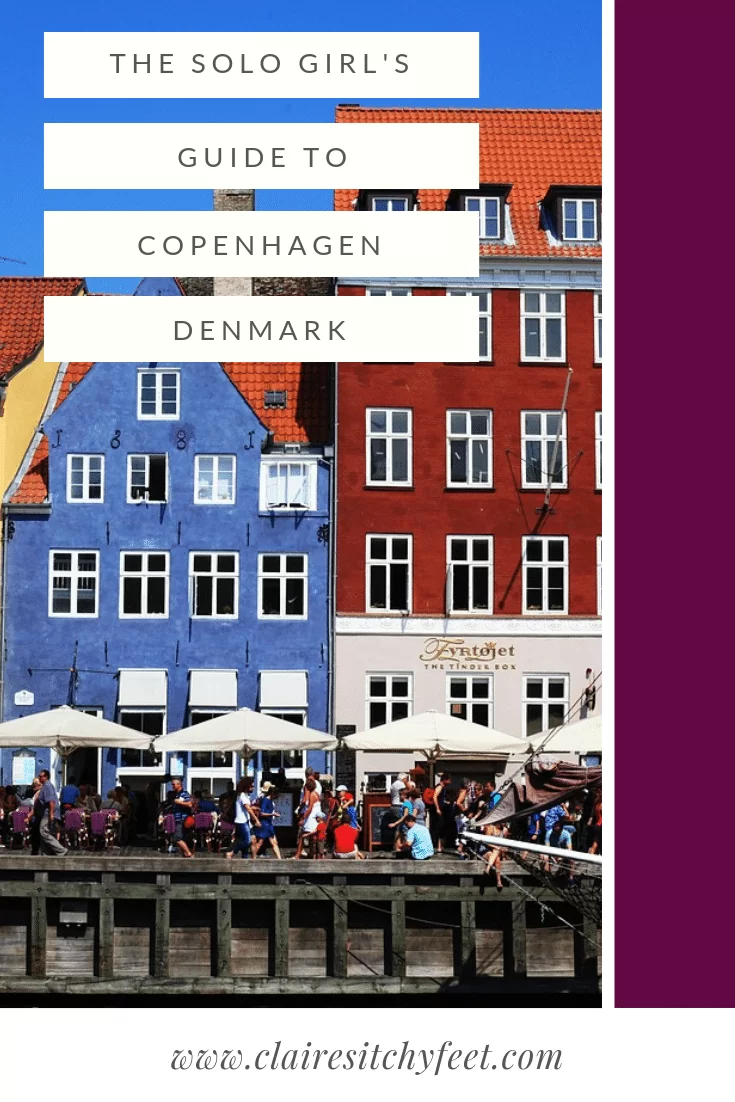 About Kitiara
I'm a travel writer, ghostwriter, and author, blogging over at KitiaraPascoe.com. I specialize in adventure sports travel and like to write about how it feels to get out into the wild. I do have a soft spot for European cities though!