So, In case you haven't heard, Lisbon is one of the best cities in Europe to visit as a solo traveller! You'll be blown away by the city's fabulous waterfront location, great value for money, and how solo traveller-friendly it is.
Just like the lovely northern city of Porto, Lisbon is colourful, sunny, and a lot of fun!
Planning to go to Lisbon as a solo traveller, or wondering if it's safe enough for you to travel alone to? You've come to the right place! Here is everything you need to know about solo travel, and solo female travel, in Lisbon, Portugal.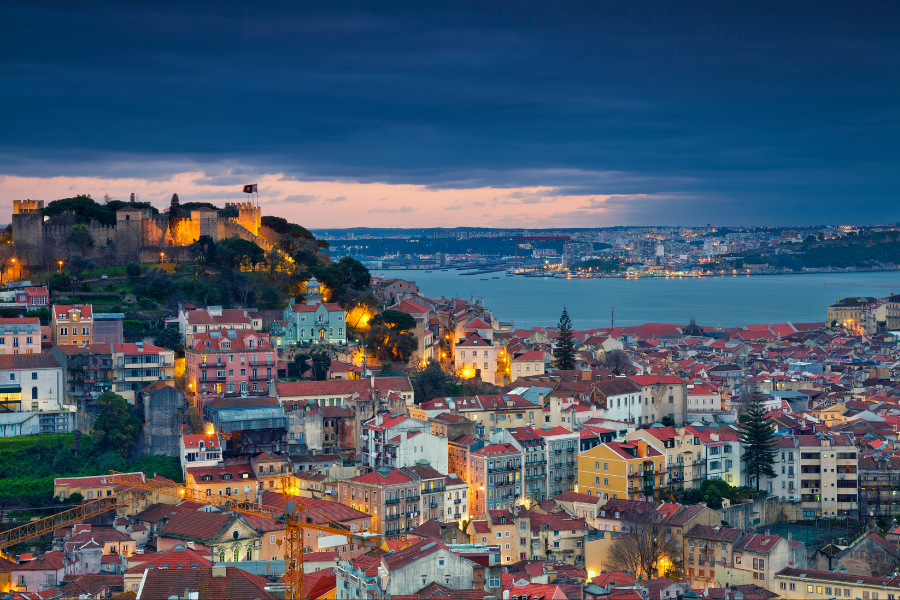 Did You Get Travel Insurance Yet?

The Insurance companies I recommend are Hey Mondo, Safety Wing, and Travel Insurance Master

Hey Mondo is great if you are looking for a great value flexible policy. They offer single-trip cover, annual multi-trip cover, and long-term travel cover. Safety Wing is great value, with monthly coverage starting at $39. It's super easy to use, and it just renews each month. I currently use them as they offer me free cover for my son as part of my policy. I also use Travel Insurance Master for short trips.

Read my full travel insurance post here, where I go into detail about all companies.
Quick Tip: Book accommodation, tours, and transport ahead of time online to save money and stress.
Best Lisbon Tours: Click here to check out the top Lisbon tours
Best Lisbon Accommodation: Click here to check out the best accommodation in Lisbon
Best Lisbon Transport: Click here to book a bus, ferry, or train in Lisbon
What's Solo Travel Like in Lisbon?
Solo travellers are pretty common in Lisbon – especially solo backpackers. English is widely spoken, it's easy to navigate on public transport, and Lisbon airport is one of Europe's main transport hubs – meaning lots of cheap flights! This makes Lisbon the perfect location for people tempted to dip their toes into solo travel for a couple of days. If you're going to have a long flight to Lisbon, don't forget to check the essentials you can carry for long flights!
Lisbon's many museums and attractions are welcoming to solo travellers, and nobody gives you the side-eye for exploring by yourself. The same even goes for hanging out in the park, picking up a delicious pastel de nata at a bakery, or even heading to the bar for a drink. Hooray!
I was never uncomfortable as a solo female traveller in Lisbon – and I don't think I got any catcalls at all! Any experienced solo female traveller will know how unusual that is.
Obviously, this is just my experience, but having spoken to countless solo travellers and backpackers in Lisbon, I haven't come across a single person who has had a bad experience.
Where to Stay in Lisbon as a Solo Traveller
Hostel
If you're a solo traveller on a budget who wants to meet other travellers, stay at a hostel. They're cheap, full of other solo travellers just like you and the days of hostels being only for teenagers are long gone.
Nowadays, unless the hostel has an age limit in their policy, you're free to check in at any age – and it's way more common than you'd expect!
One of the top-rated hostels in Lisbon is this one! Their 'power hour' at the bar (free beers and sangria!) each night is attended by pretty much every guest, so it's the ideal opportunity to meet other travellers.
The hostel staff also arrange trips to have a picnic at sunset or spend the day in Sintra together, so you've got an in-built group of friends as soon as you check in!
Oh, and let's not forget their free breakfast, which is the best hostel breakfast I've ever had! We're talking fresh waffles, scrambled eggs, cheese toasties – the lot!
Hotel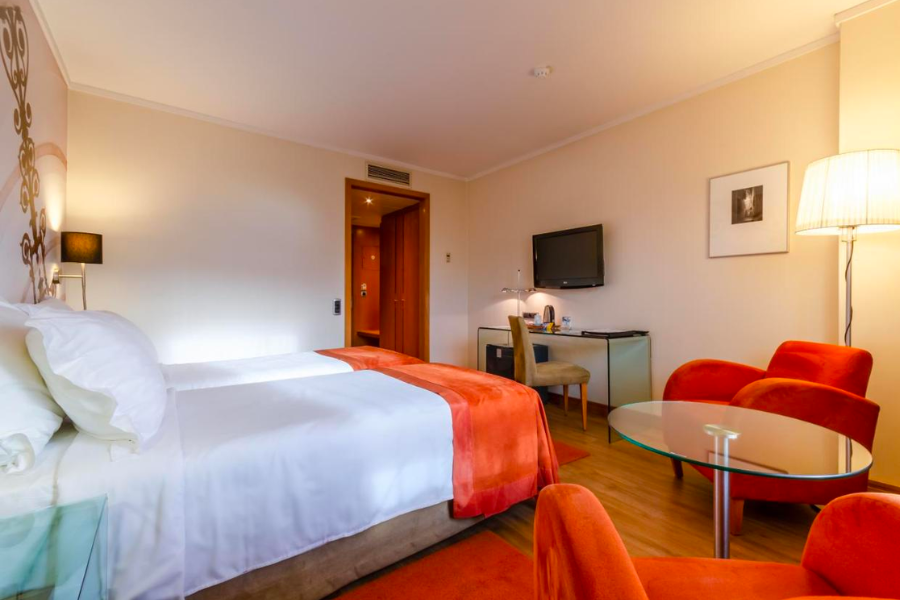 If you're a solo traveller who prefers their own space, Lisbon has no shortage of great-value hotel rooms. Just be sure to book as far in advance as you can for the summer season, since places do sell out fast!
This top-rated hotel has a central location, rave reviews, and is one of the most budget-friendly options in the city without sacrificing quality.
Things to Do Alone in Lisbon
I can't think of a single example of a popular thing to do in Lisbon that you can't have just as much fun doing alone. Chances are you won't do much alone anyway, as you'll probably meet people in the hostel to explore with. Here are some of the best things to do alone in Lisbon:
Go to a Fado Show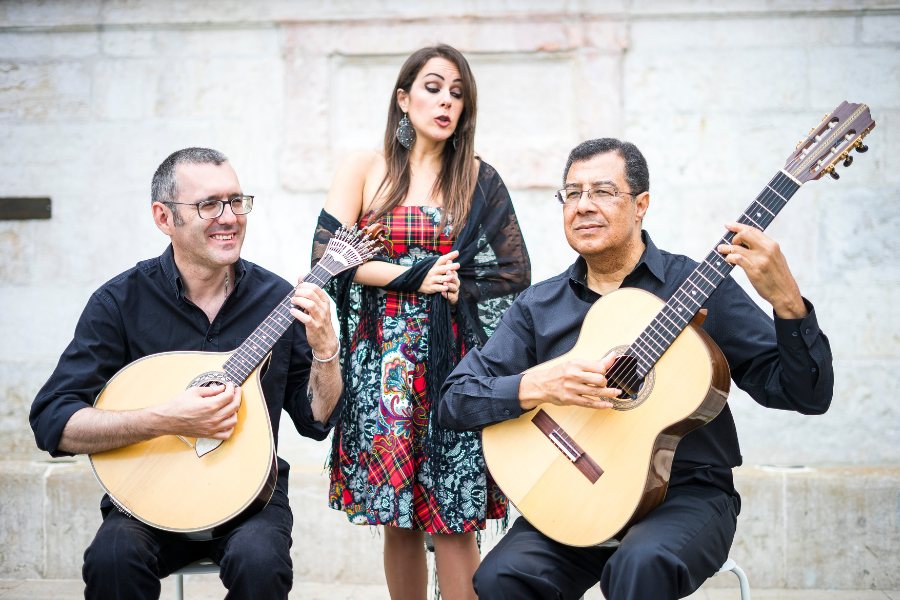 Fado, a heart-stirring type of musical performance that's famous all over the world, comes from the Alfama district of Lisbon. So, it goes without saying that, although you can see fado in Northern Portugal, Lisbon is the best place to catch a performance.
Fado holds a significant place in Portuguese culture and identity, cherished by many over the years. At the performance, you can expect to enjoy a one-hour performance alongside a glass of port wine. Nice!
Go on a Free Walking Tour
Okay, so it's not actually free (these tours are tip-based) but going on a free walking tour in any city is, in my experience, the best introduction to a new city. You'll head to all the main landmarks of the city, learn local history from your guide, and even head to some more off-the-beaten-path locations.
Sample a Pastel de Nata
If you haven't already tried a Portuguese custard tart, or Pastel de Nata, you're in for a hell of a treat! You can find these small tarts of deliciousness all across the city, they're cheap (they cost just €1.20 each) and they're perfect for grabbing on the go.
People argue about where to find the very best Pastéis de Nata in Lisbon, but, unless you're a connoisseur, they all taste the same – delicious!
Explore Belém
The UNESCO neighbourhood of Belém is one of the most beautiful in the city, and you can easily spend the full day here. It's like its own mini-city.
Start your visit at the Monument to the Discoveries, a humongous sculpture looking out to sea, before wandering to the Belém Tower for some brilliant photos. There's also the unmissable Jerónimos Monastery in Belém, which is one of the most impressive buildings you'll ever see, and which you can't leave Belém without visiting.
Praça do Comércio
This is Lisbon's main square, and it's also one of the most photogenic spots in the whole city. It's right on the harbourfront, so plenty of people head here in the evening to watch the sunset.
At the northern side of the square, you'll find the Rua Augusta Arch and bright yellow-painted buildings. In the centre of the square, you'll find an extravagant statue of King Joseph I of Portugal. Although there's not much to do at Praça do Comércio, it's a place you really can't leave Lisbon without seeing. It's absolutely stunning!
São Jorge Castle
On a hilltop overlooking the city, São Jorge Castle has been standing since the 11th century and is the best place to learn about Lisbon's Moorish history. Over the years, it also served as a Roman fortification, a Moorish castle, and a royal residence.
It's also one of the best viewpoints in Lisbon, and the climb up there is worth it for the knock-out views over the city.
Visit Sintra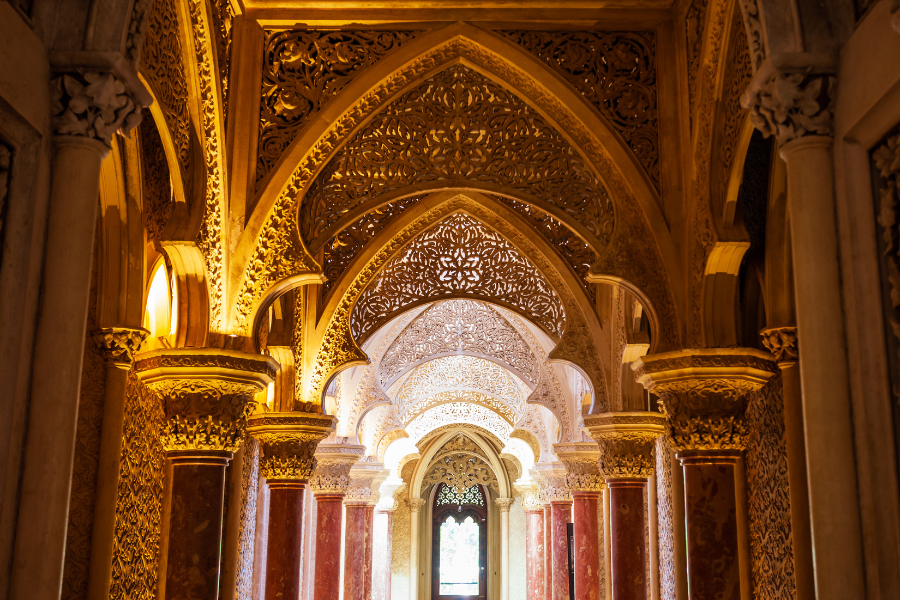 Okay, so it's definitely not in Lisbon, but you can't visit Lisbon without taking a trip to Sintra! This breathtaking town is full of unbelievably beautiful palaces, and it's the most popular of the many day trips from Lisbon.
If you've ever seen photos of a bright red and yellow palace surrounded by hills, that's Pena Palace, and you can visit it in Sintra by just getting a half-hour train from Lisbon.
Sintra isn't just about the Pena Palace, though. In fact, the Sintra countryside is absolutely jam-packed full of fancy residences, ancient castles, and pretty palaces!
Sintra is great for solo travellers since it's such a safe and relaxing place. You can stroll around the many palaces in complete peace!
Getting Around Lisbon
Lisbon is super easy to get around, and it's extremely walkable. A combination of buses, trains and the metro will get you everywhere you could possibly want to visit in Lisbon, so you'll rarely need taxis.
If you're staying in central Lisbon, walking around by yourself after dark should be totally fine – there are always plenty of people around (unless it's like, 2am). Obviously, all the usual rules of staying safe apply – don't get blackout drunk, keep your valuables hidden, and if in doubt, call a taxi.
One area to flag is the area around Martim Moniz. There are large groups of men that stand around here, and they can be pretty creepy (but mostly harmless). If you're walking around there at night, it's best to buddy up with someone from the hostel.
Is Lisbon Safe for Solo Travellers?
Yes! Lisbon embraces solo travellers with open arms, and you shouldn't get any weird looks from locals for exploring or eating by yourself. The most common crime tourists experience in Lisbon is pickpocketing, like in most cities in the world.
Provided you take the common precautions you would take anywhere else in the world, Lisbon is totally safe for solo travellers.
Is Lisbon Safe for Solo Female Travellers?
Absolutely! Levels of street harassment in Lisbon is relatively low, even for solo female travellers. You can dress however you like in Lisbon, and it probably won't raise an eyebrow (just be sure to cover up when entering religious buildings).
In fact, you may feel safer in Lisbon as a solo female traveller than if you're a solo male traveller! It sounds crazy, but this is because male travellers report stories of creepy guys in the street approaching them multiple times a day to ask if they want to buy weed.
As a solo female traveller, you're less likely to encounter any offers from these guys, so it seems like being a woman actually gets you out of this situation!
Lisbon Travel Guide Planning
👩‍⚕️ What is the best insurance to have while traveling?
I recommend using Heymondo for a great value policy. The app also offers you 24/7 Dr Chat. For Digital Nomads check out SafetyWing digital nomad insurance. I have also written a blog post covering all my recommended travel insurance here
✈️ Any flight recommendations?
WayAWay offers you cheap flights with cashback. You can use this code CLAIRE22 to get 10% off. Otherwise, Skyscanner or Expedia are my go-to flight-searching platforms.
🎫 Where can I buy tickets for museums, attractions, and tours in Israel?
I recommend either Viator or GetYour Guide. They have a lot of options available!
🚗 Where can I book rental cars or private transportation?
I strongly recommend using RentalCars. They are available in more than 60.000 locations and customer service support in more than 40 languages.
📱What do you use for internet connection while traveling?
I'm a big fan of personal WiFi devices and they have saved my ass so many times when traveling. I wrote a full review of the top travel WiFi devices you can read here. I personally use GlocalMe as I can either pop in a physical sim card or use their local carrier.
With regards to my phone connection, I use e-sims while traveling, so rather than having to swap out my regular sim card I can download the app and buy a virtual sim card. I recommend using either Airhub or Alosim. Both have great coverage of multiple countries and are very easy to use.
🛏️ What is the best platform to use for booking accommodation?
The 3 best platforms that I normally use are Booking.com, Hotels.com, and Expedia. They offer great deals and multiple options. I always check all three to be sure of the best deals.
🛅 Do you have any luggage recommendations for traveling?
I do have a complete list of the best packing and luggage products that I recommend, you can check the list here. I'm currently travelling with this suitcase and this backpack.
Conclusion
Lisbon is one of the most amazing cities in the world for solo travel! Whether you're an experienced solo traveller or have never travelled alone before, you'll have an amazing time in the city. It's super beginner-friendly!
Author's Bio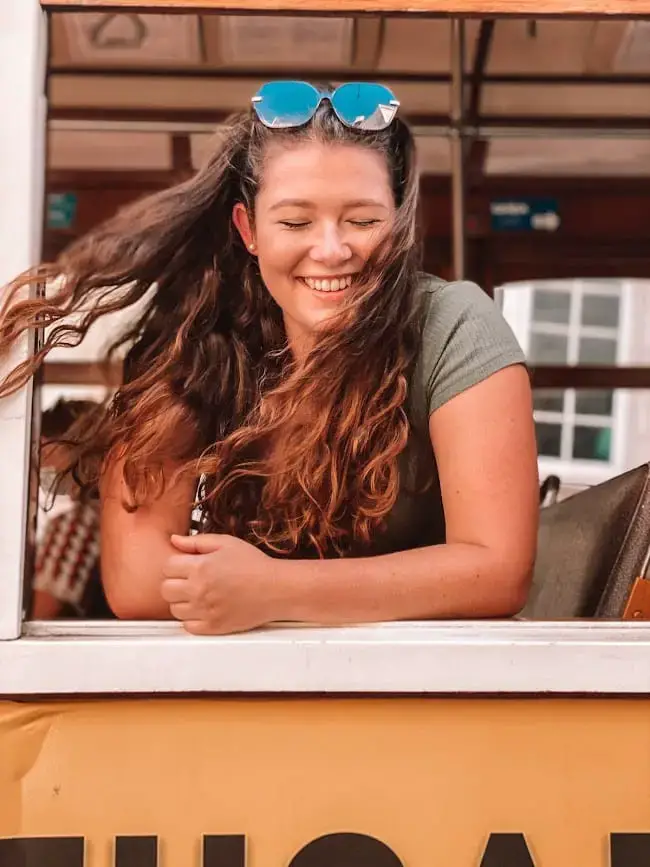 Ella Moore is the travel blogger behind Many More Maps, a travel blog focused on exploring the coolest parts of the UK. With a passion for sharing her travel experiences and tips, she dedicates her time to showcasing the best things to do, see and experience in the UK, Europe and beyond through her blog.

Pin for later