Are you looking for the perfect digital nomad laptop? Well, there is no such thing as the perfect laptop for digital nomads as it really depends on what kind of remote work you are doing! I've put together this list of great laptops that are (mostly) super lightweight but all pack a punch for those of us in need of something that can handle everything from word processing to video editing.
The Best Laptops For Digital Nomads 2020
[table id=6 /]
MacBook Air
The Macbook Air comes thinner and lighter in its latest design, making it one of the best laptops for remote work. It weighs 2.75lbs and clocks in at 15.6mm thin. Talk about portable! Because of its thin size and lightweight, and packed with over 13 hours of continuous movie watching, the MacBook Air is a top travel laptop, which makes it great for blogging and freelancers. It has an all-day battery life, Touch ID, and a 13.3" retina display.
Okay, so you might have found a laptop with a slightly bigger retina display, but bigger doesn't necessarily mean better. The MacBook Air Retina display comes with a 2560 by 1600 resolution with 4 million pixels! Talk about high-quality!
This retina display makes it one of the best laptops for travel blogging, or any digital nomad who simply loves a great picture. For photographers, this also makes it perfect for photo and video editing, and since it's packed with 25% more volume than its previous generation, you'll certainly hear a great BOOM for your audio files.
Although this is a great lightweight computer for digital nomads, in reality, if you need to do any heavy-duty video editing it's probably not ideal. I have a 2017 model and the lag is pretty bad. I love it for everything else, but I dread having to edit videos!
MacBook Pro
Check prices on Amazon

This MacBook Pro model comes as a 13 inch, with up to 16GB of memory, or a 16 inch with up to 64GB of memory. With a battery life of up to 10-11 hours, the largest capacity yet for a MacBook Pro, it stands out with its 16-inch retina display and massive 8TB SSD storage. That is a ton of storage!
Probably not the best laptop for the digital nomads out there for such ultimate capabilities, but its storage alone does make it one of the best laptops for vlogging and video editing. It has a six-speaker sound system and a beautiful retina display really makes this laptop a must-have for photographers and videographers.
If like me nothing but Apple will do and you need a bit more power than the MacAir will give you then go for the MacPro. it's still lightweight enough for you to travel easily with it, but it won't make your eyes bleed when you're trying to edit videos!
Lenovo Yoga C930
Lightweight at 3lbs and 14.5mm thin makes the Lenovo Yoga C930 a great travel laptop for multitasking and creative innovation. It comes with an Active Pen for its touch display at 4K clarity and consists of 8GB of memory and 256GB SSD.
Not quite the best for video editing since this laptop caters more towards a pen-in-hand kind of user, but thanks to the active pen and touch screen display, Lenovo is one of the best laptops for remote work, especially for freelancers and writers. Creative geniuses, such as artists, can enjoy the use of its Active Pen, which practically begs for their innovation.
Dell XPS 15 9570 Core i9
The Dell XPS houses a 15.6'' display and contains a NVIDIA GeForce GTX graphics card. Sold! This gigantic display and powerful graphics card makes it one of the best laptops for video editing. The amount of screen space with a built-in graphics card to support smooth streaming pushes innovation for videographers.
Enjoy your stutter-free movies and powerful sound without zooming in. Its color palette is packed with over 16 million colors, which puts a magnifying glass on its vibrancy. Not one of the best travel laptops because of its size, but certainly one of the best, if not the best, for movie making.
HP Pavilion Gaming Laptop
Check prices on Amazon

This gaming laptop is packed with a Full HD display and processor that contains a fast refresh rate for gameplay. It is a powerhouse with a dual fan system for advanced thermal cooling which allows the game freak to have a cool laptop during extended use.
With its 15.6'' display, the laptop is also packed with a fast charge battery that reaches 50% within 45 minutes. No need to wait forever to get back on Fortnite! Because of its size, it doesn't make it one of the best laptops for travel, but that's not to say you can't take your gaming with you. Just might want to try and fit a desk in your backpack – if you dare to try.
As far as laptops for digital nomads go, if you are a video editor and don't mind the extra weight, then this is a great choice. There is always a compromise, and in this laptop you get everything, but lightweight. Plus the price is very reasonable!
Microsoft Surface Book 2
Want to harness that creative genius within? The Microsoft Surface Book 2 comes with a high-speed processor, 1060 NVIDIA GeForce GTX graphics, and can be turned into a tablet with a Pen. That's a two-for-one deal! Using it as a tablet makes the Surface Book one of the best laptops for travel blogging. It's easier to hold and easier to pack.
The Surface Book 2 is the perfect laptop for travel, especially for artists and other creatives alike, allowing you to take your studio with you! It has a 17-hour battery life and 16GB RAM, so enjoy PC gaming whenever you need a break from your passion.
ASUS Zenbook 14
What great about the ASUS Zenbook is by far its portability making it a top travel laptop and one of the best laptops for blogging. This 14'' laptop contains an NVIDIA graphics card and NanoEdge display. What truly makes this laptop stand out against its competitors is its innovative ScreenPad 2.0.
This interactive keyboard grants extra space without having to disrupt the main screen. The extra space increases productivity and contains a video or chat box which makes it one of the best laptops for remote work as well. It's portability certainly makes backpacking with a laptop fun!
If I can ever drag myself away from Apple, it will be to buy one of these bad boys!
Lenovo 320 Ideapad
Buying your first laptop? Convinced yourself that maybe you truly are a digital nomad? No worries! The Lenovo 320 is a great starter laptop for digital nomads, and it clocks in at 15.6'' with 1366 by 768 megapixels. It might have a 5-hour battery life, but we're just getting our hands started on laptop use anyway.
This laptop is one of the best laptops for digital nomads who are looking to use basic applications and office use. It's a great starter computer for emailing and web browsing, and it can also make a great laptop for writers who simply want a laptop to write on. Depending on the user, the Lenovo is also a great travel laptop for basic use and one of the best for blogging.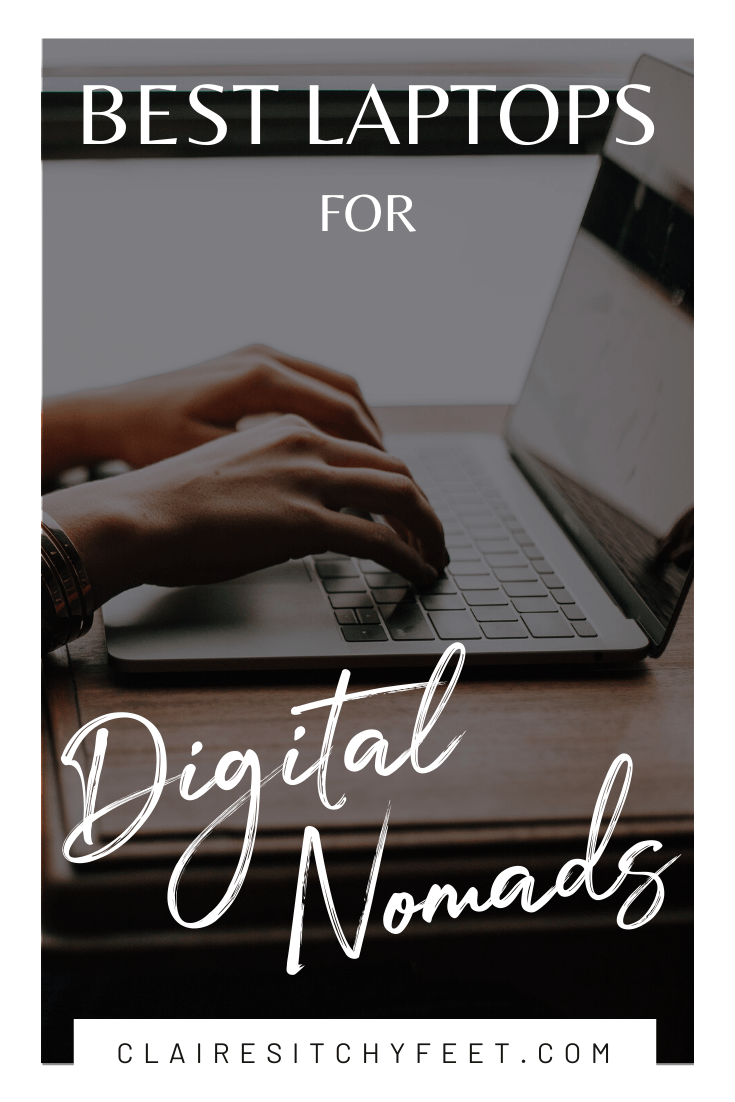 Are you ready to book your trip?  To help you get the best deals and service here are the companies that I personally use to book all of my travel online. I always shop around before booking anything, but these are my tried and tested starting places.