Welcome to the captivating beauty of the Maldives Diving world, where scuba diving becomes an unforgettable experience of a lifetime.
Nestled in the heart of the Indian Ocean, the Maldives is a tropical paradise renowned for its pristine white-sand beaches. Beneath its crystal-clear turquoise waters, you will find a vibrant underwater realm teeming with marine wonders. Many people think of The Maldives just as a romantic honeymoon destination. But there is so much more to do in the Maldives than relaxing in the resort all day every day. Diving Maldives should be added to everyone's things to do in the Maldives list!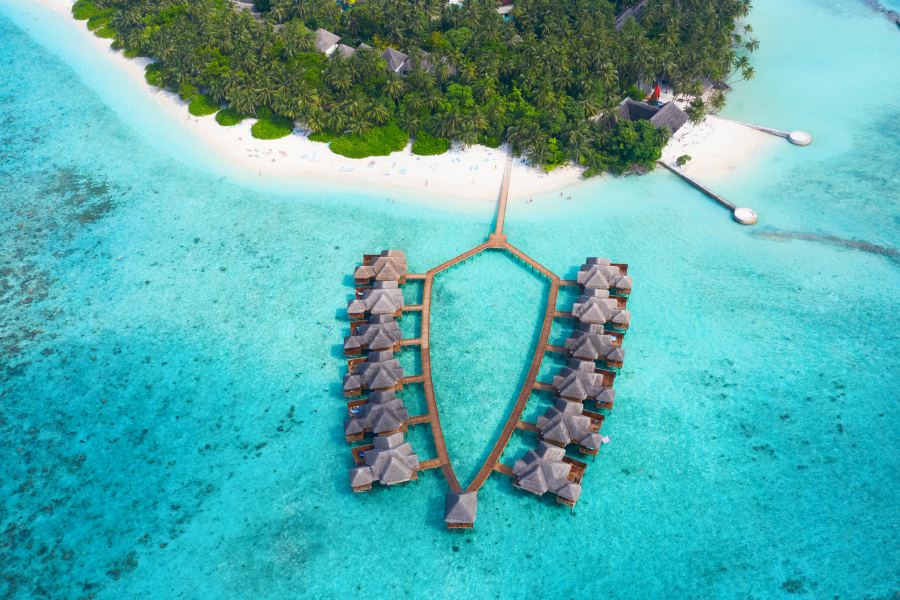 Did You Get Travel Insurance Yet?

The Insurance companies I recommend are Hey Mondo, Safety Wing, and Travel Insurance Master

Hey Mondo is great if you are looking for a great value flexible policy. They offer single-trip cover, annual multi-trip cover, and long-term travel cover. Safety Wing is great value, with monthly coverage starting at $39. It's super easy to use, and it just renews each month. I currently use them as they offer me free cover for my son as part of my policy. I also use Travel Insurance Master for short trips.

Read my full travel insurance post here, where I go into detail about all companies.
Exploring the Best Scuba Dive Sites in the Maldives
Prepare to be enchanted as you embark on a Maldives scuba diving adventure like no other. Whether you're a seasoned diver or a beginner eager to explore the depths, the Maldives offers an array of dive sites that cater to all levels of experience.
From swimming alongside majestic manta rays and gentle whale sharks to discovering vibrant coral reefs adorned with many marine species, each dive unveils a new world of beauty and excitement. So, get ready to dive into the Maldives' enchanting depths and unlock this underwater wonderland's magic.
North Male Atoll: A Diver's Paradise
North Male Atoll is a diver's paradise, offering an exceptional array of dive sites that cater to all levels of divers. As you plunge into the crystal-clear waters, you'll be captivated by the vibrant coral gardens and an abundance of marine life.
The renowned Banana Reef is a highlight, with its dramatic overhangs and a bustling ecosystem of colorful fish. Divers can also encounter majestic eagle rays, curious reef sharks, and, if lucky, the awe-inspiring hammerhead sharks.
Exploring the Victory Wreck is an adventure back in time, where a sunken cargo ship lies adorned with marine growth. North Male Atoll promises unforgettable encounters with the wonders of the ocean, making it a must-visit destination for any diving enthusiast
As you immerse yourself in the aquatic wonderland that is Maldives diving, you'll be mesmerized by the kaleidoscope of colors and the abundance of marine life surrounding you.
Quick Tip: Book accommodation, tours, and transport ahead of time online to save money and stress.
Best Maldives Tours: Click here to check out the top Maldives tours
Best Maldives Accommodation: Click here to check out the best accommodation in Maldives
Best Maldives Transport: Click here to book a bus, ferry, or train in Maldives
South Ari Atoll: Manta Ray Haven
South Ari Atoll is a haven for manta ray enthusiasts, offering a unique opportunity to witness these graceful creatures year-round.
As you glide through the waters, you'll be mesmerized by the sight of mantas gliding effortlessly in their natural habitat.
Alongside the mantas, divers can encounter hawksbill turtles, schools of vibrant fish, and even the occasional sighting of majestic whale sharks. The calm currents and excellent visibility make South Ari Atoll perfect for divers of all levels, making it an unmissable destination for those seeking remarkable marine encounters.
Baa Atoll: Dive into UNESCO Biosphere Reserve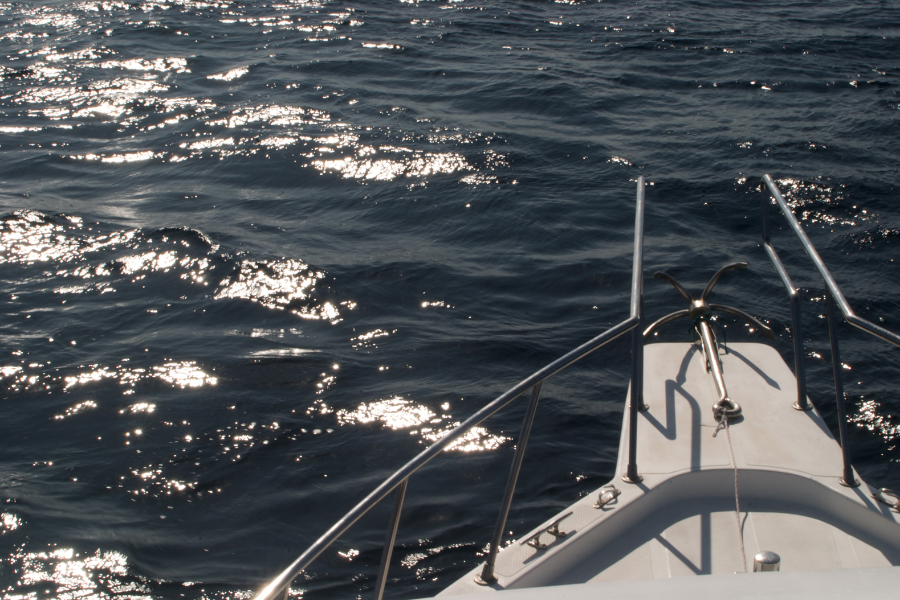 Diving in Baa Atoll unveils the wonders of a UNESCO Biosphere Reserve, a pristine marine sanctuary brimming with biodiversity. The vibrant coral formations create a mesmerizing underwater landscape teeming with marine life.
Here, divers may come across elusive hammerhead sharks and be surrounded by vast schools of spotted eagle rays gliding gracefully through the waters. As a designated Biosphere Reserve, Baa Atoll exemplifies the Maldives' commitment to conservation, making each dive both an adventure and a contribution to preserving this precious underwater ecosystem.
Quick Tip: If you're interested in doing liveaboard diving in the Maldives, you can book your trip here.
In conclusion, exploring the best dive sites in the Maldives promises an extraordinary underwater journey. From North Male Atoll's dramatic landscapes and historical wrecks to South Ari Atoll's manta ray haven and the conservation marvel of Baa Atoll, each destination offers a unique and awe-inspiring experience.
Whether you're a seasoned diver seeking close encounters with marine giants or a beginner eager to witness the wonders of the ocean, these dive sites are an essential addition to your bucket list. So, dive into the enchanting depths of the Maldives diving and unlock the magic of its underwater paradise.
Choosing A Luxury Maldives Dive Resort: Where Luxury Meets Adventure
For the diver seeking an extraordinary experience, you can find many luxurious Maldives dive resorts that promise the perfect blend of opulence and underwater thrills.
Indulge in the finest amenities and personalized services at resorts like One&Only Reethi Rah Maldives, Gili Lankanfushi Maldives, and Conrad Maldives Rangali Island. From lavish accommodations to world-class dive excursions, these Maldives diving resorts cater to every desire, ensuring an unforgettable diving adventure surrounded by beauty and comfort.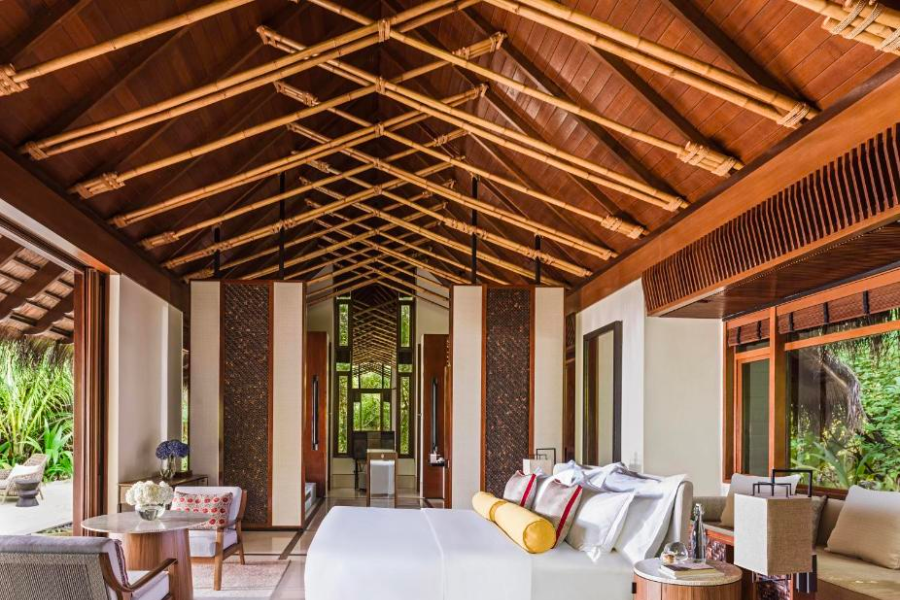 One&Only Reethi Rah in the Maldives stands out as a beacon of luxury in a paradise setting. A highlight of the resort is its lavish accommodations; the over-water villas and beachfront villas offer panoramic views of the azure ocean, making guests feel as if they're on their own secluded island. Coupled with this is the promise of a gastronomic journey, as the resort boasts several gourmet restaurants and bars. Each offers a unique dining experience that ranges from the finest Asian to classic Mediterranean cuisine.
For those seeking relaxation and rejuvenation, the resort's spa is an oasis. It melds ancient traditions with contemporary therapies, ensuring that every guest finds their moment of zen. This commitment to relaxation extends to their secluded sandy beaches, which let guests bask in natural beauty undisturbed.
Adventure enthusiasts aren't left out either. Beyond the lure of the exclusive dive sites that are a treat for diving aficionados, the resort is a hub for water activities. From snorkeling and kayaking to the thrill of catamaran sailing, there's no end to the oceanic adventures that await.
Family is at the heart of One&Only Reethi Rah. The resort's kids club brims with activities to entertain the younger guests, ensuring that every family member has their share of fun. For those who enjoy a mix of culture and fitness during their vacations, the resort meets the mark with Maldivian cultural shows, experiences, and a state-of-the-art fitness center. And, for a touch of retail therapy, boutique shops offering luxury products and souvenirs dot the property.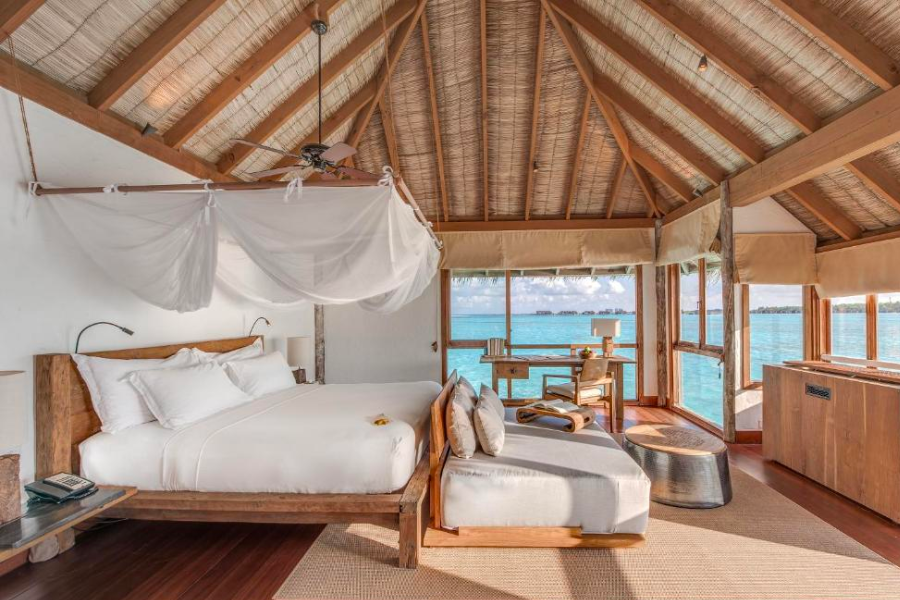 Gili Lankanfushi in the Maldives epitomizes luxury combined with a deep respect for the environment. Set against the backdrop of the turquoise Indian Ocean, the resort's villas, some of which are built on stilts, provide an unobstructed view of the vast waters, creating an intimate connection between guests and the serenity of nature. The gastronomic experience at Gili Lankanfushi is nothing short of spectacular. The resort's dining spots cater to a palette of global tastes, ensuring that every meal is a culinary journey.
Wellness and relaxation find a harmonious balance at the resort's Meera Spa, which offers treatments influenced by both ancient and contemporary traditions. These healing therapies, combined with the soothing lull of ocean waves, transport guests into a state of pure relaxation. The resort's commitment to sustainability is evident in its design and activities. Built from sustainable materials, it champions eco-friendly practices while ensuring that luxury is not compromised.
Families find a haven here as well, with specialized activities tailored for younger guests, making certain that every age finds its niche of enjoyment.
A fusion of Maldivian culture and modern amenities, the resort also provides opportunities to delve into local traditions while ensuring guests have access to contemporary comforts. To cap it all, the bespoke shopping experiences, with boutiques offering a mix of luxury and local products, ensures that guests take a piece of the Maldives back with them.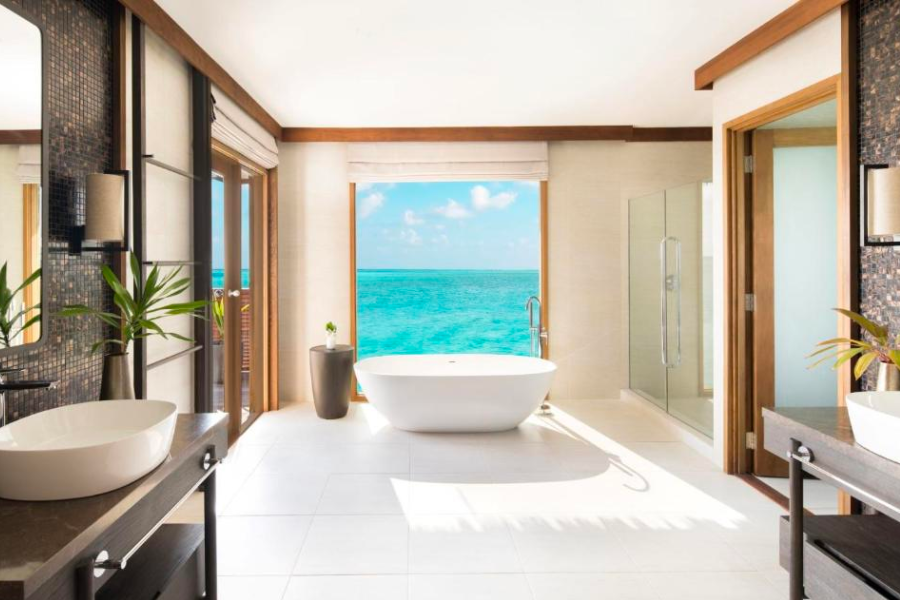 Conrad Maldives Rangali Island is a sanctuary of opulence nestled amidst the breathtaking beauty of the Maldives. Spanning two islands connected by a bridge, the resort offers a unique blend of lush tropical surroundings with luxurious accommodations. Many of these accommodations stand above the shimmering waters, providing guests with unparalleled views of the vast expanse of the Indian Ocean and immediate access to its azure depths.
The culinary journey at Conrad is a gastronomic delight, boasting underwater restaurants like Ithaa, where dining amidst the marine life transforms a meal into a magical experience.
The resort's spa facilities redefine relaxation, merging holistic treatments with the tranquil ambiance of the Maldives. Every therapy, influenced by global wellness traditions, promises a serene retreat for the body and soul.
Families are warmly embraced at Conrad, with a range of activities curated for the younger guests, ensuring their island experience is as memorable as that of the adults. An immersion into Maldivian culture is seamlessly integrated with state-of-the-art amenities, ensuring guests experience the charm of local traditions while basking in modern luxury.
Budget-Friendly Maldive Dive Resorts without Compromising Quality
If you're on a budget, fear not, as the Maldives has a range of budget-friendly Maldive dive resorts that don't compromise on quality. At Rashu Hiyaa Maldives, Thulusdhoo Dive & Surf Guesthouse, and Fulidhoo Dive & Water Sports, you can embrace adventure without breaking the bank. These resorts offer comfortable stays and access to captivating dive sites, providing a memorable diving experience for the savvy traveler.
Rashu Hiyaa Maldives is a gem of authenticity and affordability nestled amidst the picturesque beauty of the Maldives. Located on Dhiffushi Island, this boutique hotel is a delightful mix of modern comfort and local charm, offering travelers a genuine taste of Maldivian hospitality without the hefty price tag.
The rooms, tastefully adorned, provide cozy havens with views of either the tranquil ocean or the bustling village life. The dining experience at Rashu Hiyaa is an intimate affair, focusing on fresh local ingredients and traditional flavors that capture the essence of Maldivian cuisine.
Even on a budget, relaxation is uncompromised here. The hotel's wellness offerings, though modest, are deeply rooted in local traditions, providing a rejuvenating escape from the daily grind. Being in the Maldives, water activities remain a highlight, and Rashu Hiyaa ensures guests can dive into snorkeling adventures, fishing excursions, or simple beach bumming on the pristine sands that the Maldives is renowned for.
Families and solo travelers alike will find Rashu Hiyaa an engaging experience, with the local island life offering a fascinating peek into the Maldivian way of life, away from the commercial trappings of larger resorts.
Thulusdhoo Dive & Surf Guesthouse is a delightful escape for adventure-seekers and those looking for a genuine Maldivian experience. Located on Thulusdhoo Island, a place known for its vibrant marine life and iconic surf breaks, this guesthouse provides the perfect gateway to the ocean's treasures without the typical resort price tag.
The accommodations, a blend of modernity and local aesthetics, provide a comfortable base, ensuring guests feel both at home and miles away on an exotic island at the same time. The in-house dining is a heartening experience, emphasizing fresh, local produce that introduces guests to the rich culinary tapestry of the Maldives.
True to its name, the guesthouse's diving and surfing offerings are standout features. Novices and experienced divers alike can explore the mesmerizing underwater world, teeming with marine life and colorful corals. Surfers, on the other hand, will be thrilled by the island's renowned surf breaks, promising adrenaline and sheer joy. And after a day filled with aquatic adventures, the guesthouse offers spaces for relaxation and mingling, fostering a community feel among its guests.
Beyond the waves and reefs, Thulusdhoo Island itself is a hub of cultural experiences. The guesthouse's proximity to local life means travelers get a firsthand view of Maldivian traditions, crafts, and daily routines, creating a richer and more immersive travel experience.
Whether you seek luxury or value, Maldives diving promises an exceptional journey, where the magic of the underwater world meets the indulgence of luxury resorts. So, embark on your underwater odyssey and let the Maldives' enchanting beauty captivate you in a tropical paradise where luxury meets adventure.
Maldives Scuba Diving: Price and Planning
When it comes to scuba diving in the Maldives, price, and planning are crucial considerations for an extraordinary underwater adventure. Understanding the costs involved is essential to tailor your diving experience to fit your preferences and budget. Several factors influence dive prices, including the location of dive sites, the level of luxury in your chosen resort, and the type of dive packages offered. Seasonal variations, specialized excursions, and required certifications can also impact pricing.
Average price ranges and package deals vary to accommodate different budgets and preferences. From budget-friendly options to luxurious Maldives scuba diving experiences, there's something for every diver in this tropical paradise. Be sure to compare package inclusions and take advantage of promotions to make the most of your diving Maldives vacation. So, plan wisely, dive deeply, and immerse yourself in the enchanting beauty of the Maldives' underwater realm.
Quick Tip: If you're wondering what to pack for your Maldives scuba diving trip, check my shopping essentials on Amazon here.
The Best Time To Dive Maldives
For an unforgettable scuba diving Maldives trip, timing is key. The best time to visit for optimal diving conditions is during the dry season, which typically runs from November to April.
During these months, you can expect clear skies, calm seas, and excellent visibility, providing the perfect backdrop for your underwater adventures. However, keep in mind that the Maldives is a year-round diving destination, and each season offers unique marine encounters, so plan accordingly based on your preferences.
What To Pack For Diving in Maldives
Packing right is essential for a hassle-free Maldives scuba diving experience. As a scuba diver, make sure to bring your diving certification, logbook, and any required dive documents. Pack lightweight, comfortable clothing for your surface intervals, along with sun protection like hats and sunscreen. Don't forget your dive gear essentials, such as wetsuits, masks, and dive computers.
Most Maldive dive resorts provide tanks and weights, but it's advisable to double-check in advance. With the right preparation and packing, you'll be all set to dive into the mesmerizing underwater wonders of the Maldives and create memories that will last a lifetime.
What to pack during your scuba diving Maldives trip
When packing for your scuba diving Maldives trip, it's important to consider the destination, duration, and activities planned. You'll likely need casual clothing for relaxing on the boat, swimwear and cover-ups for water activities, and appropriate gear for any planned excursions or diving Maldives trips.
Some other important items to pack include sunscreen, insect repellent, toiletries, and any necessary medications. It's also a good idea to pack a waterproof bag for any electronics or valuables.
And of course, it's important to check with the scuba diving Maldives operator beforehand to see if any specific items are recommended or provided, such as towels or dive equipment you can't rent. Remember it's always a good idea to pack light to avoid cluttering the limited space on the boat
1. Casual clothing for relaxing on the boat
2. Swimwear and cover-ups for water activities
3. Appropriate scuba diving gear, including wetsuit, fins, mask, regulator, and BCD
4. Dive computer and backup dive light
5. Sunscreen
7. Toiletries
8. Any necessary medications
9. Waterproof bag for electronics or valuables
10. Check with the liveaboard operator for any recommended or provided items such as towels or tanks.
Scuba Diving Travel Guide Planning
⛴️ Where can I book Liveaboard Diving trips?
You can book your liveaboard diving trips in here. They have a lot of dates available and a lot of countries you can choose from.
🚗 Where can I book bus or private transportation while I'm traveling?
I strongly recommend using Bookaway. You can book almost all transport in the major tourist destinations through them online. They don't just cover buses they also cover shuttles, ferries, and private drivers.
🎫 Where can I buy tickets for museums, attractions, and tours?
I recommend either Viator or GetYour Guide. They have a lot of options!
👩‍⚕️ What is the best insurance to have while traveling?
I recommend using Heymondo for a great value policy. The app also offers you 24/7 Dr Chat. For Digital Nomads check out SafetyWing digital nomad insurance.
I have also written a blog post covering all my recommended travel insurance here
✈️ Any flight recommendations?
WayAWay offers you cheap flights with cashback. You can use this code CLAIRE22 to get 10% off. Otherwise Skyscanner or Expedia are my go-to flight searching platforms.
📱What do you use for internet connection while traveling?
I'm a big fan of personal WiFi devices and they have saved my ass so many times when traveling. I wrote a full review of the top travel WiFi devices you can read here. I personally use GlocalMe as I can either pop in a physical sim card or use their local carrier.
With regards to my phone connection, I use e-sims while traveling, so rather than having to swap out my regular sim card I can download the app and buy a virtual sim card. I recommend using eitherAirhub or Alosim. Both have great coverage of multiple countries and are very easy to use.
🛏️ What is the best platform to use for booking accommodation?
The 3 best platforms that I normally use are Booking.com, Hotels.com, and Expedia They offer great deals and multiple options. I always check all three to be sure of the best deals.
🛅 Do you have any luggage recommendations for traveling?
I do have a complete list of the best packing and luggage products that I recommend, you can check the list here. I'm currently traveling with this suitcase and this backpack.
Conclusion
Scuba diving in Maldives is like nothing else on earth. Here you will unravel the wonders of scuba diving in the Maldives, where every moment beneath the waves leaves an indelible mark on your heart.
The captivating beauty of the underwater world, with its vibrant coral reefs and an abundance of marine life, creates an unforgettable experience like no other. From exploring shipwrecks to encountering majestic marine giants, the Maldives offers a dive adventure to suit every diver's dreams.
So, pack your gear, immerse yourself in the turquoise waters, and let the magic of the Maldives unfold before your eyes. As you navigate through this tropical underwater haven, you'll discover a realm of awe-inspiring beauty and serenity, leaving you with memories to cherish for a lifetime.
Unravel the wonders of scuba diving in the Maldives, and let your journey into paradise begin.
Pin for Later