Looking for things to do in Mystic CT? As much as I love New York, it's also nice to escape the city for a few days. On my quest to find the perfect getaway close to New York City, I discovered the town of Mystic, Connecticut. This small town is just three hours from NYC and is the most adorable place I've visited in the States so far. So, if you want fun things to do in Mystic CT, here's my ultimate guide of what to do in Mystic Connecticut.
Did You Get Travel Insurance Yet?

The Insurance companies I recommend are Hey Mondo, Safety Wing, and Travel Insurance Master

Hey Mondo is great if you are looking for a great value flexible policy. They offer single-trip cover, annual multi-trip cover, and long-term travel cover. Safety Wing is great value, with monthly coverage starting at $39. It's super easy to use, and it just renews each month. I currently use them as they offer me free cover for my son as part of my policy. I also use Travel Insurance Master for short trips.

Read my full travel insurance post here, where I go into detail about all companies.
Where is Mystic, CT?
If you've never heard of Mystic CT, I don't blame you—I hadn't either. Until I realized that I had (kind of) since Mystic became famous after they filmed the movie Mystic Pizza there in 1988. I didn't realize it was a real place until I began looking for things to do in the area. If you're a fan of the film, visiting is a must. I mean, what's cooler than eating pizza in the same place that Julia Roberts once was?
One thing I quickly became aware of when I arrived in Mystic Connecticut was that there's so much more to the town than pizza. In this roundup of Mystic things to do, I break everything down and highlight the best things to do in Mystic CT, where to stay, and where to eat and drink.
How to Get to Mystic CT From New York City
The beauty of Mystic, Connecticut is it's very convenient to travel to from New York! You can drive like I did or take a train directly from New York's Penn Station. Another option is to take a bus ride from NYC to Mystic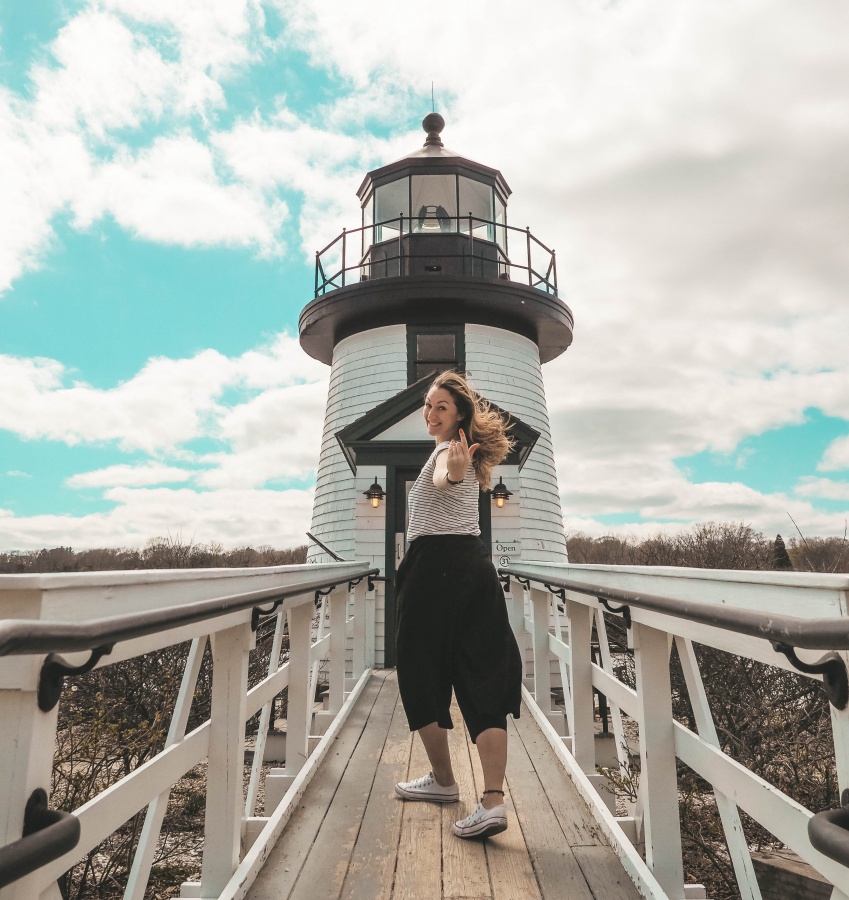 Quick Tip: Book accommodation, tours, and transport ahead of time online to save money and stress.
Best Mystic CT Tours: Click here to check out the top Mystic CT tours
Best Mystic CT Accommodation: Click here to check out the best accommodation in Mystic CT
Best Mystic CT Transport: Click here to book a bus, ferry, or train in Mystic CT
Ultimate Guide to Mystic: Things to Do Mystic CT
Wondering what to do in Mystic CT? There are surprisingly so many fun things to see and do! I went mid-week during the "off-season" for two nights and could have easily stayed a week. Here are a few of my favorite things to do in Mystic Connecticut.
Take a Walk
The first thing you should do when you get to Mystic, CT is take a walk around the town. There's a nice ice cream shop on the main road where you can enjoy a scoop while watching the drawbridge rise and lower (if you're lucky). Visiting Mystic CT feels like stepping back in time, in a good way. The town is full of interesting independent shops where you can buy everything from loose tea to army supplies!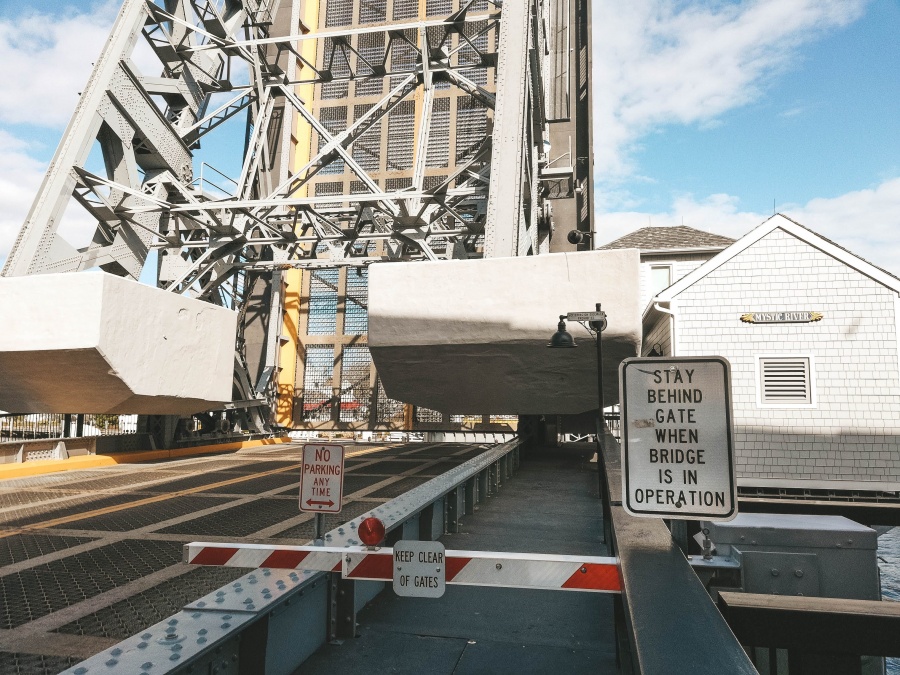 The Mystic Seaport Museum is probably the most famous attraction in Mystic, CT. It will cost you $30 to enter, but you could easily spend a full day exploring. In addition to all the amazing wooden boats you can look through, the museum often hosts themed days. You can't visit Mystic Connecticut without touring the Mystic Seaport Museum.
Shopping Mystic CT
As I already mentioned, there are some amazing Mystic seaport shops where you could spend a small fortune. Four shops I have to mention are Mystic Knotwork, Main Street Soap Emporium, Salt, and Marine Consignment of Mystic. I spent at least an hour poking around the Marine Consignment store—it's the place to go if you want to try sailing.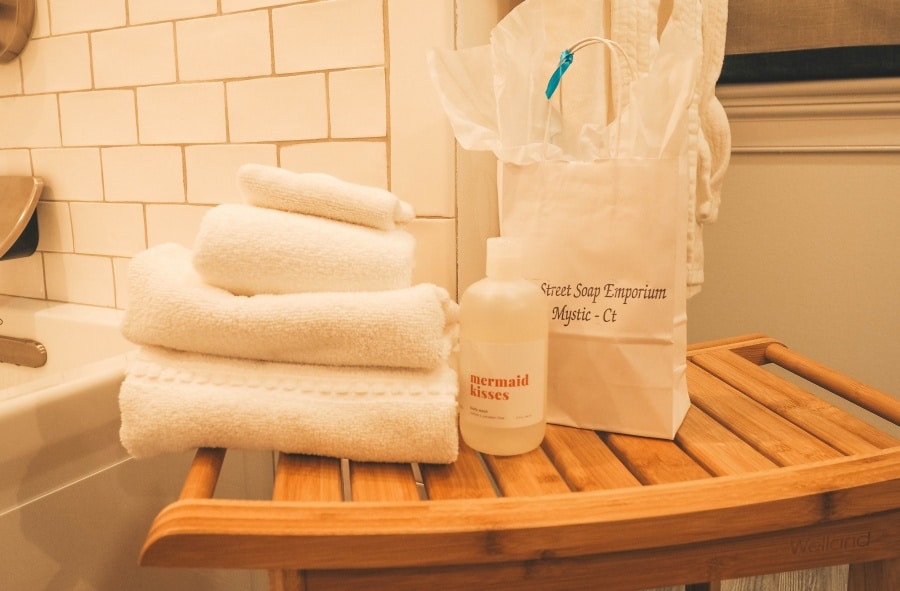 Sailing
From May until August, you can book a half-day or sunset cruise on an 81-ft Schooner. This was at the top of my list of things to do—sadly, I visited in April, so I was a bit early. If you visit Mystic CT in May, you should make the sunset cruise with Argia a priority.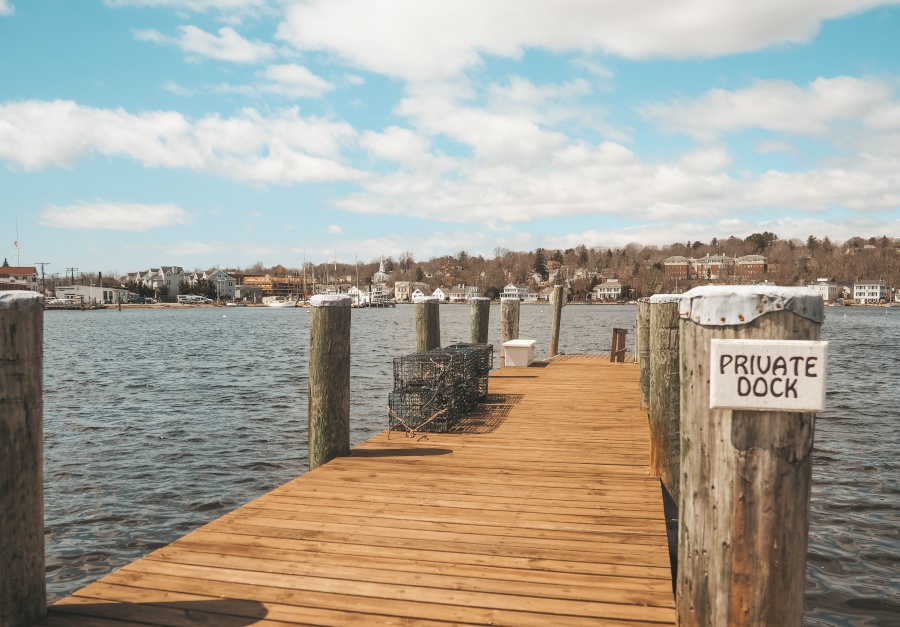 I found this place while hunting for donuts—it's a small retail park just outside the Mystic CT city center. There are lots of shops and places to eat throughout Olde Mistick Village, making it perfect for an afternoon trip.
Go Wine, Beer or Cider Tasting
For all of you hard cider fans out there, Mystic Connecticut is home to the only steam-powered cider mill in the US. You can book tours, demonstrations and, most importantly, tastings! This is seasonal and only available from the end of August through December.
If beer is more your thing, you need to visit Mystic's only brewery, Barley Head Brewery. Open Thursday to Sunday all year round, they have an impressive selection of delicious rotating beers.
There are also some vineyards located just outside Mystic, CT. The closest is Maugle Sierra Vineyards—they offer tours and tastings, and host fun seasonal events.
Make the Most of "Happy Hour"
There are plenty of places to enjoy happy hour in Mystic. I was pretty impressed with Chapter One Mystic—we ordered four pints of hard cider, and it only cost us $8. This was such a shock coming from NYC, where everything is overpriced!
There's a reason the Mystic Pizza shop is in the "things to do in Mystic, CT" section rather than "places to eat." To be blunt, the pizza just isn't that great—while the location is worth visiting, don't waste a meal there. Mystic CT is full of delicious restaurants with better lunch options. We shared a pizza at lunchtime when we visited but were more interested in taking photographs than eating the pizza.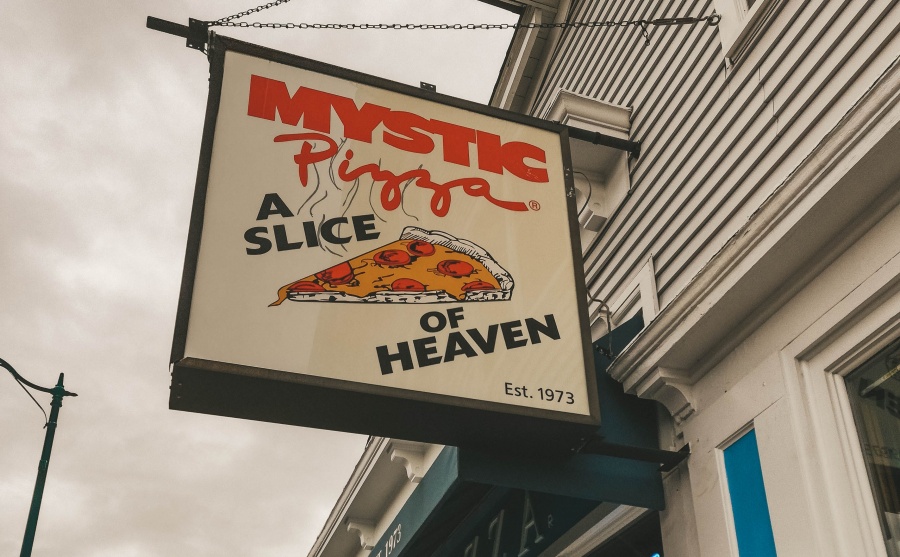 Have an Early Night in and Watch Mystic Pizza
Watching Mystic Pizza in Mystic, Connecticut is a must! The place I stayed in Mystic was incredible with a huge bed, TV, and fireplace. My advice is to enjoy happy hour, grab a takeout slice of Mystic Pizza, and head back to your hotel to watch the movie.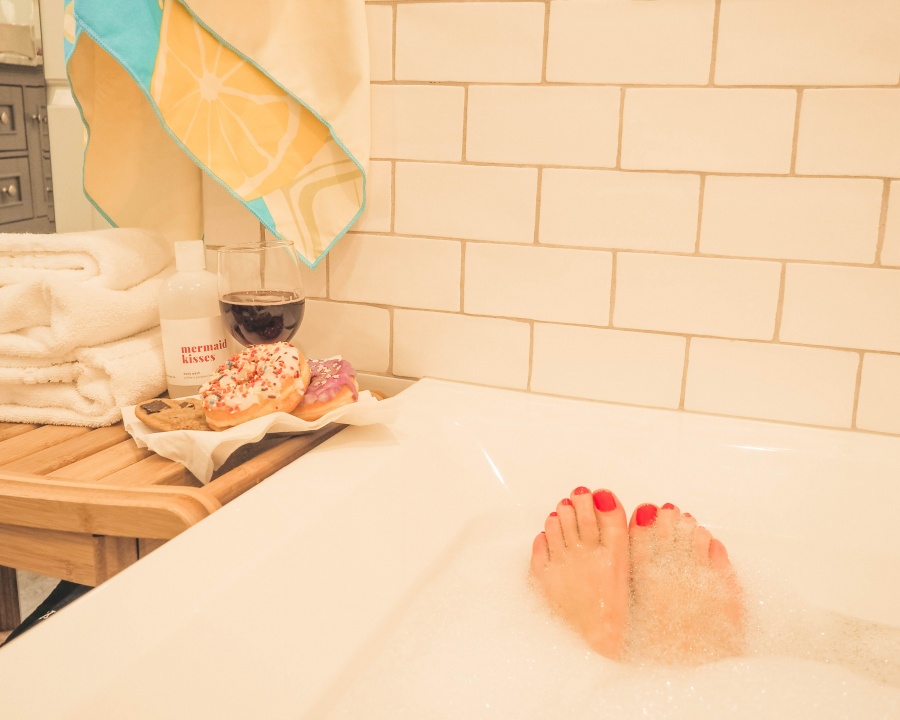 Where to Stay in Mystic CT
As far as I'm concerned, there's only one place to stay in Mystic, CT and that's The Whalers Inn. I'm normally a budget backpacker but occasionally enjoy treating myself to some luxury. Staying here was such a treat—just look at how beautiful it is!
I had a corner room overlooking the river and part of downtown. The bed was so comfortable I probably could have stayed in it the whole two days. I've been gushing about this inn to everyone and think I've convinced my Mum to visit with some of her friends.
The Whalers is referred to as the heart of Mystic CT, and you can see why! The building itself is 125 years old and was converted into a hotel in the 60s, though it was recently been remodeled.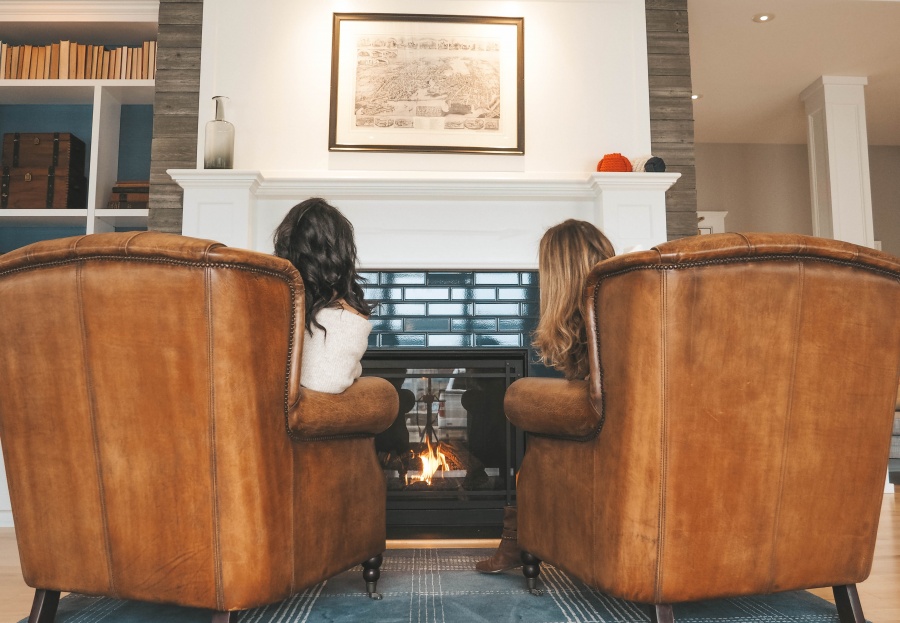 For me, the real beauty and charm of The Whalers Inn in Mystic is the attention to detail. From the monkey fist keyring to the old-fashioned room details like a clock, telephone, and radio, it feels like great care was taken when designing the hotel.
The charm doesn't stop there, as the staff was equally as lovely. From the warm welcome we received at check-in to the afternoon cookies hosted in the lobby by the fire, the experience was unforgettable.
Breakfast was also pretty good and available until 10 a.m. in the restaurant, which is part of the main building.
You can read about the history of The Whalers Inn here.
Where to Find the Best Food in Mystic CT
If you're a foodie, Mystic Connecticut is the town for you. The first thing I was told upon arriving in town is that Mystic is heaven for food lovers. With an abundance of independent restaurants serving locally sourced food, the only problem you'll face is not having enough time to try them all.
For a full list of restaurants visit This is Mystic.
My number one restaurant choice is Red 36 Mystic CT. I always try to be critical when I'm reviewing destinations, but, honestly, I don't know what to say other than the food was delicious, the service was impeccable, and the view was spectacular. Red 36 Mystic CT is waterfront dining at its best.
All of the food comes from local farmers and artisans, and the menu changes frequently—did I mention they have happy hour? Considering the quality, the prices are also reasonable. I think our total bill was just over $100, and I was so full I thought someone may have to wheel me out of there!
Be warned that you will need to book a table in advance. I went mid-week during the off-season, and it was still packed. If you want a waterfront view, let the restaurant know in advance, as they book up fast.
Here are a few other restaurant recommendations for Mystic CT:
Best Things to Do in Mystic CT: FAQs
When is the Best Time to Visit Mystic, Connecticut?
The best time to visit Mystic is during the late spring, summer, and early fall. These seasons offer pleasant weather for outdoor activities and allow you to fully enjoy the town's natural beauty and waterfront. However, Mystic is charming year-round, with cozy winters and festive holiday seasons.
Can I Explore Mystic On Foot?
Yes, Mystic is a walkable town, especially in the downtown and waterfront areas. You can stroll through the historic district, along the Mystic River, and through Olde Mistick Village. Many attractions, shops, and restaurants are within walking distance of each other.
What Are the Best Family-Friendly Things to Do in Mystic, CT?
Mystic is an ideal destination for families. You can explore the kid-friendly exhibits at Mystic Seaport Museum or enjoy a day at the beach. Many local attractions cater to families and offer fun and educational experiences.
USA Travel Guide Planning
🚗 Where can I book bus or private transportation while I'm in USA?
I strongly recommend using Bookaway. You can book almost all transport in the major tourist destinations through them online. They don't just cover buses they also cover shuttles, ferries, and private drivers.
🎫 Where can I buy tickets for museums, attractions, and tours in USA?
I recommend either Viator or GetYour Guide. They have a lot of options!
👩‍⚕️ What is the best insurance to have while traveling?
I recommend using Heymondo for a great value policy. The app also offers you 24/7 Dr Chat. For Digital Nomads check out SafetyWing digital nomad insurance.
I have also written a blog post covering all my recommended travel insurance here
✈️ Any flight recommendations?
WayAWay offers you cheap flights with cashback. You can use this code CLAIRE22 to get 10% off. Otherwise Skyscanner or Expedia are my go-to flight searching platforms.
📱What do you use for internet connection while traveling?
I'm a big fan of personal WiFi devices and they have saved my ass so many times when traveling. I wrote a full review of the top travel WiFi devices you can read here. I personally use GlocalMe as I can either pop in a physical sim card or use their local carrier.
With regards to my phone connection, I use e-sims while traveling, so rather than having to swap out my regular sim card I can download the app and buy a virtual sim card. I recommend using eitherAirhub or Alosim. Both have great coverage of multiple countries and are very easy to use.
🛏️ What is the best platform to use for booking accommodation?
The 3 best platforms that I normally use are Booking.com, Hotels.com, and Expedia They offer great deals and multiple options. I always check all three to be sure of the best deals.
🛅 Do you have any luggage recommendations for traveling?
I do have a complete list of the best packing and luggage products that I recommend, you can check the list here. I'm currently traveling with this suitcase and this backpack.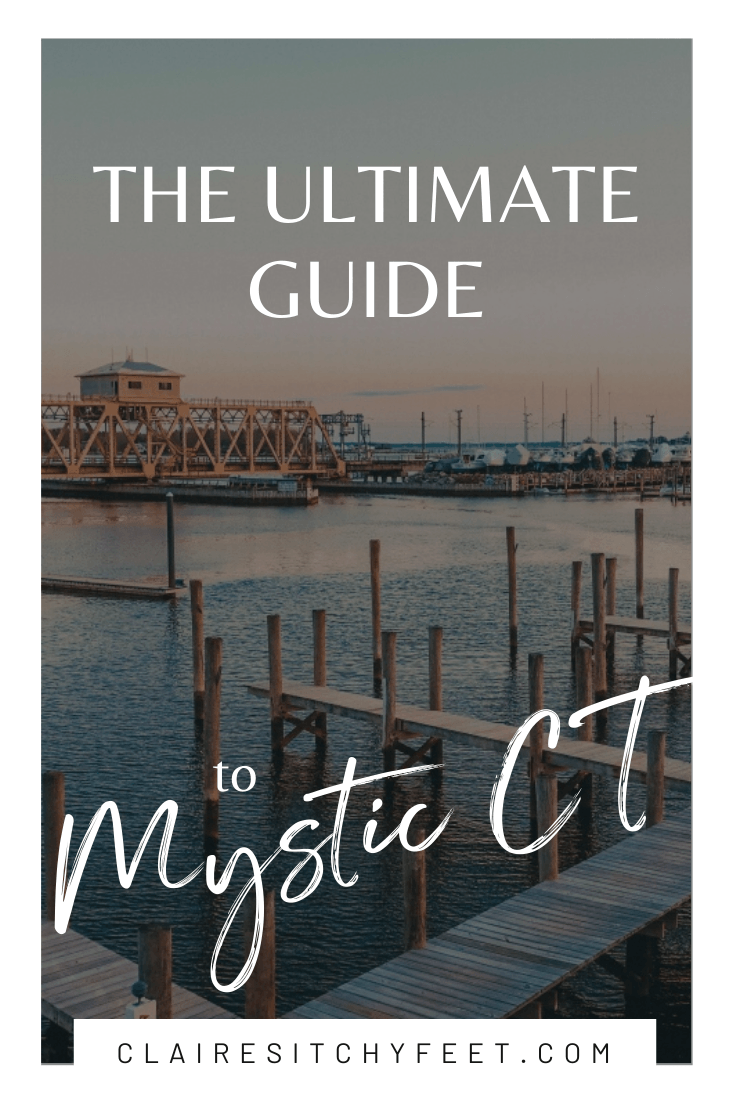 Final Thoughts: Fun Things to Do In Mystic CT
We had an epic time in Mystic CT and I 100% recommend paying this charming town a visit if you're in the area. From visiting the Mystic seaport shops to enjoying food and drinks at Chapter One Mystic, you'll have an incredible time. My Mum has already booked her stay at The Whalers Inn—I hope you're inspired to as well! Don't forget to save this guide to the best Mystic CT things to do before planning your trip.
This post was proofread by Grammarly.