If you are thinking of taking a day trip from New York City to Niagara Falls this post contains everything you need to know!
On my last trip to New York, I decided that I needed to get out of the city more. When looking at day trips I decided on Niagara Falls. It's a bit far for a day trip from New York to Niagara Falls and back but you can do it as an overnight trip.
How to get from New York City to Niagara Falls

Fly from New York City to NiagaraFalls
There are several flights each day from New York to Niagara. Make sure you book through Skyscanner! You can get some great deals and if you book in advance this can end up being the cheapest option. The flight time is around 1 hour.
Travel by Car from New York City to Niagara Falls
It takes about 6-7 hours to drive from New York to Niagara and it's a pretty easy drive if you have a car. Plus there are plenty of great places to stop at on the way like The Finger Lakes which is definitely worth spending a night or two exploring if you have the time. We went in December and it snowed frequently on our drive so make sure you check the weather.
Take the train from New York City to Niagara Falls
You can take the train from Penn Station and it will take you 9 ½ hours. Book online 14 days in advance on Amtrak and you get a booking discount. Last time I checked you can expect to pay around $125 for a round trip.
Take the Public Bus New York City to Niagara Falls
By public bus, you are looking at 9-15 hours! Most of the buses leave from the Port Authority Terminal and arrive either on the New York side of the falls or you can carry on to the Canadian side. It's cheaper to book in advance and there are three main companies offering connections from New York to Niagara Falls: Greyhound, Trailways NY, and City2City.
P.S you can also walk across the border to the Canadian side of Niagara Falls.
Use a Private Tour Company
This is the option I took, mostly due to the seriously low cost! I paid $75 for a round trip including an overnight stay in a hotel! There were 4 of us, so if you are on your own it is $150 but still the cheapest option. I will go into more detail about this 'tour' further down. But it took 8 hours to get there including 3 'comfort' stops and 8 hours back. The trip included a hotel for the night and we were really lucky to be a 5-minute walk from the falls.
If you want to book a tour I would recommend checking out Viatour first. They always have discounts and special offers on, they also have a great app making it really easy to book.

How Much Time do you need at Niagara Falls
This depends on what you want to do there, and what time of the year you go. I actually went to Niagara Falls in December one week after all of the main attractions closed up for the winter. We had an evening and then a morning in Niagara and at that time of year that felt plenty. We had time to do everything we wanted to do including a short hike around the park. That said if it was the summer I may have preferred a bit more time on the second day.

When is the best time to go to Niagara Falls
I would say as long as you don't mind the cold go in late November. We got there just too late as everything had closed the week before. This meant we couldn't access all of the viewing platforms and the Maid of the mist wasn't running. The jet boat was, but it was a bit out of my price range. What this did mean though was there were no people!
We decided to get up early and try and catch a sunrise. When we walked over to the falls after sunrise we had it to ourselves for the whole time we were there. It was pretty special! If we had gone the week before I could have still gone on the Maid of the Mist and I'm pretty sure the ques still would have been non-existent. I would love to go back in the summer but if you go then be prepared for the crowds!
Things to do in Niagara
I can only really talk about my experience and as everything was closed there wasn't really much to do! We even struggled to eat in the evening as everything was closed. I was pretty surprised at how commercialized it was around there. It looked like a mini Las Vegas! I can imagine during the main season it's pretty lively.
Get up early and see the sunrise. The best place to catch the sunrise is from the first bridge as you head over to the islands.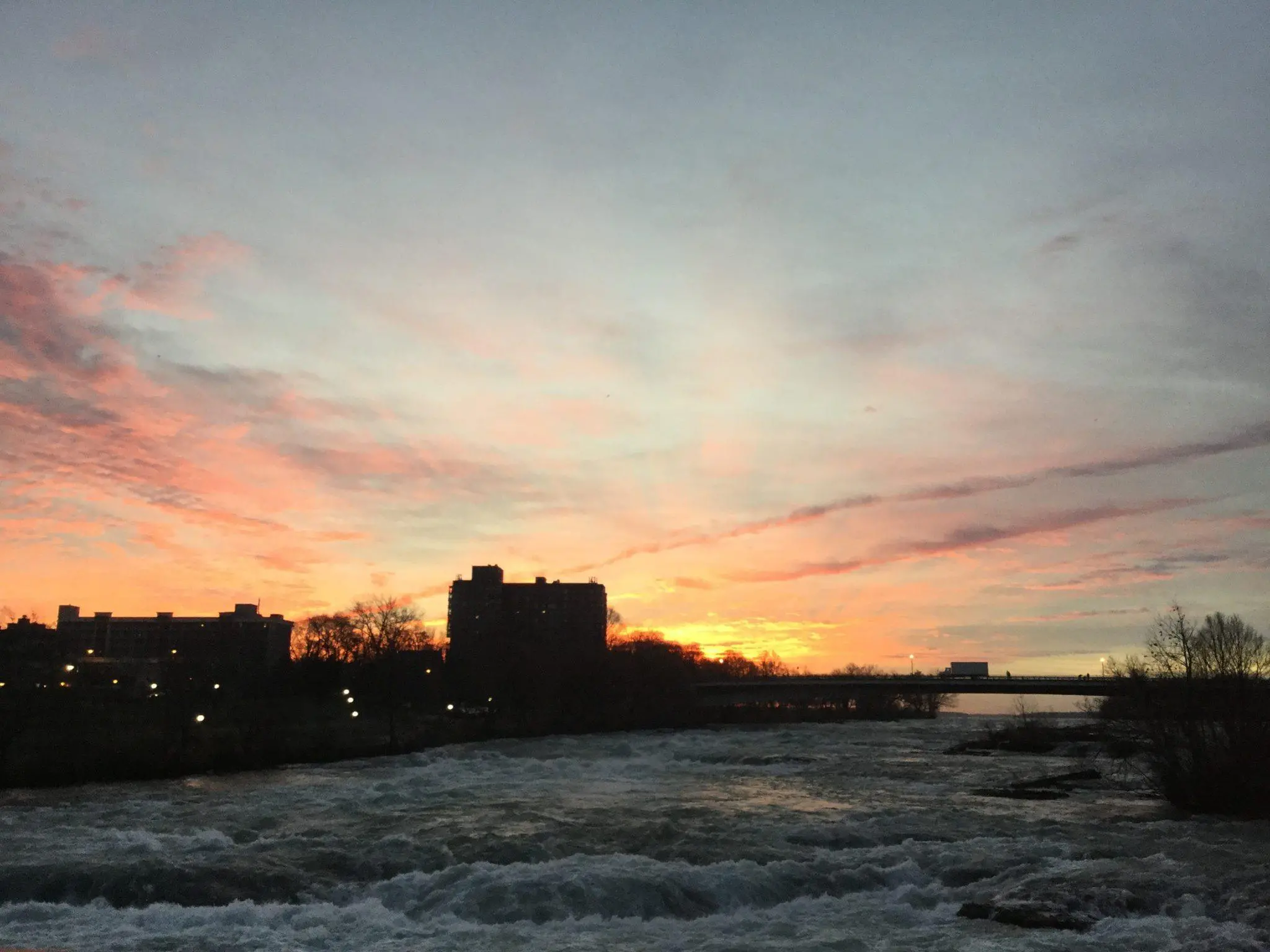 Take a walk around the parks viewing platforms in the early morning after the sunrise.
Head back towards the falls and take a walk down the river by the old train track. It's a pretty easy walk and the path is very clear. There are some pretty stunning views and good places to take a photograph.
Take a walk across Rainbow Bridge. Sadly we weren't about to do this as two of our party didn't have their passports! You are entering a different country so you do need to have your passport.
About the Niagara Falls Tour
There are a few different tours you can take. Being a budget traveler I chose the cheapest option and then roped my mum and her partner in to make it even cheaper! The normal cost is $135 if there are four of you and you all share a room it's $300! So it's worked out really cheap. But all it included is getting there and back and the hotel. Once you get on the bus they will try and sell you all of the extras including the jet boats and evening entertainment.
Now, if you asked my mum how she liked this particular tour she would tell you she hated every moment of it and would NEVER go on another. I, on the other hand, thought it was brilliant! So here is a rundown of the tour from both viewpoints.
The Tour
Run by a Chinese company it departs and returns to Chinatown. Therefore most of the people on the tour were Chinese. We were actually the only English/ North American group. The tour guide was Chinese and he was brilliant! Everything was spoken in English and Mandarin and he has a really great way of speaking to the group.
The Coach
It really wasn't great. There is hardly any space in between the seats and the windows are covered with a weird color plastic thing so you couldn't see out of it properly. This was pretty bad for me and my mum's partner who are tall with long legs. Spending the best part of 16 hours over 2 days that cramped in wasn't much fun. I've been on worse so I didn't mind so much but I know he really struggled. So, in short, you will be spending 8 hours squashed on a coach and you can't really see well out of the window. There is no wifi BUT there are plugs so you can charge up, sadly ours didn't work!
The Extras
We were the only people on the trip who didn't do any of the extras. The only real issue this caused was that the following morning the coach and the group leave at 7 am to go on one of the extras. Now even if you don't decide to do this you still have to vacate your room and put your bags on the coach. This is part of the booking arrangement and there is no way of extending your room. I was fine about this as I wanted to see the sunrise anyway. My mother, however, was not impressed. It took several hours and a few coffees to cheer her up after her early start!
Where to Say in Niagara
Final Thoughts
Other than the coach journey we really didn't have much to do with the tour group. If you prefer something a bit more organized and would want to do all of the 'extras' then I would suggest going with a different company. Take a look at what is on offer through Viator. I use them all the time and I can't recommend them enough. You can get an all in the tour on a far better coach with wifi and more leg room for about $320. If you are like me and don't mind a rough and ready tour then here is the link to book through Tours4Fun.
Planning a vacation to NYC? Check out my other city guides:
How to spend 5 days in New York City
How to Spend a Weekend in New York City
This post was proofread by Grammarly