If you are traveling Guatemala I'm sure you have a tick list of places you want to go. If you decide to skip a visit to Semuc Champey you will likely be either traveling from Antigua to Tikal or Tikal to Antigua. So here is a guide talking you through the different options of how you can travel from Antigua to Tikal.
The cheap way to get to Tikal from Antigua- Take a lot of Chicken Buses
It may not look a long way from Guatemala City or Antigua to Tikal, but trust me with the state of the roads in Guatemala it will take you forever. Honestly, I don't think anyone in their right mind would entertain this! The cost wouldn't be much less than a tourist bus. There would be a lot of changes and it would take FOREVER!
Solo traveling for the first time? get my new book on Amazon…
The normal way to get from Antigua to Tikal – Take an overnight bus from Guatemala City
Get the 1st class overnight bus from Guatemala City. You can book this through GuateGo.
First, buy a shuttle from Antigua Guatemala to Guatemala city, buy the latest one that departs at 7pm. This will drop you off at the central bus station.

Then in a separate transaction, you will need to buy your night bus ticket. I recommend booking the one that departs from the bus station at 9 pm or 10 pm.
These are both luxury buses so you will have comfortable semi-bed seats, snacks, wifi, a/c and a bathroom on board. Yes, it is a little more expensive but worth it.
If you are being thrifty you can book a 2nd class bus. The main difference is that the 1st class is a little nicer and it only makes 3 stops. The 2nd class bus will stop many times along the way.
If you don't believe me read this. It's an 8 to 10-hour bus journey overnight and you are probably going to want to arrive and then go straight to Tikal once you have dumped your bag. You are going to need the sleep. The bus gets you into Flores around 6 or 7 am.
Top Tip: If you want to save a little money then skip the shuttle to the bus station and take a chicken bus.
The three companies that do this route are:
FDN- Fuente del Norte

ADN: Autobuses del Norte

Linea Dorada

What is the cost of the bus from Antigua to Tikal
The cost is from 220Q up if you get on at Guatemala City. If you book through GuateGo you will pay more. The advantage of booking online is you are getting a fair price, the company are reputable and have insurance (trust me this is a big issue in Guatemala, I have found myself on more than one uninsured shuttle) and you know they will pick you up (It does happen sometimes that drivers just don't turn up. For these reasons, I would advise you to pre-book the day before.
Top Tip: These buses have AC so make sure you wrap up warm as it gets very chilly!
The money's no object get me from Antigua to Tikal quick way
You can fly from Guatemala City to Flores. The cost of a one-way flight varies from around $108 up to $300. The flight takes 1 hour and both airports have shuttles and taxis that can take you from the airports to your accommodation. Make sure you check Skyscanner for your flights to get the best deals.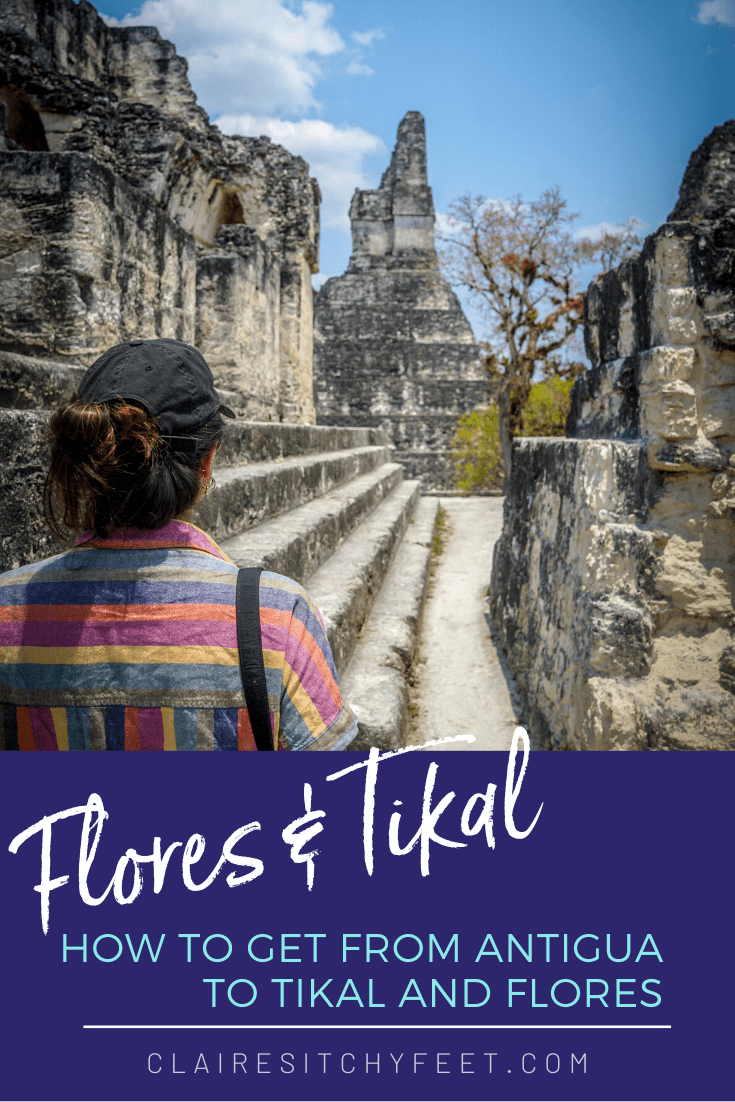 Planning a Trip to Guatemala? You might be interested in these articles:
How to get from Guatemala City to Antigua
Is it safe to visit Guatemala? Safety Advice for Solo Female Travelers
The night I thought I was going to die in Guatemala
Things to know before visiting Antigua, Guatemala
11 things to know before visiting Guatemala
The Top 5 Tours in Guatemala | The Best Tours in Guatemala in Guatemala
Are You Traveling soon?
Be sure to check Skyscanner for the best flight deals.
I never travel anywhere without Travel Insurance. If you are looking for insurance be sure to check World Nomads first.
This post was proofread by Grammarly
Are you ready to book your trip?  To help you get the best deals and service here are the companies that I personally use to book all of my travel online. I always shop around before booking anything, but these are my tried and tested starting places.