If you do one Bogota city tour, make it The Bogotá Bike Tour! As always when visiting a new city I try to do as many tours as possible to get a real feel for the city and make the most of my time. Everyone kept telling me I needed to do one of the Bogota bike tours so I finally gave in and I can honestly say it was by far my favorite of all the sightseeing tours in Bogota Colombia I did.
Why take a bicycle tour in Bogota?
I know group tours aren't for everyone. I don't always feel the need to do a tour, but when you visit a city as huge as Bogotá and only have limited time a tour is a must. Because of the sheer size of Bogotá, it is hard to find a walking tour that takes you out of La Candelaria. There is only so much ground you can cover on foot!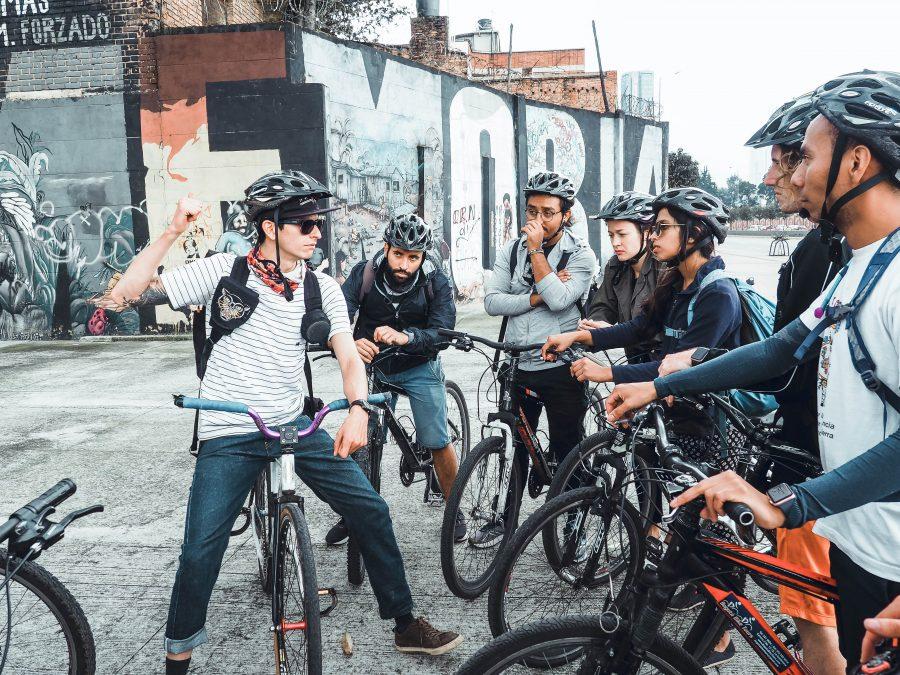 It's also not a city you want to be doing a bus tour in (even if that were an option) because of the traffic! So if you want to see a little bit more than the walking tour and experience some cool extras that the city has to offer this Bogota bike tour is exactly what you need.
Bicycle Tour Bogota
Bogota bike tours –
Getting your bike
The Bogota city tour leaves twice daily at 10:30 and 1:30 pm (I would recommend doing the morning tour as the weather is generally better in the morning) from their bike shop in La Candelaria. I arrived just after 10 am so I could get sized up for my bike.
This didn't take long at all so I popped next door to a really good coffee shop and got myself a tinto!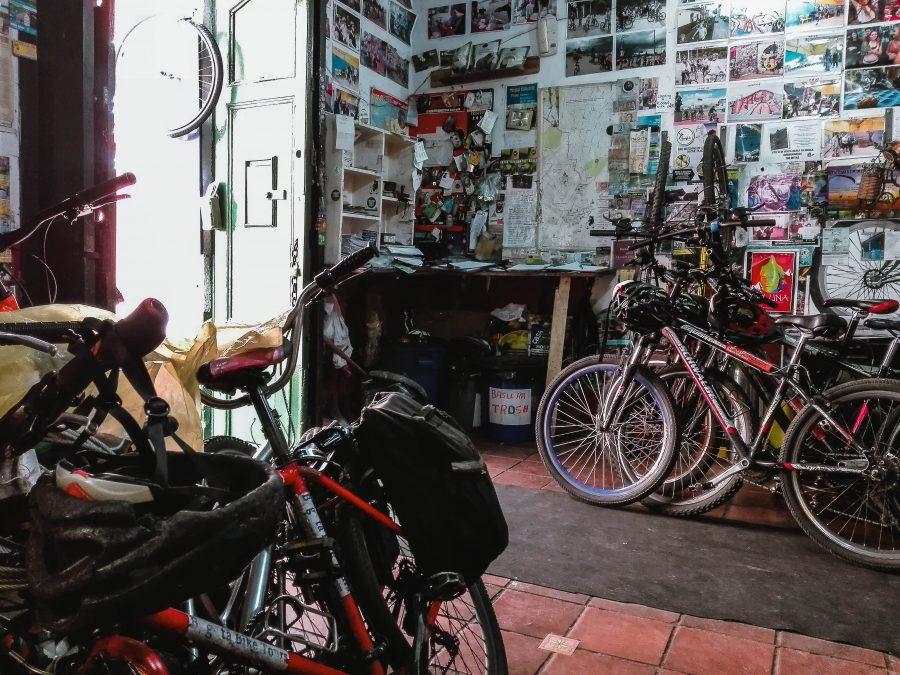 Once everyone has their bikes we headed out for the health and safety brief and had time to check out our bikes for any problems.
Here are the places we visited on the Bogota city tour:
Parque de Los Periodistas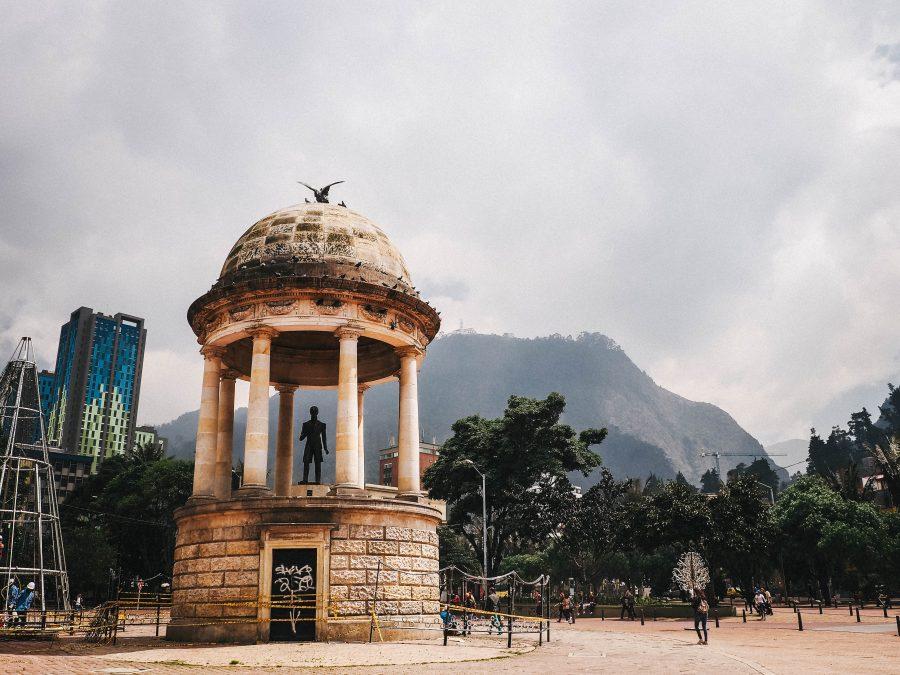 The first stop on the tour is just down the road from the bike shop. This is also to check in with everyone and make sure all of the bikes are ok and everyone is happy.
The Bogota City Market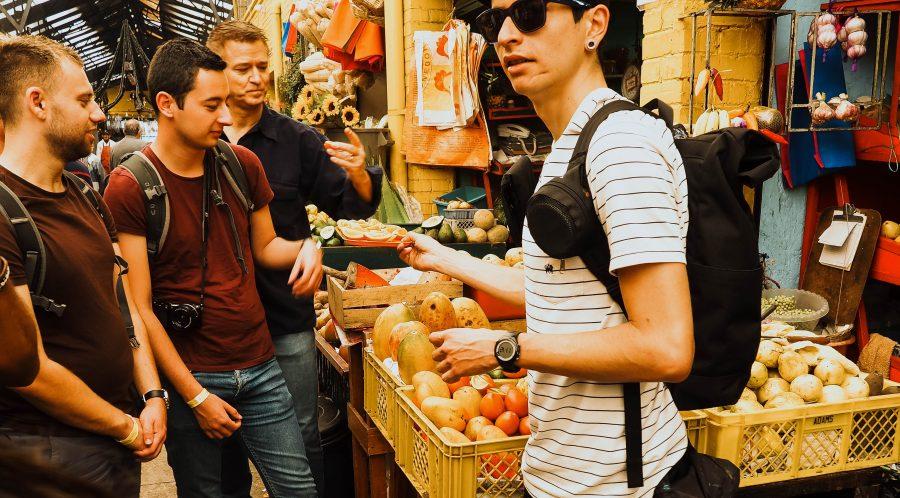 After cycling through the downtown and up 7th street (the main walking street in Bogota) you leave your bikes and go on foot through the market for some fruit tasting!
Play a game of Tajo in Bogota
At this point, it began to rain a little. To pass the time while we waited for the rain to stop our guide took us across the road from the market for a beer and a game of Tajo! I was so excited about this as I had heard about Tajo from my Colombian friends, but I had no idea where to find anywhere to play in Bogota. It was so much fun and something you have to experience while in Colombia.
See Graffiti on the bike tour
A big pull of this tour is the Graffiti that you get to see. Having done the graffiti tour (which is great by the way) I had already seen some pretty cool graffiti. But because you are on a bike you can go further out that the graffiti tour on foot allows for. Our guide was really knowledgeable about local graffiti being an artist himself. I really enjoyed this part of the tour and I think it is one of the main selling points!
Coffee
I am a huge coffee lover so this was a really cool aspect for me. We not only went to a great coffee shop that was in a neighborhood I would never have found alone. But they even roast the beans on site! So we got to see the roasting process and then enjoy a great quality cup of coffee.
Bogota City Orientation
As you tour around Bogota this tour allows you to get your self-orientated. You go past some key landmarks like the National Museum they would be hard to find on your own. As these places are outside of the normal walking tour it is one of the key selling points in my opinion.
Do you need to be fit to do the Bogota bike tour?
If you aren't in the best shape and haven't been on a bike in the last decade, don't worry! As you may know, Bogota is pretty high up so breathing while exercising can be difficult before you acclimatize. Even so, this tour doesn't move too fast, it is 90% flat, with only 2 points when you have to go up a bit on an incline. So trust me you will be fine! On my tour, there was a 65-year-old man who told me he hadn't been on a bike in 50 years and arrived the night before from the UK. So trust me your fitness and lack of bike experience won't be a problem!
Would I recommend the Bogotá Bike Tour?
Yes, absolutely! I highly recommend taking this tour, especially if you only have a day or 2 in the city. This tour covers more distance and more interesting things than any of the other tours and it is a great way to make the most of your time! For what you get I also think it is a real bargain price!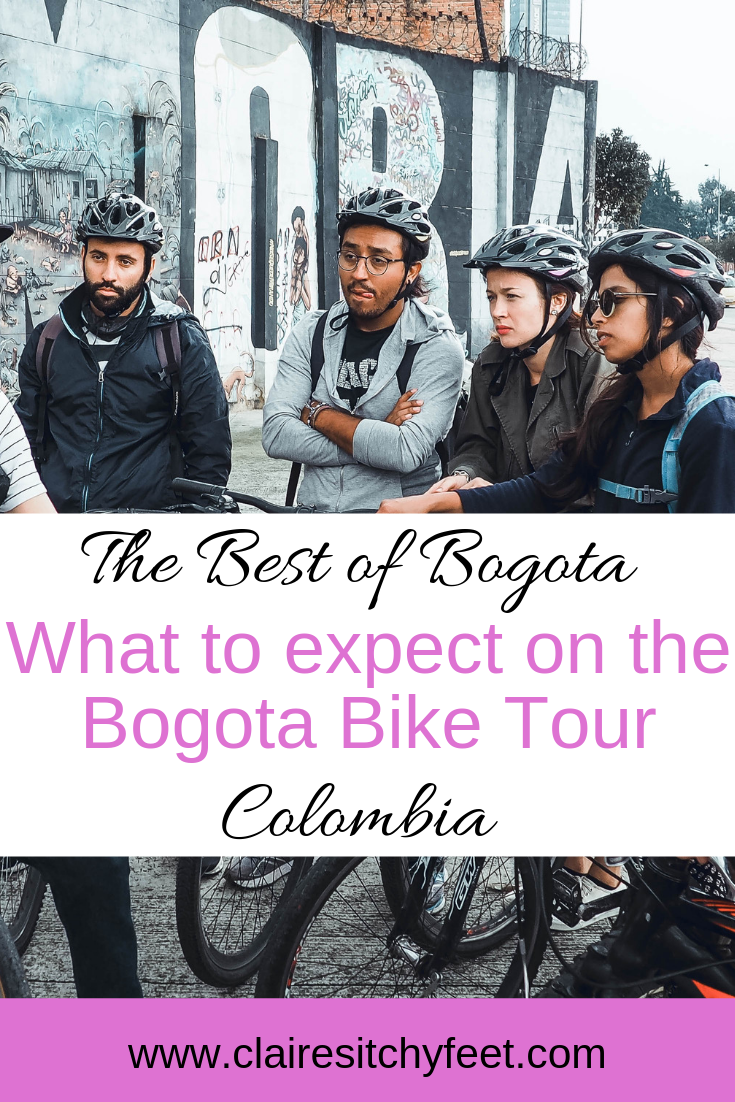 Wondering where to stay in Bogota? I recommend staying in Chapenero over La Candelaria if you are staying longer than 24 hours.
Hotels I recommend are:
Hotel Morrison
Selina Chapinaro
Republica Hostel Chapinero
Hotel Living 55
93 Luxury Suites & Residences
If you are only in town for 1 night then I recommend staying in one of these places in La Candelaria:
Selina La Candelaria
Casa artistica
Arche Noah Boutique Hostel
If you need a hotel close to the airport then I recommend the Radisson AR Bogota Airport.
Concerned about safety in Bogotá? Take a read of my safety guide to Bogotá.
If you want more information on the tour or to book you can visit the Bogota Bike Tour website here.
This post was proofread by Grammarly
Are you ready to book your trip?  To help you get the best deals and service here are the companies that I personally use to book all of my travel online. I always shop around before booking anything, but these are my tried and tested starting places.