Wondering what to do in Bogota? Well in my opinion 2 days in Bogota is the perfect amount! There is plenty to see and do within the city, as well as some great places you can visit as a day trip. To help you make the most of your time here is my guide to help you decide how to spend 2 days in Bogotá.
Need a Colombia backpacking itinerary? Click here to read mine.
Day 1 – Bogota Itinerary
If you are an early bird then get up early and head to Monserrate before the crowds.
It will take around 1 hour to walk up the steps to Monserrate. Aim to start at 6 am and you should have reached the top by 7 am. Take some time to soak up the view.
There is a market area just behind the church where you can get a great breakfast for a reasonable price so I suggest eating here. You will need to leave by 9 am to make your way back to La Candelaria.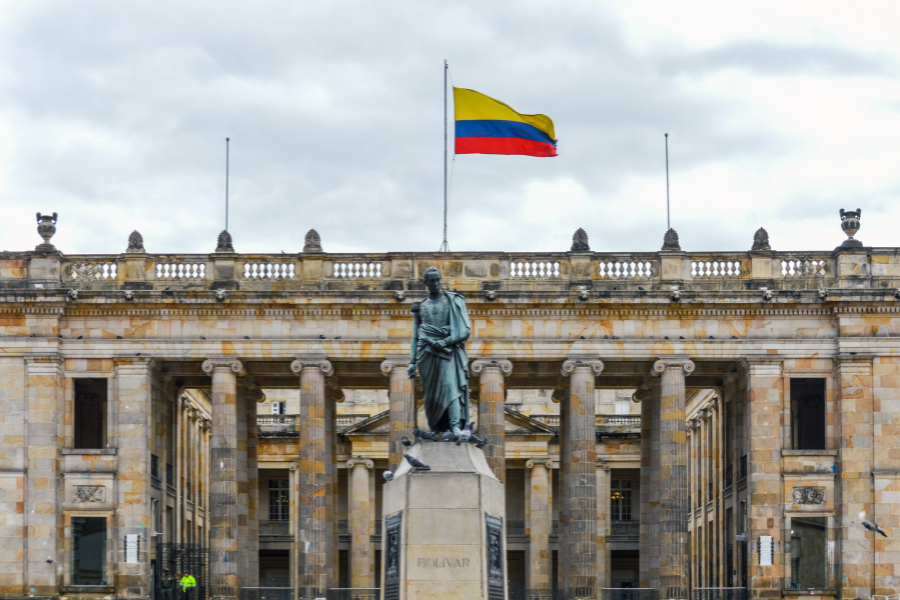 Did You Get Travel Insurance Yet?

The Insurance companies I recommend are Hey Mondo, Safety Wing, and Travel Insurance Master

Hey Mondo is great if you are looking for a great value flexible policy. They offer single-trip cover, annual multi-trip cover, and long-term travel cover. Safety Wing is great value, with monthly coverage starting at $39. It's super easy to use, and it just renews each month. I currently use them as they offer me free cover for my son as part of my policy. I also use Travel Insurance Master for short trips.

Read my full travel insurance post here, where I go into detail about all companies.
Get Orientated
Once you are back from your morning hike you need to get orientated! The best way to do this is by taking a tour. I spent a few months in Bogota and took most of the tours so I can speak with some authority when I say if you only take one tour do the Bogota Bike tour. Yes, you have to pay for it, but it is worth it! I wrote a whole post on it you can read here. Or why not watch this short video I made?
Within the tour you taste some food, Play Tajo, see graffiti, tour a coffee-roasting cafe and cover more ground (thanks to the bikes) than any other tour. Chances are if you don't do this tour you won't leave La Candelaria during your 2 days in Bogota!
If you prefer to do a 'Free' Tour then I recommend the one ran by Gran Colombia that meets at 10 am and 2 pm each day.
Once you have finished your tour it's time for lunch! You have two options…
Option 1
Go and find a nice place for lunch I recommend walking to 11th street then in between 6th and 7th you will find many traditional Colombian restaurants. The traditional lunch in Bogota is Ajiaco which you have to try. Be warned it is filling though! It's a meal of soup made with 3 types of potato, corn, chicken, avocado, rice, and cream. If you are a vegetarian don't worry the chicken normally comes on the side or you can ask for no chicken.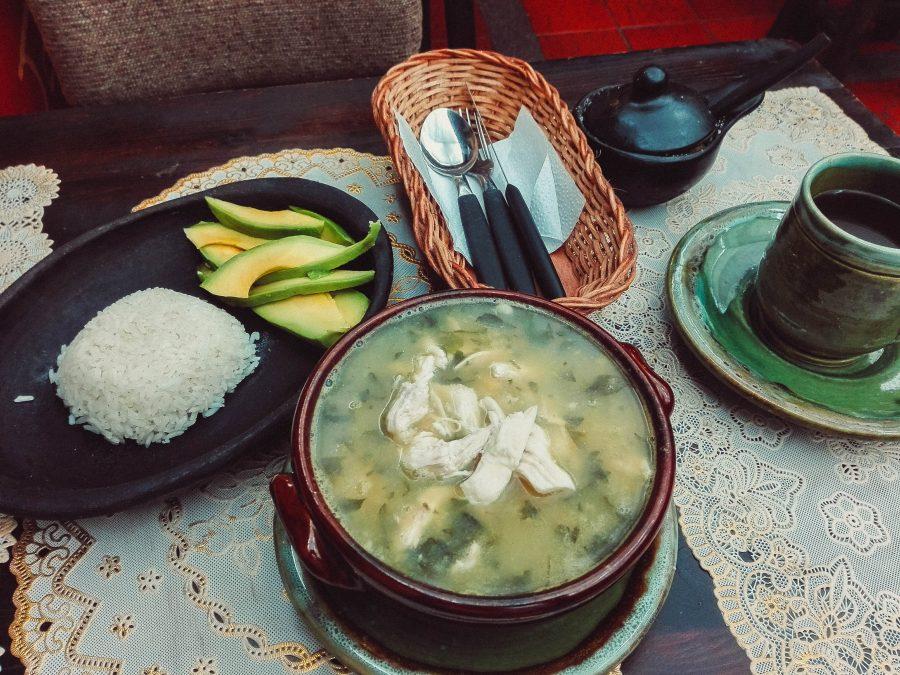 Option 2
Go crazy and head over to Museo de Oro and join the free food tour at 2 pm. Although the tour is free, the food is not! If you decide to taste one of everything on this tour it will cost you $22Mil COP (that's around $8 USD). But trust me you will not need to eat anything else for the rest of the day! You will have to be quick though as the tour starts at 2… although that is a Colombian 2 pm though… so more like 2:20-2:30!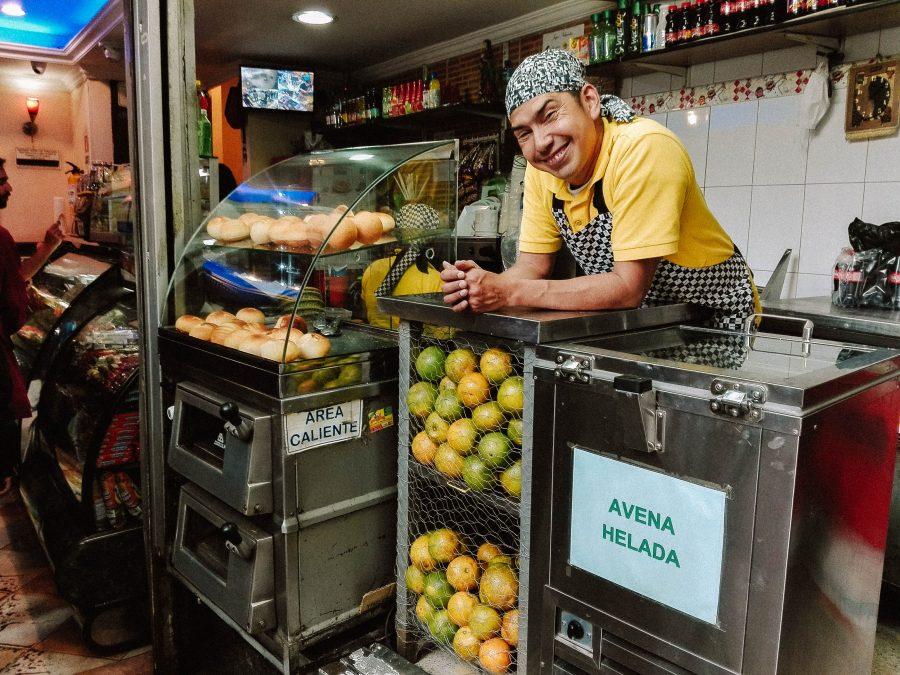 The tour finishes around 6 pm so time to head back to your accommodation and get ready for a night out in la Candelaria. Be sure to drink some local beer and Chichi!
Day 2 – Bogota Itinerary
My recommendation is during your 2 days in Bogota pay a visit to the Salt Cathedral. It will take you an hour and a half on the bus to get there, and the same back. So it will take up most of your day. It is worth it though! You can read everything you need to know about this day trip here.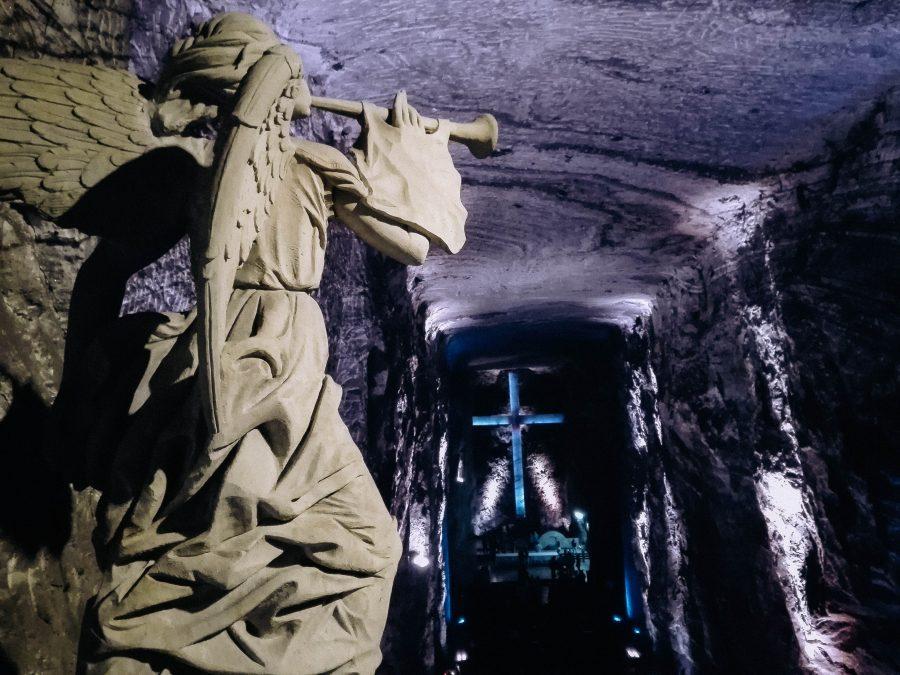 If you prefer to stay in Bogota then spend the day soaking up Bogota's impressive culture. There are so many things to do in Bogota, I don't think you could ever get bored here. And the best part is that many of the best places to visit in Bogota are also free, especially on a Sunday.
Other things to do during your 2 days in Bogota:
Book a tour of Casa de Nariño
Casa de Nariño is the president's house and you can take a free tour of it! Pretty cool right? This opportunity is missed by so many people visiting Bogota as it isn't well advertised and you do need to book online. They recommend booking 2 dates and doing it at least 30 days before (5 days minimum). The tour lasts for 45 minutes and they have tours Monday to Friday: 9:00, 10:30, 14:30 and 16:00
Weekends and public holidays are slightly different so check the website for more information.
Explore The Botero Museum
If you have not yet heard of Fernando Botero that will change when you visit. References to this Famous Colombian artist's work are everywhere. Although his hometown of Medellin boasts a large collection of his sculptures, it is Bogota where the largest collection of his work resides (123 pieces to be exact). These pieces were donated to the Bank of the Republic by the artist upon his death so the public could access them for free permanently. The museum also has 85 pieces from international artists and is open 6 days a week (closed on Tuesdays).
Visit the Museo de Oro
If you go to one museum in Colombia, make it this one! The Museo de Oro (or Gold Museum) has a huge collection of gold artifacts from Colombia. From tools to Jewelry spend a few hours marveling at Colombia's rich history. The entrance fee is a minimal $4mil COP (around $1.50) Monday – Saturday and on Sunday it is free for all.
Take a stroll down Calle 7
In every city in Colombia, they have one main street that is closed to the public. These streets are known as "walking streets" and they were closed to cars to encourage the people of Colombia to take to the streets again after decades of civil war left people frightened to leave their houses. The government wanted people to know that the streets are safe and the streets belong to them. In Bogota, the walking street is Calle 7 (street 7) which goes from Simon Bolivia Square right up to the end of the city center close to the National Museum. Any day of the week you can find street artists, street performers, people playing chess, and street carts selling food. So take a stroll, buy some street food and watch some performances.
Final Thoughts
So that's it, my top things to see in Bogota if you only have 2 days. As you can see from this list though there is enough to easily spend a week here. I actually lived in Bogota for 3 months, although I didn't have the best time here for many reasons, I completely fell in love with the culture in the city and I'm sure you will too!
Looking for other fun day tours from Bogota? How about visiting the thermal spa!
This post was proofread by Grammarly