If you are backpacking Colombia you may be tempted to skip Bogotá. Don't! I would suggest spending at least 2-3 days in Bogota if you have the time. But if you only have one day in Bogotá then here is my Bogotá itinerary to help you make the most of your 24 hours.
Bogota Itinerary for one day in Bogota
Hike up to Monserrate
Get up early and head to Monserrate before the crowds.
It will take around 1 hour to walk up the steps to Monserrate in Bogota. Aim to start at 6 am and you should have reached the top by 7 am. Take some time to soak up the view.
There is a market area just behind the church where you can get a great breakfast for a reasonable price so I suggest eating here.
If you only have one day in Bogota this is the tour you should do. I have written a whole post on it that you can read here, but to summerise.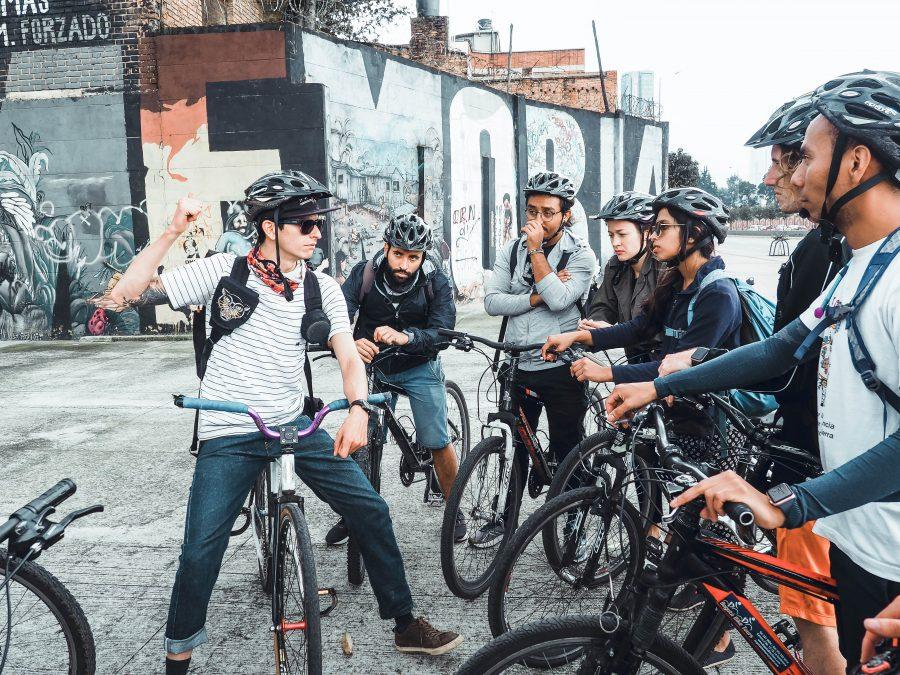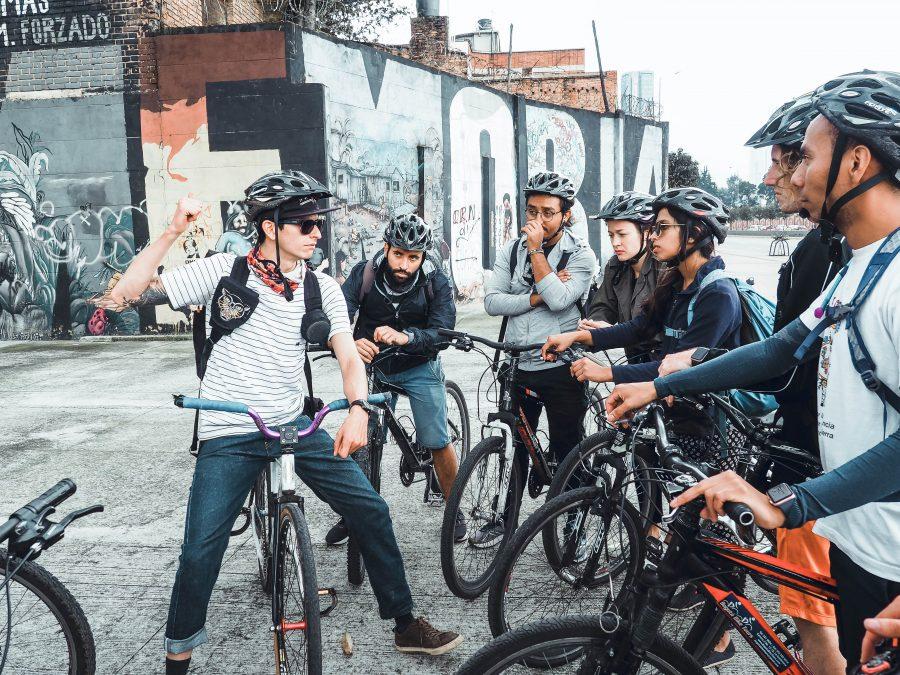 Because you are on a bike you will get to see much more of the city than you would be doing a walking tour.
The tour covers the following: Graffiti, fruits, Tajo (a Colombian game with explosives and beer), A coffee tour and so much more. Doing this tour means you will get to see a lot of the city in a relatively short space of time. The tour starts at 10:30 am.
Take a look at this short video to see some highlights of the tour.
Eat a traditional Colombian lunch – Ajiaco
After your bike tour, you will be famished I'm sure. So the next step of your Bogotá itinerary is to eat a traditional Colombian lunch. From the shop, turn left and walk to 11th Street. Turn right and on this street between 6th and 7th you will find many traditional Colombian restaurants.
The traditional lunch in Bogota is Ajiaco which you have to try. Be warned it is filling though!
Ajiaco is a soup made with 3 types of potato, corn, chicken, avocado, rice, and cream. If you are a vegetarian don't worry the chicken normally comes on the side or you can ask for no chicken.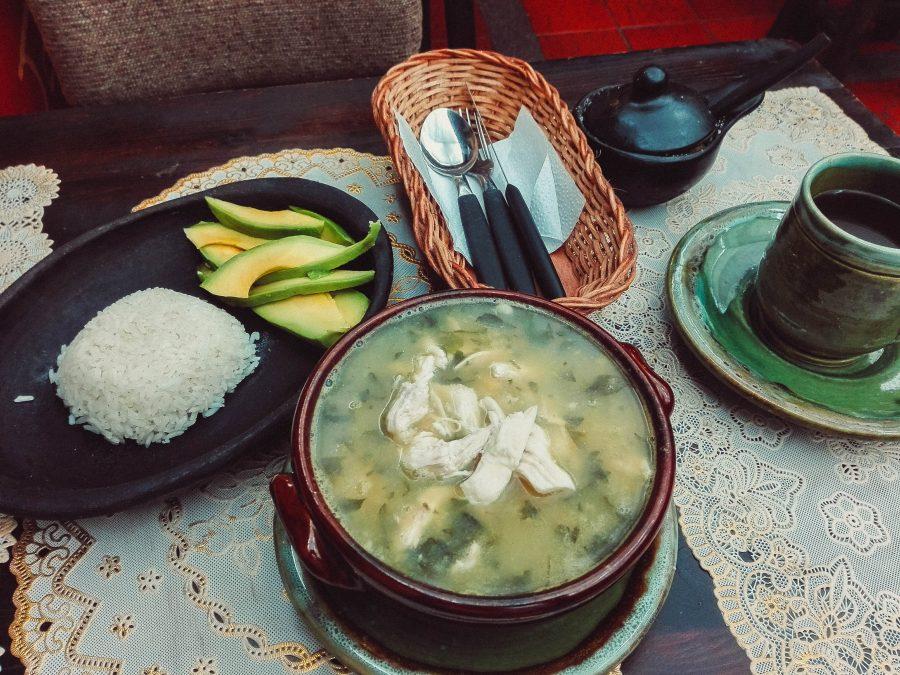 Take a walk along 7th Street
After lunch take a walk down the most popular street in Bogotá 7th street. To get here turn left onto Bolivia Square (Plaza de Bolívar). You can't miss the square, it's the one with all of the pigeons!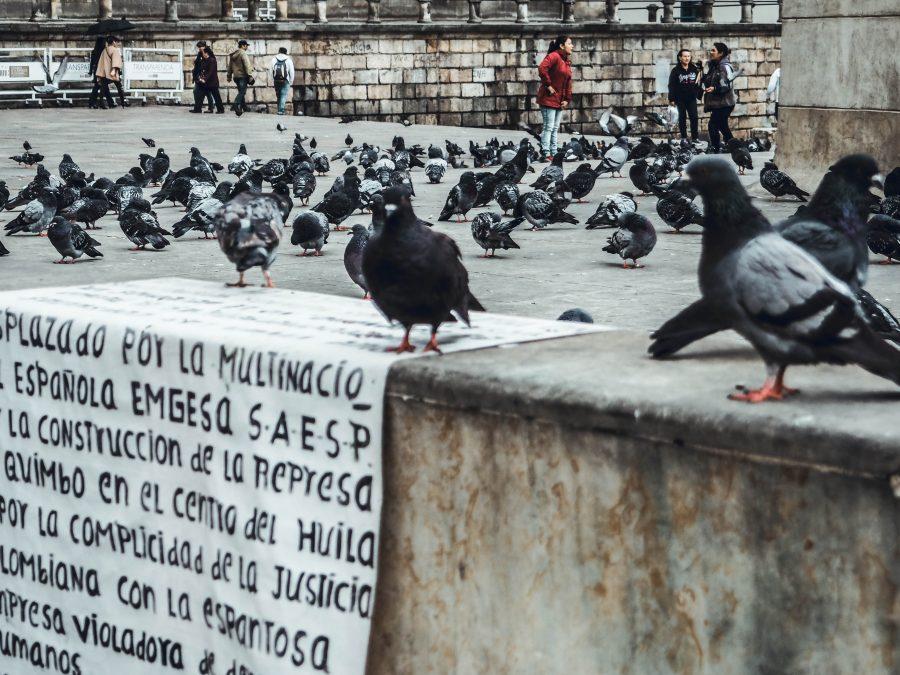 Plaza de Bolivia is the main administrative square in Colombia with the congress building, Palace of Justice and Cathedral.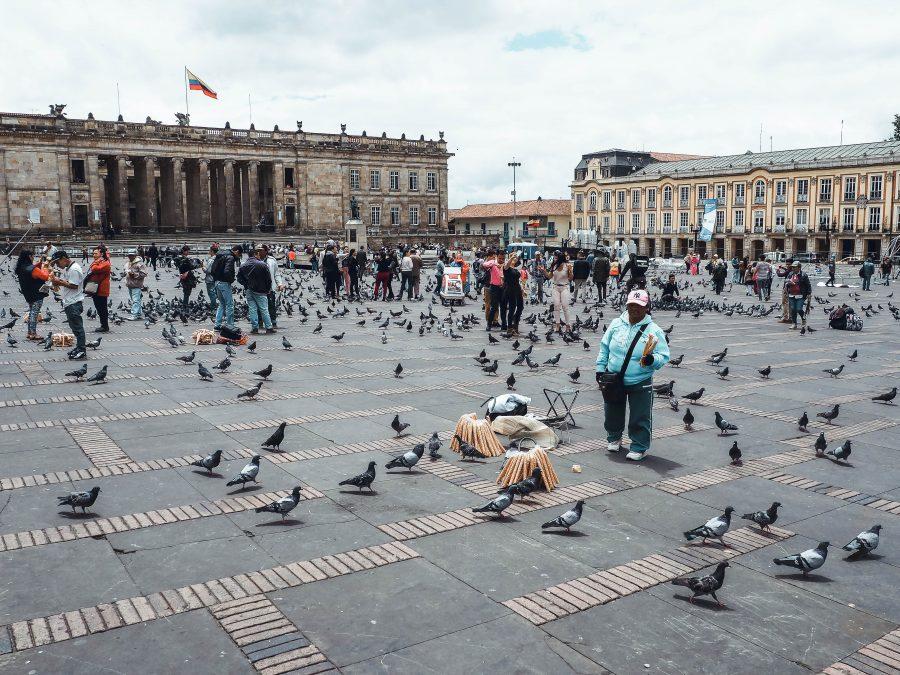 If you continue walking south passing through security you can walk past the president's residence.
Turn around and walk back the way you came and keep walking up 7th Street. In each city in Colombia, there is a 'walking street'. This is a street closed to cars where the street art of all kinds is encouraged. I love walking 7th and watching all of the performances and looking at the art drawn on the pavements.
Depending on time walk as far up the street as you can. If you have the time walk right up to the Museo National.
Good places to stop on the way are (in order as you pass them):
San Francisco Church ( the oldest church in Bogota)

Museo Del Oro (the gold museum)

Museo Nacional (the National Museum of Colombia)
As you only have one day in Bogota you may not be able to stop at all of them.
See some graffiti in Bogotá
On your way back down 7th turn left at Macdonald's onto 19th Calle. When you get to the roundabout at the top of the road turn right.
You will walk past Universities (where you can get a bus direct to the airport FYI) and Las Aguas Transmilenio stations. Just after Las Aguas, there is a market on your left and on your right is some graffiti that goes right around the corner.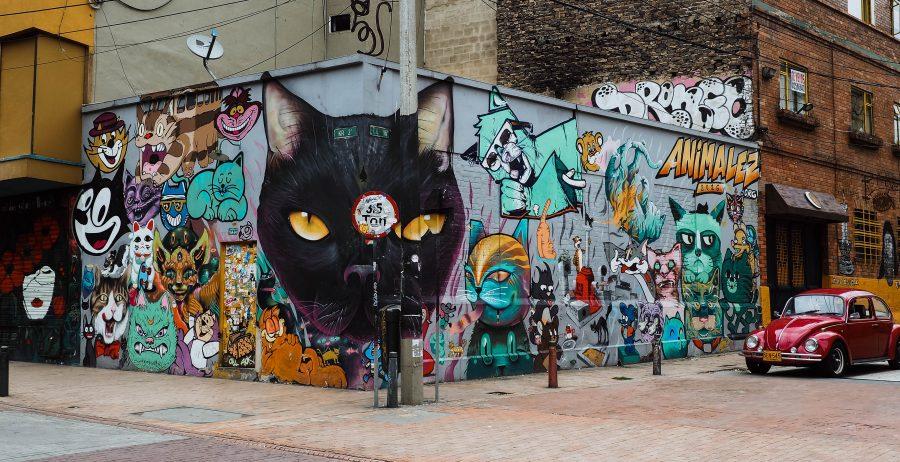 Cross through the park towards the OXXO shop where you will see some more.
Have dinner at one of Bogotá's best restaurants – Sant Just
Look for this road with the cool cat graffiti (ps make sure you find the right spot to stand in so you can get the full effect see image above), walk up that road.
Just on the right side, you will see a restaurant called Sant Just. If you are on a tight budget, BLOW it! This place is worth it. Honestly, it is hands down the best meal I have eaten in a long time. Fresh local produce with a French twist. I went all out and had 2 courses, a juice, and coffee and it set me back the grand total of $14 haha. That is pretty pricey as far as Colombia goes but it was so worth it!
If that is out of your price range you will find Arepas and Empanadas outside Las Aguas so grab a bite to eat on the street.
Nightlife in Bogota
After dinner walk back towards OXXO and up the road towards the main bar area of La Candelaria. Here you will find many bars and places to spend the evening partying. Be sure to drink some local beer and Chichi!
Wondering where to stay in during your one day in Bogota? I recommend staying in Chapenero over La Candelaria if you are staying longer than 24 hours in Bogota.
Hostels I recommend in Chapinero are:
Hotel Morrison
Selina Chapinaro
Republica Hostel Chapinero
Hotel Living 55
93 Luxury Suites & Residences
If you are only in town for 1 night then I recommend staying in one of these places in La Candelaria:
Selina La Candelaria
Casa artistica
Arche Noah Boutique Hostel
If you need a hotel close to the airport then I recommend the Radisson AR Bogota Airport.
Concerned about safety in Bogotá? Take a read of my safety guide to Bogotá.
Do you have more time? Take a read of my other Bogotá guides:
Or if you are planning a backpacking trip around Colombia take a read of my most popular Colombia posts here

This post was proofread by Grammarly
Are you ready to book your trip?  To help you get the best deals and service here are the companies that I personally use to book all of my travel online. I always shop around before booking anything, but these are my tried and tested starting places.