If you're looking for adventure, nature, culture, and beauty, this Central America itinerary highlights some of the best destinations to visit in this vibrant region!
From the charming colonial city of Antigua in Guatemala to the laid-back island of Caye Caulker in Belize and the lush cloud forest of Monteverde in Costa Rica, this trip offers a diverse range of experiences that will satisfy any traveler's wanderlust!
In this article, we'll delve into the details of each destination and suggest some must-see attractions and activities that will make your trip unforgettable.
Central America Backpacking Itinerary – 1 Month
One month of working seems like an eternity, and one month of travel goes by in a flash. Funny how that works. If you're thinking of spending 1-month backpacking Central America and you're lost on what you can actually do and fit in, we got you!
It's pretty hard to narrow things down, but focusing on Guatemala, Belize, and Costa Rica can give you a great overview of this region. If you try to cram in more than three countries, you might be running around a bit too much, not to mention spending a lot more money.
So what can you do with a month? A lot! Let's get into it…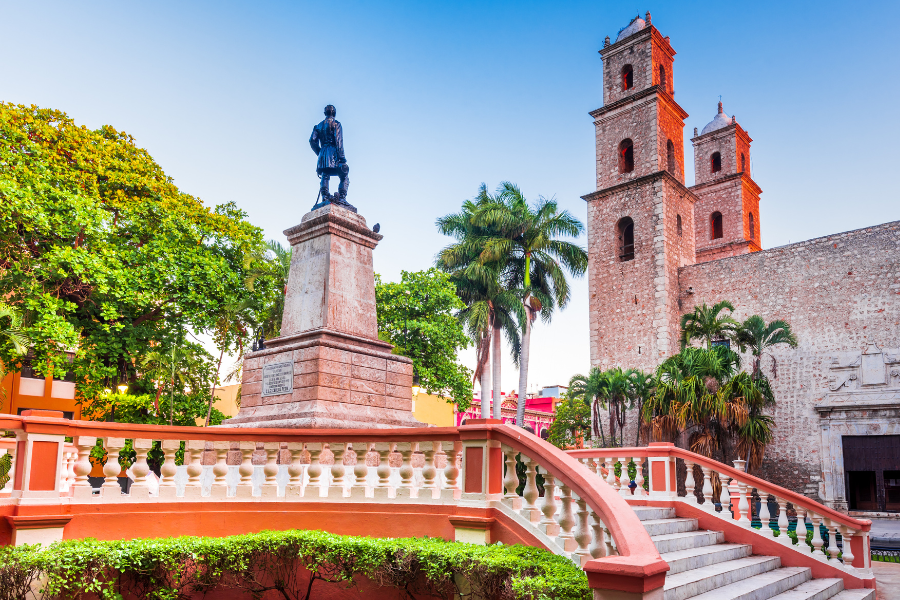 Did You Get Travel Insurance Yet?
If 2020 taught us anything, it's that you need to be prepared for anything! Travel insurance has always been high my list of things to get before I travel but now more than ever its at the top of my list.

I'm pretty sure we have all had travel plans messed up because of COVID and not all insurers covered this. So when looking for travel insurance it's important to check it covers travel disruption due to COVID-19, Hey Mondo, Passport Nomads, Safety Wing, and Travel Insurance Master all provide cover for this.

Hey Mondo is great if you are looking for a great value flexible policy. They offer single trip cover, annual multi trip cover, and long term travel cover. You even have the option to start the cover when you are already on your trip, although you won't be covered for the first 72 hours. For me my favourite feature is their app which offers you a 24/7 Dr chat and the ability to file a claim direct in the app.

Passport Nomads provides the most comprehensive cover for Digital Nomads. The game changer with them is that you have a red card and if you find yourself in need of medical care you just contact them and they will pre load your card with the funds to cover your treatment, meaning you won't need to pay out of pocket and then put in a claim later.

Safety Wing is great value with monthly cover starting at $39. It's super easy to use and it just renews each month. They have an excess of $250 and it's simple to make a claim through their website. I currently use them as they offer me free cover for my son as part of my policy and I like that it renews on a monthly basis, so I don't have to pay out a big lump sum up front.

I also use Travel Insurance Master for some short vacation type trips.

If you are doing shorter trips or an extended backpacking trip then Hey Mondo or Travel Insurance Master are the best option. If you are a digital nomad or planning travel of at least 6 months then go for Passport Nomads or SafetyWing.
Guatemala 9-Day Itinerary
Guatemala is a captivating Central American country with a rich indigenous culture and colonial heritage. From the magnetic city of Antigua, with its stunning architecture and vibrant markets, to the breathtaking natural beauty of Lake Atitlan, there is much to discover.
You can also explore the ancient Mayan ruins of Tikal, hike active volcanoes, surf in El Paredon, and sample delicious local cuisine. Guatemala's warm and friendly people, stunning landscapes, and unique cultural experiences make it an unforgettable destination for travelers.
Here's what we suggest you do with just over a week to explore.
1. Antigua:
Antigua is a picturesque colonial city located in the highlands of Guatemala. With its cobblestone streets, colorful buildings, and impressive architecture, Antigua exudes old-world charm and elegance.
One of the most iconic landmarks in Antigua is the Arco de Santa Catalina, a stunning archway that connects two convents and offers breathtaking views of the city. Another must-visit attraction in Antigua is the local market, where you can find a variety of handicrafts, textiles, and local foods.
For outdoor enthusiasts, hiking the Pacaya volcano is a popular adventure that offers stunning views of the surrounding landscape and even a pizza place that cooks using the volcano's heat (yes, really)!
For more of a challenge, you should definitely hike up Acetango volcano, where you can see Fuego spitting lava in the distance and where you can camp overnight—it's a once-in-a-lifetime experience but the hike up is killer!
2. Lake Atitlan: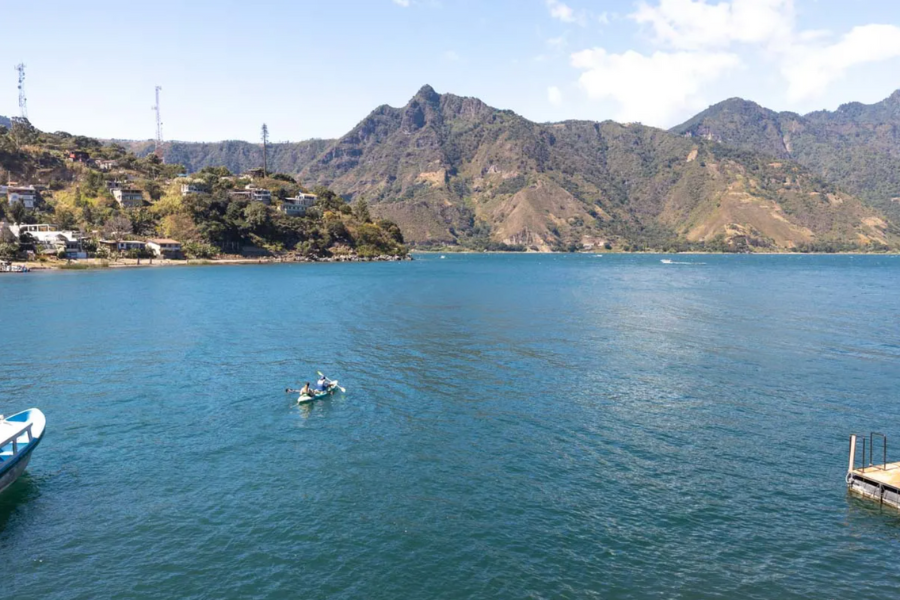 Lake Atitlan is a tranquil and scenic destination also located in the Guatemalan highlands.
Surrounded by volcanoes and lush forests, the lake offers a peaceful retreat from the hustle and bustle of city life.
Kayaking on the lake is a popular activity that allows visitors to admire the beauty of the lake and its surroundings. Another must-see attraction at Lake Atitlan is the indigenous villages that dot the shores of the lake.
These towns offer a glimpse into the rich culture and traditions of the Mayan people and provide an opportunity to purchase handmade crafts and textiles. The most popular towns for backpackers are Panajachel and San Pedro.
Luckily it's easy enough to visit all of them, just hop on a boat, and you're on the way!
3. Tikal
Tikal is an ancient Mayan city located in the rainforests of Guatemala. It was one of the Mayan civilization's largest and most powerful cities, with impressive structures such as temples, pyramids, and plazas. Tikal's peak was during the Classic Period, from the 6th to the 10th century AD, and it played a significant role in Mayan culture and history. Today, Tikal is a popular tourist destination and a UNESCO World Heritage Site!
Squeezing in Tikal to your Central America itinerary as it's also the pathway to entering our next country. We suggest doing a day tour from Flores where you'll base and then it's time to pack up to move on to the next country.
Belize 8-Day Itinerary
Belize is a small country located in Central America, known for its beautiful Caribbean coastline, lush tropical jungles, and impressive Mayan ruins. You can explore ancient archaeological sites, swim with nurse sharks and rays in the crystal-clear waters of the Belize Barrier Reef, and relax on white sand beaches!
The country is also home to diverse wildlife, including jaguars, howler monkeys, and colorful birds. With its unique blend of cultures and laid-back atmosphere, Belize is a destination that appeals to adventure-seekers, beach lovers, and history buffs alike.
Here are the best things to do in Belize for your eight days here.
1. San Ignacio:
San Ignacio, Belize is easily reached from Flores, Guatemala via a quick and easy bus ride.
San Ignacio is a charming town located in western Belize and serves as a hub for Mayan ruins and outdoor adventures. The ATM cave is a popular attraction in San Ignacio that offers a unique and thrilling experience of exploring a cave filled with Mayan artifacts and skeletons.
The Xunantunich Mayan ruins are another must-visit attraction in San Ignacio that offers a glimpse into the ancient civilization that once thrived in this region.
This will be your last chance to take in the history of the ruins on your Central America itinerary.
2. Caye Caulker: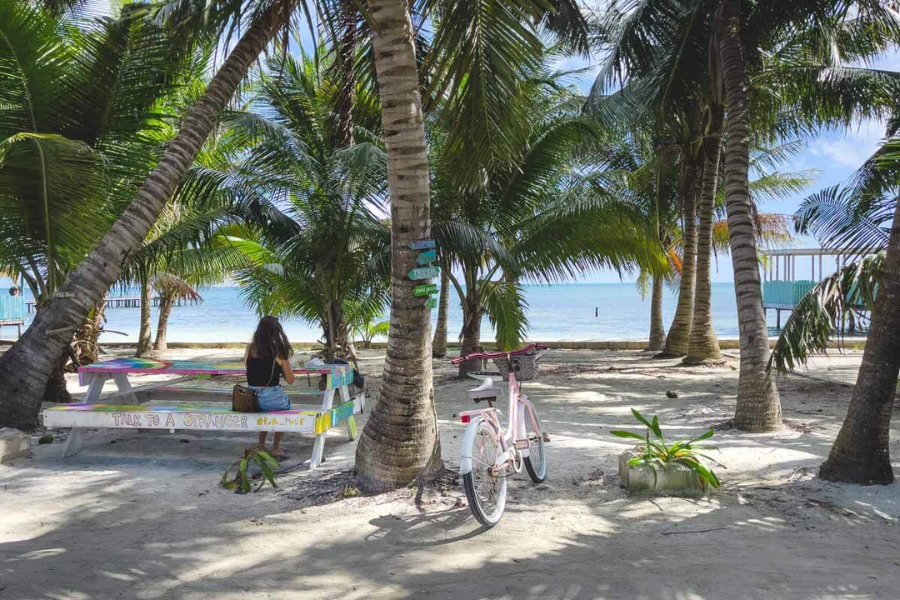 Caye Caulker is a laid-back island located off the coast of Belize and is known for its crystal-clear waters, colorful coral reefs, and friendly locals. Diving and snorkeling in Caye Caulker are the most popular activities on the island, and swimming with nurse sharks and exploring the coral reefs are must-do experiences.
The motto here is to go slow, so get ready to immerse in Carribean time. The island also offers a variety of dining options that feature fresh seafood, which is a must-try. The food in Belize will be some of the most delicious and fresh you'll eat on this itinerary—trust me!
3. San Pedro: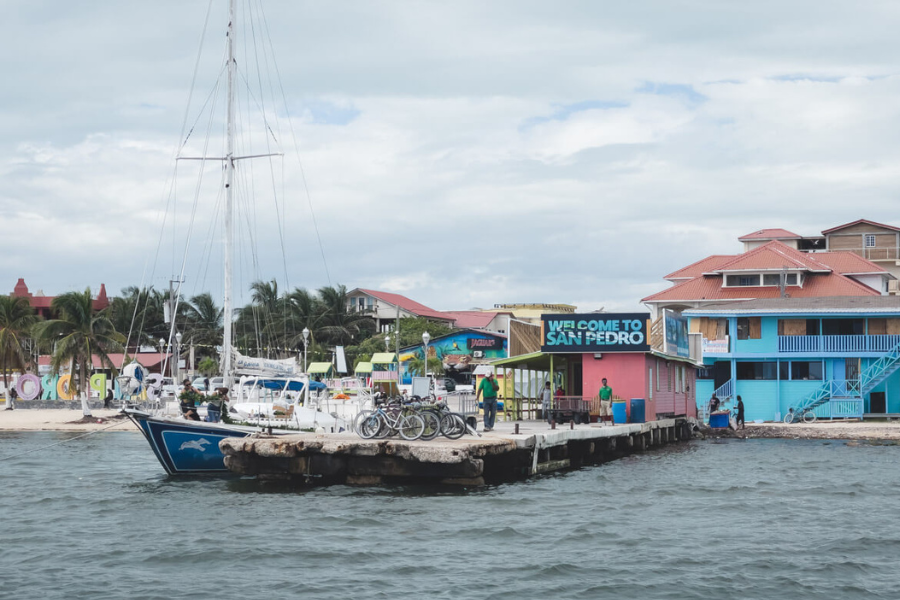 San Pedro is a bustling beach town located on Ambergris Caye in Belize and is known for its vibrant nightlife, varied restaurants, and beautiful beaches. Beach hopping is a popular activity in San Pedro, and Secret Beach (which is not so secret) is the best spot for lounging in paradise. Like Caye Caulker, there are plenty of snorkeling trips to enjoy and yummy fresh seafood to try! Speaking about food, make time for a dinner at Elvi's, it's so worth it.
This is your halfway point on your Central America itinerary, so take the time to chill for a bit before you have to pack up and move on to Costa Rica.
When your time in San Pedro, Belize is done, you'll take the quick ferry back to mainland Belize and grab a flight from Belize to Costa Rica.
Costa Rica 13-Day Itinerary
Costa Rica is a lush and vibrant country known for its abundant wildlife, stunning beaches, and impressive volcanoes. It offers a wealth of outdoor adventures such as zip lining, surfing, and hiking through dense rainforests. You can relax in natural hot springs, explore diverse national parks like Manuel Antonio and Arenal Volcano, and experience the vibrant Caribbean culture of Puerto Viejo.
Here's what you can do while backpacking Costa Rica.
1. La Fortuna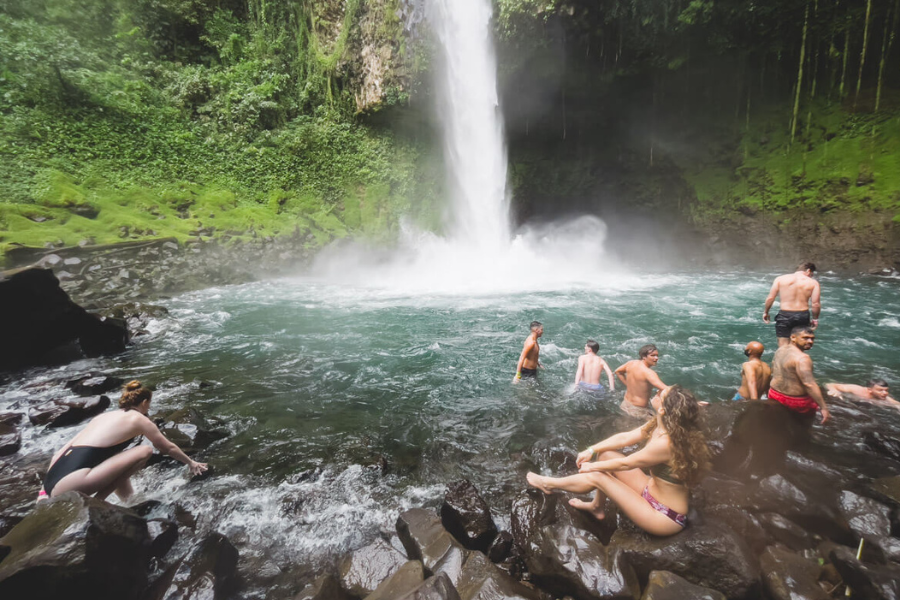 La Fortuna, located in the northern part of Costa Rica, is a popular tourist destination known for its stunning scenery and natural hot springs. It is the gateway to Arenal Volcano National Park, home to the Arenal Volcano, which stands at over 5,000 feet tall. You can take a hike to explore the volcano and its surrounding landscapes and then relax in one of the many nearby hot springs (seriously, there are a ton here)!.
There are tons of things to do in La Fortuna, but one of the main highlights here is hiking to La Fortuna Waterfall, which plummets 250 feet (75 meters) down into a massive pool of water you can swim in!
2. Monteverde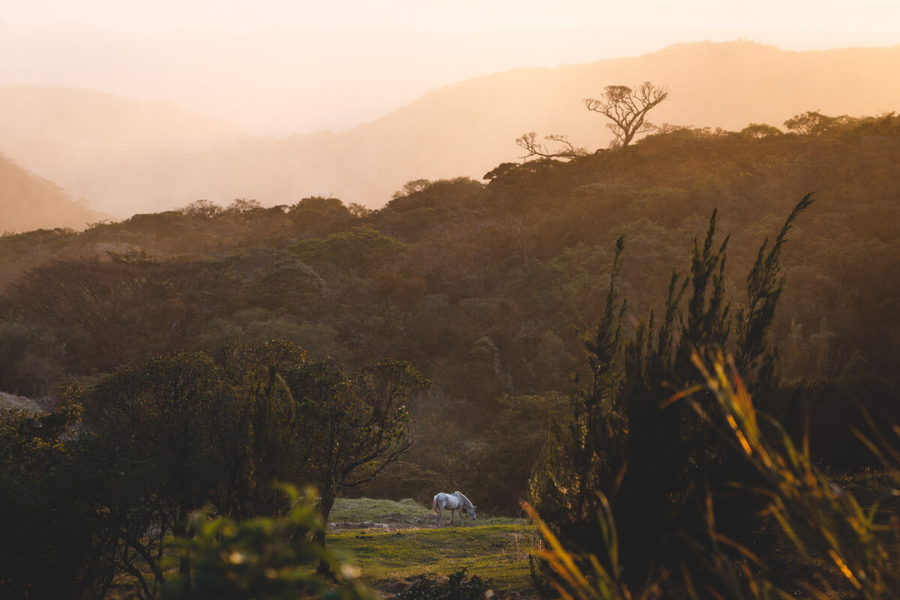 Monteverde is a cloud forest reserve in Costa Rica and a paradise for nature lovers. It is one of the most biodiverse areas in the world and offers plenty of opportunities to explore flora and fauna.
Adventurers can zip line through the canopy on Latin America's longest zipline, hike through the forest, or take a guided nature tour to spot exotic animals such as monkeys, sloths, and jaguars! Some of these animals are pretty difficult to spot yourself, so take at least one guided tour while in Costa Rica.
Here's how you can get to and from La Fortuna and Monteverde. Luckily it's pretty easy and very scenic.
3. Manuel Antonio
Manuel Antonio is a national park located on the Pacific coast of Costa Rica. It is home to some of the most beautiful white sand beaches in the country, and the park's diverse wildlife includes monkeys, sloths, and iguanas. You can take a hike through the lush tropical forest, relax on the beach, or even go on a guided tour to see the wildlife up close.
There are also some stunning beaches to lounge on here, but watch out for the cheeky monkeys and coatis, they might rummage or steal some of your stuff—seriously!
4. Puerto Viejo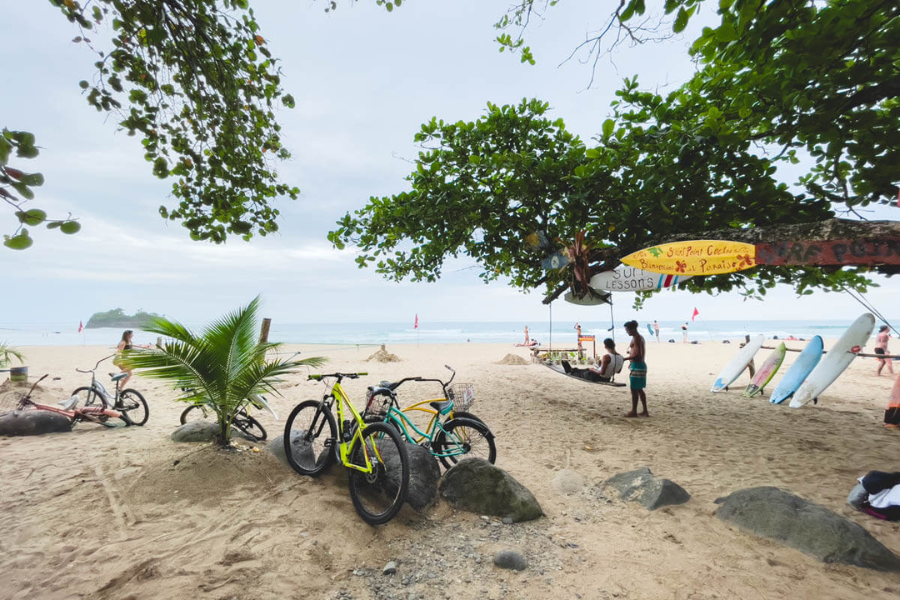 Puerto Viejo is a Caribbean beach town located on the southern coast of Costa Rica and is an epic spot to end your journey!
It has a unique Afro-Caribbean culture, which is reflected in its food, music, and art. You can explore the nearby national parks, including Cahuita National Park and Gandoca-Manzanillo National Wildlife Refuge, which offer opportunities to see a variety of wildlife if you're not tired of trying to spot a sloth yet (can you get tired of this? I didn't!).
For those who need to work on their surf skills, just head to Playa Cocles and rent a board for $5 an hour and get to practicing.
For a peaceful afternoon of kayaking and coconut sipping, you can take a tuk-tuk to Punta Uva for a gorgeous stretch of sand to relax on.
Tips for Your Central America Itinerary
Remember, running around too quickly can be tiring and more expensive. Adding another country or too many other places to go might be a bit much!
Don't underestimate the need for a good-quality travel backpack for your trip. Your back will thank you!
Take your everyday precautions and keep your belongings close to you. These countries are overall quite safe, particularly in the top tourist spots you'll be visiting, but it's smart to always keep your wits about you.
All three countries here use different currencies. In Guatemala, it's the Quetzal, in Costa Rica, it's the Colón, and in Belize, it's the Belizean Dollar.
You should change the ordering of this itinerary to what makes sense for you! If you find a better flight deal to Costa Rica, then head there first and then to Guatemala and Belize. Definitely check the best deals from your starting city.
What to Pack For One Month in Central America
We hope this helped you with your Central America itinerary planning!
Author's Bio
Nina has been traveling the world since 2011 and blogging at Where in the World is Nina along the way. She can be found hiking volcanoes, swimming with fish friends, or surfing some waves. Nina's blog helps wannabe long-term travelers find ways to work abroad and remotely so they can continue exploring the world for longer!