Wondering where the best place to stay in Bogota Colombia is? In this guide to hotels in Bogota, I'm not only going to recommend to you the best and safest areas in Bogota to stay. But I'll make recommendations of the best Bogota hostels to stay in or if you aren't on a backpacker's budget and want to find the best hotels in Bogota, I have a few recommendations.
As a solo traveler, one of the things that always gets me is knowing which area to stay. Bogota is a city where I got it seriously wrong. It can be a bit tricky in any big city, but here it is especially important to get it right because there are areas of the city that are safer than others. In this guide, I'm going to break down the different areas and make some recommendations based on my personal experience of living in Bogota.
While I lived in Bogota I got into a few unsafe situations. I was robbed, pickpocketed, and felt very unsafe at times. I don't say this to put you off, quite the opposite, I'd go back to Bogota tomorrow. But if only I'd done some research before renting an Airbnb in Bogota my experience would have been very very different.
Need a Colombia backpacking itinerary? Click here to read mine.
So without further ado here are my recommendations for the best area to stay in Bogota.
Need to book transportation in Colombia?
I highly recommend booking all of your Colombia transportation with GuateGo. You can search for buses, shuttles, ferries, and Flights on their website. What I love most about them is their customer service. I know these guys personally from my time living in Guatemala and they really do look after their customers. So if anything happens and you get delayed and miss your bus, you can just call them and they are always there to help.

If you book through them you will pay a little more than if you book in person at the bus station. But it's worth it for the ease and security in my opinion. Click here to search for transportation in Colombia.
The Best Places to Stay in Bogota Colombia
First things first, if you are staying in Bogota for more than a night don't stay in La Candelaria. If you are traveling solo and at all worried about your safety this is the area I would strongly suggest you avoid. Now I know this advice may be contradicting things you have read in guidebooks and heard from other backpackers. But are they women traveling solo, and have they actually lived in Bogota? Well, I have and I only wish someone had told me this before I lived on my own in La Candelaria for 2 months.
I'm not going to go into it too much here but the issue is at night it just isn't the safest area. As it isn't so safe to get a taxi it means you will be taking a risk wandering around at night alone here.
The best place to stay in Bogota is towards the north of the city.
Did You Get Travel Insurance Yet?
If 2020 taught us anything, it's that you need to be prepared for anything! Travel insurance has always been high my list of things to get before I travel but now more than ever its at the top of my list.

I'm pretty sure we have all had travel plans messed up because of COVID and not all insurers covered this. So when looking for travel insurance it's important to check it covers travel disruption due to COVID-19, Hey Mondo, Passport Nomads, Safety Wing, and Travel Insurance Master all provide cover for this.

Hey Mondo is great if you are looking for a great value flexible policy. They offer single trip cover, annual multi trip cover, and long term travel cover. You even have the option to start the cover when you are already on your trip, although you won't be covered for the first 72 hours. For me my favourite feature is their app which offers you a 24/7 Dr chat and the ability to file a claim direct in the app.

Passport Nomads provides the most comprehensive cover for Digital Nomads. The game changer with them is that you have a red card and if you find yourself in need of medical care you just contact them and they will pre load your card with the funds to cover your treatment, meaning you won't need to pay out of pocket and then put in a claim later.

Safety Wing is great value with monthly cover starting at $39. It's super easy to use and it just renews each month. They have an excess of $250 and it's simple to make a claim through their website. I currently use them as they offer me free cover for my son as part of my policy and I like that it renews on a monthly basis, so I don't have to pay out a big lump sum up front.

I also use Travel Insurance Master for some short vacation type trips.

If you are doing shorter trips or an extended backpacking trip then Hey Mondo or Travel Insurance Master are the best option. If you are a digital nomad or planning travel of at least 6 months then go for Passport Nomads or SafetyWing.
The safest area to stay in Bogota
Usaquén, Chapinaro, or Zona Rosa are the areas I would advise anyone to stay in. You can easily get public transport down to La Candelaria to go and explore the downtown area. The nightlife in La Candelaria is ok, but the nightlife in Chapinaro and Zona Rosa is far better, and safer.
As a general rule when deciding where to stay in Bogota the further north, the safer, and the further south the less safe. Don't go further south than La Candelaria.
These are the best places to stay in Bogota:
Usaquén
This is the best area for foodies. The first time I was here I was a little worried it was too far north. But the area is so nice and there is so much to do close by, it's not the area I like to stay in when I'm in Bogota. It's very safe to wander around at night and there are a lot of great restaurants close by.
Hotel Recommendation – Hotel Morrison Bogota
Chapenero
If you are looking for a lively hipster area then Chapinero is a great choice. Safe to walk at night, this is where all the cool kids live. There are plenty of coffee shops and cool places to hang out here. It's also very well connected by public transport making it easy to get around the city.
Hotel Recommendation – Hotel Living 55
Zona Rosa
If you want to party then Zona Rosa is the best for the nightlife. Lots of restaurants, bars, and nightclubs are in this area. This does mean it can get a little noisy. But it's very safe here.
Hotel Recommendation – Hotel Vilar América, Chapinero
Parque 93
Parque 93 is the best area for families, it's where all the rich Colombians live so there are lots of green spaces and it's very chill here. You will also find lots of great places to eat and drink and it's close by to Chapenero and Zona Rosa.
Hotel Recommendation – Selina Parque 93 Bogota
Teusaquillo

If you are a backpacker just in town for a night or 2 then Teusaquillo is the place for you. Accommodation here is cheap and it's neighboring La Candalarea making all of the main tourist attractions close by. This means you are close enough but in a much safer area. It's also on the airport road making it even easier to get to and from the airport.
Hotel Recommendation – Hostel Bandido
Want more information on where to stay in Bogota? Bellow, I have separated all of the Bogota hostels and hotels I recommend by price and kind. I have put some options for places to stay in La Candelaria as if you just have a night in the city it may be easier for you to stay here, although I'd still recommend Teusaquillo over La Candalaria personally.
All of the places I have recommended are safe and secure so you can rest easy.
The Best Hotels in Bogota Colombia
This is my top pick. It's in one of the safest areas of Bogota, it's perfect for foodies, and most importantly the hotel is wonderful. I stayed here on my last visit to the city and I was well looked after by the staff who took the time to help me find the best places to eat in the area.
The bed was so so comfortable I didn't want to get up in the morning! It's modern, clean, and feels very fresh. The view I had over the city was spectacular and I really enjoyed my stay there. It is pretty north but it only cost me $11,000 pesos (about $3.50 USD) to get downtown using the Beat App. The bonus about staying in the Usaquen area where Hotel Morrison Bogota is located is there is a lot to do in the area at night. There are plenty of restaurants within walking distance. Plus if you want to go shopping the Unicentro mall is a 15-minute walk. Breakfast is included and parking is available free of charge.
Hotel Casona is one of the best budget hotels in Bogota and has everything you need for a comfortable stay. Rooms have private bathrooms with hot and powerful showers, and the beds are really comfortable. The communal spaces at Casona are well maintained and there's lots of unique character to be enjoyed.
Usaquen, where Hotel Casona is situated, is a great area to be based in. There are plenty of highly-rated restaurants and bars in close proximity and it's a safe and quiet area, so it's a great option if you're planning your first trip to Bogota.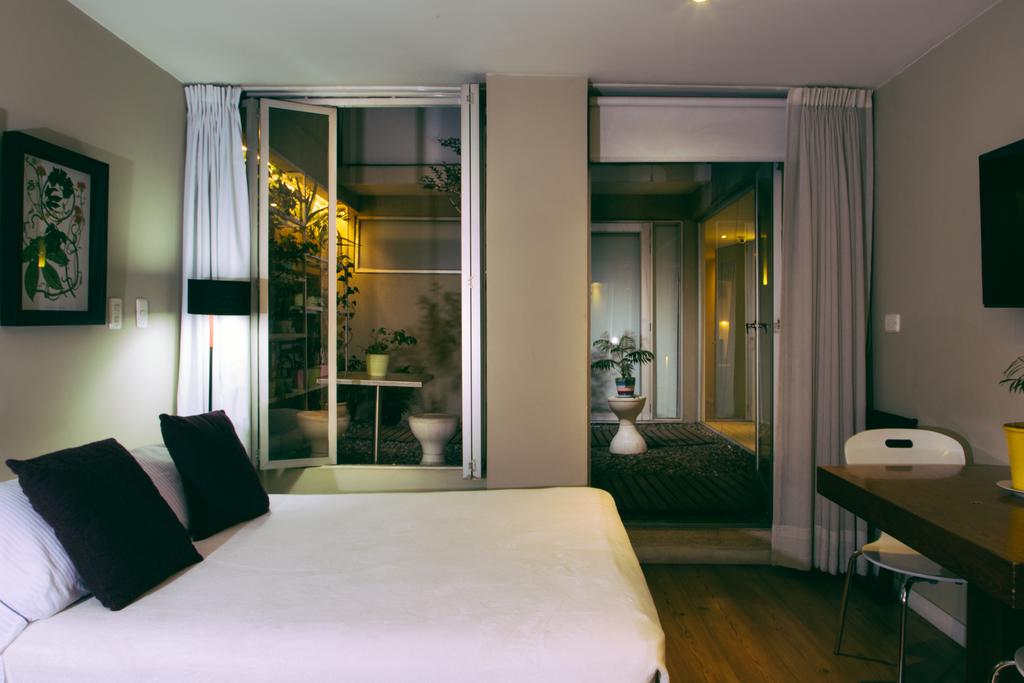 Despite the name, Hotel Living 55 is actually a series of self-catering apartments. Each one has a TV and a small kitchen featuring a microwave and refrigerator. Bathrooms are well equipped and the showers are powerful and hot, which is necessary for a city that gets a chilly as Bogota. Some of the apartments also have balconies and patios to enjoy city views from.
The apartments still have many traditional hotel perks, including a 24-hour front desk and room service. A delicious breakfast is also served for an additional fee. There's no wonder this hotel is constantly listed as one of the best Zona Rosa hotels in Bogota.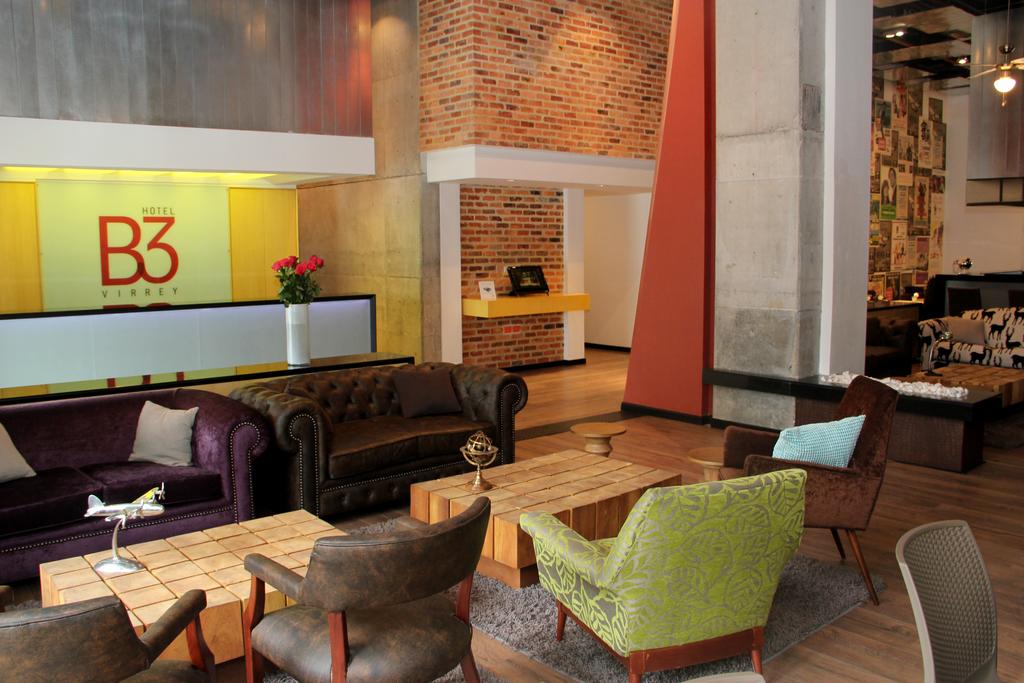 Rooms are modern, clean, and spacious. Each one includes a TV, a work desk, and a private bathroom with a hot shower and a hairdryer. The blackout blinds and comfortable beds ensure a great night's sleep, too.
The terrace is the perfect spot to enjoy a glass of wine and the bar offers a delicious tapas menu if you're too tired to go out after a day of sightseeing. There's also a generous breakfast buffet served every day which is included in the price, and all that indulgence can be worked off in the 24-hour onsite fitness center.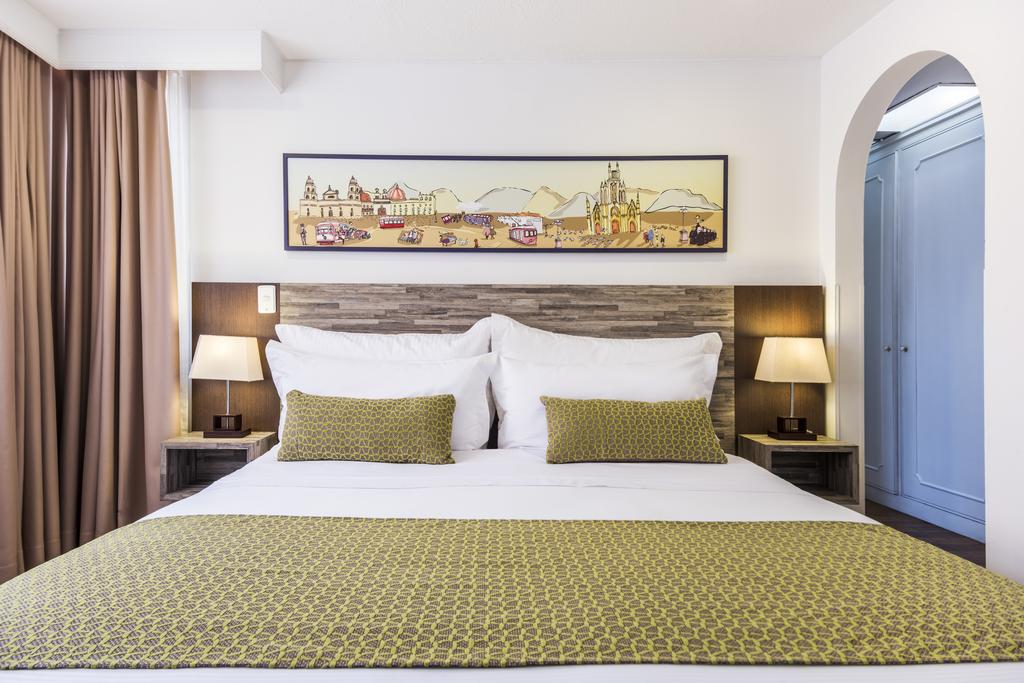 Hotel Vilar América is modern and stylish and is one of the best Zona Rosa Bogota hotels. As well as plush single and double rooms, there are also deluxe studios and luxury apartments on offer if you want the extra space and the option for basic self-catering. Whichever room you go for, they're all very well priced.
There's a delicious buffet breakfast served daily, and the restaurant and bar offer plenty of local delights. There are plenty of eating and drinking options nearby, too, if you prefer to go out. Staff at Hotel Vilar América are incredibly welcoming and can arrange airport transfers for you, as well as any trips or tours you might be interested in.
The Best Luxury Hotels in Bogota
This beautiful condo hotel is in the heart of Chapinero and is one of the best luxury hotels in Bogota. It's the perfect combination of having a spacious, well-equipped apartment and the luxury and convenience of a five-star hotel.
The terrace offers panoramic city views, the restaurant serves an international a la carte menu, the bar has an impressive drinks and snacks menu, and there's also a well-equipped fitness center. The front desk is 24-hours and a buffet breakfast is served daily. The self-catering condos themselves are spectacular and feature kitchens, iControl, home theaters, and balconies.
Located within walking distance of the Zona T area, the Victoria Regia offers old-school luxury in an unbeatable location. Rooms are as luxurious as they come and feature feather duvets, 400-count sheets, and a pillow menu. The bathrooms are just as plush as the bedrooms and include Hermes or Lanvin toiletries.
The hotel's restaurant specializes in tasty Mediterranean cuisine or you can sample the incredible French and Colombian fusion cuisine instead. There's also a business center and gym available for use. Service is impeccable and the entire experience feels five-star.
The Best Hostels in Bogota
Selina is a hugely popular chain of hostels throughout Europe and the Americas and the La Candelaria property is one of the best Bogota hostels. The location is perfect for exploring the historic center, with plenty of museums, galleries, and points of interest in close proximity.
Socializing is at the center of Selina's ethos, and there's a yoga deck, movie room, BBQ facilities, and a beautiful garden to meet people in. Digital nomads also rate Selina hostels highly and there are plenty of quiet spaces with strong wi-fi to get work done.
The rooms are more boutique hotels than a budget hostel, and even the shared dorms are quirky, spacious, and very well equipped.
If you're looking for a cheap room in a great central location, Casa Artistica is worth checking out. Bolivar Square is only a 20-minute walk and there's plenty of history to enjoy all around the hostel.
Rooms are private but there are various sizes available which is ideal if you're traveling with friends or as a family. Each room has a cute patio with a beautiful city view, and a kettle and wardrobe are provided, too.
This hostel is close to cafes and restaurants in Bogota. The hostel itself is stylish, modern, and extremely comfortable. The bunk beds in the dorm rooms are comfortable and provide plenty of privacy, and the plush private rooms are bright and clean.
The common areas are beautifully decorated and are set up for socializing. There's an on-site bar for post-sightseeing cervezas, and the Wi-Fi is great throughout the property if you're in the mood for Netflix and chill. If you're looking for budget accommodation in Bogota, you can't do much better than Republica.
The Best Boutique Hotels in Bogota
This boutique hotel in Bogota has lovely cozy private rooms and bunk bed-free dorm rooms. The spacious terrace is the perfect place to catch some rays if you're lucky enough to experience a sunny day in Bogota, and the indoor communal areas are perfect for relaxing and meeting other travelers.
The 24-hour front desk is manned by friendly and helpful staff who can recommend activities and book you on trips and tours. Breakfast is available each morning for a small fee, and there's great Wi-Fi throughout the hostel if you have work to do. If you're looking at boutique hotels in Bogota, Arche Noah is definitely worth considering.
Hotels near El Dorado Airport Bogota
If you have an early flight to catch, the Radisson AR is an excellent airport hotel at Bogota airport. The ambiance is perfect, the staff are very helpful, and the food served in the restaurant is fantastic.
The rooms are soundproofed to ensure you're not disturbed by noise from Bogota airport while at the hotel, and they all have air conditioning and free Wi-Fi as standard. For a bit of pre-flight pampering, there's a wellness center offering beauty treatments as well as a relaxing indoor pool with hydro-massage. If you're in Bogota and need a hotel at the airport, this Radisson AR is unbeatable.
Final Thoughts
I really hope this guide has helped you to find the right place to stay in Bogota. It really is an incredible city, just keep your guard up and you will be fine.