Miami in the United States is one of the most interesting cities in Florida to visit. It's incredibly diverse and brimming with culture. The tropical weather brings the crowds but so does the art, nightlife, restaurants, and of course, beaches. It's famous for its over-the-top lifestyle–the lavish parties, celebrity sightings, and designer-clad models. But…Miami is also notorious for how expensive it is. Don't let that deter you though, because believe it or not, you can actually find quite a few cheap things to do in Miami – especially if you come prepared and use this epic Florida packing list.
This sultry city isn't only full of overpriced vodka sodas and top-tier restaurants. There are historical buildings, state parks, and numerous museums to explore. This is a city that has art around every corner and you don't always have to pay to see it. Whether you're staying a week or just on a quick weekend getaway, there are plenty of things to do that won't break the bank.
Did You Get Travel Insurance Yet?
If 2020 taught us anything, it's that you need to be prepared for anything! Travel insurance has always been high my list of things to get before I travel but now more than ever its at the top of my list.

I'm pretty sure we have all had travel plans messed up because of COVID and not all insurers covered this. So when looking for travel insurance it's important to check it covers travel disruption due to COVID-19, Hey Mondo, Passport Nomads, Safety Wing, and Travel Insurance Master all provide cover for this.

Hey Mondo is great if you are looking for a great value flexible policy. They offer single trip cover, annual multi trip cover, and long term travel cover. You even have the option to start the cover when you are already on your trip, although you won't be covered for the first 72 hours. For me my favourite feature is their app which offers you a 24/7 Dr chat and the ability to file a claim direct in the app.

Passport Nomads provides the most comprehensive cover for Digital Nomads. The game changer with them is that you have a red card and if you find yourself in need of medical care you just contact them and they will pre load your card with the funds to cover your treatment, meaning you won't need to pay out of pocket and then put in a claim later.

Safety Wing is great value with monthly cover starting at $39. It's super easy to use and it just renews each month. They have an excess of $250 and it's simple to make a claim through their website. I currently use them as they offer me free cover for my son as part of my policy and I like that it renews on a monthly basis, so I don't have to pay out a big lump sum up front.

I also use Travel Insurance Master for some short vacation type trips.

If you are doing shorter trips or an extended backpacking trip then Hey Mondo or Travel Insurance Master are the best option. If you are a digital nomad or planning travel of at least 6 months then go for Passport Nomads or SafetyWing.
Areas to Explore in Miami
The great thing about Miami is that there are a lot of unique areas where you can just walk around and explore. These areas have enough character on their own that you don't actually have to spend any money when visiting them.
Lincoln Road
Location: Between 16th and 17th Street in South Beach
One of the most popular places to go in South Beach is Lincoln Road. It's a pedestrian street filled with outdoor dining, boutiques, and art galleries. The street runs across the island of Miami Beach and leads right to the actual beach and the boardwalk that runs parallel to it. Even if you don't come here to shop, it's got a great ambiance.
The busyness of the street makes it a great spot to people watch. You'll find bunches of palm trees lining the streets and a section of black and white striped pavement reminiscent of Impanema. And if you do want to sit down for a bite to eat, head there right before happy hour (in case there's a waitlist).
The Design District
Location: 140 NE 39th St.
One area that you absolutely must add to your list of places to go is the Design District. This neighborhood is filled with fun art sculptures, sleek architecture, and non-budget-friendly high-end boutiques. BUT expensive shopping spree aside, there is so much to look at. It's got bright colors and unique sculptures everywhere you look.
If you're traveling with children, there are a few fun things for them also, like random playground components, swings, and even a pink parking garage with a slide and net.
Espanola Way
Location: Between 14th and 15th Street in South Beach
This historical street is located just a few blocks from Lincoln Road and is another pedestrian street with outdoor dining. Back in the day, it was an artist's colony with Mediterranean vibes and it retained a lot of that atmosphere. It's a lively street with music and lights at night.
Ocean Drive + The Art Deco District
Location: South of 15th street along the beach
Ocean Drive is one of the most famous streets in all of Miami. It's recognizable by its Art Deco architecture, neon lights, and wide stretch of sand right next to the street. And, you might have seen it in a number of movies and TV shows, like Scarface, There's Something About Mary, and of course, Miami Vice.
One side of the street is lined with art deco hotels and restaurant seating out front. You can also glimpse the famous Versace Mansion tucked between buildings. The other side is where you'll spot beachgoers and rollerbladers along the boardwalk. There's a large park area just before you get to the sand.
Ocean Drive is part of the Art Deco District, but you'll see art deco buildings all over. Most of the area is between 5th street and 23rd on Ocean Drive, Collins Avenue, and Washington Avenue.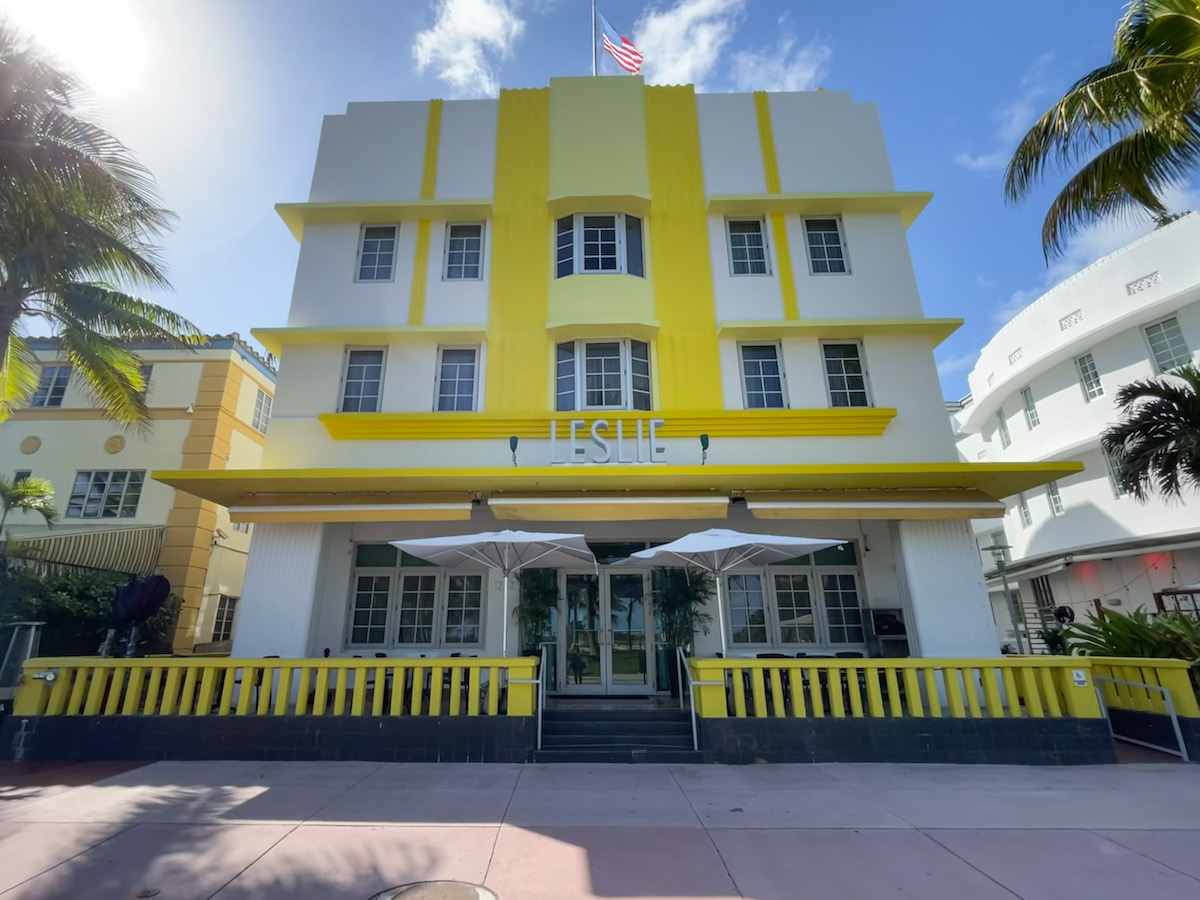 Bayside
Location: 401 Biscayne Blvd
Bayside Marketplace is located in Downtown Miami and is a two-story outdoor shopping center that sits right on the water. There are lots of shops and restaurants in this area and they often have free live music. You can take a boat tour from here or take in the views of Miami from the Skyviews Ferris Wheel. Bayside also happens to be the most visited attraction in Miami.
Little Havana
Location: Around SW 8th Street
Little Havana centers around SW 8th Street, or Calle Ocho, and is where you'll get a taste of Cuba. This walkable area is full of history, culture, art, and music. Try authentic Cuban cuisine for lunch, catch locals playing dominos at Domino Park, see hand-rolled cigars get made, or grab a Cuban coffee.
Staying in Miami a little longer?
Here is how to Make friends in Miami
Living in Miami? Find out if there's a OneRoof community in your building here
You can join an exclusive network of hundreds of Super Neighbors and start a OneRoof community in your building! Apply here.
Free Activities
Though it's easy to spend a lot of money, you can find quite a few free things to do in Miami.
Hit the Beach
If you're taking a trip to Miami, getting some quality beach time is likely at the top of your list and the beaches in Miami are pretty great. Anywhere along the east coast of Miami Beach is nice to go. South Beach is going to be more crowded, but the beach is large. The further north you go, the quieter it will be. The cute lifeguard stands? You can find them all along the way from South Pointe up to 87th street!
Walk the South Pointe Pier
At the very end of South Beach is where you'll find South Pointe and the South Pointe Park Pier. It's a 450-foot pier that extends out over the ocean to give you a view of South Beach from the water. There's no fee to walk down it and it's open from sunrise to sunset.
Miami Beach Botanical Garden
Location: 2000 Convention Center Dr
In the middle of Miami Beach, you'll find the Miami Beach Botanical Garden: 3 acres of lush landscape that create a little oasis in the heart of the city. Explore the Palm Garden which consists of over 100 palm species, the Japanese Garden for a taste of serenity, or the Collins Canal Promenade–a palm tree-lined walkway by the water.
Holocaust Memorial Miami Beach
Location: 1933-1945 Meridian Ave
Right next to the Miami Beach Botanical Garden is a Holocaust Memorial. Miami actually has a pretty big Jewish population and in the 80s, there were an estimated 20-25,000 holocaust survivors residing in South Florida. A group of survivors formed the Holocaust Memorial Committee and the memorial was finished in 1990. It's open from 10am-sunset for self-guided tours.
Watch the Sunset From South Pointe Park
South Pointe Park runs along the tip of Miami Beach and has a beautiful boardwalk right next to the water. This is a great place to walk around, but a large grassy area on the west side is the perfect spot to watch the sunset over the city.
Tour the Biltmore Hotel
Location: 1200 Anastasia Avenue, Coral Gables
The Biltmore Hotel is an iconic and luxurious hotel located in Coral Gables that is also a National Historic Landmark. It has a Mediterranean style with stunning architecture and beautiful interiors. Built in 1926, the hotel served as a hospital during WWII before becoming a hotel again in 1987. It has seen plenty of famous visitors over the years, from Franklin Roosevelt to Judy Garland, to Al Capone. Head there on Sunday at 1:30 for a free tour of the property.
Search for Art Around the City
As previously stated, Miami has art around every corner and a fun thing to do is stumble upon it or go searching for it! Find the 8th Magic Mountain near the Bass Museum, the giant Britto palm trees on Fifth and Alton, or the golden mammoth at the Faena Hotel.
Cheap Activities
Rent Bikes in South Pointe Park
Cost: $6.95 for one hour, $10.95 for two hours
A fun way to explore South Beach is by renting a bike from one of the Citi Bike stations. You'll find bike stations every few blocks, so it isn't hard to get one or return on. Bike around Ocean Drive, to Lincoln Road, or along the beach boardwalk! It's a great way to avoid the traffic and parking situations also.
Visit Bill Baggs Cape Florida State Park
Cost: $8 per vehicle
Location: 1200 Crandon Blvd, Key Biscayne
Florida has an abundance of state parks and this one is just a few minutes from Downtown. Bill Baggs Cape is where you'll find a long stretch of beach and an 1825 historic lighthouse. Make sure to head up to the lighthouse for endless views of the Atlantic!
This is the perfect place to relax on the white sanded beach and do a photoshoot with the stunning scenery.
Wynnwood Walls
Cost: $12 for adults, free for children 12 and under
Location: 266 NW 26th St
The Wynwood Walls is a famous area where you'll find spray-painted wall murals/graffiti by talented artists. At one point, the Wynnwood Walls were free to walk around, but they've now created a sort of closed-off area and are requiring tickets. If you want to see the actual Wynnwood Walls, it's got a $12 fee but you can also drive around the surrounding area to see other artists for free. In Miami, art is everywhere, so you can always find some.
Perez Art Museum
Cost: Free every Second Saturday, or $16 for adults, $12 for kids
Location: 1103 Biscayne Blvd
If your trip coincides with the second Saturday of the month, you can get into the Perez Art Museum for free. This gallery is recognizable by its sleek lines and hanging greenery out front and sits right next to the water Downtown. It features modern and contemporary art.
Venetian Pool
Cost: $16 in offseason, $21 in peak season
Location: 2701 De Soto Blvd
It's hard to beat the beach, but if you want a change of scenery, you can check out the Venetian Pool in Coral Gables. This historic 820,000-gallon pool opened in 1923. It's made from a coral rock quarry and is fed with spring water. There are two waterfalls, stone bridges, and grottoes to explore. The surrounding area is like a little oasis with palm trees and Venetian-style towers.
Zoo Miami
Cost: $22.95/person
Location: 12400 SW 152nd St
Zoo Miami is the largest zoo in Florida and the only subtropical zoo in the continental US. The animals here are in exhibits that closely resemble their natural habitat but still allow you to get in close range. There are over 500 animal species, 1,000 plant species, and 100 special exhibits. They're also involved in many conservation efforts across the globe!
Cost: $25/person
Location: 3251 S Miami Ave
Vizcaya is a Gilded-Age estate that sits on the edge of the Biscayne Bay between Brickell and Coconut Grove. Vizcaya was previously a villa that belonged to James Deering and is now a museum and garden. You can explore the beautifully painted interiors, get a glimpse of 1920s living, and the gardens. Vizcaya is a popular place for photography and it's easy to see why. The European-inspired gardens span over 10 acres and you'll find garden statues, shrub mazes, stone stairways, and pavilions.
Everglades National Park
Cost: $30 per vehicle
Location: 40001 State Road 9336, Homestead
To see the wild side of Florida, head west to the Everglades National Park. It covers 1.5 million acres of land in which you'll see all sorts of birds, turtles, snakes, and of course, alligators.
And actually, the Everglades is the only place in the world where you'll see alligators AND crocodiles co-existing. You'll want to make sure you plan your visit in the dry season because it attracts more predators. The wet season also brings the mosquitos and causes lower visibility.
—
This city is a great place to explore and there are plenty of free and cheap things to do in Miami. Explore the different cultures in Miami, soak up the sun at the beach, find artwork around the city, or walk the pedestrian streets. There are plenty of things to do here no matter what your budget is.
By Ashley Jansen of Jetset Jansen
Looking for a place to stay in Miami?
Hampton Inn Miami-Coconut Grove/Coral Gables