So you want to go to Cuba solo? I have to admit of all the Latin American countries I have visited, traveling solo in Cuba was by far the most challenging. It is also one of the most exciting and intriguing countries I have ever visited. Yes, it can be difficult to travel there solo. But with a bit of planning and preparation, it doesn't have to be as tricky as I found it.
What made traveling solo in Cuba so difficult for me?
There were two main issues I faced:
Budget – Cuba ended up being way more expensive than I anticipated. This was mostly due to my traveling solo. Cuba just isn't set up for solo travelers. There are no hostels outside of Havana making accommodation one of my most significant expenses.
Being a Gringa – Or rather a tall, blonde, blue-eyed gringa.
Let's get one thing straight as much as I hate it, I'm used to the whole latino men catcalling the gringa shiz. Living in Colombia, I faced daily calls of:
Oi, gringa princessa!
Hermosa!
Oi, Reina!
It pissed me off and sometimes it upset me as all I wanted to do was go to the shop and buy some bread. But I am used to it, and I try to ignore it as much as possible. But Cuba was on another level. It was aggressive, intimidating and I spent my ten days there feeling like meat. The only way I was able to leave the casa without every other man I passed feeling the need to comment on me was to be with another person, preferably a man.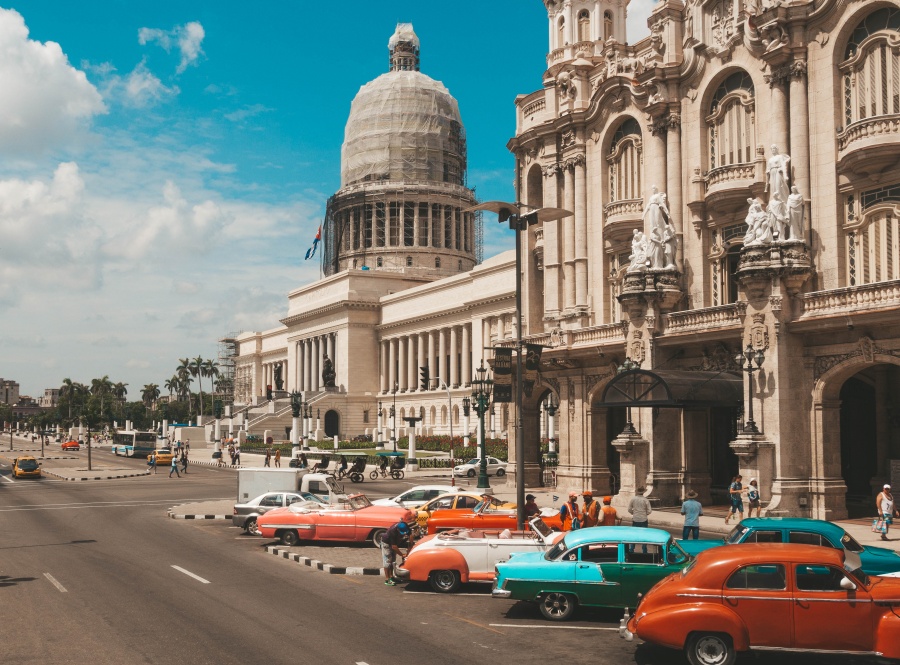 So what can you do?
Sadly there is not a lot of advice I can give you if you are a Rubia (the Spanish word for blonde) other than to 'stay strong my friend.' Although Havana was the worst place for it, I did also get a lot of unwanted attention in Vinales and Trinidad. If you are darker complexion and have brown hair and obviously a foreigner you will still attract unwanted attention, but not quite as much.
However, for all of the other possible problems you may face there are some solutions. It may mean you travel a little differently in Cuba to how you normally travel, but hell it's Cuba. Everything is a bit different here!
Traveling Solo in Cuba on a Backpackers Budget
As already mentioned I blew my budget in Cuba. I was told by a friend that I could efficiently budget $300 for nine days in Cuba so long as I didn't eat out in fancy restaurants. Unfortunately, this friend was not traveling solo and did not have to pay for transport between cities as she and her group had rented a car. It is pretty simple to save money on food and drink but almost impossible to save on accommodation and transport as these prices are fixed.
At the end of this section, I have created a daily budget so you can work out how much you may need for however many days you are traveling in Cuba.
How to save money in Cuba on accommodation
I am not much of a planner, I prefer to turn up and see what happens. Unfortunately, I thought I could do this in Cuba, so I only booked my first night's accommodation and decided to leave the rest to chance. This turned out to be y biggest regret.
If you are traveling in a group, this is 100% the best way to go. Book your first night and then take it from there. Each host you stay with you can just talk to them about what you want to do next and where you want to go, and they will phone a friend or two and organize your transport and your next Casa Particular (most accommodation in Cuba are rooms in peoples houses called Casa Particulares). Most rooms have a double bed and a single bed so you can sleep, three people. You play a fixed price whether there is one person or three people. And here lies the problem for solo travelers!
Here are my Havana Accommodation recommendations
Backpackers Hostel – I stayed here and loved it.
Casa Malecon – Perfect for small groups
Tu Habana – If you prefer to stay in Vedado
Want $20 off your AirBnB booking?
Where are all the hostels?
In Havana, there are plenty of hostel options. This is always the best option for solo travelers as you can save money by just paying for a bed and you will be sharing a room with new friends.
This is important as chances are you are going to want to meet people. If you are on your own in a room in a Casa Particular, you will have no chance of meeting other travelers. I tried so hard to meet people outside of Havana but it felt like everyone was traveling in groups, plus no phone and no internet makes it virtually impossible to make plans with anyone you meet.
So, you have three solutions to this
Budget more money for accommodation. I would budget at least $25 per night to stay everywhere outside of Havana. Ideally $30 to be on the safe side.
Pre-book all of your accommodation on Airbnb before you arrive in Cuba. I wish I'd have done this! You can find accommodation for under $15 a night on Airbnb in most places in Cuba. Just check on the map that it isn't too far outside of the center or you will end up forking out for taxis. Yes, this means you will be more restricted and less free to change your plans, but at least you will save money and be able to do your best to book accommodation that gives you a chance of meeting other travelers.
Hang out in Havana in a hostel until you find another person to travel with. This way you can split the accommodation bills! If you are not restricted for time, this is your best option.
How to Save Money on travel in Cuba
It's pretty impossible to do this traveling solo in Cuba as all transport prices are fixed. But, I would recommend avoiding the busses at all costs. Not only are the busses dirty, broken and uncomfortable they also only go at set times and take hours longer than cars do. The best way to travel in Cuba is by Taxi Colectivos. They usually cost just $5 more than the bus and will take you door to door. You will also have more control over the timings, and it will get you there hours quicker. They are fixed prices, and the car will be full of other travelers.
Your Casa host will arrange these for you so just ask them. I would also strongly recommend making friends with other travelers on these journeys. My biggest regret was not making plans with them when we got to our destination. I didn't realize how awkward I would find it to meet others so I didn't bother making a plan. Big mistake.
Your third option if you are on a really tight budget and don't have a huge backpack is to hitchhike. It is very safe and common to hitch a ride in Cuba. Most drivers will not take any money off you so offers of food and drinks are welcomed alternatives to payment. I didn't hitchhike myself, but I know lots of people who have done very successfully.
How to Save Money in Cuba on Food
Easy, don't eat anywhere that has a menu translated into English! Those are the tourist places, and you will pay the tourist prices. I don't eat a lot anyway. Usually, Breakfast and then one big meal around 3 pm does me for the day. So I normally ate breakfast at the casa for $3-5 and then spent around $4-10 on an afternoon meal. So my food budget was $8-15 each day. I could have eaten local food every day and reduced my food bill to less than half of this, but my diet would have been severely restricted as a vegetarian to eggs and bread twice a day.
If you are on a serious budget then look for local places to eat, make sure there is a cue of locals (so you know the food is good), and the prices are in Pesos (local currency) and not CUC (tourist currency).
The form you have selected does not exist.
How to Save Money in Cuba on Tours
Again this one is difficult on your own.
Most of the prices of tours are fixed, and the only way to have any real power when negotiating for a discount is if there is a group of you. The standard way (and most straightforward way) is just to ask your host to organize it all for you. There will be no room for negotiation but you will also be getting the standard price, and you are less likely to be ripped off. If you really want to save money though just take a walk down the main street of the town, you are staying in, and the tour operators will come to you. Once one has found you, it's time to start negotiations. As most Cubans don't speak English unless you know some basic Spanish you probably won't get very far with haggling.
So just say "oooo es caro no?" "Por Favor Senor (if its a man) mas barato." always works for me!
Going Out in the Evening Solo in Cuba
Although the catcalling in Cuba is pretty awful, Cuba is one of the safest places in the world you can travel solo. I felt intimidated but very safe walking home at night alone. I went out solo while in Vinales and had a great night with some Cubans I met in the club. But if I'm honest I'm not sure I would have ventured out in Havana alone to a club unless I was recommended somewhere to go where I wouldn't get harassed!
Why You Need to Learn to Salsa
One tip I would give anyone traveling solo in Latin America is to learn to dance salsa. Seriously. It has changed my life. Whatever country I'm traveling in Latin America if I know I want to go out at night; I just need to find a salsa club. That way I can go, spend the night dancing with locals and not have to worry about drinking.
While in Cuba I had a great night out at a salsa club. A young Cuban asked me to dance and then invited me to join their group for the night. I drank Rum, he taught me Cuban style Salsa, and I want to home a happy Gringa!
Meeting people in Cuba When Traveling Solo
Outside of Havana, I found this a little challenging. Typically when traveling, we have WhatsApp and Facebook. So you meet someone swap contacts, and then you can easily message them to meet up at a later time. But as you will not have this luxury in Cuba, it becomes a little more problematic.
When I was in Vinales, I made a plan to meet a Cuban Cigar Farmer in the main square in front of the church at 10 pm. For real, I felt like I was 12 years old again – because back in the 90's before mobile phones and the internet that's precisely what we did. In this day and age though it felt alien for me to trust this person would even be there. These days it is easy to bail and just send a 'sorry I can't make it' text. I felt really nervous heading to that rendezvous point in case I was stood up. But he was there. Although he turned out to be a total S***, but that story is for another blog post.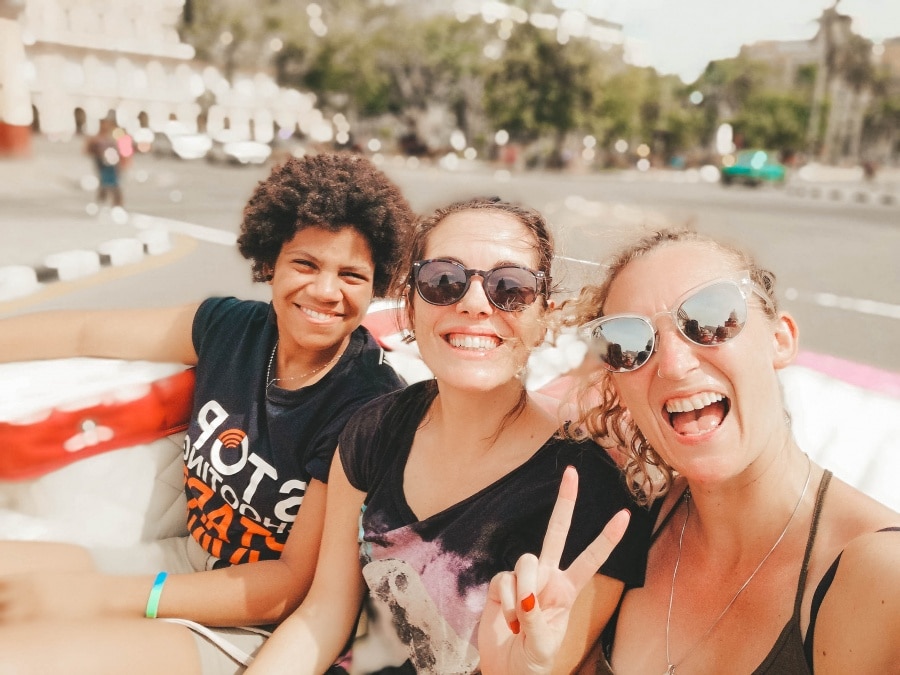 Going back in time…
Meeting people in Cuba is like going back to the 90's you either have to make plans and stick to your word, meeting at the clock tower at 10 pm or find some friends and stick with them! Havana is the best place to meet people. For this reason, I strongly recommend staying in a hostel for your first few nights and once you make friends try and plan some stuff together before you part ways.
I can't even tell you how overjoyed I was when I was sitting on some steps in Trinidad feeling utterly miserable and alone to look up and see the chica I met on my first night in Havana sitting eating dinner alone. Que me racing up those steps! I'd already decided to check out of Trinidad early and go back to Havana to save money, and we made plans to meet up again at the same hostel. We did later that week and along with a few others and a Cuban friend we ended up having a fantastic few days exploring Havana together. This made up for all of the other struggles I had in Cuba.
The problem with Cuban Spanish…
You will find very few English speakers in Cuba, especially outside of the tourist areas. So download Duolingo and make sure you at least know some keywords and phrases in Spanish. That said my Spanish is okay and I really struggled to understand Cuban Spanish! They speak very differently in Cuba, but luckily they were generally able to understand what I was trying to say. Even if I couldn't always understand them!
People who I met traveling in Cuba who knew no Spanish struggled but didn't find it impossible. You can make life a little easier for yourself by trying to book accommodation in Casas where the host speaks English. That way you will be able to get them to help you. Alternatively, make sure you have the Spanish Translate app on your phone downloaded. It will work while offline and can be a lifesaver.
Final Thoughts
So to sum up. Yes, Cuba was difficult as a solo traveler, but it is one of the most fascinating countries I have ever visited.
If you want to make sure you have a great time there solo here is a summary of my advice:
Book all of your accommodation on Airbnb to save money.
Hang out in Havana to meet some friends who you could travel with to save money.
Be prepared emotionally for the catcalling
Learn some basic Spanish to help you negotiate better prices and then you can eat in cheaper places.
Learn to salsa so you can go out dancing solo in the evenings
Example Solo Budget for Cuba:
Accommodation $10-$25 per day – In Havana, you can find $10 beds easily, outside Havana expect to pay $25 per night for a room. If you want to pay less book all of your accommodation before you go on Airbnb.
Food $15 per day – I mostly spent less than this, but I did splash out a few times so spent a little more. $15 a day is a fair budget, you can eat for less, but I wouldn't budget less than $10 a day. If you like your food and plan on eating three meals a day, then budget $20-25 a day.
Drinks $5 per day – I don't drink much, but when Mojitos are $1.50 it's rude not to have a few. I mostly just drank water and treated myself on a few occasions $5 a day s a good budget average. If you are a heavy drinker, then double this!
Travel – This is really dependent on where you are going and how much you plan on traveling. In a colectivo from Havana to Trinidad, you are looking at $30. On average you will pay between $20-$30 to travel in between towns. The best way to work out the cost is to check how much it costs on the bus then add $5 onto the total.
Activities and tours – If you want to do one thing in each place you travel to then budget $30 that should be enough to do at least one decent day tour or activity.
And that's in my solo guide to Cuba. I've written a lot of guides to Cuba to help you plan your trip so be sure to check them out before you go. You can also download them as handy PDF's that you can save on your phone (trust me going to Cuba with no easy access to wifi you will need them!).